As a startup grows, there comes a time when it experiences inconsistency across its sales efforts.
Especially in sales messaging.
Let's assume a prospect is being sold by a team of salespeople with varying pitches. Not only does it create a disconnected buying experience, but it also loses the prospect's trust in sales and wrecks your business revenue in the long run.
Fortunately, you can turn your sales performance around with the right sales battle cards.
What are Sales Battle Cards?
Sales battle cards are internal and living documents that contain vital information about a company, such as its product features, key differentiators, and pre-written responses to overcome potential customer objections.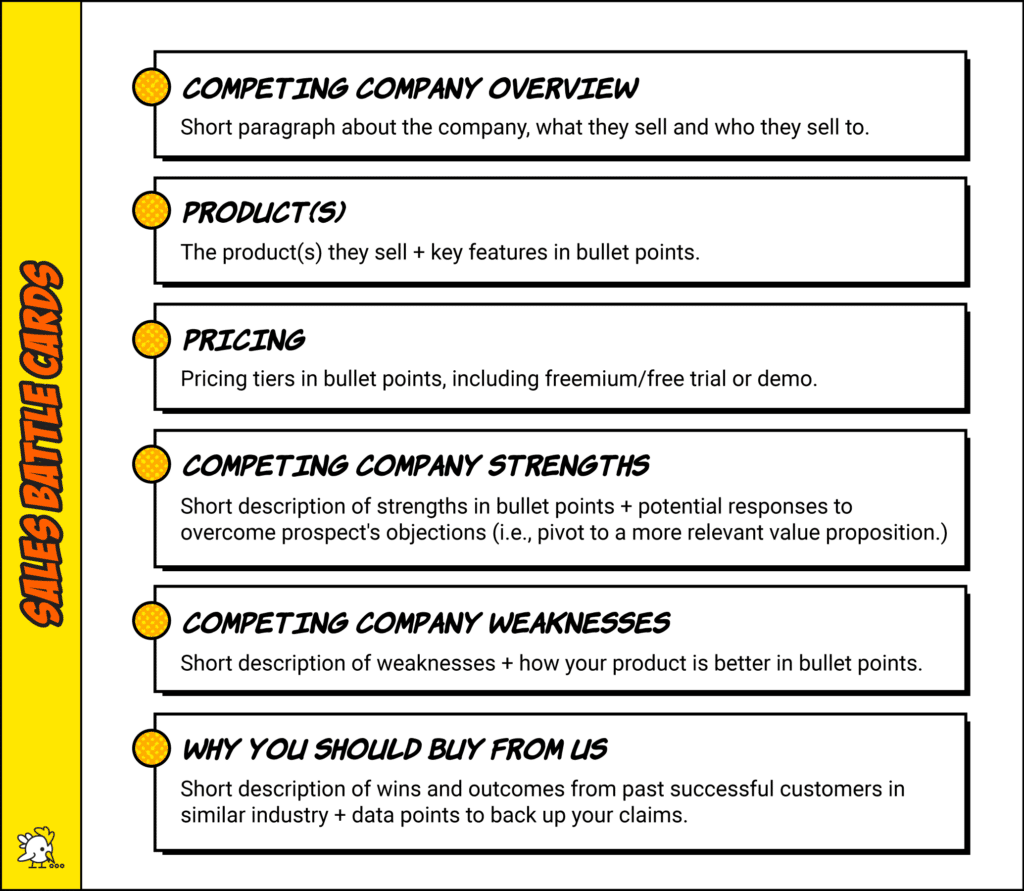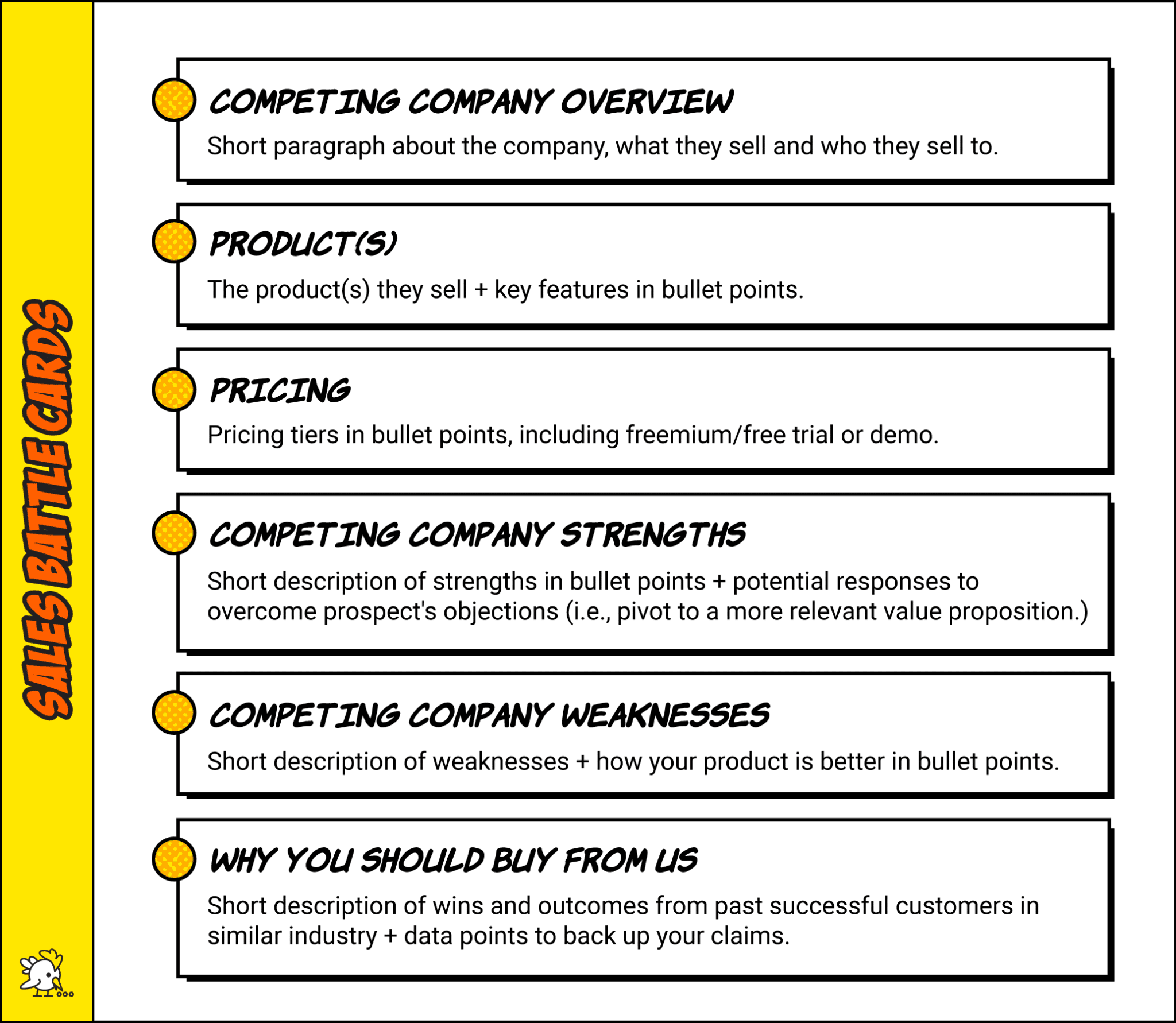 The go-to-market (GTM) team usually creates these one-paged sales documents. A high-level cheat sheet, they're widely used as a sales enablement resource to win competitive deals in every stage of the sales cycle.
What is the Purpose of a Battlecard?
The purpose of a sales battle card is to arm the sales team with ironclad proof to back up their sales pitch and get the sale.
It's long been proven that sales battle cards turn leads into customers. According to Crayon, 71% of businesses improved their win rates when they used these internal documents.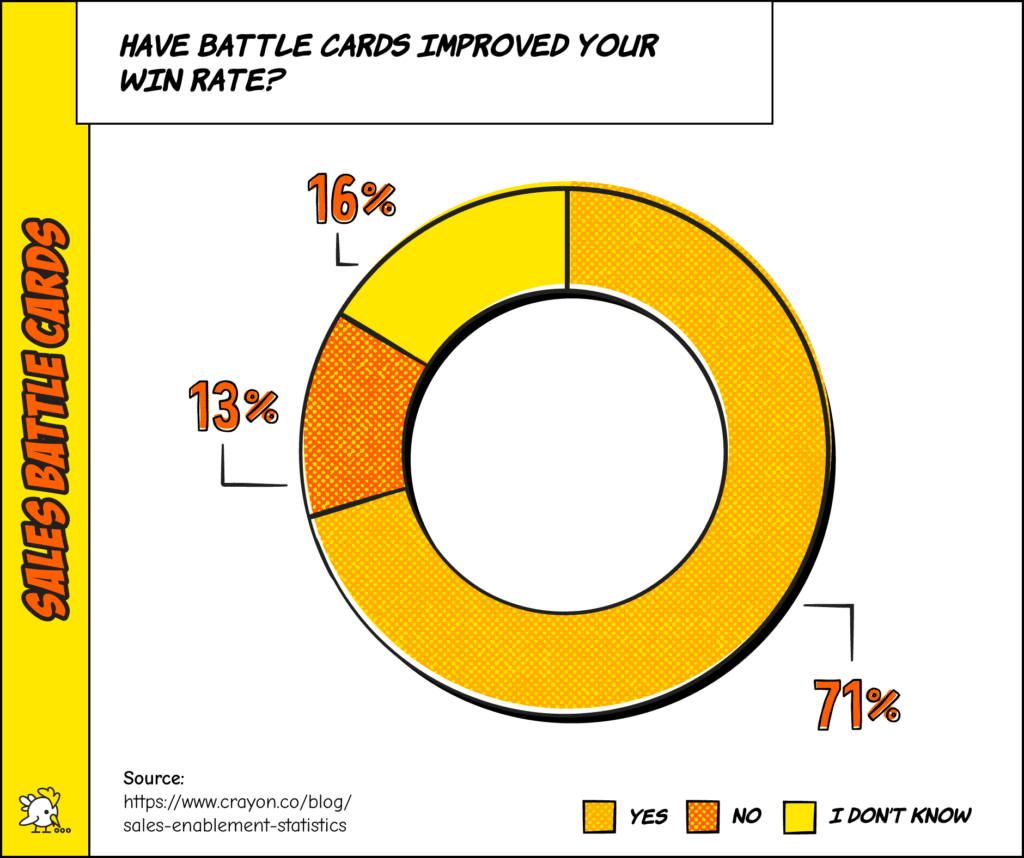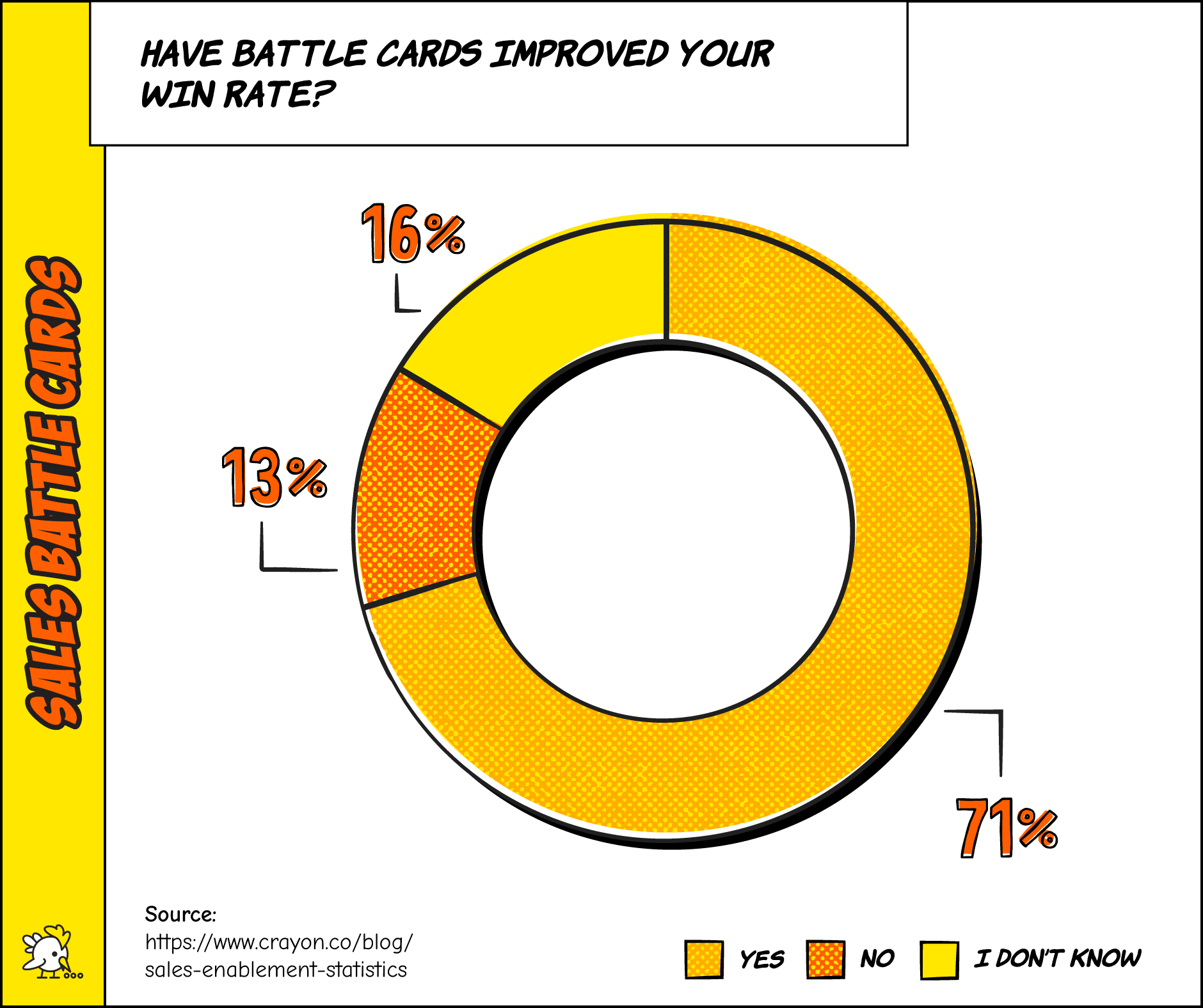 The content of your sales battle cards will depend on the target customer profile. Common examples include competitors, use cases, and value propositions.
How Do You Make a Sales Battle Card?
An effective sales battle card includes succinct information that enables the entire sales organization. Let's take a look at how you can go about creating them.
1. Gather your go-to-market team
A GTM team consists of team members launching a product to market. This includes the sales department and marketing team (tip: a better way to remember, a GTM team is any customer-facing department that drives revenue).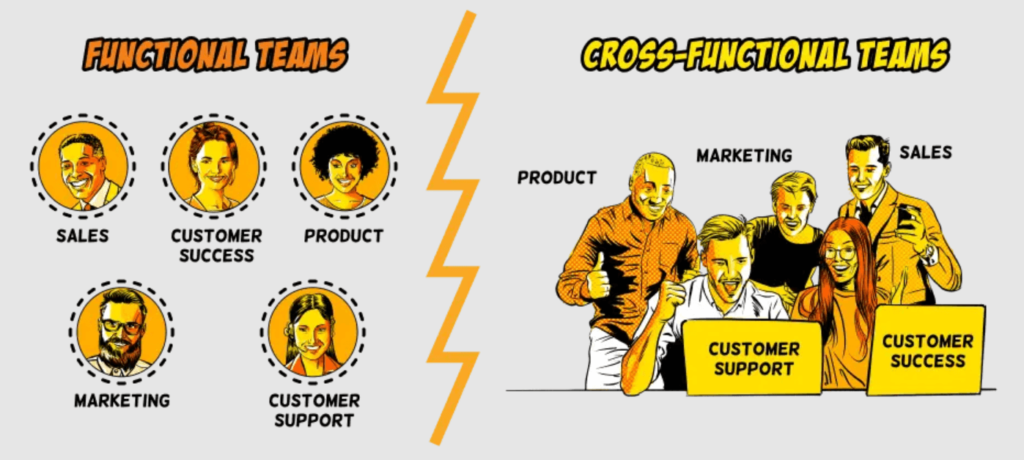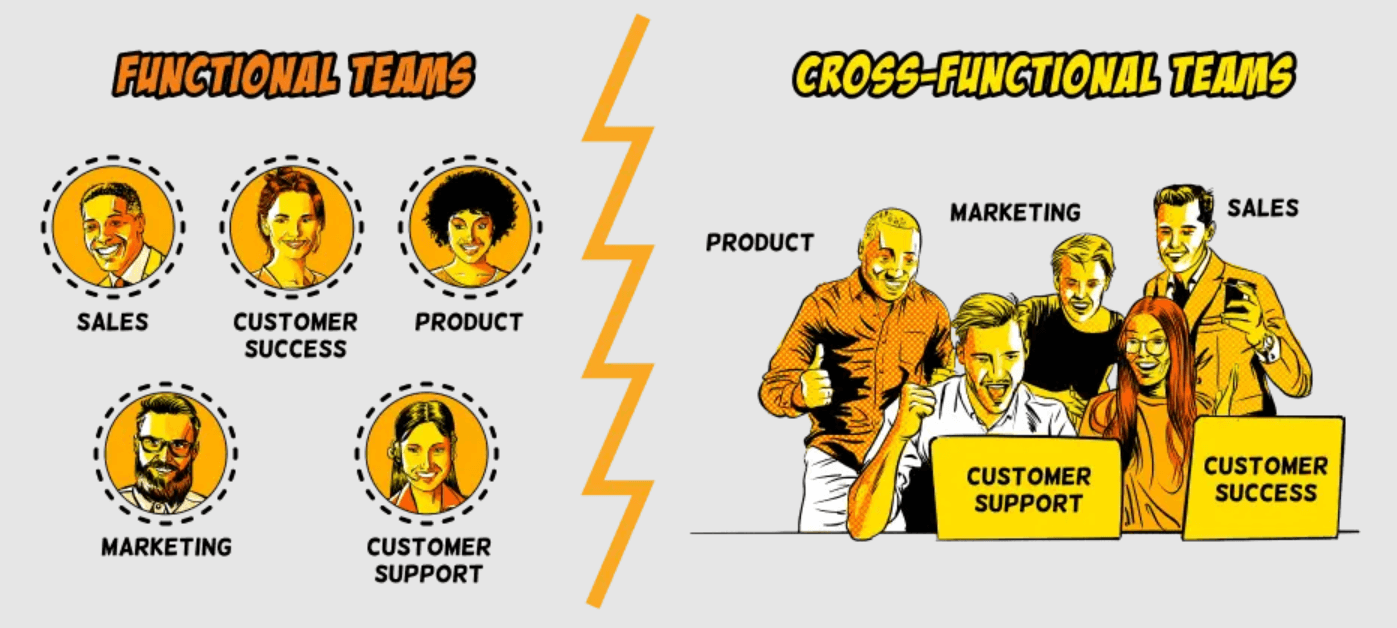 Ensure that everyone in this cross-functional team is on the same page.
"As soon as you encounter a few competitors, it's vital for your GTM teams to come together and build a set of sales battle cards."

Joe Aicher, director of RevOps solutions at Breadcrumbs
The marketing, sales, and customer success teams should work closely together to collect customer feedback and get aligned on their target audience (e.g., "Who are our best customers today?").
One quick way to validate your ideal customer profile (ICP) is using the Breadcrumbs Reveal tool. Here's how it works:
Connect your data sources with Breadcrumbs Reveal
Define your success criteria (e.g., all paying customers on most popular plan)
Run the analysis
The tool will then unearth insights about your most valuable customers. Note the analysis below that shows you the trends over time and countries and industries you should target.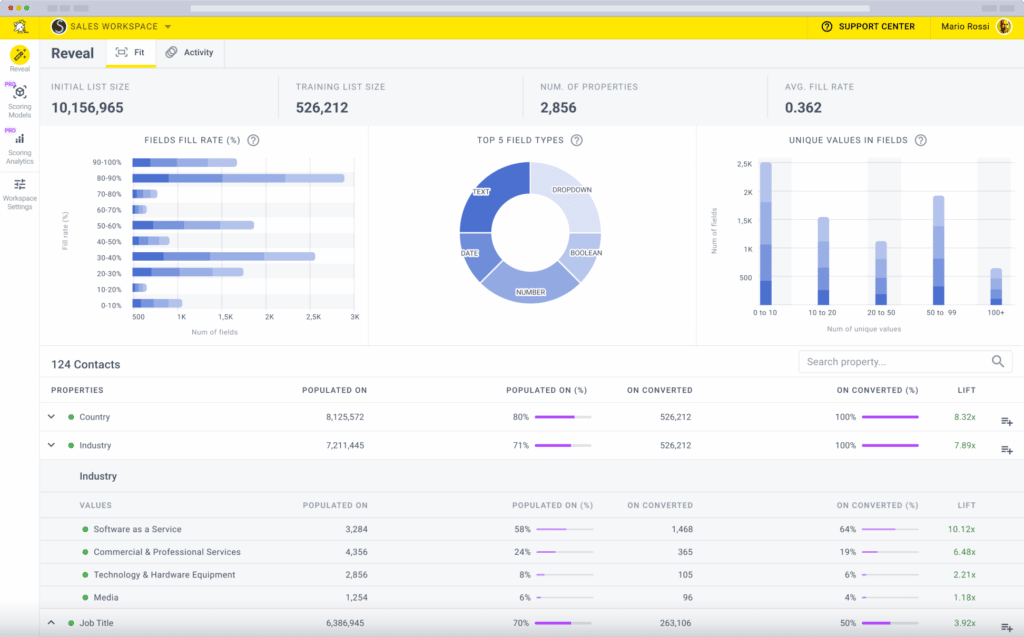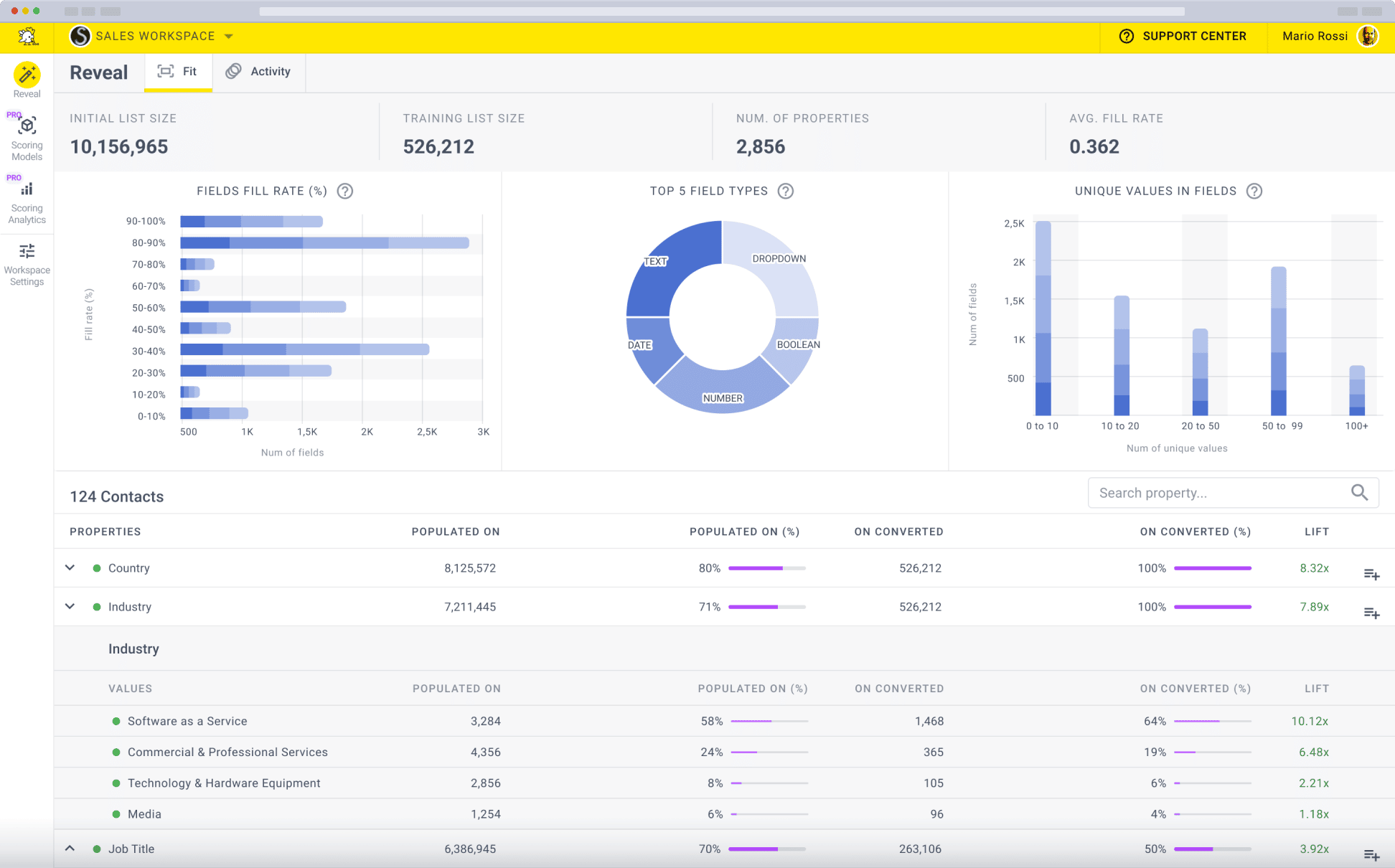 You can also view the actions customers perform the most on your website or product to better understand which specific ones indicate buying intent.
Grab your free Breadcrumbs Reveal account to validate your ICP today.
2. Consider which sales battle cards you need
47% of businesses maintain more than 50 sales battle cards, proving that different messages resonate with different customers.
"Not all battle cards are the same," shares Akshaya Chandramouli, brand and social media marketer at Paperlite. "They should be made contextual according to the situation."
Here are four popular examples.
(i) Use case sales battle cards
The use case battle card showcases how a product works in a specific scenario or industry.
(ii) Product sales battle cards
The product overview battle card highlights the product's features and benefits and information about the prospect's challenges and desires.
(iii) Unique selling proposition sales battle cards
The unique selling proposition (USP) or value proposition battle card outlines several reasons a prospect should choose the product, focusing on its unique features.
(iv) Competitor sales battle cards
The competitor overview battle card stacks up your product against your biggest competitors.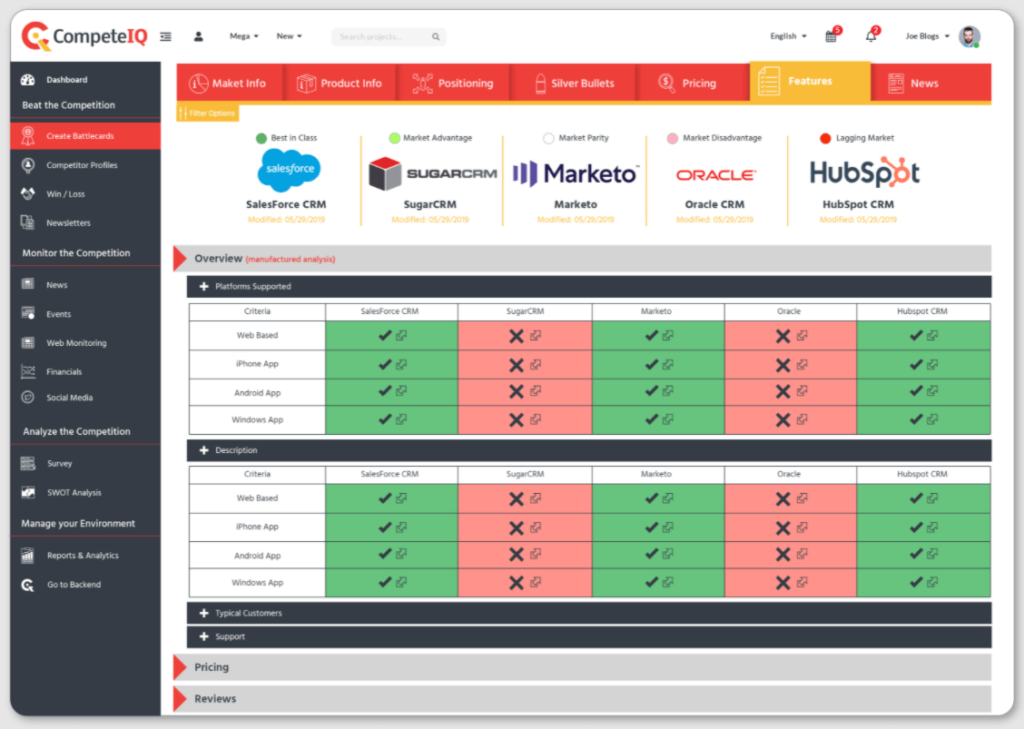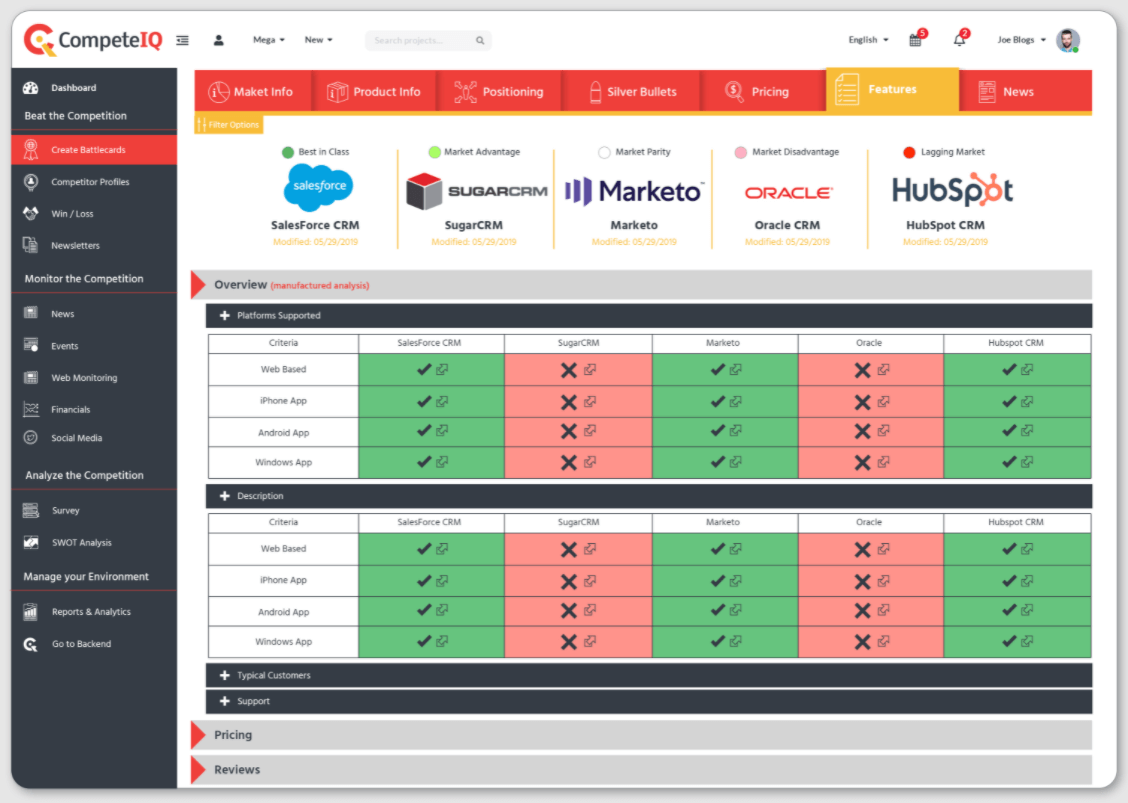 It often includes responses to bypass customer objections (e.g., "[Competitor B] has a feature that your product doesn't offer. Why should I choose you?").
Pro tip: Be honest about your competitors' strengths and avoid putting them down.
It's tempting to over-crowd your sales battle card with their weaknesses. However, your prospect will bring up a competitor's strength inevitably and throw you off your game, warns Aicher.
"You want to be prepared," adds the director of RevOps solutions at Breadcrumbs. "Being honest and acknowledging your weaknesses can actually help you gain credibility as someone who knows what they're talking about."
The statistics certainly proved Aicher's claim. 85% of consumers shared they are more likely to support companies they consider honest.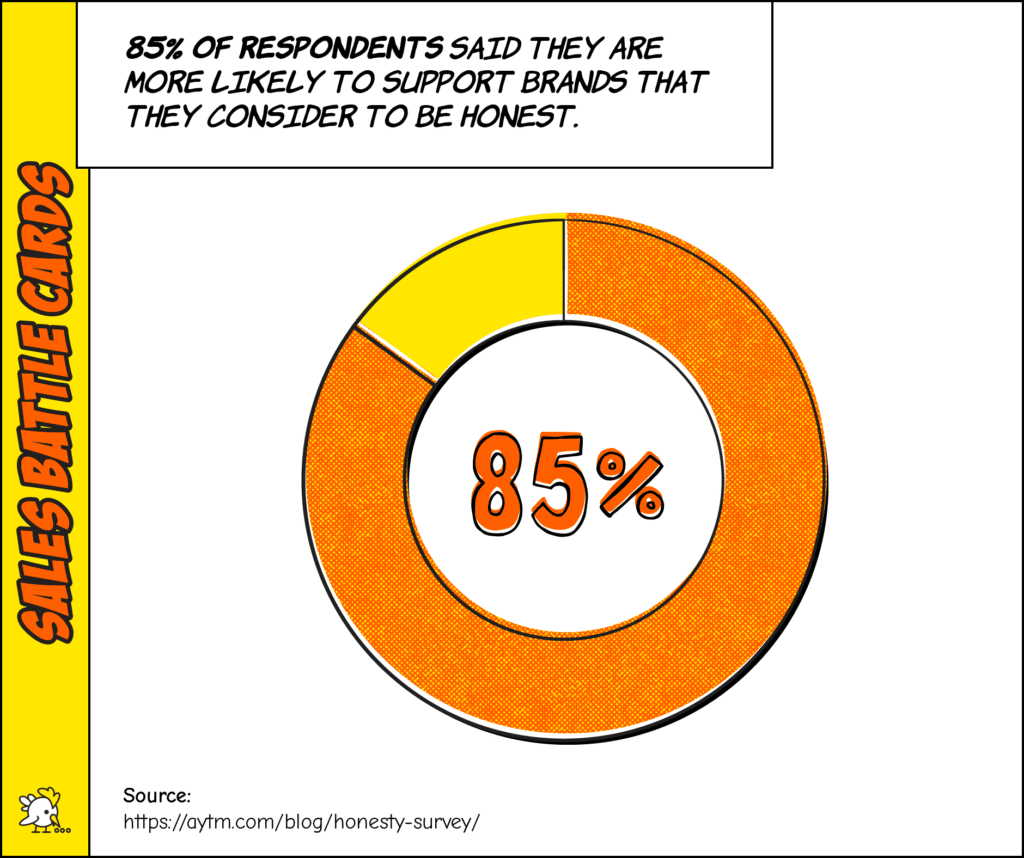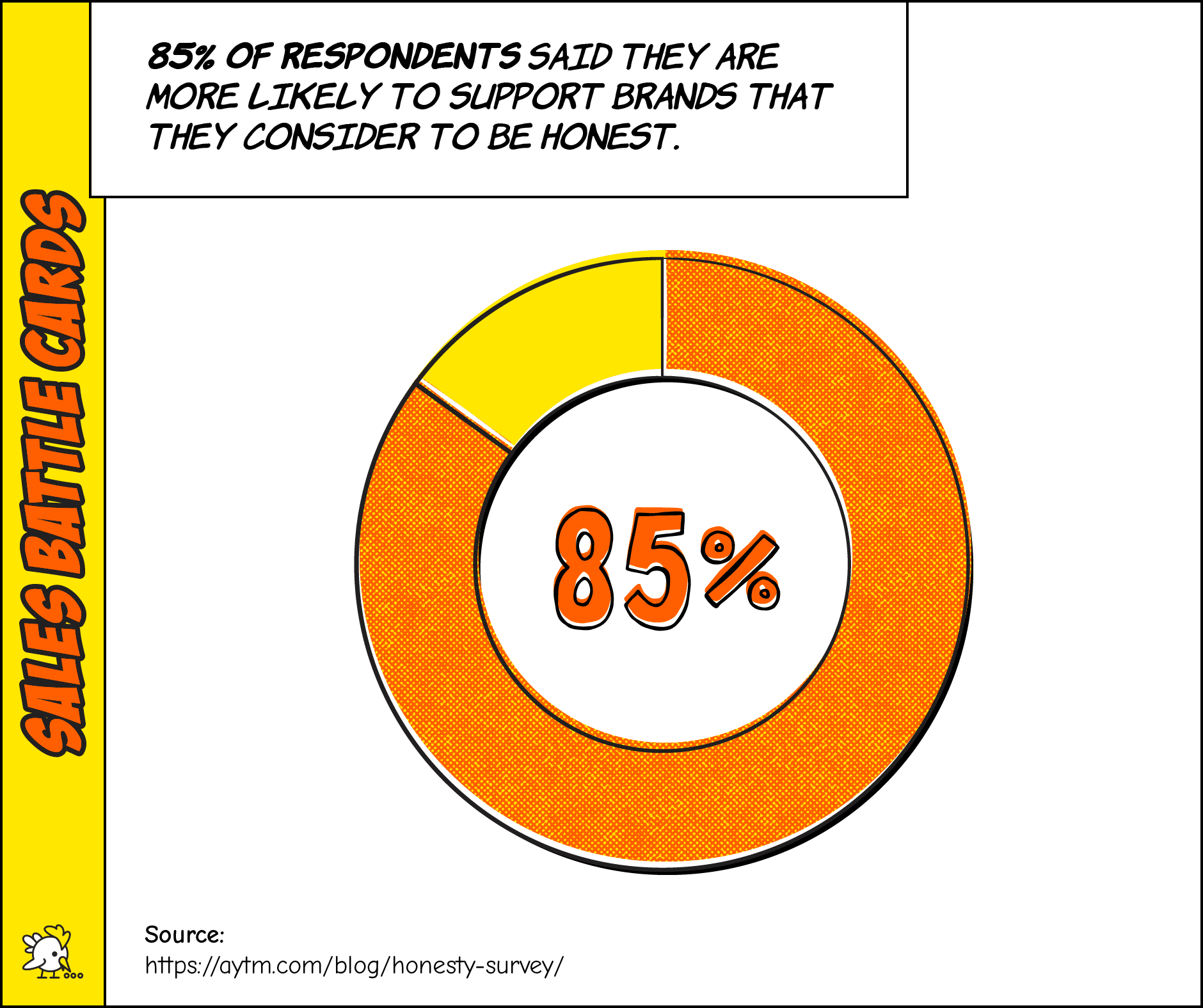 Great sales professionals know how to overcome their product's weakness by downplaying its importance or pivoting to a more relevant value prop.
3. Hit the books
Research is the key to creating effective sales battle cards.
"It keeps your battle card up-to-date," says Matt Spiegel, founder, and CEO of Lawmatics. "Which is definitely valuable in building trust with potential leads."
After gathering customer feedback and input from the GTM team, interview your customers to validate the feedback you received.
Consider these questions:
What part of [software] do you like the most? Why?
What part of [software] do you not like? How can we improve them?
Will you recommend [software] to your colleagues and friends? If yes, what features will you share?
The responses to these questions serve as a foundation for your sales battle cards, particularly those centered around product and value props.
Pro tip: Avoid feature dumping. And ensure that the cards touch on the prospect's main areas of concerns. "Sales battle cards are a resource and not a crutch," says Kyle Buzzard, the former senior vice president of sales at Anura. "Your audience will tell you what topic areas are most important and where you may need to clean up your messaging."
Interview your most profitable customers for best results. If you're unsure who these people are, approach the sales or customer success team.
Alternatively, use our contact scoring tool to identify them with zero guesswork.
Connect your data source with Breadcrumbs
Determine what actions make a profitable customer in the Activity model (e.g., logins every day, 15%, often clicks through email newsletters, 20 %, signs up for affiliate program, 15%)
Input the scoring threshold to be considered A1 (e.g., 80)
Set the scoring model live
Our contact scoring tool will send all scoring information back to your main data source, notifying you when a customer hits your predefined scoring threshold.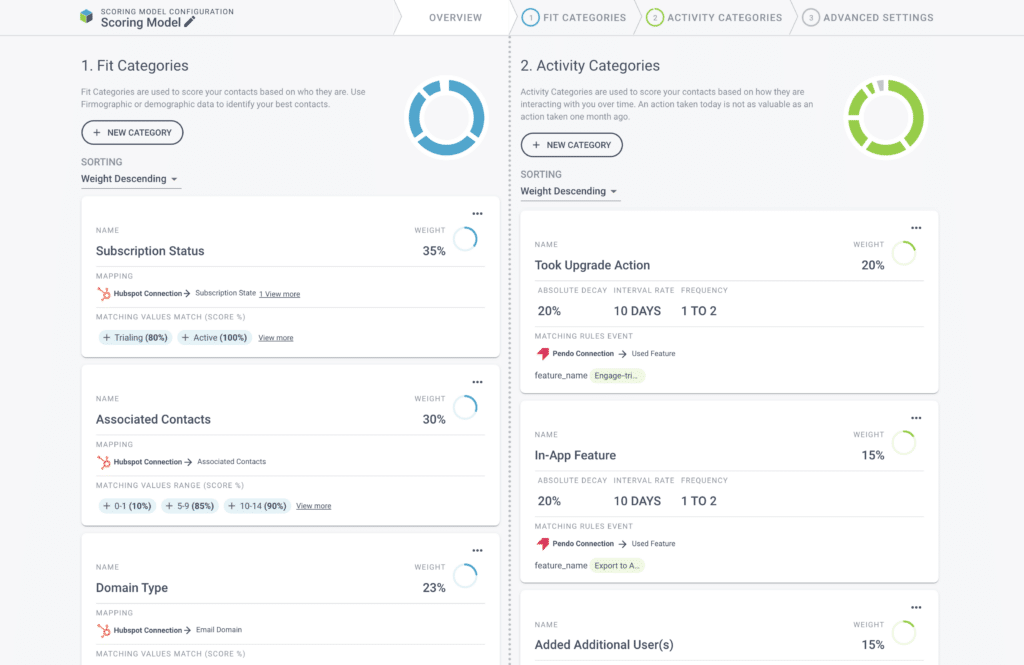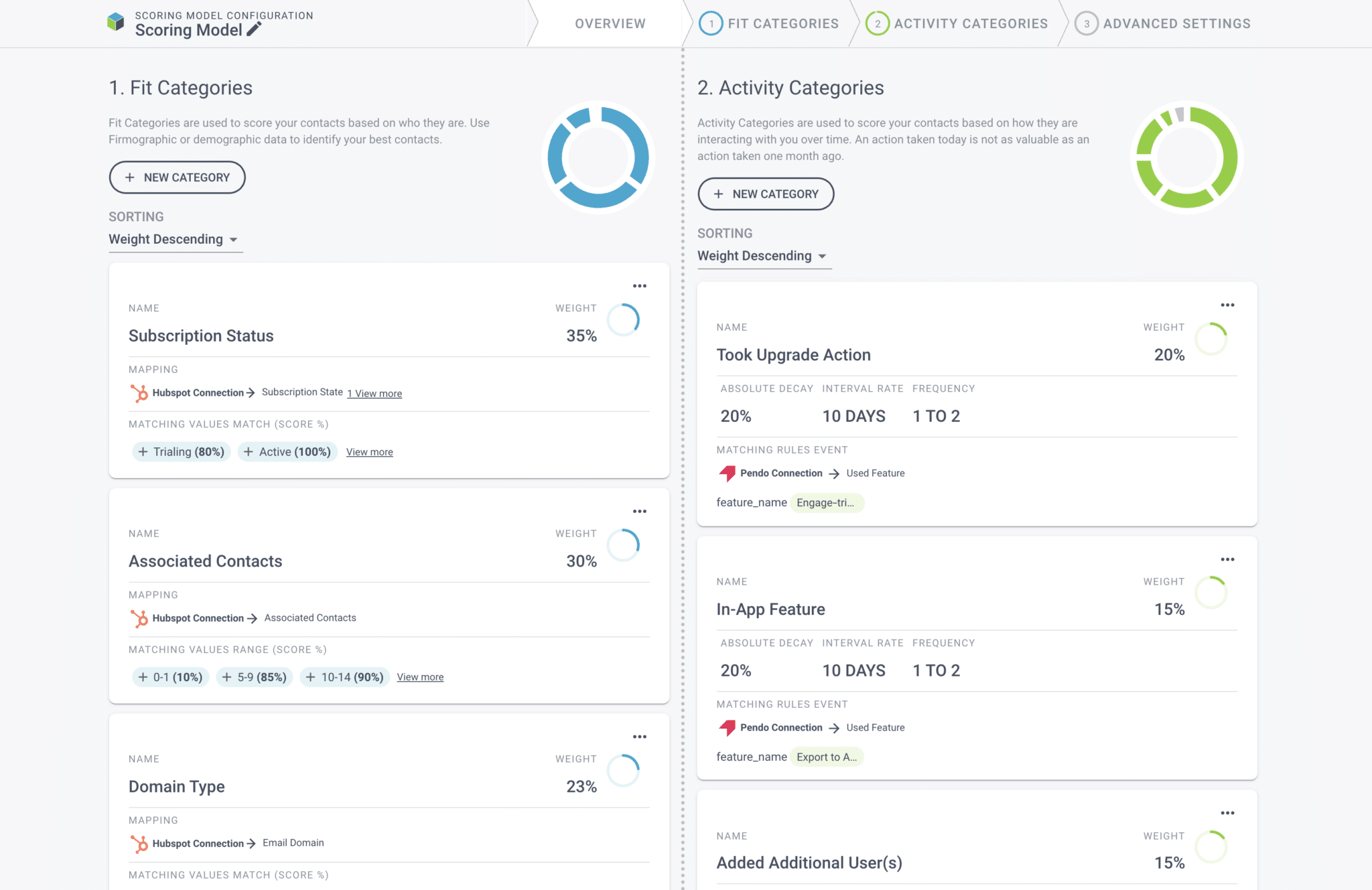 This ensures that you're focusing on your best clients today instead of interviewing random users that may not convert into customers.
Start your free Breadcrumbs account today.
4. Stay consistent
A strong brand consistency impacts every stage in the buying experience, so much so that over 60% of companies believe it plays a vital role in lead generation and customer communication. In the long term, it can even increase revenue by 10-20%.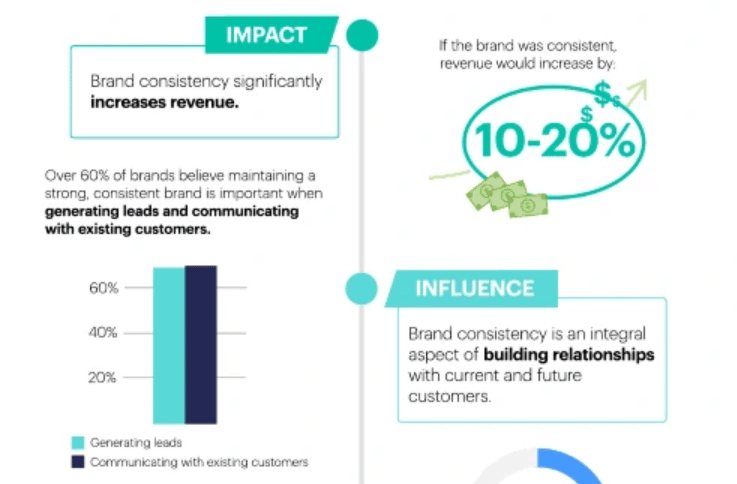 Based on this, you want to be sure your messaging remains consistent throughout the buying journey. Every sales representative should be able to quote the content in the sales battle cards verbatim.
Daivat Dholakia, the former director of operations at Force by Mojio, advises, "Sales battle cards aren't scripts, but every word should still count. If a customer speaks to several sales reps, they should receive similar messaging about your benefits relative to those of competitors."
The messaging consistency in your battle cards will eventually reinforce your product positioning and why it's the better choice.
5. Make them accessible
Companies that responded to customers within an hour of receiving their query were nearly seven times more likely to have a meaningful conversation with a key decision-maker.
However, sales reps are spending far too much time on manual tasks, including searching for the right sales battle cards.
Chandramouli reveals to Breadcrumbs, "Teams will invest hours in creating their sales battle cards, but they underestimate the visibility, which ends up frustrating the sales team."
Store your cards in a central sales content management platform that integrates with your existing data sources.
Categorize them in collections and tags (e.g., use case, buyer persona) so that sales reps can access them with a few quick clicks. Add color codes and headers to increase discoverability.
Also, make sure that it's easy for the sales team to share their feedback in real-time. Since your reps interact with clients the most, they will have the most valuable insights into how the battle cards perform.
6. Update your sales battle cards
Sales battle cards are just like any other piece of content. They're never one and done.
These internal sales documents need to be updated according to changing market conditions, evolving customer needs, and unexpected trends.
"Reps should have access to battle cards frequently revised to match your active customers," weighs in Tom Winter, co-founder of DevSkiller.
"The biggest mistake is to keep the same stale battle cards for years, which some companies do! This renders them pretty much useless."
Update your sales battle cards on a monthly or weekly basis. Better yet, measure the performance of your cards on a competitive intelligence platform.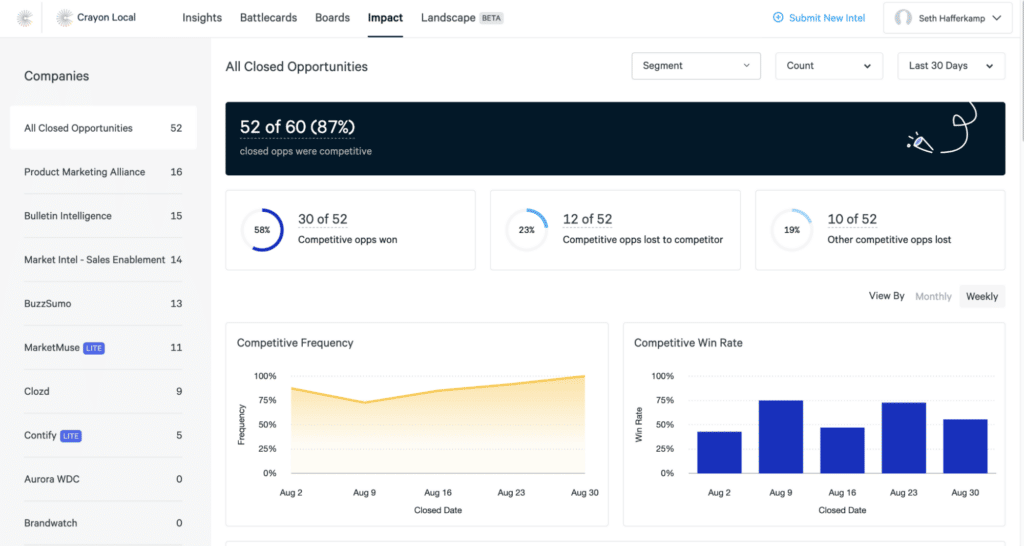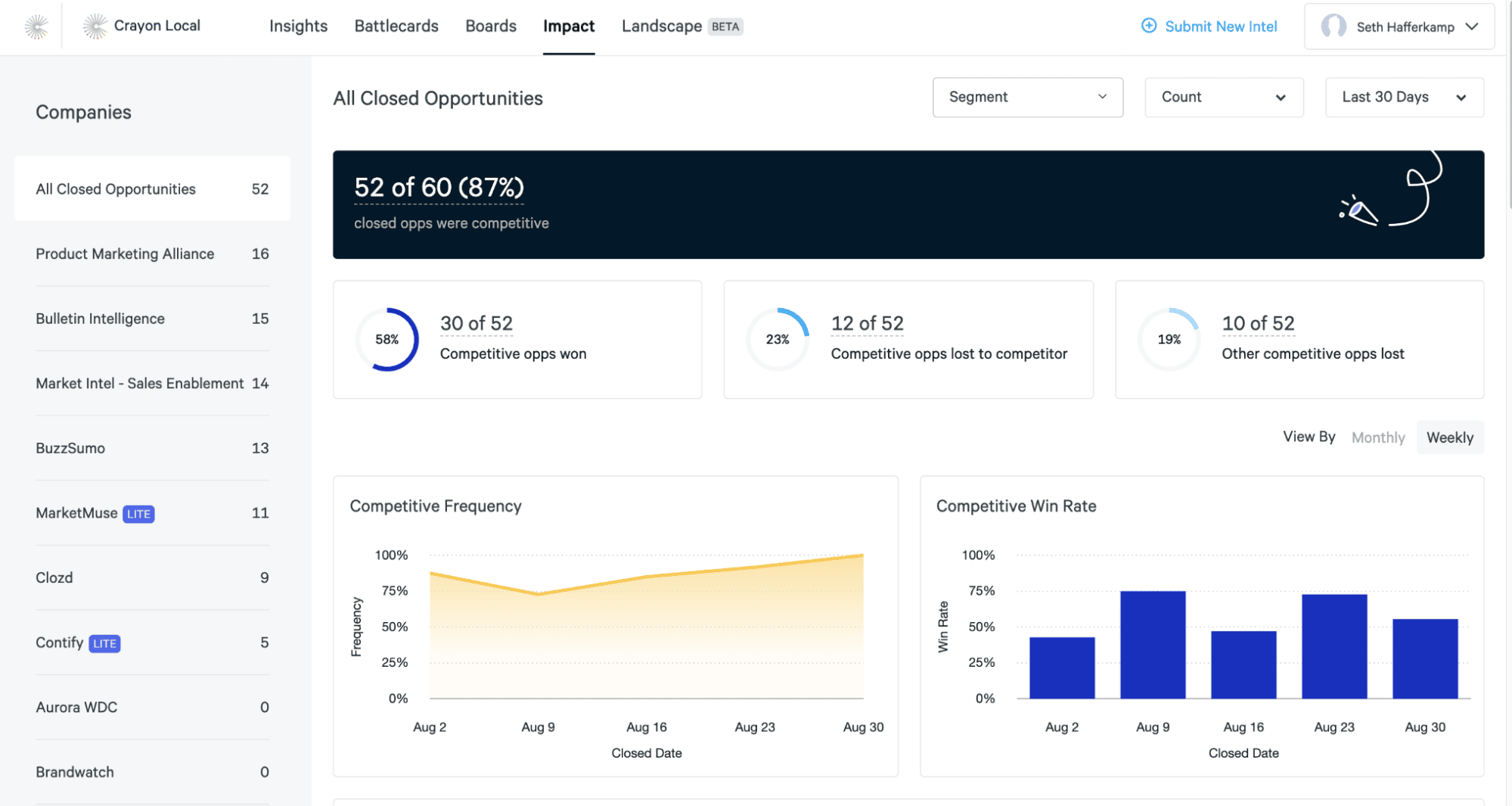 Consider tracking metrics like card usage, win rate, and competitive win rate to ensure you're making the most of the battle cards.
Update them based on performance. For example, if the overall win rate has decreased since launching the battle cards, gather feedback from the sales team on how you can improve them.
Create Your Sales Battle Cards to Improve Your Win Rate Today
Sales battle cards standardize your sales messaging and arm the sales team with important information they can access anytime, anywhere.
With this ironclad proof, they'll never get caught off guard, even when pitching to a skeptical prospective client.
The first step is the most important.
Before you create these internal documents, ensure that you're targeting the right customers. One way to validate your ideal customer profile (ICP) is using Breadcrumbs Reveal. Grab your free account here today.
FAQs
1. What are the elements of a sales battle card template?
It depends on the type of sales battle card you're creating. In most cases, the elements include an overview of the competing company, its products and pricing plans, strengths and weaknesses, and reasons the prospective client should pick your product instead.
2. What are the best practices for sales battle cards?
Gather input from your from the GTM team
Keep them clear, concise, and consistent
Back up claims with ironclad proof
Stay transparent (even when confronted about your product's weaknesses)
Update them on a monthly or weekly basis
3. How do you use battlecards?
Sales professionals use battle cards when pitching to prospects and customers with cross- and upsell potential.