If you want to show interested leads that you can put your money where your mouth is, case studies are a good way to go. They're a valuable form of content that can even be used as lead magnets under the right conditions, and they have a singular purpose: To show how your clients achieved specific, significant results with your product or service.
Knowing how to write a great case study is an important part of success, but there's a part of the process that comes before that: Knowing which questions to ask, which you'll determine when you're preparing for a case study interview.
The questions you ask can make the difference between a case study that feels like it's been churned out by a low-quality AI machine compared to one that feels actionable, engaging, and high-stakes to your readers.
In this post, we're going to go over the 14 best case study questions to ask, along with discussing some tips to improve the results you'll get.
How to Structure Your Case Study Questions
Before we dive in, we want to talk about how to structure your questions in the interview.
In this post specifically, we're going to look at individual questions you should ask around pointed topics, like about the client's brand, solutions they've tried already, and their results.
It's best to stick close to the progression outlined here because it will give you the basic information you need at every level of the case study interview. You can't ask what solutions they've tried before when you don't even understand their brands' needs.
And keep in mind that when you're asking users to provide specific information about a topic up front, they'll often reference it later, strengthening the overall case study and sometimes encouraging them to share information they may not have thought to share otherwise.
That being said, let's go ahead and start to dive in to the best case study questions you should ask.
Questions About Their Brand
The best case studies will have some information about the brand they're featuring and not just about how the brand uses their product. Information about the brand size, industry, and unique selling propositions (USPs) can all play a valuable part in building a strong case study.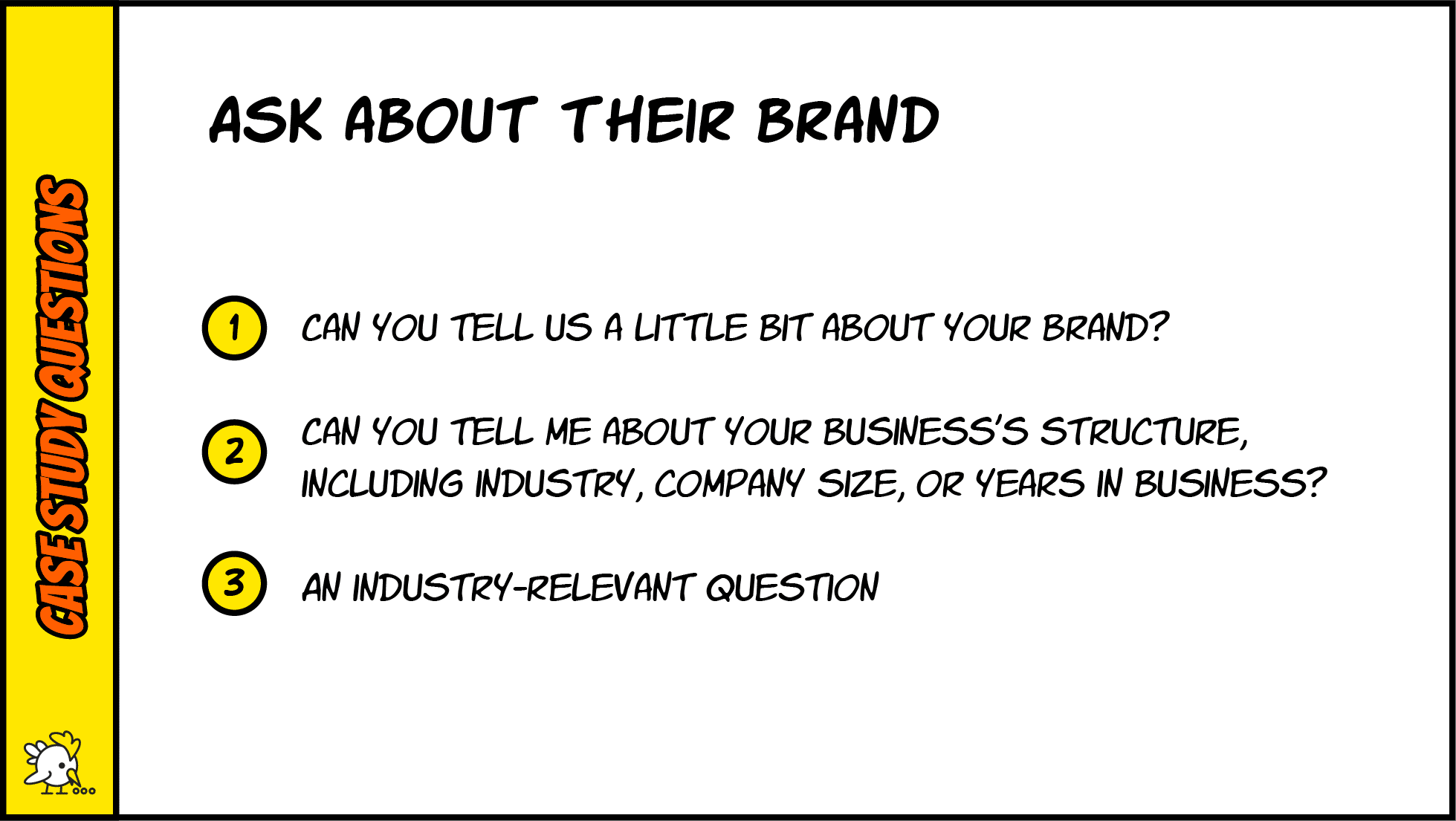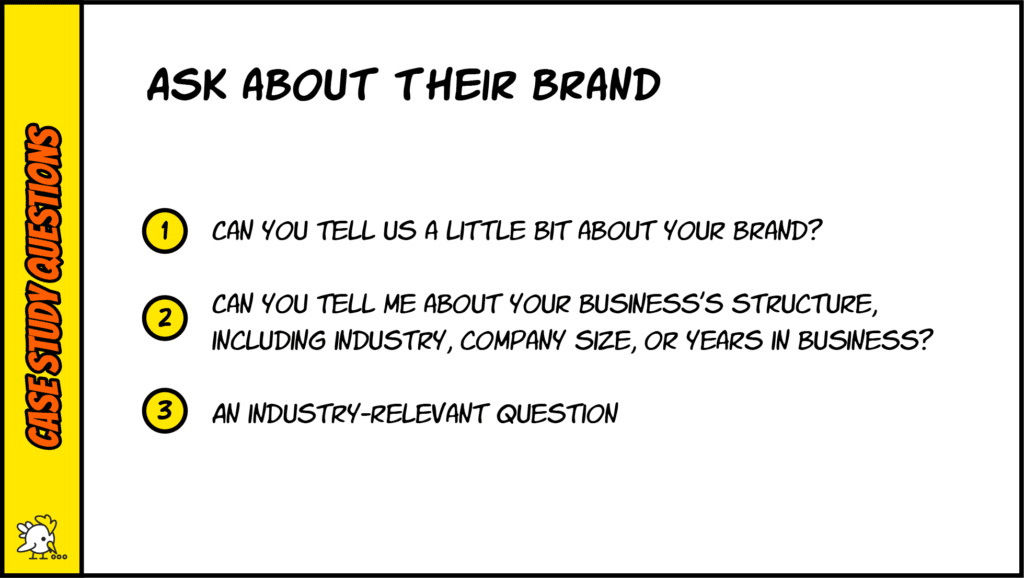 These are a few important case study questions to consider asking about branding:
1. Can you tell us a little bit about your brand?
This is a great way to start the interview off strong. Ask the client to tell you about the brand, plain and simple. See what they have to say; they may share information about their product or service, how they fit into their industry, what differentiates them, and more.
Leaving this first question relatively vague and open-ended helps them feel more comfortable while giving you some good ideas for where to go.
If they're stumped, ask them to provide a brief description of what their company does.
2. Can you tell me about your business's structure, including industry, company size, or years in business?
While this may feel technical, it can be exceptionally valuable to readers of the case study to help them relate or get a good understanding of who is using your products.
3. An industry-relevant question
SaaS tools that help with ad management may ask clients about their total monthly ad spend, for example. An eco-friendly company may ask clients what their "green goals" are or their previous carbon emissions.
Think about what would benefit you to have in the case study, and ask it here if possible.
Questions About Their Challenge & Pain Points
We know that all great case studies will highlight the challenges that clients have before finding your product or service as their solution, exacerbated by key pain points.
It's so important to get enough information that these challenges feel real and significant in the case study; if you neglect to explain why a challenge was an actual obstacle, it can come across as seeming trivial. That can make your solution seem trivial, too.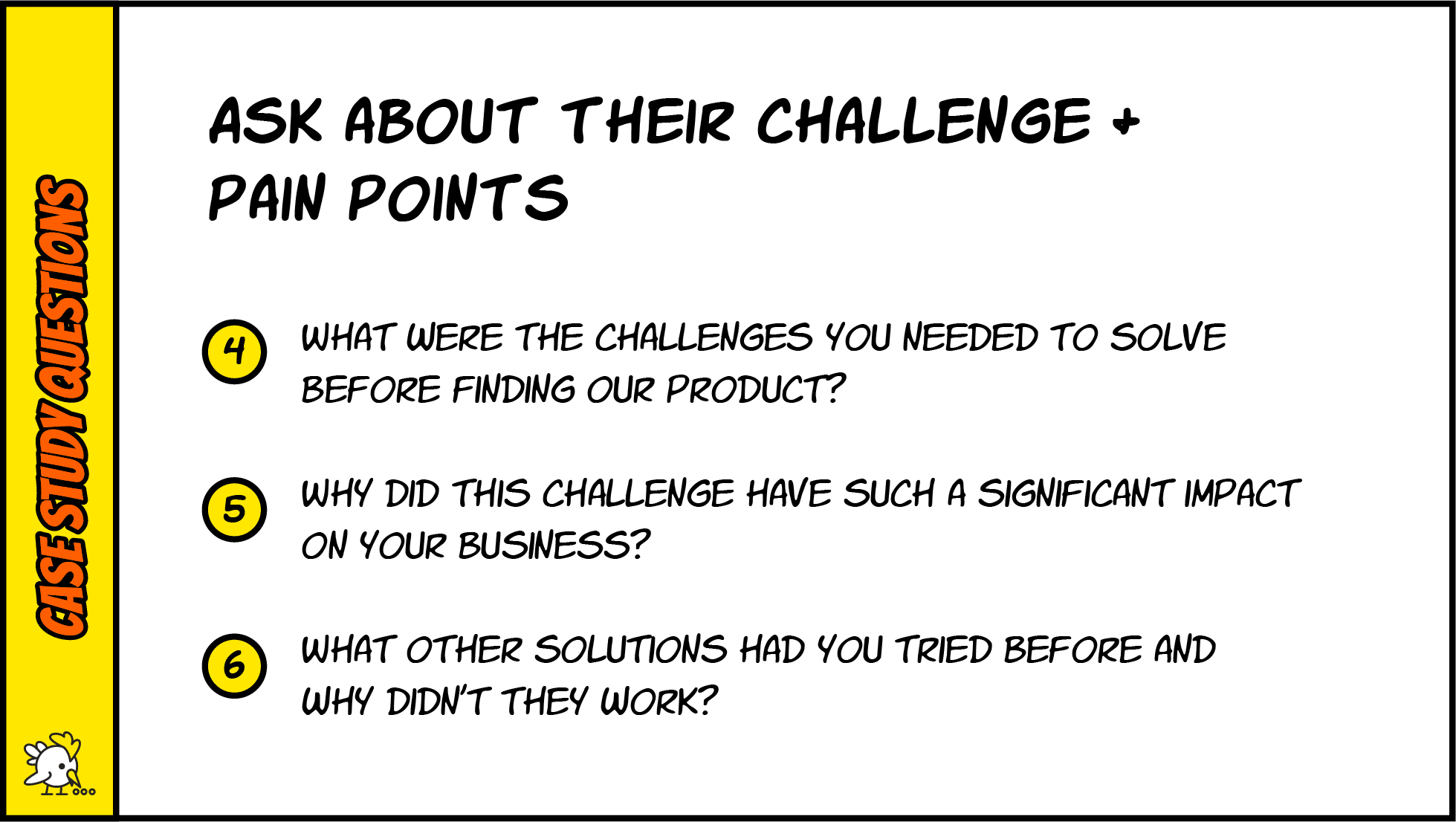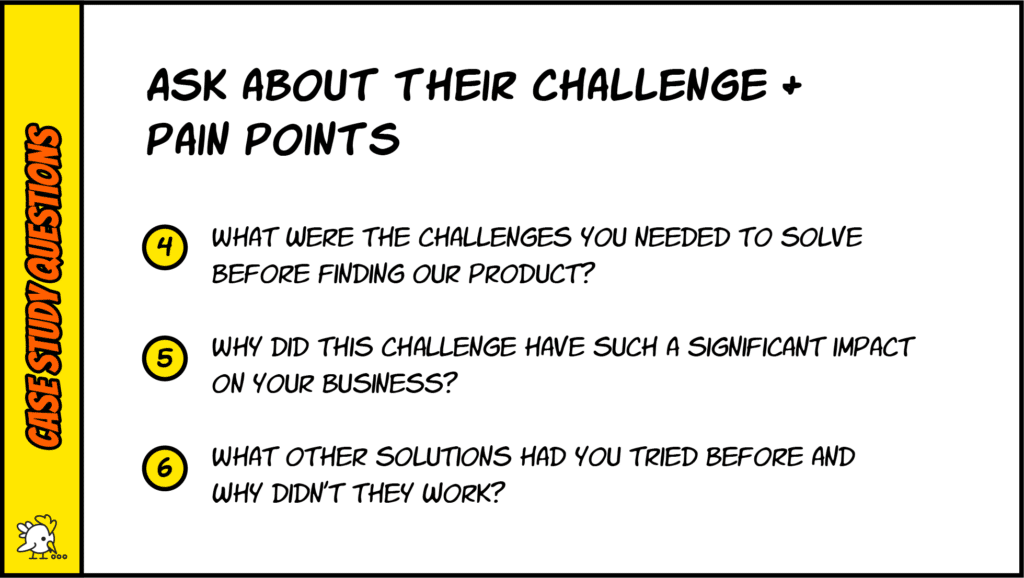 These are the best case study questions to ask for this stage of the interview.
4. What were the challenges you needed to solve before finding our product?
This is a specific, pointed question, which helps make it effective.
If I ask my content marketing clients this question, for example, they might say, "we didn't know how to create content that ranked well" or "we needed help creating content at scale."
You can dive deeper by asking pointed questions about their key problems, which brings us to the next question.
5. Why did this challenge have such a significant impact on your business?
This is the golden ticket right here, because it's about pain points.
Say you're selling marketing services, and the client's challenge is that they wanted help with lead generation.
The pain points of "organic channels were too slow in driving customer acquisition, and our churn rates were eviscerating our client numbers" or "we tried to run ads ourselves but ended up losing hundreds of dollars to no avail."
Wasted money. Bleeding clients. Too-slow organic channels. These are pain points that make the case study feel real, and that other customers will connect to.
6. What other solutions had you tried before and why didn't they work?
While it's best to skip out on trash-talking competitors in the case study, asking this question during the interview can give you valuable context and a lot to work with.
If, for example, I'm a weight loss coach, my clients may have tried the keto diet and Weight Watchers to no avail. Knowing that the keto diet made them feel queasy and that they found the point-tracking Weight Watchers to be too much work can be useful information for the study, even if you don't ever name the alternatives.
These are pain points in their own right, and can be utilized like the following:
"The client had tried different solutions before but found that the diets either made them sick or were too much work to maintain." It positions your solution to be the winning option.
Questions About How They Discovered You
While it may seem irrelevant, information about how customers discovered you and why they decided to work with you can actually become compelling parts of a case study— even if only mentioned in brief.
Here's an example of how you can use this information in the case study:
"We found Breadcrumbs after our business partner mentioned it to us, and after reading about their easy-to-use interface and accessible lead scoring, we decided to give it a try."
You've got social proof (business partner referred them) and a promo for a unique feature that made them convert.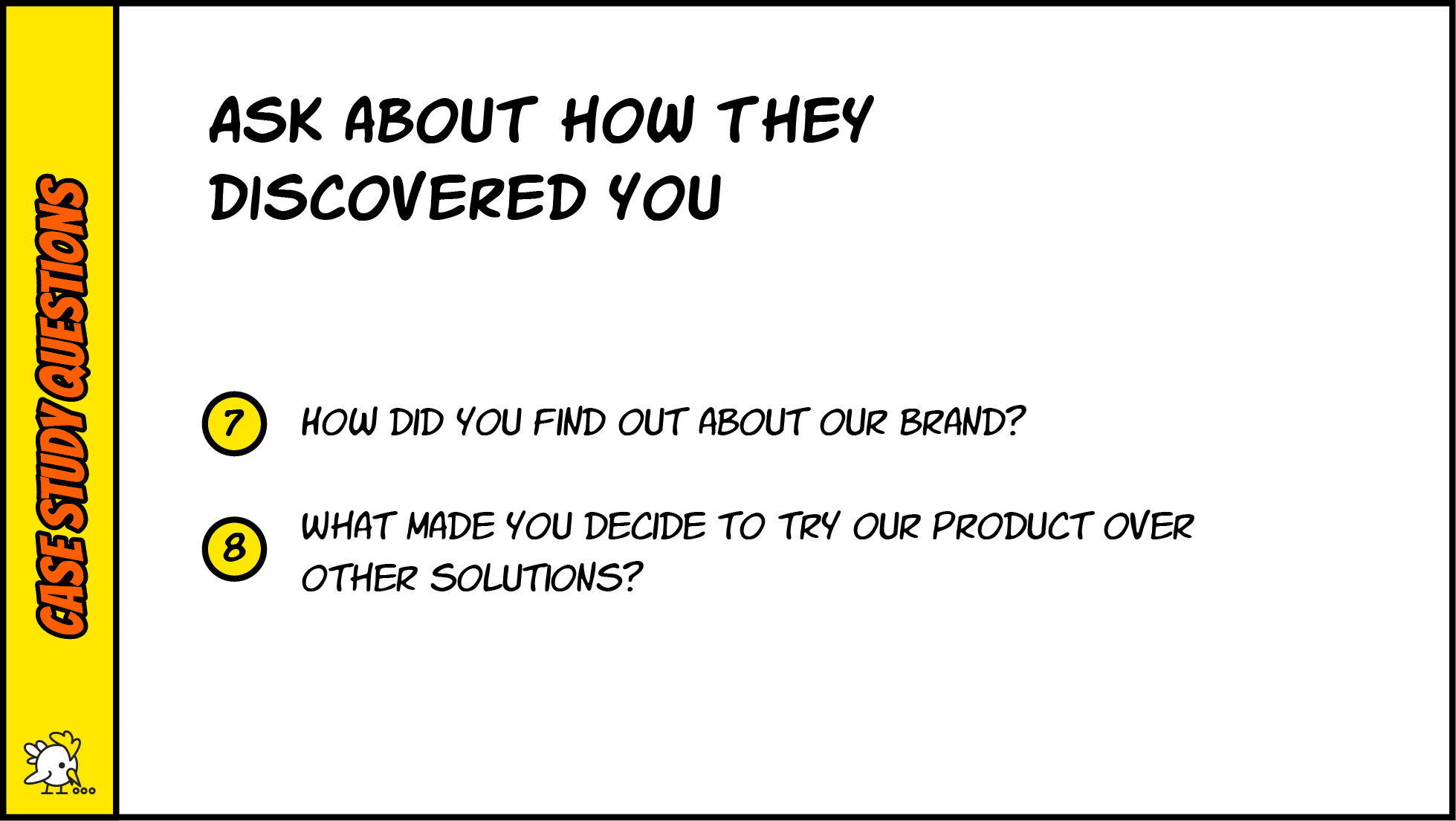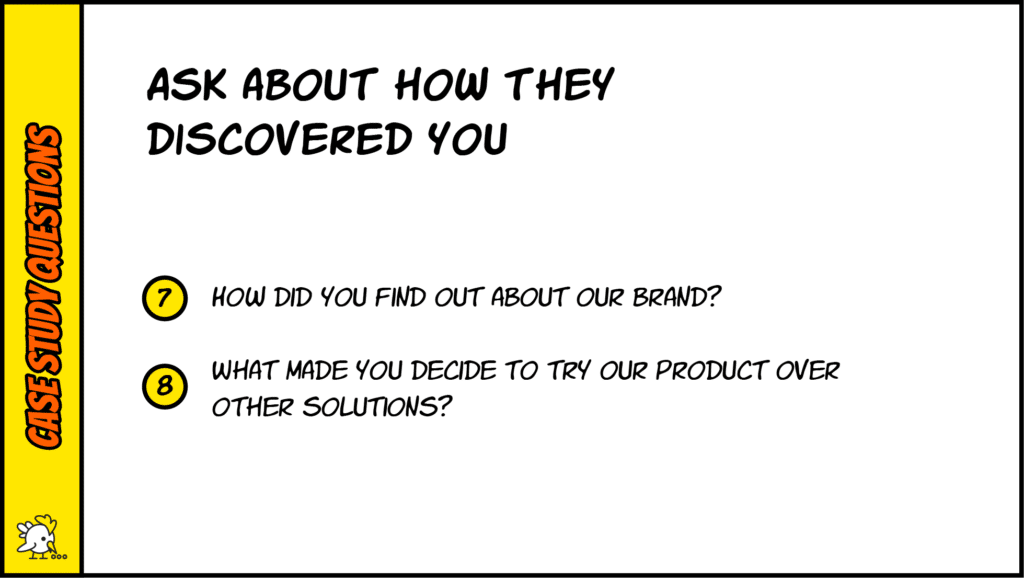 Here are the case study questions you can ask to get this information:
7. How did you find out about our brand?
It's a simple question, and it will likely be a simple answer. Nice and easy.
8. What made you decide to try our product over other solutions?
This essentially gets the customer to sell your product back to you, which is phenomenal. And someone reading the case study might think, "They're right; I've also looked for a lead scoring tool with a great interface, I'd try that."
Questions About How They Used The Product or Service
This will likely be one of the meatier parts of the case study interview because this is where some of the actionable information comes into play. How did your clients use your product or service, what steps did they take, and how can others use this to replicate the eventual results we'll discover?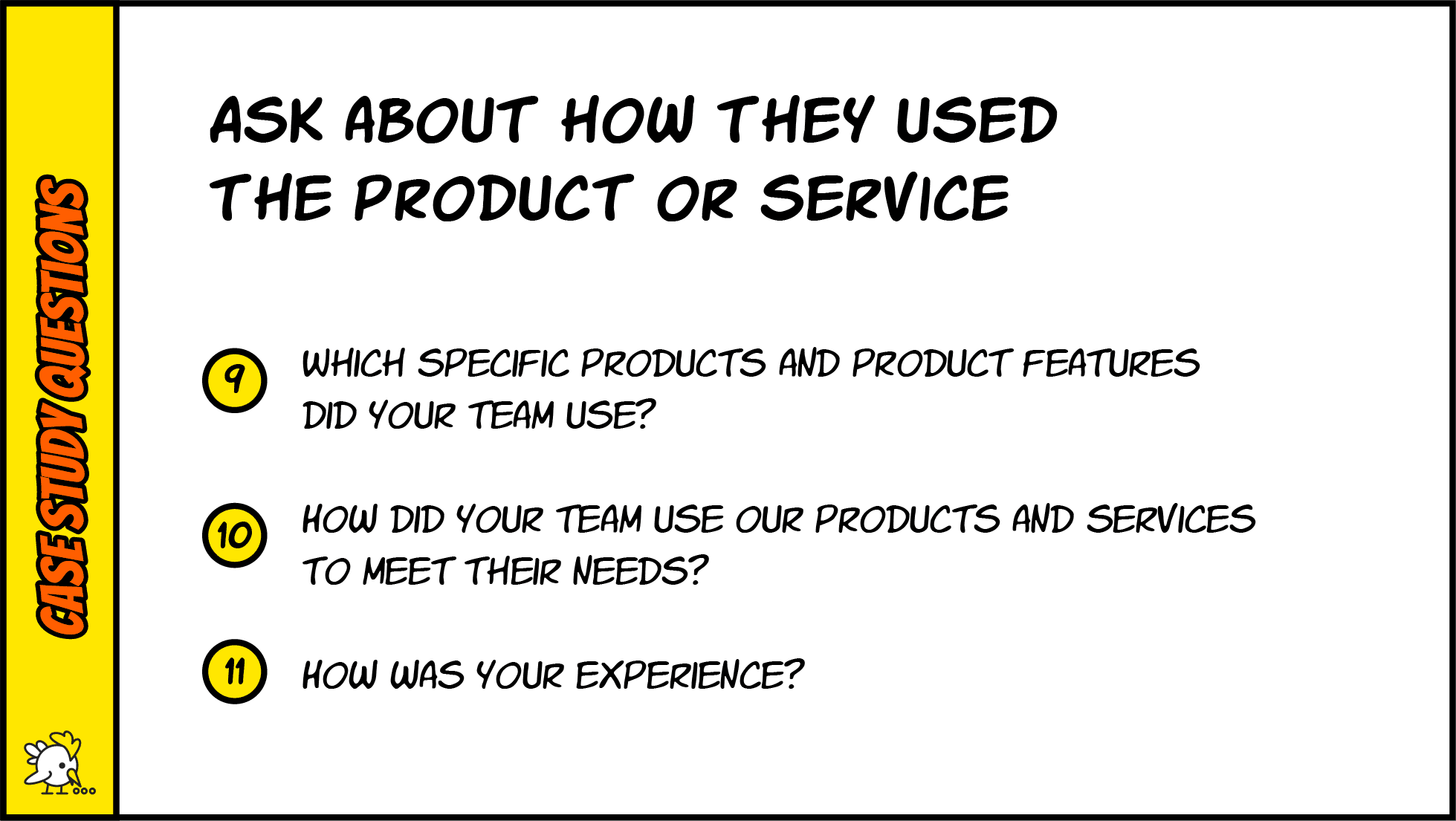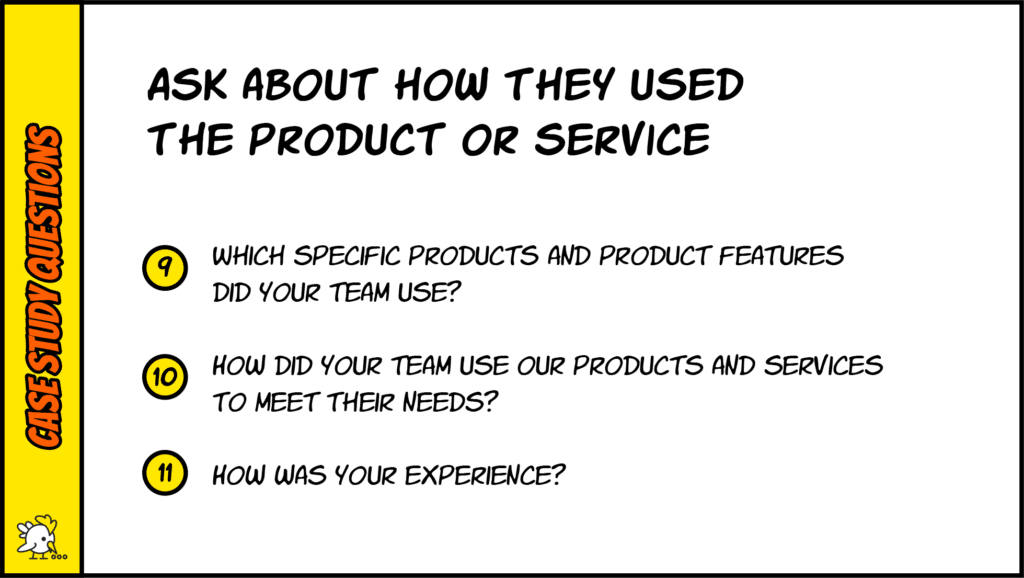 These are the case study questions to ask:
9. Which specific products and product features did your team use?
Say you're selling invoicing software to small businesses. Not all clients will use every feature.
Graphic designers, for example, may take advantage of project estimates for upfront deposits more than a copywriter who only works for flat fees. That copywriter, however, might be more likely to use invoice templates for retainer clients or automated billing features. 
Ask about the products and services the team used.
10. How did your team use our products and services to meet their needs?
You know what products or services were used, but now it's time to ask how they were used.
Project estimates, for example, allowed graphic designers to send more professional-looking invoices to clients, who could pay upfront deposits through credit card, check, or bank deposit. This helped that designer weed out clients who had no intention of paying and gave them the funds they needed to secure the supplies to begin working.
And for the copywriter who used automated billing, it saved her an exceptional amount of time and ensured she got paid on time because she sent those invoices on time.
11. How was your experience?
Was the SaaS tool user-friendly? Did your clients take advantage of a free demo program or the option to have an account manager get their entire account up and running?
Ask about their specific transition process using the tool and what made the experience a more positive one.
Questions About Their Results
Last but not least… the results. Believe it or not, some case studies skip this part of the interview, but you definitely want to include hard, quantifiable data in as many case studies as possible.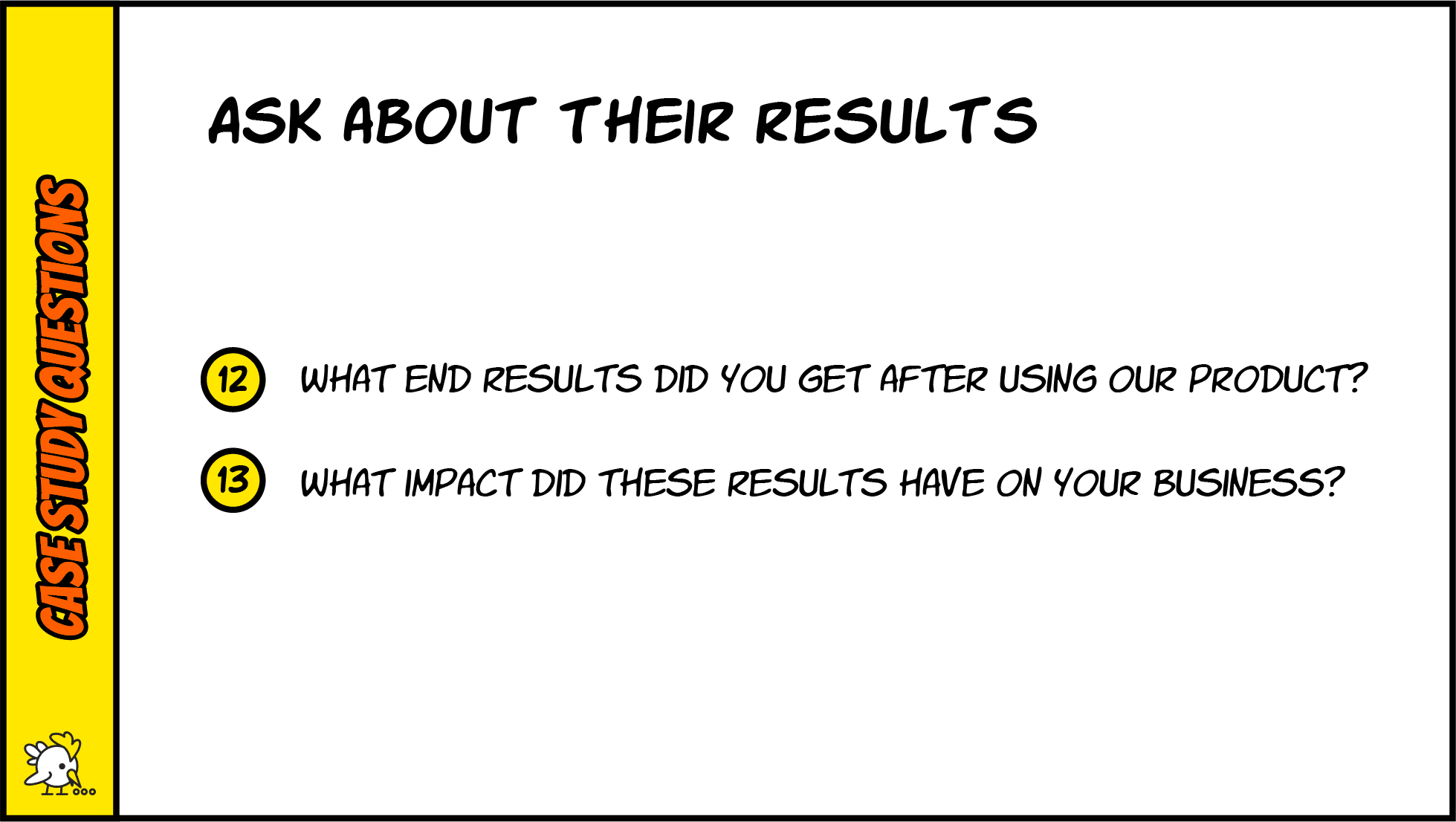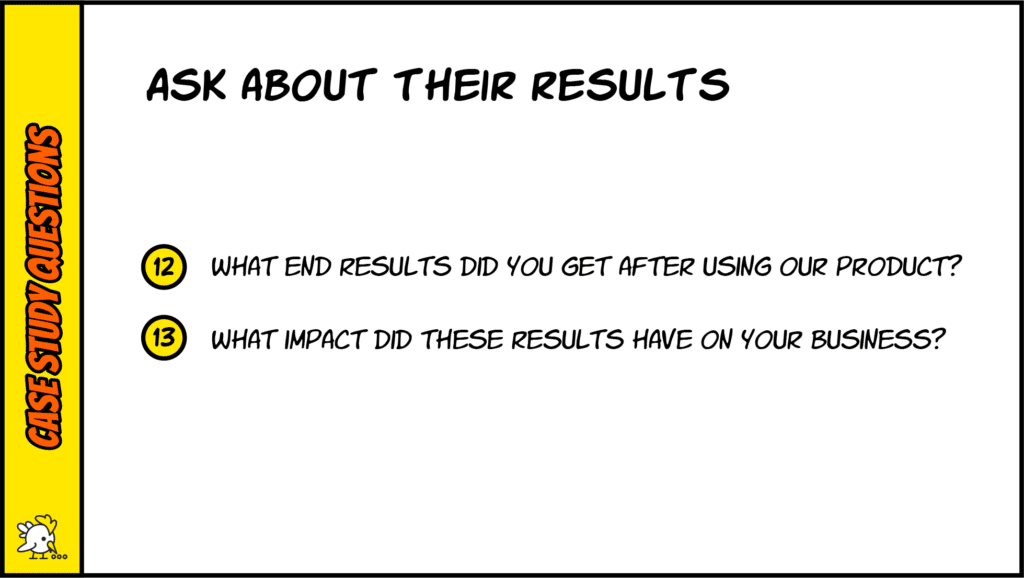 These are the case study questions to ask:
12. What end results did you get after using our product?
Ask for the results your clients achieved. If they're comfortable sharing the information, ask for KPIs.
How did using our social media marketing software increase message response rates?
How did our marketing service improve lead generation efforts, and customer acquisition costs?
How did our lead scoring software reduce the contact-to-close period for leads or increase the overall financial value of leads acquired?
Be as specific as the client will allow. The more definitive the data you can share, the better.
13. What impact did these results have on your business?
While this may seem self-explanatory, this is a great final question that again helps the impact of your product or service really stand out.
We saw customer satisfaction increase and sales go up by about 15% by improving message response rates on social media.
Or, by getting more leads at lower costs, our business was able to reinvest those accelerated profits into additional campaigns to scale exponentially at an unprecedented rate, and now we're opening two new branches.
This can be a combination of data-focused or story-driven impacts. Either (or both!) works well.
14. Is there anything else we should know?
Anything else you want to share? This is a short but powerful question, and while some clients will say, "nope, that's it," you may be surprised what some other people share with you.
There may be something they've been excited to talk about that hasn't come up in the questions yet, or something may pop into mind to elaborate on something you'd discussed earlier.
Give them the floor, and see what they have to say.
Final Thoughts
If you're going to take the time needed to conduct and write up a case study (both your own time and the client's), you want to get it right. Coming prepared with a list of strong case study questions can help you create content that will be highly effective at generating leads and converting customers for a long time to come.
Want to speed up the lead conversion funnel with lead scoring software? Create a Breadcrumbs account for free here!