B2B brands have a lot of marketing strategies to work, and account-based marketing (ABM) is an increasingly common one. The ability to target specific companies as clients is an enormous advantage, especially once you have a solid understanding of what your ideal customer profile (ICP) is.
In order to effectively find, target, reach, and convert these high-level, high-value accounts, however, it's crucial to have the right strategies and tools in place. We've covered account-based marketing strategies here. Now we're going to cover the tools side of the equation.
Wondering what account-based marketing software is and what your best options are in 2022?
Let's get started.
What is Account-Based Marketing?
First, we want to cover the basics here as a quick refresh.
What is account-based marketing?
Account-based marketing (ABM) is a B2B marketing strategy that uses an account-level focus by sales teams to specifically enable account selling. You're trying to reach decision-makers at specific companies that you know fall under your ICP and are, therefore, likely to have a good chance of being high-value audiences.
You'll use specific marketing strategies to reach connect with decision-makers from these companies and then work with your sales team to create customized sales pitches and offers that will appeal to them.
ABM can be wildly successful as a strategy, especially for those with a solid understanding of who their high-value audiences are and how they fit into the market. 
What is Account-Based Marketing Software?
Account-based marketing software is any software that can help B2B brands execute different aspects of an ABM strategy.
This may include software that can help with any of the following tasks and more:
Discovering high-value potential clients or the information for decision-makers at those companies
Helping you to assess your ICP or measure existing contacts against it
Assessing where clients are in the sales funnel so that you can deliver great leads
Specialized CRMs to track user data and engagement
6 Account-Based Marketing Software to Use in 2022
There are plenty of different options that can help accelerate your ABM marketing (and thus accelerate your revenue). Let's take a look at the six best AMB software available in 2022, so you can get ready for 2023!
1. Breadcrumbs
Breadcrumbs is a lead and contact scoring tool that can help you assess every single contact you have in your pipeline. We offer account-based scoring, allowing your sales teams to keep an eye on individual clients at the account level as they move through the sales funnel—even once they're already customers and you're interested in upselling or cross-selling.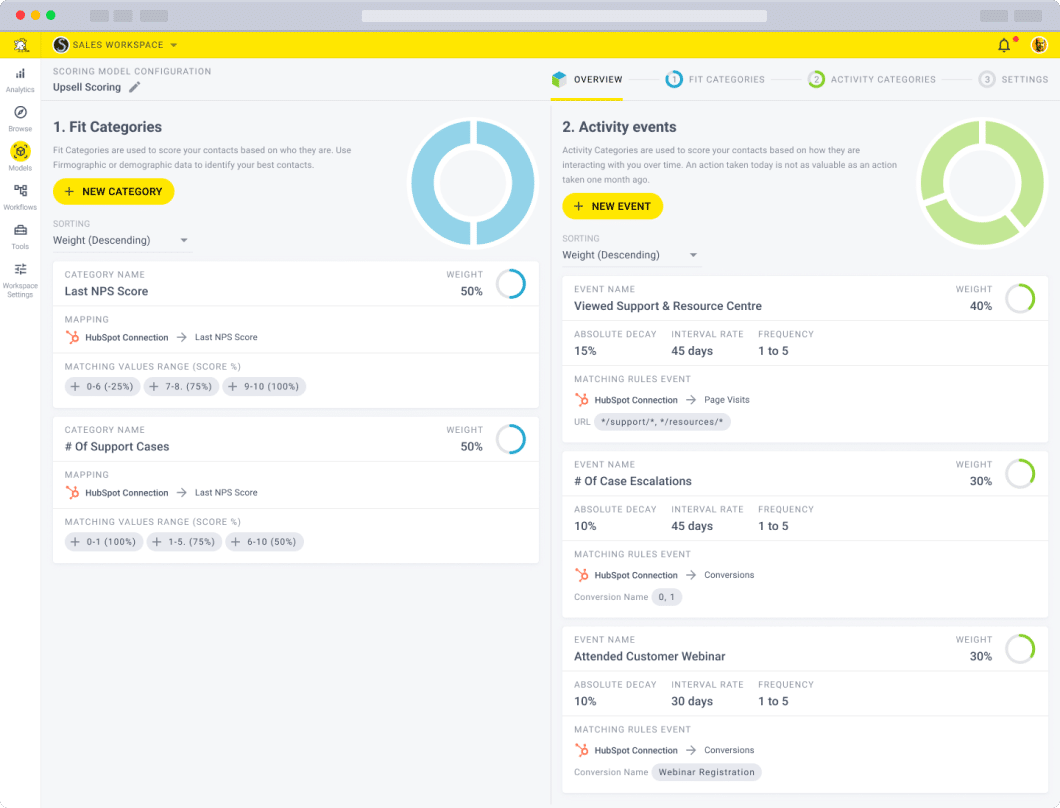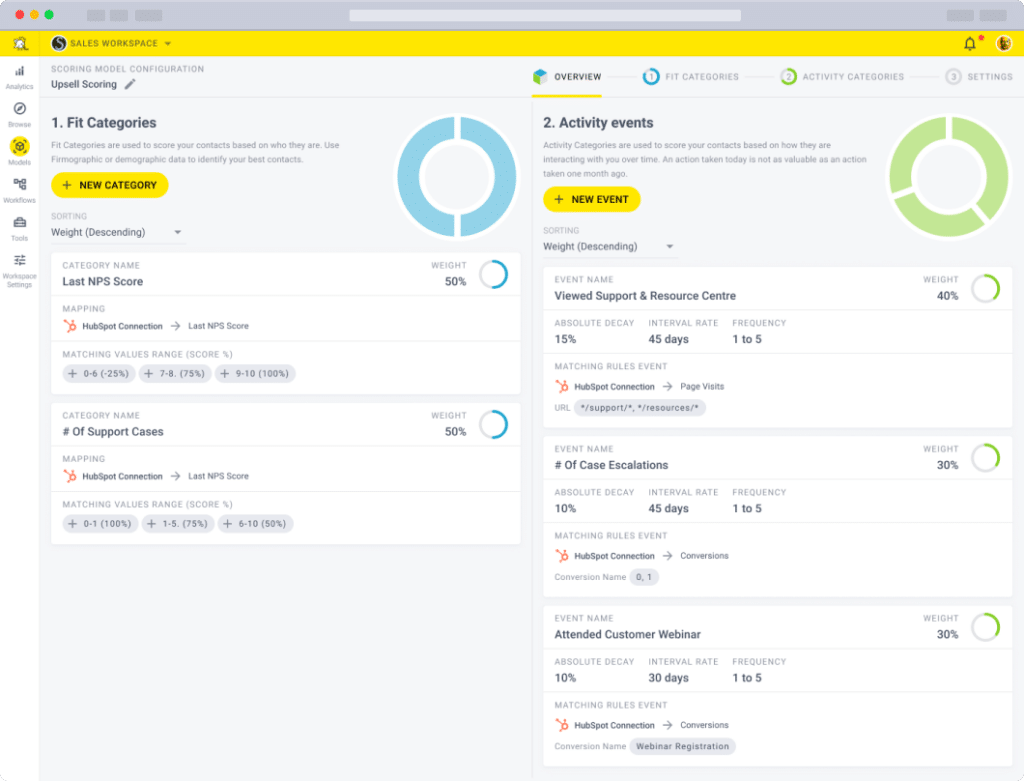 With Breadcrumbs, you won't only see how well a lead scores based on fit but also activity. Which potential leads are engaging most with your emails, your website, your lead magnets, and your products? Who is maxing out their free trial, and who is reaching out for more pricing information? These are all vital clues, and with recency and frequency factored into the equation, your sales team can always see which leads are engaging and get insight into what sort of custom deals they may jump at.
And if you need help defining your ICP, our sister tool Reveal can help. It can compare high-value audiences to your overall audience to give you actionable insight about who you should be targeting with ABM strategies and who will be most likely to convert.
2. HubSpot
HubSpot is a powerhouse of a CRM, and it's a growth-focused platform that comes with marketing, sales, and customer service features attached. If you want detailed analytics so that you can track users throughout their sales journey—and every single interaction they're having with your sales team— this is a great tool to consider.
You can create, execute, and manage an entire ABM strategy right from Hubspot's dashboard. Send out emails, enter the contact information of new leads, take notes on every interaction, see users' progress in your own tool through third-party integrations, and get detailed analytics about who is converting and why.


With upgraded plans, you can also access useful features like sales forecasting tools that can help you predict and track sales coming from individual accounts.
HubSpot offers an enormous number of different plans that you can choose from, allowing you to customize a plan and price that works for you. If you're not sure if it's a good fit, try out their free plan to see how you like their interface.
3. Terminus
Many ABM software on our list is going to serve specific purposes that can be used for account-based marketing, but Terminus is a little unique because it was designed specifically for account-based marketing.
This is an every-stage-of-the-pipeline tool, too. They offer engagement features for all crucial channels, including PPC ads, email, live chat, website, and general sales.
There's also an enormous amount of analytics here that can help you pinpoint which companies are seeking out and researching brands like yours, picking up on small cues and signals that indicate high intent and open opportunities for a potential sale. This is possible thanks to first-party data being supplemented by Bombora's intent data to get a better understanding of what's happening with each lead.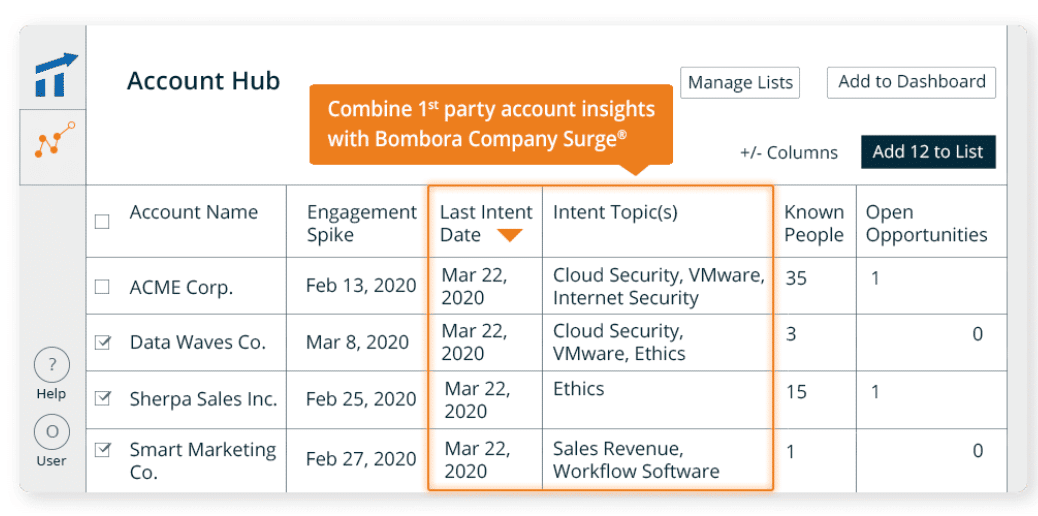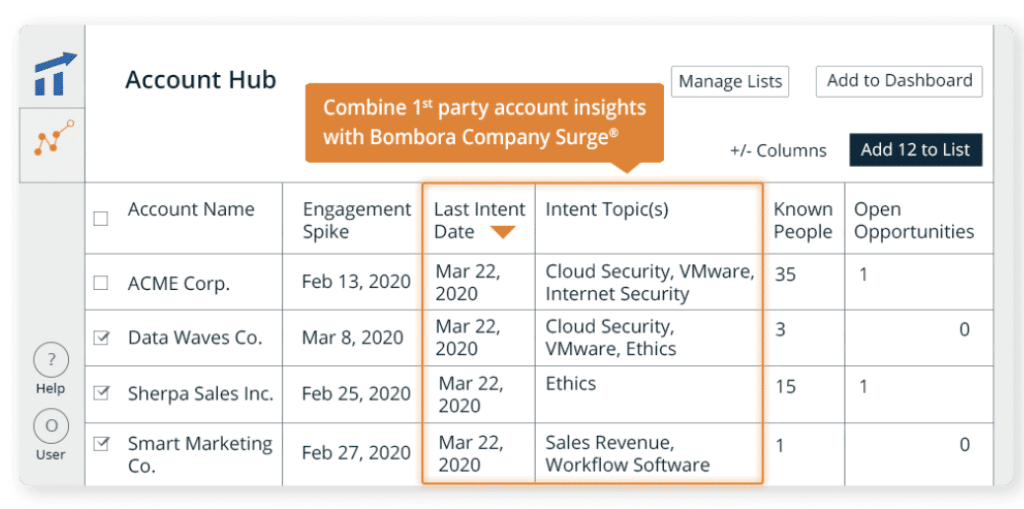 Terminus is a great tool, but we also recommend using it in conjunction with other tools like a strong CRM or a lead scoring tool in order to get the most out of the data and analytics that you're seeing.
4. 6Sense
We can't imagine writing a blog post about ABM software without mentioning 6Sense.
6Sense is a revenue-focused AI tool that captures and analyzes user activity data to help you get a better idea of which individual accounts are progressing through the pipeline.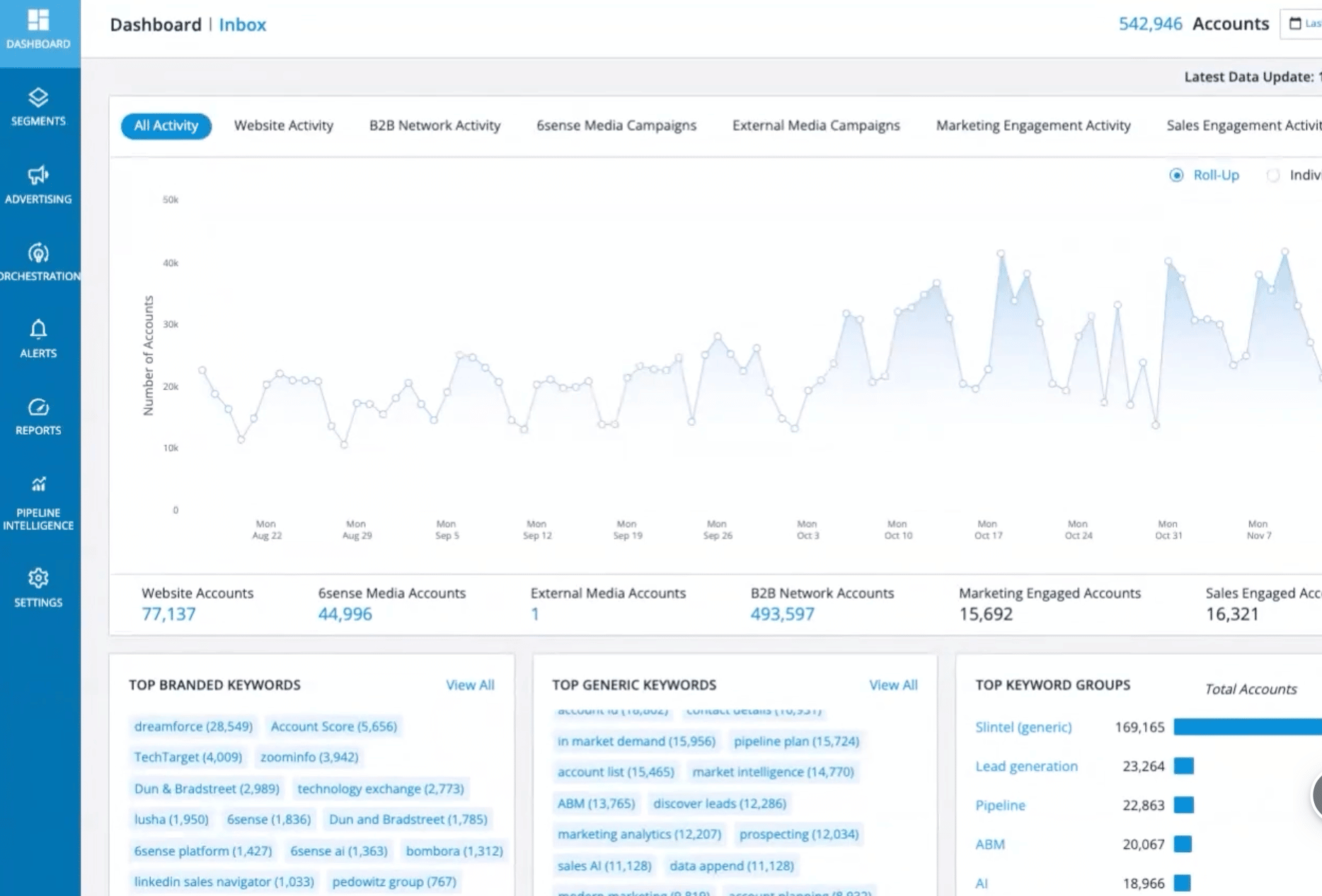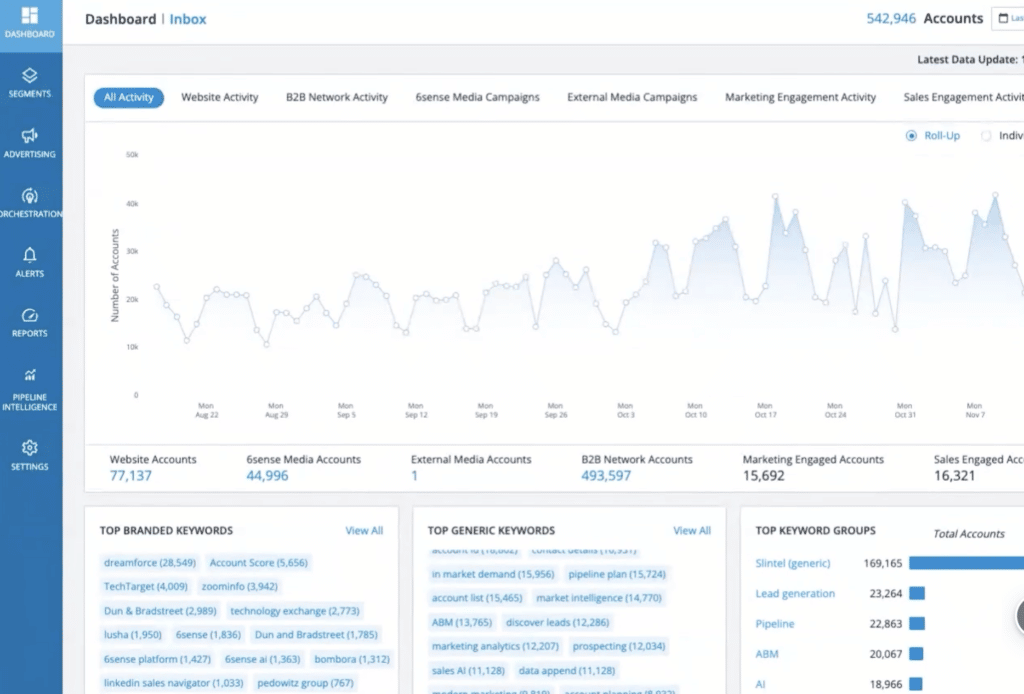 They do this by tracking "hidden" signals like website visits or landing page activity, pairing it up with users to help you capture sold intent data. You can match buying signals with specific accounts, allowing you to see what products, services, features, and upgrades your audience is most interested in. You're getting clear, clean data without any fuss, and it's all actionable and relevant now.
There are also some strong predictive analytic functions that make it easier for your team to create workflows that will be more effective at converting specific accounts. And like many of the other tools on this list, 6Sense does have streamlined marketing features so you can create, run, and test campaigns to help your sales team get the sale.
5. ZoomInfo
Once you know what your ideal customer profile is, you need to leverage it and find companies that actually align with it. That's where ZoomInfo comes in.
There are a lot of tools out there that allow you to try to find potential clients based on different criteria like industry, revenue size, or years in operation, but ZoomInfo is a personal favorite. Their interface is easy to use, making it easy to search for diverse qualifications that will help you find companies within your ICP.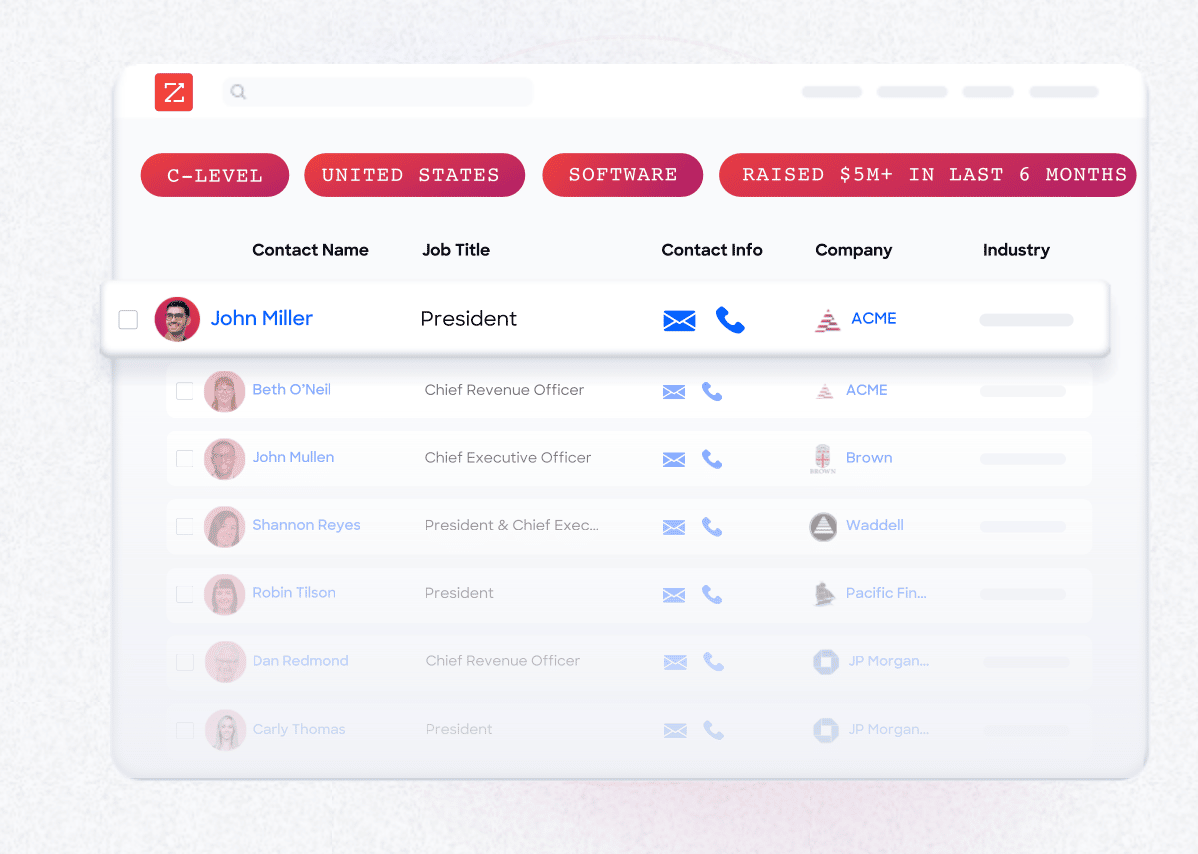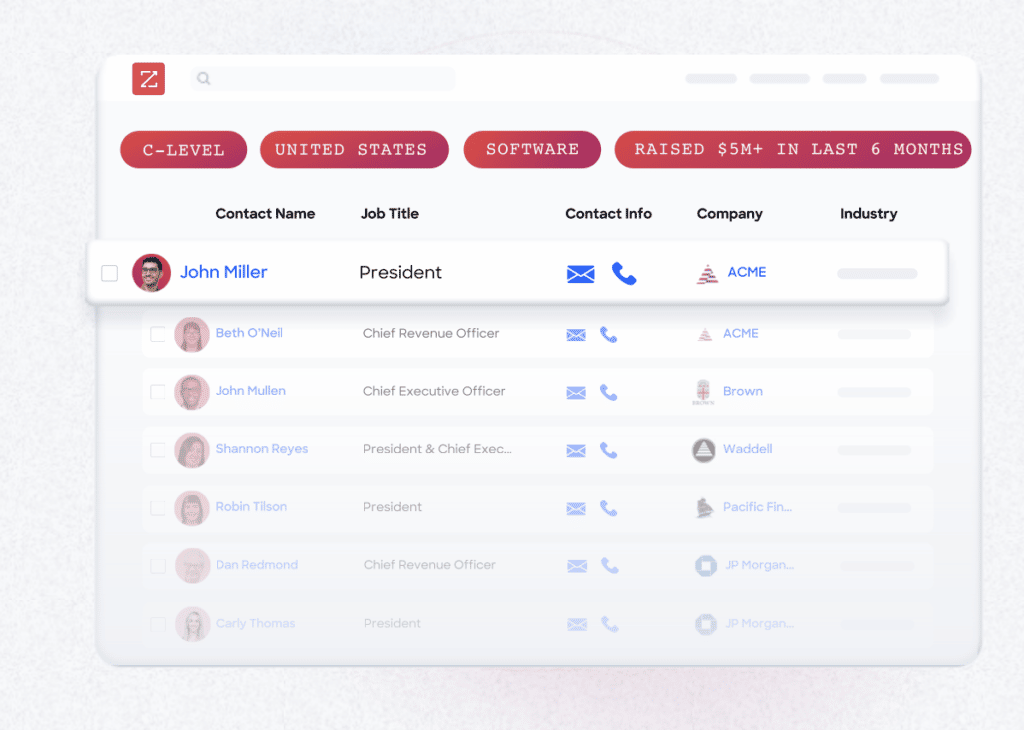 And they don't just give the company information; they'll give you organization charts with different team members, contact information, and crucial company information that can help you pre-qualify users at an account level.
And once you do this, they have other AMB features that are dead useful. They have buyer intent features that show you what the specific account is known to be in the market for and see which website pages they're responding to online.
Also worth pointing out is their conversation intelligence software, Chorus, which can be an invaluable training tool for your sales team.
6. Triblio
Triblio is another account-based marketing platform that prioritizes ABM orchestration. This means that the goal is to predict and boost your pipeline by understanding easily-missed intent signals throughout a unified sales and marketing funnel.
It's an AI-powered tool that leverages machine learning for account identification and analyzing purchase intent, so you're getting an abundance of data without the risk of human error. It's also a multi-channel tool, so you can track what users are doing in apps, on your site, and through email instead of getting disjointed information that all ends up in its own data silos.
Triblio has some great features. Like other tools, it does allow you to create and manage marketing and sales campaigns from their dashboard, but they also offer some incredible personalization features that I haven't seen matched anywhere else.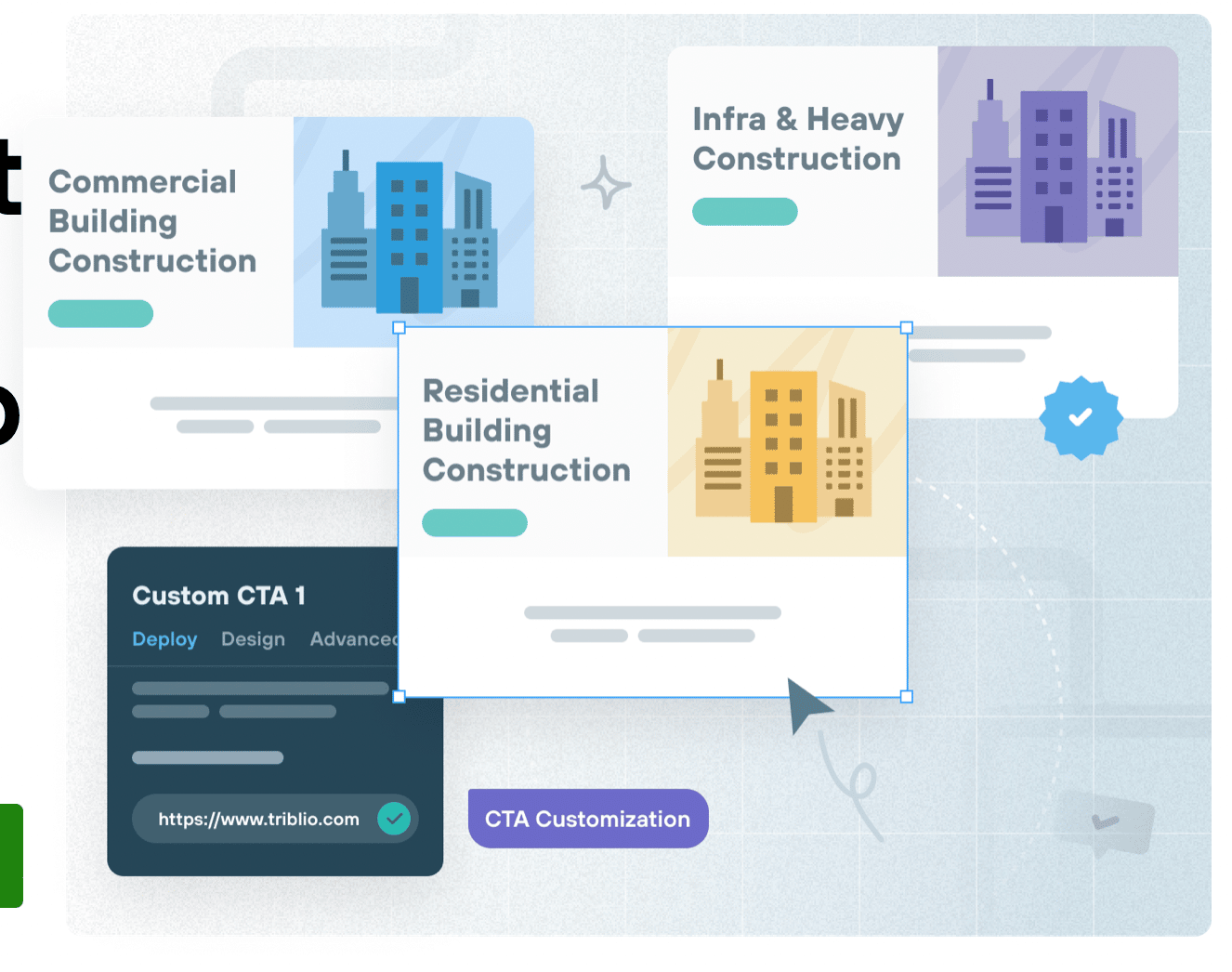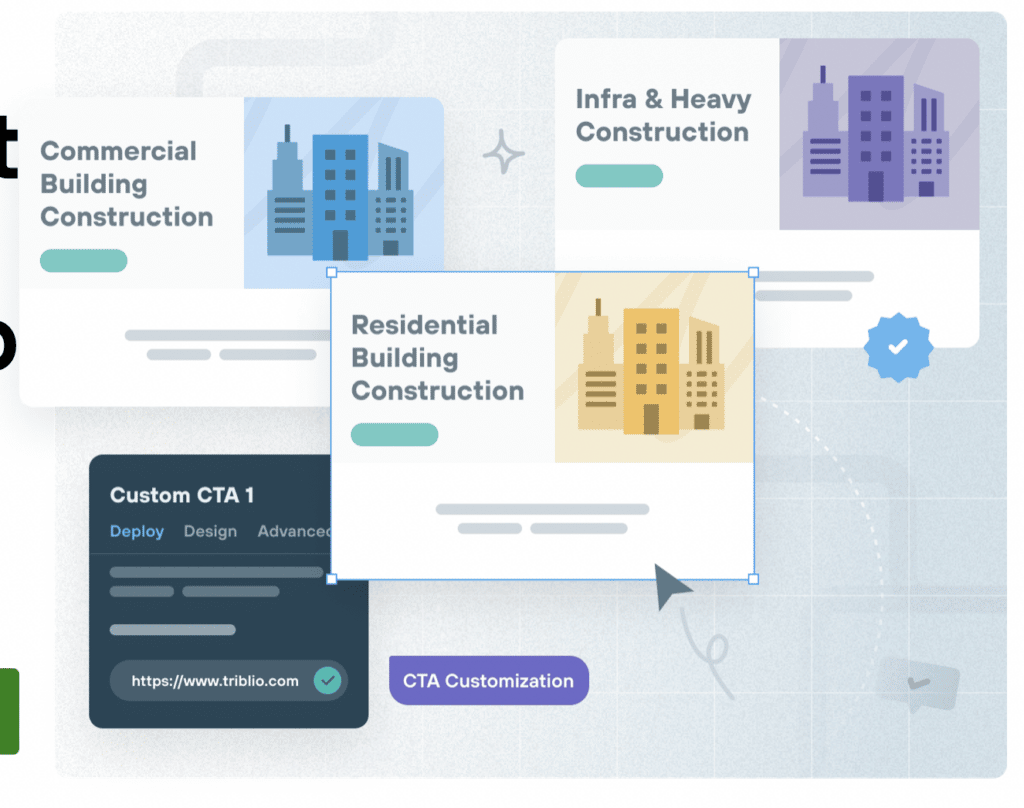 You can, for example, actually tailor your website so that it's personalized for different users, increasing the odds of conversions overall. That's a pretty sweet feature that's hard to overlook.
Best ABM Software: Final Thoughts
ABM is not an easy task; you're ultimately working at a granular account level in order to scale instead of relying on mass campaigns distributed at scale with the hopes of accelerating growth.
It can, however, provide incredible growth—focusing your talented sales team in on a high-value, high-intent lead that directly aligns with your ICP can bring about incredible business and revenue growth. This is why it's such a popular B2B marketing strategy and why we can't recommend it enough.
Ready to get a better understanding of who your ICP is and which of your current contacts fit the mold? Book your free demo with Breadcrumbs here.