When it comes to your marketing tech stack, you're going to want the best to give your company what it needs to thrive. This article will explore and review the nine best account-based marketing software available right now.
What is Account-Based Marketing?
First things first, we need to address the basics. The basics being; What exactly is Account-Based Marketing?
Well, Account-based Marketing (or ABM) is a business-to-business (or B2B) marketing strategy that employs an account-level focus used by sales teams for targeted account selling.
Account-Based Marketing uses personalized marketing and sales efforts on a focused set of strategic accounts. Essentially, ABM inverts the standard demand generation process.
While demand generation starts by creating the content and messaging before distributing it among the relevant channels, account-based marketing begins with the target already in mind, or "the who." Account-based marketing focuses on which accounts are most likely to become their best-fit customers.
Account-based marketing software can enable organizations to align marketing and sales teams toward the company's goals. This software offers tools to help automate and reduce the lengthy process of identifying prospects and dedicating the right resources to nurture the most promising accounts.
Once the marketers have identified their target accounts, they can create highly personalized content relevant to those accounts they've targeted and select the proper channels and strategies to reach the right people or persona within those accounts.
They can do this by enabling users to generate highly qualified leads, craft personalized buying journeys, and increase customer lifetime value building further opportunities for in-pipeline accounts. ABM allows users to combine prospect data with real-time customer experience technologies to facilitate an account-based marketing strategy.

Looking for more ways to speed up your revenue? It is critical to implement the Revenue Acceleration Process when working with account-based marketing. Check out our Revenue Acceleration Manifesto.
Why Account-Based Marketing?
One common benefit to choosing account-based marketing is the synchronicity it creates between your marketing team and your sales team. When both the sales and marketing focus on the account itself, it's much easier to align their messaging, standards, and reporting practices.
Account-based marketing is available to help all marketers form higher-quality relationships with accounts before you move into sales. Account-based marketing also aims to create a zero-waste marketing system by focusing on quality over quantity by creating a pipeline filled with high-quality account leads.
These leads are nurtured with personalized campaigns and lead to high-quality customer relationships. The ABM approach can also identify up-sell or cross-sell opportunities and outline those who might be a risk.
With the time and resources you'll need to invest in for account-based marketing, marketers need to be confident that they've chosen the right accounts to target so they can create the right content to nurture those accounts.
This article will focus on and explore the best account-based marketing software available right now in 2020.
9 Best Account-Based Marketing Software Tools
1. HubSpot
Our first focus is on the leading growth platform just about everyone knows; HubSpot.
Founded back in 2006, today, more than 100 countries use HubSpot's software, services, and support to transform the way they attract, engage, and connect with their customers.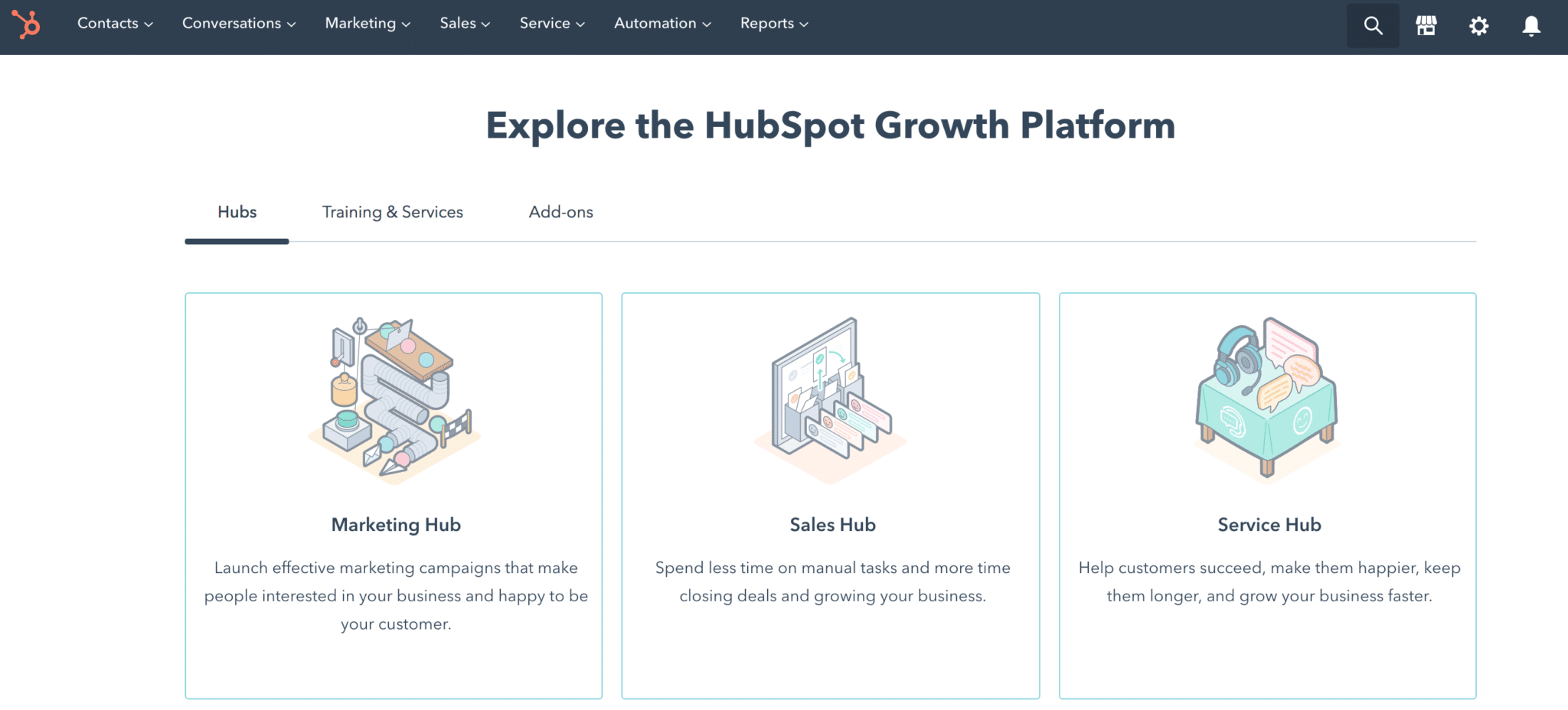 The platform consists of a Marketing Hub, Sales Hub, Service Hub, and a powerful free Customer Relationship Management (or CRM) tool. HubSpot gives its companies and users the tools they need to grow by providing just about everything you need so you can run a successful inbound marketing campaign.
HubSpot's Account-Based Marketing (ABM) software lets you carry out an entire campaign right in your CRM tool. You can create an ideal customer profile (or ICP), which helps HubSpot automatically tier your prospects based on how well they match your submitted profile.
The software also helps you identify your prospects' challenges and risks to personalize specific marketing messages to attract them. Additionally, HubSpot's Marketing Hub offers tools such as ads, web pages, and social media posts.
HubSpot offers all of the essential tools to help you market to your customers and make your campaign successful. HubSpot has a complete account-based marketing system that allows users to explore the tools they need and access smaller businesses with smaller budgets.
2. 6Sense
Our next focus for our best account-based marketing is on 6Sense.
6Sense is an Account Engagement Platform that helps B2B organizations achieve predictable growth patterns.
6sense uncovers anonymous buying behavior, prioritizes sales and marketing accounts, and enables them to engage resistant buying teams with personalized, multi-channel, multi-touch campaigns.
6Sense focuses on providing users with the capabilities needed to engage with their customers. 6Sense can collect insights about an account's challenges to market to them in a way that offers the most impact.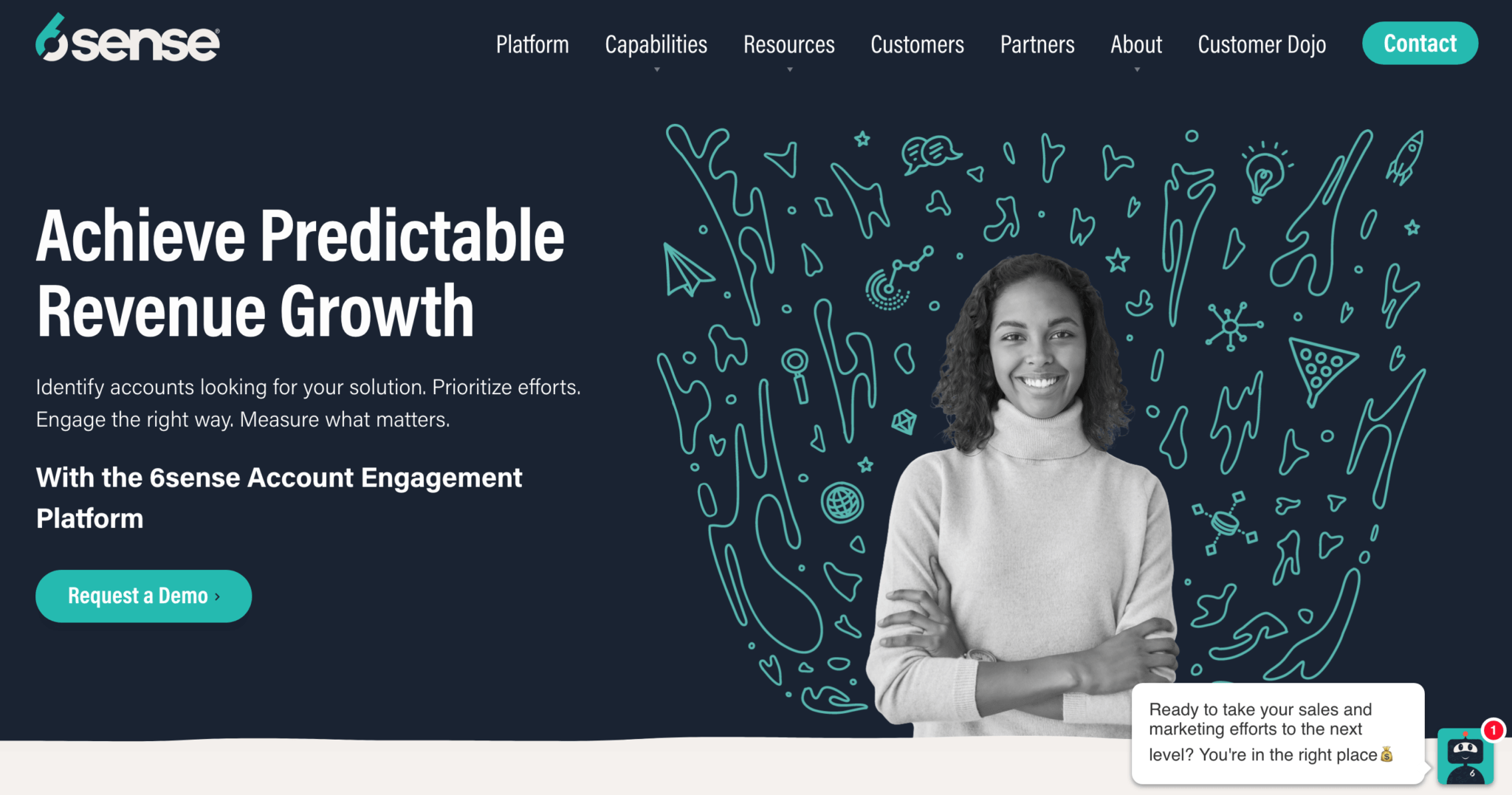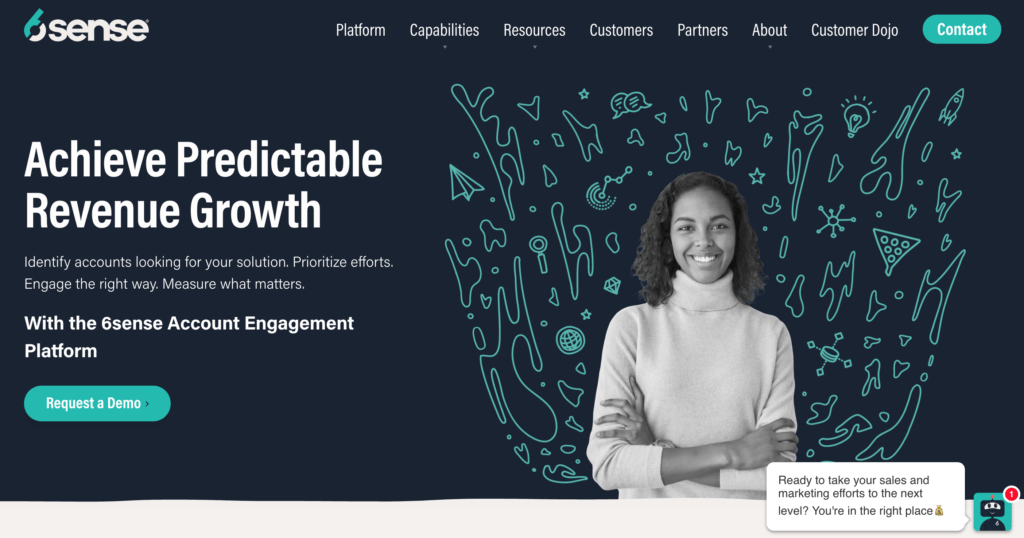 With their engagement platform, you can align your sales and marketing strategies together using their data. You can use the data provided about your accounts to prioritize your system and customers based on their unique interests. This setup allows you to deliver consistent experiences that scale with your customer's journey.
Be Aware that 6sense does not offer a free trial.
6Sense does, however, offer a customized package for you based on your needs. You will need to schedule a meeting with them to receive an estimate on what they believe might work best for you.
3. Bound
Coming in 3rd on our list is Bound.
Bound is another Cloud-based program designed to help organizations of all sizes manage their website/content personalization analysis, audience segmentation, and engagement across multiple channels.
The platform delivers powerful insights by combining data on known and anonymous audiences, leveraging over 30 data partners, including LinkedIn.
Bound lets its users analyze the web behavior of accounts and build audience segments based on that analyzed data. They can choose how to target those segments using software offerings like email and copy templates.
This platform is reviewed as intuitive and built to provide marketers with the tools needed to personalize the account-based strategy. Essentially, you can build audiences, create dynamic content.
Finally, users can measure their success and see how their segments perform, and adjust their personalization strategy as needed to reach accounts best.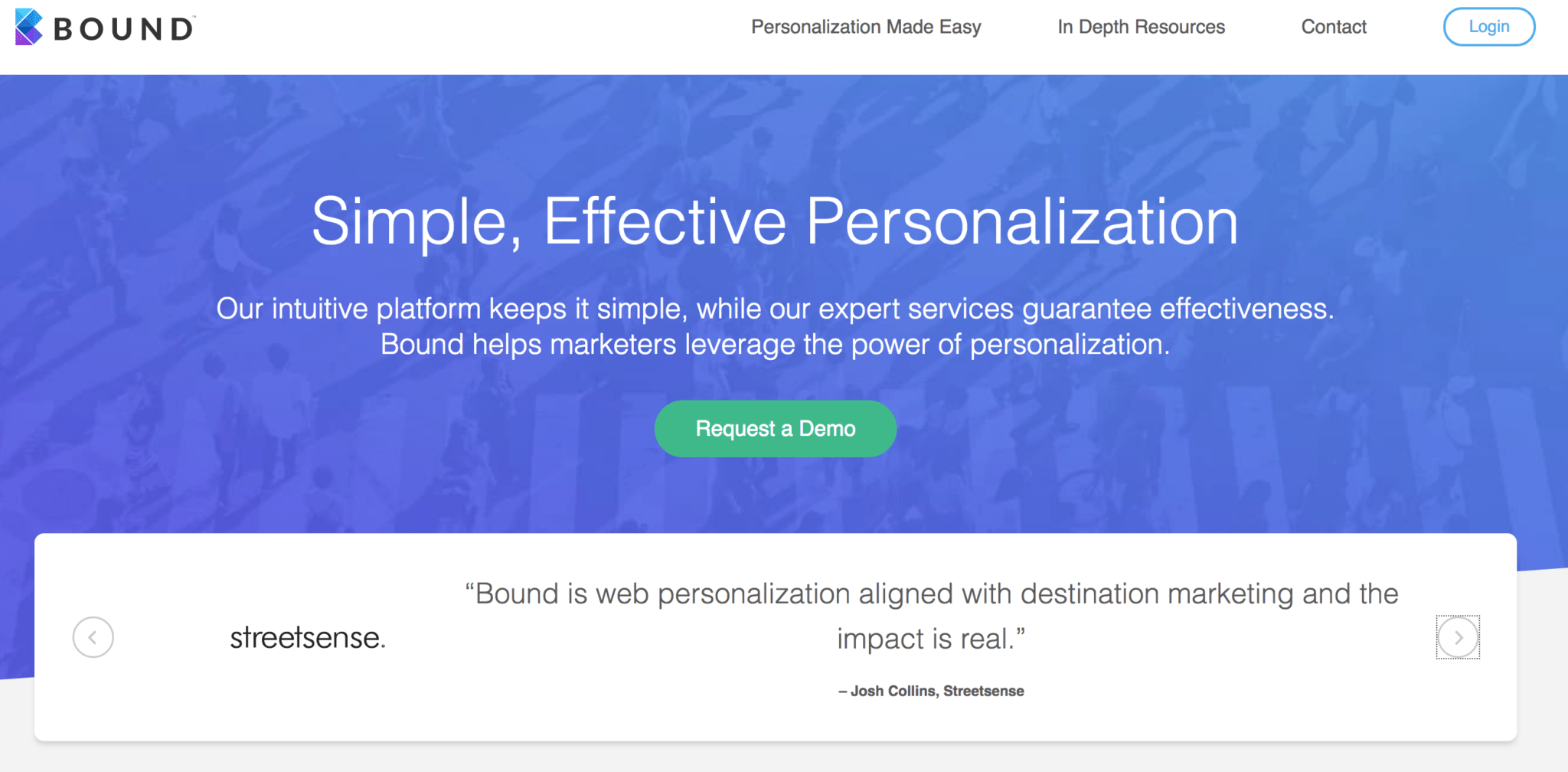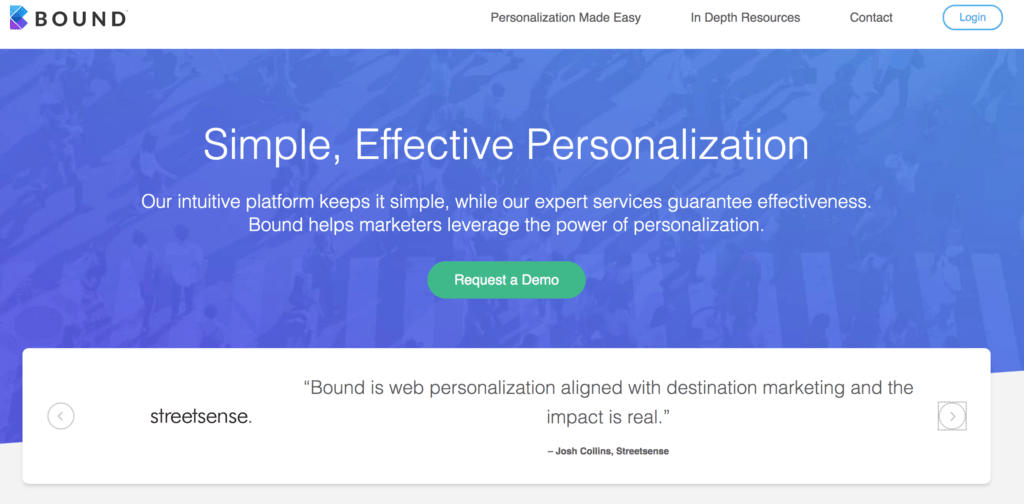 When combined, the platform experts empower marketers to build advanced segments and deliver personalized experiences that increase the return on investment (or ROI) on digital channels, convert leads, and close deals.
Bound features some of the world's largest B2B companies, such as HPE, Rockwell Automation, WP Engine, and M-Files, as customers.
Unfortunately, though, Bound only has training via downloadable documents; there are no live training experiences or webinars available to learn the program.
It is also worth noting that they are another service that does not offer a free trial run but does offer enterprise packaging. You will need to contact them for a personalized demo.
4.Terminus
Terminus is a funnel account-based marketing platform that serves as a command center for targeting the right accounts.
Terminus does this by offering dynamic data, engaging them with unified multi-channel campaigns, activating sales by separating signals from noise and reporting on the revenue outcomes that matter.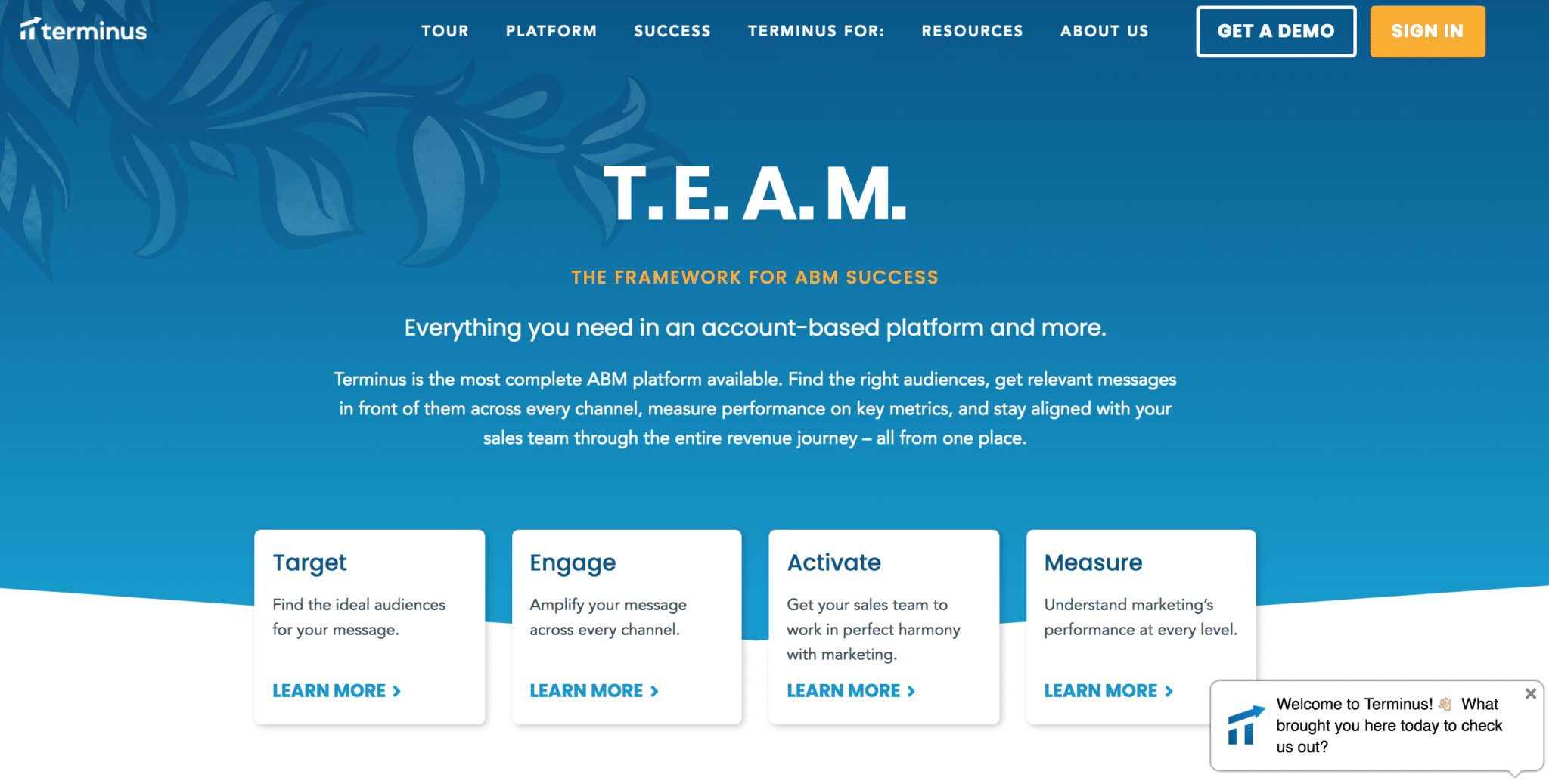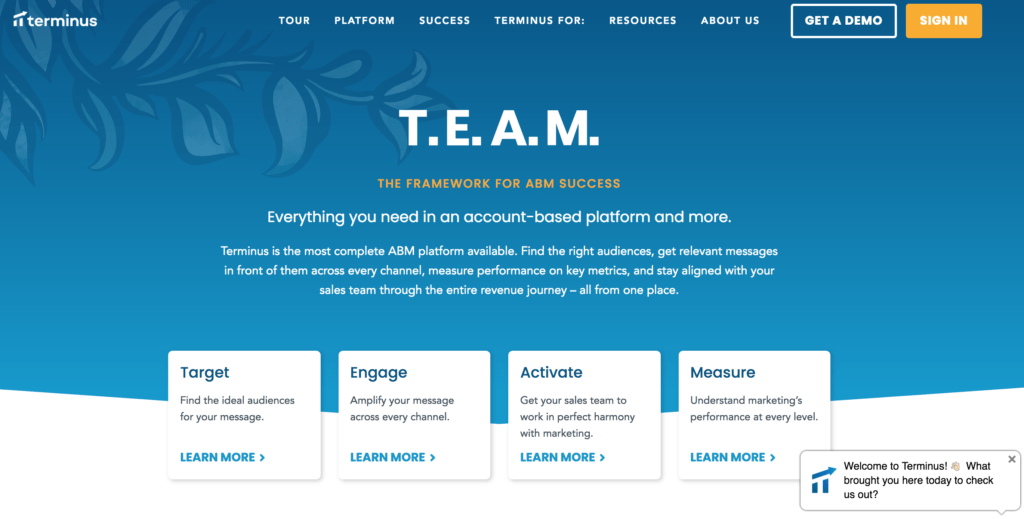 You can Unify your first and third-party data using the Terminus Account Hub. A key feature of Terminus is the '360 support' to view all your accounts and contacts. Building target account lists, identify engagement gaps, and prioritizing your efforts as one 'team'.
Terminus makes it easy to launch digital advertising campaigns to the correct target accounts and then measures the impact of those efforts on engagement, pipeline, and revenue.
Terminus helps you engage your target on social media platforms, chat, email, and your website using email experiences, web experiences, and chat experiences— including LinkedIn ads – to tell your digital story.
While Terminus does not offer a flat online price package online, they allow you to use and explore its product with a free demo that you can view before someone reaches out to you. Customized pricing available by estimate.
5. DemandBase
We're about halfway through our list and checked out one of the pioneers in Account-Based Marketing next with DemandBase.
Some of the world's biggest and fastest-growing companies rely on Demandbase to drive their Account-Based Marketing strategies. Known for pioneering the ABM category nearly a decade ago, today, they are a leader in the industry as an indispensable part of the B2B tech stack.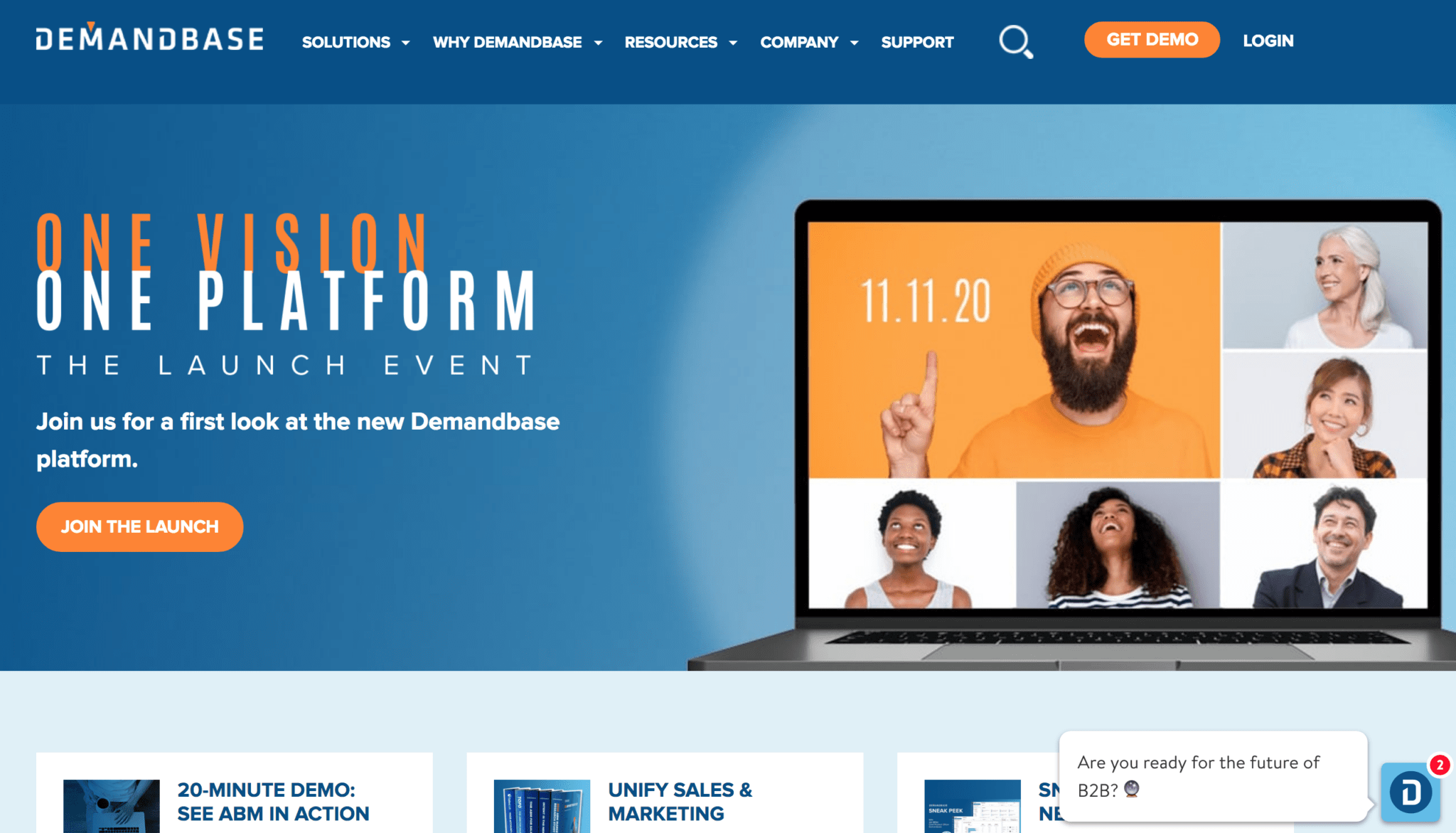 Engagio came highly recommended through G2 this past year and has recently been acquired and is now part of Demandbase. Engagio is a feature built for marketers by marketers.
Like the prior platforms, revenue teams can track which accounts are engaging, focus time and resources, and have a shared understanding of impact.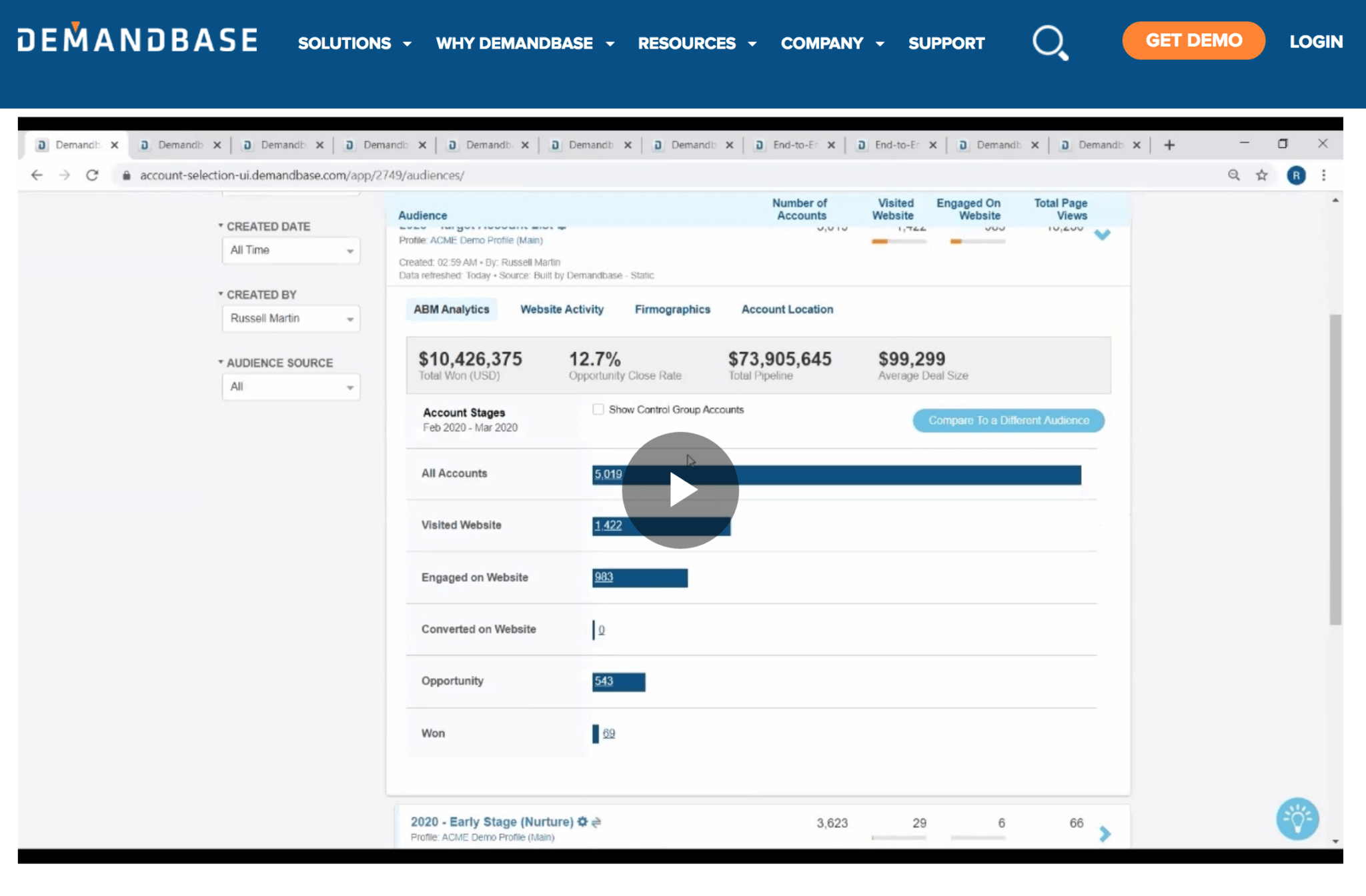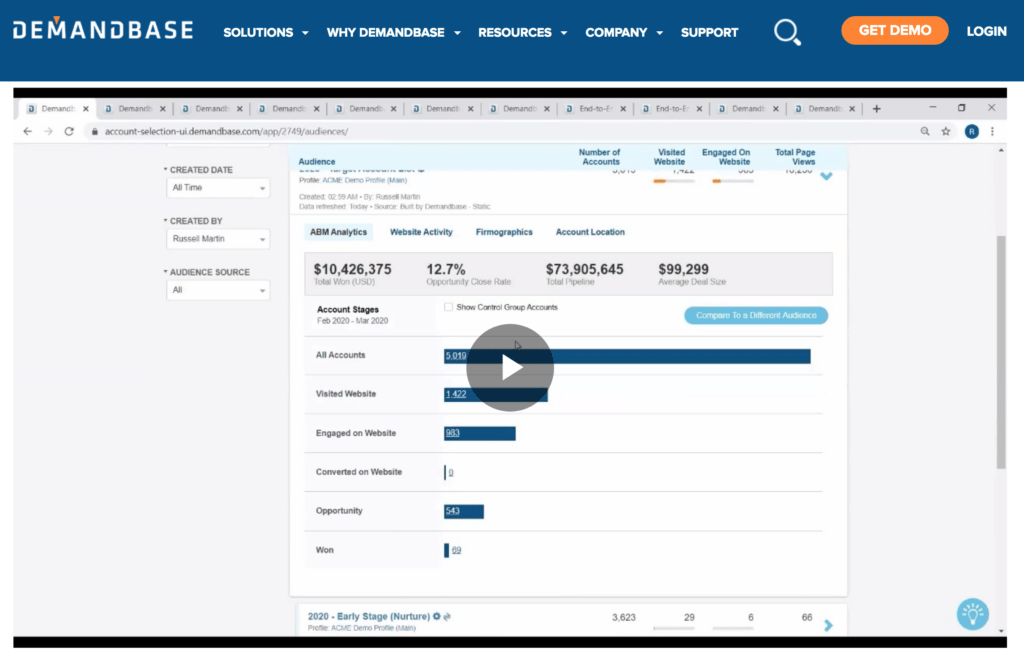 Users of the DemandBase software experience the ABM programs throughout the entire customer process. The platform allows users to scale their efforts with accounts rather than using a bunch of confusing point solutions.
While there is no public pricepoint available for DemandBase, They offer enterprise solutions on their pricing. They are loaded up with videos AND will provide a personalized demo.
6. LeanData
LeanData pulls in at number 6 on our list.
LeanData is reviewed as an easy and streamlined service but has its hiccups where some of the diagrams they provide for your data can be confusing.
However, their customer service is noted as stellar, and LeanData has a lock on being one of the market's leading Revenue Operations platforms to accelerate revenue and improve performance.


They achieve this by LeanData's list of features that include Matching, Engagement, and Attribution solutions, which allow sales reps to receive the leads, accounts, and opportunities to focus on to close deals faster.
You can quickly match leads to accounts for a 360-view of your target accounts, Assign leads, and contacts to the right owner every time. You can also view and optimize the performance of matching and routing processes, uncover campaign insights, and show the marketing's influence on pipeline and revenue.
LeanData can be found in the top 100 list on G2, often praised for being easy-to-use and openly informative. LeanData is repeatedly praised for its automation-style engine for lead-routing.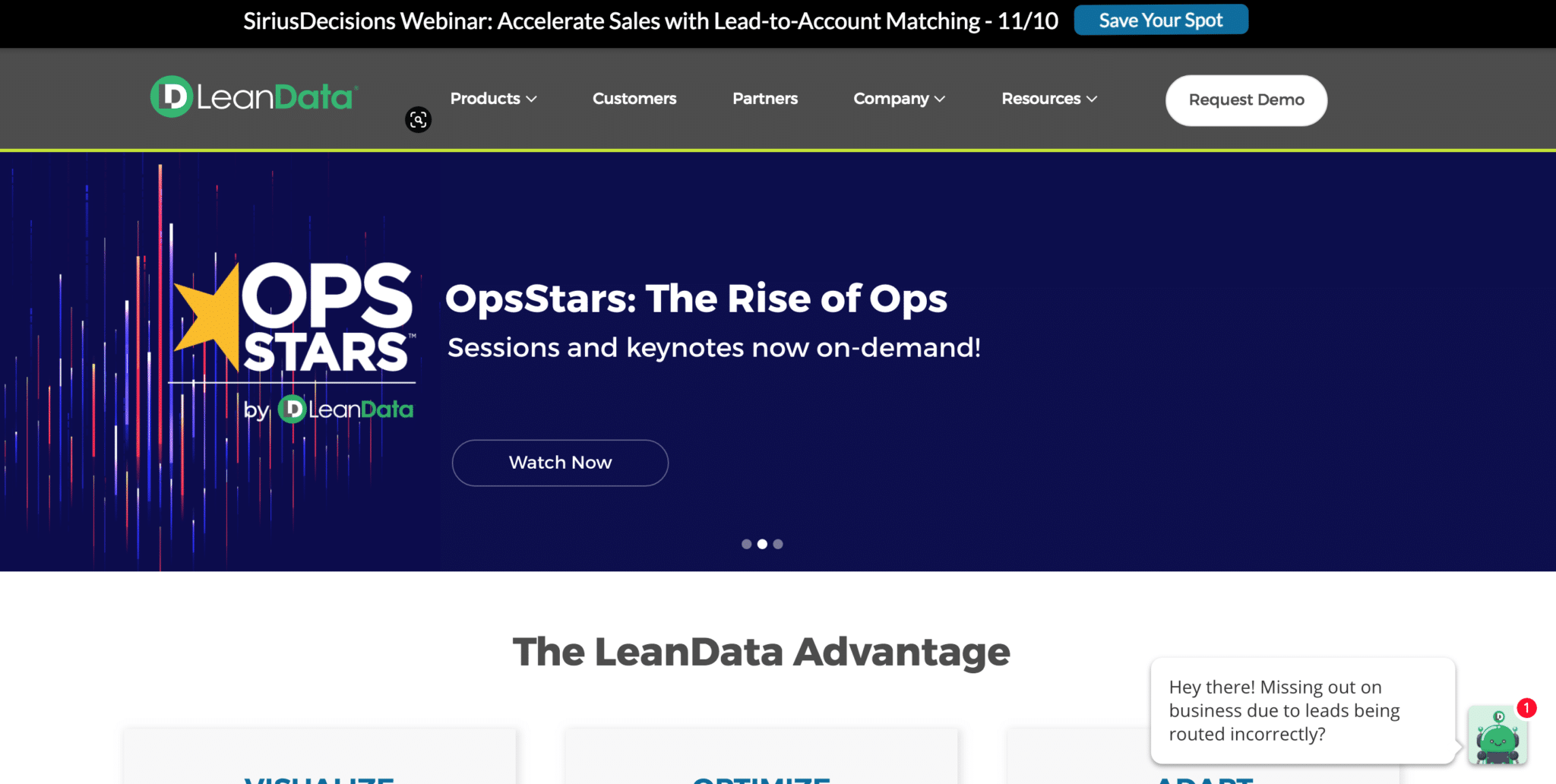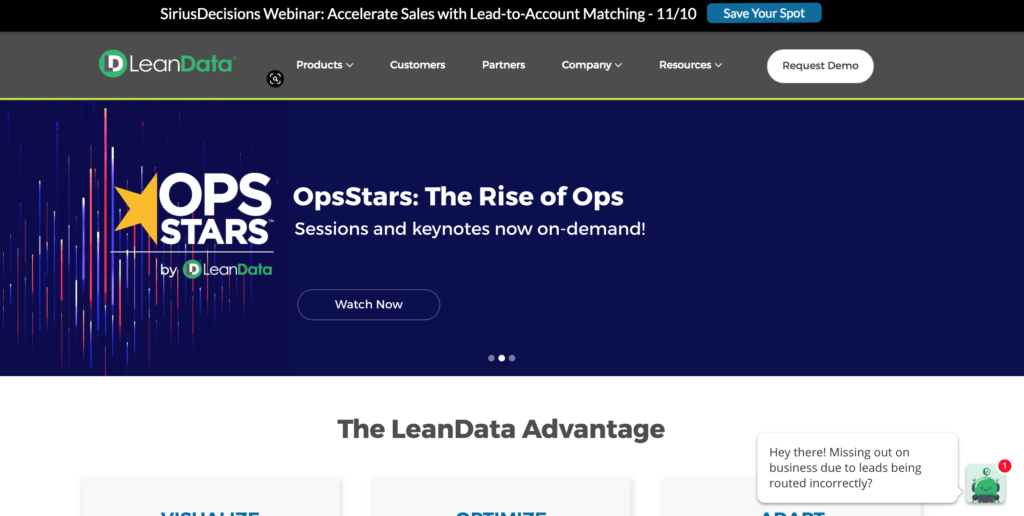 LeanData, like many others, offers customized pricing based on each client's needs and will run you through a personalized demo rather than just a video demo.
7. Zymplify
Coming in 7th is UK-Based Zymplify.
Zymplify states directly, "Our marketing automation software provides a range of beautiful features to Simplify your life. We help businesses grow and reach new customers through multi-channel campaigns."
Zymplify also features website visitor tracking to identify unknown website visitors and track their interactions on your page.
They do offer a marketing calendar, a feature I have yet to see from its higher-ranking competitors, which allows you to see all of your scheduled marketing activities in one place.
Zymplify helps keep your marketing organization and streamlined to keep a good pace. They include their automated services, like demand generation, identification, sales, and reporting. These features will save marketers time when creating their marketing strategy.
Zymplify also features a landing page builder to build lead magnets, newsletters, tripwire pages, etc. Their Sales Pipeline allows you to create customized sales follow up stages and track all your inbound leads. Contact CRM will enable you to manage all your contacts in one place.
They also provide a single customer view, which gives you a complete overview of all interactions via all channels with automated emails that allow you to build email funnels and automated sequences, including social posts that will enable you to connect to all your social channels and schedule posts in advance.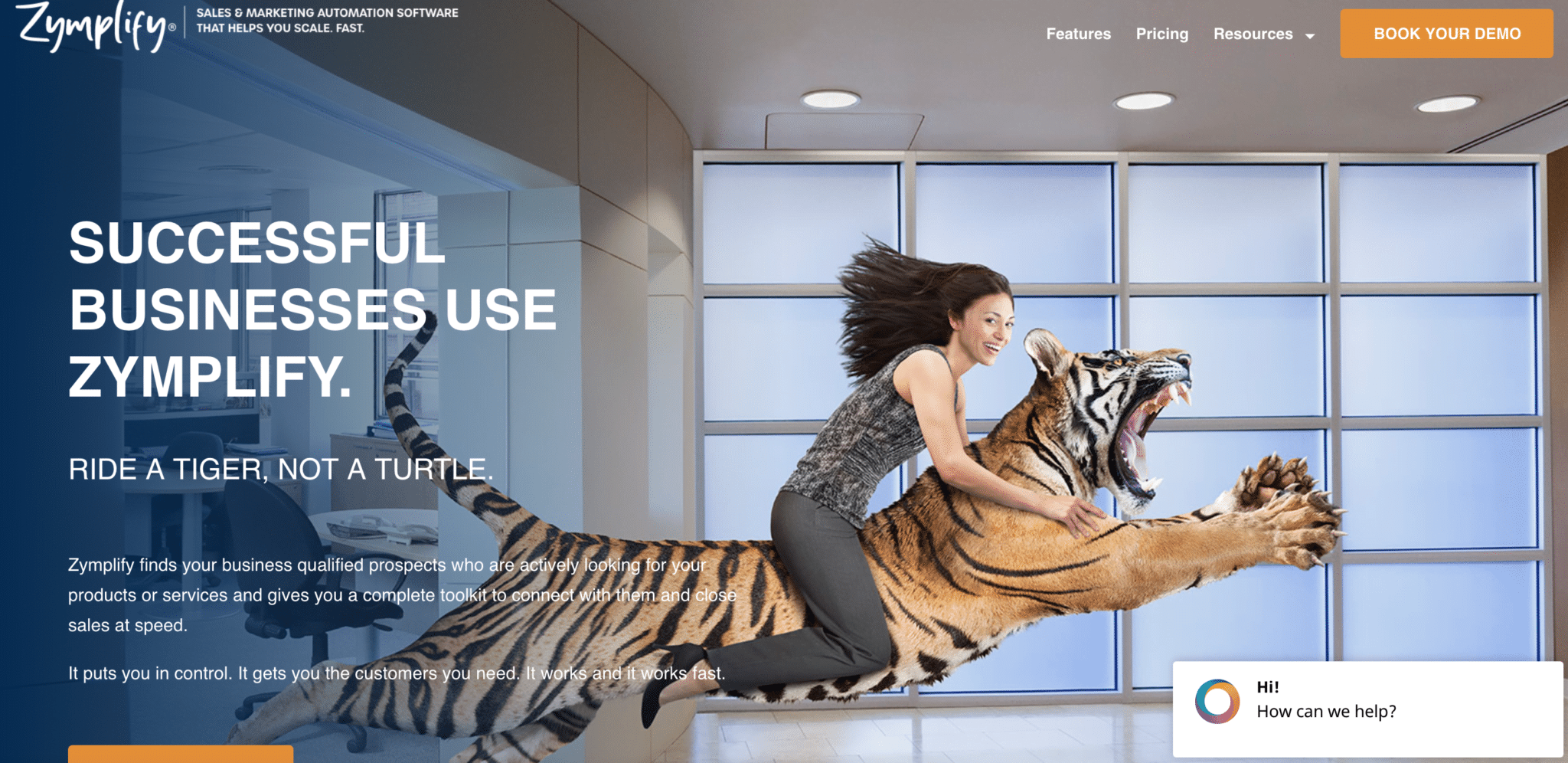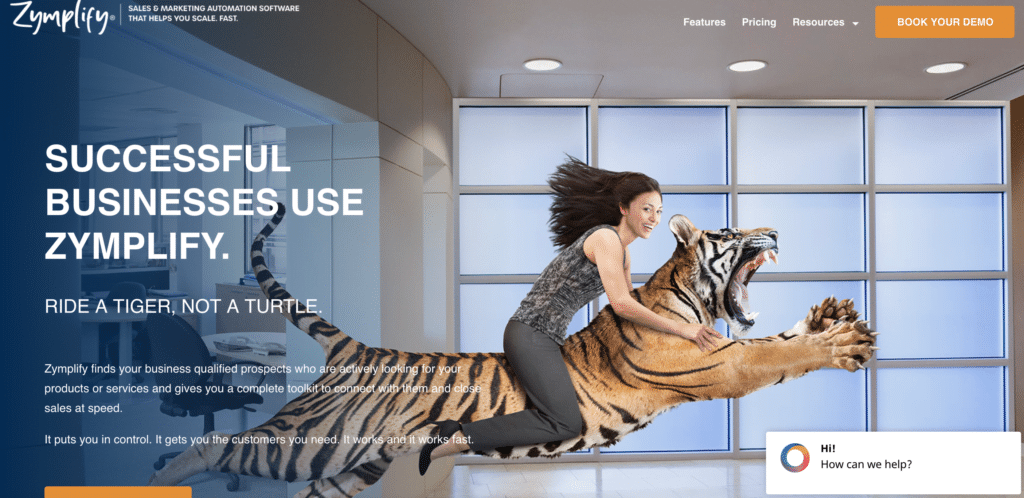 Unlike many of their competitors, Zymplify offers multiple service options based on the services you are looking for, starting at $655.69 in US markets or £499 and moving upwards to $984.90 or £750. They also allow your company access to a free trial, which is rare across these platforms.
While they do have several features other platforms do not carry, making it a unique choice, you are limited to the pricing system in place for which features you can access rather than a personalized plan.
8. Leadfeeder
Leadfeeder rolls in next in our list. While it's newer to the market, it's rising fast. Ranking in the Fall Favorites of 2020 on G2, Leadfeeder offers a visually appealing and simplified service that focuses primarily on lead generation.
While it doesn't offer as many features as its competitors, it does offer an easy-to-use system for smaller accounts. 
Leadfeeder does offer a 14-day free trial that doesn't require a card and starts its services at $69 monthly thereafter. It offers the same services to track your visitors to your page and provides a ranking system to help you decipher how to use them in your pipeline.
Some have described Leadfeeder as "Lead generation on steroids." pushing it above the basic lead generation page. At the same time, it runs in a similar B2B platform as many of the previously mentioned account-based marketing platforms we've focused on earlier in this list.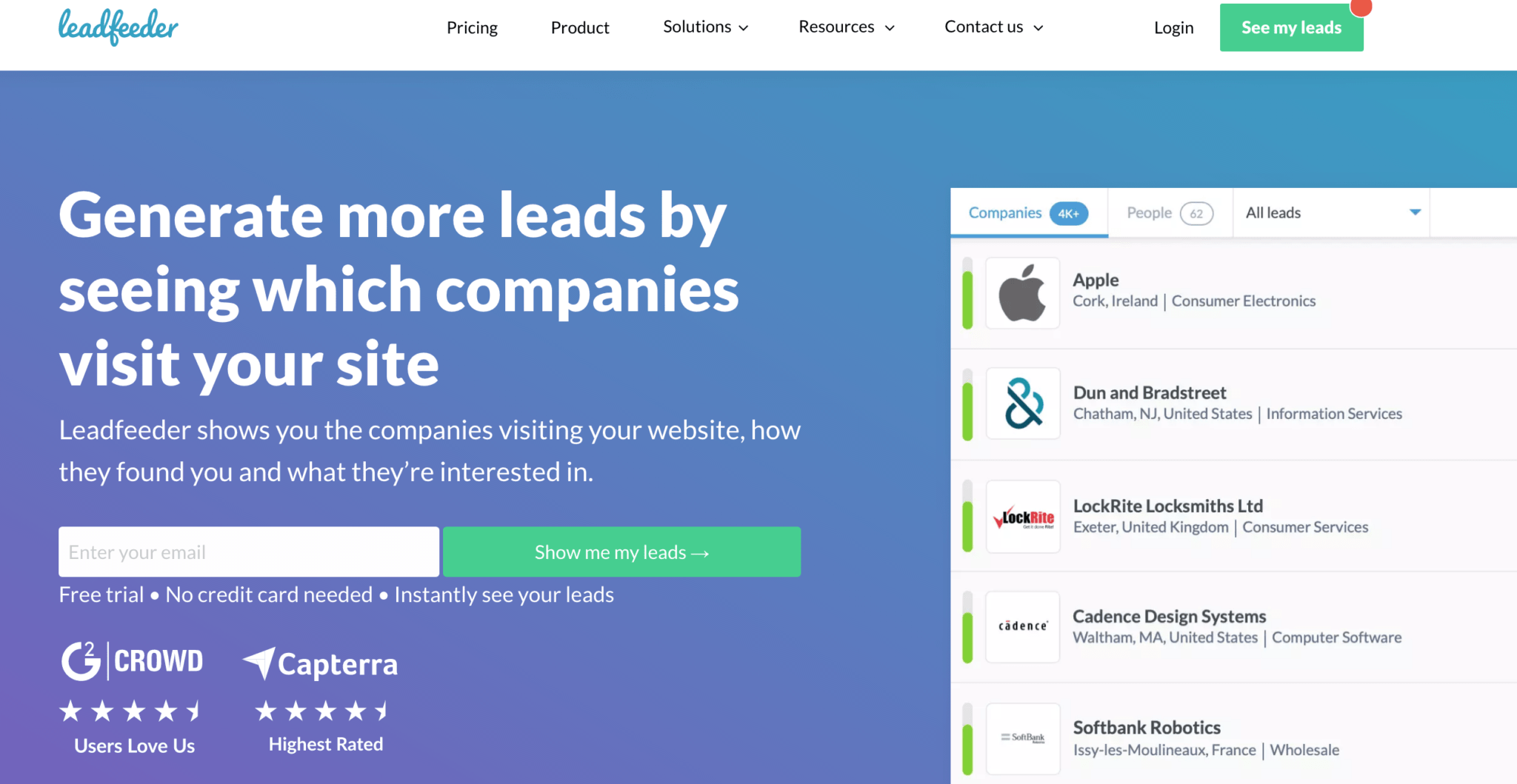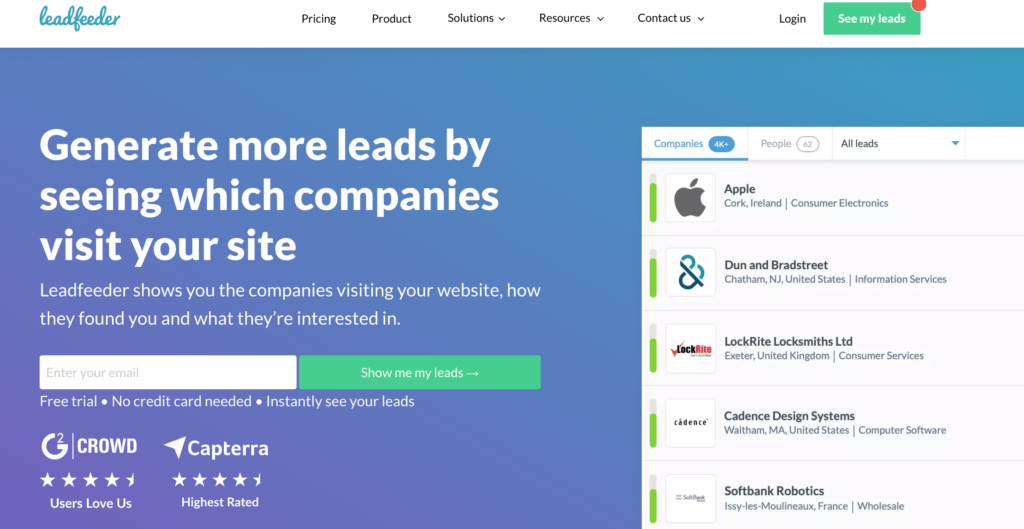 While we can't move it any higher because of the limits on what you can actually track and access, what it does do, it does well at a reasonable and affordable price-point not seen in the previous programs we've mentioned.
Leadfeeder is not the most robust platform for account-based marketing, but it's off to a stellar start and worth noting to continue tracking and following into 2021.
9. Madison Logic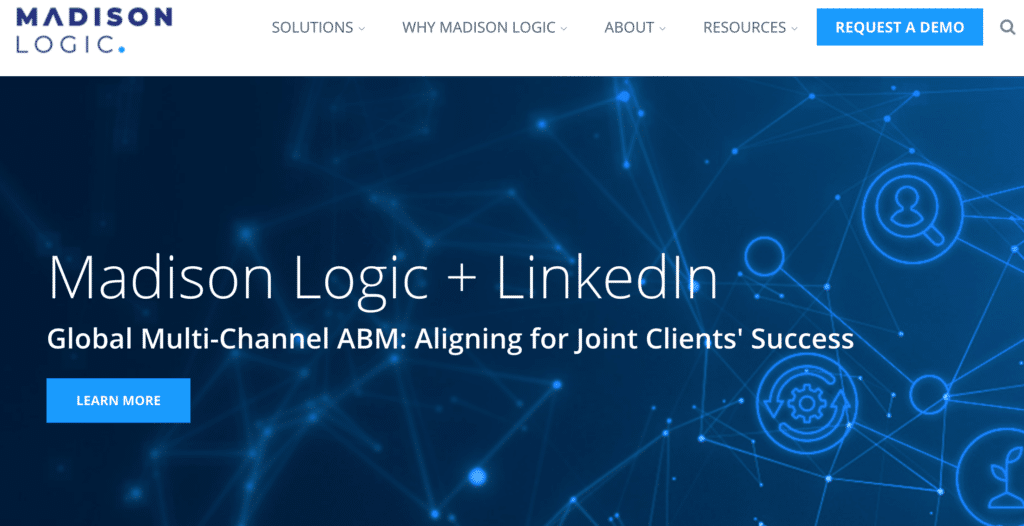 We will wrap up this list with our 9th pick of the bunches of options available, Madison Logic. Madison Logic is another one that earned high praise through G2 as a Fall Leader for 2020.
Madison Logic is a platform that offers tools for ABM marketing and content syndication. With the software provided, you can also accelerate your accounts' customer journey, access insights about campaign performance, and offer a formatted content marketing package.
They are boasted to have the ability to target accounts in multiple ways like intent-based marketing, technographic, or sharing target lists. 
This article has gone over 9 of the best Account-Based marketing platforms for 2020 and moving into 2021.
Did we miss any that you think we should have mentioned?
What tools are you using for your account-based marketing? Tell us about it.
Let us know about them in the comments so we can check them out.