"Personalization" is one of the most significant terms in marketing right now.
Since we're all working harder than ever to make our messaging more relevant to contacts than ever before, this isn't much of a surprise. It's hard to get more relevant than personalized content, after all.
But what exactly is personalization in marketing?
In this post, we're going to look at why personalization is so crucial in the marketing and sales world right now, and we'll share exactly how you can get started offering custom-to-your-customers messaging that's sure to increase your conversions and accelerate your revenue.
What is Personalization in Marketing?
Personalization in marketing is the practice of tailoring at least some of your marketing messages, offers, and communications to individual segments of users based on factors like their demographics or online activity.
This can be as small as inserting someone's name into a subject line with a helpful line of code in an email or as significant as offering custom prices and deals based on the information you have on a lead.
When I signed up for Rover to find dog sitters, for example, they got the names of my dogs and (of course) the fact that I had dogs and not cats.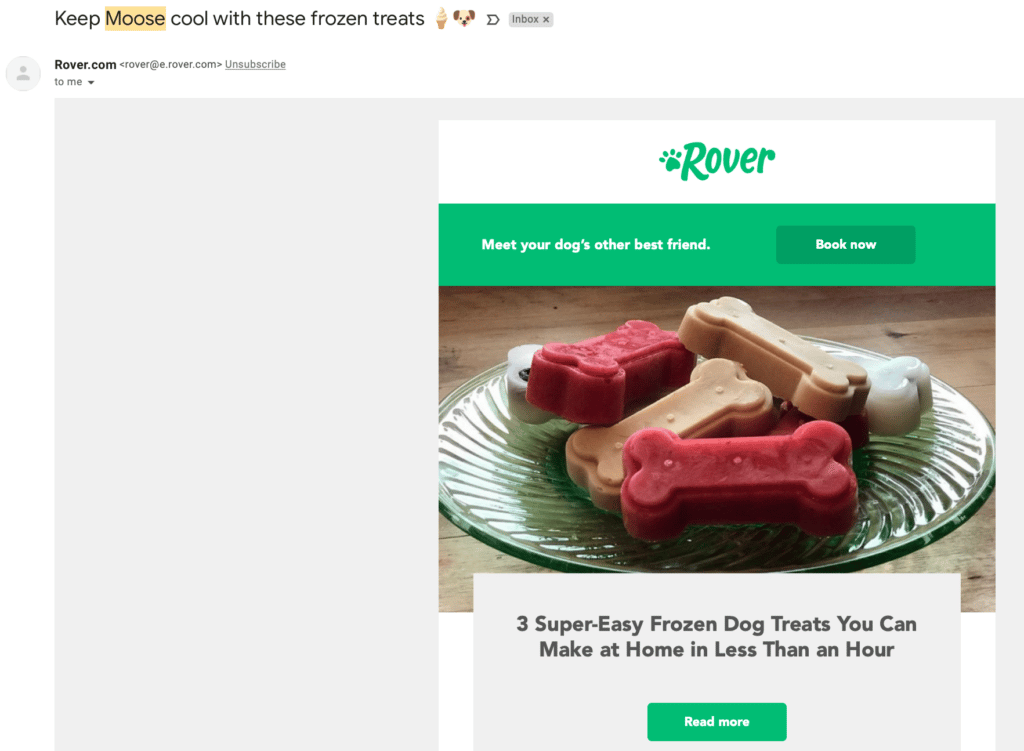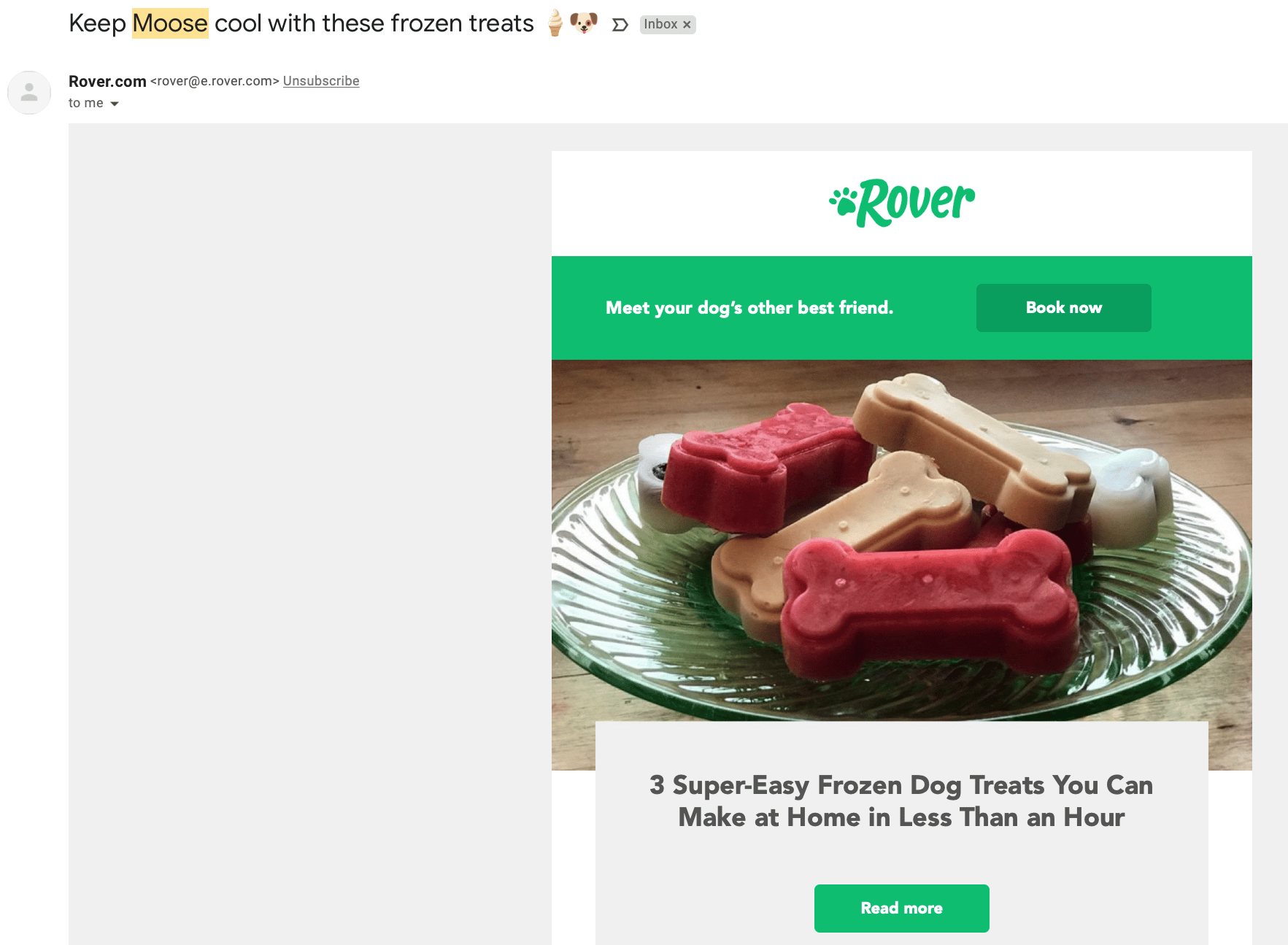 They'll send me content specifically tailored to me as a dog owner and often include one or more of our pets' names in the email. This feels relevant; it jumps out at me as a reader and gets a click.
Why Personalization in Marketing Matters
Personalization in marketing matters because it allows you to create the most relevant content possible for each individual user, and often on a fairly automated basis. This means you're sending them the right message at the right time, increasing the odds of conversion significantly.
Here's an example of personalization in marketing from a B2B brand, Leadpages. I got an email from a customer service specialist (which very well could have been an automated message) that did the following:
Established a "personal" connection (even if it was automated)
Asked about goals and needs (which is qualifying information)
Encouraged the user to get in touch or book an onboarding session to get more out of the tool (which can help increase engagement and retention)
Note that I hadn't created a landing page yet, and offer resources to get started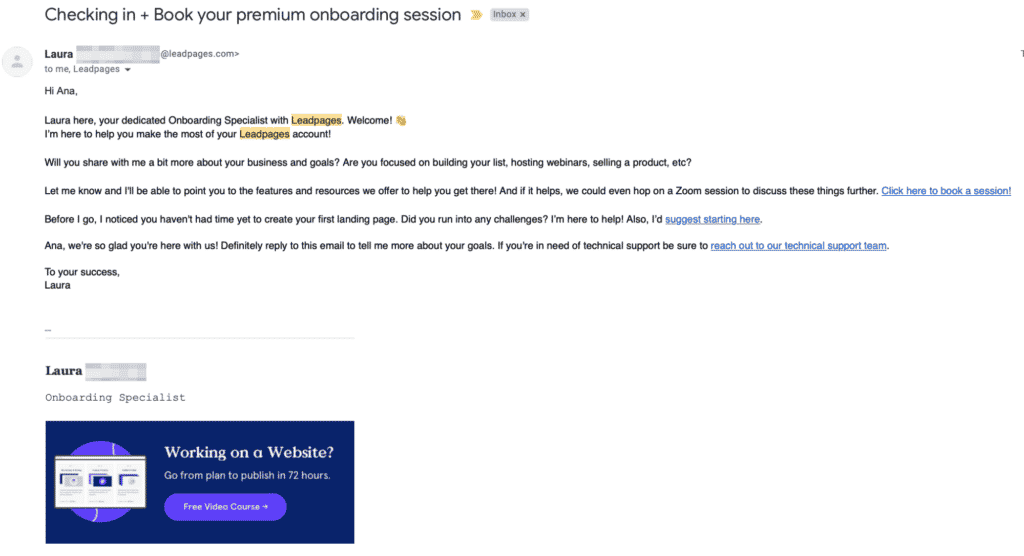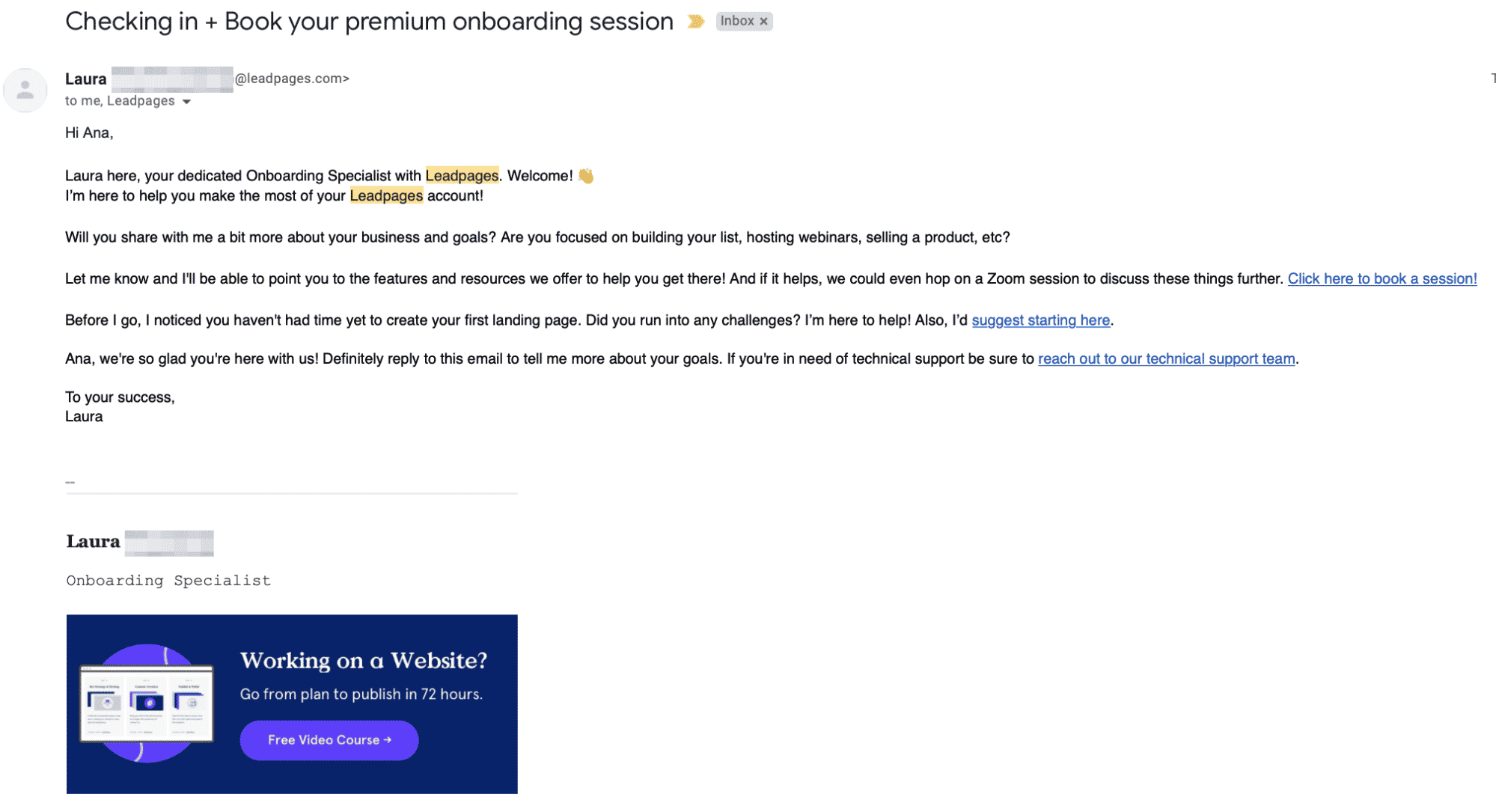 This was all tailored to me, and very well could have been manually created. Either way, it was relevant, and as a user it gave me everything I needed to engage on multiple levels and gave me the resources to find more value from the tool.
An email like this can re-engage new users of SaaS tools before they end up dropping off after a free trial, and it can keep them engaged and retaining long-term. It moves users to the next point of the buyer's journey—no matter where they're at or what your conversion goal is— which is essential.
There's plenty of data that backs this up, including the following:
99% of marketers say personalization improves and advances customer relationships, with 78% saying it had a strong impact
80% of customers are more likely to purchase or convert when brands have personalized experiences
83% of consumers say they'd give brands more information in exchange for improved, personalized experiences
How to Get Started With Personalization in Marketing
When you're ready to add personalization to your marketing mix (which should be ASAP if you haven't done so already), the following steps can help you to incorporate it effectively.
Let's go step by step through the process of adding personalization to your marketing campaigns.
1. Track Detailed User Data in Your CRM
The first step is to gather as much user data from every contact you have in your CRM.
Only with solid data can you create strong, personalized campaigns that will actually appeal to potential users consistently. Otherwise, you're looking at a hit-and-miss scenario at best.
Use first-party and third-party data as needed to collect the following information on each contact whenever possible:
The user's name and company name
Qualifying demographic information like industry, company size, revenue, or budget
Their activity within your tool or on your site
Their purchase behavior
Customer support tickets that are opened
Communications, sentiment, and receptivity in sales calls and emails
Pages viewed on your site
A high-quality CRM will integrate with other tools that can help you collect, track, and analyze this data so that you can make sense of it and use it for personalization.
2. Understand Your Ideal Customer Profile
The next thing you're going to want to do in order to improve personalization is to get a really good grasp on your ideal customer profile (ICP).
This essentially gives you a prototype of your perfect customer segment (or segments!) so that you can easily identify them during the sales process.
It also, however, allows you to get a solid understanding of who your audience is, what they need, and how they're going to move through the buying process.
While each customer is an individual—and that's where personalization comes in—having a solid idea of your ICP can give you insight into these contacts overall and may make personalized campaigns more successful because they've got an excellent foundation to start with.
Our new tool Reveal can help you find your ICP with just a few clicks, as well as understand how to spot ICP traits in potential leads. See how it works here.
3. Know Where Users Are in Their Buyer's Journey
You want to know who users are and how they fit into different ICPs and audience segments. (Think "dog owner who wants overnight visits" instead of "cat owner who needs someone to refill food twice a week.")
That's step one of creating a personalized campaign.
But it's also essential to track activity in addition to basic demographics. This can help you determine where users are in their buyer's journey, gain insight into what offers, products, or features are essential to them, and know what they're most interested in.
Examples include:
Sending a follow-up to ask about customer satisfaction after a support ticket was filed
Creating a custom offer or a discounted offer for users to try the next tier of your SaaS pricing plan after they hit the upper limit of their existing plan
Reaching out with an enticing offer for users who have stopped purchasing or stopped using the tool
Following up if users stall during the trial to offer a free onboarding session
Showing custom deals and offers based on the products and pricing pages users have viewed
Keep in mind that you can create segmented audiences and then run "personalized" campaigns based on this data.
You can also use a tool like Breadcrumbs, which focuses on lead and contact scoring, to identify users who are showing different indicators that they could be engaged with the types of messaging we've described above.
Our customizable templates take both fit and activity into account so that your sales team can get a read on any single contact in your entire database, allowing your sales team to reach out directly with personalized emails for a strong chance of keeping the customer engaged—and converting.
You can see how it works in a free demo here.
4. Use Strong Automation-Heavy Tools
Personalization can mean direct emails from the sales team to your customers, but that's only one facet.
For true success at scale, you're going to want to look at automated personalization. This works by using personalization tactics (like dropping my dog's name into an email subject line) and segmentation + trigger-based autoresponders to deliver relevant messages at the right time.
Automation-heavy tools, therefore, should be a go-to.
Examples include:
HubSpot, Mailchimp, and ConstantContact for email software that can create strong automated and personalized email campaigns
Twilio for customizable SMS messaging
LeadsBridge or Zapier for syncing user data across multiple platforms, including your CRM, email, and retargeting campaigns for social media
Most of these tools offer free trials or at least free demos. Make sure that their automated and personalization features are available at the plan within your budget and that the tools integrate with the tech stack you already have. 
Personalization in Marketing: Final Thoughts
If you want to increase clicks, engagement, and conversions on all of your campaigns across the board, incorporating personalization in your marketing strategy is going to be essential.
The reality is that customers expect some level of personalization now, and they'll engage more with brands that are capable of delivering that.
The right tools, of course, are crucial to being able to deliver truly personalized and hyper-relevant campaigns at the proper scale. This includes lead scoring tools like Breadcrumbs to help identify different high-value segments of your audience so you can determine what messages they need to see and when.
Ready to get started with personalization in marketing? Breadcrumbs can help. Book your free demo here!