No matter how long you've been in business, generating consistent awareness and interest in your brand is key to remaining memorable and building customer loyalty.
With every marketer eager to get their message across, only the ones who place a core focus on the customer will succeed.
That's why tailored demand-generation campaigns are so effective.
And Breadcrumbs helps make that happen.
By marrying consistency with personalization, you can attract your ideal audience, build curiosity—and, most importantly—start the process of building and nurturing trust.
Let's take a closer look at what personalized demand generation campaigns are. We'll also take a look at five simple strategies you can start implementing to create demand-generation campaigns pointed toward your target customer.
Ready to learn more?
Let's begin!
What Are Personalized Demand Generation Campaigns?
Demand-generation marketing campaigns focus on generating interest in your brand and boosting awareness.
The goal? Using content to nurture prospects at the top of the marketing funnel.
When we say "personalized demand generation campaigns," we mean the same thing, but with an extra focus on tailoring your content assets to your ideal customer.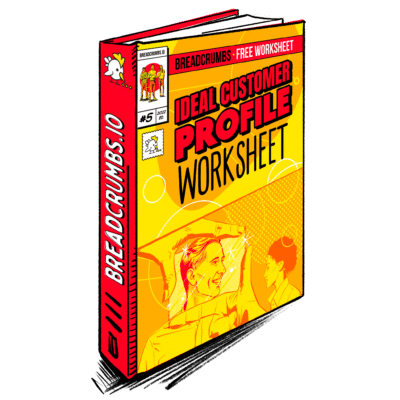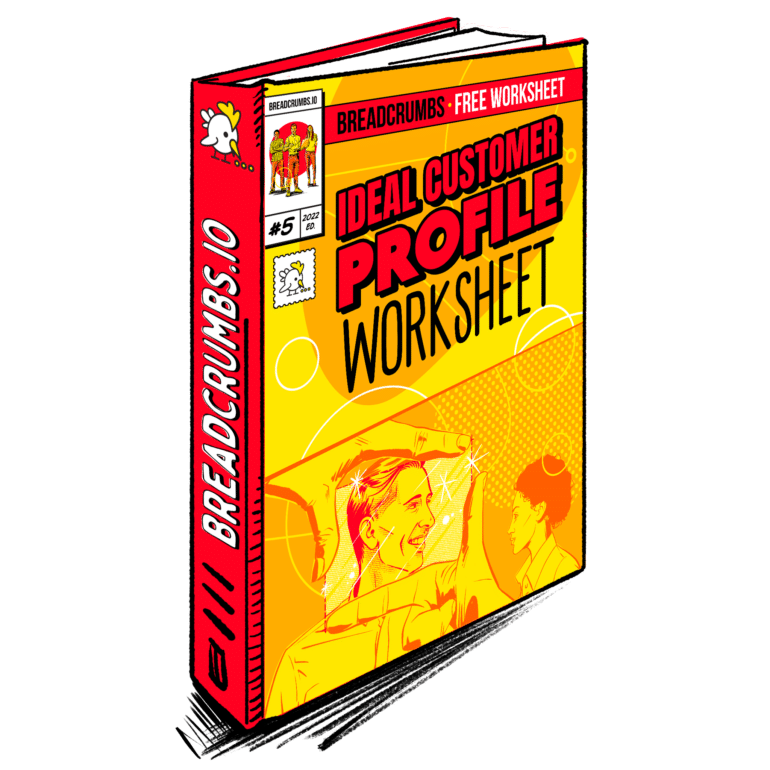 Ebook
Ideal Customer Profile (ICP) Worksheet
Learn how to create an Ideal Customer Profile and build a successful sales strategy with this Ideal Customer Profile (ICP) Worksheet.
Take a look at the blog article example below.
Not only does this article cover a topic that's aligned with its audience's pain points (more on this in a bit), but the synopsis also mentions which target audience this piece was written for—namely, agencies and freelancers.
With pointed demand gen content, you're not looking for a quick sale or even a lead's contact information.
You just want to make yourself known, stir up curiosity, and start the trust-building process.
And you do that by making your audience feel seen, understood, and supported with free, personalized content. No gimmicks. No contact forms. No multi-step landing pages.
Personalized Demand Generation campaigns TL;DR: You haven't earned enough trust with your top-of-the-funnel leads to expect anything from them yet. Instead of asking for a sale or an opt-in, use free, personalized content to generate awareness, interest, and trust in your brand. Let them know you're speaking to them.
5 Simple Strategies to Develop Personalized Demand Generation Campaigns
Now that we've laid the groundwork, here are five strategies you can use to nurture prospects at the top of the marketing funnel.
1. Define your ideal customer profile (ICP)
Success in the marketing world begins with understanding your target audience, and that's where defining your ideal customer profile (ICP) comes into play.
By creating a comprehensive ICP, you can fine-tune your personalized demand generation campaigns to resonate with the right people at the right time and in the right way.
So, how do you go about defining your ideal customer profile?
With Breadcrumbs Reveal, you can define your ICP in three simple steps:
Connect your customer data
Share your objectives
Reveal your ideal customer profile
It's really that easy. And the result? Valuable insights that will help your spearhead personalized demand generation campaigns that work.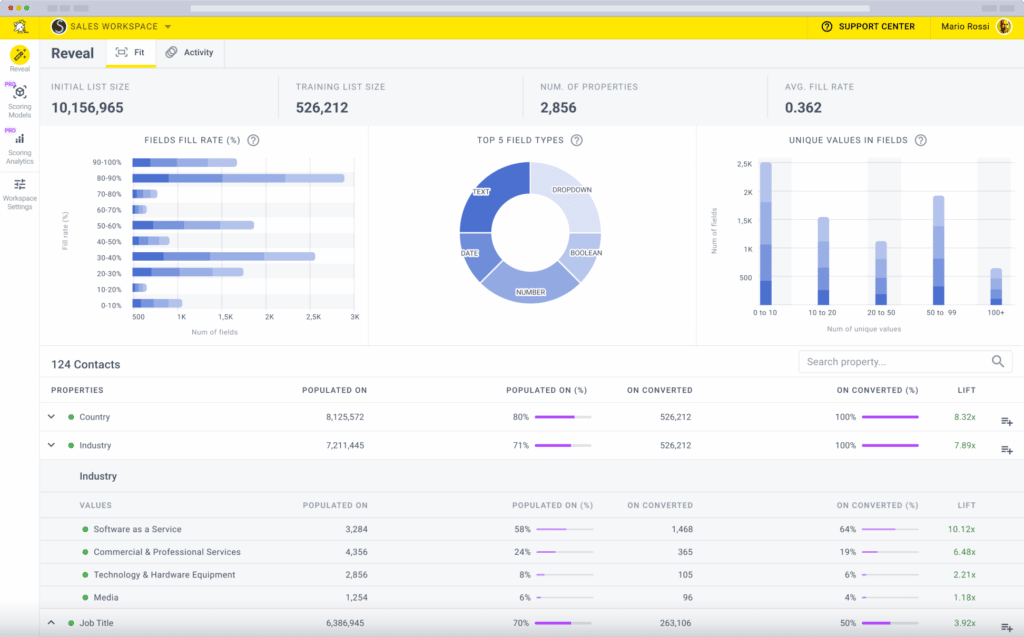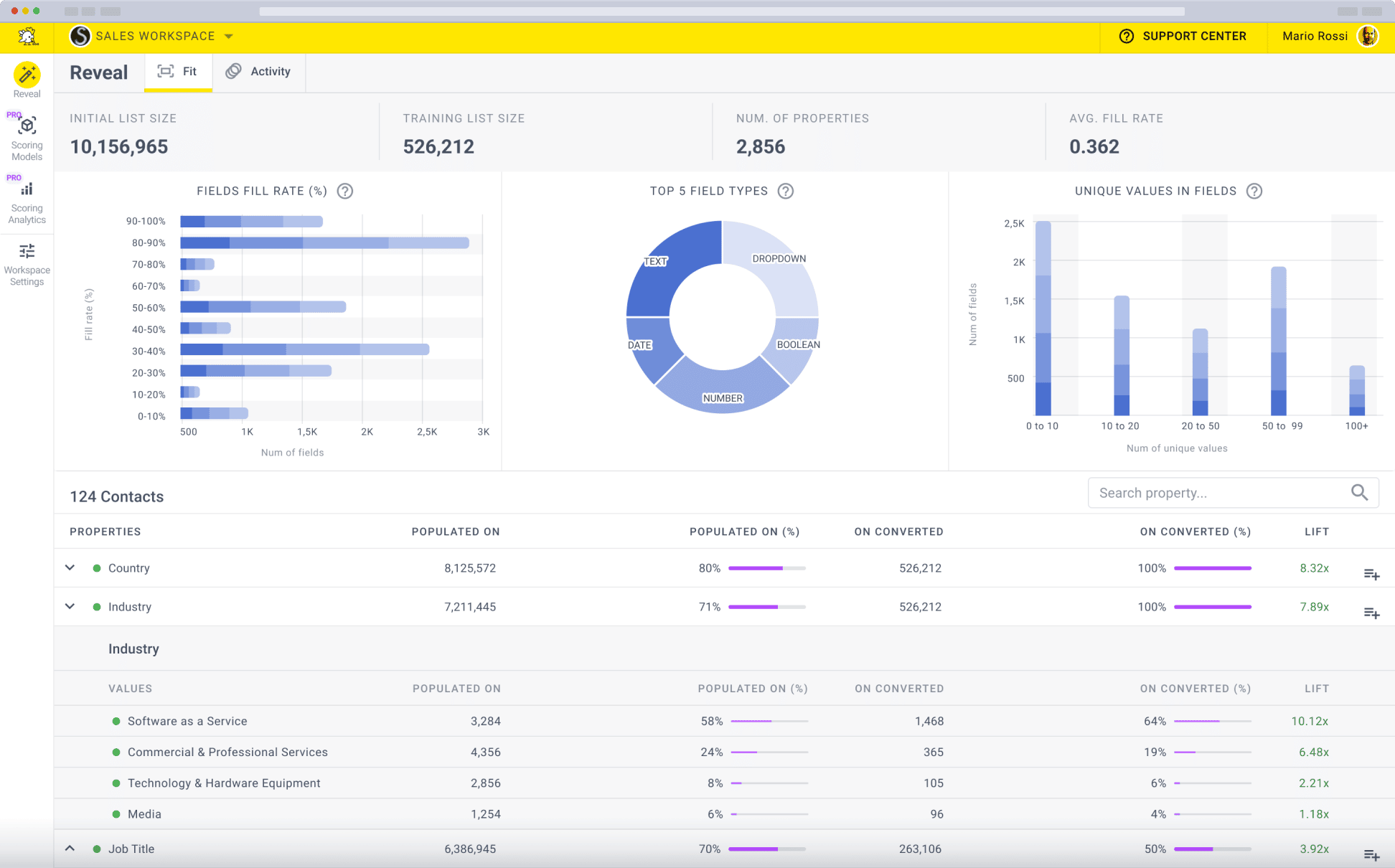 Why? You're setting the stage for tailored demand-generation campaigns that will truly resonate with your target audience. Remember, personalization is the key to unlocking higher engagement, curiosity, and trust—and with Breadcrumbs by your side, you can make it happen.
And you'll be well on your way to attracting your ideal customers and nurturing meaningful relationships with them. It's the perfect foundation for future success.
2. Use tools to automate and streamline the process
Scaling top-of-the-funnel content can be a beast. From strategy to production to publishing, there's a lot to do.
To help alleviate unnecessary pressure off your marketing team, automate and streamline the process as best you can.
Start by outlining your content marketing workflows, the tools you currently use, and any repetitive tasks you can automate or streamline.
Then, find software to automate and streamline as many repetitive tasks as possible.
Here are three examples to get you started.
a. Automate the data extraction and application process
Personalize all of your marketing touchpoints with high-level customer data without using multiple tools and integrations.
Sync customer data from your preferred warehouse to any SaaS content marketing tool you'll be using in your demand generation campaigns with a data activation platform, like Hightouch.
b. Streamline content visuals and branding assets
Simplify your visual content creation process with photo tools like Picsart's online collage maker and editing features, design and content reformatting tools like Canva, and branded social media post makers like Tailor Brands.
c. Use scheduling tools to batch and schedule your social media content
Collaborate with your social media marketing team, plan your social media assets in batches, and schedule your content well in advance with a scheduling tool like Planable.
3. Solve pain points with short-form and long-form demand generation content
Knowing what irks your audience is key to creating personalized content that presents them with solutions to their problems.
To position your brand as a leading authority, create short-form and long-form demand-generation content using the PAS framework.
Before we break down what that means, let's talk about what kinds of short-form and long-form content assets you might consider using.
For instance, short-form content, such as infographics, Twitter quote screenshots, and value-driven carousels, work great for B2B audiences on LinkedIn.
Here's an example of a Twitter quote screenshot posted on LinkedIn by SEO and link-building expert Jeremy Moser, to demonstrate what we mean:
As far as long-form content goes, ultimate guides, how-tos, and listicles work great as blog posts.
Here's an example of an ultimate guide on how much veneers cost by Dentfixt, complete with informative chapters, to demonstrate what we mean:
As far as the PAS framework goes…
The PAS framework in content marketing works like this:
Step 1: Highlight a pain point your target audience struggles with.
Step 2: Agitate the pain point.
Step 3: Provide a tailored solution to the pain point in the form of information.
To simplify this process, create a living document that lists your target audience's top pain points along with potential solutions. Update this document as your target audience's pain points shift so everyone on your team can see important changes in real-time.
For instance, if you own a project management SaaS company, then your target audience could struggle with the following pain points:
Trouble understanding how to adjust project milestones when the project timeline changes.
Having a hard time understanding which project management framework works best for a project.
Difficulty staying on budget.
In this case, the solutions you could offer in the form of content could be:
A how-to article that walks the audience through how to shift milestone planning when the timeline changes. Or an overview of the top project management tools that come with auto-adjust features.
An ultimate guide covering every project management framework and which project types they're best suitable for.
A listicle sharing 10 budget management strategies by leading project managers.
Personalized Demand Generation campaigns Pro-Tip: Find out what your audience struggles with by conducting SERP research, behavior research, and (if possible) conducting polls, surveys, and questionnaires.
4. Instantly build understanding with personalized FAQ pages
When a prospect makes it over to your site, you have seconds to keep their attention.
One of the worst things you can do? Forgetting to go all out with your FAQ page.
When a top-of-the-funnel lead visits your website, one of the first things they do is look for information about who you are and what you do.
A strong FAQ page can help them get answers to important questions and concerns they have before they consider giving you a try.
To create a personalized FAQ page, be sure to include:
What your brand or core product is about. For instance, are you a SaaS startup consultant? Do you sell a task management app? Let your audience know.
How to work with you or how your core product works. For example, do they need to schedule a demo call? Can they sign up for a free trial to test-drive your product? What does your product do, and what problems does it solve?
Trust elements. Include additional brownie points that can help you build trust with your audience. Think: A raving testimonial, stats that prove your business advice works, or high authority (HA) sites your brand has been featured on.
Who your service, solution, or product is and/or isn't for. Be honest about who your brand can and can't help and the results it can realistically achieve.
A Q&A list. Add a list of frequently asked questions with accompanying, helpful answers. Use a drop-down menu to keep it easy on the eyes. (See below.)
A contact section. Include a section that lists all of the ways your audience can get in touch with you or learn more about you. (Optional, but recommended.)
Check out the following Minoxidil FAQ page for inspiration.
Part 1: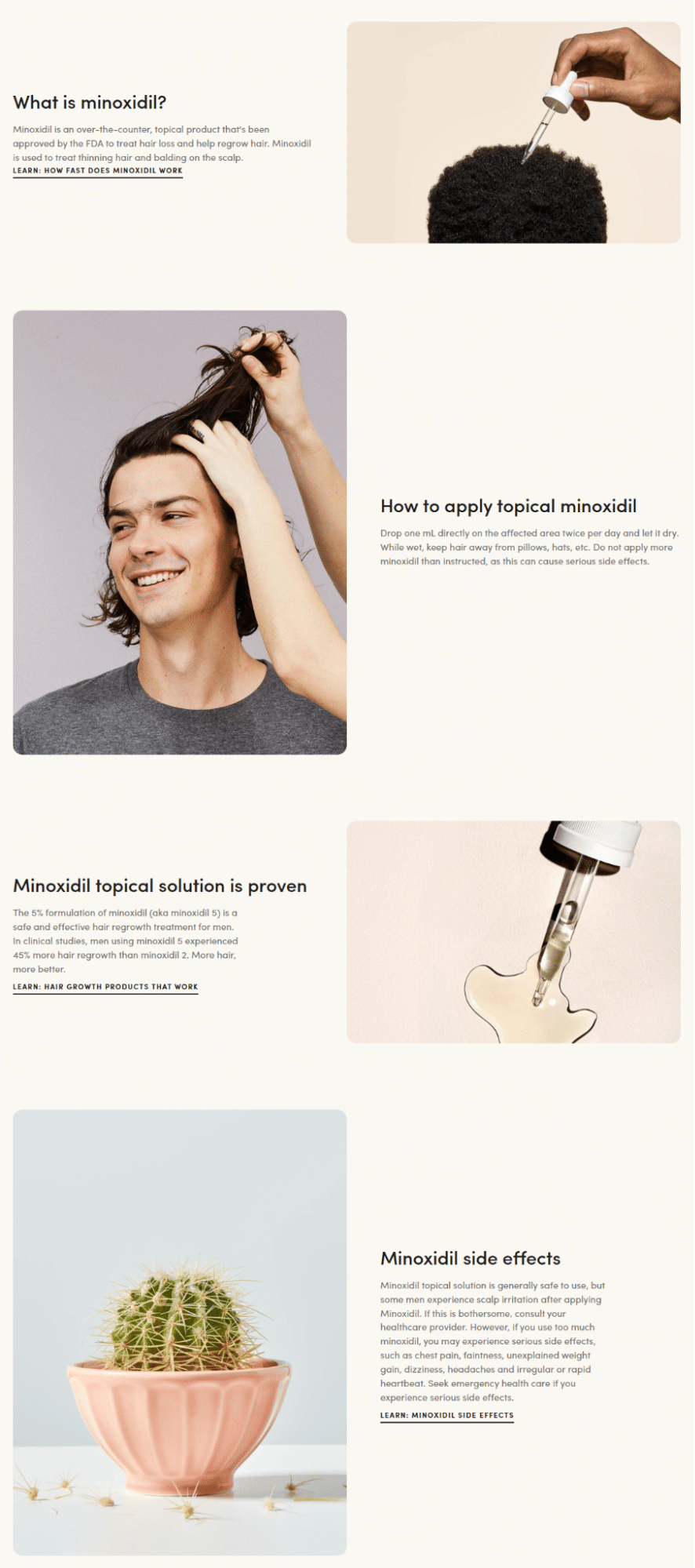 Part 2:
5. Use social proof to make your customer the "hero" of the story
A simple way to personalize your campaigns is by giving the microphone over to the customer.
Oftentimes, brands get hasty about using demand generation campaigns to showcase their talents and shine the spotlight on their products and services.
While positioning yourself as a trustworthy expert with amazing solutions is important, it's also pivotal to remember that, at the end of the day, the spotlight belongs to the customer.
A strategic way you can make your customer the "hero" of the story is by gathering social proof—think user-generated content or brand mentions—or by inviting happy customers to participate in customer success story videos.
For instance, if StudioSuits wanted to raise awareness around its personalized linen suits line, it could shine the light on its loyal customers and make videos like:
The story of Raymond and Rebecca: How one custom linen suit reconnected two high school sweethearts.
Comfort at the office: Why Bill depends on StudioSuits custom suits for comfort and fit (and won't wear anything else to work).
Itchy skin: The story of how Gabriel finally found a custom suit maker with hypo-allergenic fabric options.
StudioSuits could then integrate these videos on its FAQ page, About Us page, and repurpose them into organic social media content.
Demand Generation Campaigns: Wrap up
Generating interest in your brand is key to remaining memorable for years to come.
But with so many brands eager to grab your audience's attention, only the ones who focus on the customer will succeed.
Enter: Personalized demand generation campaigns.
If you're ready to build curiosity around your solution, attract your ideal customer, and nudge prospects to the next stage in the marketing funnel, start by creating personalized demand-generation campaigns.
That's it for today, friends. To your success!
Book your free demo of Breadcrumbs and level up your demand generation today!