Digital marketing
Paid advertising
Outbound marketing
Social media marketing
… And the list goes on. With numerous marketing tactics, you might be thinking, "I've had it with all of this marketing mumbo-jumbo. I just need a strategy that works!"
I'd like to introduce you to B2B demand generation.
B2B demand generation uses outbound and inbound marketing strategies to drive more customers to your products. In this guide, you'll get the low-down about:
Let's get started!
What is B2B Demand Generation?
B2B demand generation builds "demand" for your service throughout your marketing funnel. Its primary purpose is to target anonymous visitors with product-based solutions. This way, your ideal customer will head straight to you when they're ready to buy.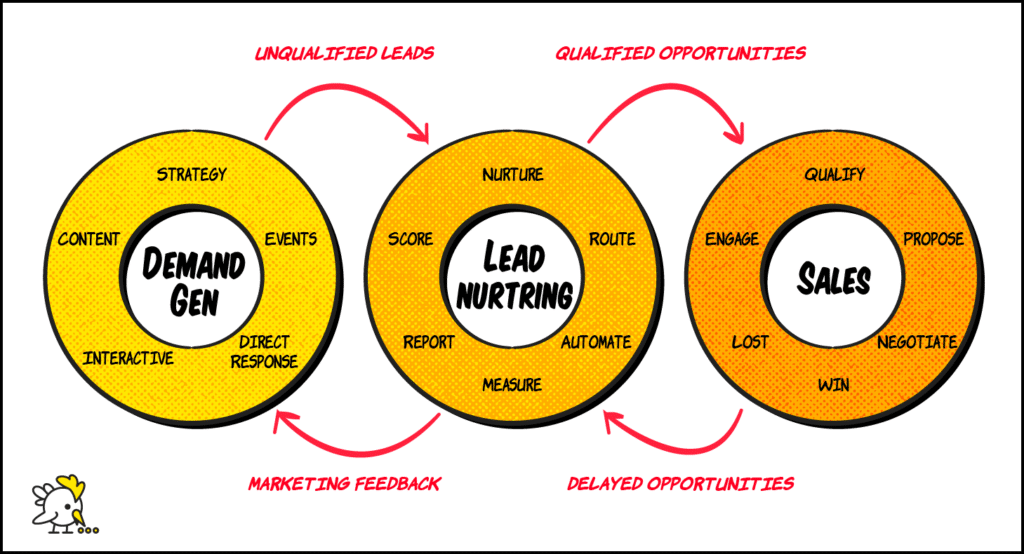 Take this hypothetical example: Sally is opening a local bakery in 6 months. She wants to know who can deliver ingredients in mass—like flour and sugar—to her future store. So, Sally looks up "Delivery service for bakery" and finds a service called "Bread Basket."
As soon as Sally visits Bread Basket's website, they offer her a free guide about keeping your local shop in stock.
Sally is pleased with this guide but continues researching for delivery services. During this process, Bread Basket nurtures Sally with an email sequence and free delivery service trial.
After weighing the options, Sally chooses Bread Basket. Do you see what happened here?
Bread Basket managed to:
Nurture Sally from beginning to end.
Stay on Sally's radar as she researched other companies.
Beat other delivery services with free content and incentives.
They offered Sally valuable insight from day one—she can trust them to deliver her ingredients on time.
B2B Demand generation is successful because it identifies qualified leads from the beginning of the sales funnel until the end.
It's not one piece of the puzzle but the entire puzzle itself.
Gary Wong, a former employee at LinkedIn, shares, "In order to do demand generation, you need to get your brand and company in front of them before they have a need. When they have that need, you'll be the first few companies they think of and will come to you for help."
Plus, B2B demand generation encourages B2B buyers to be the decision-makers. Bread Basket didn't push Sally to choose them. She laid out her options and chose them herself.
Demand Generation vs. Lead Generation: Is There a Difference?
Demand generation and lead generation work together, but they aren't synonymous.
Gary Amaral, the Co-founder, and CPO of Breadcrumbs, explains how "Demand Gen is all of the activities that create awareness and eventually intent to purchase. Lead Gen is the last mile effort to identify and capture this intent in a way that sales can engage and turn it into revenue."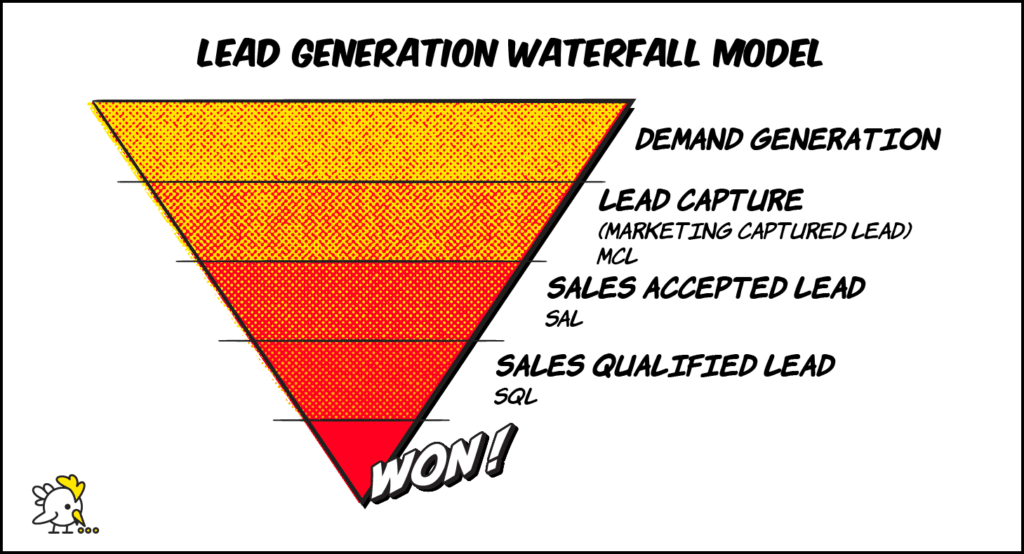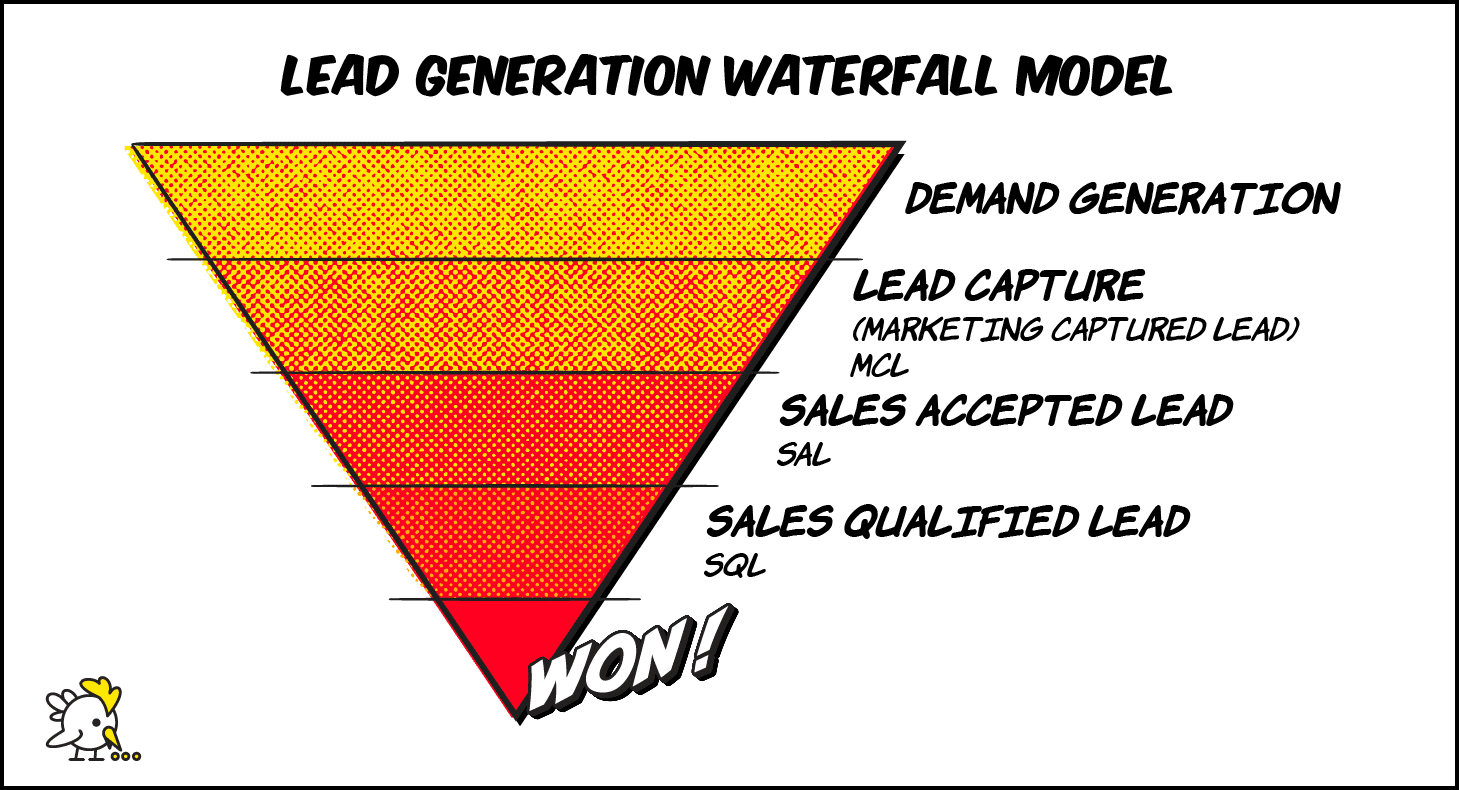 This is why demand generation sits at the top of the funnel! Demand gen uses brand awareness to build a target audience. Then, lead gen will swoop in and capture users most likely to buy from you.
In short: Lead generation works within a demand generation framework. They have different jobs but are working towards the same goal—making sales.
5 Ways to Execute a B2B Demand Generation Strategy (With Examples)
You know what B2B demand generation is and why it's essential. But how do you execute a B2B demand strategy? Below are five examples of revving up your sales cycle and target more potential customers.
1. Clear messaging
Obtaining new customers means reaching out to your target audience. With clear messaging, users know who you are, what you do, and why you're the best B2B company to buy from.
Atlassian, for example, explains its company's values in three sentences.
Businesses interested in team collaboration will deem Atlassian as a plausible investment in 10 seconds or less—cutting the sales process in half. With clear messaging, you'll target B2B marketers from the get-go.
So how do you execute clear messaging?
1. Find your unique selling point (USP) and stand out from the crowd.
In Atlassian's case, they build multiple collaboration tools for marketing teams. Companies know Atlassian as the source for productivity and organization tools.
2. Target your buyer's pain points
I get it. The whole "Know your audience" tip sounds like a broken record. But there is truth in understanding your buyer. What is their biggest problem in business, and how can you solve it?
You can identify pain points by:
Developing a survey for existing customers.
Creating a Twitter poll.
Conducting a focus group study.
Investing in keyword research.
Once you've collected your unique selling point and audience pain points, add them to your website. On Atlassian's homepage, they point out four problems and how their software fixes them.
Implement clear messaging across your website, social media channels, and marketing and sales teams. This way, your company will have a consistent brand.
2. Free & valuable content
Free content is the easiest way to nurture the B2B customer journey. Take Shopify, for example, which offers an array of eCommerce resources. 
Customers don't have to exchange anything for free content (emphasis on the "free"). With free content, you can:
1. Develop an inbound marketing strategy
A piece of content is worth more than a thousand words. When you optimize content for SEO, you'll rake in hundreds (or thousands) of web visitors!
2. Become an authoritative source
A key part of a B2B demand generation strategy is becoming the go-to source. With free content, Shopify can build trust with eCommerce marketers and increases their authority. It's why they attract over 6 million visitors a month.
3. Get the biggest bang for your buck
What sounds better to you? Attracting visitors with paid-per-click advertising? Or, attracting AND lead nurturing visitors without spending a dime?
Don't get me wrong. Organic outreach is an investment. But if you do it right, it'll pay for itself, long-term.
But what type of content should you create, anyway?
Check out Content Marketing Institute's chart, which shows you the most popular demand gen content throughout the buyer's journey.
Blog posts/articles: Show your customers how to accomplish X with tutorials, infographics, and thought leadership.
Case studies: Show off your customer's success with key metrics.
Ebooks/Guides: Create in-depth guides about topics related to your product.
Events: Promote in-person and virtual events with landing pages.
Interactive content: Use quizzes, augmented reality, and live chat to grab more attention.
Podcasts: Interview experts and discuss your industry's biggest challenges.
Videos: Repurpose blog posts and podcasts into videos.
Webinars: Show customers how to improve their B2B marketing efforts in real-time.
White papers: Summarize marketing benchmarks and other solutions with backed-up research.
3. Account-based marketing
Account-based marketing targets marketing qualified leads (MQLs) by aligning your marketing and sales teams.
In our definitive guide to B2B account-based marketing, we noted how:
"Account-based marketing is a strategy that makes it more accessible to help all marketers form higher-quality relationships with accounts before you move into sales."
In other words, account-based marketing personalizes your generation's efforts from marketing to sales.
Let's take a look at Docusign's account-based marketing strategy.
If you look at the "Awareness" and "Demand" stages, you'll notice how DocuSign built personalized ads for four buyer personas. In three months, Docusign increased their average deal size by 26% and average win rate by 2%.
So how do you integrate account-based marketing with your B2B demand generation strategy?
Once your demand strategy reels in high-quality leads, ABM will determine if these leads are likely to buy. From here, you can build personalized marketing tactics to land a sale.
Gary Wong shares how personalized marketing "doesn't have to be digital advertising. You can organize an exclusive event, podcast interviews, or lunch with a guest speaker. The goal is to have as many touchpoints from both sales and marketing with these selected companies to grow the revenue."
To takeaway, three important steps from account-based marketing include:
Aligning your sales and marketing efforts;
Understanding your buyer personas;
Executing a personalized marketing campaign.
4. Lead scoring
In our humble (and biased) opinion, lead scoring is our favorite B2B demand generation strategy. If you're new to Breadcrumbs, you might be wondering what lead scoring is.
Lead scoring is a lead optimization tool. It determines if a qualified lead is likely to buy through numerical scoring, a "hot vs. cold" scale, or a co-dynamic model (read more on lead scoring models here).
Our co-founder, Gary, believes "lead scoring is critical in identifying when the demand has been created, ideally identifying it the moment it exists, and a contact is actually a viable lead for the sales organization."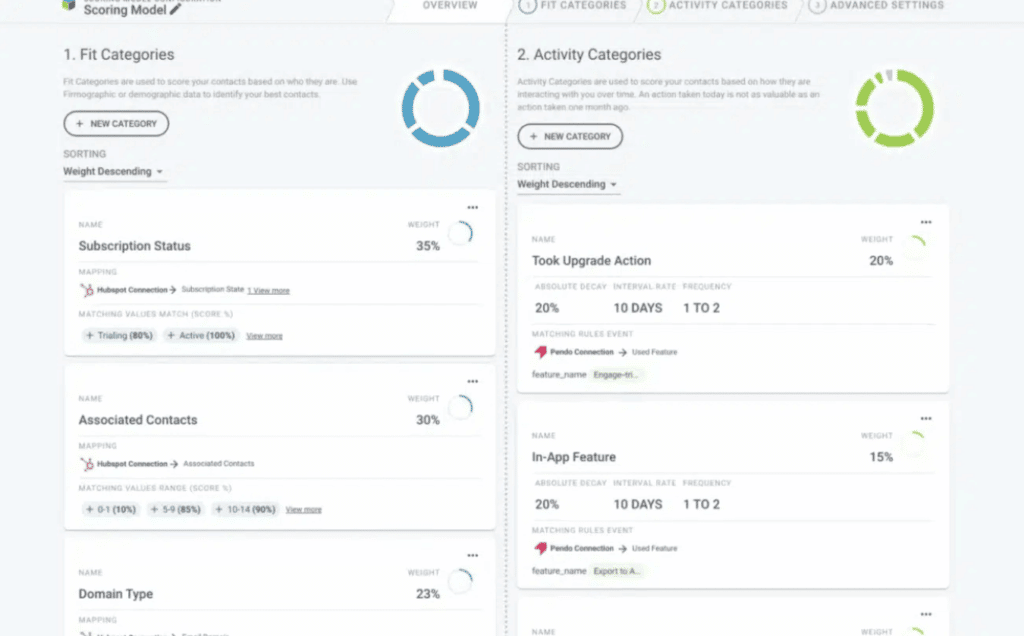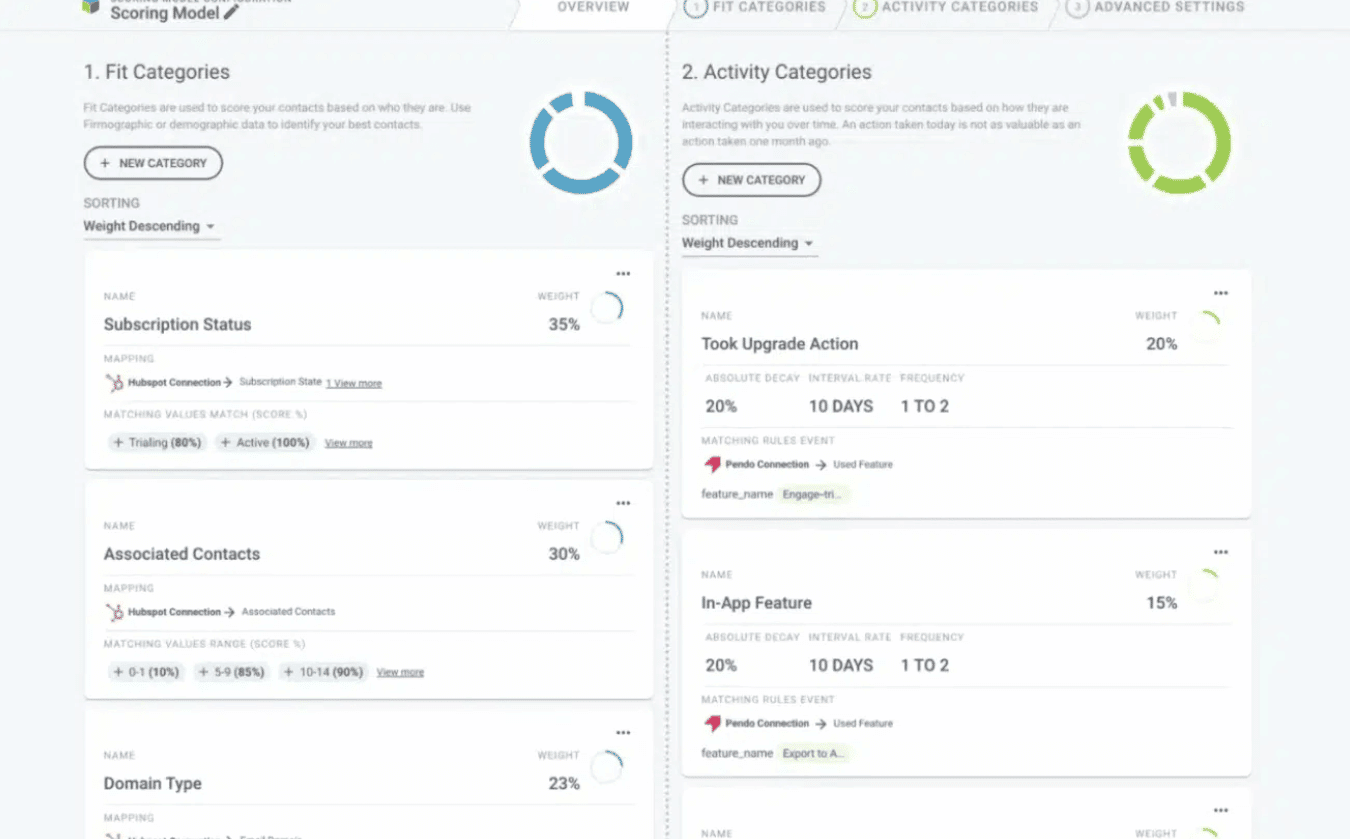 Lead scoring identifies where your leads are in the buyer's journey. When a lead is "hot," you'll know it's time to nurture them for sales. And just like account-based marketing, your sales team and marketing team will partner up and get the job done.
With our co-dynamic lead scoring software, you can prioritize certain B2B companies, increase conversion rates, and unlock more revenue.
5. Email marketing
Email is an entire digital marketing strategy itself. But we'll go over three ways to implement email into your demand gen strategy.
The first way is following up with free trial or freemium users. Harvest, a B2B time tracker, sends follow-up emails to free trial users.
Follow-up emails drive more users to your sales pipeline. Plus, you can set this strategy on autopilot using marketing automation.
Tom Basgil, a digital marketing consultant, touches more on automation, "With a good email sequence, you can automatically warm up a lead before a salesperson has to get involved. Using email sequence opens and clicks are also important factors in lead scoring."
Another email marketing strategy you can use is email opt-ins.
Social Media Examiner grows their email list with gated content. Online readers can exchange their email for a peek at Social Media Marketing's whitepaper—this is where free content comes in handy.
The last email marketing strategy you can implement is referral programs. When users recommend your email newsletter, they'll get a prize in return (e.g., a gift card or affiliate income).
Darren F. notes how "Your customers will find you themselves. If you write a great guide to referral programs, chances are that people looking for referral programs will self-select and find your blog."
Examples of referral programs include:
Gated email content
Commission
A free product
Giveaway contest
B2B Demand Generation: Your Next Steps
As you can see, there's no one-size-fits-all demand gen approach. The goal is to view B2B demand generation as a holistic marketing approach. You aren't just optimizing one part of your funnel but the entire funnel itself.
Let's recap on five ways to develop a B2B demand generation strategy:
Develop clear messaging across your brand
Offer free content with a content marketing strategy
Align marketing and sales with account-based marketing
Identify "hot" leads with a lead scoring system
Nurture leads with email marketing
You don't have to apply all of these B2B demand generation campaigns. Start with one or two and build your strategy from there. In fact, why not start with lead scoring? Sign up for free today and kick your demand strategy into gear!