The B2B world isn't what it used to be. It's like a puzzle where the pieces shift, and the usual strategies might not fit anymore.
Clients are savvier than ever, and they're looking for something fresh, something that speaks to them on a personal level. That's where innovation steps in–it's not just a buzzword anymore; it's a necessity.
In fact, 52% of B2B clients say they prefer purchasing from companies that create their content.
As we set foot into 2023, businesses like Breadcrumbs, HubSpot, and more realize that the same-old marketing process just won't cut it. The competition is fierce, and the noise is louder than ever.
So, how do you rise above the crowd and attract new clients? How do you make sure your brand is the one that catches the eye of potential clients?
That's what we're here to explore. So, if you're ready to leave those old, stale methods behind–let's scroll!
What the Modern B2B Buyer Wants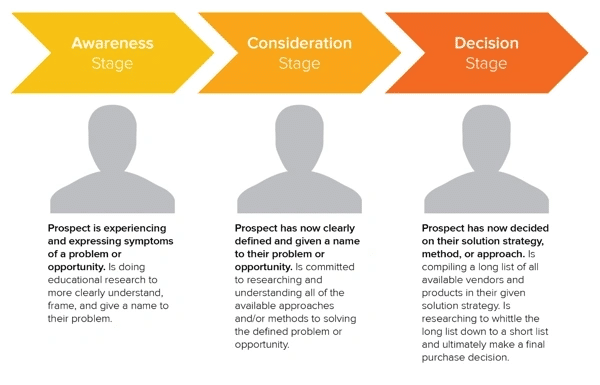 B2B buyers used to be all about cold, hard facts and figures. But guess what? They've tasted the good life of personalized experiences. They want to be treated like more than just another transaction.
Let's look at what the modern B2B buyer wants–they're not your traditional customers anymore.
Here are some key points to help you understand how they've evolved and what makes them tick:
Personalization is the new key. B2B buyers now expect personalized experiences, just like in their B2C interactions. They want to feel understood and valued, not like another faceless client.
Informed decision-making. Modern buyers are researchers; they do their homework before making a move. They dig into every detail and analyze their options thoroughly.
Bringing B2C expectations to B2B. Their experiences as consumers shape their expectations as B2B buyers. They anticipate the same level of care and personalization in business interactions.
Building trust through recommendations. Trust matters more than ever; they look for social proof and credibility. They value peer reviews and recommendations from trusted sources.
Researching beyond your claims. They don't take your word for it; they check out your online reputation. Reviews, testimonials, and online presence heavily influence their decisions.
No more blanket messages. Generic, one-size-fits-all messages won't cut it with them. They want content and communication tailored to their specific challenges.
Seeking emotional connection. They're not just making a transaction; they're forming partnerships. An emotional connection can sway their decision-making process.
The power of storytelling. They're drawn to compelling narratives that resonate with their challenges. Stories help them relate to your brand and understand your value proposition.
B2B Strategies for New Client Acquisitions
Going to the B2B world alone and looking for clients might seem quite like a maze–but we have your back. Here are some of the best strategies for new client acquisitions you can try!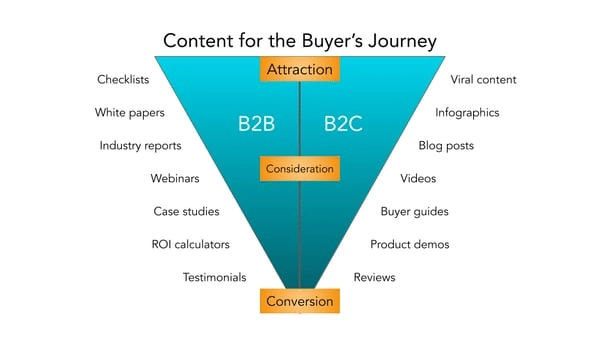 1. Use lead scoring
To attract new clients, you need innovative strategies that capture attention and effectively gauge these leads' potential. One such game-changing strategy is lead scoring. Leveraging lead scoring as part of your B2B strategy can provide a significant advantage in client acquisition.
Lead scoring is a methodology used to rank prospects against a scale representing the perceived value each lead represents to the organization. The resulting score determines which leads a receiving function (e.g., sales, customer service, etc.) will engage in order of priority. This prioritization allows businesses to focus their efforts on the leads most likely to convert, thus optimizing the sales process and improving conversion rates.
Enter: Breadcrumbs.
As a sophisticated lead scoring system, Breadcrumbs uses AI-driven models to score your prospects based on fit and engagement. Fit refers to how closely a lead matches your ideal customer profile, while engagement measures a lead's interaction with your brand across various channels.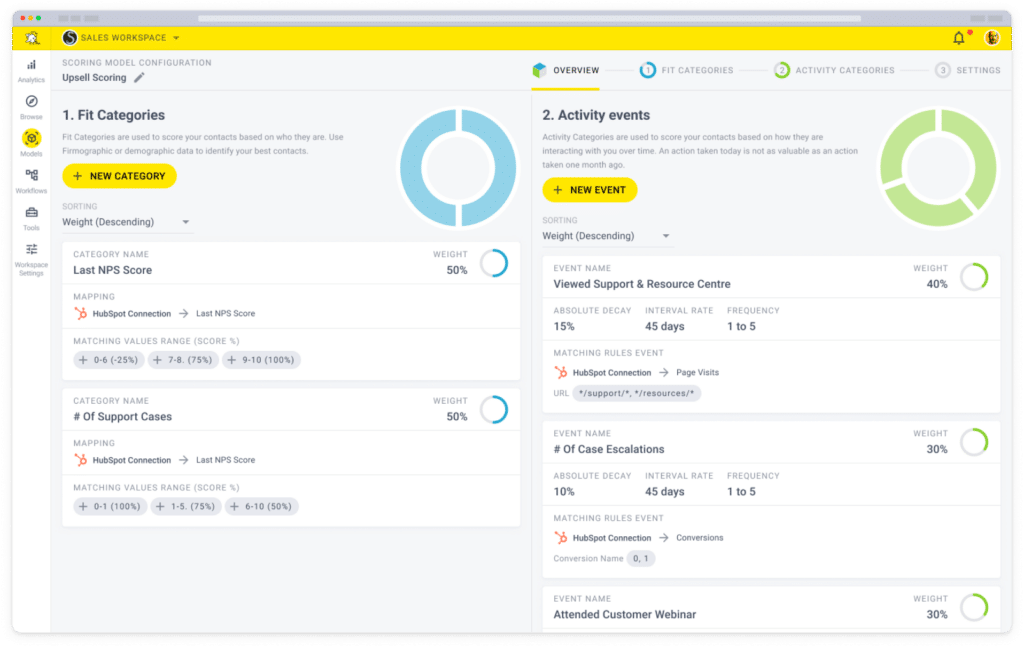 The beauty of Breadcrumbs is its ability to learn and adapt. By harnessing the power of artificial intelligence, it continuously refines its scoring models based on the behaviors and characteristics of leads that convert. This means that your lead scoring becomes more accurate over time, allowing for more effective targeting and a higher success rate when attracting new clients.
Moreover, Breadcrumbs helps you identify the most promising leads and provides insights into why these leads are scored highly. This information can be invaluable in shaping your marketing strategies and tailoring your approach to meet the needs and preferences of your target audience.
2. Personalize content marketing
The connection between personalized content and enhanced engagement is huge.
80% of consumers are more likely to buy from a company that provides a tailored experience
You walk into a store, and the salesperson greets you by name and knows exactly what you're looking for. That's what personalized content marketing does.
It's not about sending the same message to everyone; it's about creating content that speaks directly to each and every client's needs, interests, and pain points–do this and see your social media statistics soar!
Here's how you can leverage it:
Go Beyond the Cookie-Cutter. Your clients are tired of cookie-cutter messages that could apply to anyone. They want content that feels like it was crafted just for them. Personalized content shows that you care enough to understand their individual needs.
Catch and Keep. Personalized content isn't just a flash in the pan. It's a way to keep your clients engaged. When they feel like you truly understand them, they will likely stick around for the long haul.
Data-Driven Content. Data is the secret sauce here. It's not just random guessing; it's understanding your client's behavior and preferences through analytics.
Moving Beyond First Names. Personalization isn't just about using their first name in an email. It's about creating a genuine connection. When you understand their challenges and aspirations, you can create content that resonates on a deeper level.
Tailoring the Journey. Remember, it's not just about a single interaction. Personalized content should be woven throughout their entire journey with you. From the first touchpoint to the final sale, it guides them along the path.
3. Leverage thought leadership and expertise
Being a thought leader isn't just about showing off; it's a powerful way to attract new clients who want to work with the best.
It's not just about creating content for the sake of it. Thought leadership content is meaningful, insightful, and offers real value to your audience.
Thought leadership content is the most effective type of content used by B2B businesses these days.
However, it isn't just about attracting new clients; it's about solidifying your brand's online reputation in the industry. There are many online management reputation tools available that you can use to amplify your presence.
Clients are drawn to those who offer insights that others can't. As a thought leader, you're not just attracting clients–you're also building connections and partnerships with other industry leaders.
Here's how you can elevate your brand's authority in the eyes of your audience:
In-Depth Content Creation. Create content that goes beyond the surface. Write comprehensive articles, guides, and whitepapers that delve into complex and rare topics, showcasing your deep understanding.
Educational Webinars and Workshops. Host webinars and workshops where you share valuable insights, tips, and strategies. This interactive approach positions you as an educator and a trusted advisor.
Thoughtful Social Media Presence. Share content that provokes thought and actionable conversations on social media platforms. Engage in industry discussions, offer solutions, and provide guidance to demonstrate your expertise.
Guest Speaking and Panels. Participate in industry events, conferences, and panels as a guest speaker. Sharing your knowledge with a live audience solidifies your credibility.
Networking and Collaboration. Build relationships with other experts in your field. Collaborative efforts amplify your reach and strengthen your position as an authority.
Storytelling and Case Studies. Share success stories and case studies that highlight your problem-solving skills. These narratives prove your ability to provide real-world solutions.
4. Do your SEO and make it work
You are covering all your bases and putting in all the efforts–but it's of no use if those efforts aren't visible to your new prospects.
And that's where SEO comes in.
SEO isn't a one-time thing. Anyone can start working on their SEO, but the challenge comes when you need to make it work.
Planning an effective SEO strategy is crucial for your business and its success. Naturally, the first step in this process involves keyword research. Using the right keywords will enable you to rank on Google and reach your target audience effectively. Moreover, the right keywords can help your brand address your audience's problems with your content, making your business a solution provider.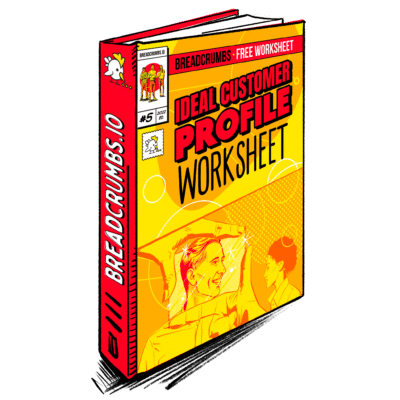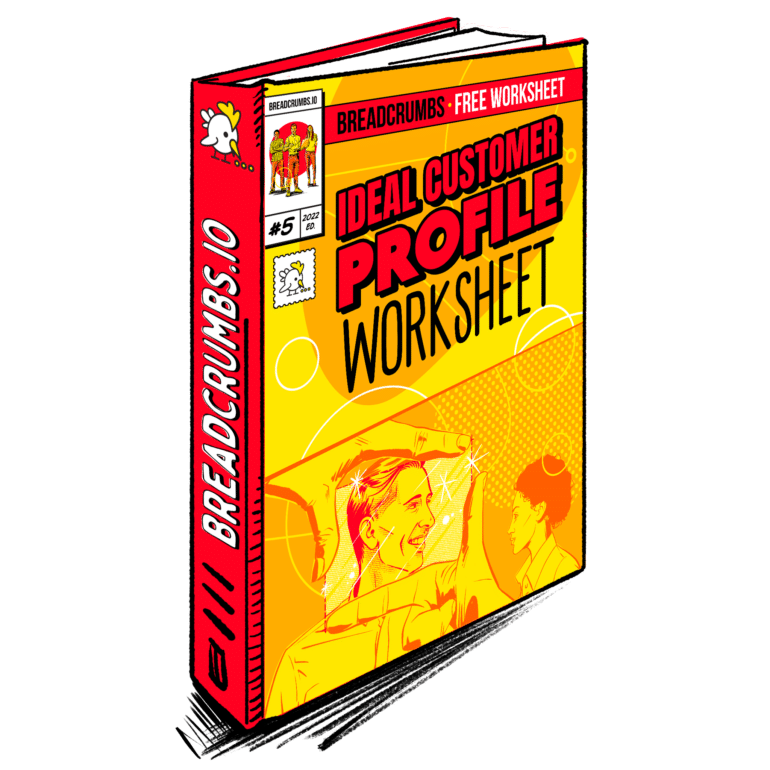 Ebook
Ideal Customer Profile (ICP) Worksheet
Learn how to create an Ideal Customer Profile and build a successful sales strategy with this Ideal Customer Profile (ICP) Worksheet.
The next part of your SEO strategy should be focused on writing for your audience. SEO isn't about jargon or robotic write-ups. It's about creating content that resonates with your audience and their pain points. Engaging content not only draws in your audience but also keeps them coming back for more.
Lastly, building links for authority is another key aspect of an effective SEO strategy. This practice helps establish your website as a reliable source of information. High-quality, relevant backlinks from reputable sources act as signals to search engines, indicating that your content is valuable and relevant. This not only boosts your ranking but also enhances your site's credibility.
5. Use influencer partnerships
Influencers are like bridges in your industry. They have a loyal following that trusts their opinions and recommendations.
Look for influencers who resonate with your target audience. But ensure their audience should align with the clients you want to attract.
78% of B2B marketers say influencer marketing is effective.
Influencers have a ready-made audience. When they endorse your brand, it exposes you to a wider, engaged audience.
By teaming up with respected figures in your industry, you're not just expanding your audience – you're building trust and gaining valuable endorsements.
Here's how you can leverage influencer partnerships:
Identify Relevant Influencers. Choose influencers whose audience aligns with your target clients. It's not just about the number of followers; it's about reaching the right people.
Collaborative Campaigns. Create campaigns where you and the influencer work together. Whether it's guest posts, joint webinars, or co-created content, collaboration boosts your brand's visibility.
Leverage Niche Influencers. Niche influencers might have a smaller following, but their audience is highly engaged and genuinely interested in the topic. This can lead to more meaningful connections.
Micro-Influencer Engagement. Micro-influencers have a tight-knit community. Partnering with them allows you to access a close and trusting audience that values their recommendations.
Build Credibility. Influencer partnerships provide a stamp of approval from respected individuals in your field. This boost in credibility can be a powerful tool for attracting new clients.
6. Use social selling
Social media isn't just for sharing memes; it's a strategic way to build relationships, engage with potential clients, and ultimately secure valuable partnerships.
But–social selling isn't a quick fix; it's a gradual process of building relationships, nurturing connections, and showcasing your expertise.
There's a lot you can do to use social media as a valuable asset:
Define your goals. Set clear goals for your social media strategy. Knowing your objectives guide your actions, whether it's brand awareness, lead generation, or client engagement.
Choose the right platforms. Not all social media platforms are created equal. Focus on the platforms where your target audience is most active. LinkedIn is often a powerful choice for B2B.
Optimize your social profiles. Ensure your profiles are complete, professional, and aligned with your brand. Your profile is often the first impression potential clients get.
Content consistency: Regular posting keeps your audience engaged. Maintain a consistent posting schedule while ensuring the content is valuable and relevant.
Share thought leadership. Position yourself as an industry authority by sharing insightful articles, thought-provoking opinions, and valuable resources.
Visual storytelling. Use visuals like images and videos to tell your brand's story. Visual content is more engaging and can convey complex ideas in an easily digestible format.
Engage actively. Engage with your audience by responding to comments, participating in discussions, and initiating conversations. You can use tools like Hootsuite to engage more effectively with your audience. But for a start-up, the soaring price point of Hootsuite might seem a lot. In that case, you can take advantage of the Hootsuite alternatives, which offer similar or even better features but at a much more affordable price point.
Use hashtags. Strategically use industry-relevant hashtags to increase your content's visibility. This helps your content reach a broader audience.
Showcase client success. Share success stories, testimonials, and case studies. This builds credibility and shows potential clients the positive impact you've had.
Personalize outreach. When reaching out to potential clients, personalize your messages based on their profiles and interests. Generic messages rarely make an impact. Use a tool like Cadence to scale your outreach and keep it laser-focused and personalized.
Collaborate and network. Collaborate with industry influencers, partners, and even clients. Networking through social media can lead to valuable opportunities.
Attract new clients with these B2B strategies
Thus, we've delved into various effective B2B strategies to help you attract new clients in 2023.
We've explored everything from crafting personalized content that resonates with your audience to forging alliances with industry experts and leveraging social media to foster connections. Moreover, we've highlighted the importance of lead scoring as a key strategy for prioritizing prospects and optimizing your sales process.
These aren't just arbitrary tactics. Combined, they form a robust plan designed to attract clients who align with your brand's values and offerings.
Yet, the B2B landscape is constantly evolving, and flexibility is crucial to keeping up with these changes. Stay alert and attuned to your clients' needs, adapting your approach when necessary. Remember, your role is to streamline their experience and add value wherever possible.
This isn't merely about boosting numbers–it's about cultivating genuine relationships with your clients and continually seeking ways to enhance their journey with your brand.
So, whether you're new to this or a seasoned professional, these strategies will undoubtedly elevate your client acquisition efforts.
Keep learning, keep adapting, and above all, stay committed to improving your clients' experiences. And to take your client acquisition game to the next level, create a new Breadcrumbs account for free today.