Everyone can claim to be a guru all they want and post fast facts on LinkedIn.
The truth of the matter is that most people cannot reliably create high-value, insightful, and original content week after week – which is the foundation for thought leadership marketing.
When new content marketing clients come my way, I always ask about their goals. Most mention SEO right away, and the majority mention sales. I always ask if they're also interested in thought leadership as a primary goal.
Some have never heard of the concept before, but it was part of what they ultimately wanted their blog to do: to set them apart from (and above) the competition to grow their brand awareness and their revenue.
During a time when the blogosphere is so oversaturated with content and misinformation alike, thought leadership marketing has never been more important or effective when done right.
In this post, we're going to take a look at everything you need to know to excel in thought leadership marketing as I take you step-by-step through the process I use for my own clients.
What is Thought Leadership Marketing?
Thought leadership marketing is a content-focused marketing method that promotes your brand by creating high-value content demonstrating your expertise.
Most blogs that are heavily invested in content marketing are often trying to engage in thought leadership marketing whether they know it or not. They want to share quality resources that show that their brand is knowledgeable, trustworthy, and capable of helping their needs.
Readers see that you're consistently posting high-value, authoritative blog posts, webinars, and lead magnets and they come back to you as a trusted source of information. Your brand becomes respected as a result, and it's easier to sell to customers and even build relationships with other brands, too.
Thought leadership marketing is so effective because it builds trust in the people behind the brand and their experience, which not only builds rapport but naturally builds trust in the brand by association. AdEspresso used thought leadership marketing by creating high-value content that no one else was creating, and it was vital to growing their brand.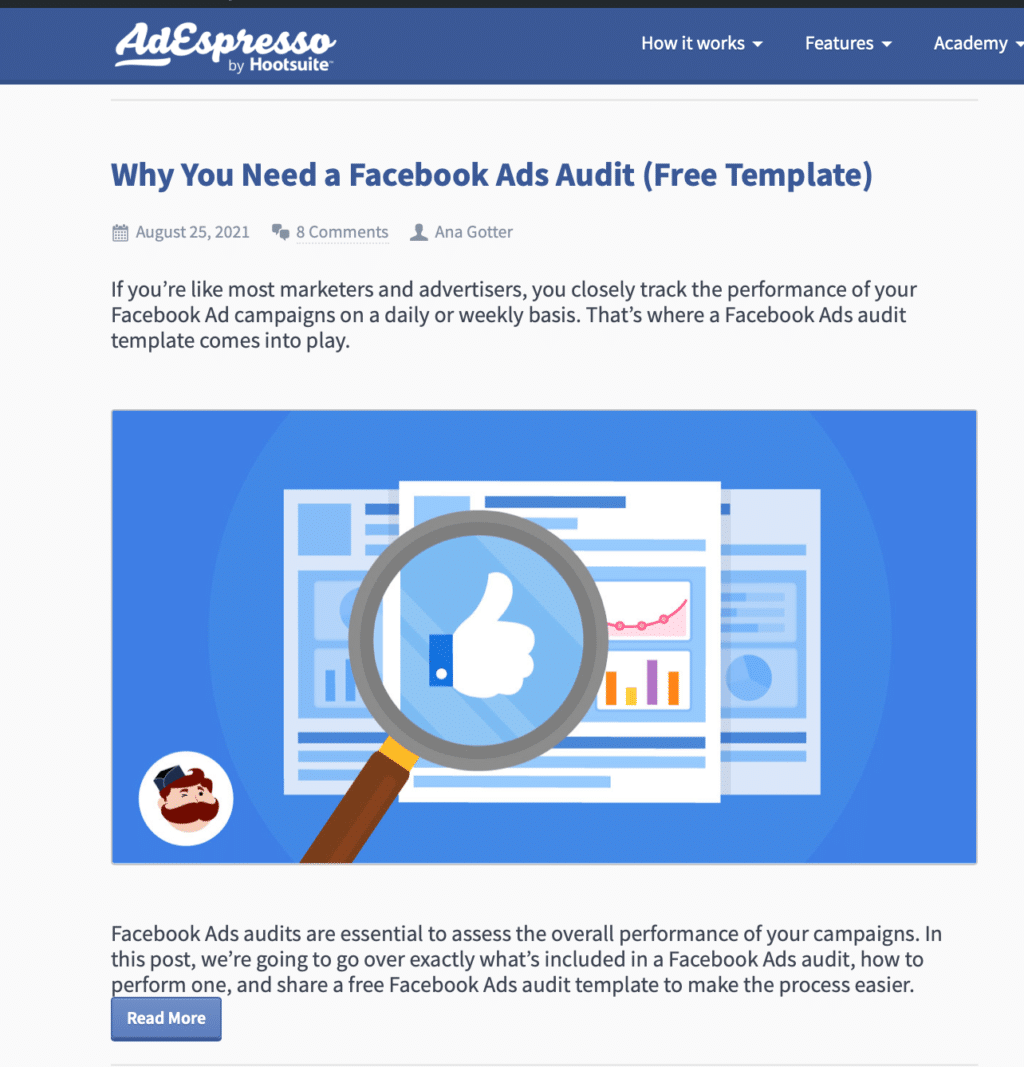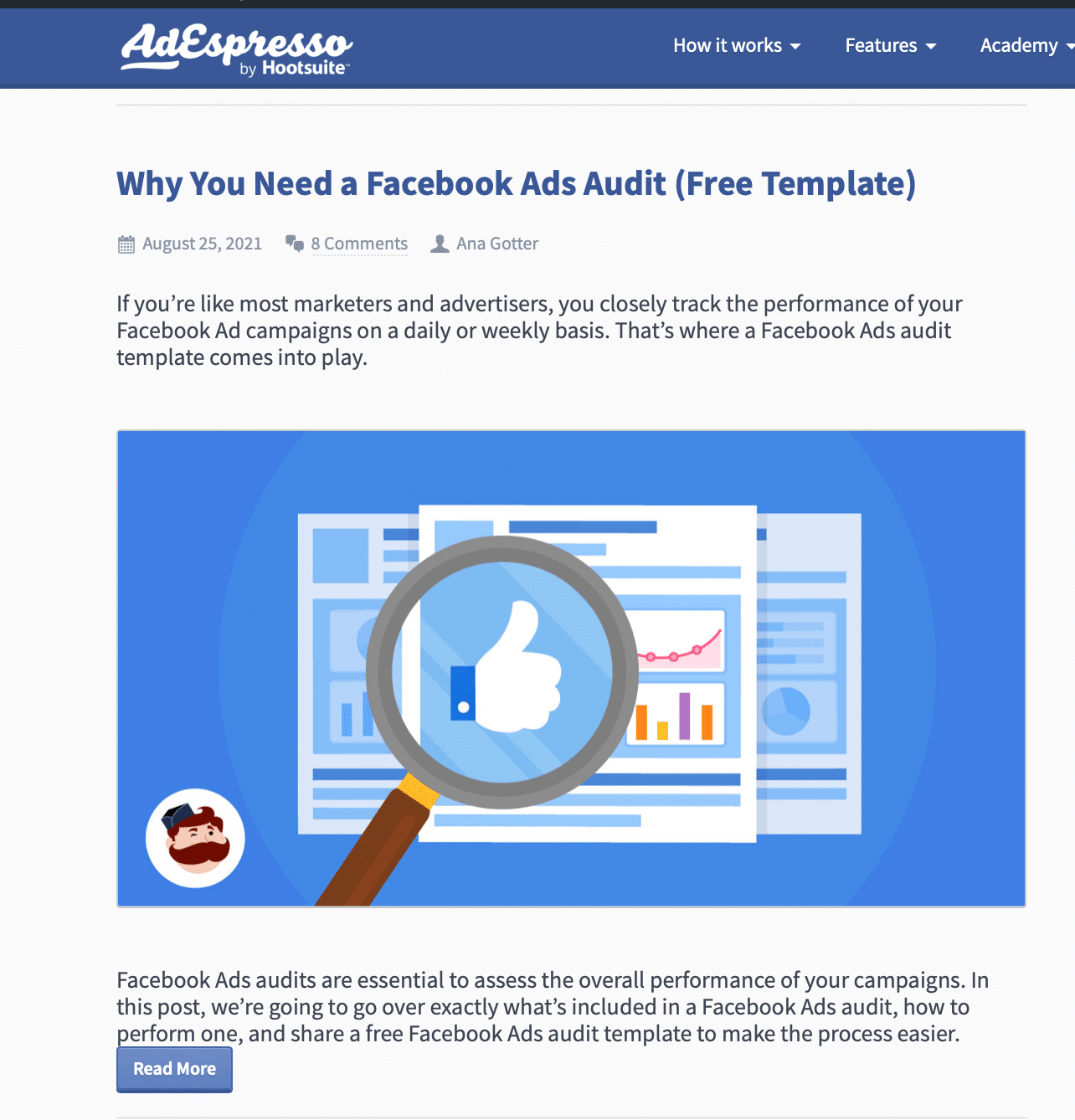 This is one reason why I strongly recommend that some of my clients take advantage of ghostwriting services, at least on occasion.
Having your CEO, CFO, or any other highly visible team member as the author on strong, thought-leadership style blog posts can go a long way in improving user perception of brands, and it may be more valuable to a brand than just having a content writer's name on the article. (The exception to this, of course, is if you want that specific writer's name on your site, as they are already thought leaders in the industry).
How to Excel in Thought Leadership Marketing
Want to be able to do thought leadership marketing right? You can follow these steps, which I use to help my own clients set up strong thought leadership marketing campaigns that resonate with their audience.
1. Think About Your Target Audience's Needs
If you want to create content that helps grow your brand or your own personal reputation, you need to do more than just write whatever comes to mind.
Think about your target audience. Who do you want to see yourself as a thought leader? This might include:
Different segments of potential customers
Your professional network so you can get speaking opportunities at conferences
Other brands, so you have opportunities to partner up with them or even act as an influencer
The answer might be only one option listed above, or it could be all three. That's fine; high-quality content can appeal to everyone, but you'll want to start to generate topic ideas that do the following:
Answer your target audience's core questions that you hear them ask or that you believe they may have; solve their problems in any way possible through content. You can use Google's "people also asked" feature to get some ideas here.
Incorporate the appropriate experience level for your target audience. An ad agency writing a post about "Facebook Ads for beginners" shouldn't launch right into talking about Facebook Conversions API with no introduction, for example, and an ad agency writing for other agencies doesn't need to explain what "CPC" means or why it matters.
Will give you a chance to create a resource. Hot takes are great and definitely have a place in thought leadership marketing, but your best bet to get the kind of SEO traffic and continued shares that thought leadership often thrives on will be to focus heavily on creating high-value cornerstone resources.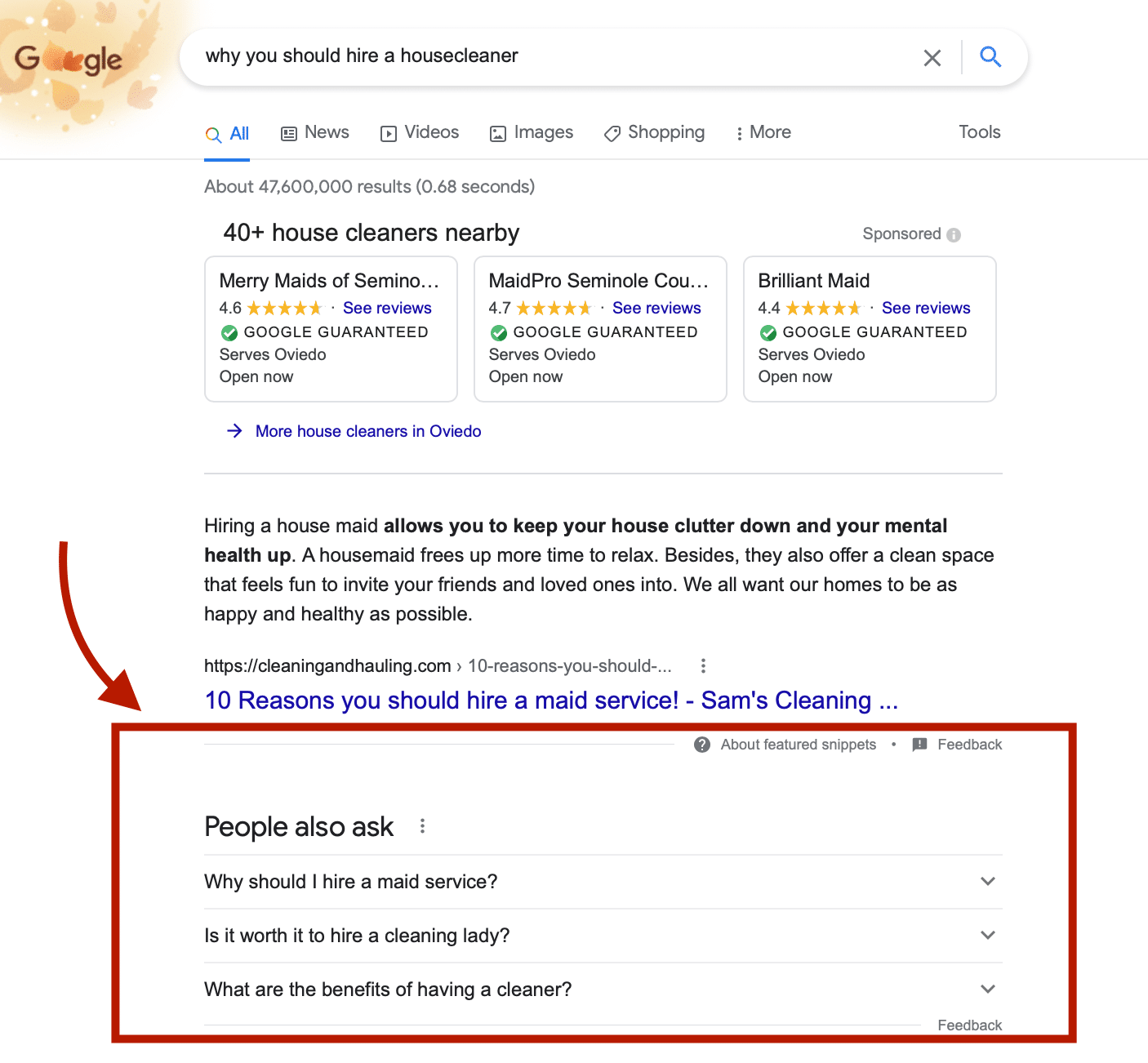 Contact scoring will come in handy when you are focusing on creating that content, as you want to focus on your Ideal Customer Profile (ICP) to determine what will resonate more with your audience. With a scoring model in place, you'll know exactly who your target audience is, and you'll be able to create the right content to engage and delight them.
With Breadcrumbs, you can easily create a scoring model that focuses on defining your ICP. Book a demo today to find out how contact scoring can assist you at every stage of the customer journey, from ICP definition to acquisition, from upselling and cross-selling to churn detection.
2. Consider Your Own Expertise and Where You Want Your Brand to Go
If you want to be a thought leader, you almost certainly have a solid chunk of expertise in whatever your niche is. (At least that's the hope!)
So at this stage of topic generation, think about what you can offer that's unique and where your areas of true expertise are. This is crucial because people who try to write mass-appeal posts in a subtopic that they have some experience in often won't receive the kind of results as someone who writes more niche posts in their highest level of expertise.
Here's an example. I'm a content writer for other brands, but I also write under my byline so I have a chance to grow my personal brand and business, too.
I write about marketing, finance, and business management and have plenty of knowledge in those spaces. I can write top-ranking content for these subjects no problem.
But that doesn't do nearly as much for my personal brand as writing about content marketing, where I have the most experience and which is what my entire business is all about. Writing about freelancing and content marketing gives me space to share my highest levels of expertise, and I can share insider tips or hot takes that are truly formed by a knowledgeable opinion. These are often the topics that help attract the most clients to my business and are the ones that are shared most often by other freelancers in my industry.
So think about the specific niche you want to focus on. You can focus on more than one, and remember that you can have other content that you write about, too, but you'll want to make sure that these specific posts are showing up at least once a month or every other month.
3. Create an Original Take That Shows Your Experience
This is where your thought leadership marketing campaigns can really take off: When you're able to find a topic that you have true expertise in and offer something that's different.
This is what gets you to stand out. You can't just create a great resource similar to what's already out there, even if it's typically better just by adding a few sections.
Your personal experience is what will make you a thought leader and make your content worth sharing.
As a user, for example, which would you rather read:
5 Mistakes New Business Owners Make (written by a writer who only has business writing experience)
5 Mistakes I Made That Almost Cost Me My Business & How to Avoid Them (written by someone who shares in the introduction that they've successfully started and sold two businesses)
It's definitely going to be the second one, right? You're not likely to get rehashed content that every other blog post has, but real-life lessons that can benefit you as a reader.
Here's a great example from a podcast where Rand Fishkin was a guest: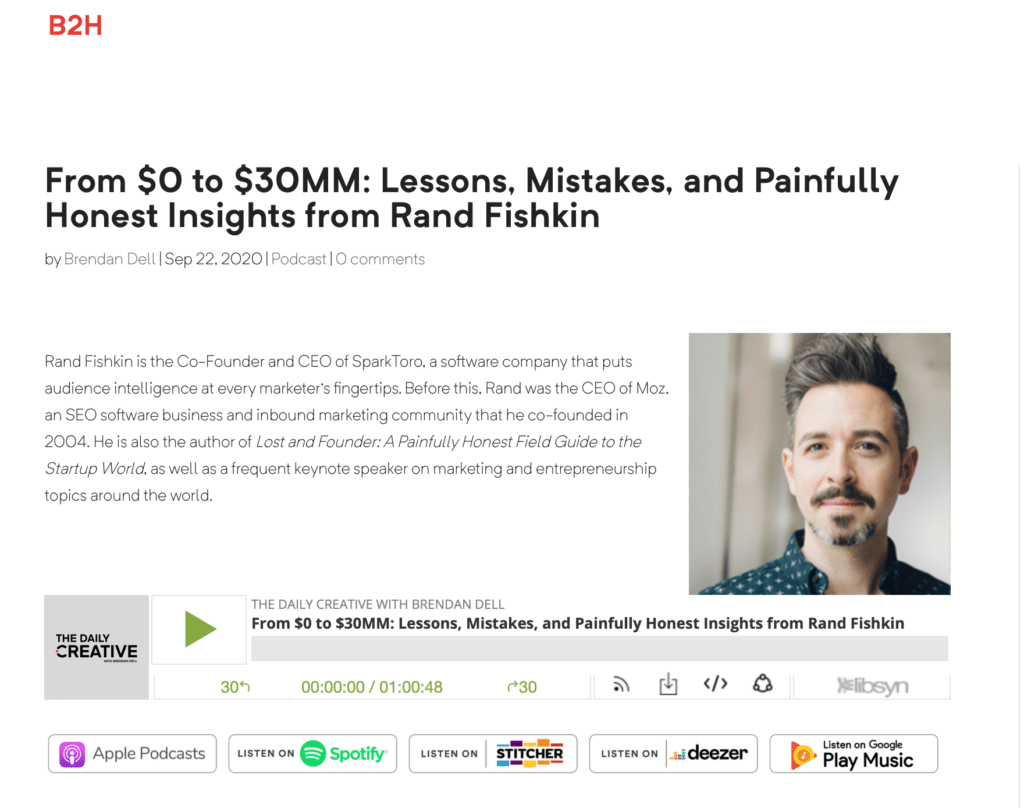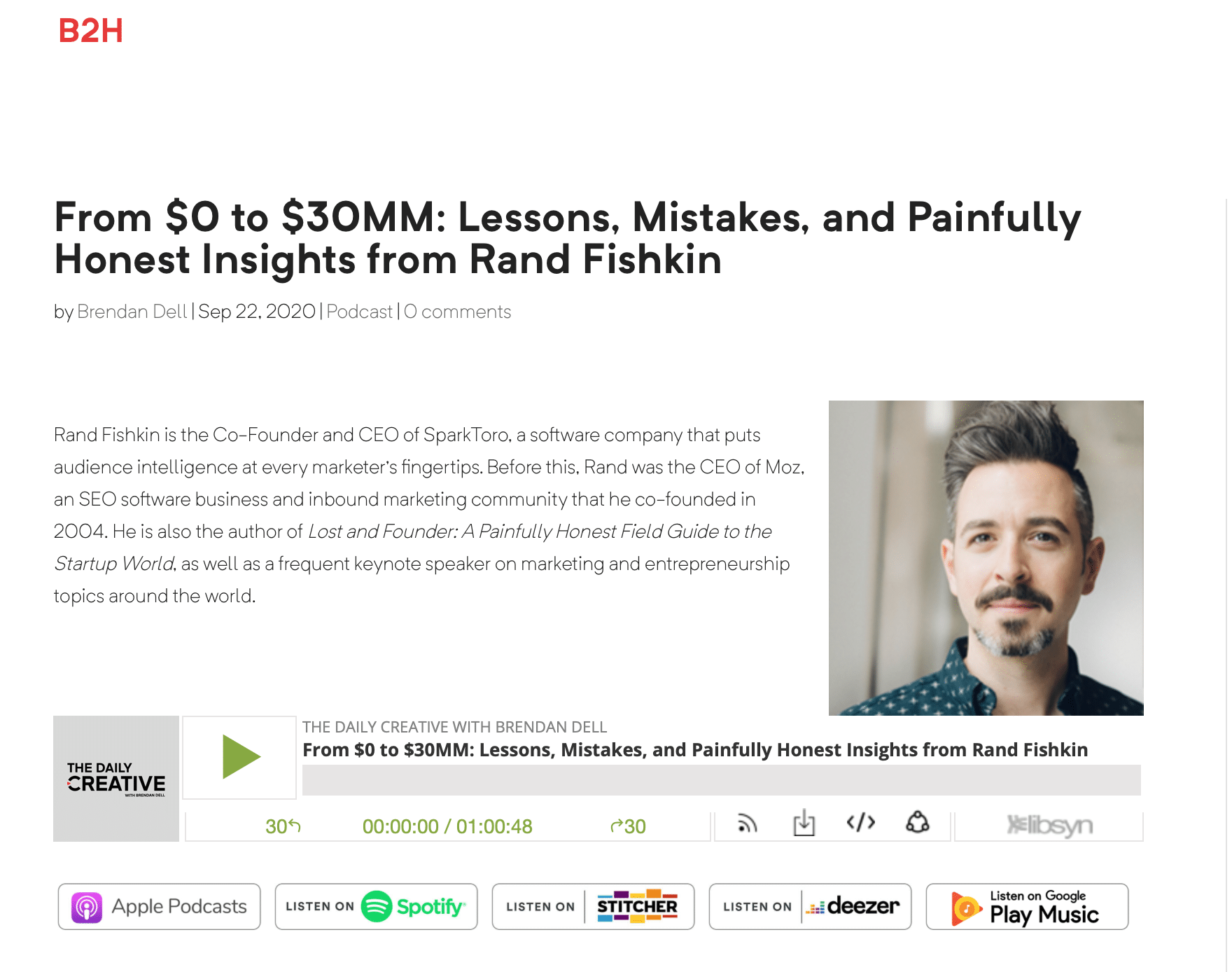 Here are a few easy ways to enhance the thought leadership aspect in any post you write:
Share personal anecdotes that explain your point and strengthen your argument, or to serve as examples for how to implement a strategy or tactic
Create original data-heavy posts, like case studies where you can share real results and statistics that can get you quoted
Write from personal experience, and within the post (ideally towards the introduction) mention why you as the author are an authority on the subject
4. Partner With Other Thought Leaders
As you're creating content of your own, remember that the power of association is strong. If you have or can create connections with thought leaders in your industry or an adjacent industry, it's an easy way to earn a few thought leadership points for yourself.
If you're a co-host on a webinar with a major name, people are going to assume that your skills and knowledge are of equal or similar caliber.
And if you're able to have someone join for a Facebook live or appear as an expert source in a blog post for your site, that also bodes well for you. They might be willing to share the content, too, which introduces you to a new audience who already likely thinks highly of the person sharing the content.
Try to form real, authentic relationships with other influencers over time instead of just charging in and wanting something. Social media platforms like LinkedIn are an excellent place to do this. Follow the other influencers and interact with their content for a long period of time (and share it!) before you try to reach out with an ask.
5. Take Your Content Cross-Platform
Want to be a thought leader?
Then your ideas shouldn't just live on your own blog.
In addition to blog posts, you should also consider the following avenues for posting:
High-authority domains for guest posts with your name
LinkedIn, especially where you encourage discussion
Twitter threads to share data and facts
Industry discussion boards (but only for conversation and idea sharing, and not spamming content)
YouTube for long-form education video content
The more content that you have in more places, the better. Just make sure that it's all high quality and up to the standards you'd expect to see from respected thought leaders in the space.
Final Thoughts
It's important to note that thought leadership marketing requires intentional and ongoing effort with frequent content production both for your own blog and for third-party sites.
That being said, thought leadership marketing can be one of the most significant ways to grow a personal brand or a brand that you care a great deal about. It helps you stand out in your field, demonstrating that you're an authority in your niche and someone to be trusted. It's worth the investment you put into it, especially since it's often much easier to convert leads and customers once that trust is there.
Learn more about how you can use contact scoring at every stage of the customer journey to attract and convert more leads, retain existing customers and detect clients that may leave you — Book your free demo with Breadcrumbs today.