Content marketing has become an integral pillar in sales strategies around the globe.
And it's not hard to see why.
Not only does valuable content inform, educate, and entertain ideal audiences, but it also helps businesses generate demand, build trust, and capture high-quality leads.
In other words, content has become currency.
So much so that 97% of organizations worldwide have a content marketing strategy in place.
You read that right.
That's why it's essential to understand how to use demand-generation content marketing to build awareness and nudge prospects into your lead-generation flow. Then you can use tools like Breadcrumbs to start your process improvement strategy and convert more leads into paying customers. 
Let's take a closer look at demand generation marketing, how it naturally progresses into lead generation marketing, and six ways to capture high-quality leads using gated content and special offers.
Ready to learn more?
Let's get started.
What is demand generation marketing?
Demand generation marketing refers to using free content assets to pique your target audience's interest and start the process of building trust.
With demand gen content, you have two simple goals: Create awareness and generate interest in your brand and its offers.
You do that by creating and posting "free content" across your marketing channels to solve your target audience's pain points and deliver tremendous value to their lives.
For instance, if you're a productivity coach, you might post things like:
A text image featuring an expert quote on time management
A listicle that covers the best productivity tools on the market
A Twitter screenshot showcasing a nifty scheduling trick tip from your CEO
A how-to article that breaks down how to course-correct when a schedule runs late
A video featuring your morning routine and how you've learned to get stuff done in half the amount of time
With these assets, you won't use opt-in forms or collect contact information. You're simply posting to educate, inform, and delight your audience.
Over time, doing so can help you build rapport, attract organic traffic, and establish yourself as a thought leader in your industry.
So, whether you're blogging, guest posting, or publishing content on social media, when it comes to demand generation marketing, think in terms of value-driven content you simply give away.
With ongoing demand gen tactics, you can organically expand your reach and nurture prospects at the top of the funnel (ToFu). But there's something else you'll need to do before you can capture their information.
How can demand generation marketing help me capture high-quality leads?
Demand generation itself isn't designed to help you capture high-quality leads. It's meant to pave the way for lead generation to take place.
That's why it's important to understand the differences between demand generation and lead generation — and how they apply to the marketing funnel.
Let's dig into this a bit further.
What is lead generation marketing?
When potential customers pass through the demand generation stage, they've officially entered your buying process. They trust you at this point, and they're ready for more.
This is when lead generation marketing comes in.
In this stage, qualified leads have demonstrated enough interest in your brand that they're willing (and maybe even excited) to hand over their email address in exchange for more value or information.
Here, you can use lead scoring to sort and prioritize your leads and lead magnets to entice your qualified leads to opt in.
For instance, Breadcrumbs uses fit (demographics and firmographics) and activity (actions and behaviors) scoring while incorporating frequency and recent actions. As a prime go-to tool for all the stages in the customer journey, Breadcrumbs can help you pinpoint which leads are most likely to convert.
Beyond knowing which leads are closer to conversion, you also have to know which lead magnets would captivate them most. In other words, you have to give them a reason to give you their contact information.
Lead magnets, otherwise known as "gated content" or "gated offers", are downloads, freebies, or guides that prospects must opt-in to receive. They get access to information or an item they want, and you get access to their contact details. It's a mutual value exchange.
Before we cover lead magnet strategies, let's quickly review where lead generation and demand generation fit into the marketing funnel.
Where do demand generation and lead generation fit into the marketing funnel?
Simply put, demand generation marketing nurtures leads at the top of the marketing funnel, and lead generation nurtures leads at the middle and bottom of the funnel.
The two work in sync to help you attract, inform, convert, and engage aligned prospects.
Let's take a look at what you can offer your qualified leads to encourage them to give you their contact information.
6 ways to use gated content and offers to capture high-quality leads
Personalize your lead magnets by focusing on content or freebies that solve your audience's pain points.
Look at your best-performing content and repurpose them as in-depth pieces.
Review your most inquired-about products or solutions and allow leads to try your item or service before they invest.
If a lead isn't ready to convert after opting in, don't force it. Create a follow-up strategy, such as adding them to an automated, segmented email marketing flow or scheduling phone check-ins.
With that said, here are six effective lead magnets you can use to capture high-quality leads:
1. Identify your ideal customer profile
Adding a personal touch and tailoring your lead magnets to your audience is key to capturing high-quality leads. But it's equally (if not more) important to ensure that you're targeting the right audience in the first place.
After all, you don't want to spend time and resources targeting small to medium-sized businesses when your ideal customer profile is large enterprise companies. It's like flushing money down the drain.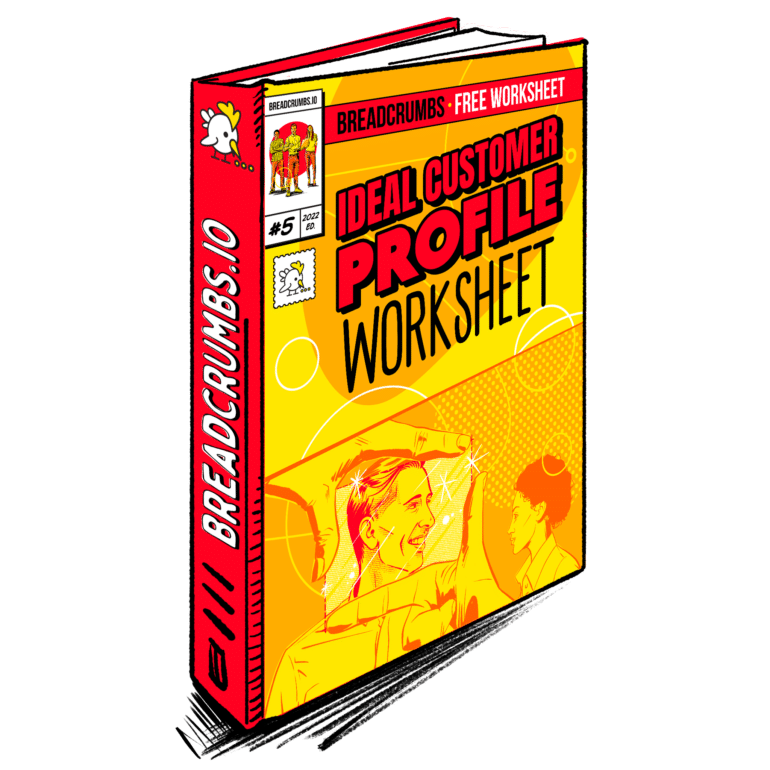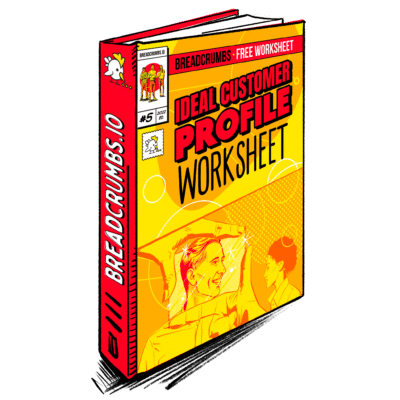 Ebook
Ideal Customer Profile (ICP) Worksheet
Learn how to create an Ideal Customer Profile and build a successful sales strategy with this Ideal Customer Profile (ICP) Worksheet.
To avoid this dreaded fate, you can use Breadcrumbs Reveal, a tool within Breadcrumbs. It pinpoints your data-driven ICP based on the customer data you already have in your existing tech stack. And the best part? You can start using it for free! Talk about seamless integration.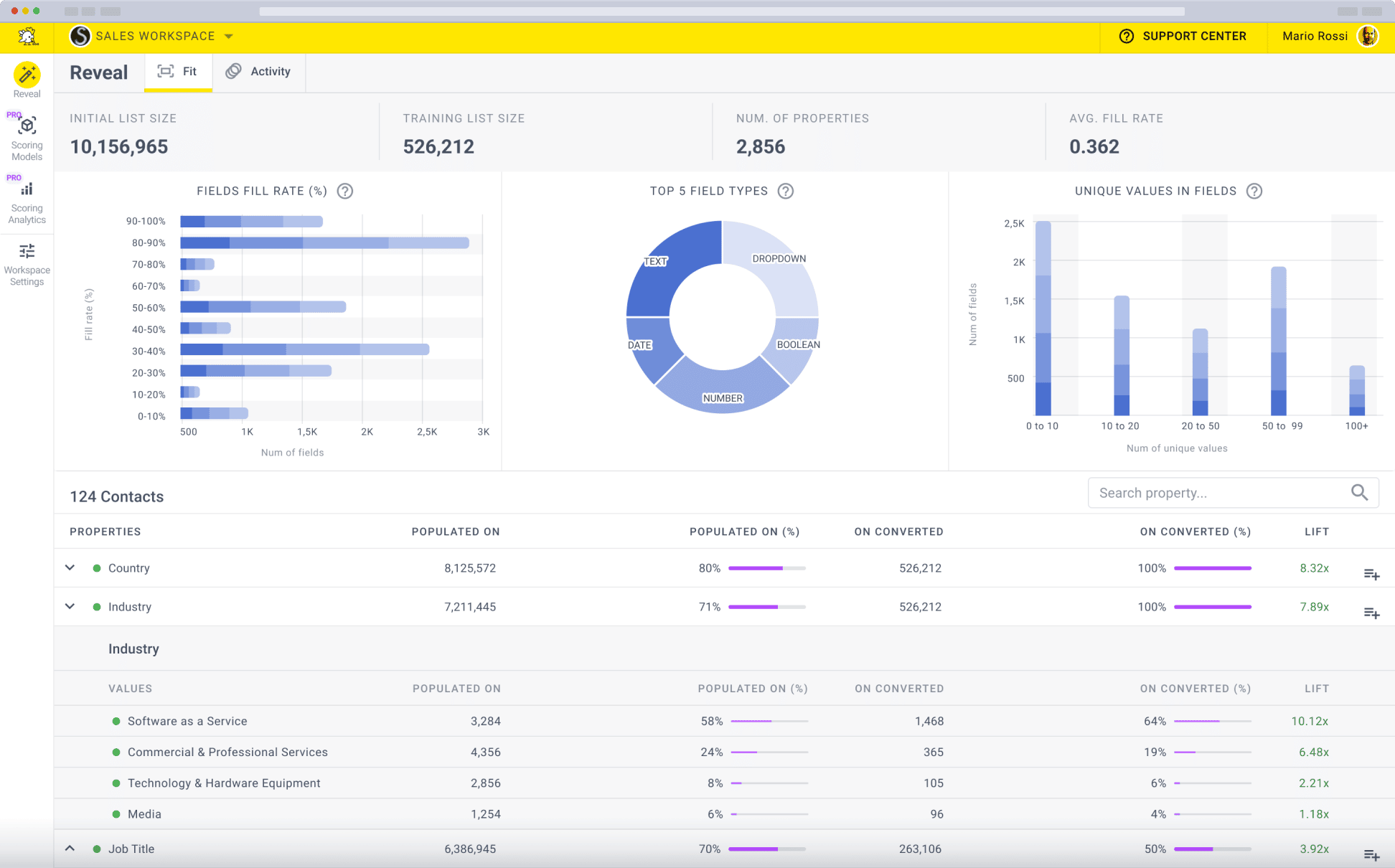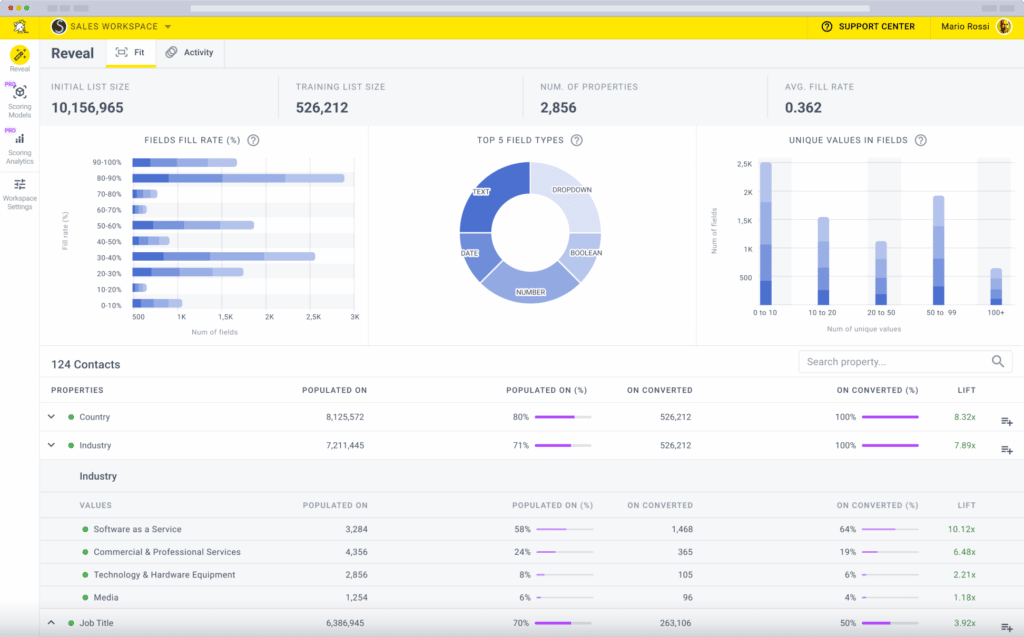 By honing in on your ideal customer profile backed by real data points, you can create effective gated content to boost your engagement rates and attract the right prospects that are most likely to convert into paying customers.
2. Host a live webinar on a topic your audience can't get enough of
Encourage leads to give you their contact details by offering to host a live webinar or boot camp on a topic that's always on their minds.
For instance, take a look at the example below.
In this example, Elise Darma, a business strategist, and social media marketing expert, offers a "Reel Of Fortune" boot camp to capture leads interested in video marketing guidance.
Her strategy is simple: Users that comment "ROF" on her post get a direct message with a link to her boot camp sign-up page.
3. Create a guide that solves a core audience pain point
Motivate prospects to opt-in by offering an in-depth guide that solves a major pain point.
For instance, if you offer consulting services for startup project management firms, relieve the burden of tireless research by recommending a curated tech stack they can use to operate their new businesses.
For example, the following in-depth guide on the 15 best project management software options is a great example of an asset that could be repurposed as a gated content download for this particular market segment.
4. Offer an eBook on an advanced topic your audience is curious about
Take a complex product, service, or topic your audience is curious about and break it down in an eBook.
For instance, in the above example, Nlyte, a company that provides colocation data center facilities for enterprises, created a "DCIM For Dummies" eBook to educate its audience on data center infrastructure management—a complex topic its audience can learn more about in a digestible format.
5. Invite them to opt into your email list for exclusive content, special offers, and company updates
Make prospects feel like VIPs by inviting them to opt into a special email list that delivers exclusive content, generous offers, and important industry updates.
For instance, LeatherCult, an online apparel brand that specializes in selling leather pants, has an opt-in banner at the very top of its product page:
With an emphasis on "exclusive content", "special offers", and news its target audience cares about, LeatherCult entices qualified leads to join its email list for a chance to be part of an exclusive community.
6. Offer a free trial, sample, or service
If you want to gain more subscriptions, sell more products, or book more clients, consider giving prospects a free taste.
Here are some examples of lead magnets you could use depending on the industry you're in:
SaaS or subscription-based companies: Offer a 7-day, 14-day, or 30-day free trial to your subscription service or SaaS solution
E-commerce stores, product-based businesses, and affiliate marketers: Offer a free sample of a product your prospects have shown great interest in
Coaching, consulting, and service-based businesses: Offer a free, 15-minute discovery call or mini-coaching session
Demand Generation Strategies: Wrap up
While these options are just scratching the surface, they're great places to start. Over time, you can expand your gated content offers to help you attract leads in specific audience segments.
Remember, if you're ready to capture high-quality leads, start by building trust with demand-generation marketing. Next, nurture prospects and collect opt-ins with personalized lead magnets.
From there, you may still need to continue building the relationship via follow-up campaigns or check-in calls. Over time, following this strategy consistently can help you build a book of aligned, loyal customers.
Are you ready to capture high-quality leads? Book your free demo of Breadcrumbs to convert leads faster today!