108.3%.
That's how much Binge Digital's revenue increased after adding just one case study in its marketing and sales strategy.
Amazing, isn't it?
If you want to replicate a similar success in your company, you're in the right place.
Today, I'll show you how to write a case study in seven high-level steps.
And that's not all.
To make these steps actionable, we'll also look at five excellent case study examples featuring startups and agencies.
By the end of this massive guide, you'll learn the specific elements of a high-performing case study and how to create one for your business.
Ready to attract and convert leads into clients?
Then let's begin.
How To Write A Case Study And Increase Revenue By 108.3%
Recap: What Is A Case Study?
Ask any sales rep in any industry, and they'll tell you one of their toughest challenges at work is closing the sale.
The reasons for not buying vary.
Maybe the lead fails to understand the value of the product. Or perhaps, they don't see the sales rep and the company as experts who can solve their problems.
Whatever the exact reason, this is where a business case study comes in handy:
It convinces and converts tough leads to customers by addressing their objections in a compelling way.
Take this case study from CoSchedule.
The all-in-one content marketing platform shows how it helps companies improve their content operations and overall productivity.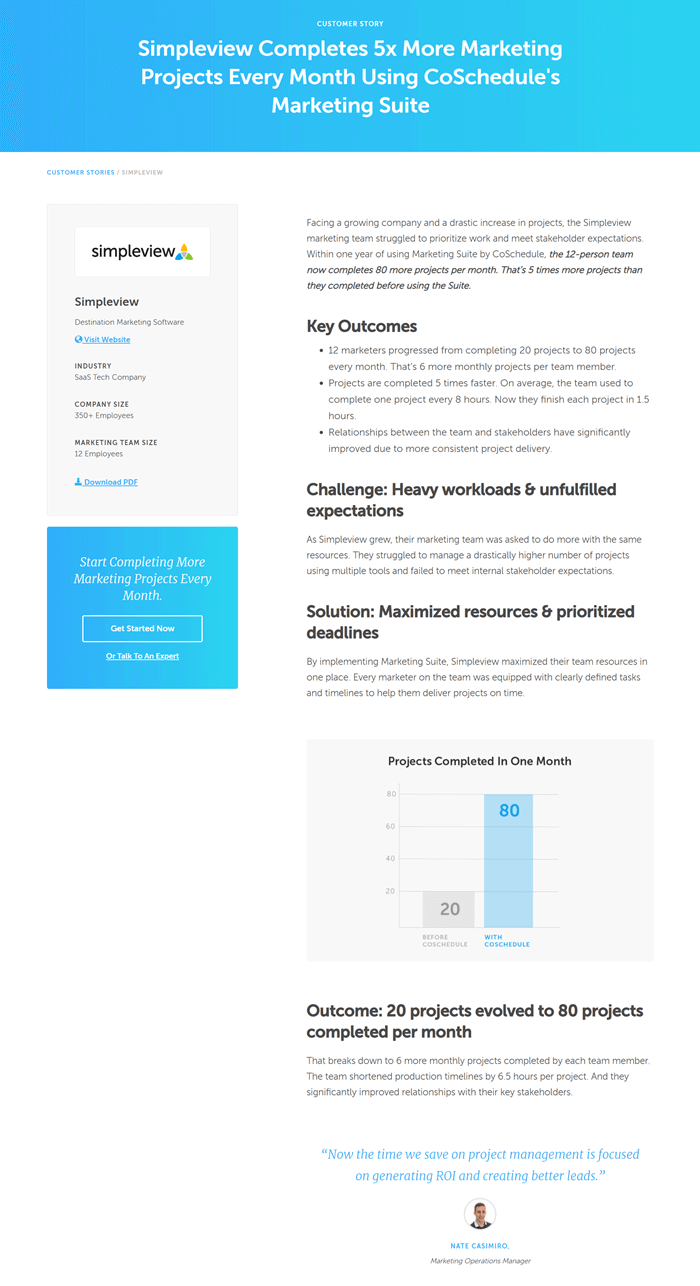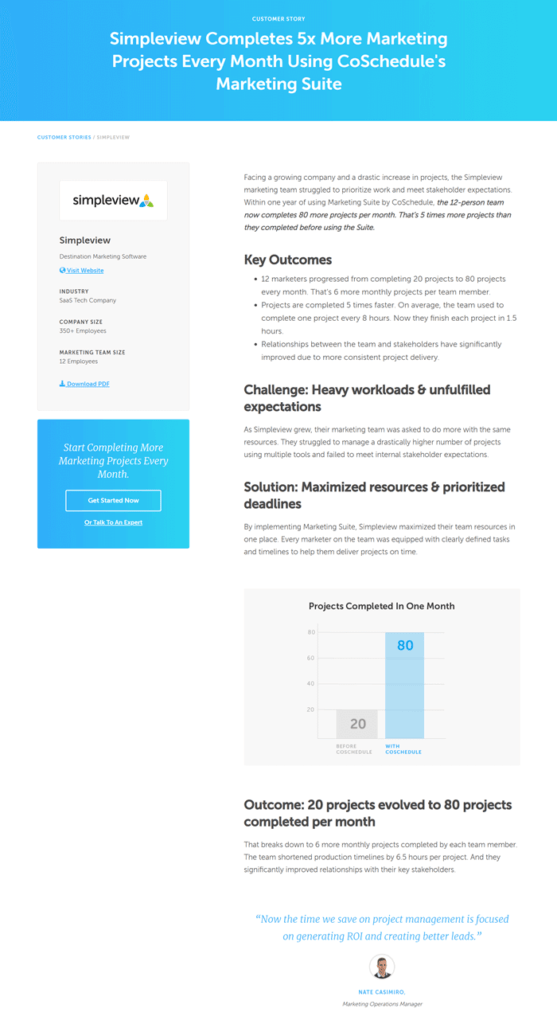 There's a lot to mastering how to write a case study for your business. Do it well, and you'll see it can also help:
Fuel your content marketing efforts: Repurpose your case study into a podcast, video, online workshop, you name it. Your case study isn't a one-and-done. You can always reuse it in other marketing channels and tap into a wider audience.
Promote your business at events: Print your case study and distribute it to prospects during networking events and giant conferences. This is an effective way to tell potential customers about your business, process, and value proposition.
Win investors' votes: Coax potential investors to say yes by including a snippet of your case study in a pitch deck presentation. Your track record will prove your expertise and boost investors' trust that you're the real deal.
All right, we got the fundamentals out of the way.
Let's learn how to write a case study and convert those hesitant leads!
How To Write A Case Study In 7 High-Level Steps
In this section, I reached out to founders and marketers on creating a business case study.
As expected, common tactics popped up.
To make it as straightforward as possible, I've distilled them into seven high-level steps.
Let's get right to it!
Step 1. Align Marketing And Sales Teams
Gather your marketing and sales teams in a room and get them on the same page.
Side note: Aligning these two teams is one of the many ways to break down silos and unlock revenue acceleration in your company.
Marketers, here's what I want you to do.
Get clear on what the sales team needs and what the top customer's objections are.
Here are a few sample questions to get you started:
What are the best sales deals you've closed in the last year?
Which clients were the easiest to close?
What was the most common reason clients bought our product?
What was the most common objection you had to overcome before clients bought our product?
What was the top product feature that clients are attracted to when buying?
Questions 1-2 zoom in on your best clients.
You'll start identifying your best segments and noticing common backgrounds, demographics, and identifiers. This information makes up your buyer persona.
Questions 3-5 shape your case study's content and angle. They guide you on the specific features to focus on.
Step 2. Pick The Best Candidate
You're a step closer to learning how to write a case study. Pat yourself on the back!
Now that you've identified your best customer segments and the objections you need to overcome, it's time to find the right candidate.
Ideally, the right candidate ticks the following boxes:
Belongs in your best customer segments
Achieves stellar results
How does this look like in the real world?
GrowSurf, a referral software company, focuses on tech startups and newsletter publishers. Its case study's candidate belongs in the latter group.
Co-founder Kevin Yun explained his choice, "They were running a great referral program and getting great results. The top five referrers had around 500 referrals collectively."
Binge Digital (the agency we mentioned in this post's introduction) uses a different approach in its case study strategy.
The agency looks for company's values — it features Belle Bar Organic as the hero in its case study.
Gabrielle Carreiro, the founder and brand strategist, shares with Breadcrumbs:
"Belle Bar Organic represents the values we uphold as a brand. They're all about empowering people, particularly women of color, to return natural — while educating the public on the power of wellness, non-toxic (or all-natural) products, and the benefits of staying committed to a routine."
Given they're the kind of client the agency wants to continue working with, it's a no-brainer to feature them in the case study.
In a nutshell, ensure your case study features your best customer. It should be the kind of clients you want to attract to your business.
Step 3. Request A Case Study Interview
And now, the BIG ask.
That's right, persuading a client to hop on a Q&A session is another big part of learning how to write a case study. Put your persuasion skills to the test!
But first, how do you know when's the right time to ask for a case study interview?
According to David Ciccarelli, CEO and founder of Voices.com, there are two options: A) After you've delivered the work, or B) you're starting to see significant results.
He clarifies, "Asking before you finish the work will get you a quick 'no.' However, when you wait until the client has experienced success, you're far more likely to get a 'yes.'"
Q: Who should ask the client for an interview?
A: The salesperson, as they have the closest contact with the client.
At Voices.com, it's the account manager.
The account manager will ask if the client is interested in the interview. If it's a yes, the account manager makes a nomination.
This process involves filling a form in the customer relationship management platform, indicating the company name, point of contact, project details, and a link to the deliverables.
Next, these nominations go to the communications manager — who serves as the case study's creator and brand steward — who will determine if there's a fit. If there is, they proceed with the interview and write the case study.
Pro Tip: Want to gain momentum in your case study initiative?
Steal a page out of Voices.com's book. Run a contest! The sales rep who submits the most nominations will receive a prize.
Not only will you get the sought-after case study, but you're also encouraging everyone to get involved in a friendly competition.
Step 4. Overcome Client's Concerns And Objections
Don't let your client's initial concerns or objections stop you from creating a case study.
There are various ways to bypass them.
For instance, if the client is sensitive about sharing results… well, don't reveal the data!
Instead of explicitly listing the exact figures in the case study, opt for a percentage format (e.g., "115% increase of revenue" rather than "…revenue increased to $593,938").
Other ways of overcoming objections include:
Anonymizing names, roles, or even the name of their companies.
Instead of "Jane Doe, Head of Marketing at Startup ABC," go with "Our client, the Head of Marketing at a B2C health startup".
Sharing process without diving into the strategy's specifics.
Describe the general approach to achieving the results. Avoid the nitty-gritty.
For instance, go with "Analyzed gaps in competitors and brainstormed new content" instead of "Used the tool's keyword tracker, selected the criteria, and inputted formula, …"
It's a mouthful, but you get the idea.
If you want to master how to write a case study like a pro, look no further than Grizzle. Here's what the content marketing agency wrote: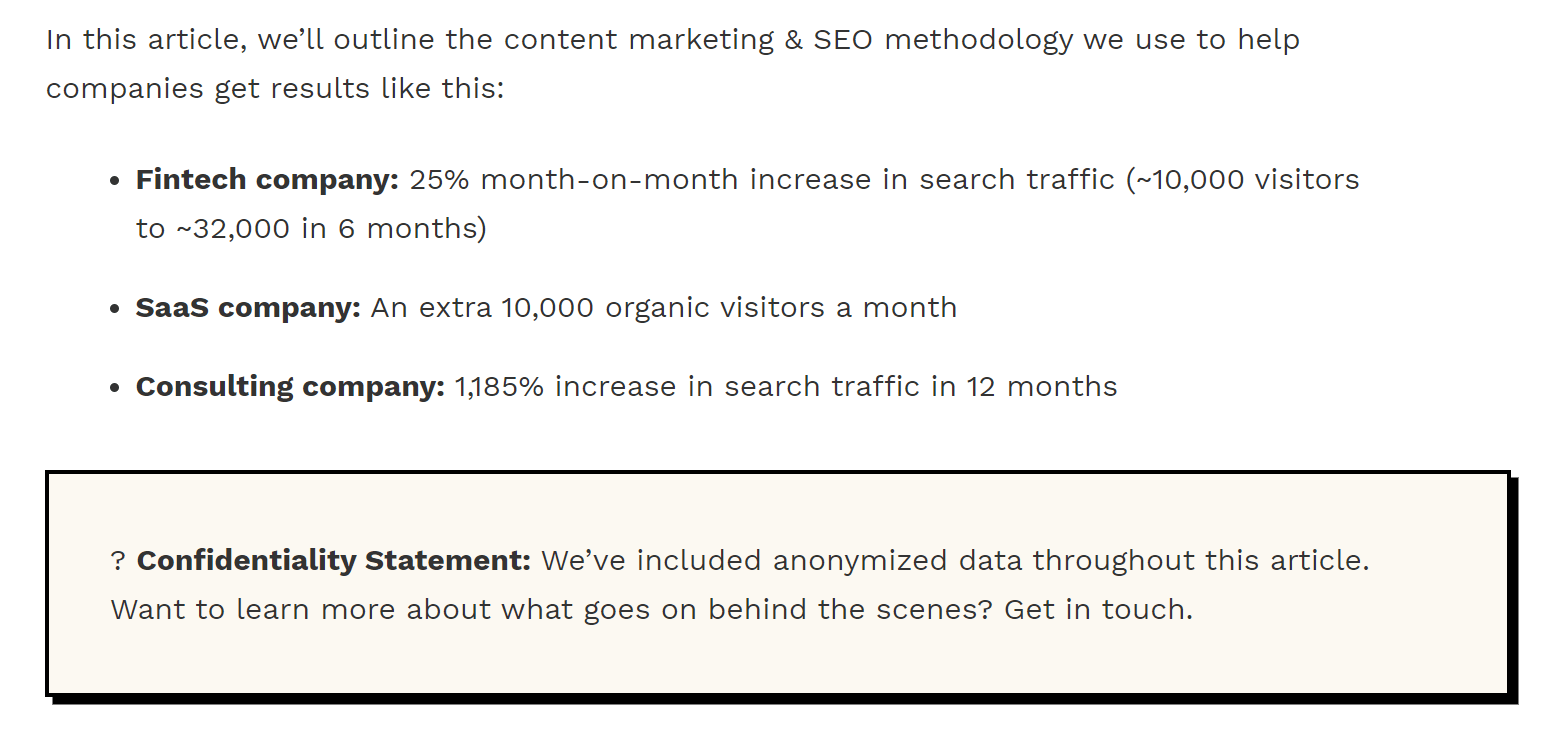 Pretty smart, right?
Grizzle removes its clients' names, opting for industries instead.
The agency also adds a confidentiality statement and positions the anonymized data as a 'teaser'. It's a powerful way to catch the attention of interested prospects and start a conversation!
Sometimes, clients need more context before agreeing to a case study interview. Let them know how you plan to use and distribute it (e.g., pitch to podcasts and attract listeners).
What you want to do is sweeten the pot.
Talk about how the case study improves their SEO or boosts visibility to potential customers.
Voices.com always tells its clients how it plans to share the case study on social media and its newsletter. The latter channel has hundreds of thousands of subscribers.
"Usually, this is sufficient enough to demonstrate the quality of the case study. For many clients, the added brand visibility is a huge incentive," shares David.
A word of caution, if the objection centers around legal restrictions or if the client just isn't interested, move on to the next client.
"Rather than jeopardizing our business relationship, we work at improving their experience," adds David.
"We rarely, if ever, ask twice."
Step 5. Interview The Client And Gather Data
Whether it's an in-person, phone, or video interview, use tools to help you with recording and transcribing.
Tools like Zoom and Otter.ai make the interview process less stressful.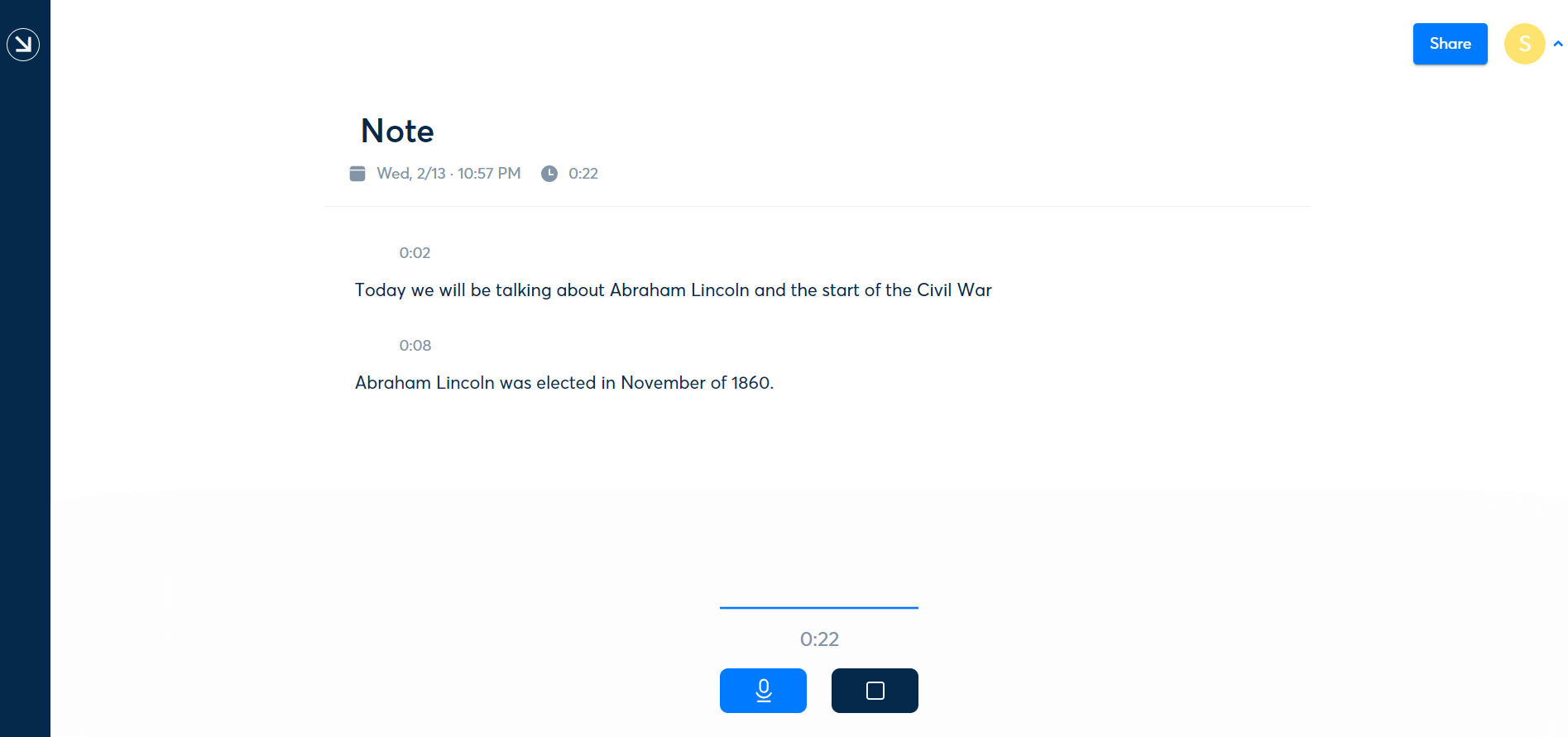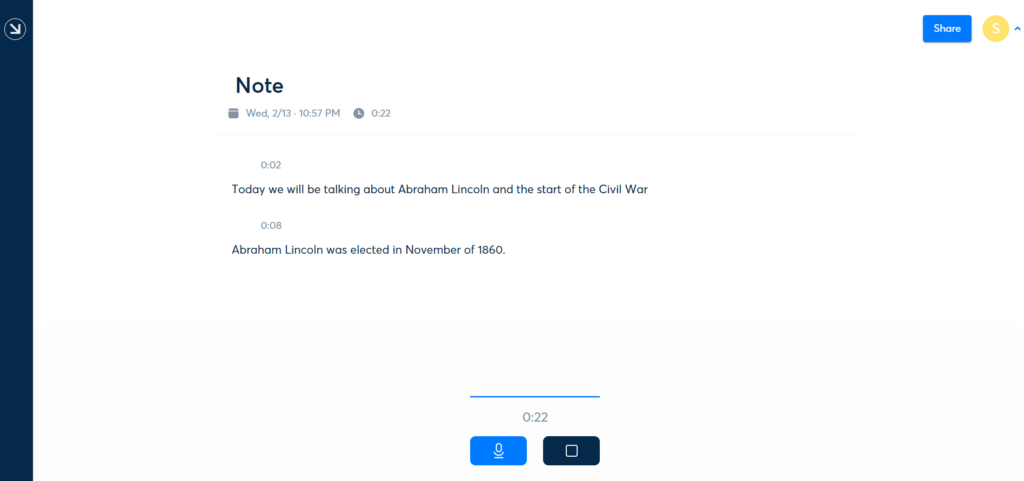 Prepare a list of open-ended questions that narrates the client's story: Problem > Solution > Results.
Kevin advises, "When you frame your questions, you can synthesize the story from the transcript and craft a case study that resonates with prospects."
The GrowSurf co-founder recommends his top questions:
What was your team's process before using [Product]?
What were the costs and the major pain points of this process?
Were you comparing alternative solutions? Which ones?
Describe a few of the reasons you decided to go with [Product].
What risks or reservations did you have before choosing?
How do you and your team currently use [Product]?
What types of goals or tasks are you using the platform to accomplish?
What is a feature or part of [Product] that you or your team use most frequently? Why?
The answers you get from these questions will be a GOLDMINE — not only for your case study but also in your overall customer research and content marketing strategy.
Question 3 gives you insights into your competitors and shapes the backbone of your product comparison blog posts. This is valuable if you're wondering what to write for your Bottom of the Funnel content.
Whereas Question 2 lets you know the triggers that led customers to your product. You can use this in your website copy, such as your sales or landing page.
Pro Tip: During the interview, be sure to keep the data at the back of your mind.
While quotes add personality and the emotional 'oomph' in the case study, it's the data that proves your expertise.
Gabrielle makes a great point:
"Consolidating all the data allows you to leverage key takeaways and highlights when building your first-ever business case study. This is important because not only do you want to back up your work with quantifiable results, but you also want to draw attention to the success you've driven and position yourself as a thought leader for the startup."
Step 6. Create The Case Study And Bring It To Life
By now, you should have a lot of information at your fingertips.
Review the transcript and edit the client's answers into the format we teased in Step 5:
Overview: Introduce the client and the current state of the company.
Problem: Describe the 'trigger' that led the client to look for your solution. Agitate the pain point and share what's not working.
Solution: Explain what you did to solve the problem. This is the perfect chance to spotlight your process and value proposition (or better yet, your unique selling proposition).
Results: Share the results you delivered in exact figures. If it's not possible, anonymize the data.
Pro Tip: Skip the jargon and expand on vague details (with permission!) to bring your customer success story to life.
Michał Suski, co-founder of Surfer, explains, "Make sure the information's easily digestible and that it hits the spot with your visitors. As you can see from our results (Note: we'll look at this in the next section), this tactic worked. It works for our other case studies as well."
Where you host your case study will depend on your goal.
If you're looking to attract email subscribers, turn it into a lead magnet. Use graphic design tools like Adobe InDesign, Canva, or Venngage to transform your case study into a PDF.
That's what GrowSurf does for its case studies. When users click to view them, the site prompts them to subscribe to its email list.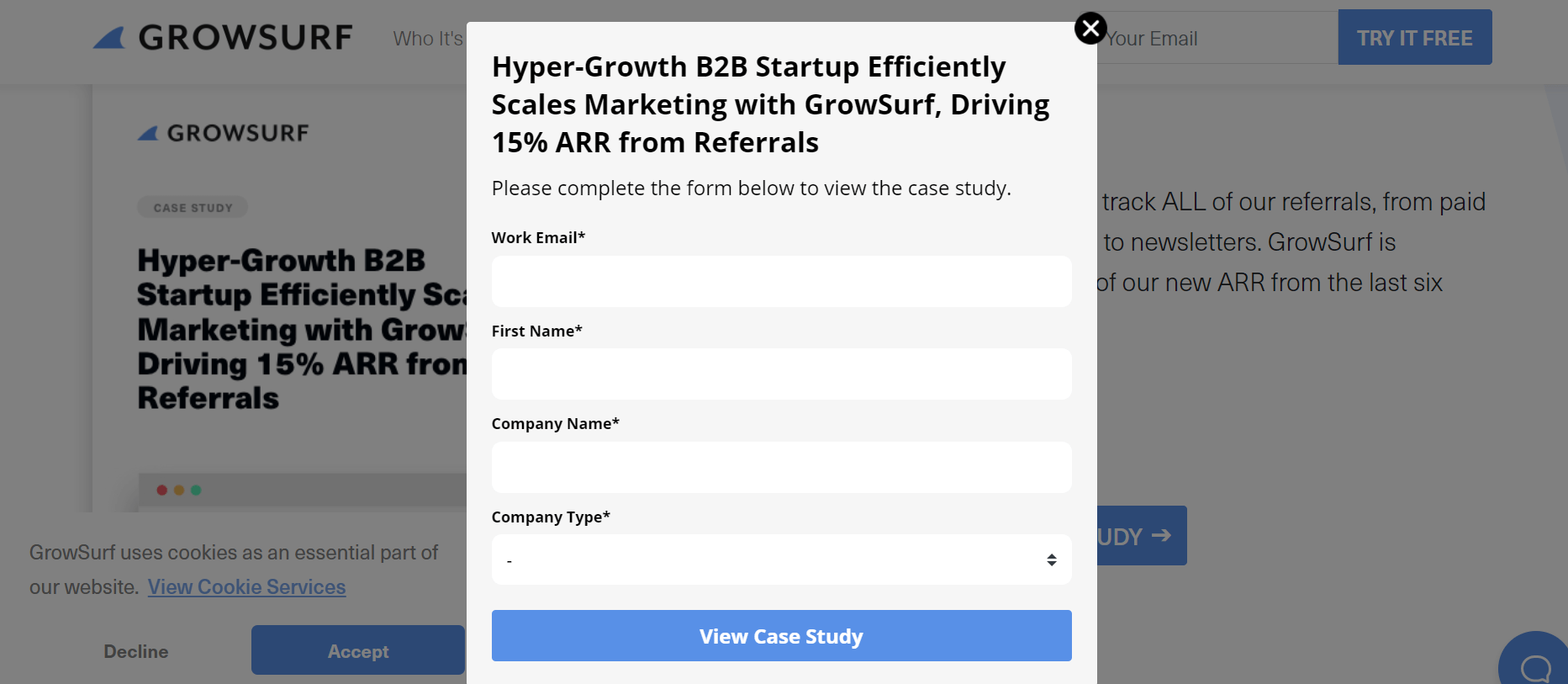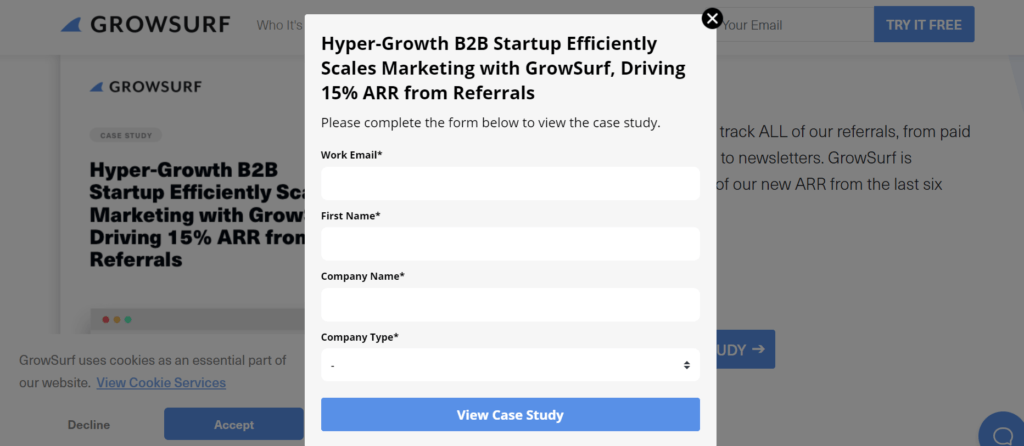 Step 7. Distribute The Case Study And Repurpose In Other Formats
You've reached the last step of learning how to write a case study, well done!
Now you need to drum up the hype and show everyone what you and your client have accomplished in your space.
With more eyeballs on your newly minted case study, you are more likely to attract new clients.
Here are several distribution ideas:
Publish on your website for easy access. Tip: Create a document of your live and work-in-progress case studies in a knowledge base (e.g., Notion), so you can keep everyone in the loop.
Add a hyperlink to all employees' email signatures.
Share it on social media and get employees to do the same (e.g., do a Tweetstorm on Twitter).
Cross-post on channels like LinkedIn and Medium. Don't forget to link it back to the original source.
Guest post on relevant publications and non-competing blogs to add a backlink to your case study.
Print your case study and distribute it to prospects in networking events and large conferences. This beats handing out business cards that are bound to go missing amid the chaos!
Pitch your case study to podcasts. Tell the podcast host about your unique process and offer your unique take to their listeners.
Repurpose or expand your case study into a webinar, infographic, checklist, blog post, or ebook.
Pitch to journalists via Help a Reporter (HARO) or ProfNet to drive backlinks to your case study.
How To Write A Case Study Based On These 5 Great Examples (Agencies + Startups)
You've finally mastered how to write a case study. Feels great, doesn't it?
In this section, you'll dig deep into the specific elements that make up a high-performing case study.
These are actual case studies created by startups and agencies.
By the end of this teardown, you'll walk away with new ideas and even steal borrow one or two to inspire your own.
1. GrowSurf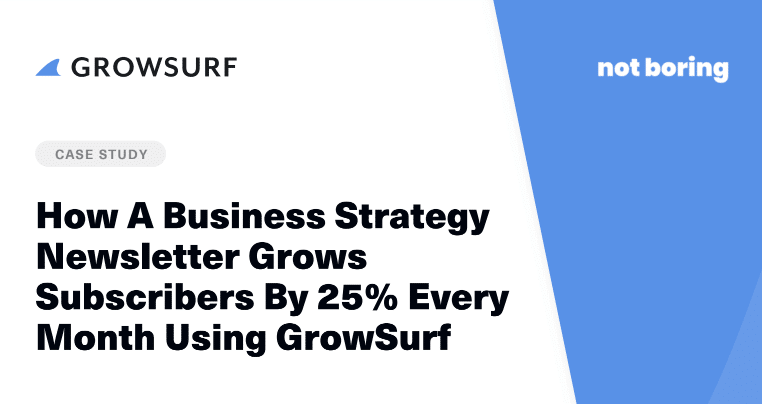 Headline: How A Business Strategy Newsletter Grows Subscribers By 25% Every Month Using GrowSurf
Results: 22% of lead sign-ups.
Why it works:
GrowSurf's case study starts with a bang.
The headline instantly speaks to the lead's desire (i.e., grow subscribers every month).
It then lists common problems that leads relate to (using referral software to build a custom referral program without coding skills).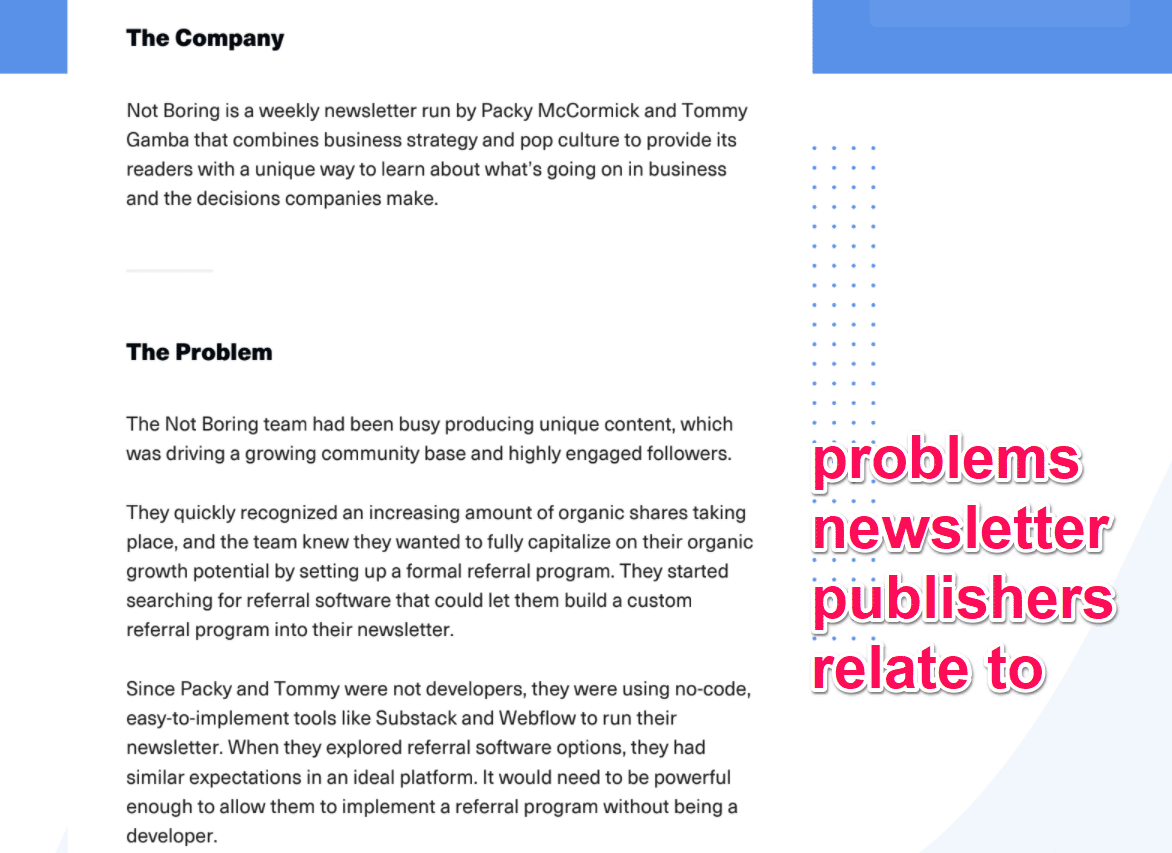 Next, we see GrowSurf diving into its specific features and how they effortlessly solved the client's problem.
Note how GrowSurf showcases its automagic form detection tool and embedded elements while tying back to the client's main problem (coding).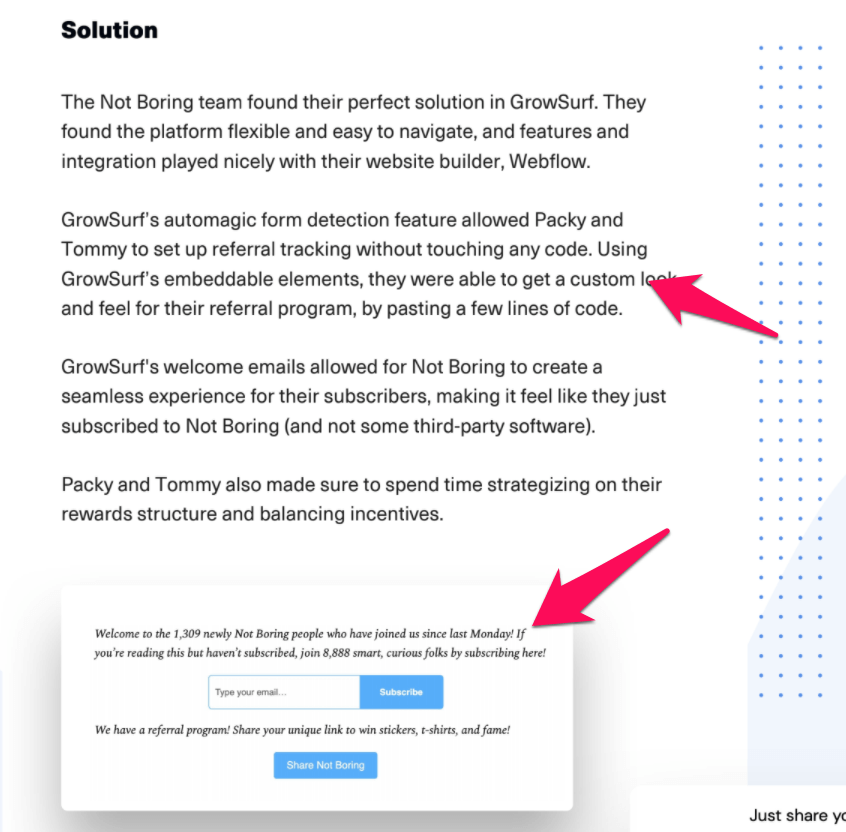 Notice how GrowSurf strategically places the screenshots?
These pictures in action show how the referral software works. They fill in the lead's curiosity gap.
The case study ends with the results GrowSurf delivered, along with a great quote from its client.
See how the testimonial highlights the ease of use (no coding required) and the biggest benefit (lowering business costs and saving money).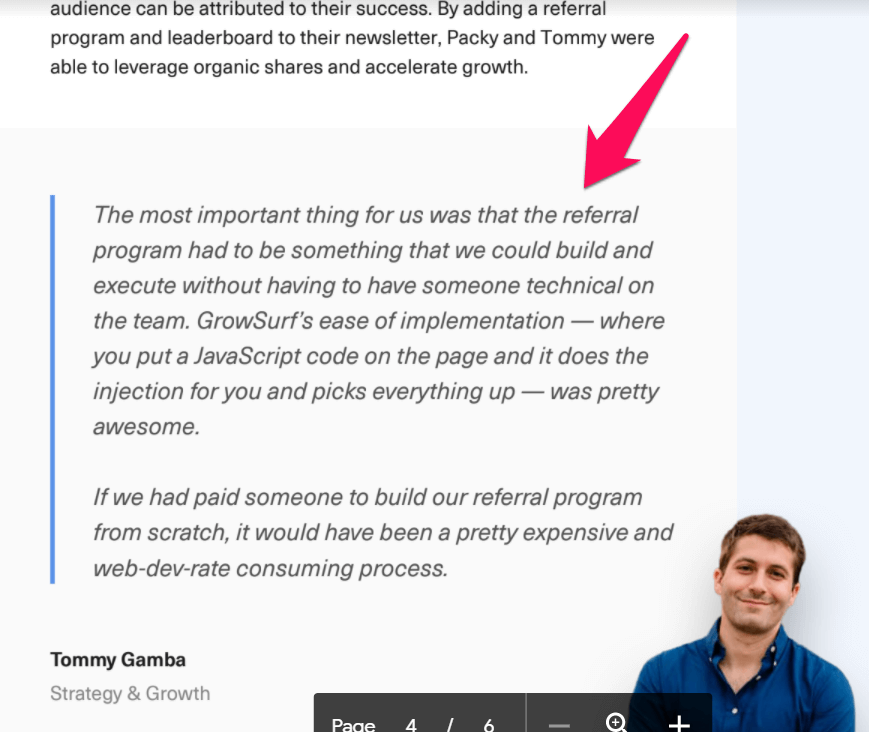 A client's quote that shows your value proposition is way more compelling than you making a statement.
GrowSurf finishes off its case study with a great call to action (CTA).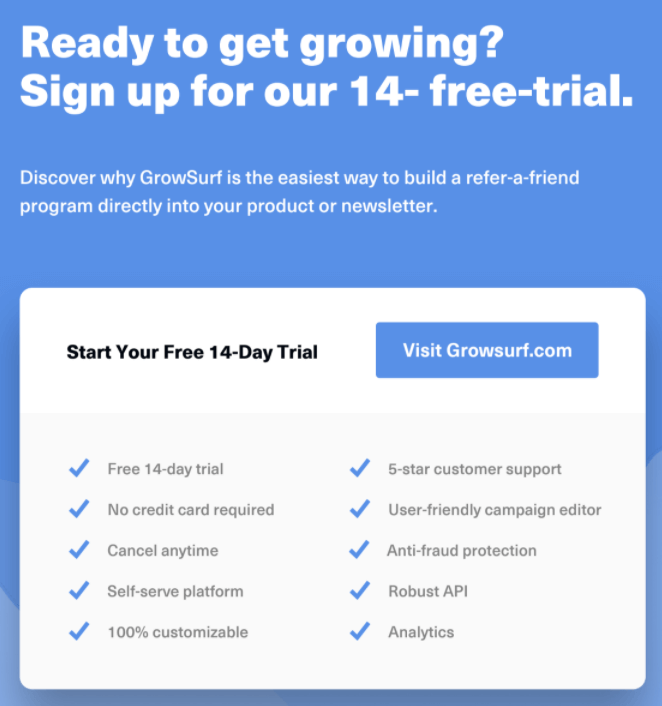 What GrowSurf teaches us about how to write a case study:
Show, don't tell. GrowSurf highlights its client's quotes to demonstrate the effectiveness of its software.
2. Binge Digital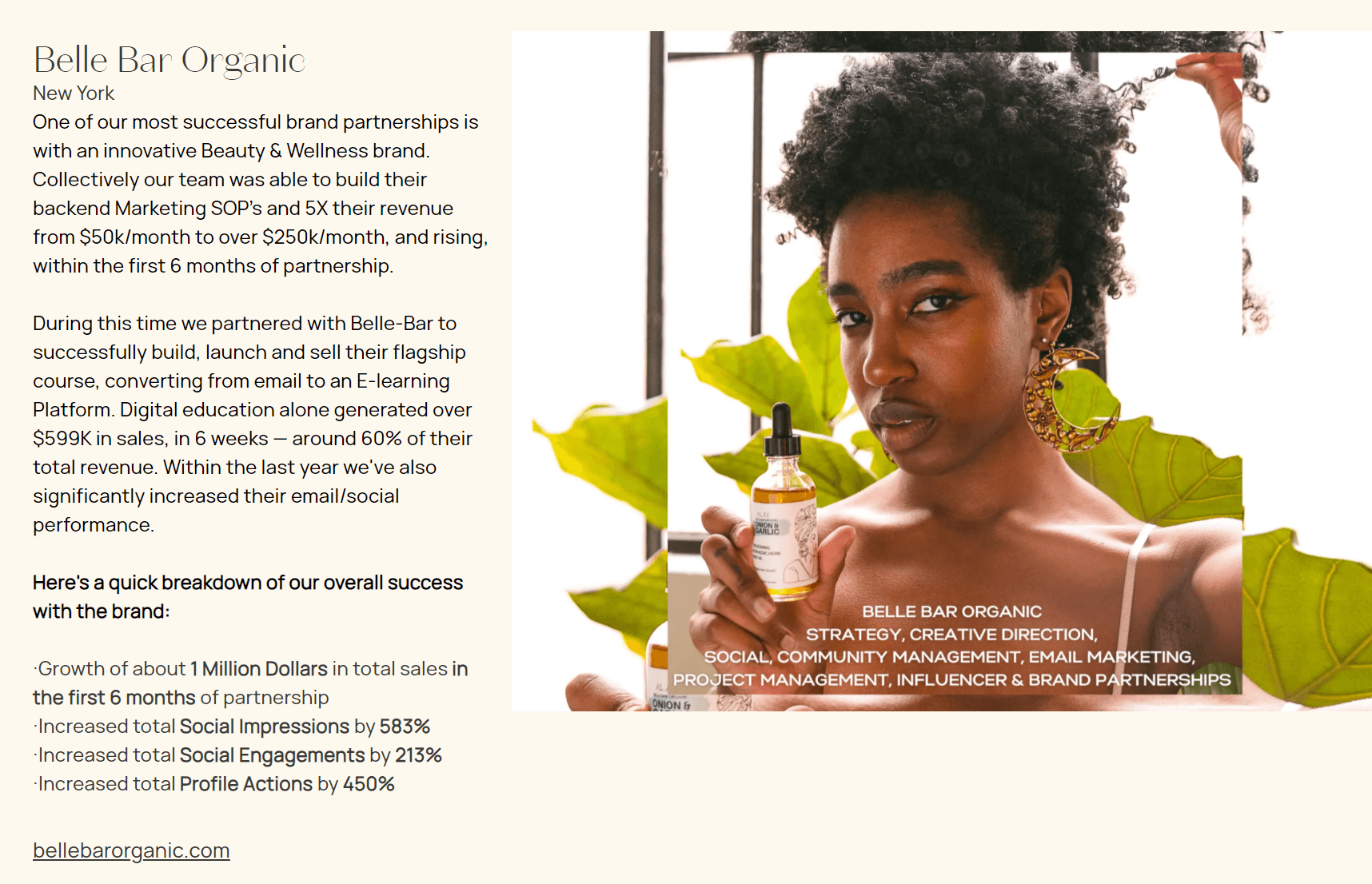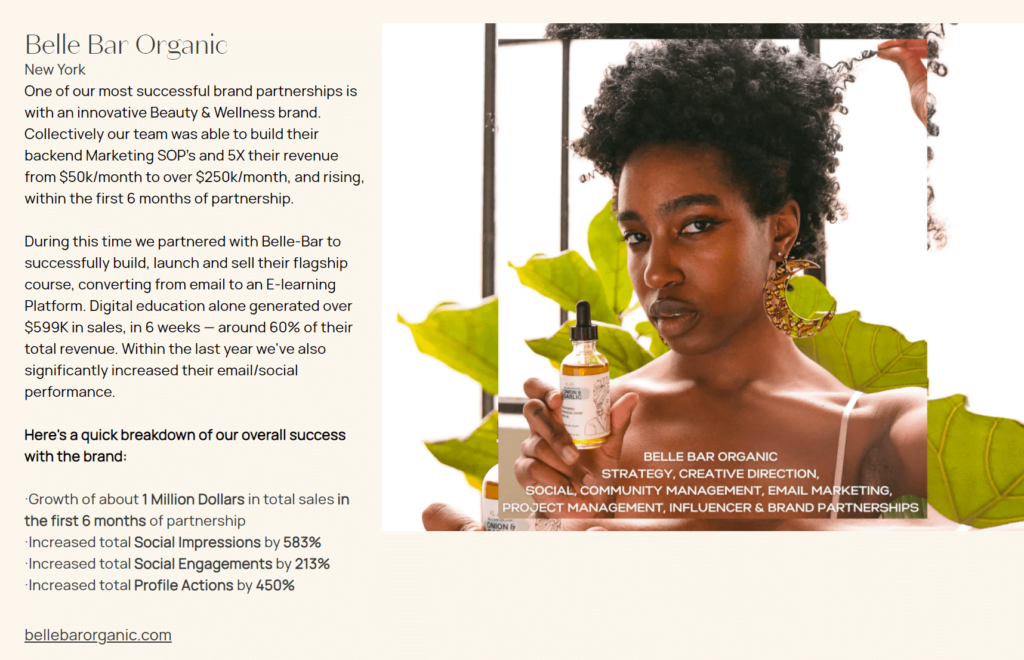 Headline: Belle Bar Organic
Results: 108.3% increase in revenue. Binge Digital was able to extend and expand its scope with the client.
Why it works:
Binge Digital's case study is an interesting one.
Compared to the other case study examples in this list, Binge Digital's the most visually appealing.
And it makes sense.
This approach probably won't work for conventional B2B startups, but it works in the case of a marketing and PR agency.
But the biggest selling point isn't the visual aesthetics. It's the data.
See how specific Binge Digital is with the results it delivered for the client?
For example, look at the first paragraph.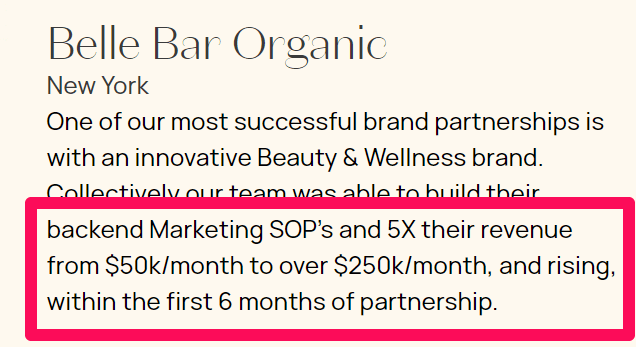 It didn't stop at 5X revenue.
It fleshes out the details (e.g., "… from $50k/month to over $250k/month, and rising, within the first 6 months of partnership.") and caresses leads' deepest desire (more revenue).
The copy is excellent. Each word is put there for a reason (e.g., rising).
Although the case study's one page, it can be overwhelming reading the two big chunks of data-driven text. Scanners, am I right?
Binge combats text fatigue by adding a breakdown at the end. It bolds the key numbers, ending its short-and-sweet case study on an unforgettable note.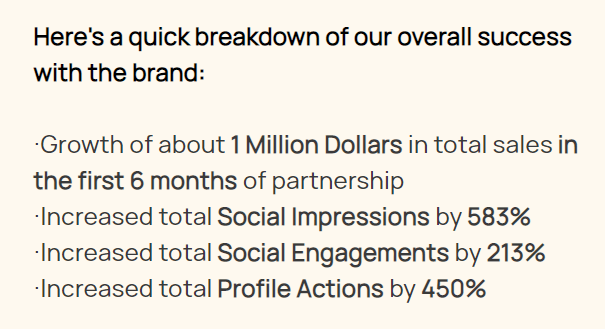 What Binge Digital teaches us about how to write a case study:
Data matters. Always back your results with key figures.
3. Voices.com


Headline: Coca Cola Case Study
Results: 25% increase of year-over-year revenue. This case study is read more than 2500 times every year. It also attracted new businesses and expanded Voice.com's relationship with the client.
Why it works:
Did Voices.com just prove simple headlines can work?
In this case, it did.
And that's because Coca-Cola's a famous international brand that enjoys global appeal.
Tip: If your client's a lesser-known company in its industry, the "[Name] Case Study" headline formula probably won't work as well. That's okay! Stick to benefits, like the way GrowSurf did.
It's clear Voices.com knows its angle in this case study: Saving time and money.
As we scroll down, we see three key figures, which piques interest.


Right after giving the overview of the client, Voices.com digs deep into the problem.
Note how these three paragraphs spotlight the wasted hours on locating and preparing the talent, frustrating delays, and disrupted operations.
Leads will nod their head in agreement as they read this section. This is a brilliant way to agitate major pain points.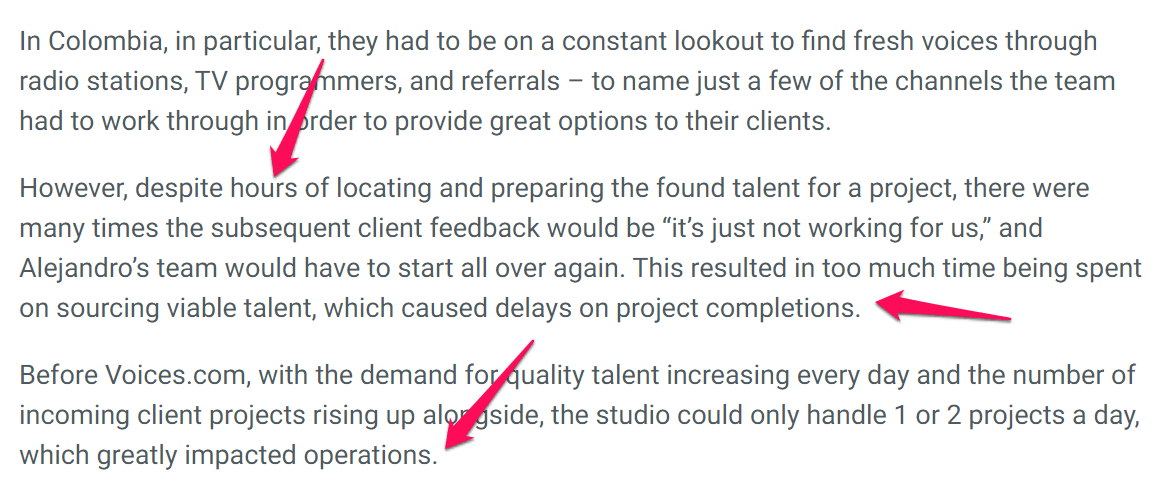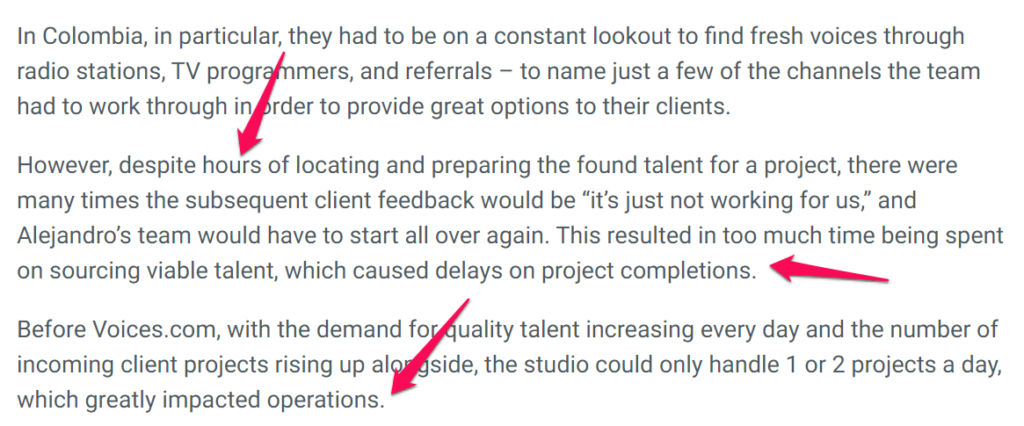 Next up, the 'meat' of the case study.
Voices.com calls attention to its solution (e.g., pre-selecting and verifying the talent), along with the benefits and outcomes it delivered (i.e., work up to five projects a day, delegate 80% of administrative work).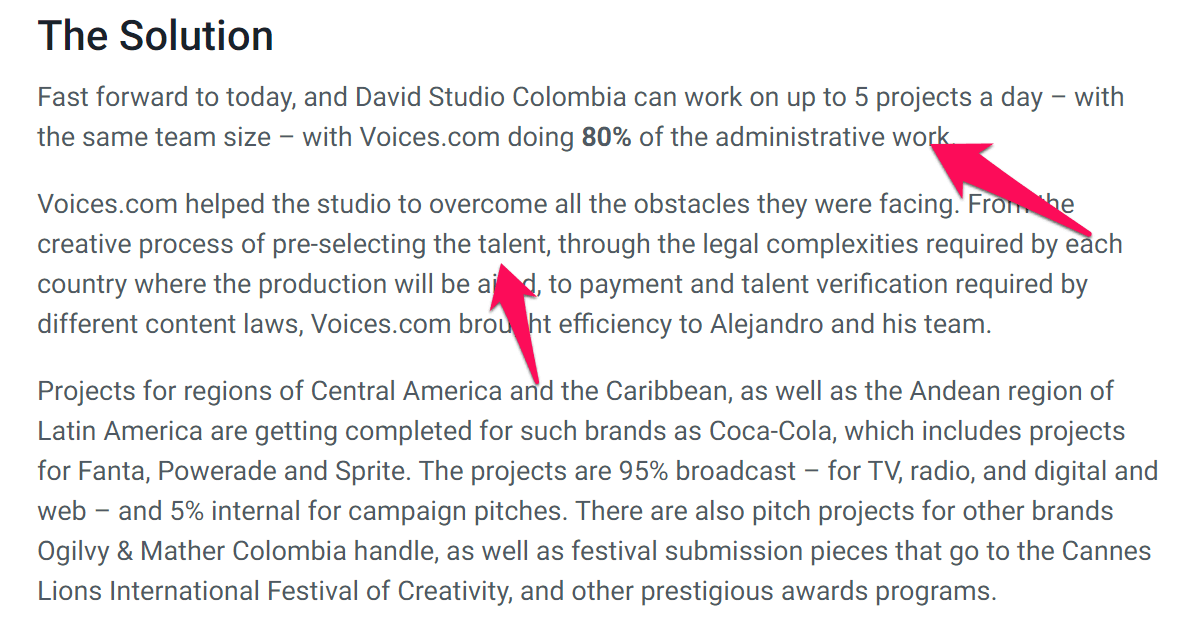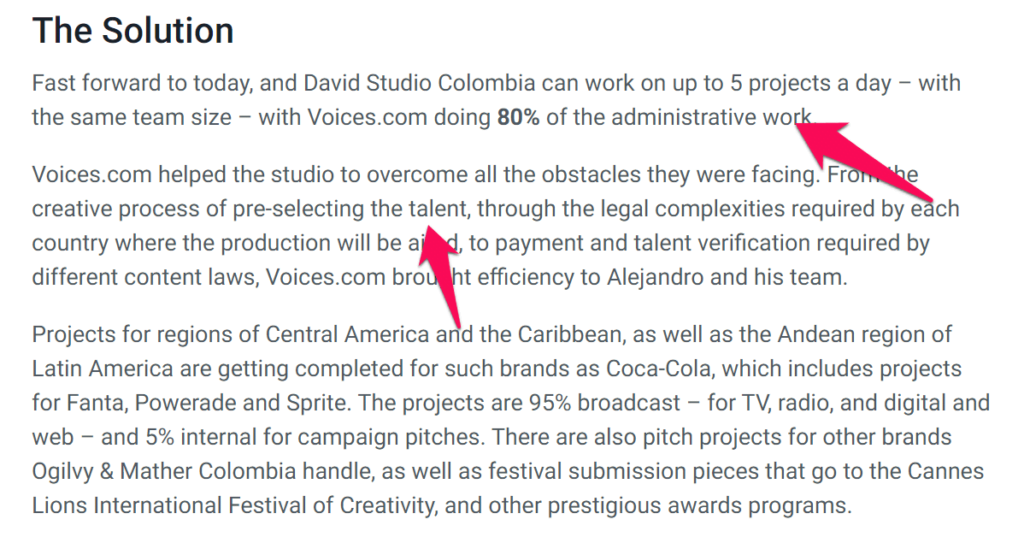 There's more.
Scroll down the case study, and we see video clips scattered within the post.
For leads that are still on the fence, these are effective ways to address their objections regarding the quality of work.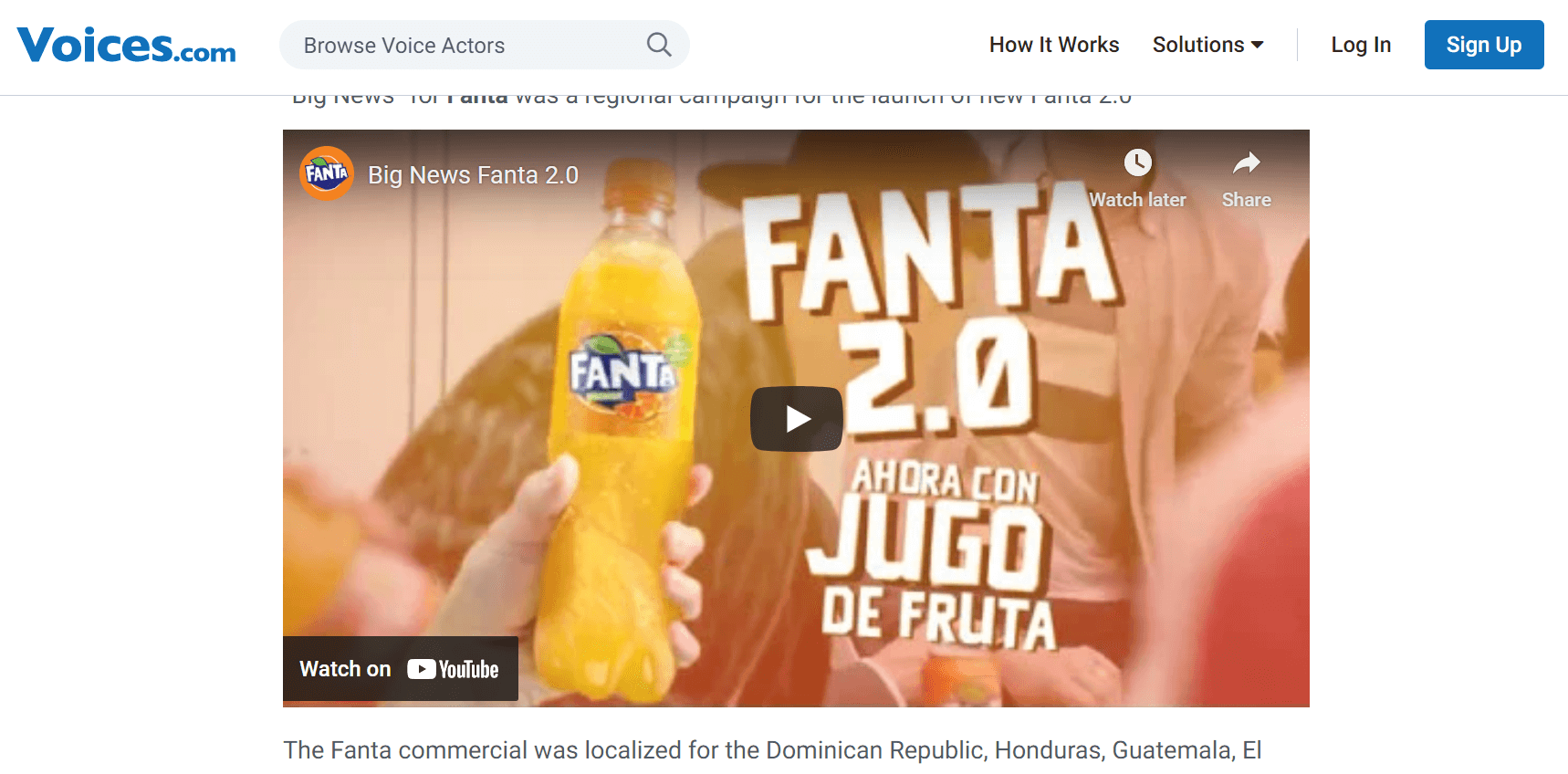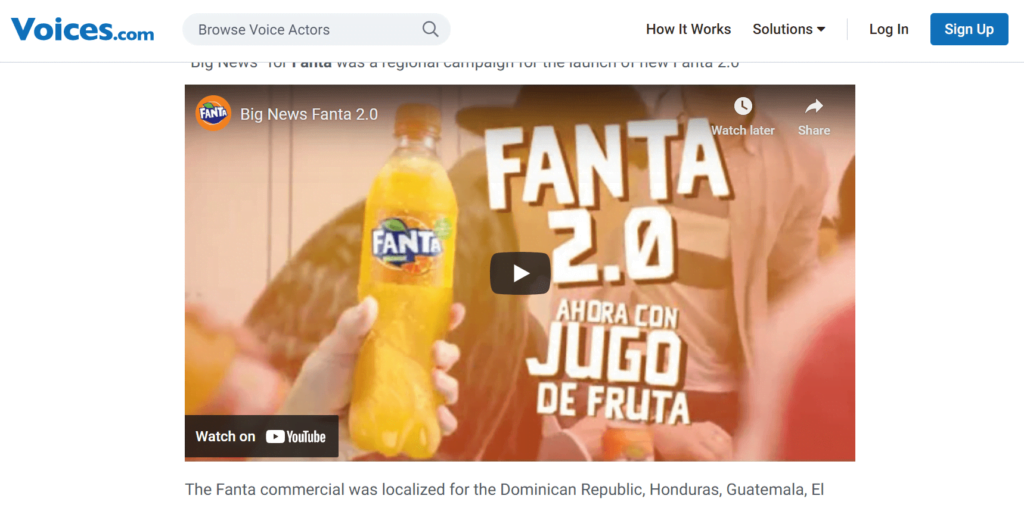 Like the case study examples in this list, Voices.com, too, ends off on an impressive note. Towards the end, we see Voices.com reinforcing the results it delivered.


What Voices.com teaches us about how to write a case study:
Highlight your credibility with visual proof and benefit-driven process.
4. Surfer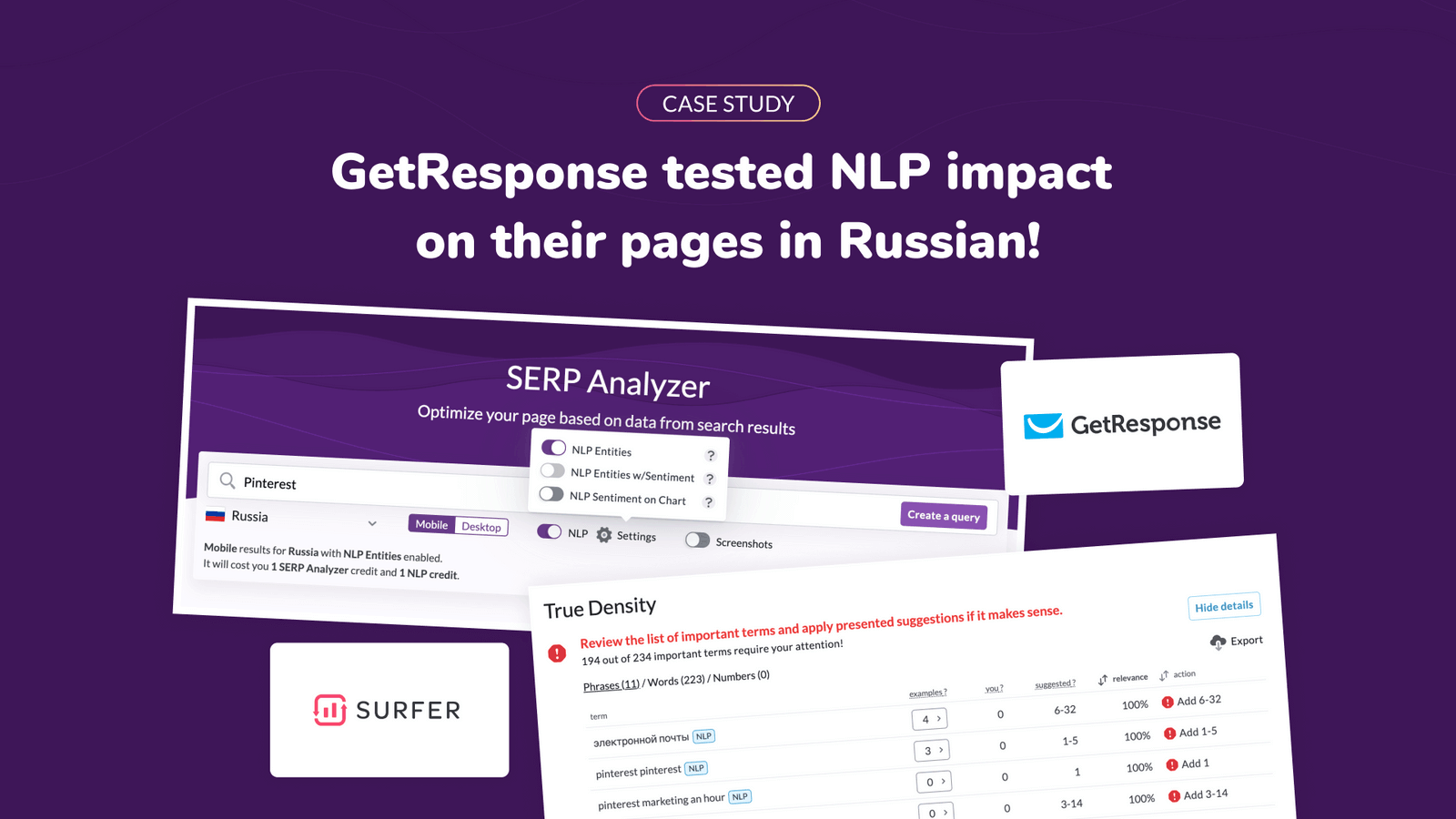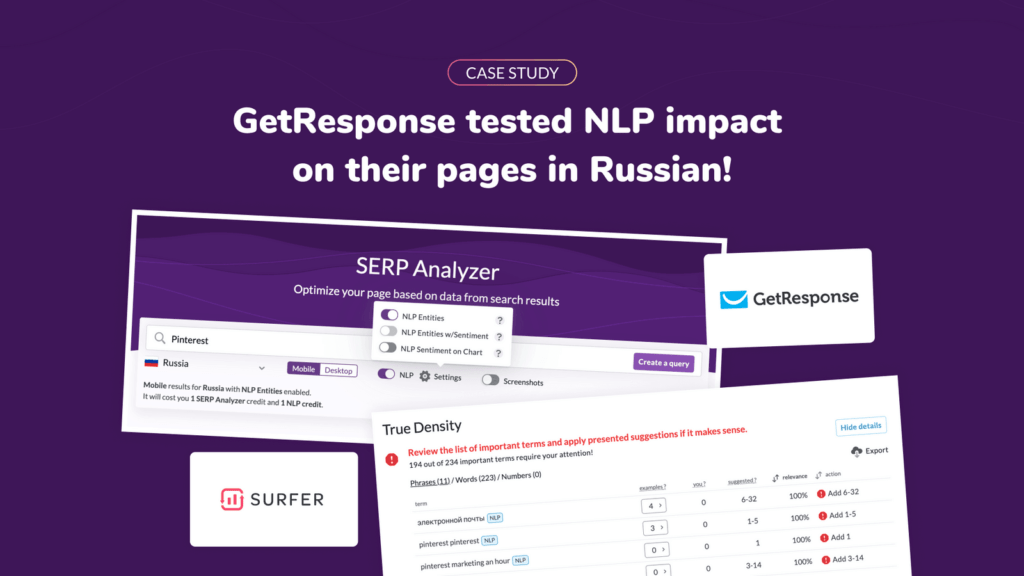 Headline: How GetResponse Leveraged Surfer's Audit and NLP Entities to Improve Their Visibility on the Russian Market
Results:
3 powerful backlinks
2 webinar invites from top Russian SEOs
13% conversion increase in Russian market
55% increase of users from Russia
56% increase in traffic from Russia
Why it works:
What's different about Surfer's case study is that it's published under its blog and with internal links added in its post.
This creates a greater opportunity for Google to find and index pages on Surfer's website, improving SEO and boosting organic traffic. No surprise it's an SEO company!
Surfer does a fantastic job with its introduction. The case study shows the hero (GetResponse) of the story and segues how there's room for improvement (how Surfer can fill in the gap).


Surfer's case study includes an educational element. It briefly explains what NLP is, showcasing its vast SEO knowledge.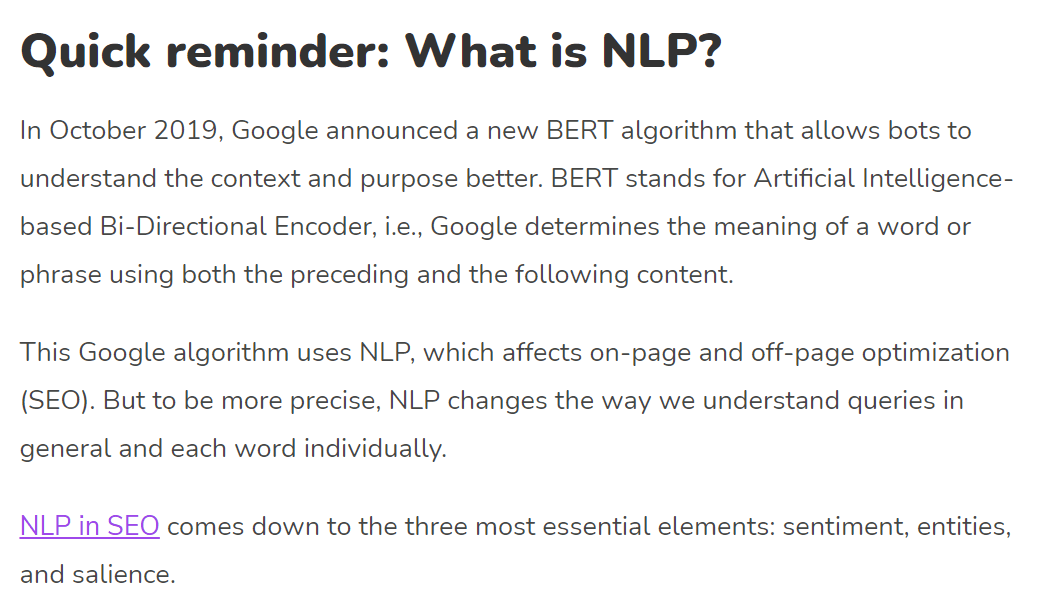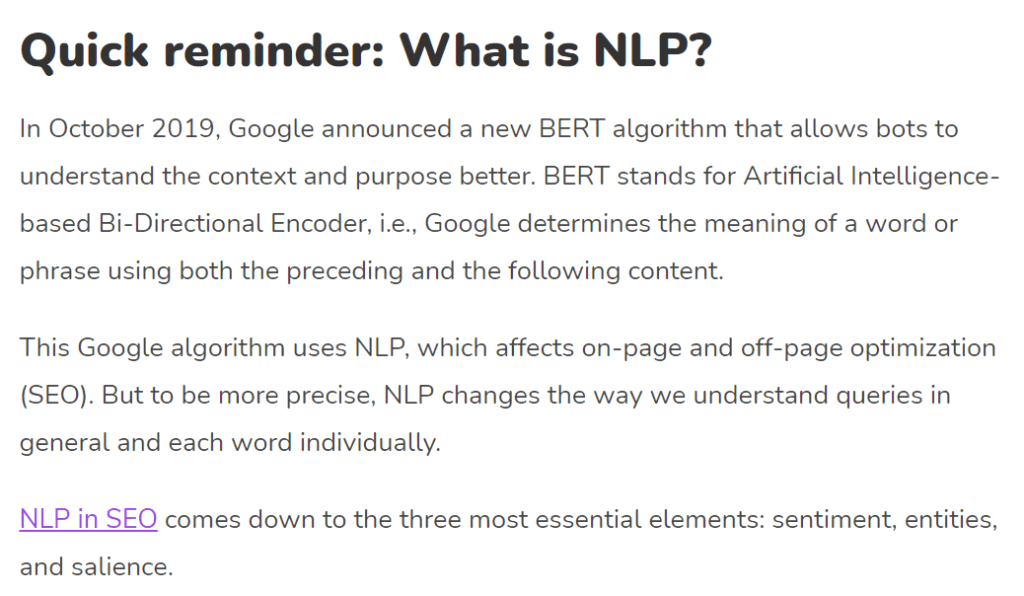 We then see a quote from the client.
Notice how this isn't a typical generic testimonial you usually see in mediocre case studies?
Instead, what we have here is a value-driven quote from a happy client — one that drives home the benefit of using Surfer in an SEO strategy.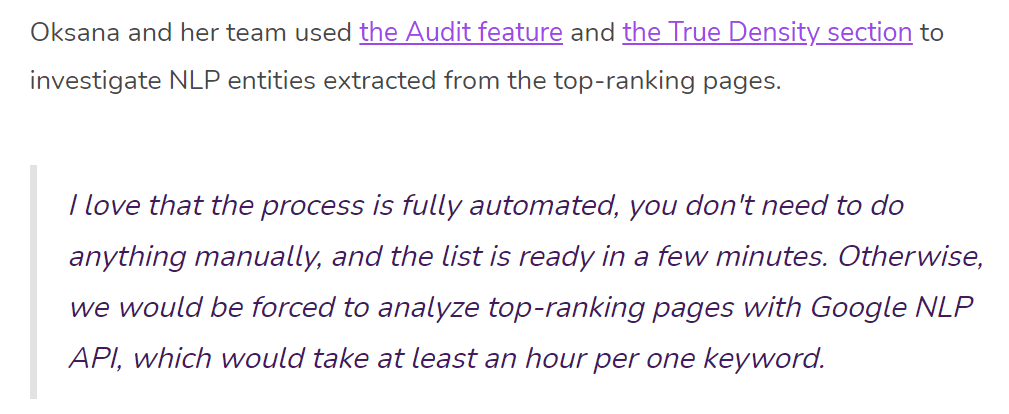 Surfer further complements these various quotes with screenshots of its tools.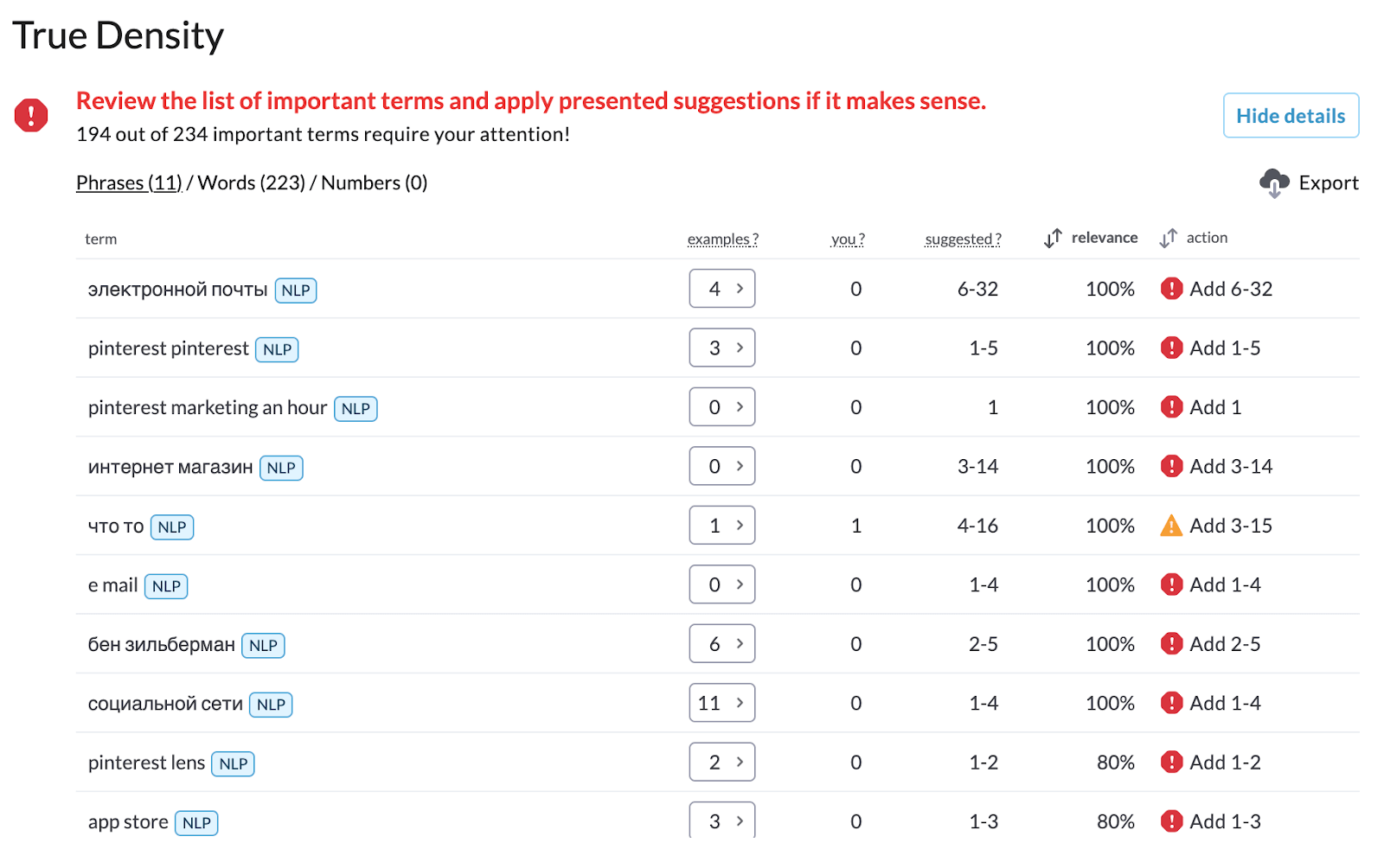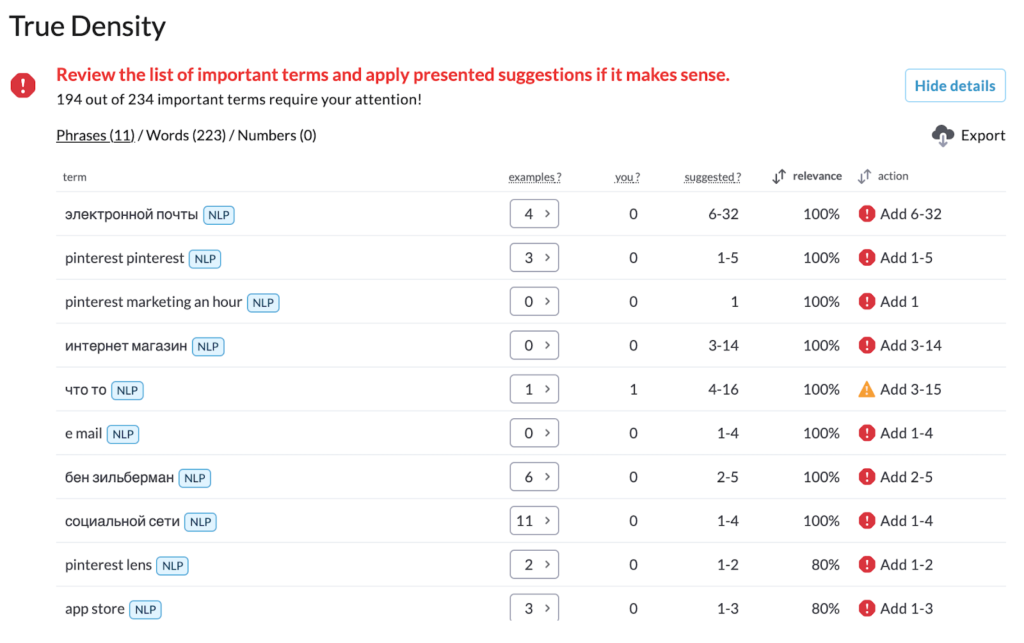 What Surfer teaches us about how to write a case study:
Overall, Surfer does a stellar job. By showing the hero (GetResponse) front and center, the case study resonates with leads and persuades them to use the SEO tool.
5. StudioPTBO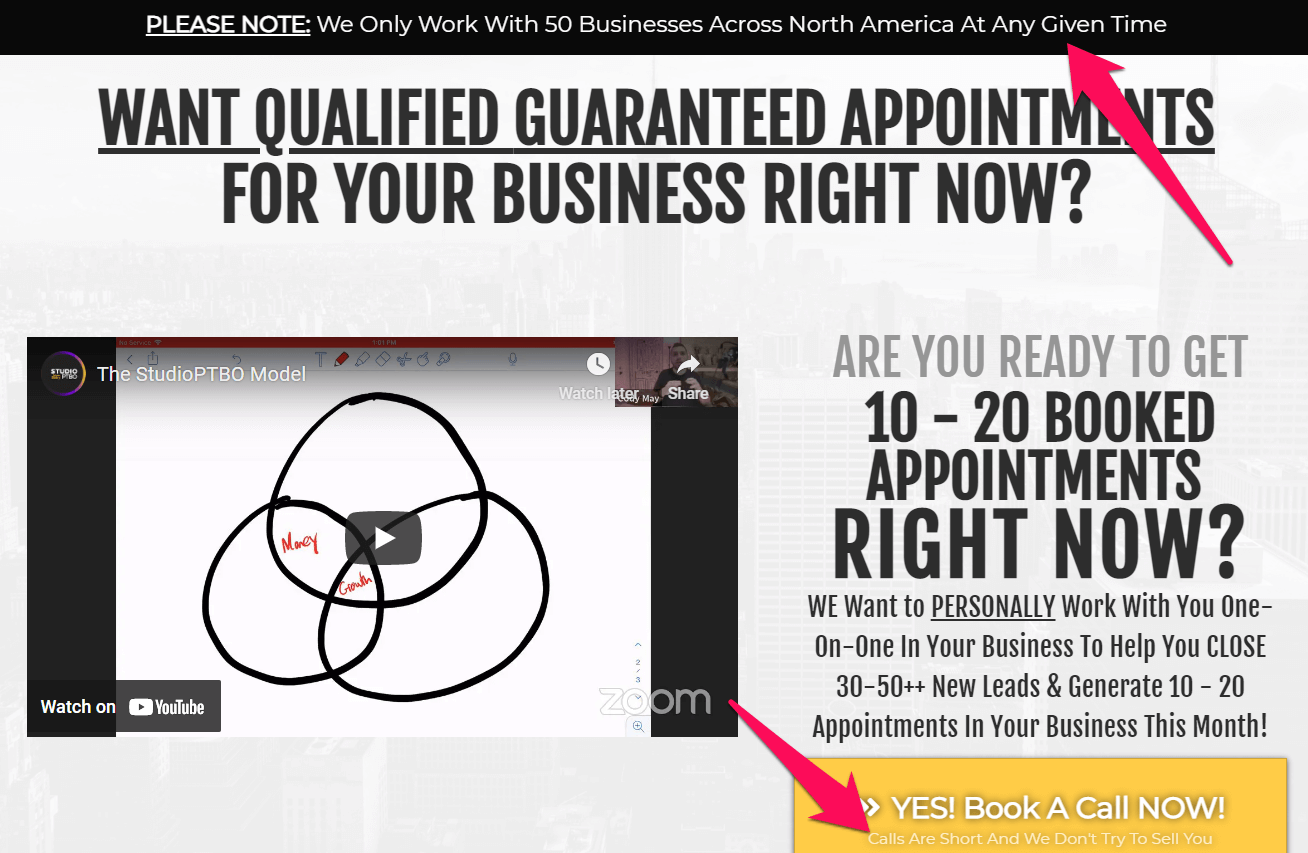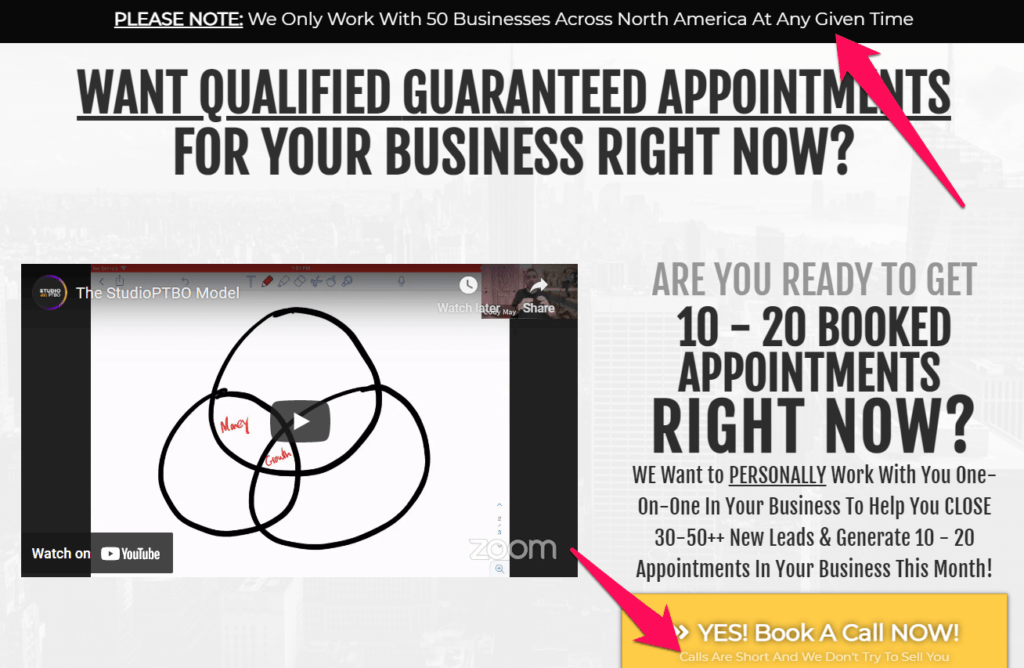 Headline: Want Qualified Guaranteed Appointments for Your Business Right Now?
Results: Attracts 50+ quality calls with business owners every month.
Why it works:
There's nothing more irresistible than a guarantee.
StudioPTBO's promise on generating 10-20 appointments a month lures leads to clicking that yellow CTA button.
Also, did you spot something different?
That's right, our last example isn't a standalone case study page. It's a landing page chock-full of video testimonials.
We'll talk about these video case studies in a moment. For now, let's break down why the other elements work.
First up, the copy and video above the fold.
The header's copy, "We only work with 50 businesses across North America at any given time" drives scarcity and urgency.
It tells leads there are limited spots and that they need to lock in now if they want in.
The microcopy in the CTA button "Calls are short and we don't try to sell you" promotes assurance. It signals to leads that this isn't a sales call.
And the video? It showcases StudioPTBO's unique model.
Scroll down the page, and we see two infographics on its model and guarantee. This is a smart way to instill trust and explain your secret sauce to leads who didn't watch the video.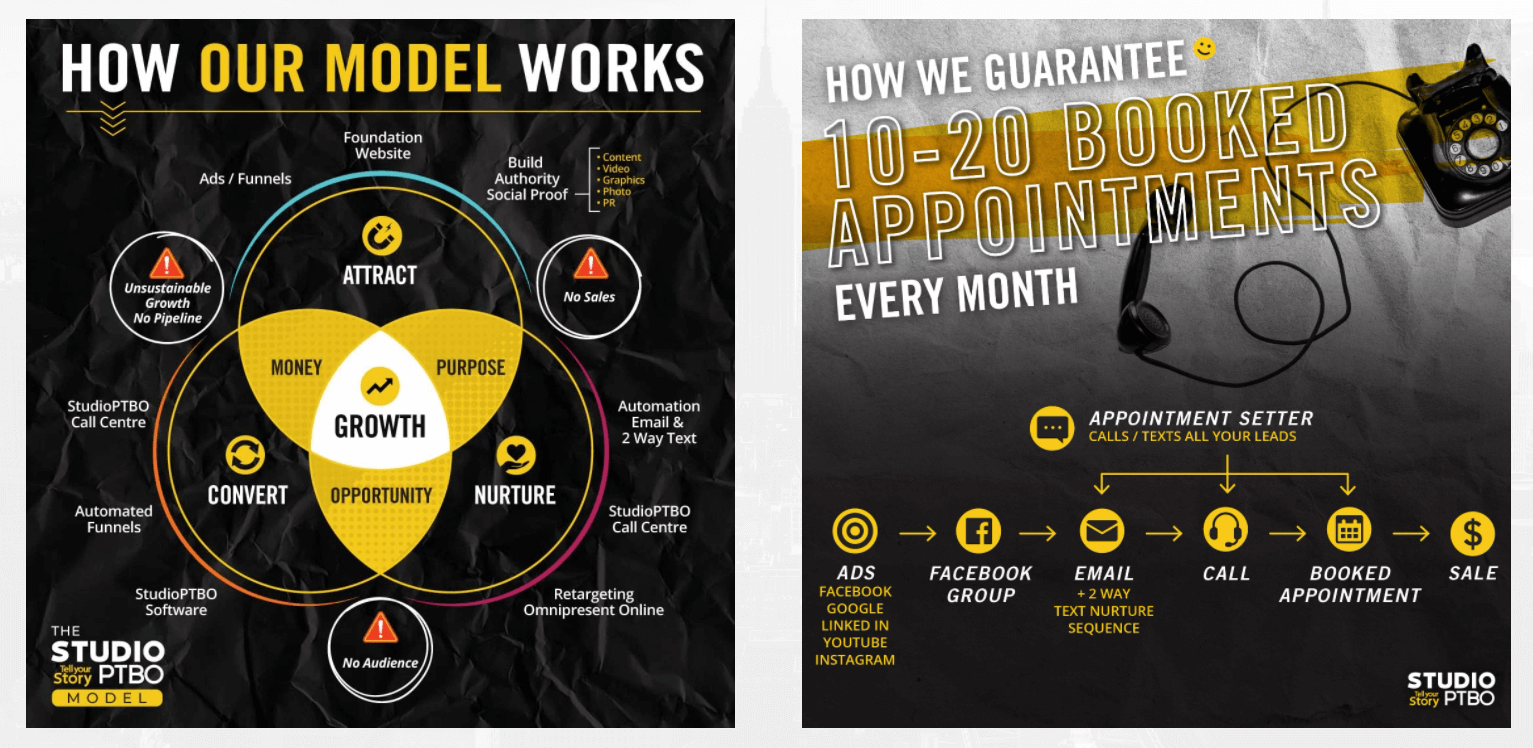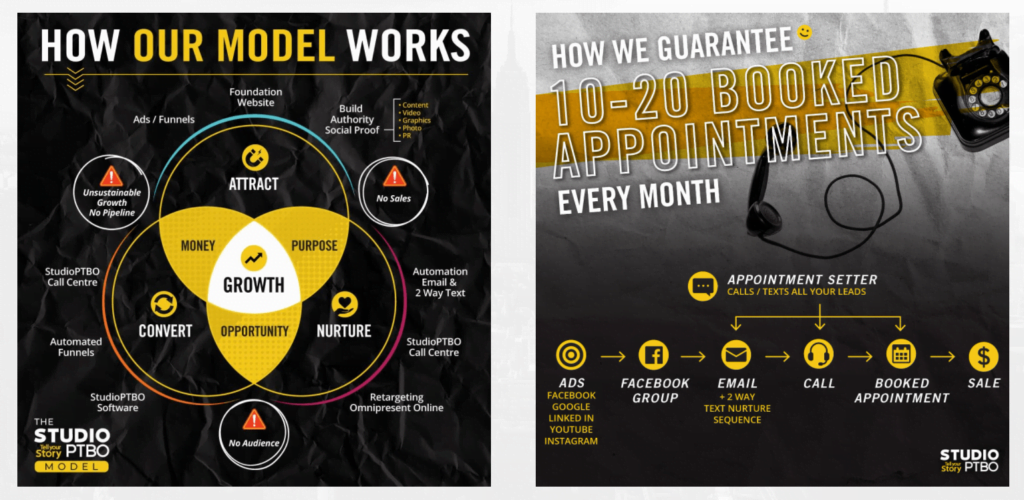 StudioPTBO continues with a testimonial carousel. Five-star ratings based on 40 reviews are great signs — this pushes leads to continue reading the page.

And the wins keep on coming.
The client companies' logos further boost trust and credibility.

Here's where it gets powerful.
StudioPTBO ends its case study landing page with video testimonials. Note how it makes this section as user-friendly as possible.
One, there are subtitles in the videos.
Two, there's a snapshot of results under each video thumbnail, highlighting the main results the agency delivered.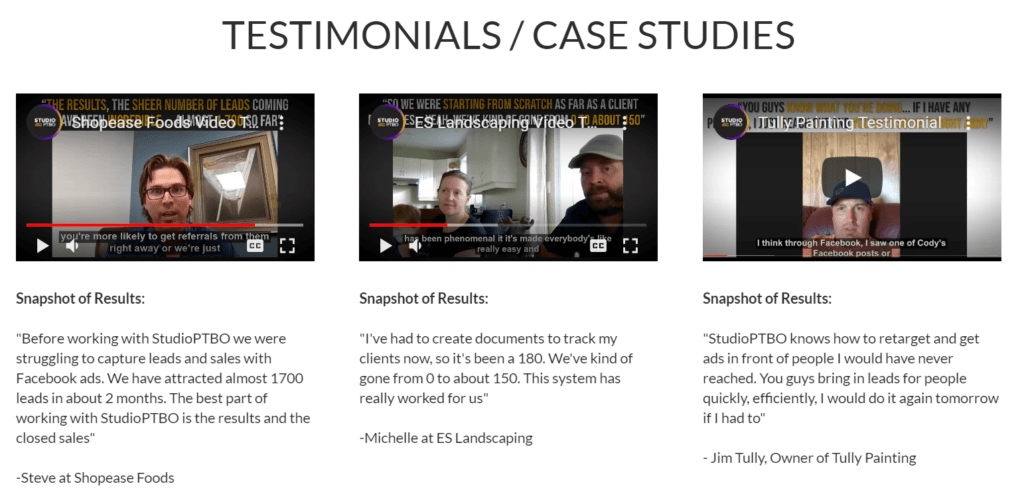 There's more.
After the video case studies, we see screenshots of text chains between StudioPTBO and its clients. These messages and ad campaigns add a personal touch.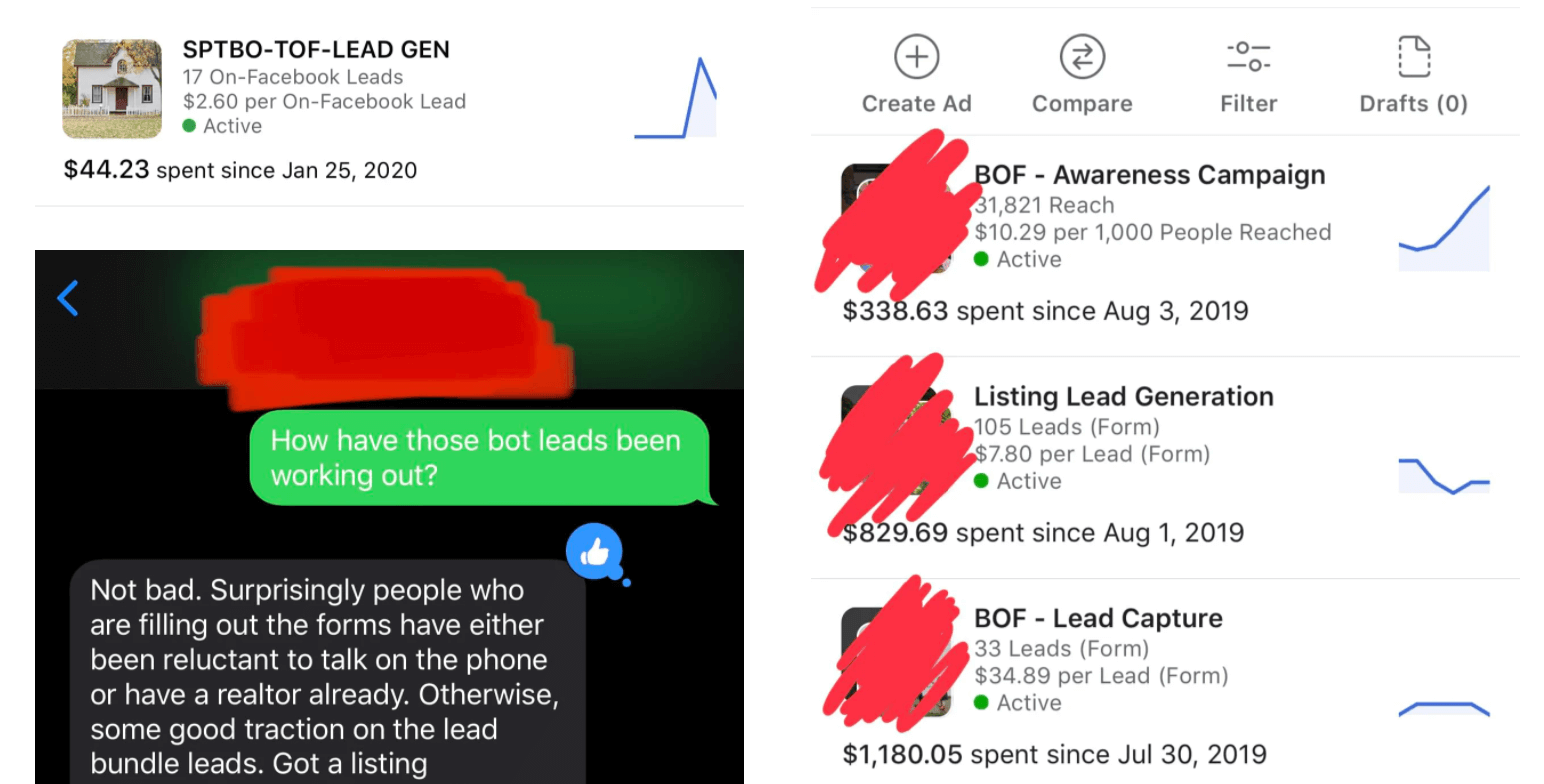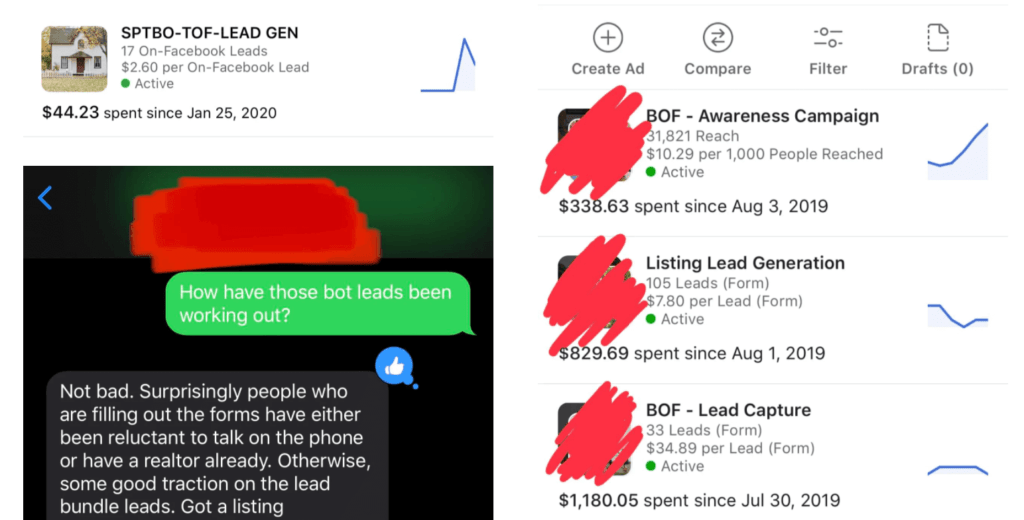 What StudioPTBO teaches us about how to write a case study:
Granted, StudioPTBO's case study landing page creates a cluttered first impression.
But given the results it's brought for the agency, it's living proof that the unconventional path is sometimes the best way to convert a lead to a customer.
As long as you back it up with great results, of course!
Now That You've Learned How To Write A Case Study, What's Next?
Case studies are powerful mediums to highlight your unique expertise and convert a skeptical lead.
If you haven't been dedicating time and resources to create them, you're missing out on many opportunities.
So, start creating your first case study today!
Here's a quick recap.
How To Write A Case Study In 7 High-Level Steps:
Align your marketing and sales teams and get them on the same page.
Pick the best candidate. Make sure this client belongs in your best customer segments and has achieved stellar results.
Request a case study interview. Get the salesperson closest to the client to reach out.
Overcome the client's concerns and objections by sweetening the pot and sharing what's in it for them.
Leverage tools like Otter.ai when interviewing the client. Gather important data to bring the case study to life.
Create your case study using the Overview > Problem > Process > Results formula. Avoid jargon like the plague!
Distribute the case study and repurpose it into other formats to tap into a wider audience.
Now apply these steps and send your new case study to your hesitant lead.
It just might get you that 'yes.'