"Pivot to meet the current demand…" or so they say.
It's easier said than done. How does one go about it in the middle of crippling economic conditions?
We don't have a magic formula, but we'll try.
In this guide, we'll share with you how five successful companies re-created their revenue strategy and uncovered new revenue opportunities, despite feeling uncertain about the global outlook.
Recap: What Is Revenue Strategy?
A revenue strategy is a plan that increases revenue by amplifying short-term (e.g., cold calls) and long-term sales initiatives (e.g., marketing and sales alignment).
Chief revenue officers (CROs) usually lead revenue strategies. In their role, they coordinate all revenue-focused departments, break down silos, and encourage cross-functional collaboration.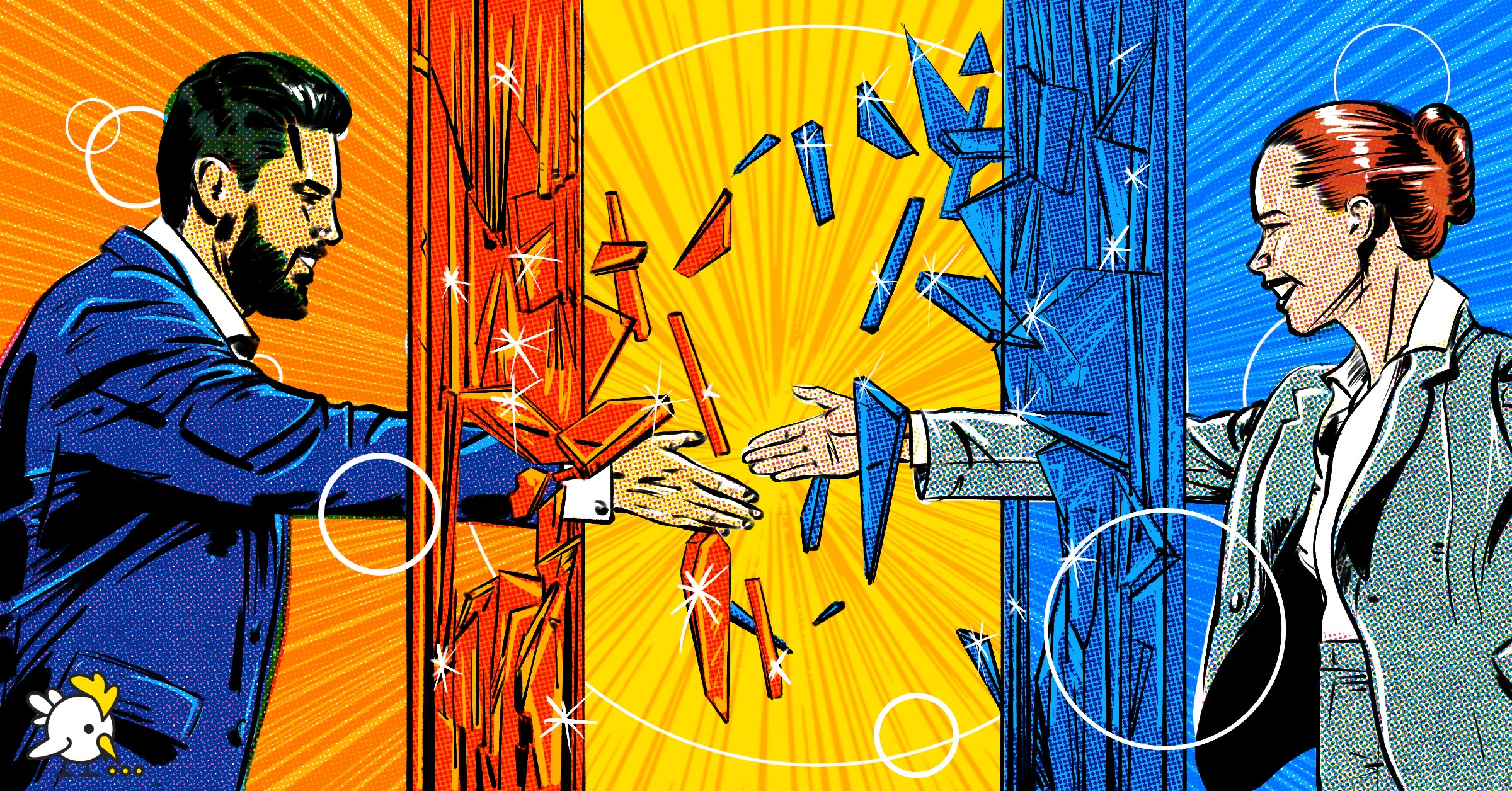 When departments work closely together, companies improve operations, deliver a better customer experience, and accelerate revenue by a mile—so much so that win rates and customer retention rates can improve by 38% and 36%, respectively.
How Do You Develop A Revenue Strategy: 5 Revenue Growth Strategies For Different Scenarios
1. Diversify your service offerings
Best for startups that want to stand out in a competitive industry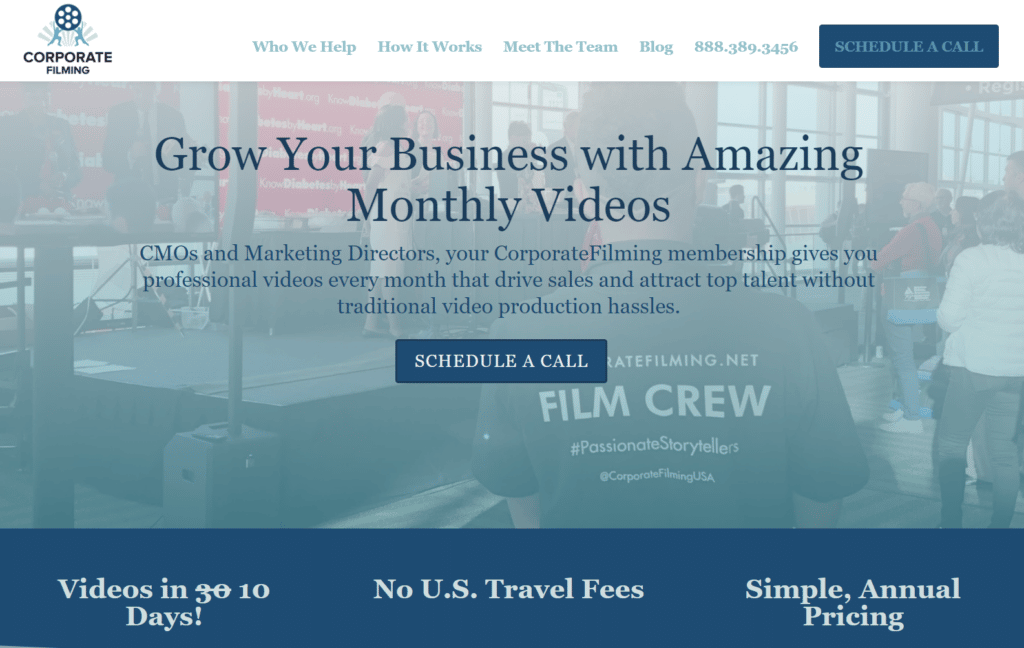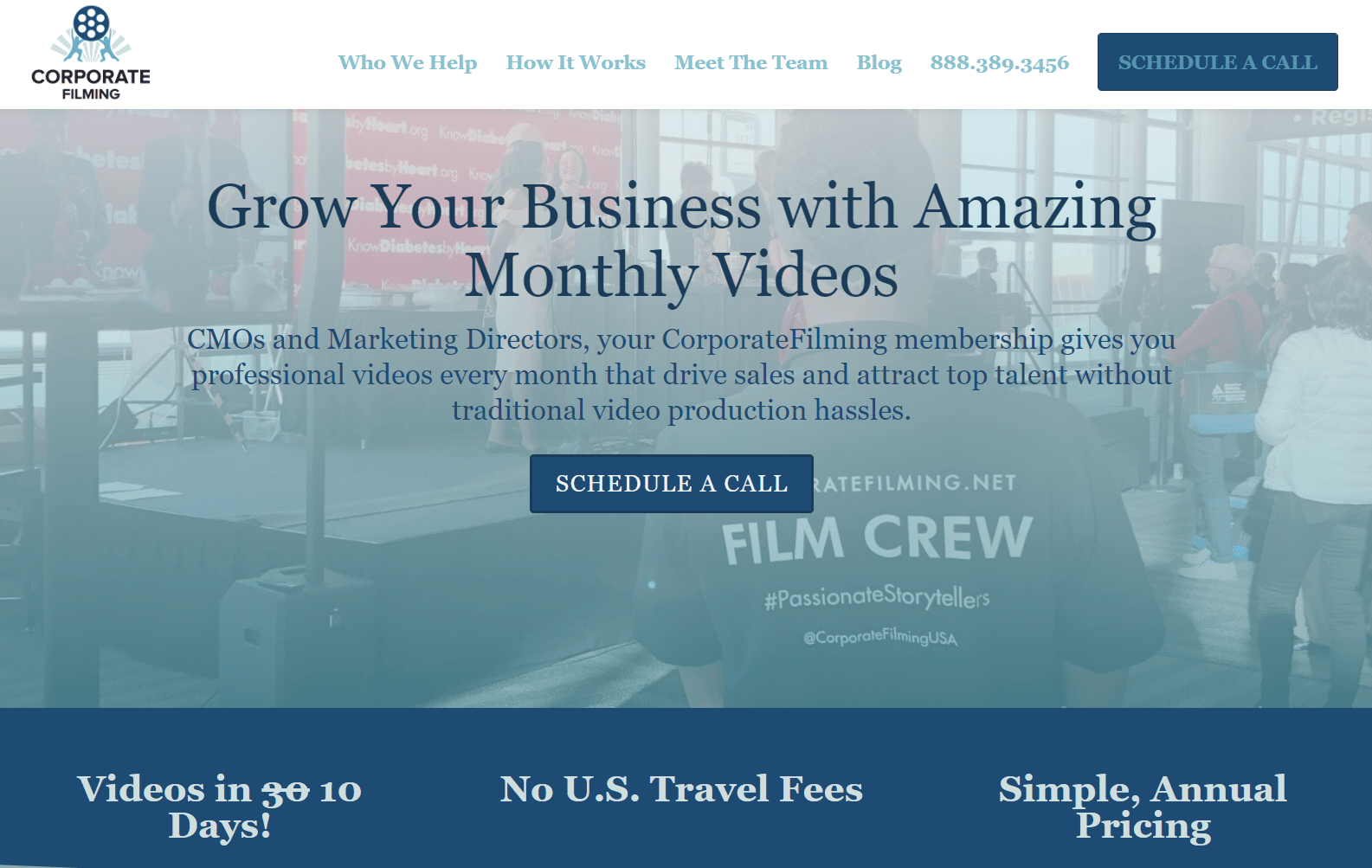 What's involved in this successful revenue strategy:
Customer research
New service offering
Real-life example ft. CorporateFilming and FranchiseFilming
Over-saturated markets make it difficult for companies to stand out. Corporate Filming and its sister company, FranchiseFilming, are no strangers to this predicament.
"There are 57,000 videographers in the U.S.," shares Trevor Rappleye, the CEO of the video production companies, with Breadcrumbs. "Why should anyone choose us to create videos?"
As part of the effort to identify common pain points and differentiate themselves from the competition, Trevor and his team researched their customers in events and sales calls.
Here are the top three client concerns they discovered:
"My video takes too long to make."
"I don't want to find a new videographer in each city."
"I hate that the legal and accounts payable have to approve a new contract whenever we want a new video."
Note how the problems revolve around the logistical challenges of making a video. In the end, the team launched a VIP subscription model to address these concerns:
5-10 day project timeline
$0 travel fees, and
Simple annual pricing
These new value props enable clients to get their monthly videos quickly on autopilot while avoiding the hassle of re-signing a new contract every time they need a new video.
Over time, both companies saw a 900% growth in sales.
2. Develop new partnerships
Best for agencies with a collaborative culture and shared purpose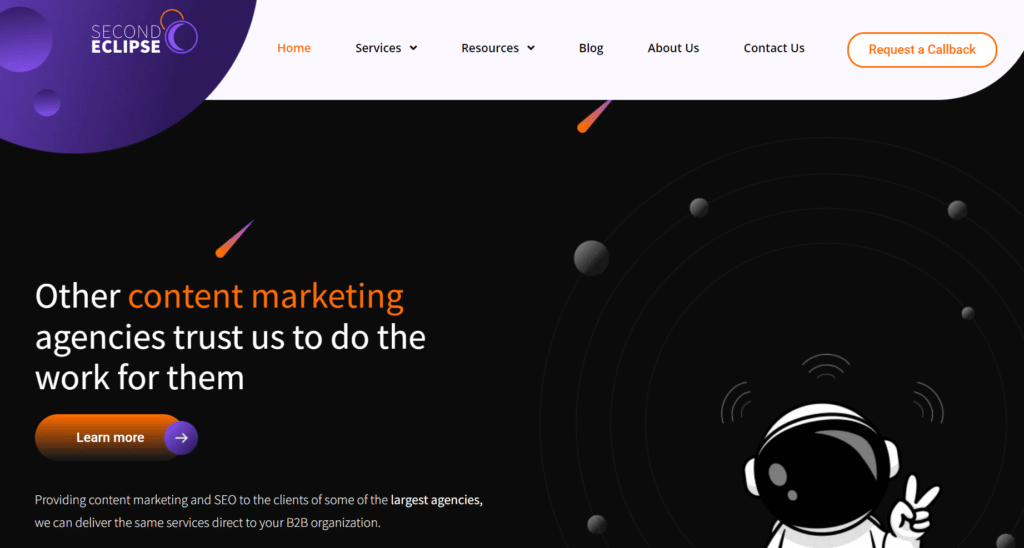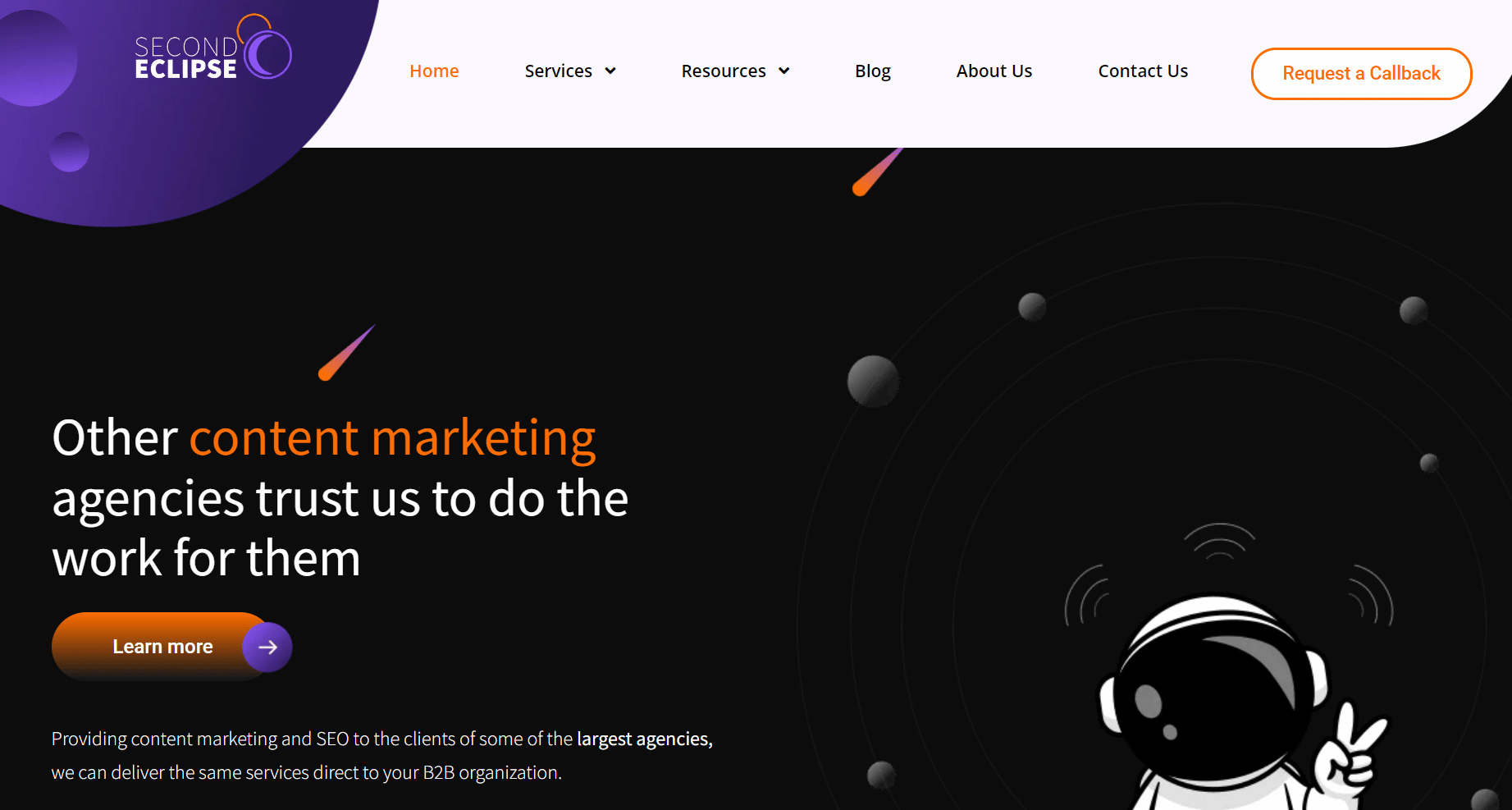 What's involved in this successful revenue strategy:
Shared success and partnership model
Client vetting
Legal agreement
Real-life example ft. Second Eclipse
The COVID-19 pandemic will go down in history as the worst of times. Across the globe, companies saw their customer base dwindling and revenue plummeting.
Second Eclipse, a full-funnel B2B digital marketing agency, noticed its prospects and clients unwilling to take on additional expenses because of the economic uncertainty.
The team introduced a partnership model to combat this pricing objection. A representative spoke to Breadcrumbs about the idea:
"We created a shared success and partnership model with certain prospects or customers that we truly believe in. We do the marketing at a cost or loss on our end, but we get a revenue share of the business."
Clients have nothing to lose in this model. If the agency fails to hit the revenue target, they don't pay a single cent.
It's a risky move. If you want to replicate this model in your agency, consider the following tips from the Second Eclipse team:
(i) Change your mindset
This is a partnership, not a standard work agreement with a client. Treat the relationship as such.
(ii) Lay everything clearly in the partnership contract
There shouldn't be any ambiguity about what's required from both parties.
Avoid DIY-ing the contract. Hire an attorney and include details like the responsibilities, associated costs like LLC fees, definitions of success, compensation levers, and how the partnership can be renewed or dissolved.
(iii) Vet, vet, vet
Partnerships are long-term, so do your due diligence.
Vet the company, the stakeholders you're working with, and the business's current state. No amazing marketing strategy can save a company that's about to go bankrupt.
(iv) Listen to your gut
It's a red flag if you feel a sense of dread about your new partner. For partnerships to work, you need to be fully invested and excited about the project.
3. Package your services
Best for startups that want more predictable revenue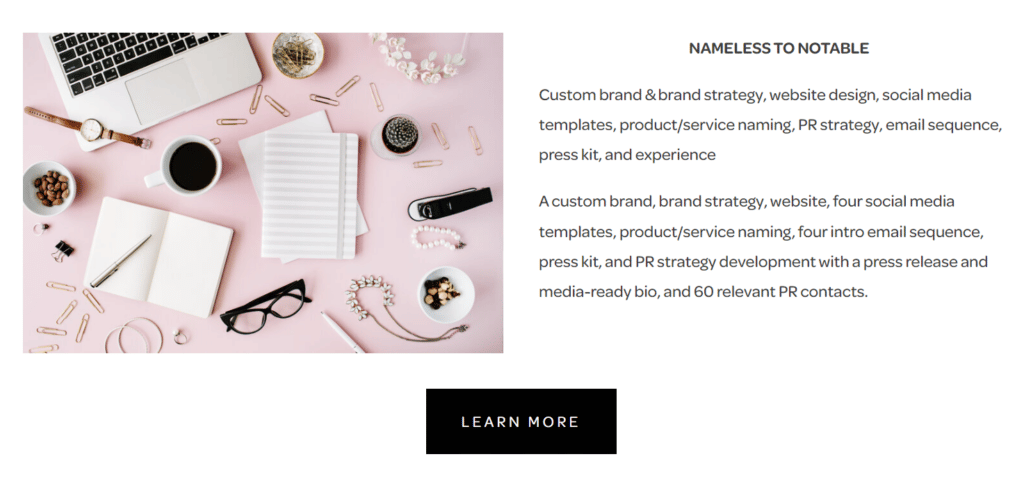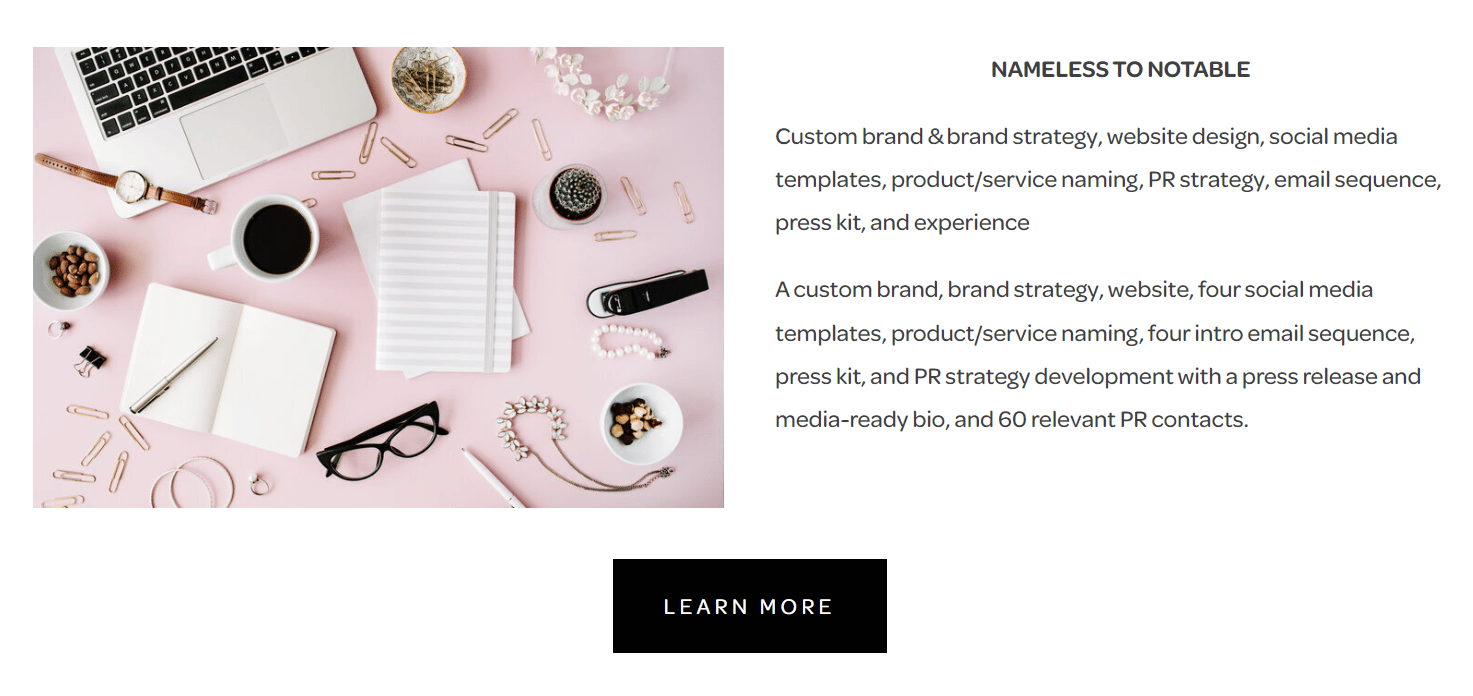 What's involved in this successful revenue strategy:
Real-life example ft. Marquet Media, LLC
A predictable revenue stream boasts multiple benefits.
Not only does it promote long-term sustainable growth, but it also helps you plan the marketing and sales resources required ahead of time.
Marquet Media, a public relations agency for beauty and wellness brands, redefined its ideal customer profile (ICP).
It did this by evaluating the market, its strengths and weaknesses, the type of clients the team enjoyed working with the most, and their successes and struggles.
After sketching the target client's profile, the agency researched their age group, interests and hobbies, lifestyle, education, and habits. It then turned its ten à la carte services into three main packages while keeping the client's biggest pain points in mind.
A customer research project of this size requires time and effort. One way to speed up the process is to use a tool like Breadcrumbs Reveal. Our free tool analyzes your marketing, sales, and product data to highlight the specific attributes and actions that bring you revenue.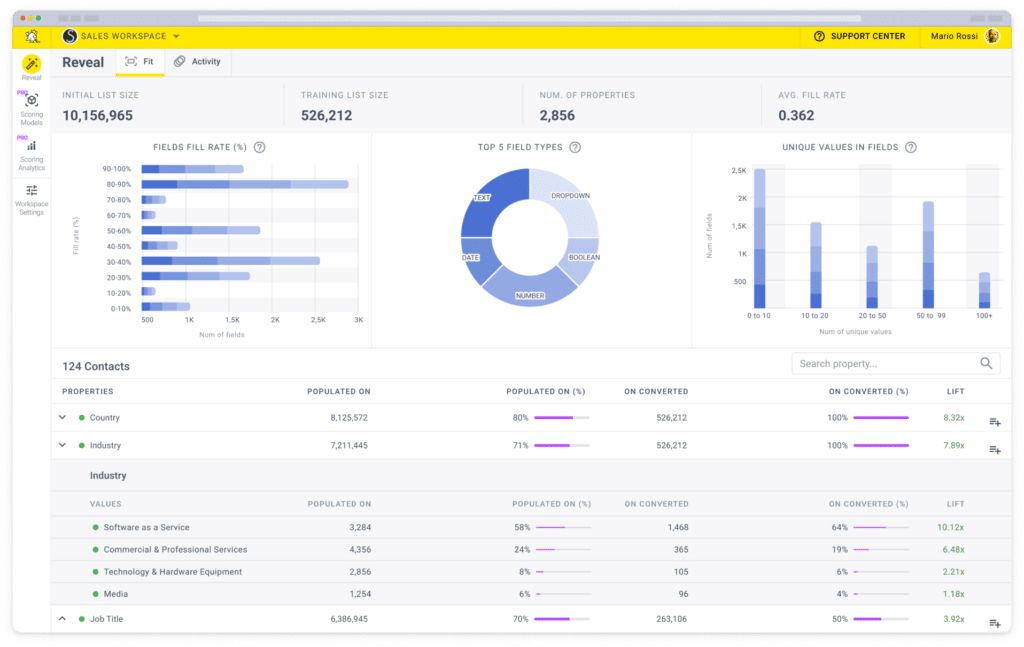 Here's how it works:
Connect your data source(s) with Breadcrumbs Reveal
Select the customer segment that defines your criteria for success (e.g., customers on the pro plan)
Reveal your results!
Take note of the attributes and actions that reflect your most profitable customers and update your ICP accordingly.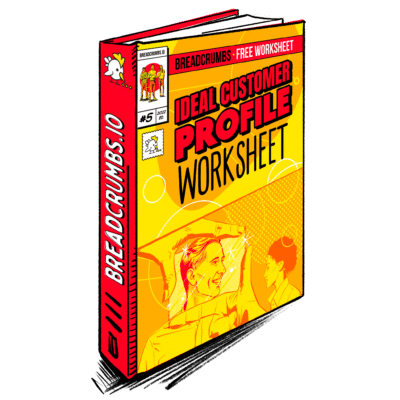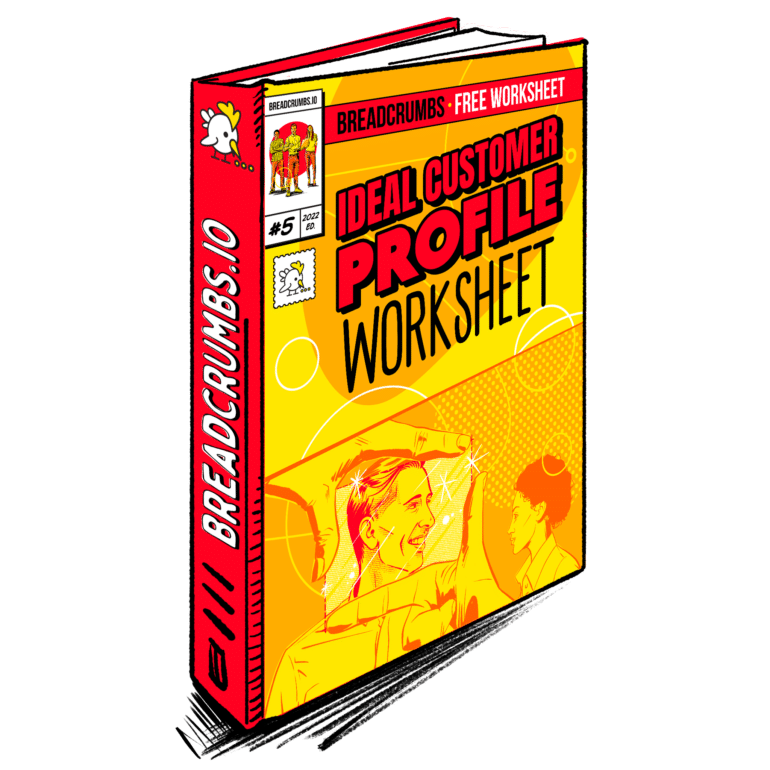 Ebook
Ideal Customer Profile (ICP) Worksheet
Learn how to create an Ideal Customer Profile and build a successful sales strategy with this Ideal Customer Profile (ICP) Worksheet.
Use the ICP as a guide in your prospecting. For example, suppose the characteristics include telecommunication companies in Canada. In that case, sales teams could select the relevant filters in LinkedIn Sales Navigator and search for the prospective customers they should target.
When you focus on your best customers today, you spend less time qualifying leads and increase revenue in the long run.
In Marquet Media's case, it saw a 15% increase in ARR.
Grab your free Reveal account today.
4. Penetrate a new market
Best for startups experiencing economic shifts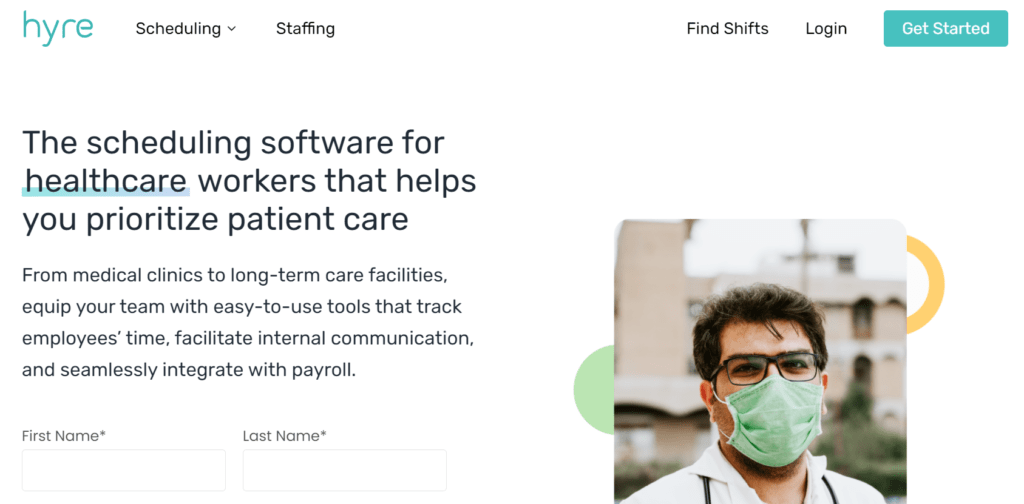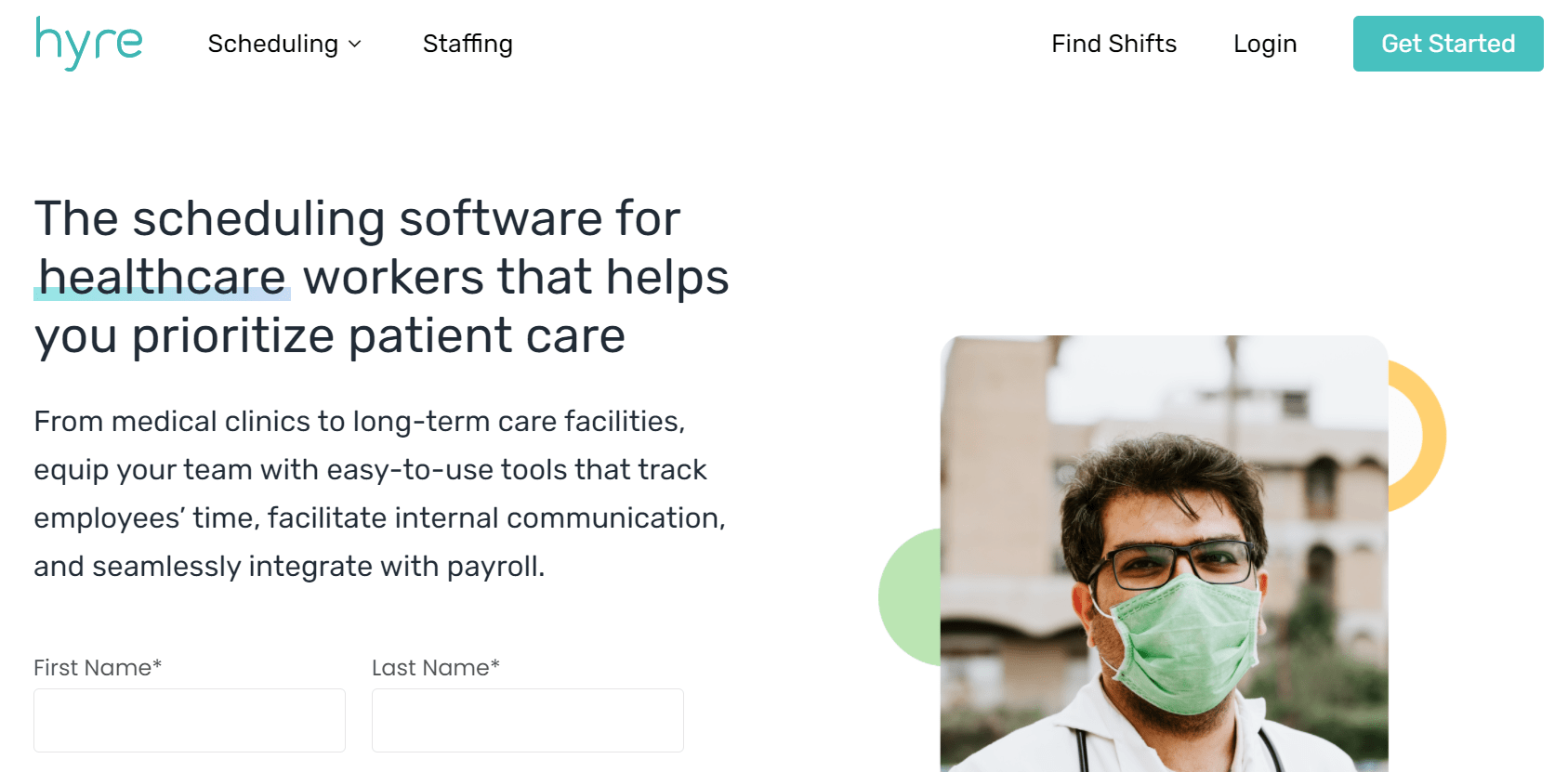 What's involved in this successful revenue strategy:
Market research (market opportunity analysis)
Customer research
Cold outreach
Real-life example ft. Hyre
Shifting economic conditions always introduces new challenges. Either pivot to meet the current demand or shut down your business for good.
For Hyre, a workforce management software company, 2020 was supposed to be its best year yet. The team was hard at work helping companies in the hospitality industry run their HR department.
When COVID-19 swept across the world and squashed its revenue to $0 in just 48 hours, the team had to come up with a new plan, fast.
"There was nothing left for us in the industry," recounts Eropa Stein, founder and CEO of Hyre. "The pandemic forced us to redraw our strategic plans."
Back to the drawing board, Eropa and her team began researching the market and quickly discovered an interesting trend: long-term care facilities (LTCs) were struggling to manage the medical staff's schedules. Realizing the market potential, the startup pivoted to the healthcare industry.
"In the beginning, we were a bit fearful about getting involved because many of them were in hot water. But then we thought this is a great opportunity to help those who need it the most, and we changed our tune."

Eropa Stein, CEO and founder of Hyre, on her initial worries on pivoting to the healthcare sector
The team implemented a simple approach: cold outreach.
Eropa shares with Breadcrumbs, "We cold called and emailed and messaged HR managers on LinkedIn."
Hyre successfully landed its first LTC client after two weeks of outreach, and it snowballed from there.
Speed up your sales cycle with a plug-and-play scoring platform like Breadcrumbs. This gives you an in-depth view of your customer journey and the leads who are most ready to buy from you.
Here's how the holistic approach works:
Connect your CRM tool with Breadcrumbs
Determine what makes a product-qualified lead [PQL] and/or sales-qualified lead [SQL] (e.g., signs up for freemium or free trial + visits pricing page within 7 days)
Set the scoring model live
Breadcrumbs will send all scoring information back to your CRM platform, notifying you of every sales opportunity.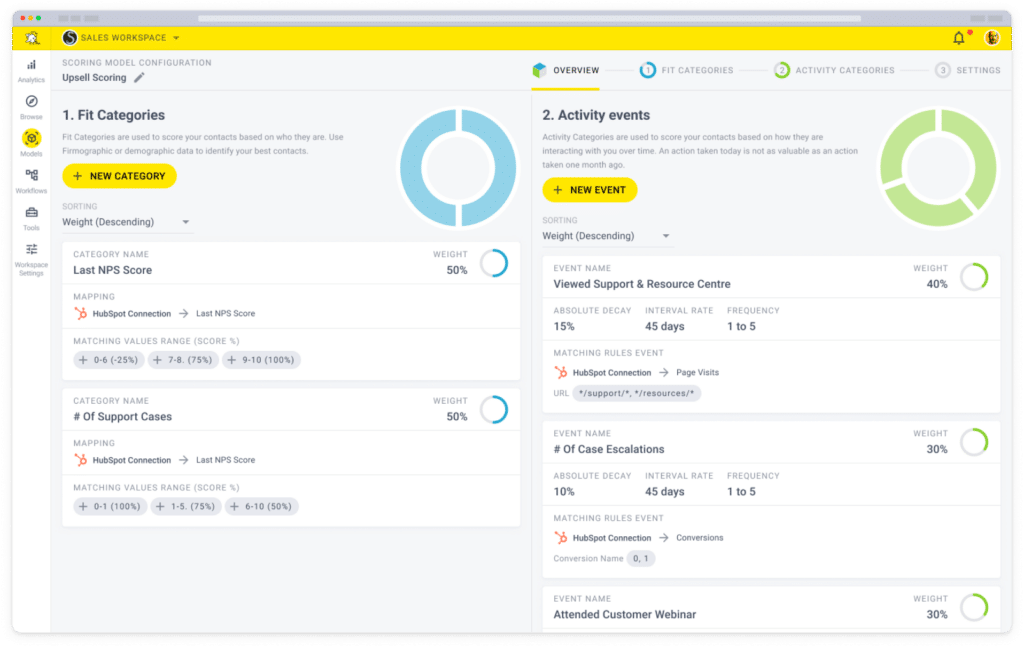 Using a contact scoring tool like Breadcrumbs improves your sales process and win rate as you're focusing only on leads with high buying intent. Instead of going after leads who are not ready to hear from you, you're pitching to leads further down the funnel (hello, conversions).
You can also use Breadcrumbs to identify loyal customers with cross- and upsell potential and at risk of churning.
Start your free account today.
5. Expand your offerings
Best for startups experiencing a stagnant revenue growth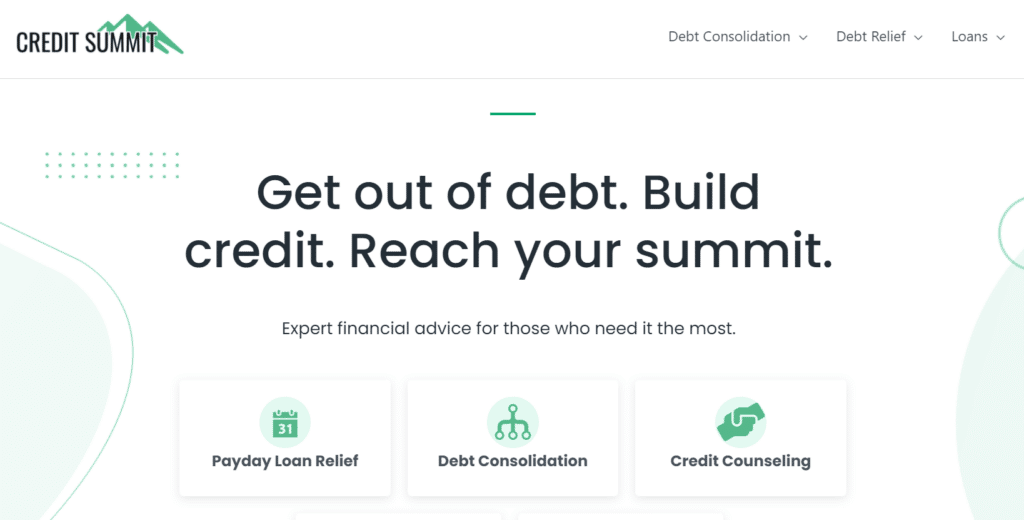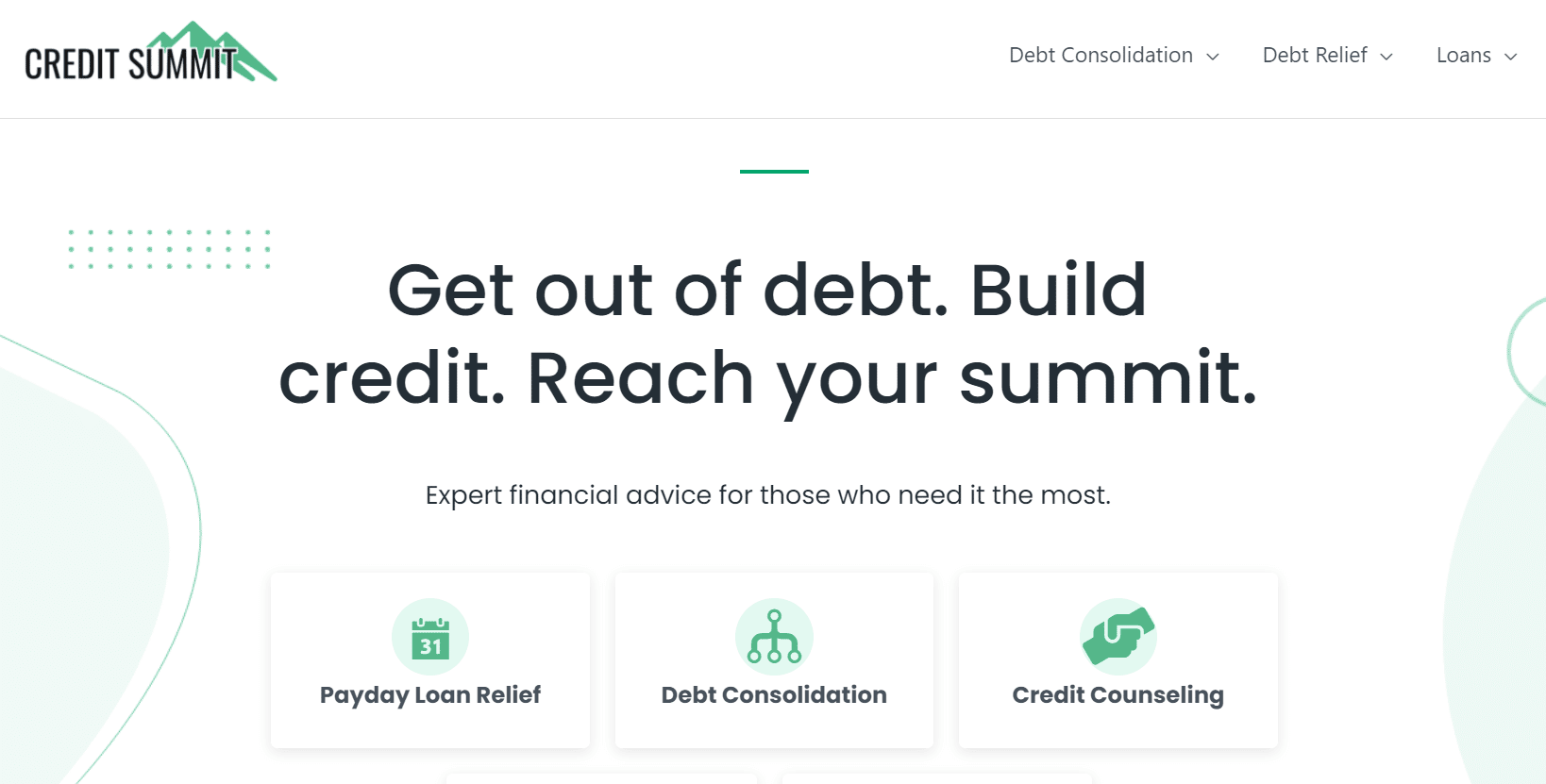 What's involved in this successful revenue strategy:
Customer research
Content ideation
SEO and SEM strategy
Real-life example ft. Credit Summit
If you don't branch into an untapped market, you're leaving money on the table.
Credit Summit wasn't reaching its revenue goals for sustainable growth, despite doing well in its niche. When Breadcrumbs spoke to Carter Seuthe, the VP of content, he admits, "We pigeon-holed ourselves a bit. Our scope was too narrow."
Their new revenue strategy mainly comprises expanding their content. Carter and his team sought different financial experts for their new content and adjusted their PPC strategy to reflect the changes.
Credit Summit's content originally focused on building and repairing credit scores.
Today, the publication's wide range of topics extends beyond budgeting, investments, and advanced personal finance strategies.
It's grown into a one-stop financial content hub.
The more valuable your content is, the higher the odds of you winning your audience's attention, trust, and sale.
Create an Effective Revenue Strategy to Accelerate Revenue Today
These five different businesses share a common thread:
They pivot to meet the current demand.
Go to your target customer to dig deep into their biggest pain points. From then on, you'll discover trends and identify a revenue opportunity or two.
And while you're at it, complement your revenue strategy with Breadcrumbs. Our plug-and-play contact scoring platform gives you better visibility of any qualified leads of your choice.