Cold calling may be one of the oldest sales tactics in the book, but it's tough to get right. Prospects complain of impersonal outreach calls and salespeople often face rejection with limited success rates.
After all, if your sales team has limited knowledge about the leads on their list, how can they tailor the sales experience to each customer? As we know personalized sales experiences are more likely to result in customer engagement and conversions.
While cold calling can be an effective sales strategy if done right, using some alternatives to cold calling can help you engage with more prospects and close more deals.
What is cold calling?
Cold calling is a sales technique where a salesperson contacts people who haven't expressed any previous interest in the offered products and services.
It usually refers to making contact by phone, but in some industries, it could also refer to people knocking on the doors of prospects.
It's a traditional sales method that's often the least popular with consumers. Think about it, how many more times do you want to have to tell that internet company you're not interested in their special offer?
It can be tough to generate meaningful leads and salespeople often face rejection and depending on the industry, a high attrition rate.
Is cold calling dead?
Cold calling is old school. It used to be one of the best and only prospecting strategies salespeople could use.
But despite it being a traditional strategy, cold calling isn't dead. Surprisingly, cold calling is still one of the most effective sales techniques.
A DiscoverOrg study found that 75% of prospects in some industries have attended an event or scheduled a meeting based on cold email or call.
Additionally, up to 82% of buyers accept meetings when salespeople reach out to them.
Petra Odak, the Chief Marketing Officer at Better Proposals, an online proposal SaaS, agrees that cold calling isn't dead:
"Cold calling is not dead but it's far from the ideal method for sales in this day and age. Very few people actually enjoy being called on the phone in an age where most communication is non-verbal."
Depending on your products, services, and target audience, cold calling could be a successful prospecting strategy. But it's best not to totally rely on cold calling for prospecting. If you choose to use cold calling as part of your prospecting strategy, it's best to use it as part of your strategy so that you reach a broader audience.
Taylor Dahlem, the Director of Growth at Pickle, a conversation intelligence SaaS, uses cold calling further on in the sales sequence as opposed to using it straight off the bat:

"Cold calling is not necessarily dead but it has fallen to a lower priority in the omnichannel approach. I have found a combination of personalized email/LinkedIn messaging is a powerful 1-2 opening punch and then cold calling a few steps into the sequence has helped supplement the message and keep me top of mind in another channel."
9 Powerful alternatives to cold calling for driving leads
Cold calling clearly can work, but it's not tailored to your prospects. For that reason, it might not always generate high-quality leads. Using other more targeted sales techniques should help you generate more leads.
Here are 9 alternatives to cold calling salespeople can use to drive qualified leads.
1. Monitor your web visitors' behavior
Tracking your web visitors' behavior will help you know the right moment to reach out with a call or an email.
For instance, when your visitors download an ebook on your SaaS product's use cases, you may decide this is the right time to send an email offering a personalized product demo. By tracking when users are looking at certain pieces of content, you can decide when's the best time to reach out to them.
To do this, you could set up email notifications for when people are reading certain pieces of content on your website.
That way, when you reach out, instead of it being a standard cold email, you're contacting a warm lead who's already shown a demonstrated interest in your product.
2. Emailing
Email sequences are a great alternative to cold calling that provide sales prospects with valuable information about your product while nurturing them as a prequalified lead. To hook readers' interest, make sure you go beyond your regular sales pitch, standard request for a meeting, or product information.
As much as possible, make your email sequence about your prospects and not your brand. Use the emails to help prospects through the research and consideration stage. Your email shouldn't sound like a pushy sales email desperate to close a deal.
Petra Odak explains that cold emails can be effective, but even then, they should only be sent to a preselected audience:
"Cold emails are a far more effective strategy, especially if you do them the right way – lots of personalization and carefully selecting your recipients. We've done very little cold email, but it always worked like a charm with a conversion rate higher than 10%. The trick was, we personalized as much as we can and sent emails to a carefully selected audience."
Learn about how to create clickable email blasts here.
3. Lead scoring
Lead scoring is a powerful alternative to cold calling that helps sales reps know more about the leads they're dealing with. Put simply, lead scoring is the activity of ranking prospects by key criteria to help you decide how much potential value they may be to your business.
This data can help your sales team identify those leads they want to pursue more aggressively along with those which aren't a good fit for your business.
The criteria you choose totally depend on your business and your target audience. A few examples of B2B lead scoring criteria include job title and industry. Taking other factors into account like the referral source can be helpful. For example, customers who are referred by existing clients are more likely to convert, spend more, and be loyal for longer.
Lead scoring enables your team to only reach out to pre-qualified leads that are a good fit for your business. It makes your sales team's job easier and is a more effective way to assess lead quality.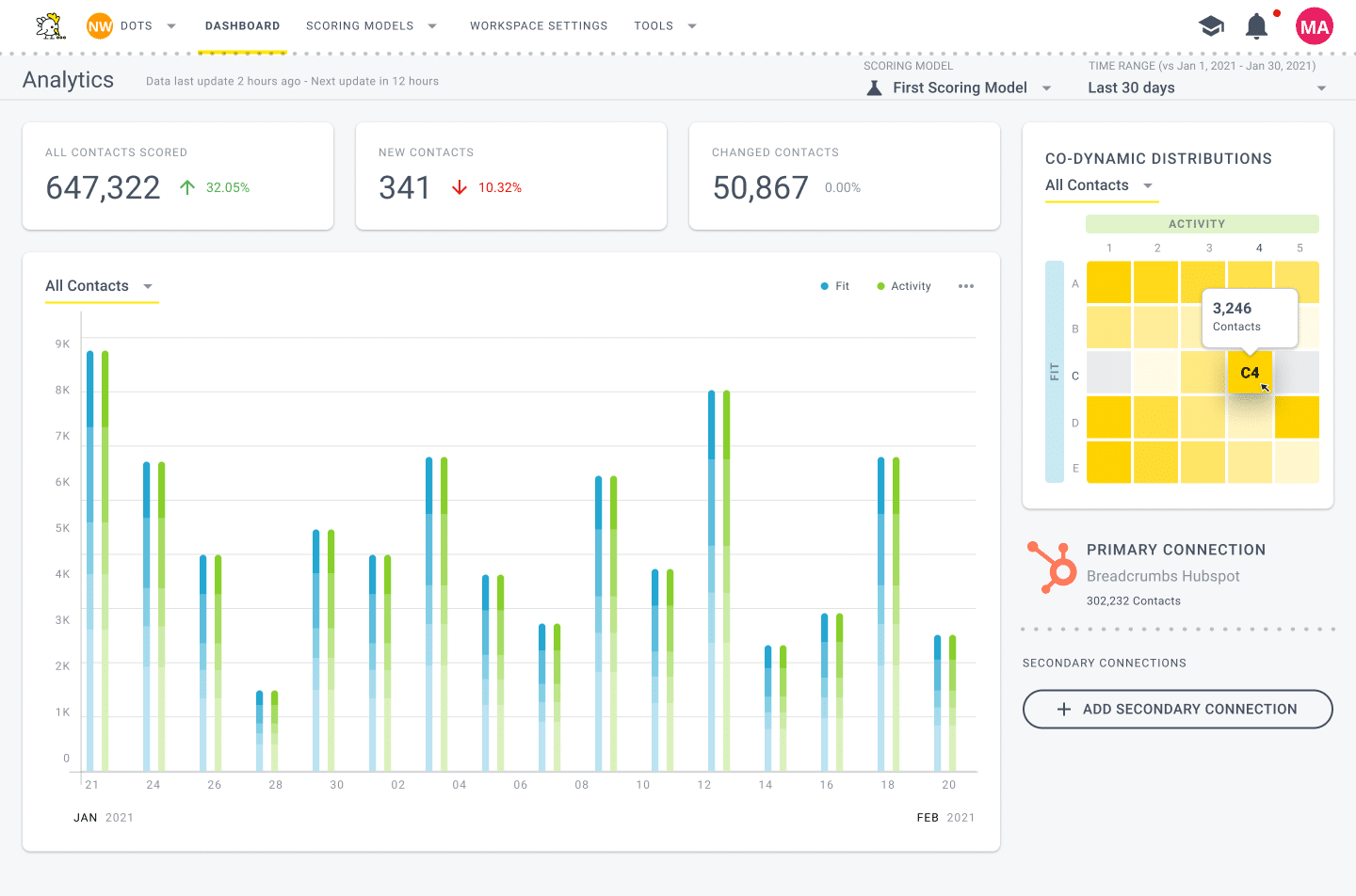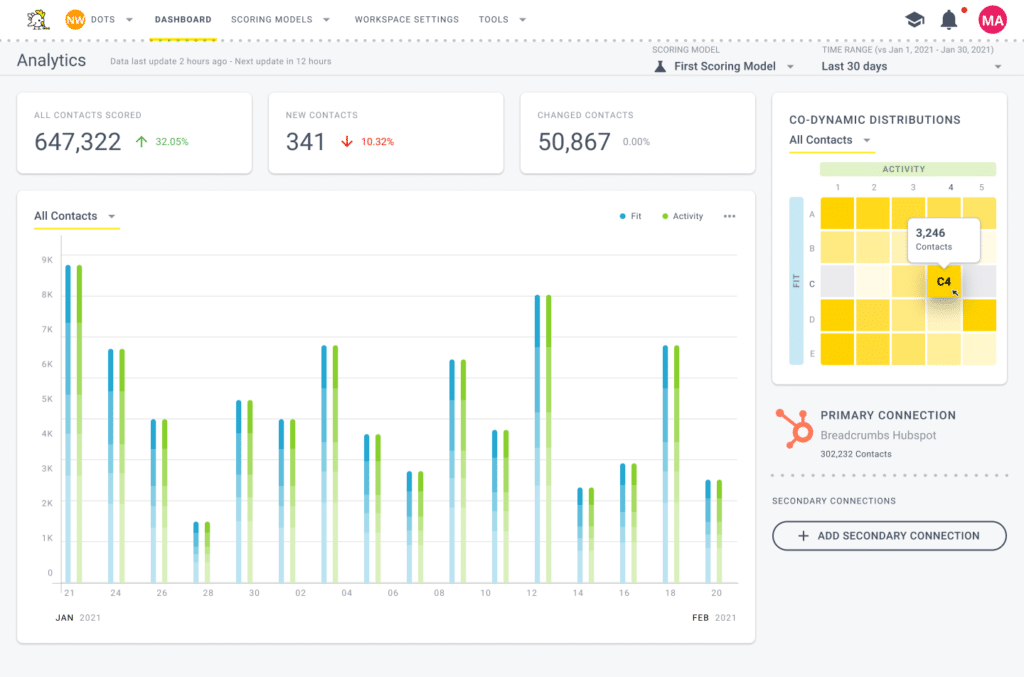 Our Director of Sales at Breadcrumbs, Joe Aicher believes that lead scoring can help prepare the ground for successful sales calls and other prospecting strategies:
"Cold calling will always have its place in sales, but I think what frustrates so many sales reps about the process is the lack of intent behind the lists they're using. While lead scoring wouldn't usually be thought of as a tool for list generation, just the simple exercise of running your new lists through your model can have a huge impact on its quality.
By running your cold call lists through your scoring model, you can easily score these prospects and accounts against your ICP and rank them based on how well they match and expose key data points that are relevant to your reps. This instantly adds a level of credibility to your lists and gives reps some extra confidence that their calls are being made to high-value prospects."
4. Engage with prospects on social media
Social media is an effective way of building relationships and trust with potential customers. Users who browse your content may leave questions and comments about your product, which are an opportunity for interacting with potential leads.
Leaving insightful responses will help prospects see your business as a valuable resource that cares about its customers.
You could join some LinkedIn and Facebook industry groups and engage with your target audience by liking and sharing their posts. Doing these things will establish you as an authoritative and knowledgeable person others can ask questions and get trusted answers.
For social media to become a valuable alternative to cold calling, it's important that your interactions appear authentic and natural. If users share or comment on your content, don't immediately dive into their DMs trying to push a demo or a free trial.
Instead, let the relationship develop organically. Think of it as if you're at an industry event and having a conversation with a potential customer. That way you won't come off as too 'salesy' and you'll build more customer trust.
Salesforce-owned marketing automation Pardot often retweets industry-relevant content from its community of followers: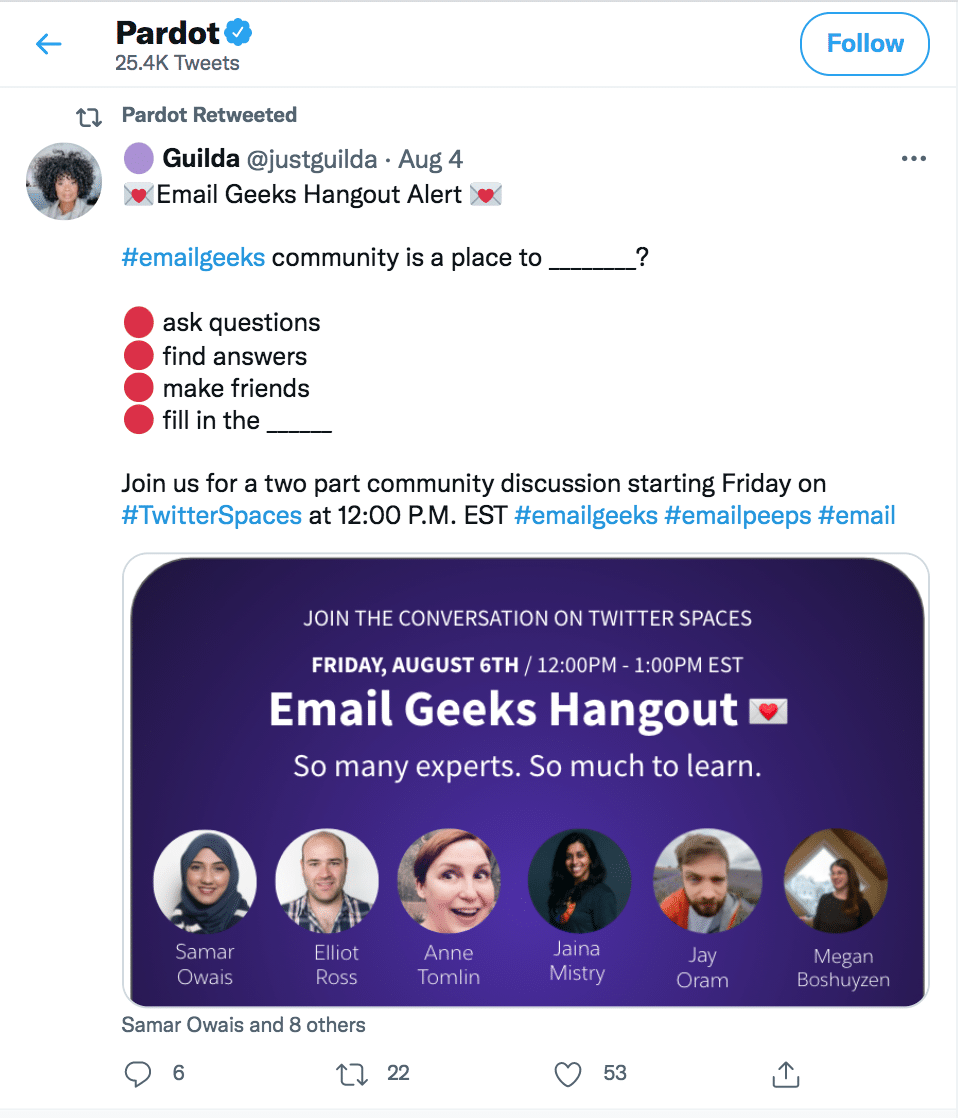 5. Answer questions related to your product/service on forums
Forums like Quora and Reddit can be great places to build awareness, authority, and trust. Look out for those forums with communities interested in your industry. Spend time going through different threads and identifying places where you could naturally offer your expertise and answer users' questions.
Avoid directly pitching your product or service and instead focus on being genuinely helpful to other users. You can of course make references to your product or service in your answers but only when it's relevant and helpful––don't just include it for the sake of mentioning it.
That way when customers need a solution related to your product or service, your business will be front of mind. When prospects email or call you to enquire or make a purchase, they'll already be well-informed leads who know what they're looking for.
For example, when answering a question about SEO tools, Rand Fiskin the CEO of leading SEO tool Moz uses his response as a chance to run through the good and bad of each SEO tool instead of just pitching Moz as the right choice: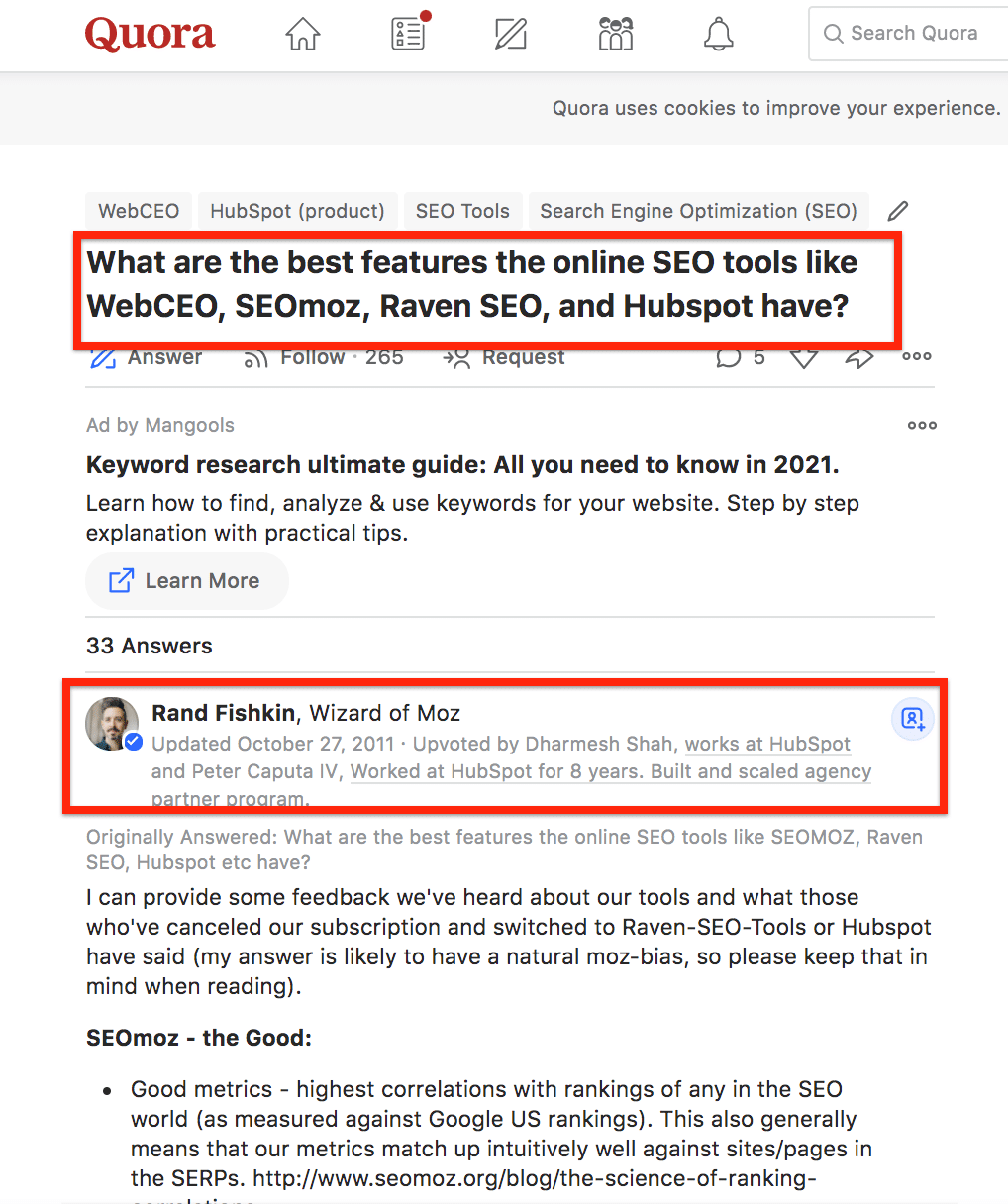 6. Ask satisfied customers to refer you to others who could benefit from your solution
Word-of-mouth referrals are powerful. When you need a solution to a problem, you've likely asked friends, colleagues, or family members for recommendations. Your trust in them means that you're likely to follow their recommendations and base your decision on their referrals.
Word-of-mouth referrals act as social proof that makes customers feel comfortable in placing their trust in you. If a satisfied customer gives you a positive testimonial, follow up and ask them to refer you to others in the industry who could benefit from your solution.
When you receive positive testimonials, make sure to display them on your site and in other marketing campaigns like email newsletters or social media posts (with the customer's permission of course.)
7. Keep in touch with prospects
Whether prospects choose your product or not, you should keep in touch with them after the sales process ends. Send them insightful content that helps them achieve their business goals. Even if they chose not to purchase from you, going beyond generic follow-up messages and making an effort to be genuinely helpful will ensure prospects may reconsider you in the future.
8. Networking at events
Virtual and in-person events are a great way of getting to know your prospects and their needs. Whether you're giving presentations or simply joining the conversation in breakout rooms, use it as an opportunity to deepen your understanding of what solutions your prospects are searching for.
Don't use events as an opportunity to pitch your product, instead ask questions and engage with people's answers. The more you can ask, the more understanding you'll walk away with.
9. Hold helpful webinars
Webinars are a great way of reaching more potential customers. Collaborate with other relevant names in your industry and hold sessions that provide actionable and helpful content for attendees. Doing this will help prospects see your business as an industry authority as well as a helpful source of information.
If prospects see your webinar as insightful, they may research your offering and consider purchasing it.
Leading work communication platform Slack uses webinars to build awareness of their brand and the customer issues it can solve:
By the time prospects reach out to you, they'll already know the basics of how your business can help them. Alternatively, reach out to the most engaged webinar attendees with some ideas of how you can solve their most pressing business problems.
Final thoughts
While cold calling is a successful prospecting strategy for many businesses, alternatives to cold calling can help you reach more customers who may not respond to cold calling tactics.
Try the above strategies and see how prospects react. When you take time to build rapport and engage in prospects' needs, you'll be more likely to increase your conversions. Even if you plan on using cold calling, it's best to score your leads first so you're only reaching out to those prospects with a higher chance of closing.
Ready to start lead scoring and close more deals? Book a demo with us today.