Cold calling may be one of the oldest sales tactics in the book, but it's tough to get right.
Prospects complain of impersonal outreach calls, and salespeople often face rejection with dismal success rates. In the best-case scenario, they get hung up on. The worst? They get called liars and have their integrity questioned.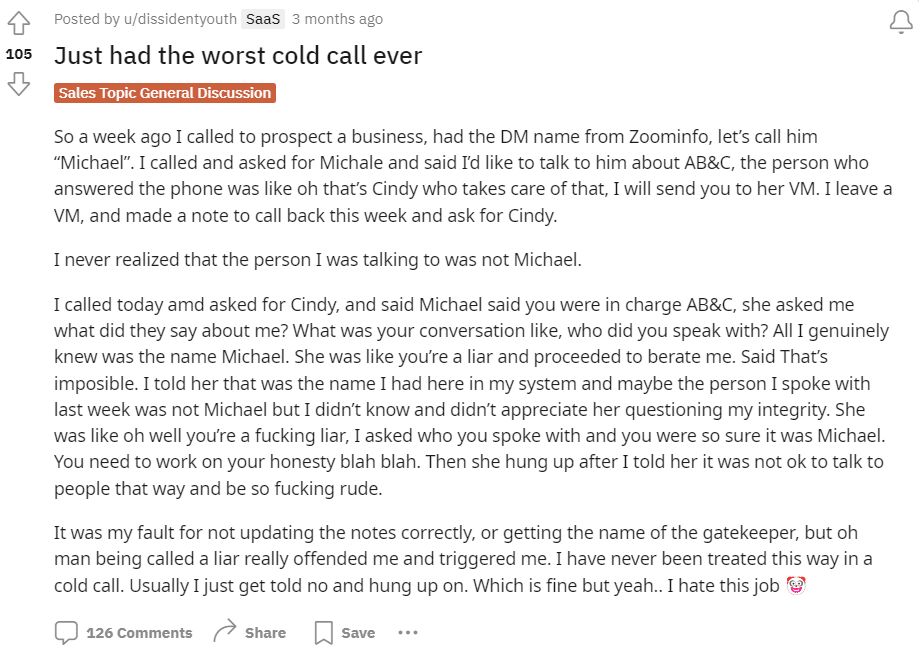 While this traditional sales technique can be an effective sales strategy to a small extent, there are alternatives to cold calling that help you engage with more prospects and close more deals.
This guide recommends eight of them.
What is Cold Calling?
Cold calling is a sales technique where a salesperson contacts people who haven't expressed any previous interest in the offered products and services.
It usually refers to making contact by phone, but in some industries, it could also refer to people knocking on the doors of prospects.
Cold calling is the least popular traditional sales method, so much so that 90% of B2B decision makers no longer respond to cold outreach—and even if they do, it takes the salesperson an average of 18 attempts to reach them.
Which brings us to the next question…
Is Cold Calling Dead?
Despite it being viewed as a "bottom of the barrel sales activity", cold calling isn't dead.
Petra Odak, project manager at Capptoo AG, agrees, but also notes, "It's far from the ideal method for sales in this day and age. Very few people actually enjoy being called on the phone in an age where most communication is non-verbal."
Depending on your cold call script, cold calling could be a successful prospecting strategy. For instance, starting a sales call with "I understand we share a common LinkedIn group," can increase the likelihood of a meeting by 70%.
However, it's best to not rely solely on cold calling for prospecting. Your odds of success are higher if you use it with other channels.
Taylor Dahlem uses cold calling further on in the sales sequence as opposed to using it straight off the bat.
"Cold calling is not necessarily dead, but it has fallen to a lower priority in the omnichannel approach," admits the senior marketing manager at Pickle.
"I've found a combination of personalized email/LinkedIn messaging to be a powerful 1-2 opening punch. Cold calling a few steps into the sequence helps supplement the message and keep me top of mind in another channel."
8 Powerful Alternatives to Cold Calling for Driving Leads
Cold calling works to a small extent, but it's not tailored to your prospects. For that reason, it might not always generate high-quality leads. Here are eight cold calling alternatives sales professionals can use to drive qualified leads.
1. Send AI-powered cold emails
Cold email sequences are a much more effective alternative to cold calling, but only when they're personalized and sent to a pre-selected audience.
Odak shares with us, "We've done very little cold email, but it always worked like a charm with a conversion rate higher than 10%. The trick was, we personalized as much as we could and sent emails to a carefully selected audience."
But here's the problem.
With people changing jobs around 12 times in their lifetime (and the inaccuracy of ZoomInfo) you can't be sure your email blasts will always land in your target audience's inboxes.
One solution is to use an email verifier to filter out invalid email addresses.
Here's how it works:
Connect HubSpot with our free email verifier
Select an email list with up to 10,000 contacts
Click Verify
Our verifier will proceed to score the email addresses in your contact list. Valid email addresses will appear as green.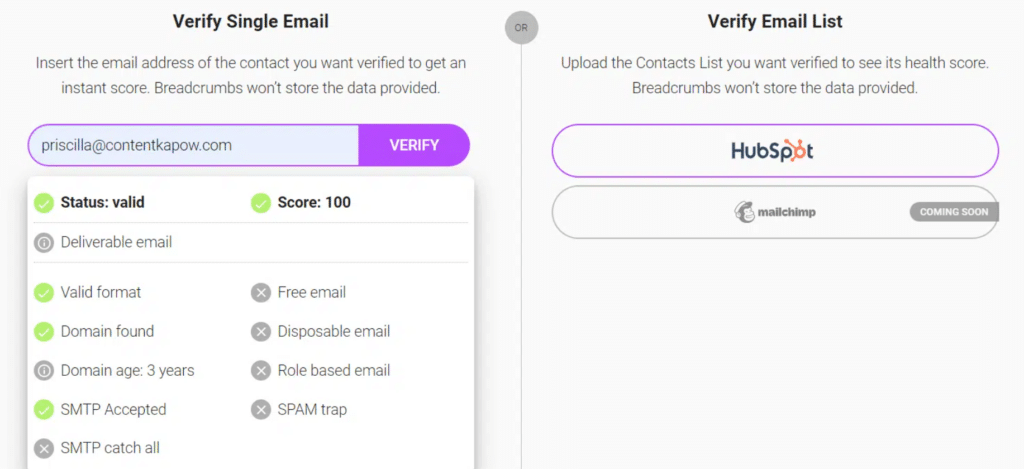 Of course, there are other factors that determine email deliverability.
Verifying emails is just the start.
Consider using Cadence to maximize the chance of your emails landing in prospects' inboxes. Our cold outreach platform boasts:
Real-time email inbox rotation to maximize engagement rates and reduce the chances of your emails being flagged as spam
Unified email inbox to manage multiple channels (including social media platforms) into one place
AI-powered email assistant to write personalized and conversion-focused cold email campaigns
…and more.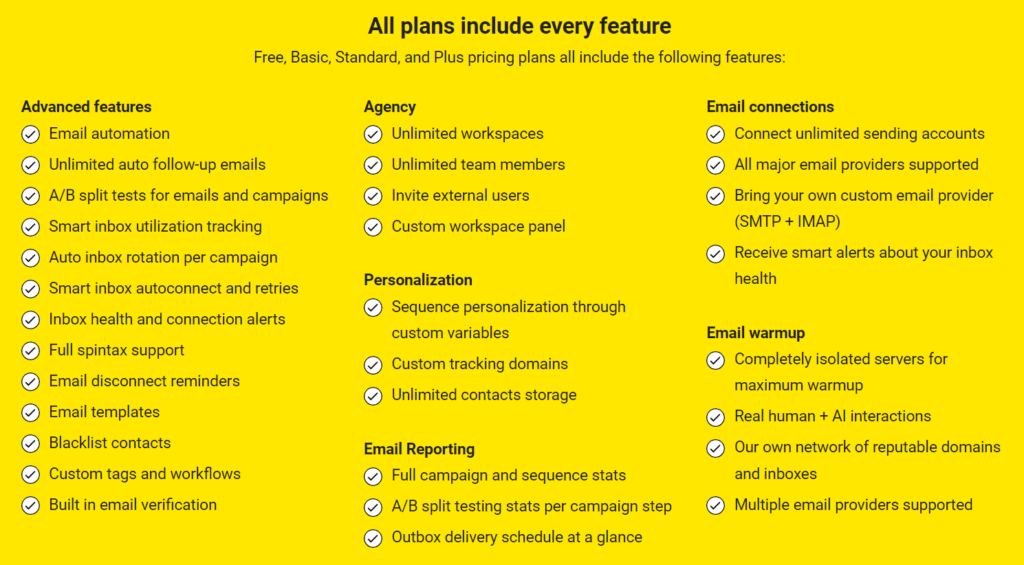 To hook prospects' interest, make your cold email sequence about your prospects and how your product solves their challenges.
First, sign up for your free Cadence plan here.
Click Create Campaign in the Campaigns tab and complete the necessary information.
Next, create your sequence. Complete the email subject and body, adding variants and steps when relevant.
To write your cold emails, click the AI-backed assistant icon below and describe your product and its benefits in a few bullet points.
Click Write my email for me.
Once you're done, click Add email to sequence. Repeat the same steps for the remaining emails.
Finally, adjust the campaign settings accordingly and launch it when you're done.
Cadence is the ultimate powerhouse for cold email lead generation. Pricing starts free. Sign up for your free Cadence plan today.
2. Rank your leads
Cold calling will always have its place in sales, but what frustrates many sales reps about the process is the lack of intent behind the lists they're using.
Joe Aicher, director of RevOps Solutions at Breadcrumbs, believes that lead scoring can help prepare the ground for successful sales calls and other prospecting strategies.
He adds, "While lead scoring wouldn't usually be thought of as a tool for list generation, just the simple exercise of running your new lists through your model can have a huge impact on its quality."
Start by running your cold call lists through your scoring model, recommends Aicher.
That way, you can easily score prospects and accounts against your ideal customer profile (ICP) and rank them based on how well they match and expose key data points that are most relevant to your business.
The data points you choose depend on your business and your target audience. A few examples of B2B lead scoring criteria include job title, industry, and web activity.
Use a lead scoring tool like Breadcrumbs to rank your prospects.
Here's how it works:
Connect your data sources with Breadcrumbs
Determine who makes a high-value prospect in the Fit model (e.g., CMO +20, Manufacturing industry +15)
Determine what makes a high-value prospect in the Activity model (e.g., downloads report +20, signs up free trial +25)
Set the scoring model live
Breadcrumbs will send all scoring information back to your primary data source, automatically notifying you when a prospect hits your predefined score threshold.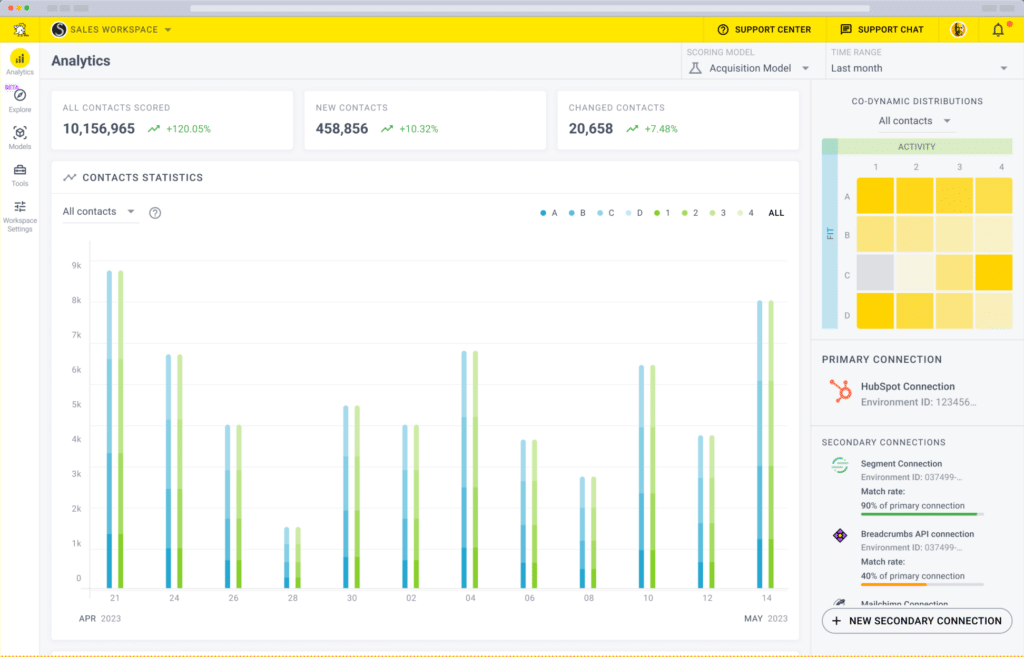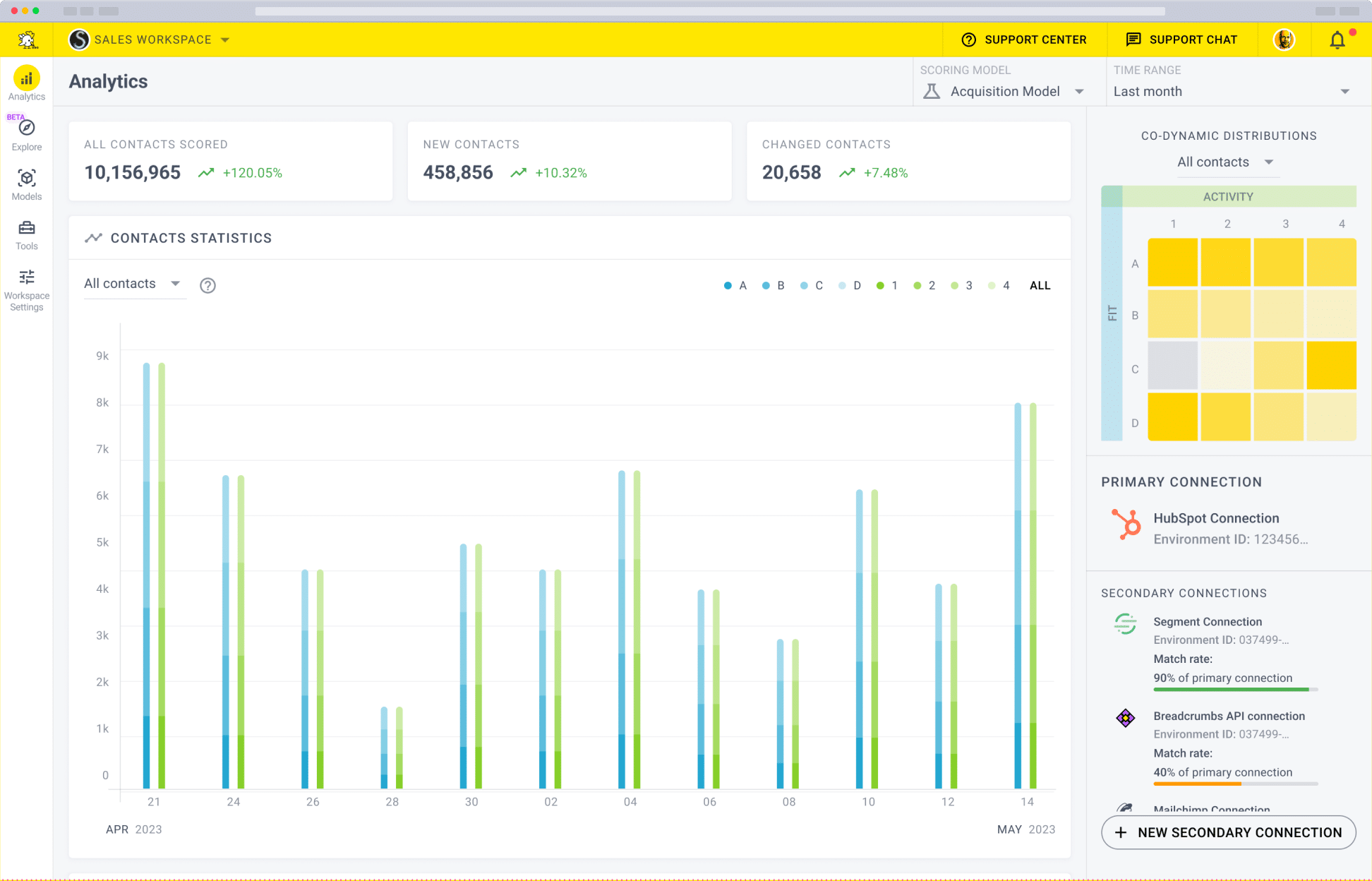 3. Engage with prospects on social media
For social media to become a valuable alternative to cold calling, your interactions need to be authentic and natural.
If users share or comment on your posts, don't immediately dive into their DMs trying to push a demo or a free trial. Instead, let the relationship develop organically.
Buffer puts its target audience front and center on social media. Note how it responds to prospects in a quick and friendly manner…even for questions that can be easily answered from a quick search!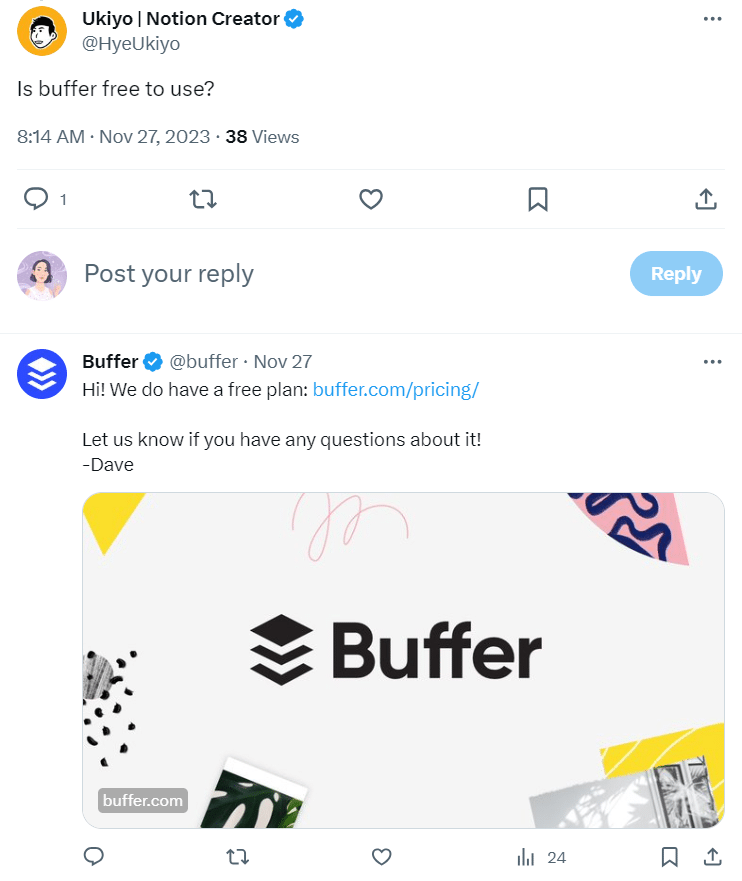 Leaving insightful responses like these helps prospects see your business as a customer-centric brand that cares. 
4. Answer questions related to your product/service on forums
Forums like Quora and Reddit are great places to build awareness, authority, and trust.
Look for forums with communities interested in your industry. Go through different threads and identify places to naturally offer your expertise and answer users' questions.
For example, if you're selling a scientific event management platform, you might join /academia on Reddit and answer questions about virtual event tools or platform recommendations for grant submissions.

Avoid directly pitching your product or service. Focus on being genuinely helpful to other users.
In the example above, you might share the features to look for in a grant submission platform, like a drag-and-drop form builder with conditions and logic to build custom submission forms.
You can, of course, reference your product or service at this point, but remember, only mention it when it's relevant and helpful.
Bonus if you're upfront about your product's limitations right off the bat, as 56% of consumers claim that brand transparency would make them loyal for life.
5. Get current customers to do the work
Word-of-mouth is the primary factor behind 20 to 50% of all purchasing decisions.
When you need a solution to a problem, you've likely asked friends, colleagues, or family members for recommendations. Your trust in them means that you tend to follow their suggestions.
If a satisfied customer gives you a positive testimonial, follow up and ask them to refer you to others in the industry who could benefit from your solution.
Display positive testimonials on email newsletters, social media posts, pricing pages, and case studies. Tip: if your customers want to remain anonymous, replace their company name with descriptors (e.g., Fortune 100 company, B2B SaaS in the legal space).
6. Remain engaged with prospects
Stay in touch with prospects after the sales process ends, even if they don't end up buying.
Avoid generic follow-up messages. Send them insightful content that helps them achieve their business goals. For example, a HR SaaS might share a people management report to prospects struggling to retain top talent.
More importantly, learn what makes them choose a competitor before closing the opportunity. Their responses will inform not only your sales pitches but also other sales enablement content, like your sales battle cards.
Make an effort to be genuinely helpful. You never know, prospects might reconsider your product in the future.
7. Attend connections-focused networking events
Virtual events rarely offer quality networking opportunities, so our take?
Attend face-to-face conferences to create lasting professional connections.
CXL, a skill-building platform known for its practitioner-led conversion optimization training programs, does this remarkably well.

Every year, it runs an event called CXL Live, which gathers the best and brightest in online experimentation to learn and build relationships with industry peers.
The annual event focuses on shared experiences and hand-curates discussion roundtables for folks working on similar challenges. To create an authentic experience, there are no sales pitches.
Whether you're attending as a visitor or running the event yourself, treat it as an opportunity to deepen your understanding of your prospective customers. Ask questions and engage with people! The more you can ask, the more insights you'll walk away with.
8. Run expert-led webinars
77% of marketers run webinars to generate leads, proving once again that it's a powerful medium to educate and engage your audience today.
Clearscope invites industry experts to share unique takes on navigating the fast-evolving landscape of search. Its weekly live episodes cover a wide range of topics, from AI-generated content to Google's latest updates.

Not only does the SEO content optimization software company position itself as an industry authority, but it also solves one of content's hardest problems:
Getting the most out of existing content consistently.
Note how it repurposes its webinars into search-focused blog posts. It targets another group of audience: people who prefer to read versus watching videos.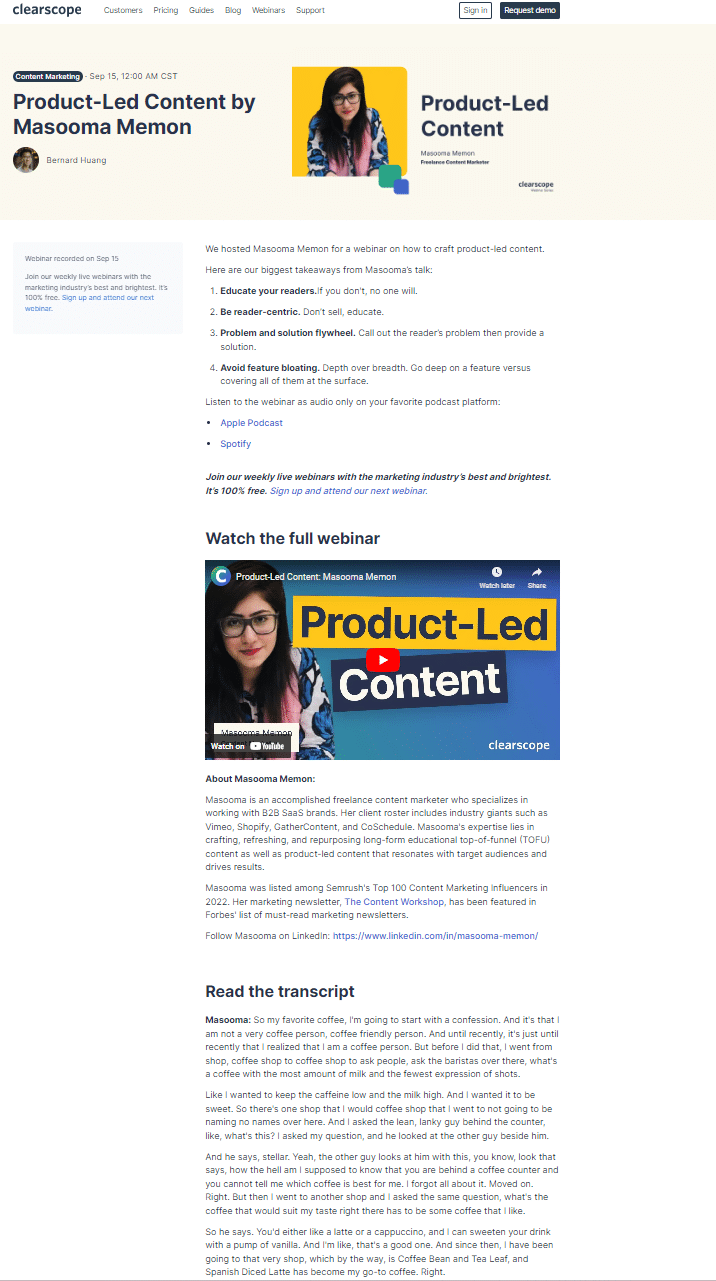 Collaborate with industry leaders in your webinars. Send a survey to learn what's keeping your audience up at night. Hold sessions to address them. If prospects find your webinars valuable, they'll research your product and consider purchasing it.
By the time these prospective customers reach out to you, they'll already know the basics of the product, which no doubt will speed up your sales cycle.
Final Thoughts
While cold calling is a decent prospecting strategy, these alternatives to cold calling are much more effective at reaching more customers in a personalized manner.
Consider combining Cadence with your cold calling strategy.
Our cold outreach platform boasts advanced capabilities to ensure your emails land in prospects' inboxes. Create personalized emails using our AI-backed assistant and cold call further in the sequence to stay top of mind.