With marketing evolving so quickly, thanks to new strategies and always-new tech, it's important to make sure you're staying on your toes.
It's also essential to make sure that you're not getting information from the wrong sources. Because, as many of us have learned the hard way, there's an enormous amount of marketing "information" online, and a solid chunk of it should be avoided at all costs.
We want to make things a little easier, so in this post, we're sharing 24 of our absolute favorite marketing resources for businesses of all sizes in 2023–including courses, blogs, books, and podcasts.
This list will include all branches of SaaS marketing, including lead generation, sales nurturing, social marketing, copywriting, content marketing, and more. Whatever skills you can use to get clients, I can almost guarantee that there's at least one marketing resource here that can help you learn those skills.
Marketing Resources: Online Courses
In this first section, we're going to take a look at online digital marketing courses that can really help you step up your game. Note that these are not necessarily free courses, but they are some of the best.
1. HubSpot Academy–Digital Marketing
HubSpot has some of the best marketing courses right now, hands down, and their "Digital Marketing" course is a catch-all that's incredibly informative.
It's a free certification course that focuses on inbound marketing and attracting customers with quality content and experiences. All marketers should have a solid understanding of inbound and digital marketing strategies.
The course is straightforward, and you can easily knock it out within a weekend or two.
2. Social Media Marketing Mastery–Udemy
Udemy's courses can be hit or miss, in my experience, but the Social Media Mastery course here is a solid one.
Eight hours long, it goes over how to run ads on ten different platforms, including the major ones like Facebook, Google, and Twitter. It's a bestseller on Udemy, with over 100k enrollments.
It also shows you how to use Facebook and Google for organic marketing and how to set up posting optimization. While this is more of an overview of complex topics than the in-depth courses offered by other platforms, it's a great introduction to getting exposed to many platforms at once.
3. Hootsuite's Social Marketing Certification Course
I took this course several years ago, and it was incredibly to the point and extremely detailed. It gives you a beginner-level introduction to social media marketing to build a strong foundation with skills and strategies to attract more followers, build engagement, and drive actual business results.
This course was designed with marketing strategies in mind, and it's an industry-recognized and permanent online certification. It costs $199 to take the exam and receive the certification, but for businesses or marketers who want to develop entry-level skills, it's a good one.
4. HubSpot Academy–Website Optimization
I know—another HubSpot course. You'll have to forgive us because we have one more after this.
This one is essential for marketers who want to learn about the technical aspects of site optimization and performance to enhance SEO.
You can learn how to address and identify common site issues to improve performance, along with how to properly optimize your site for SEO. The course itself is free, and it's developed by marketers.
5. HubSpot Academy–Content Strategy Course
This one is my personal favorite. This is easily the hands-down best content marketing course I've ever seen online, and it goes beyond "how to write a good blog post" and into the actual strategy.
So many brands have solid writers working for their team, but neglect to get results from their content writing. This is almost always because there's a lack of a proper strategy. This course can help with that, and I recommend it to every small business owner or new freelancer who wants to level up their strategic skills.
The course itself is free, and it's unbelievably thorough but still fast to complete.
6. Meta Blueprint
Previously known as Facebook Blueprint, Meta Blueprint offers an entire library of free courses for Facebook marketers and advertisers, and for business owners. You can complete the courses for free, and you can also pay to take the certification exam. They even have "learning programs" to try to help you find the courses most helpful to you.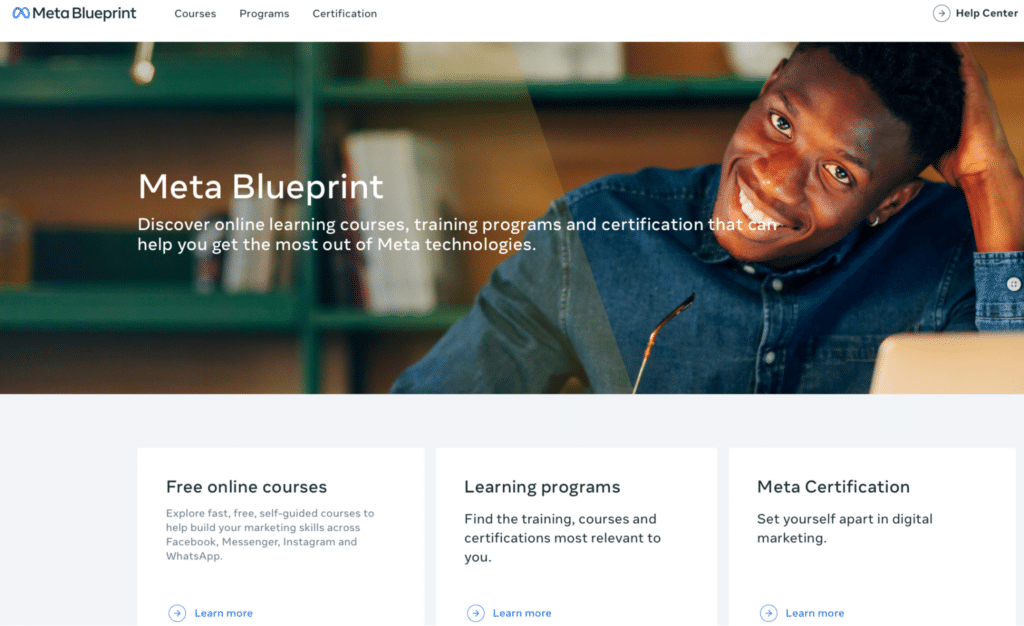 If you want to learn the strategic and technical aspects of Facebook marketing and advertising (which includes its entire suite of tools, like Instagram and WhatsApp), these are lessons you should be looking at closely, even if you aren't interested in certification.
7. Google's Online Courses
Like Meta, Google also offers its own suite of online courses that are well worth taking. It actually has over 160 courses available, and you have the option to attempt to receive the free or paid certificate.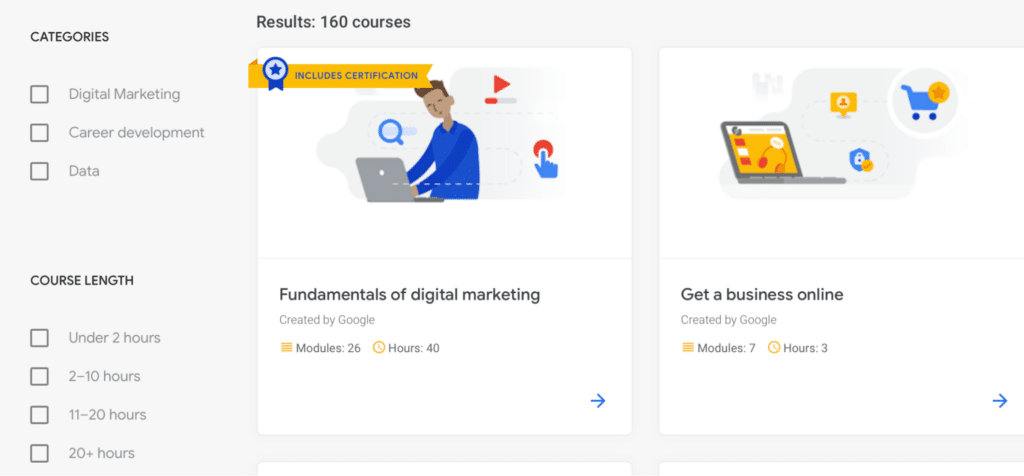 There are invaluable resources here with general marketing advice that goes beyond Google's own products, like "Make Sure Customers Find You Online" and "Fundamentals of Digital Marketing." There are, of course, plenty of Google-specific certifications, too.
No matter what you're looking for, this is a good resource to check out. They have courses you can complete in under two hours, and some with so many modules it may take 20+ hours to complete them alone. Dive in and see what you can learn.
Marketing Resources: Blogs
High-quality blogs are one of the best sources of digital marketing information because they're consistently putting out great new tips that are always up-to-date and relevant. These are some of the best marketing blogs out there (aside from our own here at Breadcrumbs, of course!)
8. Copyblogger
Copyblogger has everything you could ever need to know about copywriting. (They do have an outstanding certification course, but it's only available at certain times of the year and is on the more expensive side for online content).
This blog has a strong focus on content marketing and copywriting, and they go over topics like SEO, email marketing, keyword research, and landing pages. The information here is top-notch, and it's a great place where beginners and experts alike can pick up some new tricks and develop their skills.
9. Unbounce
Unbounce is an outstanding tool, and their blog is also a great source of information.
They dive deep into conversion techniques, including copywriting, split testing, and site design. In addition to their blog, they also regularly feature expert interviews, video webinars, and virtual events, so this is a great one to subscribe to.
10. SalesHacker
SalesHacker is constantly putting out new, high-value content from a large network of contributors. All of these contributors are experienced in sales and marketing, and they offer valuable insights into how to get the kind of long-term results that you want.
Every article on SalesHacker is in-depth and actionable, so you can understand how to apply the theory of whatever you're reading. And since there's such a large contributor network, there are always some new takes here that you may not have read elsewhere.
11. CrazyEgg
CrazyEgg's blog has been an outstanding marketing resource for years. They have hundreds of articles on subjects about website and conversion optimization. Whether you want to learn about color palettes to boost engagement or the best types of live chat software to install on your site, they've got you covered.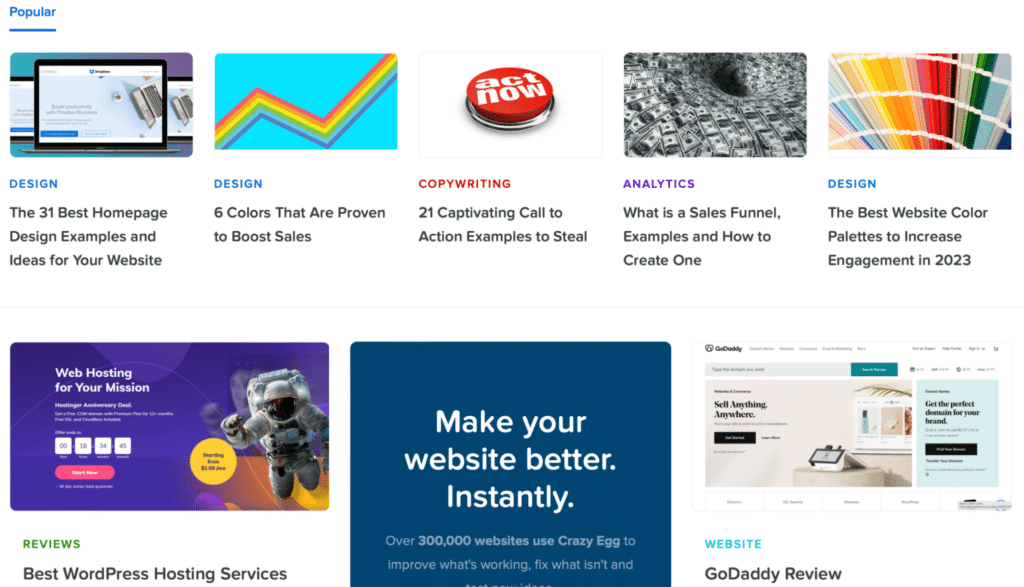 This is a particularly beginner-friendly blog, even though they do have some technical topics that more advanced marketers will appreciate, too. If you're newer to marketing and are looking for a comprehensive, ground-up overview of big concepts, this is a great blog to check out.
12. Campaign Monitor
When it comes to email marketing, Campaign Monitor has one of the best blogs out there. I can't tell you how many times I've linked to original case studies or statistics published on their blog, as well as linking to other incredibly high-quality posts that they've published.

They've got an incredible array of diverse content ranging from best practices, overcoming deliverability issues, interviews with subject matter experts, and case-study style content that dives into what makes specific companies so successful with their newsletter or email marketing.
I'm a frequent visitor for many marketing blogs, but this is one of the only ones that I actually subscribe to because I always want to read what they're publishing.
Marketing Resources: Books
Who doesn't love a good book?
If you want to dive deep into a specific topic or niche subject, books are the way to go. You're looking at 100-200+ pages of pure informational goodness right there. Let's take a look at some of the best marketing books out there.

(And if you want to learn more about customer success specifically, make sure you check out these incredible customer success books!).
13. Designing Brand Identity 5th Edition–Alina Wheeler
Branding is a huge factor in whether or not your business will be successful, and while that seems like a straightforward fact, creating a strong brand isn't as easy as it always sounds.
This book is a comprehensive guide that goes over how to develop and market a brand through strategy, design, and copy. You'll learn how to define your brand in five different steps, and you'll see plenty of case studies from internationally-recognized brands along the way.
14. Digital Marketing Strategy: An Integrated approach to online marketing by Simon Kingsnorth
This is an international bestseller that's often used by educational organizations around the world, and it breaks down the core areas that all marketers need to understand: Business strategy, content strategy, branding, and channel-specific considerations.
The second edition, which is now out, includes updated case studies and content about AI and automation. It's available in seven languages, so there's no reason not to read it!
15. This is Marketing: You Can't Be Seen Until You Learn to See–Seth Godin
This book looks at the philosophical angles of marketing, and it's downright interesting.
A huge focus is determining who your product is for and what needs it can help resolve and then developing a strategy from that point.
This is more general and conceptual advice than technical steps, but it's a good one if you want to get to the core of what drives your audience to act and purchase.
16. The Undoing Project–Michael Lewis
Lewis's "The Undoing Project" is one of the more interesting marketing books that I've read.
The entire focus is on psychology: Why people make the decisions that they do and how you can use that in your marketing. It's entertaining to read, and while it looks at actual psychology principles, it's also broken down into plain language to keep it accessible for even those who don't have English as a first language.
Marketing Resources: Podcasts
Next up, we've got our podcasts!
While we've talked about RevOps podcasts in the past, let's take a closer look at the digital marketing podcasts you won't want to miss.
17. Revenue Cafe
Revenue Cafe is created by our team here at Breadcrumbs, and we talk about sales, marketing, and every CX-related topic that can help you on your path to revenue acceleration.
Our Co-Founder Gary Amaral hosts and talks to guests each episode about topics like workplace diversity, personalization, and how to boost engagement. Each guest shares their own experience and unique perspective, with plenty of real tips and actionable strategies you can use for your own brand.
18. Everyone Hates Marketers
If you want a new take on marketing, this is the podcast for you. It's a marketing podcast that's geared toward brands who are tired of sleezy, in-your-face marketing.
The focus here is on generating more site visitors, leads, and customers by using actionable and applicable strategies to help your business actually stand out. There are great guests who give hyper-detailed information on exactly how to do so.
19. Copyblogger FM: Content Marketing, Copywriting, Freelance Writing, and Social Media Marketing
The Copyblogger's blog is great, and so is their podcast. Focused heavily on copywriting, this podcast has a rotating cast of guests to look at copywriting, email marketing, and more.
There's content going as far back as 2010, and there are so many topics and different viewpoints. It's all practical advice that typically "ages" well over time, as opposed to cheap trends or tricks that fade out fast.
20. Online Marketing Made Easy with Amy Porterfield
Last on our list, we have Amy Porterfield's marketing podcast.
Ranked as the third most-listened-to marketing podcast on Apple, it offers expert advice, tips, and strategies on everything related to online marketing. This podcast is focused on basic marketing principles, but episodes range from 30 minutes to an hour and a half long, so the topics are discussed in-depth.
Marketing Resources: Videos & Channels
If video is your preferred medium for marketing education, look no further: These marketing resources are all outstanding choices for everything from discussions of high-level marketing strategies to granular breakdowns of step-by-step tutorials for tasks like setting up a website or running ad campaigns.
21. Breadcrumbs' Hot Takes Live
Great marketers often think outside the box, and sometimes the most controversial takes in marketing are also what leads to the most success.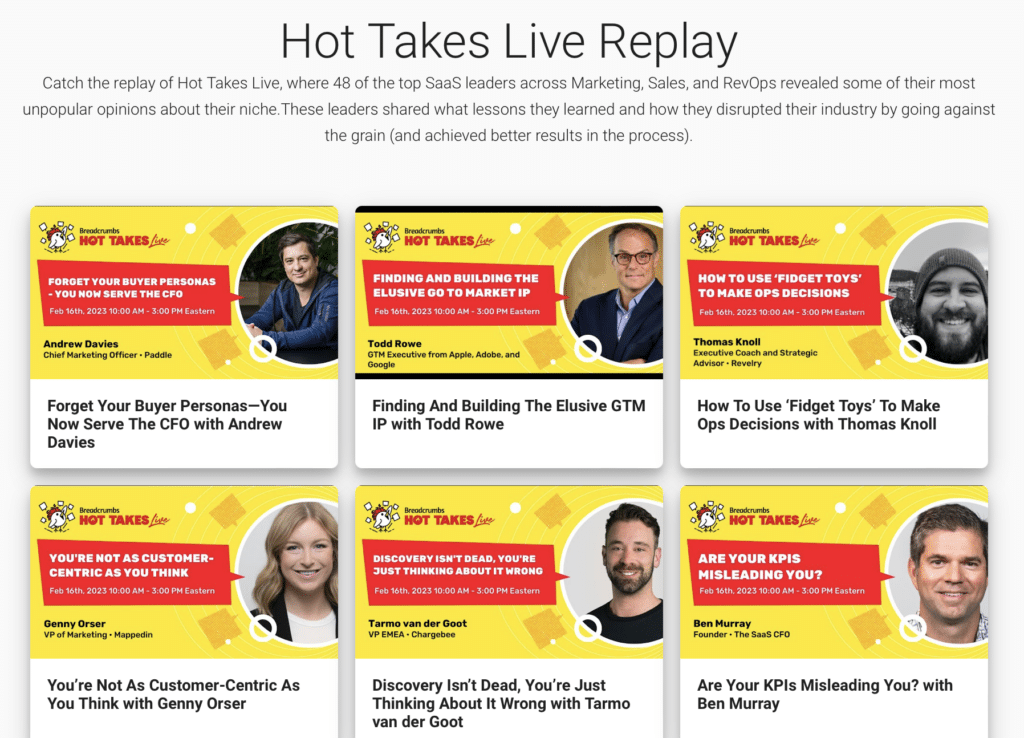 That's the entire premise of our Hot Takes Live series here at Breadcrumbs, where we talk to experts in RevOps, Product, Sales, and Marketing to hear their hottest and most out-there takes. We've got everything from "how to totally screw your marketing team" to "how to use fidget toys to make your ops decisions," with each video clocking it under fifteen minutes long.
All of the videos explain what the hot take is, how it helped them, and how you can implement it, too. Take a look at our Hot Takes replays here.
22. Google Small Business YouTube Channel
Google is on our list once again with another exceptional marketing resource, and this time it's their YouTube channel for Small Business.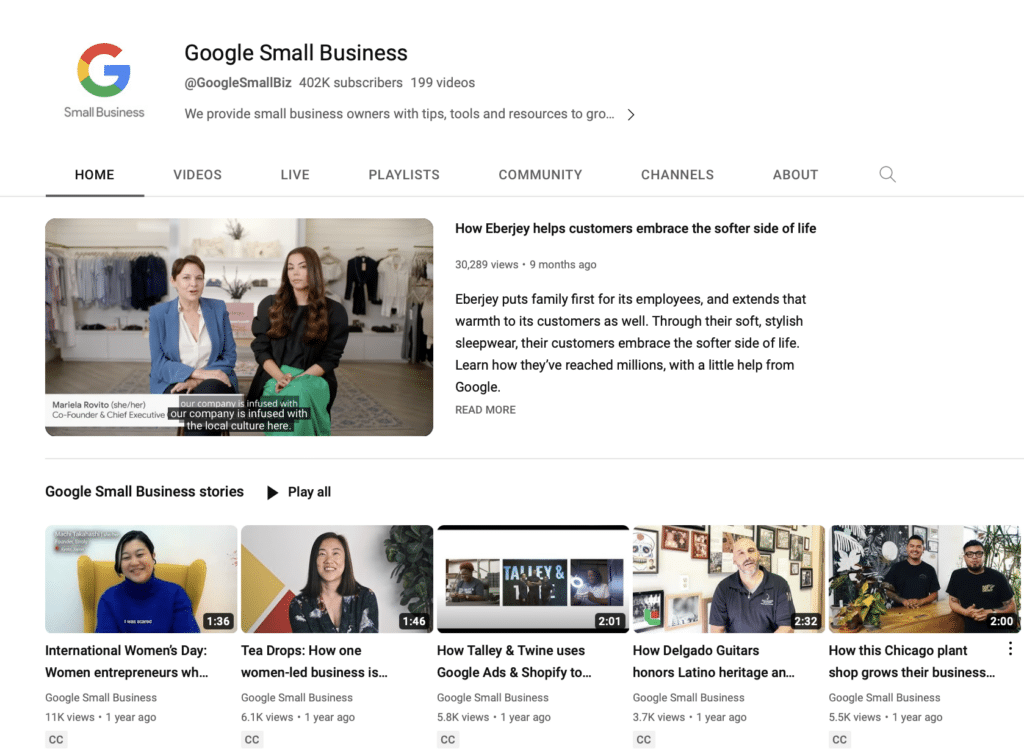 This channel has everything from hyper-technical walk-throughs showing you how to post updates on Google My Business to stories about how different brands found success. It's a great resource, and it will help you ensure that you've got everything in place online to reach your target audience.
23. Moz's YouTube Channel
Moz has always been a premier marketing resource— their blog is great, the tool itself is exceptional, and of course, we adore their YouTube channel. Their videos are incredibly insightful, and it never feels like they're just trying to fill space to meet a content quota. They've got reliable, accurate, and always up-to-date videos discussing the latest and greatest in marketing, particularly search and website optimization.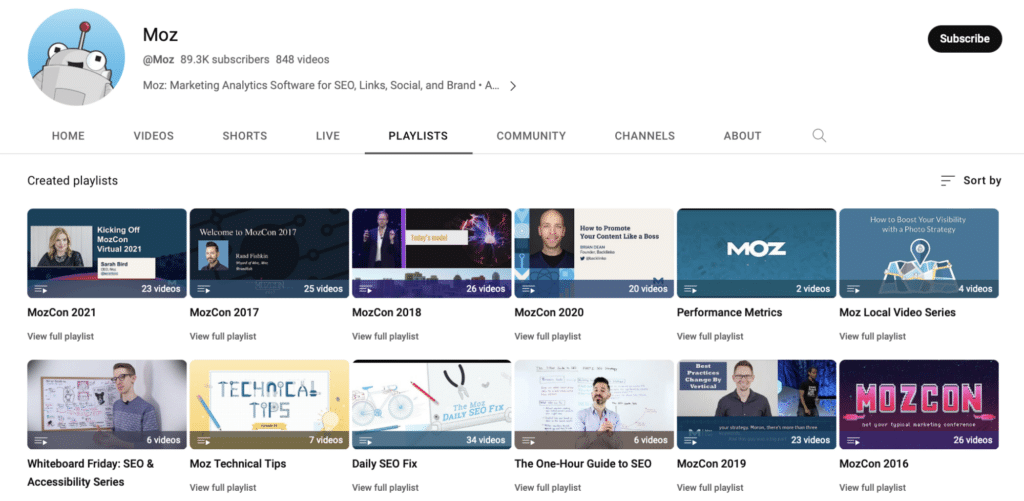 If nothing else, consider subscribing to their Whiteboard Friday playlist; every Friday, they have SEO-focused videos that are always worth watching.
24. Ahrefs' YouTube Channel
Ahref's YouTube channel is all about publishing videos that will help you grow your online traffic through search. Since they're a top keyword research and search monitoring tool, it's no surprise that the content is top-notch, too.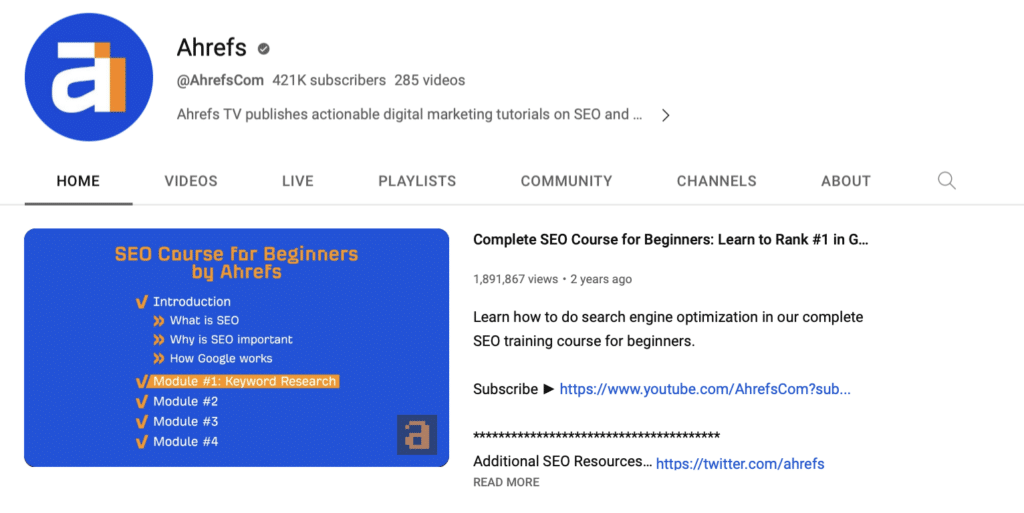 Whether you need to learn the basics (like "What is SEO") or you're ready to tackle more complex topics (like planning the home page of an affiliate marketing site), this is one channel that everyone can benefit from subscribing to. 
Best Marketing Resources: Final Thoughts
If you're looking to step up your marketing game or fine-tune any skills as we move into the new year, any of these 24 digital marketing resources can help you get there. Think about what skills you most want to improve, and choose the appropriate specialized resources.
Ready to hear the hottest takes in marketing today? Take a look at our Hot Takes Live here– we promise they're spice!