Why MUST you follow these 8 account-based marketing best practices?
Here is why.
The world of marketing is constantly evolving, and B2B buyer behavior has changed drastically.
Besides, the modern buyer wants a more personalized digital experience.
What does this mean for B2B marketers?
First, you need to use Breadcrumbs to identify the right target accounts through effective lead scoring.
Then, leverage marketing strategies that help you personalize marketing touchpoints to important contacts in these target accounts. It'll accelerate sales cycles and drive higher ROI for your business.
Statistics are clear—according to the latest state of personalization survey report by Twilio Segment, 62% of buyers say brands will lose their loyalty if they do not deliver personalized experiences.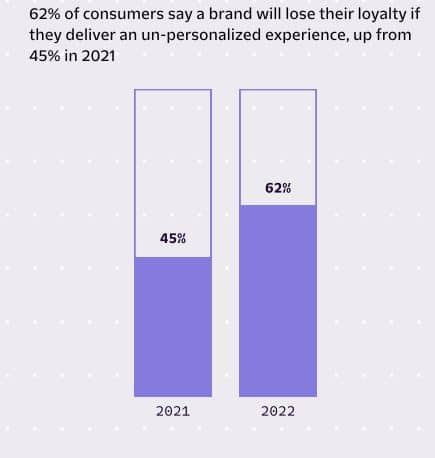 Due to its increased popularity in the B2B world, account-based marketing is ranked among the top marketing and sales strategies by 33% of marketers.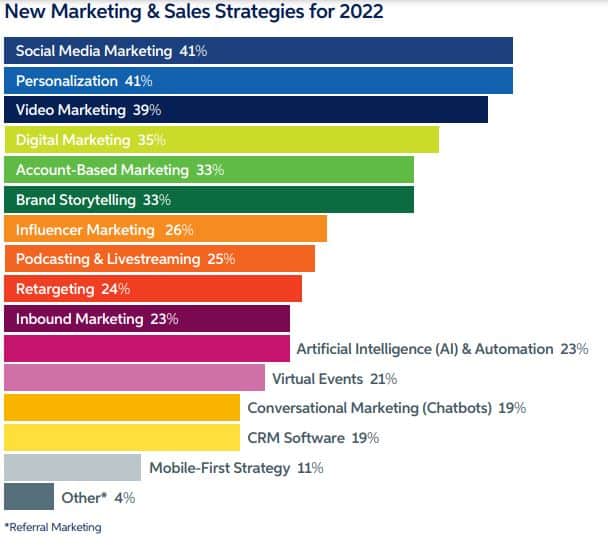 So, how do you run effective account-based marketing campaigns that can help you attract and nurture lasting relationships with your target customers while staying on top of the competition?
You need to follow these top account-based marketing best practices.
1. Invest More Time in Research
To be successful in account-based marketing, you need to effect extremely personalized campaigns.
However, before you invest time and resources in launching these campaigns, your sales and marketing teams must identify the right high-value accounts and key decision-makers.
According to a 2022 Demand Gen B2B Buyer Behavior Survey report, 68% of B2B buyers say they will choose a vendor that demonstrates a stronger knowledge of their company and its needs.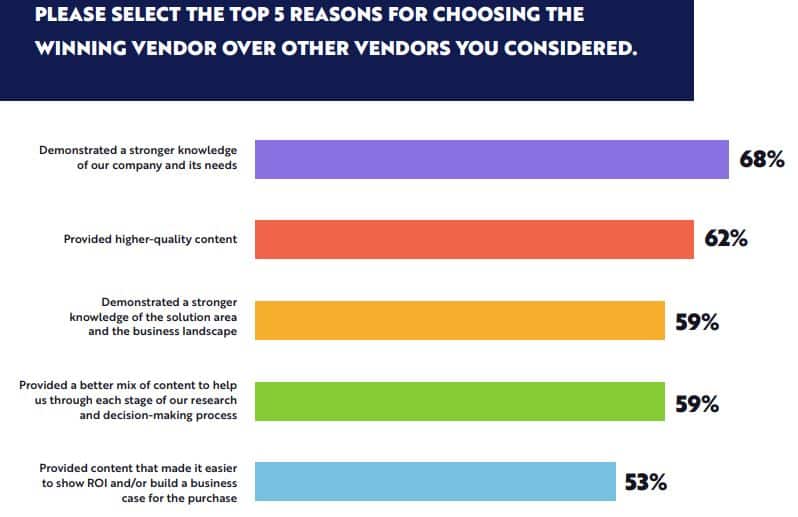 The good news about account-based marketing is that you already know that your prospective buyer is within your ideal customer profile. This is unlike other inbound marketing techniques that require sales teams to qualify incoming leads that may not always be a great fit for your solution.
Unlike traditional marketing, account-based marketing reverses the funnel and identifies your target accounts first.
Here is a depiction of traditional marketing vs. account-based marketing.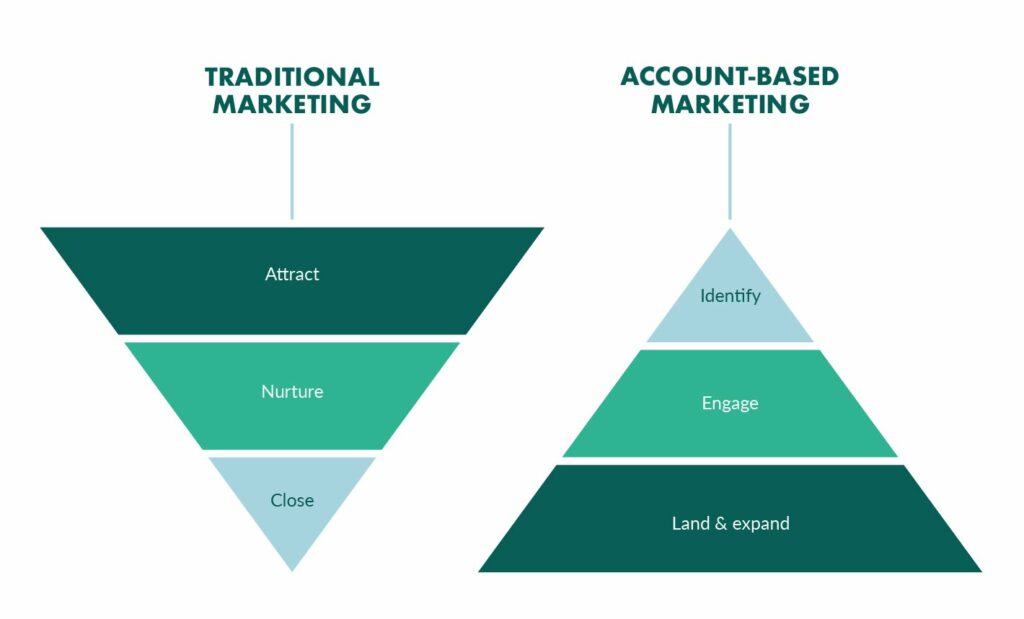 Conducting thorough research enables you to identify companies you want to target, which positions you as their right partner.
This also ensures that you're targeting the right customers for your product or service.
Moreover, conducting B2B market research can help you:
Uncover market opportunities and threats
Understand what sets you apart from the competition
Identify and learn about competitors
Understand your target companies and the market size
Uncover trends
In your research, you can leverage previous data.
Scrutinize your current portfolio for top companies and uncover essential demographics and behavioral commonalities with these companies.
Pro tip: You can leverage LinkedIn Sales Navigator to identify your target companies. The tool enables you to search connections employees at your company have with accounts related to your target companies.
2. Set Your Account-Based Marketing Campaign Goals
Establishing goals for your ABM campaign is a vital step when planning your marketing campaigns.
Why?
Goals in marketing give your sales and marketing department and company a clear direction, purpose, and vision.
Besides, launching your campaigns without a clear understanding of what you want to achieve is a recipe for wasting time and resources.
Additionally, defining goals will help you determine what metrics to measure to track performance.
Here are some important goals and objectives for an account-based marketing campaign:
Build brand awareness. This goal involves getting your brand (product or service) and value proposition known to your potential businesses.
Quality account generation. This goal focuses on finding and engaging with potential companies that are interested in your product or service.
Improve customer retention. This goal focuses on strengthening relationships and encouraging your current customers to become repeat buyers.
Increase sales and expand revenue within accounts. The most important goal of account-based marketing campaigns is to sell more products or services to customers/acquire new customers to increase revenue.
Even though ABM campaign goals vary widely, it's important to make sure your goals are specific, measurable, attainable, relevant, and time-bound (S.M.A.R.T).
For instance, instead of setting a goal to increase sales, you need to get more specific and indicate the number of sales you want to generate within a given period.
This will make it easier for you to track your campaign progress and determine whether you're running a successful campaign.
You also need to prioritize your goals and objectives.
3. Enhance Coordination Between Your Sales and Marketing Teams
If your sales and marketing teams aren't aligned on messaging and your goals, you risk losing a lot of time and resources on unsuccessful campaigns.
In fact, lack of coordination between your sales and marketing departments can make your target companies get annoyed.
Account-based marketing is a coordinated and personalized strategy that requires teams to be aligned on messaging to convince companies to buy your product or service.
This will help to create a holistic and tailored experience for your target accounts.
As part of account-based marketing strategies, internal documentation plays a critical role in ensuring alignment and coordination. By documenting and sharing key messaging, goals, and strategies, organizations can foster a unified approach that maximizes the effectiveness of their campaigns.
Remember that aligning your sales and marketing departments doesn't mean delivering the same message.
An example of a situation where keeping your teams aligned is important is when a company wants to try a product and then reaches out to sales through a live chat.
In such a case, your sales and marketing teams should track the interactions in tandem to know where the lead is in the buying journey.
4. Leverage Data to Make Decisions About High-Value Accounts
The good news about account-based marketing is that it allows you to focus your marketing efforts on your best customers.
These involve targeting high-value accounts of people within your target company who are the key decision-makers.
For instance, if you are a B2B SaaS that offers subscription plans, your high-value accounts could be the long-standing subscribers that you're encouraging to upgrade or purchase other products or services you offer.
To uncover your high-value accounts, you need to leverage data.
In this case, you need to look at the data you gathered during the research stage in step #1 above.
Leveraging data can help you uncover trends that match your ICP.
For instance, your high-value customers could come from a particular industry, and the decision-makers could be the CEO or the CRO. Here is an ideal customer profile example by Cognism.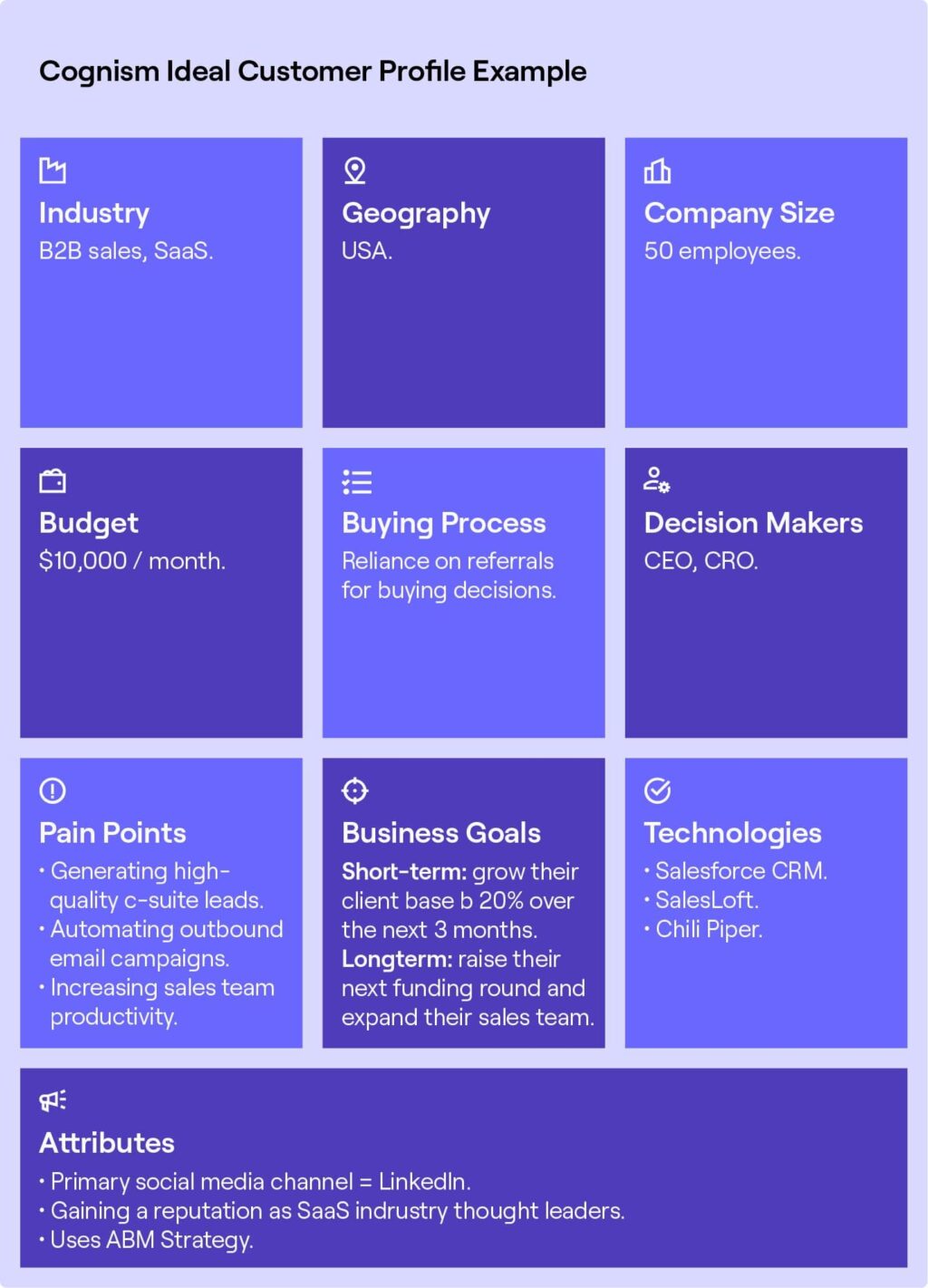 You can also use the data to check your target companies' competitors.
After gathering these insights, create a list of target accounts and find out more about them, including their decision-makers.
To identify key accounts for your account-based marketing campaigns, you can use free CRM and sales tools from HubSpot.
5. Identify The Right ABM Marketing Channels
According to Gartner, the modern buyer spends 27% of their time researching independently online before making a buying decision.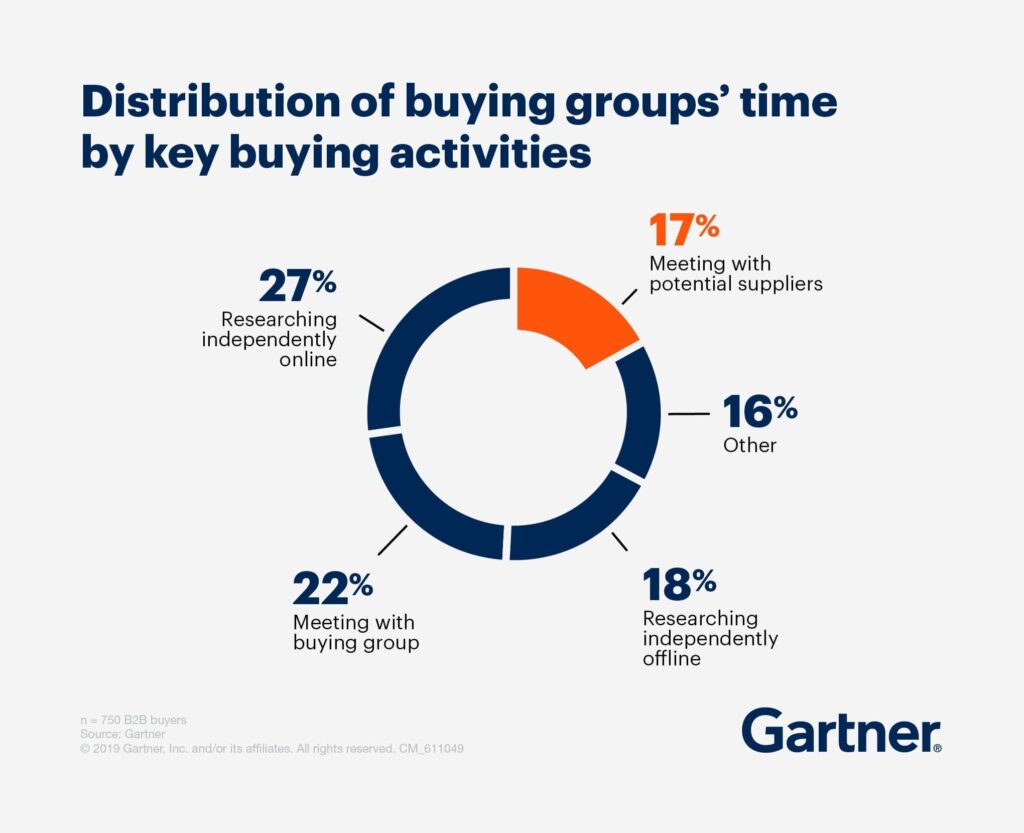 That's why content marketing is still king when it comes to promoting your B2B business.
In fact, 40% of B2B marketers have a documented content strategy.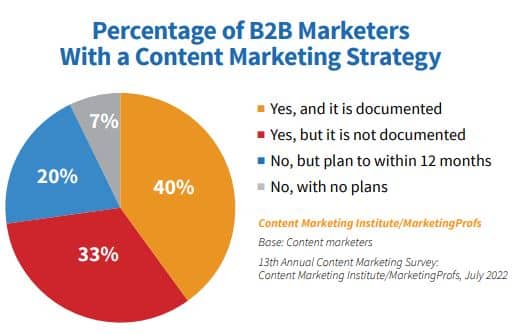 But here is what you need to know.
Content distribution channels for B2B brands differ from those of B2C brands.
Once you identify your target accounts, you need to create specific campaigns with customized messaging delivered through the appropriate channels.
According to a McKinsey & Company report, B2B decision makers are using ten or more channels during their decision journeys.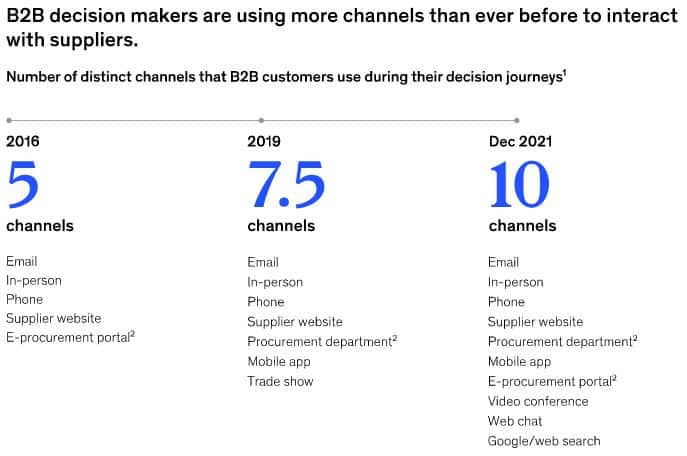 Identifying the right marketing channels for your B2B customers prevents you from wasting time and resources creating content and distributing it on channels they don't visit.
According to the Sagefrog Marketing Group survey report mentioned above, LinkedIn is the most used social media channel by 85% of marketers, followed by Facebook (71%) and Twitter (61%).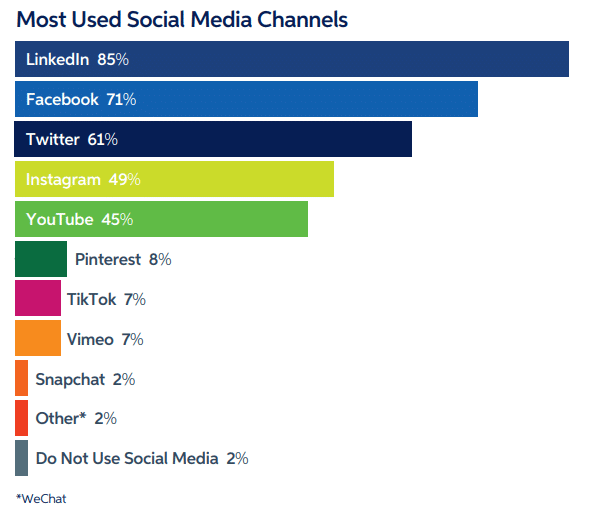 Other account-based marketing channels you need to consider include email marketing, direct mail, paid ads, conferences, events, etc.
Pro tip: To keep track of your email open rates, locations, click-through rates, and other metrics, use email tracking software. Here is a valuable guide by Attrock on the best software options in the market today.
For your content marketing, you need to leverage blog posts.
An example of a B2B brand using blog posts is HubSpot.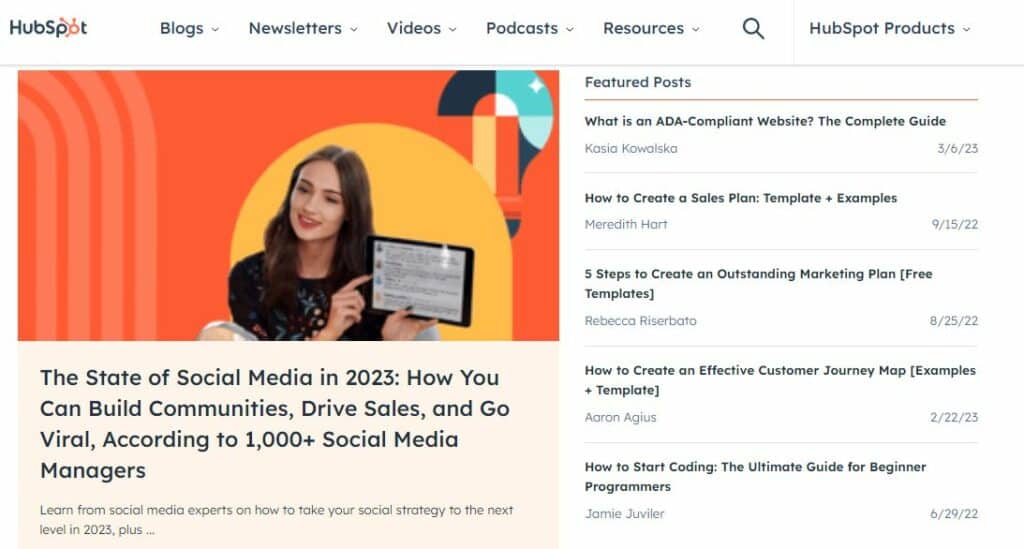 Other content formats include original research studies, webinars, podcasts, eBooks, and more. BigCommerce is a B2B brand that has mastered the art of using webinars.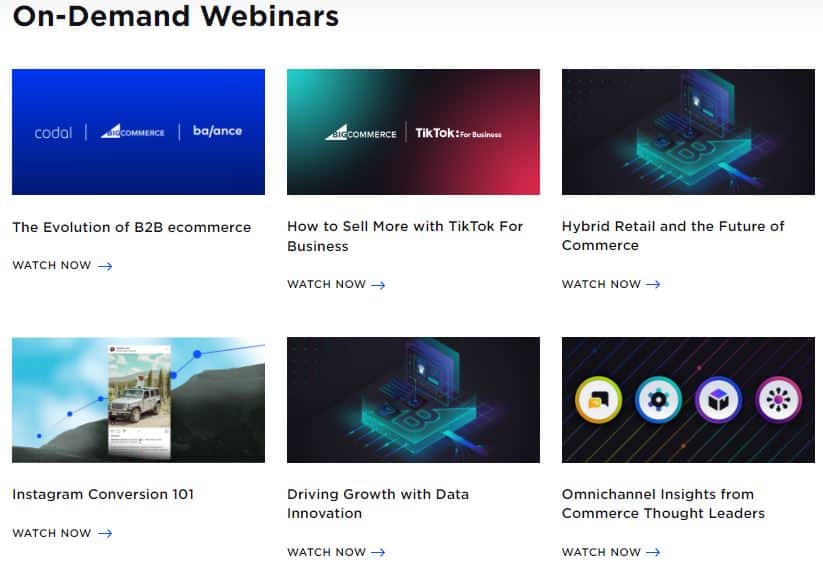 Qualtrics is renowned for constantly publishing amazing eBooks.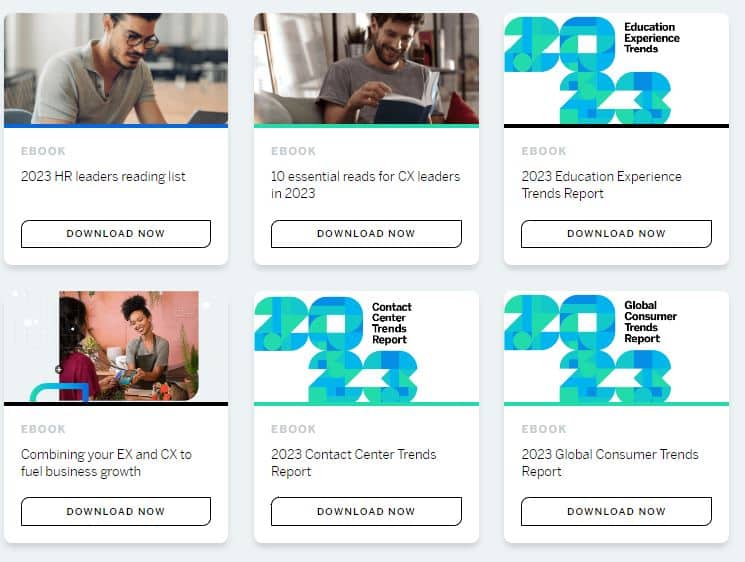 6. Create a Personalized Customer Journey
Since you know your ideal client profile, the next thing is to deliver personalized customer experiences throughout their buying journeys. And using good customer service software could set you ahead of the competition.
As mentioned above, today's buyers want their digital experience to be more customized than ever.
What does this mean?
When your ideal client lands on your site, they should feel that every element, from the homepage to the content, is tailored to them.
Your copy should speak to them to encourage them to convert. Provide them with as many resources as they need to make the right decision.
Brandbassador, for instance, includes a detailed white paper inside an article about ambassador marketing trends. The white paper features 15 high-performing ambassador marketing tactics.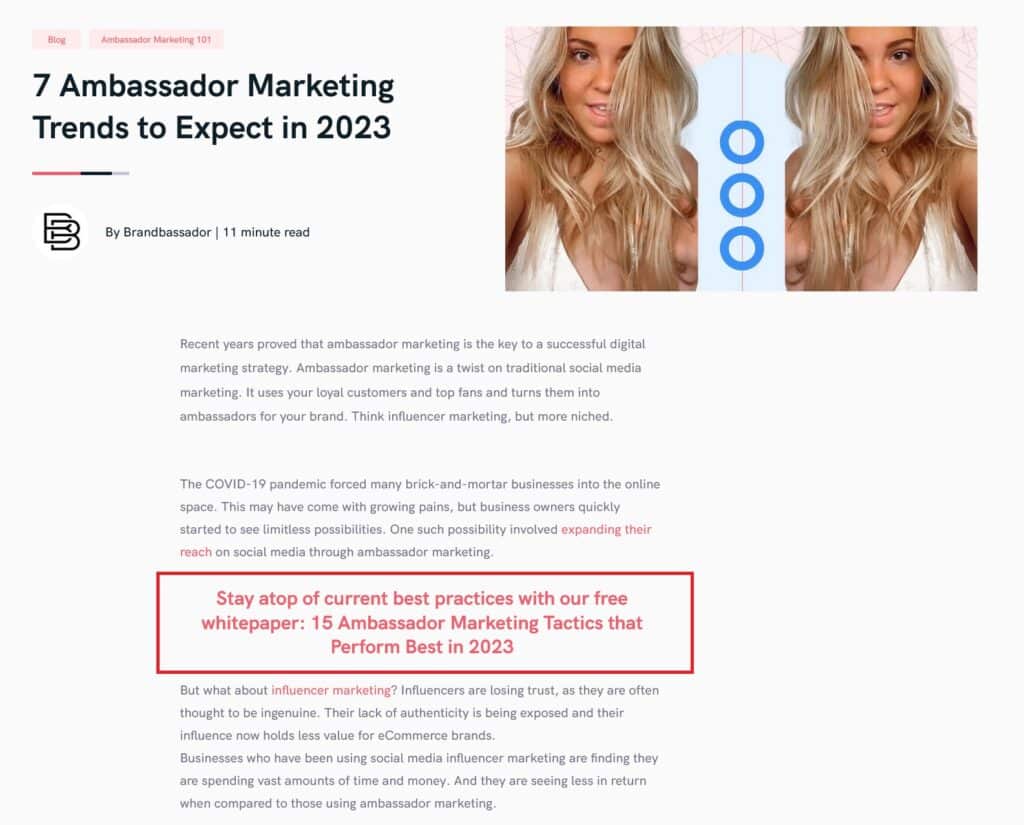 For website visitors that aren't ready to take action, you can target them with a popup that appears the moment when they want to leave or as they scroll down your content.
The popup could ask them to download an eBook, case study, or whitepaper.
This is where account-based marketing becomes interesting because you need to point the visitor to a product page or blog post with additional information within the downloadable eBook.
You can also enhance your account-based marketing efforts with chatbots.
Chatbots are transforming account-based marketing, converting your target account from browser to actual buyer through personalized experiences.
A survey conducted by Botco.ai on B2B marketers who use chatbots showed that 99% experience a higher lead-to-customer conversion rate. Out of this:
56% have experienced an increase of about 10% in their lead-to-customer conversion rate
17% have seen an increase of over 20%
14% have experienced an increase of at least 30%
Incorporating chatbots in your strategy enables you to promptly answer common questions your target accounts may have as they explore your website or product pages.
7. Deliver Consistent Buyer Experiences
To run a successful account-based marketing strategy, you need to ensure your target accounts feel like your product or service is created for them.
To achieve this, you need to deliver consistent buyer experiences throughout their buying journeys by ensuring your content follows the same tone and delivers the same messaging throughout all your distribution channels.
For instance, it can be annoying for your target businesses to find the tone and messaging in your email and social media accounts are completely different.
This is why you need to align your sales and marketing teams.
8. Track Metrics and Analyze Your ABM Results
Account-based marketing is so effective that in a recent study, 72% of marketers say it delivers higher ROI than other types of marketing, and 77% have reported increased revenue growth.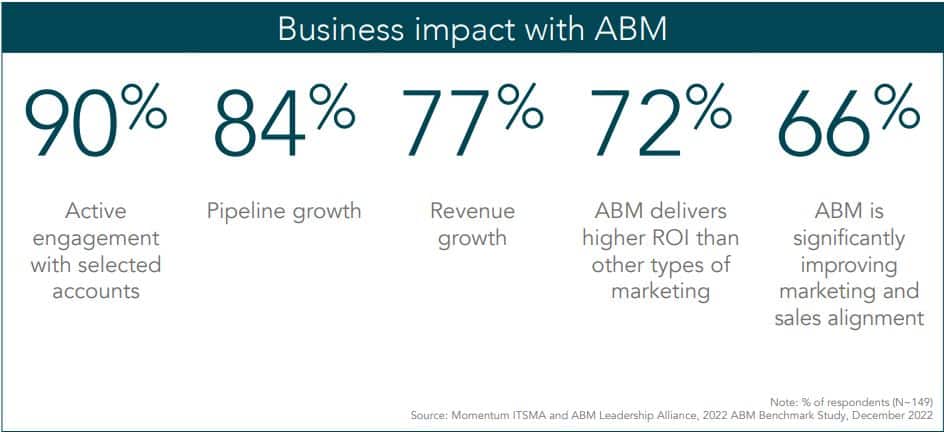 But how do you know whether your strategy is moving the needle?
This is where tracking and analyzing your ABM metrics becomes useful.
Tracking metrics and analyzing results are often overlooked when it comes to account-based marketing.
However, like all other marketing activities, ABM requires constant monitoring iterations.
Why?
Because launching your account-based marketing campaigns can be a trial-and-error task, but when you closely monitor and analyze your campaign results, you can know whether your marketing efforts are generating results or not.
You get to identify weaknesses in your marketing strategies, such as failing to properly target your accounts.
Sadly, many B2B marketers still struggle with determining whether their efforts are paying off, and this is because they don't establish the right metrics and benchmarks before launching a campaign.
Tracking your results helps you to know what's working and what's not working so that you can adjust or improve accordingly.
The big question is—What should you track and analyze? Here are a few key metrics to track the success of your account-based marketing strategy:
Total addressable market
Customer lifetime value
Churn rate
Ideal customer profile
Accounts in-market
Lead conversion rate
The customer retention and acquisition cost
Cost per lead
Expected monthly recurring revenue and ROI
Implement These Account-Based Marketing Best Practices Today
No doubt, account-based marketing is an effective strategy for B2B companies.
When done well, account-based marketing can strengthen relationships with prospective companies, improve engagement, and deliver higher ROI for your business.
Follow these account-based marketing best practices and leverage the right tools to generate great results from your campaigns:
Invest more time in research
Set your account-based marketing campaign goals
Enhance coordination between your sales and marketing teams
Leverage data to make decisions about high-value accounts
Identify the right account-based marketing channels
Create a personalized customer journey
Deliver consistent buyer experiences
Track metrics and analyze your account-based marketing results