6am: You wake up on a nice Friday morning and lazily scroll through your phone. Within minutes, you realize a new social media is making headlines, and the one you frequent has undergone a massive algorithm change.
9am: You enter the office, and there's buzz and excitement roaming around—your freelancers, bosses, peers, clients, etc., are all talking about the morning news.
3pm: A well-known LinkedIn influencer has already launched their content strategy for the freshly launched application. You marvel at the speed at which the marketing world moves!
5pm: Time to wrap up the work day. You scroll through Twitter (quick note—it's been rebranded), and everyone posts their opinions on the rise of generative AI and the launch of the aforementioned social media app.
Sound familiar?
The marketing world is one of the few in which you can expect so many changes in one day.
But it's essential to attack the marketing wheel despite the challenges. So, let's explore how to manage the future of marketing (specifically B2B SaaS marketing) while staying informed on emerging trends and advanced strategies.
B2B SaaS Strategy #1. Strategically use technology to cut down on time
The truth of the matter is the use of technology is dictating the way we conduct business. This means that instead of putting all our time and effort behind legacy tools and manual work, we'll need to hand over some parts of our business to technology.
While many businesses advocate for the use of collaboration software and other productivity tools, our recommendation would be to figure out what works for you and your business.
Some of the note-worthy uses of technology in B2B SaaS marketing you can consider are:
Lead scoring models
Lead scoring helps you understand which leads are convert-ready and where to invest your time and effort. It'll also provide you with more insights into how your B2B marketing channels work and what their individual conversion rates are.
The best part? With Breadcumbs Copilot, you can create a lead scoring model in three clicks.
And it's through this model that you might eventually realize that Buyer Persona C isn't ready to convert after ten email marketing touchpoints. Or that marketing emails aren't the preferred method of communication for your ideal customer.
Eventually, this will save you a lot of money on lead acquisition costs and help you improve your lead-scoring process.
Tools for content creation and scheduling
Don't shy away from using other tools to help you work smarter, not harder.
From free social media management tools to social media moderation software, arm yourself with the right tech stack to leapfrog the competition.
And if you need help on the creative front, there are plenty of free tools like Venngage or content rewriter tools with ready-made templates (such as emails, content calendars, infographics, contracts, proposals, etc.).
B2B SaaS Strategy #2. Build the personal brand of your employees
Building the personal brand of your employees has plenty of benefits, such as:
Bringing awareness to your product features.
Strengthening the credibility of your brand.
Creating clear advocates for your brand.
Leveraging their goodwill and network.
Increasing your market reach.
There's really no reason why you shouldn't build the personal brand of your employees, so here are a few tricks and tips on how to‌ create their brand:
Consider putting them at the forefront of your B2B marketing material. For example, you can reply to source requests with their insights (e.g., Mailmodo does this regularly). Use their faces in company videos (e.g., PandaDoc with Travis Tyler) or send newsletters under their name (e.g., Animalz sends newsletters under the names of its employees).
Encourage them to share their thoughts on social media channels. You can get their insights and ask ghostwriters or social media virtual assistants to write content or manage social media channels on their behalf.
Invest in personal branding courses (Erica and Kasey have an excellent resource called Power Your Platform).
Have a distinctive design/logo that immediately makes people think of your employees and your brand when they see it. For example, Triple Whale employees use the whale emoji 🐳 next to their social media names.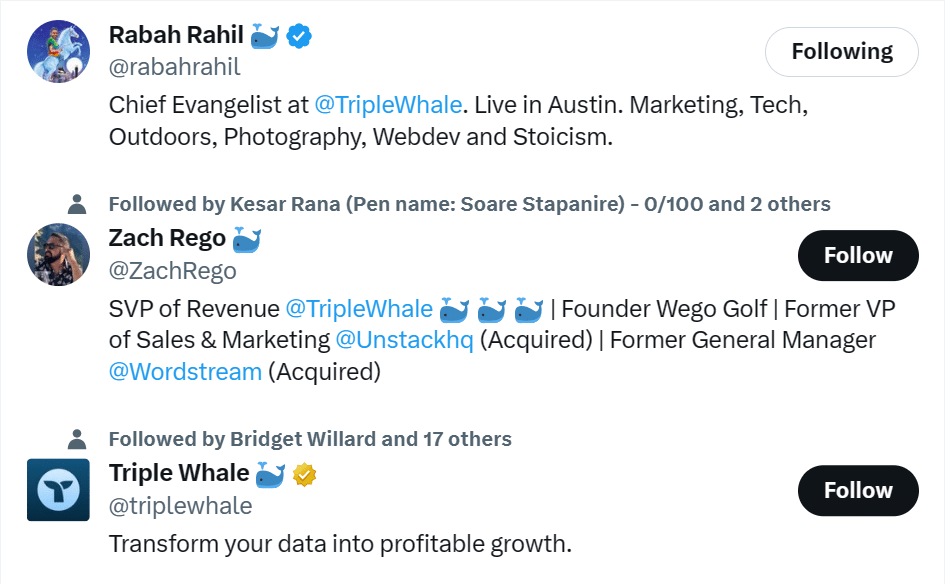 It that's simple. And it works wonders as a successful B2B marketing campaign. And you're already paying your employees, so you don't need a marketing budget (or marketing plan) to back this tactic to fill your sales funnel.
Use your happy employees to build loyal customers. Think of it as a form of social proof.
B2B SaaS Strategy #3. Focus on the best storytelling frameworks
With the rise of generative AI like ChatGPT and Jasper, content will eventually start to look pretty similar as brands begin to employ these "quick win" tools.
More importantly, your content marketing strategy won't have a distinctive voice or unique storytelling elements. That's why it's now the best opportunity to stand out from your peers solely through quality content creation and inbound marketing best practices.
On a side note, this might also be a great time to consider investing in thought leadership marketing or encouraging your employees to write thought leadership content.
So, how to tell a good story, you might ask? Well, here are a few frameworks to consider.
Pixar's storytelling framework
There's a method to the madness in Pixar's storytelling. It basically takes the viewer through an entire journey, covering their pain points, risks, and challenges.
And once that's done, it uniquely launches its own offer by promising an ideal life to anyone who partakes in it (see: "And ever since that day"). However, the offer has to be unignorable enough that the viewer can't help but want to become a part of it.
In the film world, Pixar's business model and storytelling technique are so popular that Dreamworks once tried to make fun of it through Shrek's opening monologue. If interested, you can learn more about Pixar's storytelling technique here.
Animalz's storytelling framework
Animalz is a content marketing agency specializing in creating quality content. What is the framework that worked well for this agency? The thesis, antithesis, and synthesis method.
If you were to use this method in a paragraph, here's what it'd look like:
Multiple writers have attested to the fact that this framework doesn't fail to get compliments from clients. So, if you're interested in learning more about it, take a peek at this guide to persuasive writing.
Storytelling is great. But don't forget to weave in the tried and true search engine optimization best practices.
Mix and match of charges
Robert McKee was one of the first to introduce the idea of writing with different charges in his book, Story. But Tommy Walker has recently been talking about it as well (and providing multiple examples along the way, too!).
Here's the gist of the idea: your writing must shift between positive, negative, and neutral charges.
For reference, here's an example he shared:
B2B SaaS Strategy #4. Tap into the benefits of video marketing
With the rise of Instagram Reels, YouTube shorts, TikToks, and over-the-top (OTT) platforms, more and more people are accustomed to the idea of consuming content through videos (especially in a post-pandemic world).
And this type of content consumption works well for brands, too. More than 96% of respondents in a Wyzowl study agreed to have watched product videos. Out of them, 89% bought a product/service after watching the video. Yes, your sales team will thank you.
And 92% of marketing teams also agree that videos have given them a good return on investment.
So, right now might be the right time to consider investing in (good) video marketing to engage your potential customers based on their post-Covid behaviors and content preferences. It's a proven tactic to reduce friction in the sales cycle by meeting the current demands of your target market.
Plus, as a SaaS B2B brand, you need all the help you can get to boost your social media marketing engagement rates. Let's face it. B2C does notoriously well on social media. So, let's change that narrative for software products alike.
B2B SaaS Strategy #5. Employ the help of influencers
While we're on the topic of recent digital marketing trends, we've also seen a drastic increase in the size (and power) of influencer marketing.
In the B2B SaaS world, it might not seem like a go-to marketing strategy, but influencers are assets to not only help you create content and reach out to your target audiences but also to identify new audiences, amplify your core values, and test launch your products.
What do we mean by this? Let's provide a few examples (both B2B and B2C) to reinstate our points:
Companies like Intellifluence adopt influencer marketing to test out different content formats. They also use influencers to test out pricing.
Nike regularly works with influencers who are known for their distinctive values to amplify the message that these are the values Nike believes in, too (consider Nike's partnership with Colin Kaepernick, where the message "Just Do It" was highlighted, even if it came at the cost of making sacrifices).
Influencers are also excellent at creating content in their own unique way. Using informal dialogue, you can have authentic conversations with customers so that they think of your brand positively.
A great way to identify influencers is to determine which people your target audiences look up to, link arms with people who share your core company values, and understand if their content style matches your brand.
You might also benefit from hanging out at places where your customers hang out to know which people are considered the influencers and thought leaders in your industry. You can explore Facebook groups, Reddit communities, and Slack communities.
Or go the traditional route (aka, through events and conferences) to hang out at the places your current customers are hanging out at.
Ride the waves of B2B SaaS marketing with Breadcrumbs
The future of B2B SaaS marketing is looking pretty exciting, with all sorts of advanced strategies and trends popping up. One of these is lead scoring–a super useful strategy that helps businesses focus on the most promising leads.
As businesses navigate the challenges and opportunities of B2B SaaS marketing, leveraging advanced tools like Breadcrumbs can make all the difference.
Want to see how it can transform your lead scoring and help your business grow? Book a demo with Breadcrumbs today and step into the future of B2B SaaS marketing.