With data restrictions and customer acquisition costs costing more at every minute, zero-party data is now in full swing.
Just what is zero-party data? How does it differ from first-party data? More importantly, where do you begin?
In this guide, we'll demystify what zero-party data is, why it matters, and how three companies approach their strategy in today's world of personalization.
What is Zero-Party Data?
Zero-party data, also known as customer-first data, refers to data that customers eagerly share about themselves through surveys, quizzes, pop-ups, and DMs on social media platforms.
Common examples of zero-party data include:
Interests and hobbies
Purchase intents
Communication preferences
Here's a snapshot from Breadcrumbs CPO Massimo Chieruzzi that details the core differences between zero-party data and first-party data: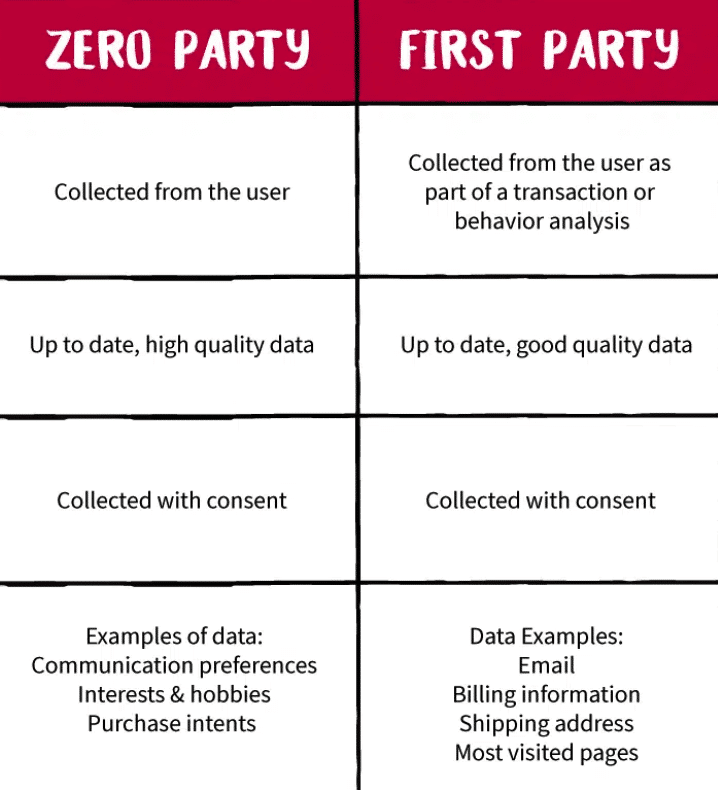 As you can see from the comparison table above, first-party data is collected as part of the behavioral analysis (e.g., prospect clicks pricing page, downloads a free ebook).
First-party data holds as much of equal weight as zero-party data.
While zero-party data offers insights that personalize your marketing efforts, first-party data segments your customers in the right buckets and predicts their future behavior.
But for all this to happen, you need to first have their email addresses.
The problem?
Since people change jobs on average 12 times in their lifetime, we can't be sure that their email addresses are accurate at all times. That's worrying, as dirty data causes high bounce rates, spam traps, and deliverability issues.
You need a tool like Breadcrumbs' free email verification to verify your email list's health score and ensure data hygiene across your customer database.
To get started:
Connect HubSpot
Select an email list with up to 10,000 contacts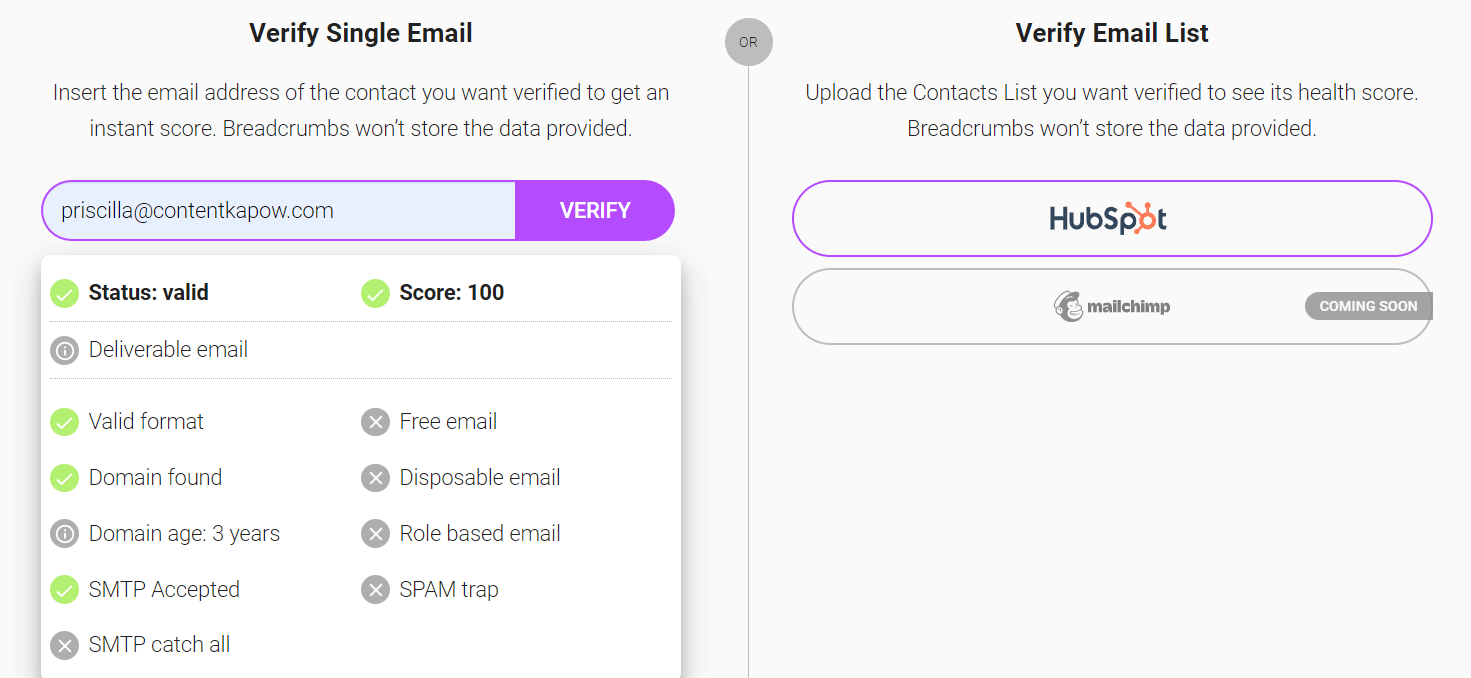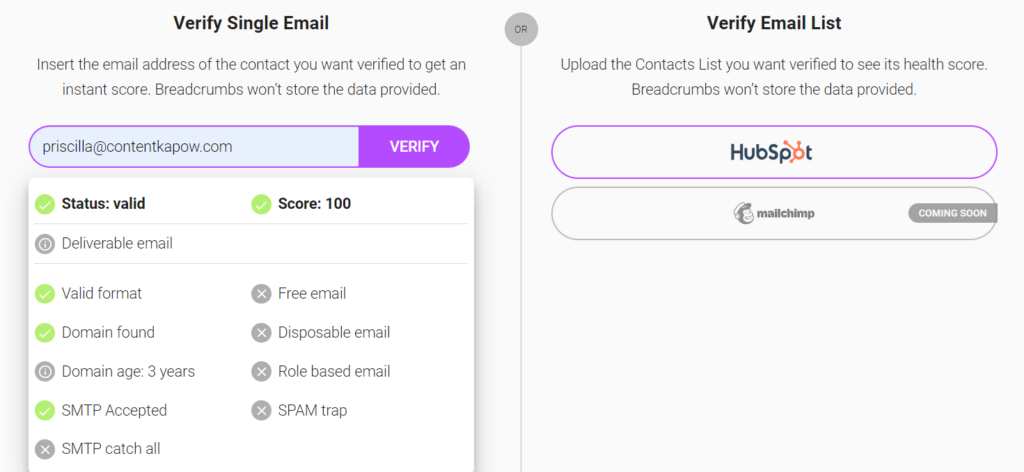 Run it to analyze your health score.
Data hygiene is the foundation of every marketing strategy. Analyze your email list's health and get started on your best foot today.
How 3 B2B Brands Collect Zero-Party Data
1. Octane AI
How it collects zero-party data: Quizzes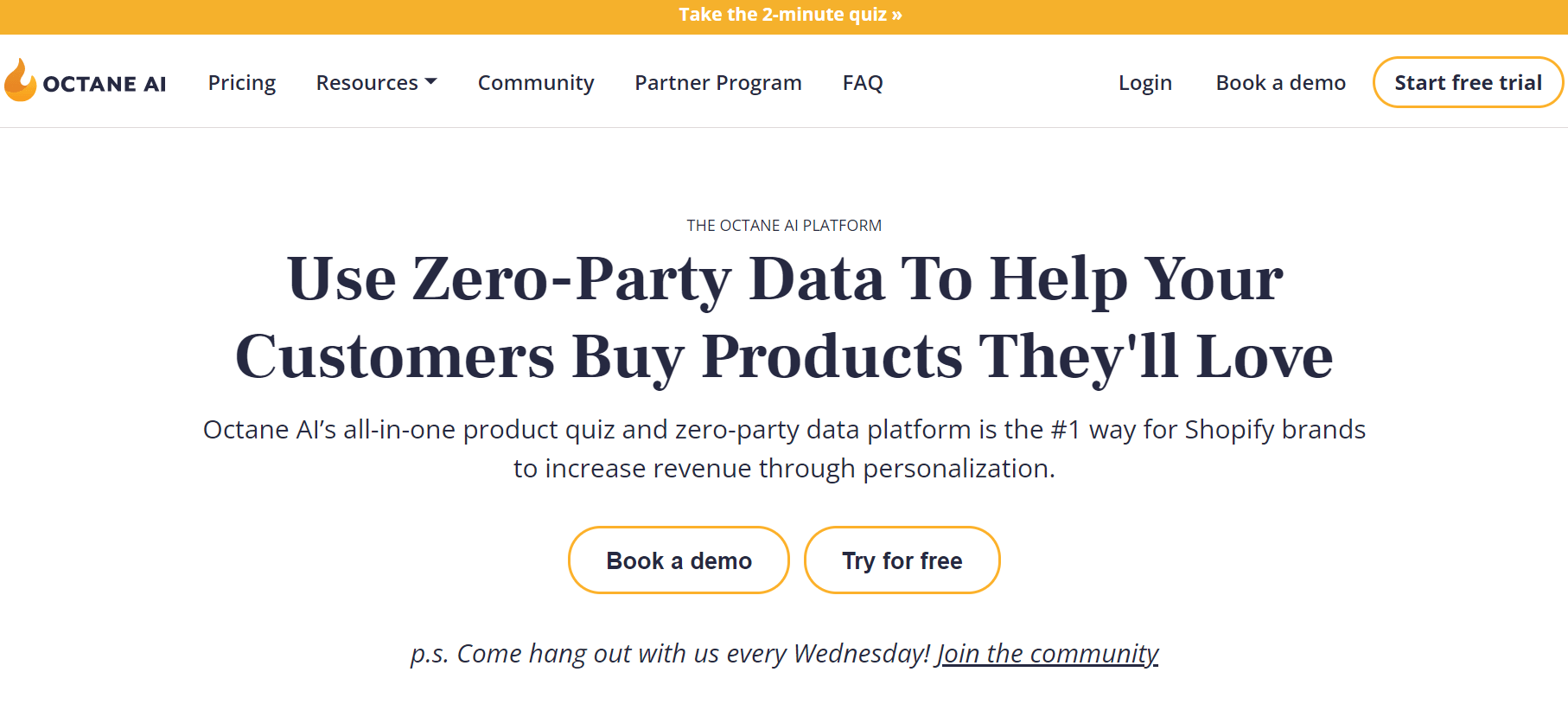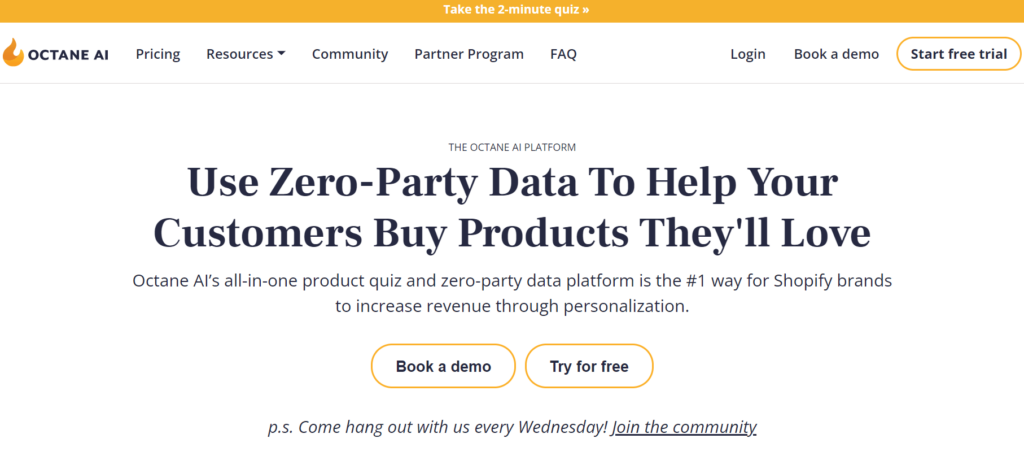 Octane AI is an all-in-one product quiz and zero-party data platform. It helps Shopify stores increase conversions through personalized quizzes and conversational pop-ups.
It would be silly of Octane AI not to use its product in its zero-party data marketing strategy since that's what it does. 😏
Let's look at how the startup approaches its strategy.
As you can see from the screenshot below, Octane AI draws eyes to a two-minute quiz with its signature yellow banner.
You can't miss it.


Once clicked, Octane AI prompts you to answer a series of questions, including the type of products you sell, the marketing and sales tools you use to message customers, the number of orders your Shopify store generates every month, and the average value of your orders. 
Octane AI then requests your email address and where you first heard about them.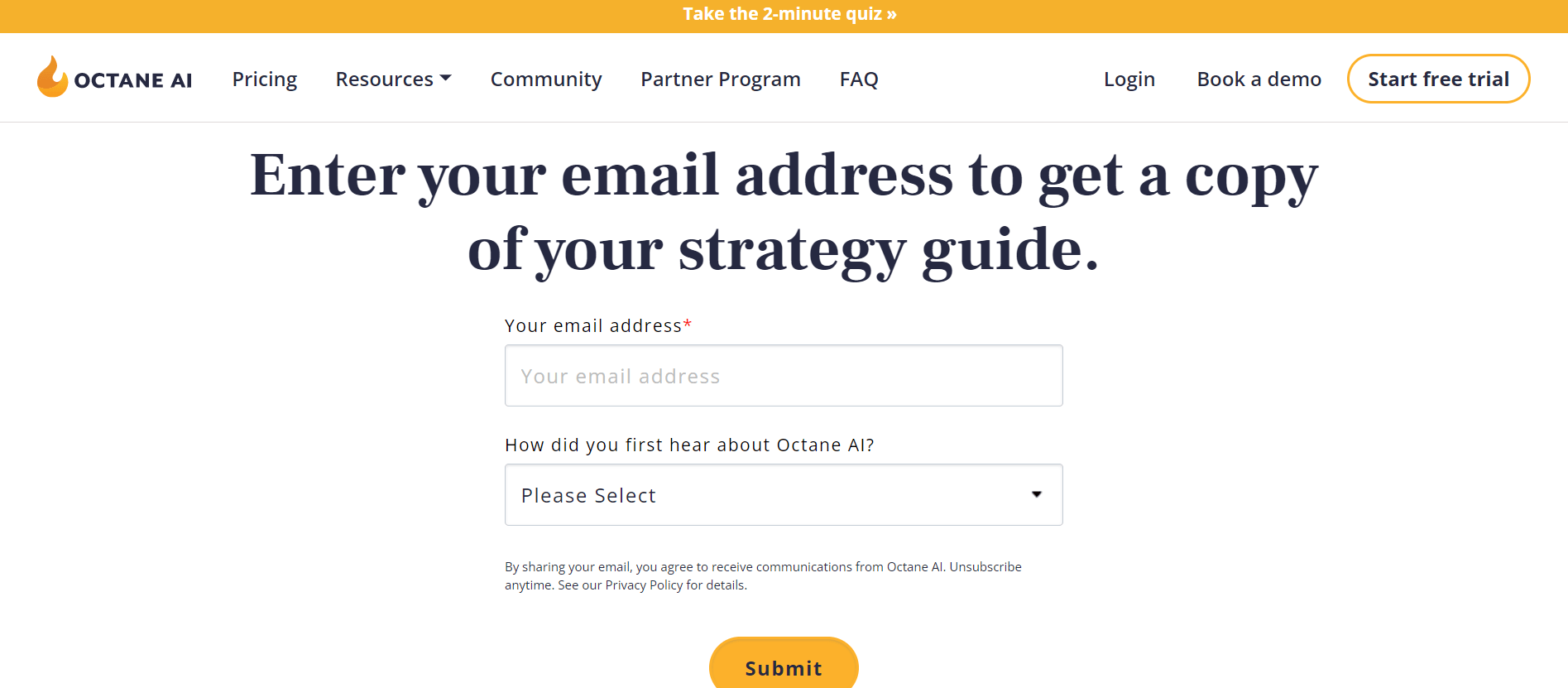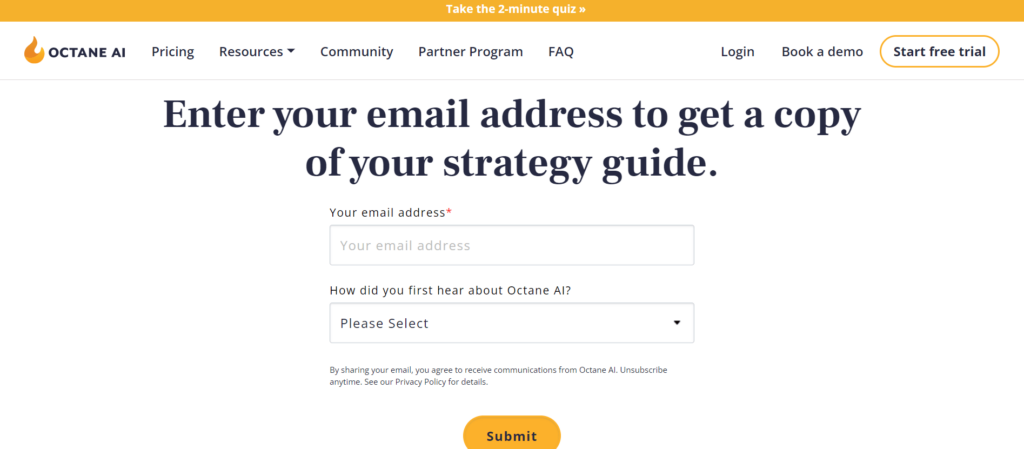 Why Octane AI's zero-party strategy stands out:
We're used to brands passive-aggressively pushing us to purchase (or book a consultation, at the very least) after completing a quiz.
And yet, that's not how Octane AI does it.
The startup offers a TON of value upfront upon quiz completion.
After selecting the beauty and cosmetics industry and inputting your average order value, here's what shows up.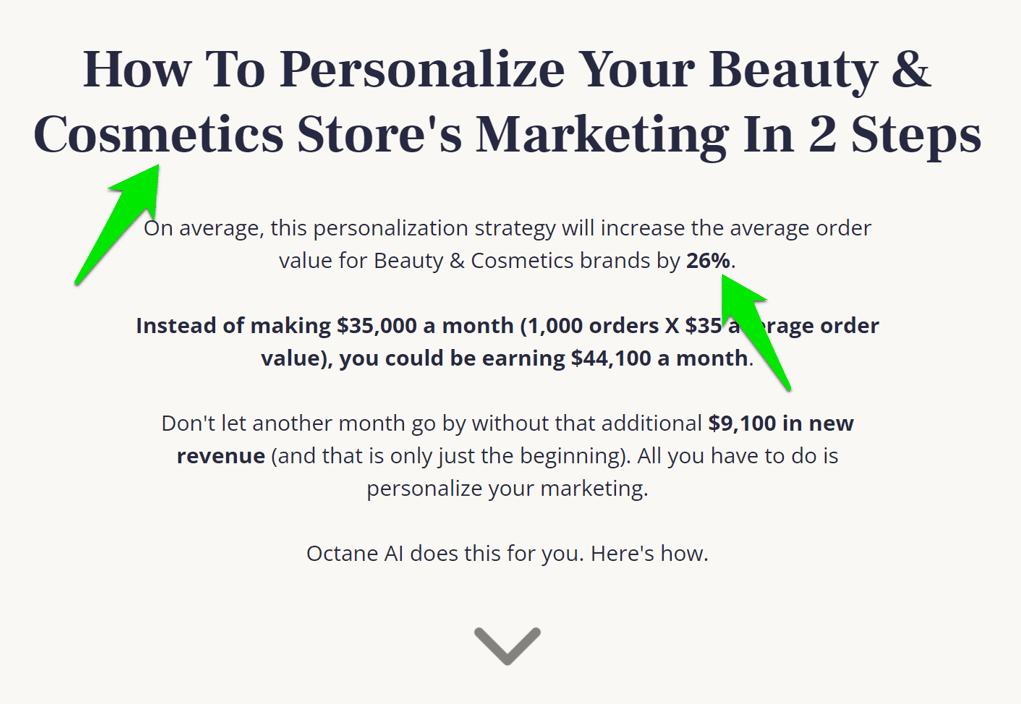 Octane AI then personalizes its tips based on the user's responses, positioning how its tool can help increase their store sales.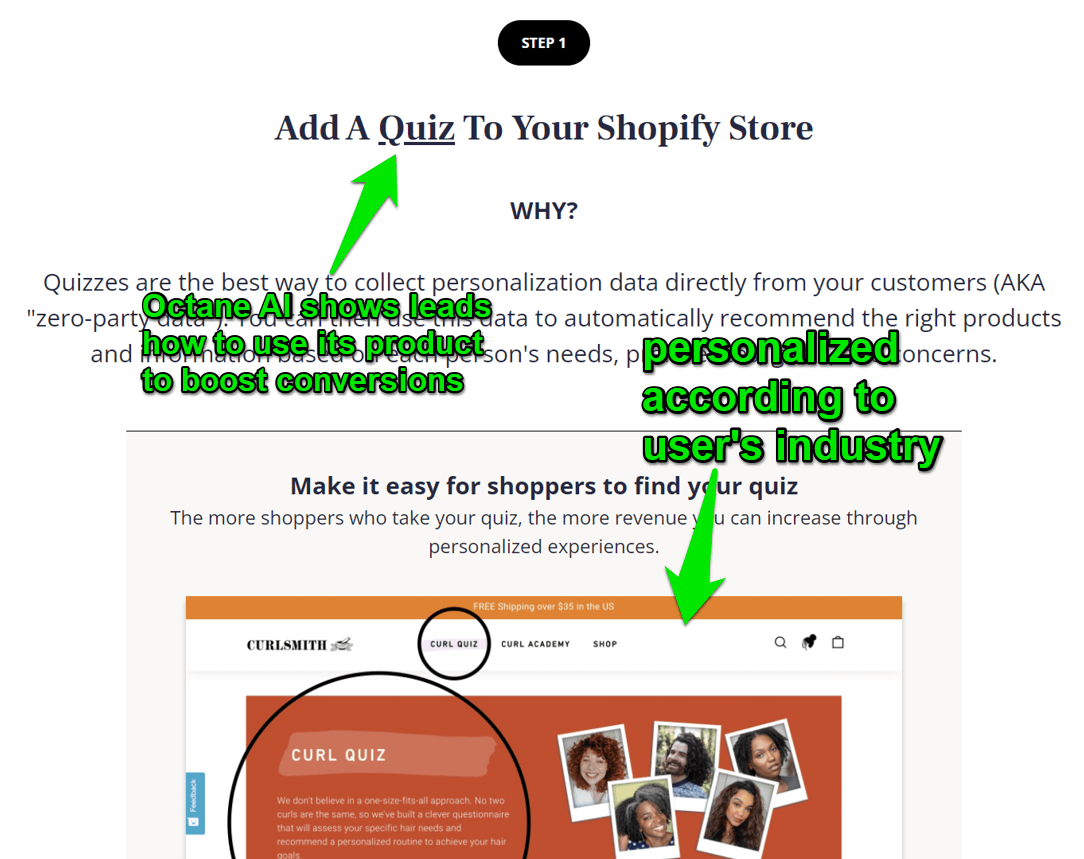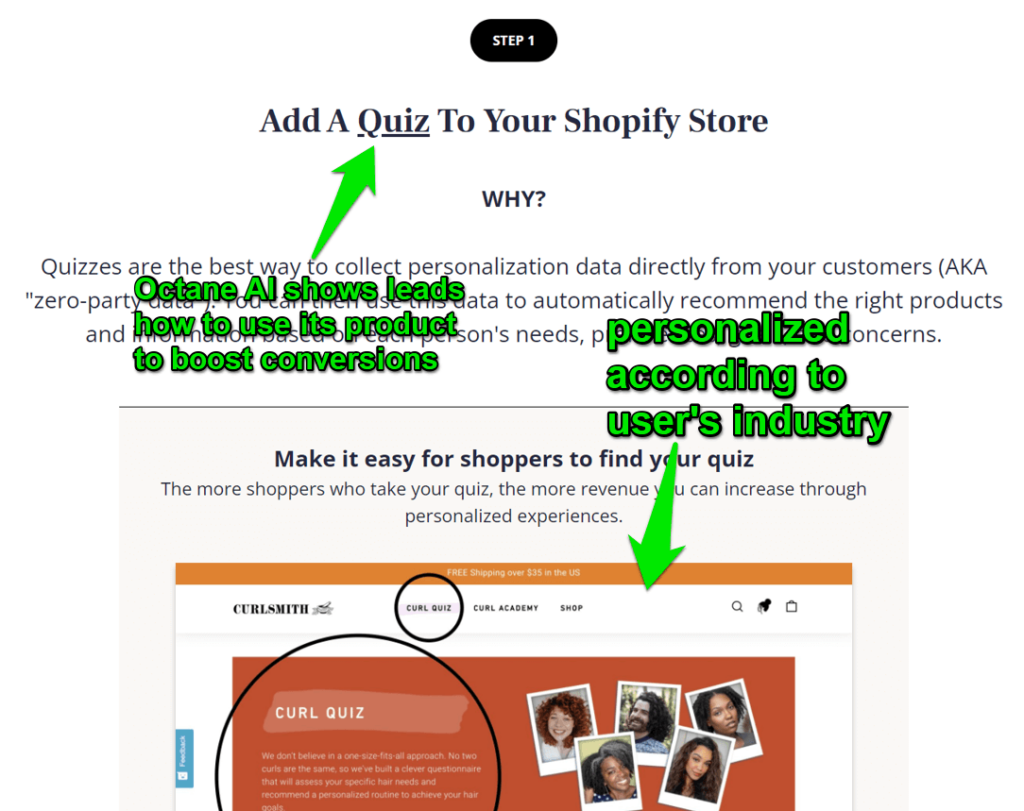 Octane AI segments its email and SMS campaigns based on these individual responses and syncs the newly collected zero-party data with its marketing platforms from the backend.
So, what's the secret to making this zero-party data strategy work?
You need to identify the real value you're offering.
In Octane AI's case, it's increasing conversions in a personalized marketing strategy via a zero-party data tool.
Elliott Brown, director of marketing at OnPay Online Payroll, believes it boils down to how you present your offer:
"Will prospects hand over their information for a free quote? Or would an expert assessment be more attractive? Or would exclusive research be more appealing than a white paper? When you offer something more valuable, it increases the likelihood of your audience taking action."
Pro Tip: Include social sharing buttons on your quiz results landing page.
Bryan Philips from In Motion Marketing explains, "Users who share their quiz results on social media provide your business with free exposure and more customer data."
2. Causal
How it collects zero-party data: Onboarding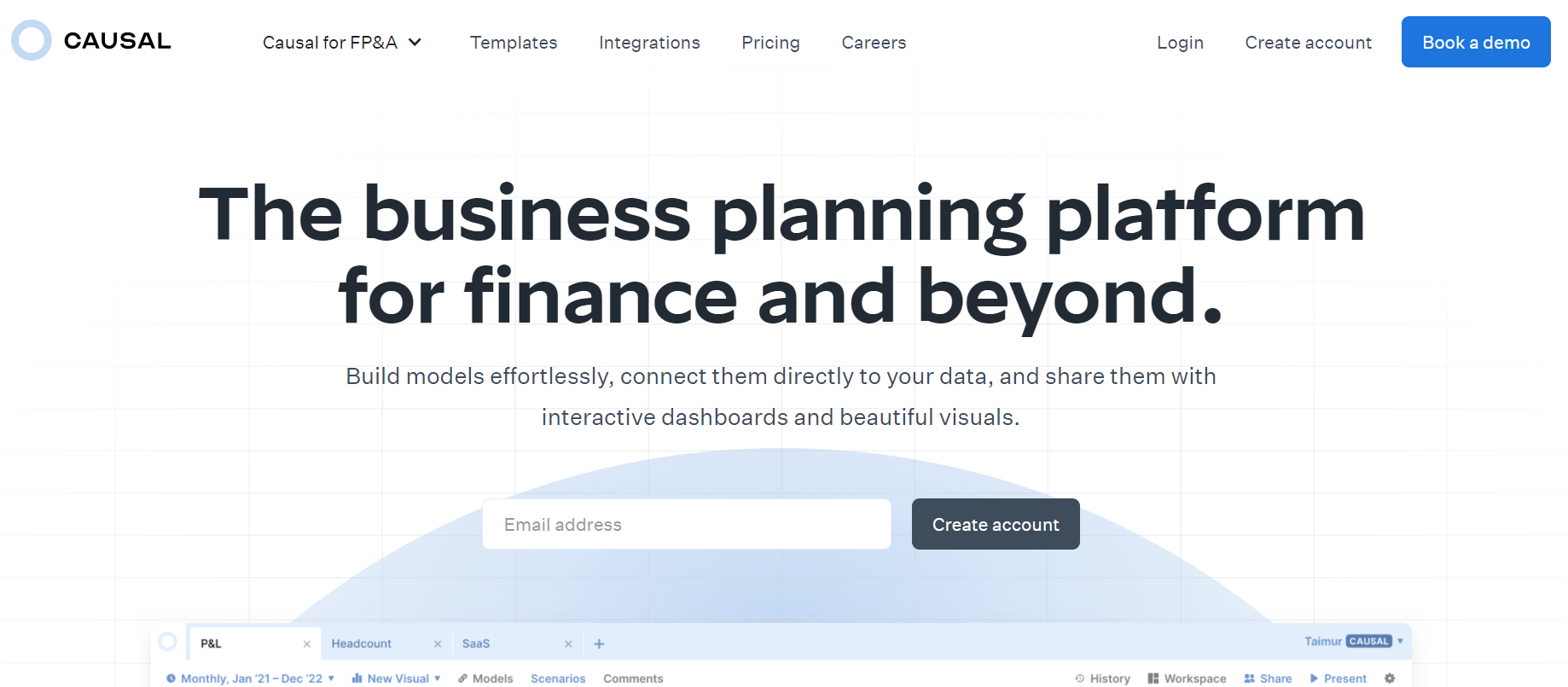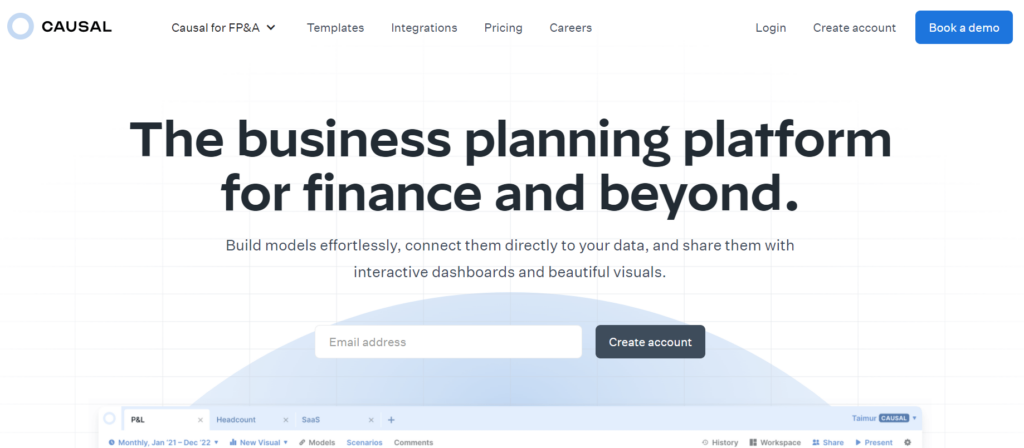 Causal is a business planning platform that builds financial models.
The startup, which operates on a freemium acquisition model, collects zero-party data during onboarding.
Note the three questions it asks before showing users the different templates available (for context: Causal offers personal finance, SaaS financials, engineering cloud spend, and performance marketing).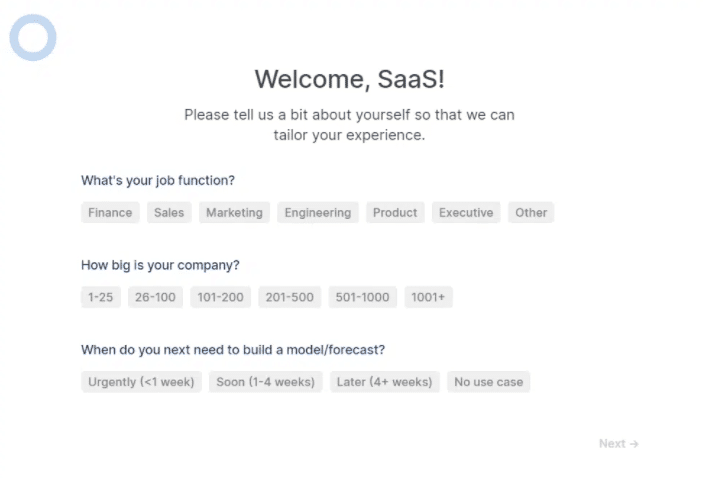 This brings to mind Notion's strategy, as previously shared in our product-led growth guide.
Both startups collect essential information about the user and use it to personalize their first experience.
Why Causal's zero-party data strategy stands out:
Easy.
By gathering this information upfront, Causal can segment users into the right groups and tailor their experience based on their unique functional role—which eventually increases activation.
Chris Gadek, VP of growth at AdQuick, vouches for this approach.
"When customers trust your brand enough to provide such meaningful data, you don't have to do a lot of analyzing or guesswork to figure out what the customer wants or their purchase intentions are," shares Chris.
"While you do have to keep privacy issues in mind, enabling and welcoming individuals to provide this information freely allows you to deliver the right content to the right person at the right time.
The startup sends relevant emails to nurture the user to a paying customer upon activation. A lead scoring tool can further accelerate these types of sales conversations.
Here's how you can get started:
Connect your CRM with Breadcrumbs
Add your customer demographic in the Fit model (e.g., job title, number of employees)
Share your buying signals in the Activity model (e.g., multiple visits to the pricing page within a week)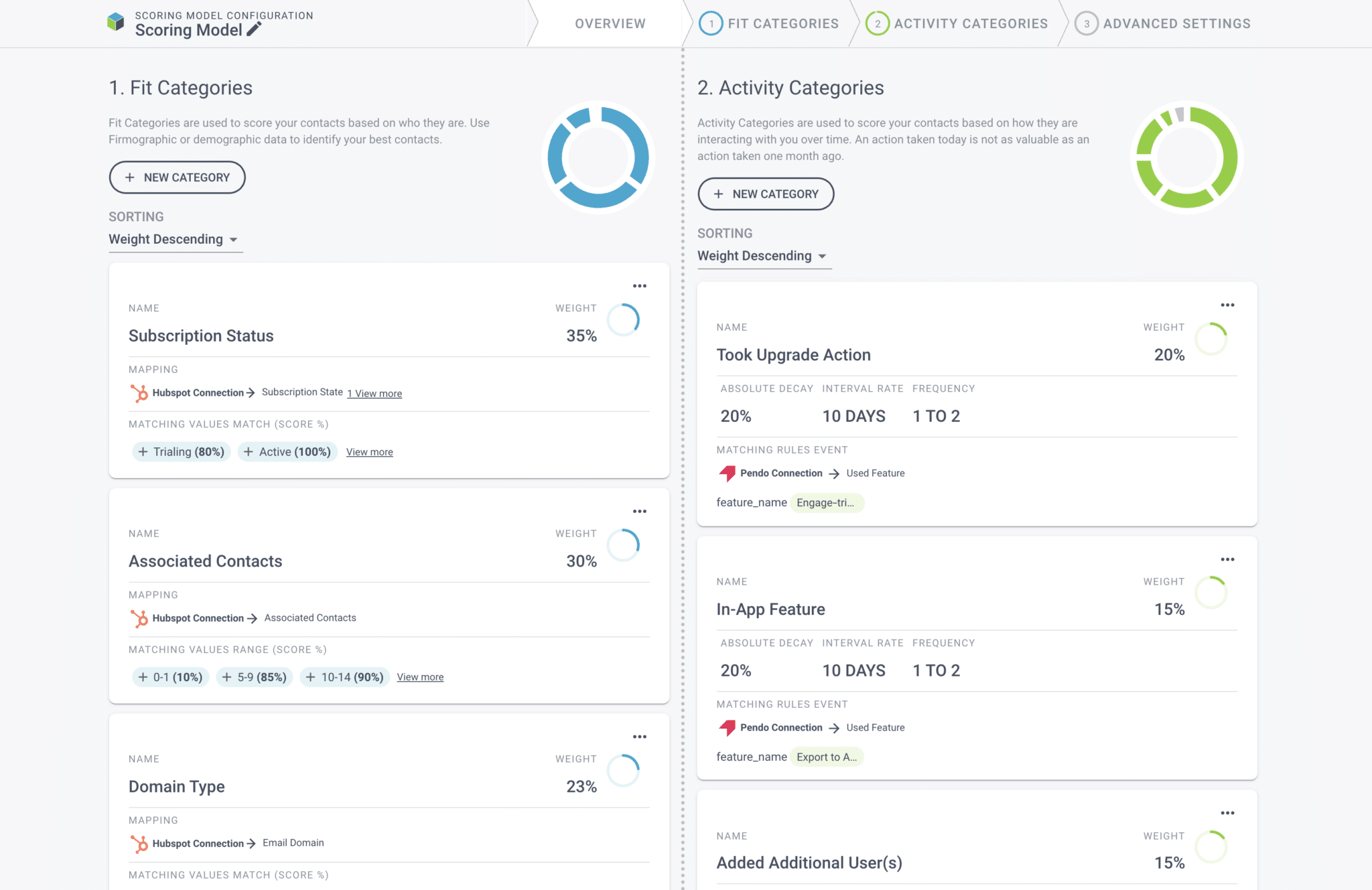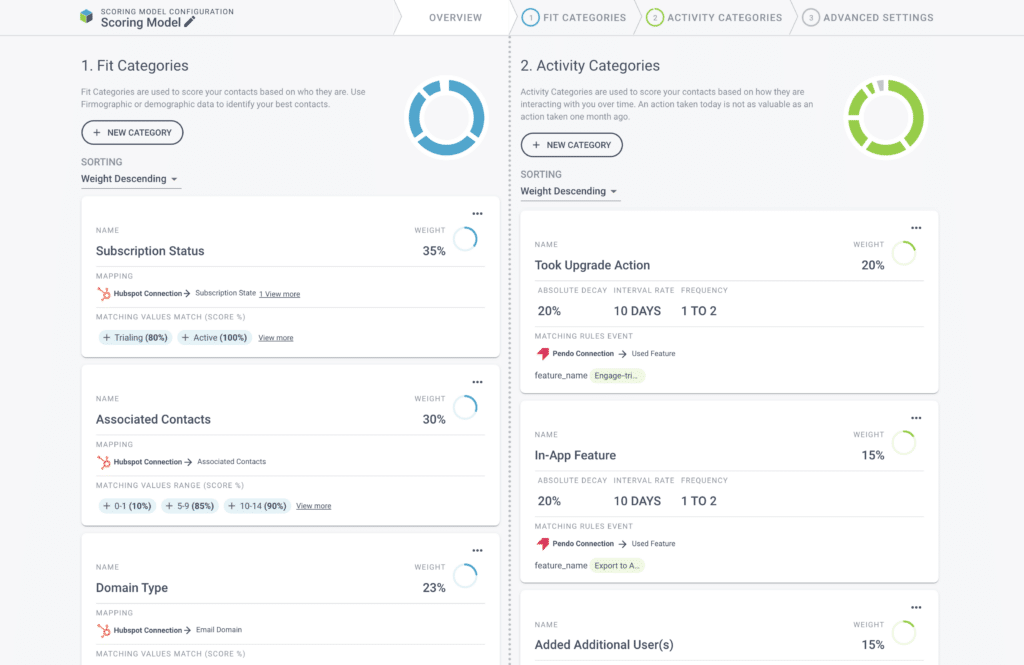 Set it live.
Breadcrumbs will send all scoring information to your connected CRM and notify you of the sales opportunity on autopilot.
That way, you can quickly sort and prioritize your best leads.
And while you're at it, build other vital scoring models to identify customers with upselling or cross-selling potential or catch churn before it happens.
Book a demo with Breadcrumbs to boost revenue acceleration today.
3. Digizuite
How it collects zero-party data: Lead magnet (whitepaper)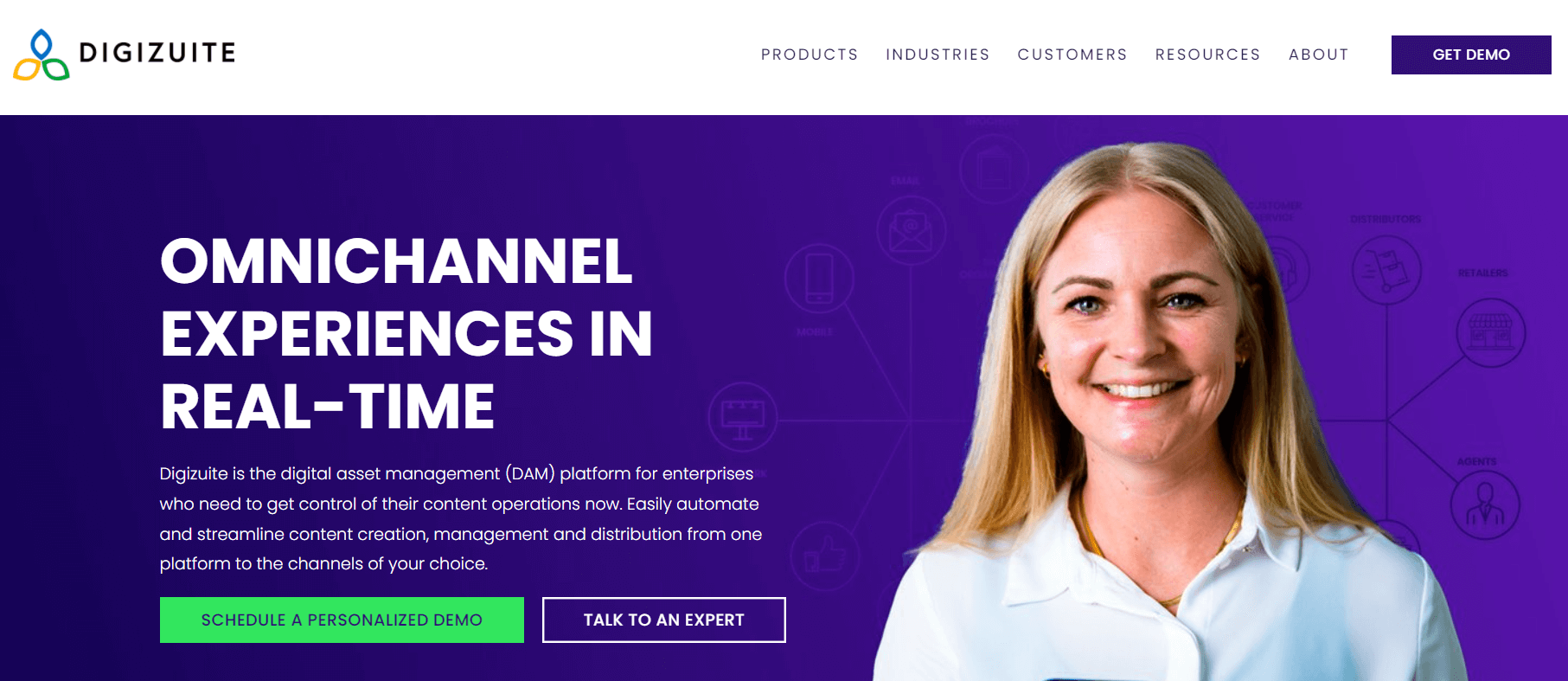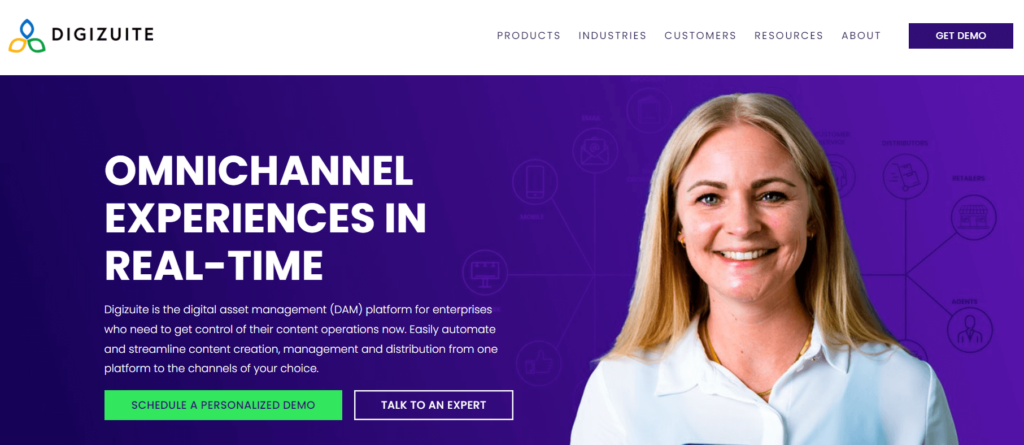 Digizuite is a digital asset management (DAM) suite that organizes marketing assets and distributes them to the channels of your choice.
This omnichannel DAM solution sells to enterprises. That's a lot of data. Let's look at how it tackles its strategy.
Check out its webinar landing page. At first glance, nothing seems out of the ordinary.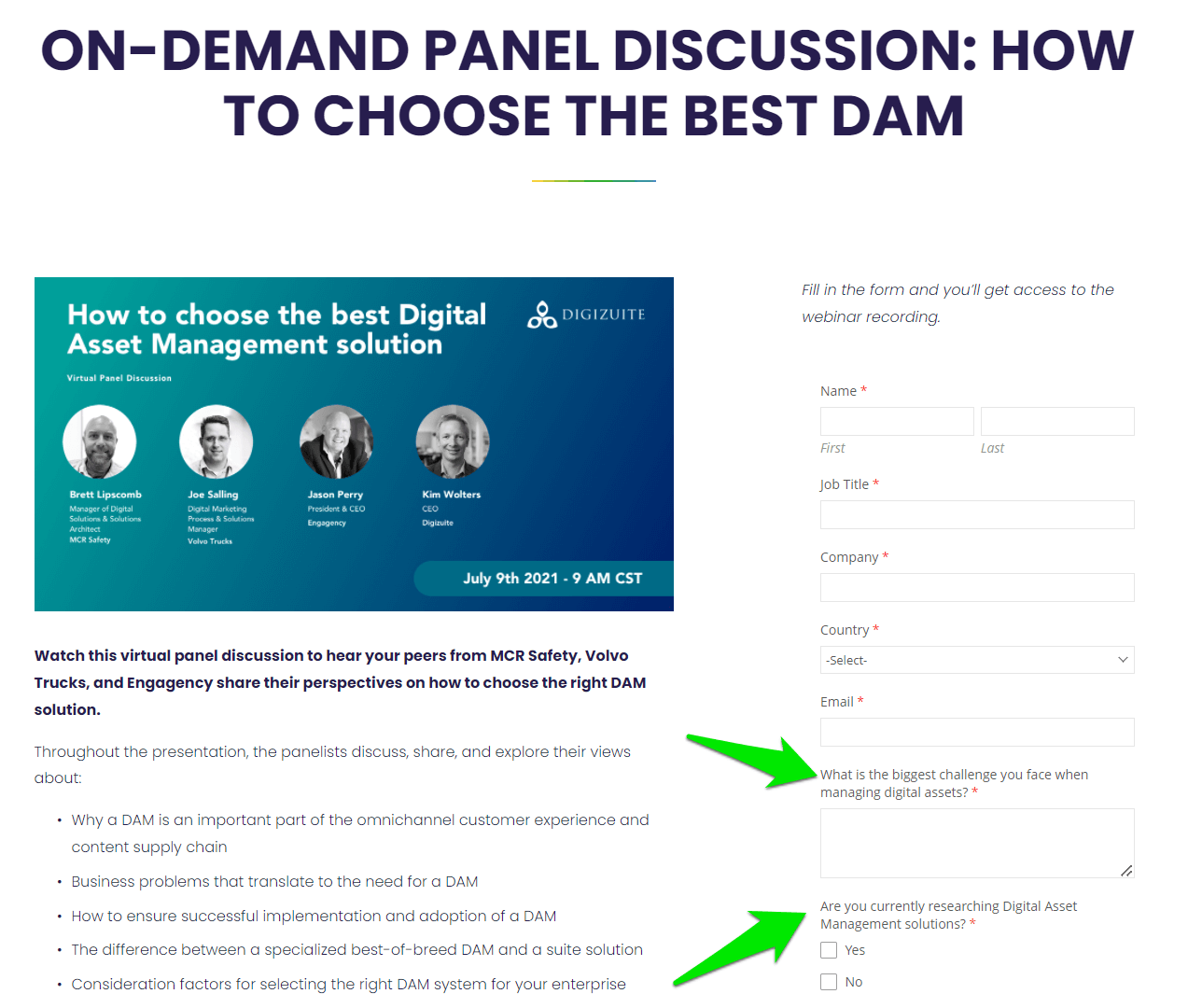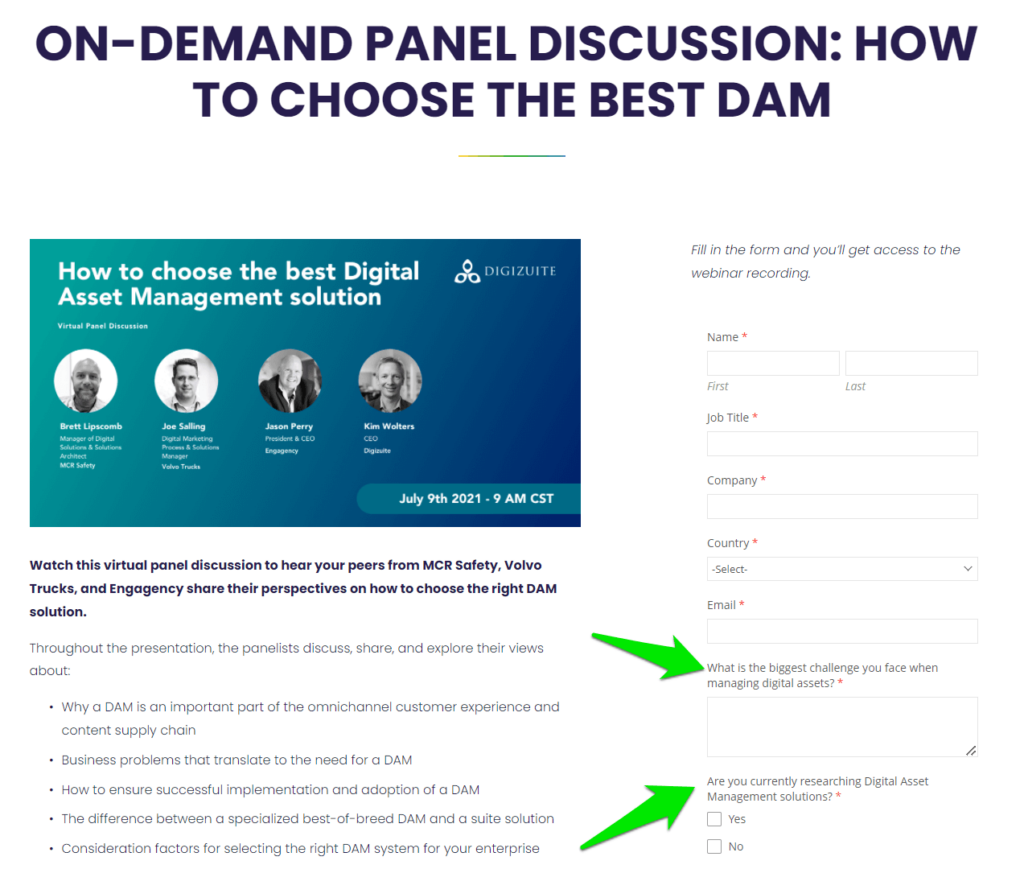 But here's where it gets interesting.
After requesting the prospect's contact information and job title, Digizuite ends its opt-in form with two crucial questions to determine the prospect's pain points and buying journey:
"What is the biggest challenge you face when managing digital assets?" – A prospect struggling with findability will require different features than a prospect struggling with integration. The answer to this question shapes the sales pitch and features covered in the demo.
"Are you currently researching Digital Asset Management solutions?" – A yes will indicate a prospect at the bottom of the funnel. The sales team can prioritize their leads according to these responses.
Once prospects submit their information, Digizuite directs them to the webinar hosted on its very own DAM platform.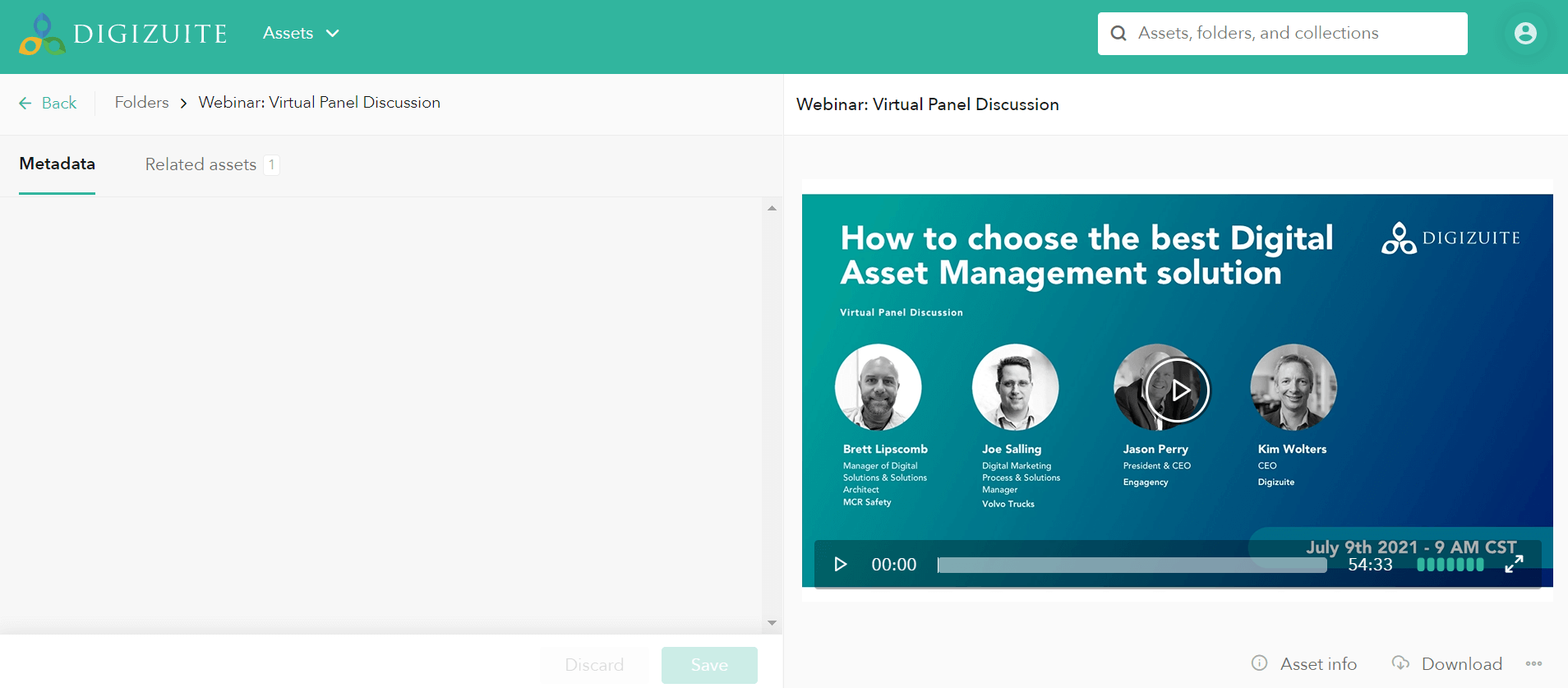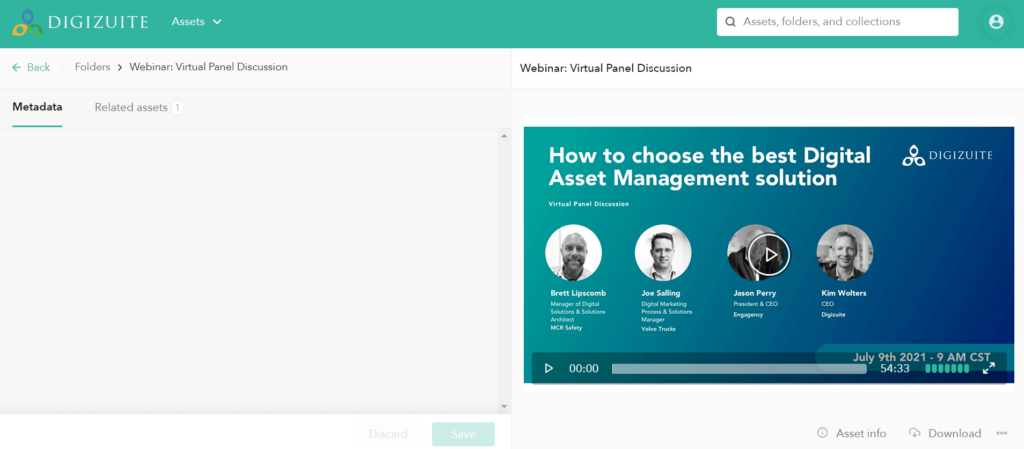 Sleek, isn't it?
Prospects can envision what it's like to use Digizuite's DAM solution way before signing up for the demo.
It's a powerful way to educate prospective customers and show your product in action in the earlier stages.
Zero-party data is nothing new
These three brands added their unique spin and showed us the power of using zero-party data to amplify personalization.
Octane AI uses a short-and-sweet quiz to position its value upfront. The personalized marketing strategy makes a lasting impression on prospective customers, undoubtedly increasing conversions.
Causal leverages its onboarding to shape the user's first impression and boost activation. And finally, Digizuite asks two vital questions in its lead magnet form to determine the prospect's struggles and buying journey.
But the job is only half-done. The last missing puzzle of a zero-party data strategy is lead scoring.
By assigning a score to your leads, your sales team can sort and prioritize them based on fit and activity.
Book a demo with Breadcrumbs to speed up your sales conversations, identify your best leads, and boost revenue acceleration today.