Cold emailing remains a powerful tool in the modern marketer's arsenal, providing unparalleled opportunities to connect, engage, and convert potential leads into valuable customers.
When executed strategically, cold emailing can open doors to new business relationships, drive sales, and boost brand awareness.
However, when scaling this tactic to reach hundreds or thousands of prospects, the complexity increases, necessitating a thoughtful and well-planned approach.
In this comprehensive guide, we delve deep into the world of cold emailing at scale, ensuring you have all the knowledge and tools at your fingertips to launch successful campaigns that yield tangible results.
From unraveling the basics of what cold email is and laying down the foundational principles that govern its success, to providing practical tips and strategies to enhance your campaign's effectiveness, this blog post is designed to be your go-to resource.
We will also introduce you to a curated list of indispensable tools that can streamline your processes, ensuring your cold emails not only reach your prospects' inboxes but also resonate with them, prompting the desired action.
Whether you're a seasoned marketer looking to refine your cold emailing strategies or just starting out, this guide promises valuable insights and actionable advice to elevate your cold emailing game.
So, buckle up and get ready to transform your outreach efforts with the power of cold emailing at scale!
What is Cold Emailing and How Does it Work?
Cold emailing is the practice of sending unsolicited emails to potential business contacts or clients who have had no prior interaction with your company. Think of it as the digital equivalent of cold calling, but less intrusive (and more virtual).
The main goal of cold emailing is to initiate a conversation, build a relationship, or generate a lead with the recipient or potential customers.
While this approach is relatively simplistic if you're only reaching out to a few people per day, the fact is to generate enough leads to fill your pipeline, you'll need to reach out to a few hundred per day to get a response.
Research by Klenty found that for every 100 contacts you email, only around eight will respond—meaning that cold emailing at scale is your best shot at generating the numbers you need.
While the increase in recipients can help to push the numbers in the right direction, this means things like message personalization and targeting become much more difficult to do well—and can even reduce your overall conversion rates.
Luckily for you, you're reading this article, which will help prevent that problem from happening on your watch. 😉
Tips For Crafting Effective Cold Emails
Before we dive into the technical side of how to launch your mass cold email marketing campaign, we need to cover the groundwork for cold email 101.
After all, all the technical tools in the world won't help you if the message you're sending to your audience doesn't resonate with them.
1. Build a targeted email list
Before you start sending emails, you need to know who you're sending them to. Before you start building your list, clearly define who your ideal customers are by creating an Ideal Customer Profile. Consider their industry, company size, job role, geographic location, and any other relevant characteristics. This will help you tailor your list to include only those most likely to be interested in your product or service.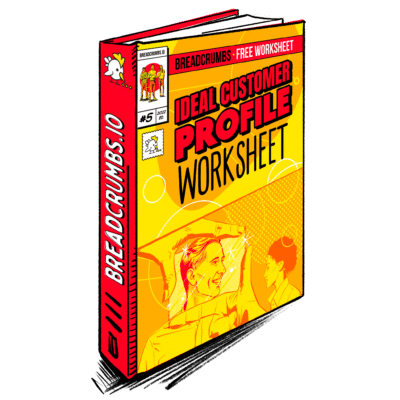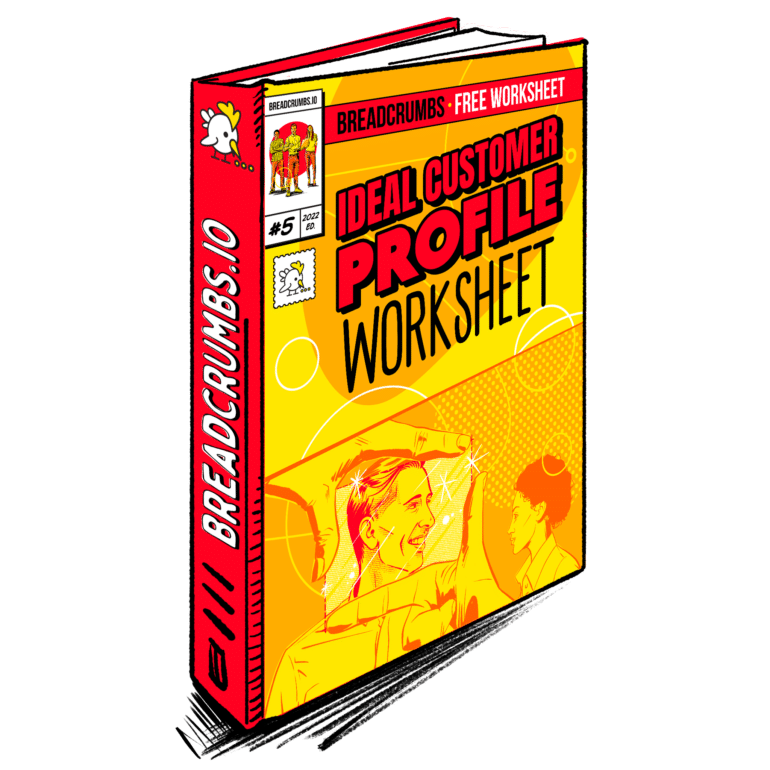 Ebook
Ideal Customer Profile (ICP) Worksheet
Learn how to create an Ideal Customer Profile and build a successful sales strategy with this Ideal Customer Profile (ICP) Worksheet.
After that, you can use LinkedIn, industry directories, or purchase lists from reputable providers to build a list of contacts that are relevant to your business and are likely to be interested in your product or service according to the ICP you just made.
2. Segment and clean your list
Not every email should go to every contact. Segment your list based on industry, job role, company size, or other relevant factors to ensure your message is as relevant as possible to each recipient.
Once you have your list, segment it to tailor your messaging to specific groups. This ensures relevancy and increases the chances of engagement. You could segment your list based on:
Industry. Different industries have different needs and pain points.
Company size. A small startup might have different requirements than a large corporation.
Job role. Tailor your message depending on whether you're speaking to a CEO, a manager, or an individual contributor.
Geographic location. This can be especially important if your product or service is only available in certain areas or if cultural differences might affect the message.
Engagement level. Separate those who have interacted with your previous emails from those who haven't.
Additionally, you should always ensure to maintain your email data hygiene by removing fake email addresses from your lists before you import them into your database.
Some cold email automation tools like Cadence by Breadcrumbs have a built-in email verifier inside the platform, but standalone tools like Zerobounce can also help you clean your list.
3. Personalize your emails
Personalizing cold emails, even when sending them at scale, is crucial for increasing engagement and response rates. Leveraging personalization helps your email stand out in the recipient's inbox and shows that you've taken the time to understand their needs.
Here are several strategies to help you personalize your cold emails at scale:
Use merge tags. Email automation tools provide merge tags (or personalization tokens) that allow you to automatically insert personalized information into your emails. You can use these tags to add the recipient's name, company name, job title, or any other information you have on them to your emails.
Mention their competitor. If it's appropriate and done tactfully, mentioning a competitor in your email can grab the recipient's attention. For example, you could mention how you've helped businesses like theirs, including their competitors, to achieve certain results.
Reference recent industry events or news. If there's a recent industry event, trend, or piece of news that's relevant to a particular segment of your list, mention it in your email. This shows that you're up-to-date with what's happening in their world and helps create a connection.
Include content that's relevant to them. Based on the segmentation of your list, include links to blog posts, case studies, or other content that's particularly relevant to each segment. This not only provides value to the recipient but also demonstrates that you understand their specific challenges and needs.
Don't ask for marriage on the first date. That is, don't ask for a sale right out of the gate. Take the time to show your recipient that you've done your homework, you know their struggles, and you have a genuine way to help.
4. Optimize your subject line
Your subject line is the first thing recipients will see, so you need to make it count. When writing your cold email subject lines, make sure to keep these points in mind:
Keep your subject line short and to the point, aiming for around 50 characters or less. Clearly state the email's purpose or highlight the main value proposition. Avoid unnecessary words that might make your message seem unclear or vague.
Words like "free," "guarantee," and "no obligation" can trigger spam filters and decrease the likelihood of your email being opened. Keep your language professional and avoid overusing exclamation marks.
Ensure that your subject line accurately reflects the content of your email. Misleading subject lines might get your email opened, but they harm trust and can lead to your email being marked as spam.
Remember that many people check their emails on mobile devices, where subject lines get cut off after 30-40 characters. Place the most important words at the beginning to ensure they are seen.
By crafting a strong, engaging subject line, you increase the chances of your cold email being opened and making a meaningful impression on the recipient.
5. A/B test your campaigns
A/B testing, also known as split testing, is a crucial practice in cold emailing as it helps to optimize your email content, structure, and strategy for better performance and higher conversion rates. It involves sending two variations of an email to a small subset of your audience and analyzing which one performs better in terms of open rates, click-through rates, or other relevant metrics.
In a testing context, you can test things like subject lines, message content, offer, or even the audience itself. Optimizing your emails through A/B testing can lead to higher click-through rates and more positive responses, ultimately increasing the conversion rates of your cold email campaigns.
(P.S. We have a guide here all about A/B testing in sales if you're looking for some additional help in this area.)
6. Create a clickable follow up
Writing automated follow ups to your initial cold email is a crucial aspect of any email outreach strategy, as it significantly enhances the chances of receiving a response and ultimately achieving your outreach goals.
When a recipient receives your initial cold email, they might be too busy to respond, the email might get buried in their inbox, or they might need additional nudging to take action.
A well-crafted follow-up sequence serves to remind the recipient of your initial message, provides additional information or value to pique their interest, and demonstrates your persistence and genuine interest in establishing a connection.
Set clear objectives: Define what you want to achieve with your follow-up sequence, whether it's to get a response, schedule a call, or promote content.
Plan the sequence: Decide how many follow-up emails you'll send and the timing between them. A common approach is 2-4 follow-ups spaced 2-7 days apart.
Provide additional value: Use each email in the sequence to offer more value, such as sharing helpful resources, industry insights, or personalized recommendations.
Maintain a professional tone: Keep your tone polite and professional, even if previous emails have not received a response. Express understanding of their busy schedule and reaffirm the potential value of your proposition.
Know when to stop: If after several follow-ups you still haven't received a response, it's respectful to send a final email acknowledging their lack of interest and letting them know you won't be reaching out again.
By thoughtfully planning and crafting your follow-up email sequence, you significantly enhance your chances of re-engaging cold leads and driving positive outcomes.
7. Be sure to maintain legal compliance
Complying with email marketing laws such as the CAN-SPAM Act and the General Data Protection Regulation (GDPR) in Europe is crucial for businesses engaging in cold email outreach. Failure to comply can result in severe financial penalties, damage to your brand's reputation, and a loss of trust among your audience.
By following all the steps listed here today, you can effectively send cold emails at scale while maintaining a personal touch and staying compliant with email marketing laws. Remember, the goal is to start a conversation, not just push a message, so focus on building relationships rather than making a hard sell.
Tools to help you send bulk cold emails and measure success
Now that you know what a cold email campaign is and how to create a successful one, it's time to dig into the juicy part—finding a tool that's going to help you put both parts together.
Here we're going to list tools that are great for novices and pros alike and work with a variety of different niches.
Cadence by Breadcrumbs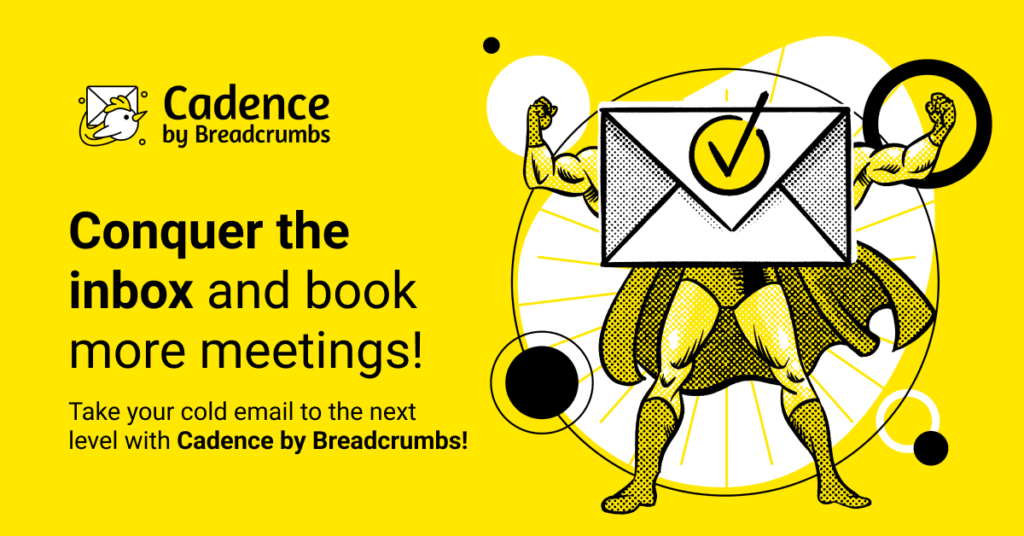 If you're reading this so far, you might have realized we know a thing or two about cold email strategies—and that's because we have one of the best tools on the market for doing just that. 🙂
Cadence by Breadcrumbs is an AI-assisted cold email powerhouse with a special focus on email deliverability. While Cadence focuses on ensuring the message is delivered to the recipient via their advanced inbox rotation technology, Cadence also provides incredible tools like an AI-assisted email writer, built-in email validation, and a unified inbox to manage your entire team's outgoing efforts.
Pros:
Offers a forever-free plan for up to 250 contacts (you can get started here)
Includes advanced delivery rotation capabilities to ensure your email lands in the inbox
Boasts an AI-based cold email copywriter
All plans feature unlimited seats, workspace, and email sends
Cons:
Not as advanced as some of the other tools on this list (beginner/intermediate-focused)
Lavender.ai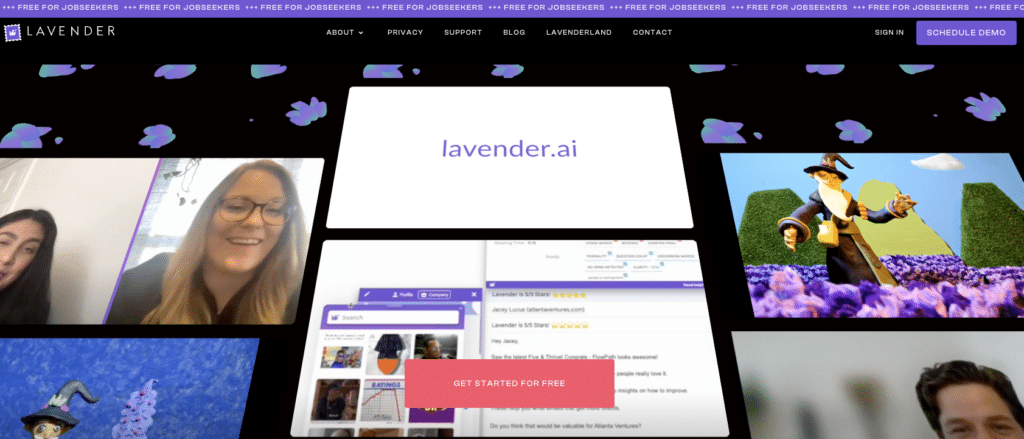 Lavender.ai is a company that specializes in providing tools and services designed to enhance the effectiveness of cold emails particularly in sales and marketing contexts. Their platform utilizes artificial intelligence (AI) to analyze and score email content, offering suggestions and insights to improve the clarity, tone, and overall impact of the message.
The goal is to help users craft emails that are more likely to elicit positive responses, ultimately leading to higher conversion rates and more successful outcomes.
Pros:
Lavender.ai offers real-time suggestions to improve your email's content, structure, and tone, helping you craft more compelling and persuasive messages.
Automates the process of analyzing and refining email content
Cons:
Focuses on improving the content of cold emails, but successful email outreach also depends on other factors such as timing, personalization, and follow-up, which may require additional tools or strategies.
Reply.io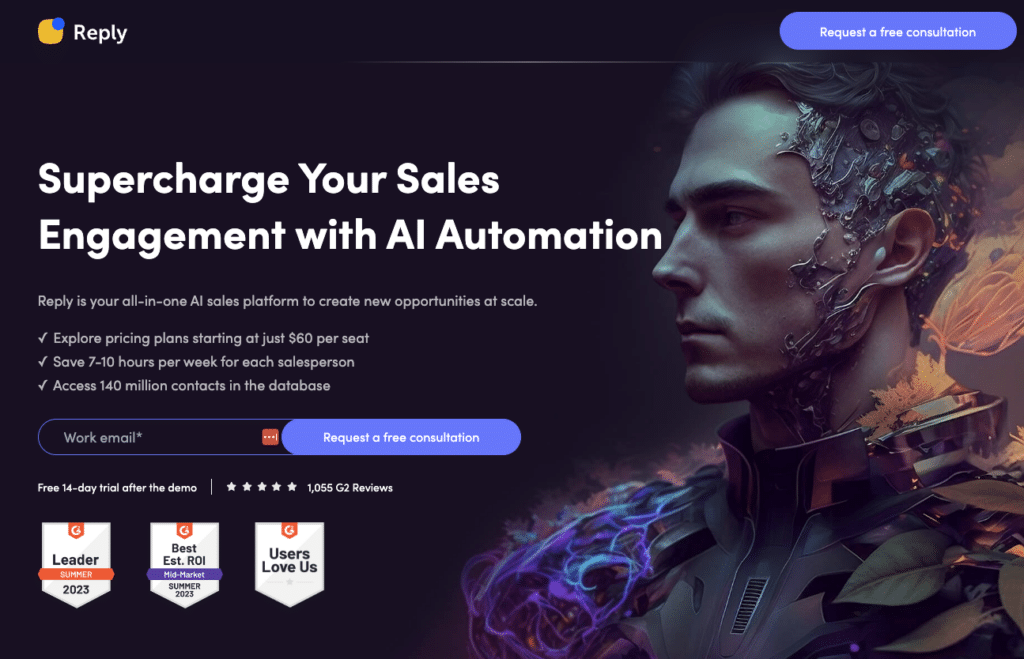 Reply.io is a sales engagement platform designed to streamline the process of outbound sales, including cold emails. It provides salespeople with tools to automate and personalize communication, track engagement, and manage leads throughout the sales process.
Pros:
Allows for personalized communication even when sending emails at scale.
Provides detailed insights into email performance, helping salespeople understand what works and what doesn't.
Integration with CRM systems streamlines lead management and ensures all interactions are recorded.
Cons:
Some users may find the platform's wide range of features overwhelming initially, requiring time to fully understand and utilize the tool effectively.
While Reply.io offers a robust set of features, the cost may be a significant consideration for small businesses or individuals.
Lemlist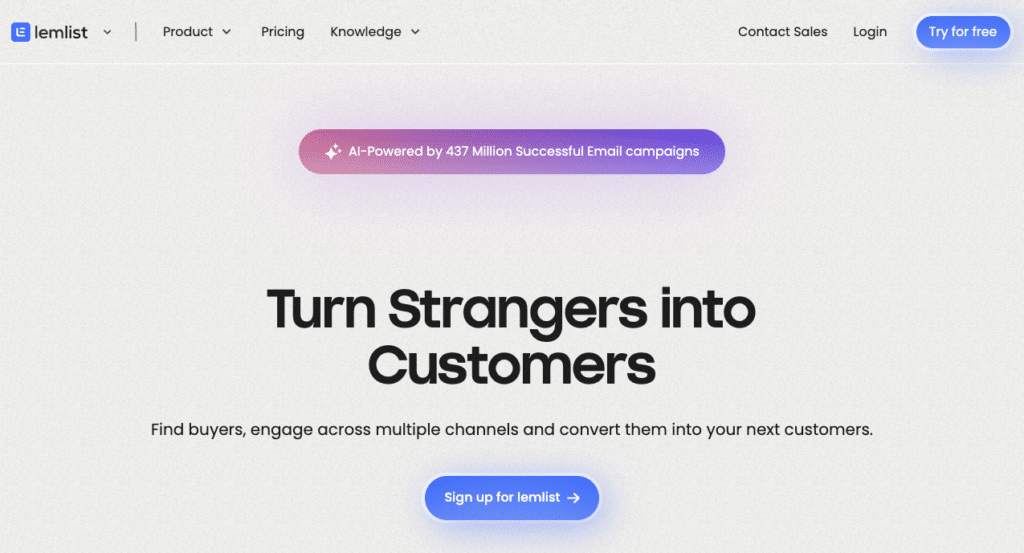 Lemlist is a sales automation platform designed to help salespeople create, send, and track personalized cold emails at scale. With a focus on deliverability and analytics, it's a great option for those looking to dive into the details of their sales campaigns.
Pros:
The ability to send personalized images and videos
A/B testing and detailed analytics help users continuously optimize their email campaigns for better results.
Focus on email deliverability helps improve the chances of emails reaching recipients' inboxes.
Cons:
UI has a steep learning curve, making it difficult to get started.
G2 reviews contain multiple reports about customer service difficulties.
Conclusion
Throughout this article, we've demystified the concept of cold emails, providing you with a solid understanding of what they are and how they can be leveraged to connect with potential leads and customers.
We delved deep into practical tips and strategies, ensuring you have a comprehensive toolkit to craft and execute successful cold emails that resonate with your audience and elicit responses. From personalizing your messages and crafting compelling content, to timing your emails just right and ensuring follow-up, we've covered all the bases to set you up for cold emailing success.
Moreover, we introduced you to four powerful tools designed to streamline the process of sending cold emails at scale, automate follow-ups, and provide valuable insights into your campaign performance. These tools are user-friendly, efficient, and packed with features that can significantly enhance your cold emailing endeavors.
As you embark on your cold emailing journey, remember that consistency, personalization, and perseverance are key. Utilize the knowledge, tips, and tools shared in this article to refine your strategies, optimize your campaigns, and achieve the results you desire.
Cadence by Breadcrumbs can make a difference in your team's outreach efforts. With its advanced inbox rotation technology, AI-assisted email writing, email validation, and a unified inbox, Cadence is not just another tool—it's a game-changer.
Ready to take off? Start using Cadence for free today and watch your campaigns soar! 🚀