In the midst of economic uncertainty, businesses are tightening their belts and seeking strategies to weather the storm.
But let's be sincere here.
A recession doesn't just spell danger. It also brings opportunities for savvy B2B marketers to grow and even thrive.
In this guide, we'll explore nine actionable techniques to boost the ROI of your marketing efforts in a recession. From embracing lead scoring to diversifying marketing platforms, these strategies are geared to boost your ROI even during the recession.
So buckle up, and let's dive into recession-proof marketing.
9 Actionable Techniques for B2B Marketers to Improve ROI During a Recession
While recessions create room for uncertainties, they also provide a unique opportunity for growth and innovation. With the right strategies on hand, B2B marketers can navigate these turbulent waters and come out stronger.
Below, we'll explore nine proven techniques to utilize to give your ROI a significant lift, even amid the challenges of an economic downturn.
Here we go.
1. Embrace Lead Scoring to Prioritize Potential Clients
As a B2B marketer, you can't waste too much time on leads that are not likely to convert. So, prioritizing which leads to a target first becomes essential, especially during a recession when you have a limited budget.
Luckily for you, there's an easy way to do that and it's called lead scoring.
Think of it like tagging items in a market, highlighting the most valuable ones. By analyzing a lead's engagement, purchase history, and interaction with your business, you can give them a score. The higher the score, the higher the potential for conversion.
Simple, right?
Well, it's not really that easy and you need specialized tools like Breadcrumbs that make the process easier.
Imagine not having to sift through leads manually. Set your criteria, and let Breadcrumbs automate your lead scoring.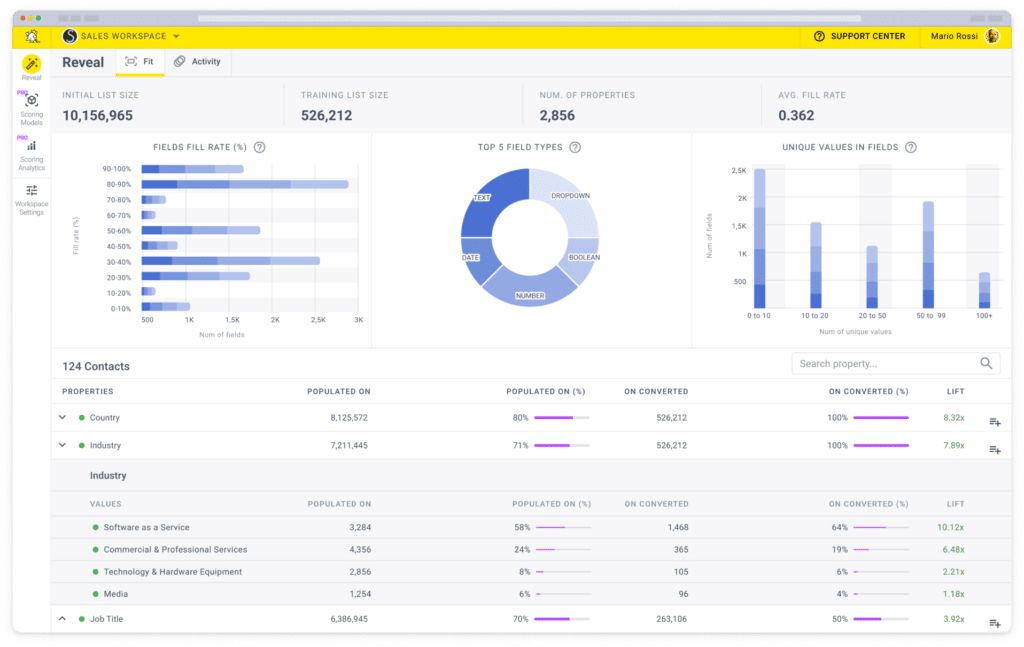 So, what's the benefit of lead scoring?
It conserves resources, optimizes efforts, and helps you convert leads that have high chances of conversion, thus improving ROI. Less time chasing shadows and more focusing on leads that matter.
Embracing lead scoring isn't just a smart move. It's a game-changer.
It enhances ROI, builds stronger relationships, and clears a path through the B2B marketing maze. And the best part? It's a steadfast strategy even during a recession.
And if you're curious about what tools you can use to amp your lead generation efforts, this lead generation software list by Attrock provides several options.
2. Invest in Video Marketing to Engage Your Audience
Ever watched a video and thought, "Wow, that's exactly what I needed!"?
That's the power of video marketing. And it's time to leverage it.
In the world of B2B marketing, videos aren't just entertaining—they're effective.
From explainer videos to webinars, the visual medium offers a way to connect with your audience and communicate complex information in an engaging manner.
And the numbers back it up.
Wyzowl's recent survey revealed that a record number of marketers (92%) believe that videos have provided them with positive ROI in 2023.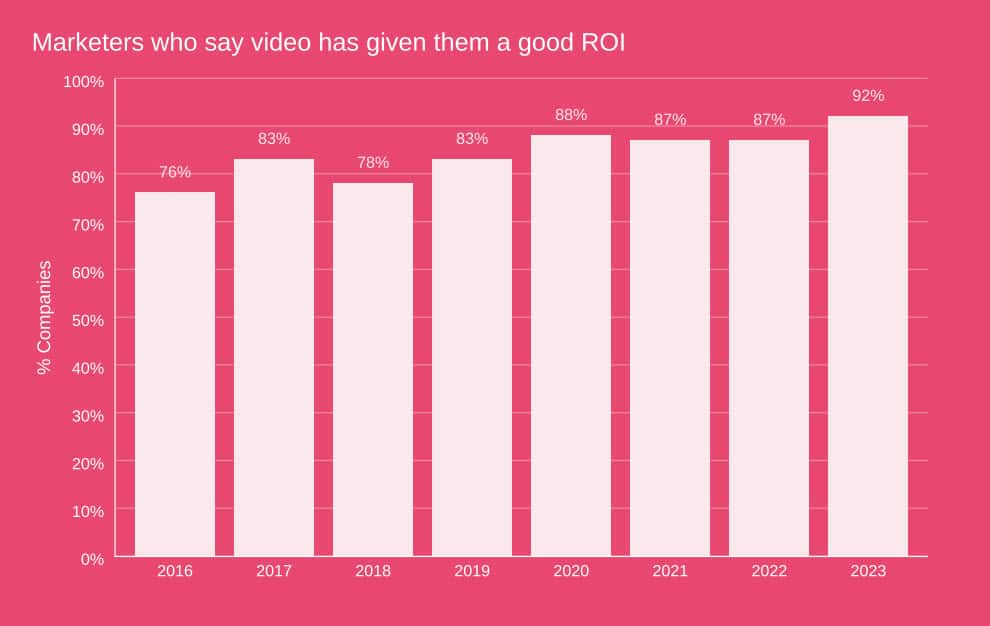 But where do you start?
There's a plethora of video marketing tools available in the market, catering to various needs and budgets. Whether it's editing software or platforms to host your content, you're covered.
The best part? You don't have to be a Hollywood director to make an impact.
Focus on the message, the story, and how it resonates with your audience.
It's no surprise that 91% of consumers want to see more videos from brands. A well-crafted video can definitely be more persuasive than a dozen blog posts.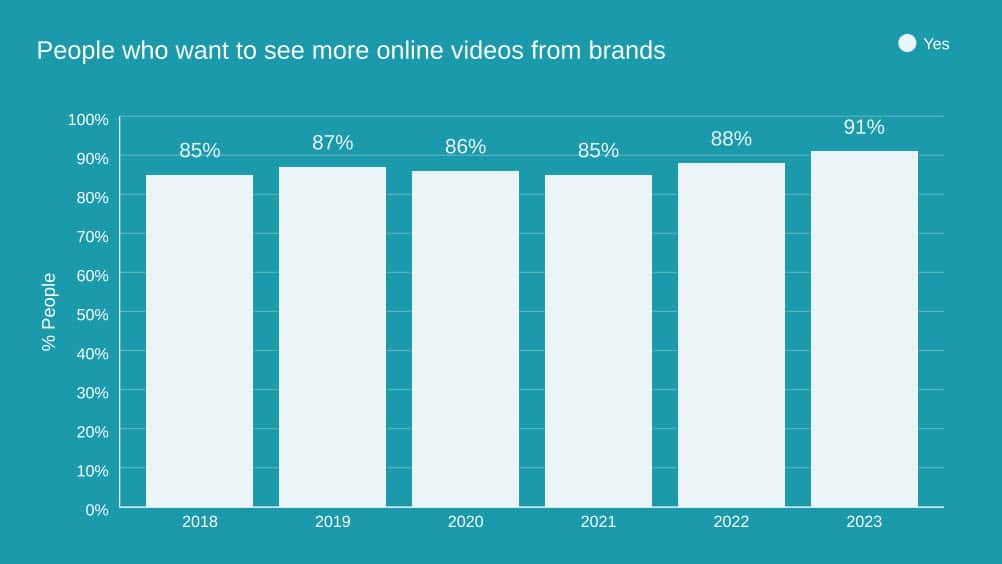 After creating high-quality videos, be sure to distribute them strategically.
Utilize platforms like YouTube and promote your videos using compelling youtube channel trailers. Share videos on social media, embed them on your website, and include them in email marketing campaigns.
Video marketing is an excellent marketing technique to boost ROI in a recession, one you should start using right now. Don't just watch the trend, be a part of it.
3. Focus on Customer Retention and Satisfaction
In a recession, acquiring new customers might become a tough hill to climb.
But what if you focus on existing customers who already trust you? Focusing on customer retention and satisfaction can be a goldmine for B2B marketers.
Here's how to do it right:
Understand your customers' needs: What are they looking for during a recession? Offer solutions tailored to their current challenges.
Enhance customer support: Prompt and empathetic support can turn satisfied customers into loyal advocates.
Provide value-added services: Offer something extra that aligns with their needs. Maybe it's extended support hours or additional learning resources.
Measure satisfaction and act on feedback: Regularly check in with your customers and be prepared to act on their feedback.
It's more important to study your customer retention metrics during a recession than at any other time. The image below shows a few key metrics you should monitor closely.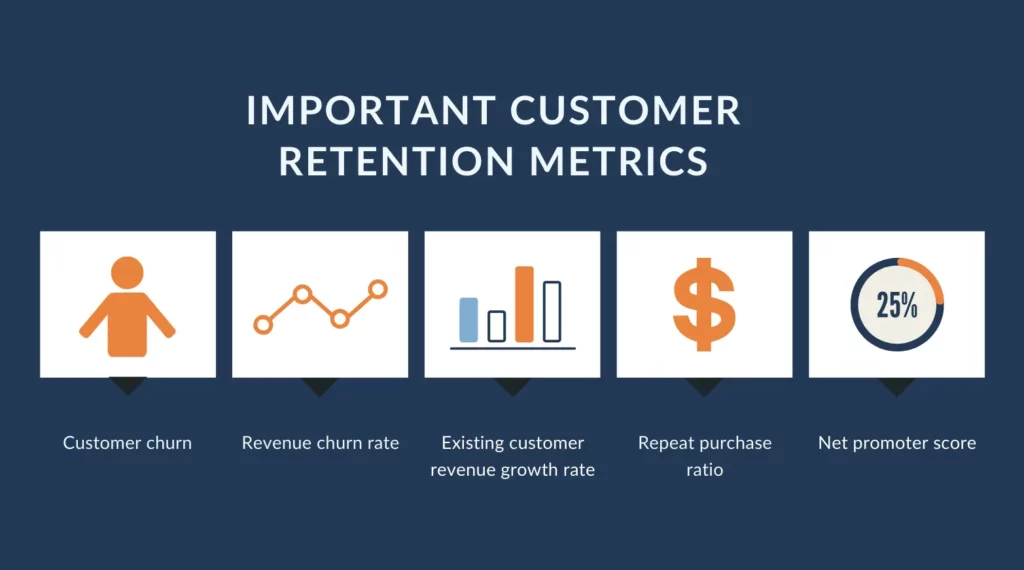 In a recession, retaining a satisfied customer might be more valuable than chasing a new one. So, focus on those who already trust you. Understand their needs, enhance support, provide value, and respond to feedback.
4. Leverage Cold Outreach to Unlock New Opportunities
Using cold outreach during a recession might seem counterintuitive, but hear me out.
Yes, cold outreach has its skeptics. Some might say that cold calls or emails fall on deaf ears, especially when reaching out to B2B decision-makers. However, this perception doesn't hold water.
A recent survey found that a mere 9% of B2B marketers believe decision-makers never respond to cold outreach.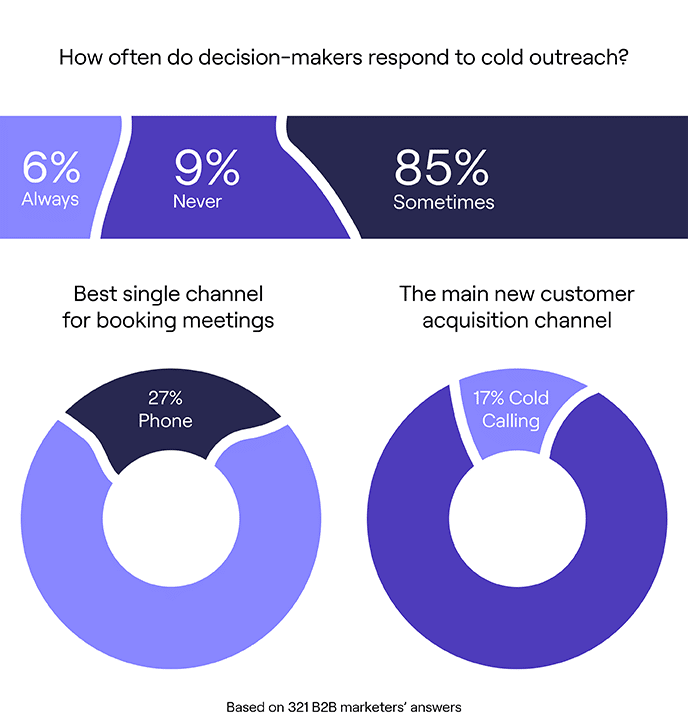 So what's the secret sauce? It's all about precision, targeting, and understanding the needs of the person on the other end. Gone are the days of spray-and-pray methods. Today's cold outreach campaigns are well-calculated.
The focus here is not just to sell but to connect, provide value, and offer solutions that resonate with your prospects' pain points.
Here's how you can achieve this:
Identify the right prospects: Research and find businesses that align with your offerings. Finding the right doors to knock on makes a big difference.
Craft personalized messages: No one likes a generic sales pitch. Tailor your message to the specific needs and challenges of a prospect.
Offer value upfront: Why should they listen to you? Offer something of value in your initial outreach. It's like a friendly smile when knocking on a stranger's door.
Follow up respectfully: If they don't answer, leave a note and come back later. Follow up, but don't be intrusive.
Analyze and learn from responses: Keep track of what works and what doesn't. Continuously refine your approach.
Leveraging cold outreach isn't just about growing your contact list. It's about growing your business. And it's about finding those hidden gems that can boost your ROI in ways you never imagined.
5. Monitor and Optimize Website
You need to monitor your website performance using different monitoring tools. For example, using a Google index checker, you can check whether your website and pages are indexing or not.
You need to optimize your website to make it more compatible with search engines so it can perform well in the search engines. You can optimize content, compress media files before uploading to the site, and remove coding errors.
By monitoring and optimizing your website, you can get better results in terms of good traffic and leads for your business.
6. Leverage Data Analytics
In the rough seas of a recession, data analytics is the experienced captain guiding your ship.
And it's not just about collecting numbers. It's about using them to make strategic decisions.
Wondering how B2B marketers can harness the power of data analytics? Here's a deeper look:
Collect relevant data: This is the starting point. Identify what data matters most to your business. Is it customer behavior, sales trends, or market analysis? Gather this information systematically.
Utilize powerful tools: Invest in analytics tools to process and interpret your data. Tools like Google Analytics, Tableau, or HubSpot can be key allies in deciphering the numbers.
Analyze patterns and trends: Once you have the data, analyze it in depth. Look for emerging trends, customer preferences, and underperforming areas. What are the numbers telling you?
Use the insights to form a strategy: Don't let the insights gather dust. Put them into action. Is a product line doing exceptionally well? Maybe it's time to focus your marketing efforts there. Is a particular region underperforming? Investigate and adjust your approach.
Monitor and adjust: Data analysis isn't a one-time activity but an ongoing effort. Regularly monitor your data and make regular adjustments.
Here's a visual summary of the data analytics process:

Think of data analytics as the heart of a GPS system, always recalculating and guiding you in the right direction. In the uncertainty of a recession, these data-driven insights can be your roadmap, leading you not just to survival but growth.
So, leverage data analytics with intention and purpose. Collect, analyze, implement, and adjust.
In a recession, using a data-driven approach is not an option, it's a necessity.
7. Optimize Marketing Budget Allocation
Navigating a recession means being smarter with your money, especially when it comes to marketing budgets.
For B2B marketers, every penny counts, and making wise decisions with your budget can be the difference between surviving and thriving.
So, where should you begin?
Here are a few tips to get you started.
Evaluate marketing channels: Not all channels are created equal. Find out where you're getting the most bang for your buck and invest more resources there.
Trim the fat: Let go of every wasteful expense. Focus on what's working and cut what's not.
Reallocate funds wisely: Shifting funds from less productive channels to more promising ones is a smart technique to boost ROI in a recession.
Sounds simple, right?
But here's where it gets interesting…
Imagine you're a gardener. You wouldn't water the wilting plants at the expense of the flourishing ones, would you? Think of your marketing channels in the same way.
Nourish what's thriving and trim what's not.
To better illustrate this, consider this chart from a recent study showing the content types/channels B2B marketers are utilizing: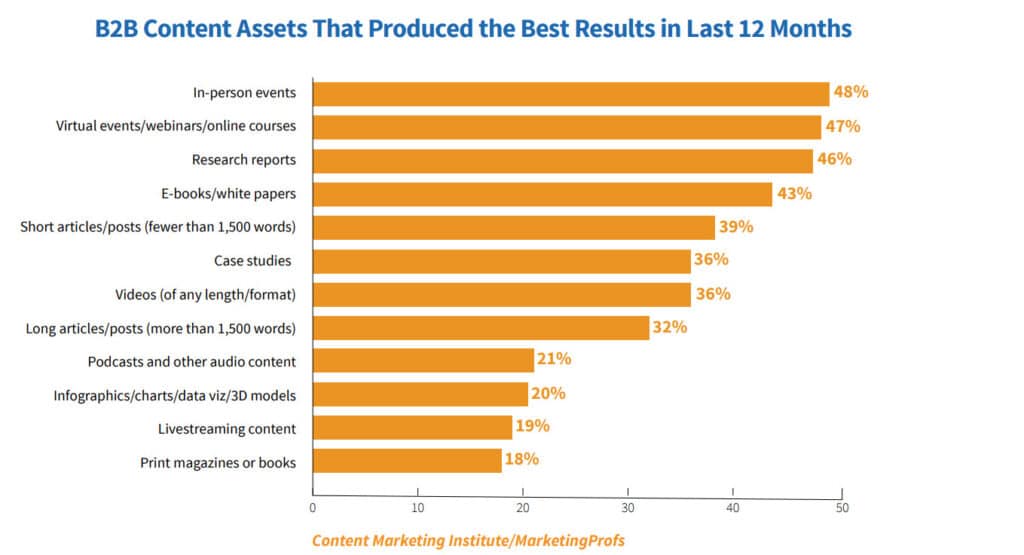 Clearly, everyone has unique channels that bring them the most ROI. So, be strategic with your budget. Analyze, evaluate, and reallocate.
During a recession, the right budget decisions can lead to growth, not just survival.
8. Leverage Content Marketing to Build Trust and Engagement
Trust and engagement don't happen overnight, especially during a recession. For B2B marketers, content marketing can be a powerful tool to forge these connections.
Here's how B2B marketers can use content marketing during a recession:
Create content that speaks to B2B needs: Your audience isn't just individual consumers, but they're businesses with specific challenges and needs. Address those in your content.
Utilize various formats: From whitepapers to webinars, use well-researched, educational content formats that resonate with a professional audience.
Highlight industry expertise: Showcase your industry knowledge. Offer insights and solutions that only an expert in the field can provide.
Build a consistent voice and messaging: Ensure your content reflects your brand's voice, creating a coherent and recognizable presence.
Measure and adapt your strategy: Continuously analyze what's working and adjust accordingly.
In the previously-cited CMI study, 71% of B2B content marketers mentioned that content marketing has become more important to their organization over the last year.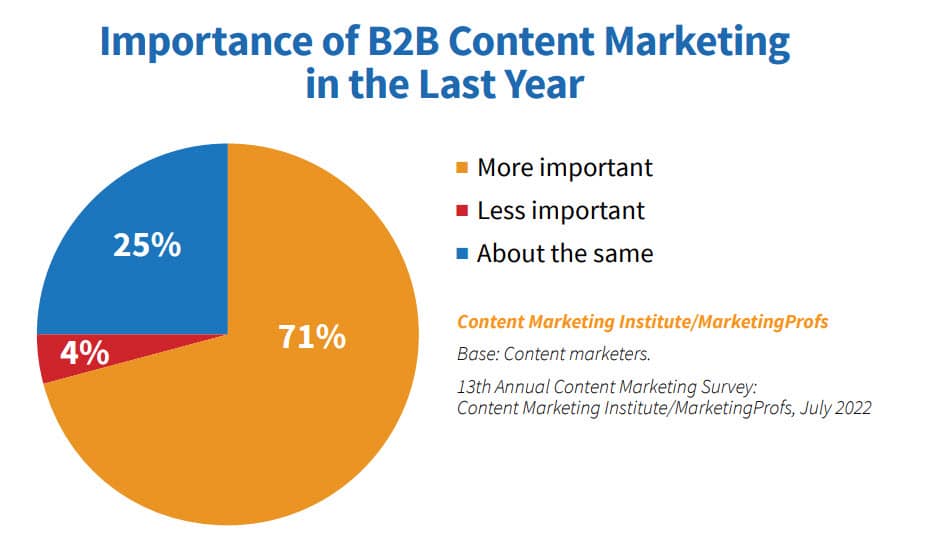 Clearly, there's a realization of its potential, especially in the B2B sector.
Think of content marketing as building a bridge. It connects your business to other businesses, forming relationships founded on trust and understanding. During a recession, these connections can be vital lifelines.
So leverage content marketing to build bridges of trust and engagement with other businesses. Understand their unique needs, speak their language, and become a go-to resource. In a challenging economic climate, these relationships can be the key to growth and stability.
9. Build Strong Partnerships and Foster Collaboration
A recession doesn't have to be a solitary journey. For B2B marketers, building strong partnerships and fostering collaboration can be a pathway to success.
Think of it like two climbers tethered together on a steep mountain. Alone, the climb is treacherous. However, together, they can support and elevate each other.
Here's how you can forge such powerful connections:
Identify strategic partners: Look for businesses that align with your goals and values.
Define clear objectives: What do you aim to achieve through this collaboration? Clear, defined goals set the stage for successful collaboration.
Invest in relationship building: A partnership is more than a contract. It's a relationship. Invest time and effort in understanding and nurturing this connection.
Monitor and evaluate performance: Keep track of how the partnership is progressing. Are the goals being met? Regular evaluation ensures that both parties stay on track.
The infographic below shows the path that many B2B partnership journeys follow: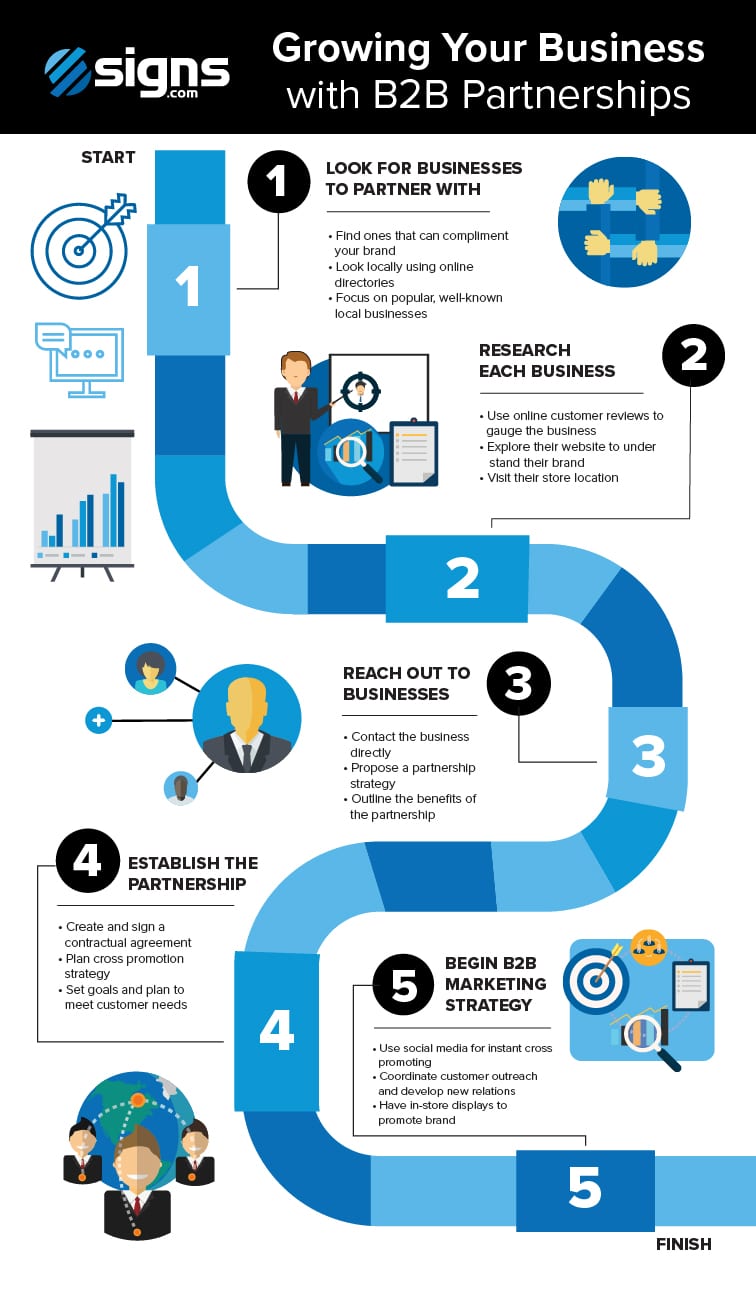 The key takeaway?
Don't face a recession alone. Find partners who share your vision, build strong connections, and work together towards shared goals.
Just like climbers on a mountain, in a challenging economic climate, collaboration can be a strong force multiplier.
How to Boost ROI Even in the Midst of a Recession
Navigating a recession is akin to sailing through uncharted waters. For B2B marketers, the path may seem fraught with challenges, but the techniques I've explored offer a compass to guide the way.
B2B marketers, armed with these insights, are not only equipped to weather the storm but to chart a course toward new horizons.
Here's to resilient marketing and lead generation strategies that help get you through a recession and come out as a winner. Good luck!