Are cold emails the unsung hero of business communication? Probably not.
Arguably, the best part of cold emailing is actually when your prospect reaches back, and you're able to create a connection, move the conversation forward (and ideally close the deal.)
To get there, you absolutely need cold email software.
There are so many cold email tools out there that it is genuinely difficult to choose, so here we have compiled a list of the best cold email software solutions (including cold email marketing software) of 2024.
And more. There are a few features you definitely need your next cold email outreach software tool to have and a few best practices you need to implement for your cold email campaigns.
Let's see what all these tools have to offer and what is the best way to leverage cold emailing in 2024.
What is Cold Email Software?
As far as the definition goes, cold email software is a digital tool designed to send cold emails at scale. An example of a used cold email tool is unsolicited emails to prospects, clients, or partners.
These cold emailing tools answer a two-fold need. On the one hand, the more emails sales reps send on a daily basis, the better.
But at what cost? [I don't mean price… yet]
For starters, you actually need to get in your prospect's inbox, so you need to comply with all the necessary email regulations and best practices.
And then, you can send as many cold emails as you wish, but if you don't create personalized email campaigns, it will all be for nothing.
Good cold email software does just that. It allows you to create email campaigns that reach all your prospects (or customers, or partners) and yet feel personal and engaging.
And much more. Let's see what you need to look for when assessing a cold email platform.
What To Look For In Cold Email Software
The right cold email software should feel like a trusty sidekick, helping you save the day (and your business) one email at a time. When choosing your cold email software, consider these features and capabilities:
User-Friendly Interface: Imagine trying to navigate a foreign city without a map. Intimidating, right? That's how it feels to use a complex software platform. An easy-to-use interface is crucial. It makes your journey smoother and significantly less stressful.
Customization Features: We all crave a personal touch. It makes us feel seen, heard, and respected. The same goes for emails. Personalizing your messages can make your recipients feel special and significantly increase response rates.
Automation Capabilities: Time is our most precious commodity. Automation helps you save it by taking over repetitive tasks like sending emails. Plus, it can schedule emails at peak times, boosting your chances of landing in the recipient's line of sight.
Reporting and Analytics: Let's face it, we can't improve what we can't measure. Detailed reports help you understand your cold emailing campaigns' success (or failure). They provide valuable insights to guide you toward better strategies and higher success rates.
Pricing and Scalability: Price can escalate quickly depending on the company's pricing model. It can be based on emails sent, the number of inboxes connected, or the number of stored contacts, just look out for something that doesn't break the bank.
Integration with CRM: Imagine having a personal assistant who keeps track of all your customer-related data. That's what a CRM integration does. It keeps everything in one place, making your job easier and more efficient.
Customer Support: Even the best of us run into trouble sometimes. When that happens, having a reliable support team on standby can be a lifesaver. Look for software with excellent customer service to ensure help is always just a call or click away.
#1 Cold Email Software Solution of 2024: Cadence by Breadcrumbs
When choosing the best cold email software, finding one that aligns perfectly with your unique requirements and preferences is crucial.
Whether you prioritize advanced email automation features, robust personalization capabilities, or a user-friendly interface, the key is to select a cold email outreach tool that checks all the boxes and empowers you to maximize your outreach efforts.
Meet Cadence: The Cool New Kid on the Block for cold email software solutions in 2024 (and beyond!)
We have collected the pain points of marketing agencies, SaaS, and SMBs to design Cadence with a clear focus on enhancing cold email deliverability rates through innovative features like email inbox rotation, sequence automation, and email verification.
Let's see in detail why we think Cadence is the best cold email software out there:
Unparalleled email deliverability
Cadence ensures your messages don't just get sent but also get seen. Its robust email inbox rotation feature allows you to send emails from multiple accounts, managing your sending volume effectively and improving deliverability. It also comes with email verification to help you maintain a clean, bounce-free list of contacts.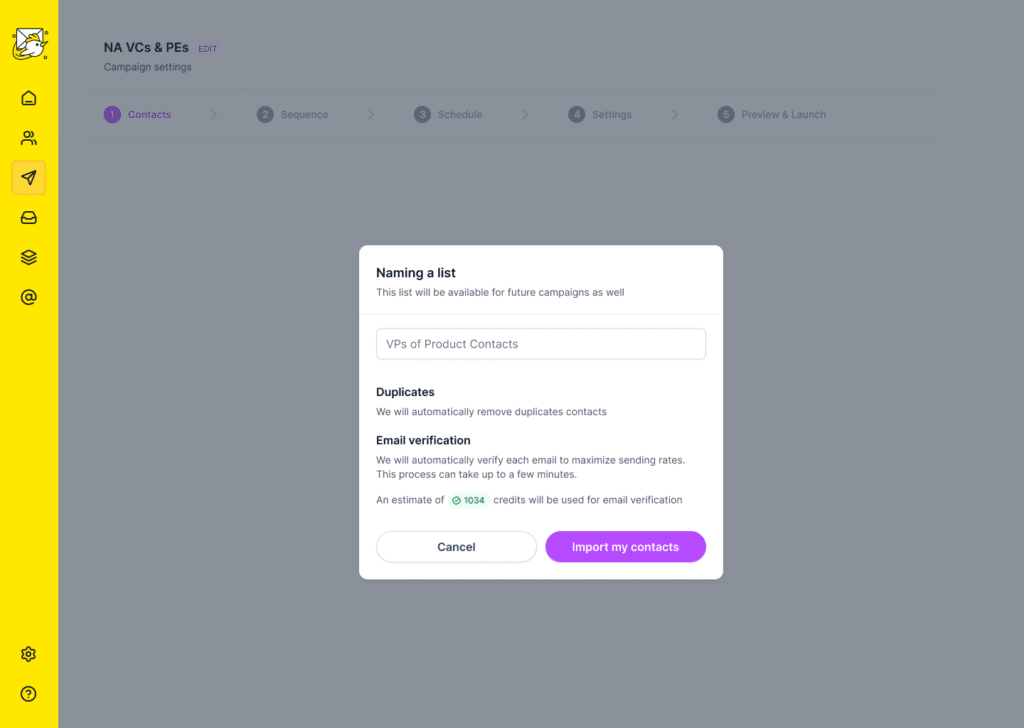 Your automated engagement partner
Say goodbye to the time-consuming, repetitive tasks of manual email campaigns. Cadence's automated email sequences are designed to streamline your communication process. Once set up, it consistently delivers finely-tuned messages that resonate with your audience, ensuring they feel valued and heard, fostering a stronger connection with your brand.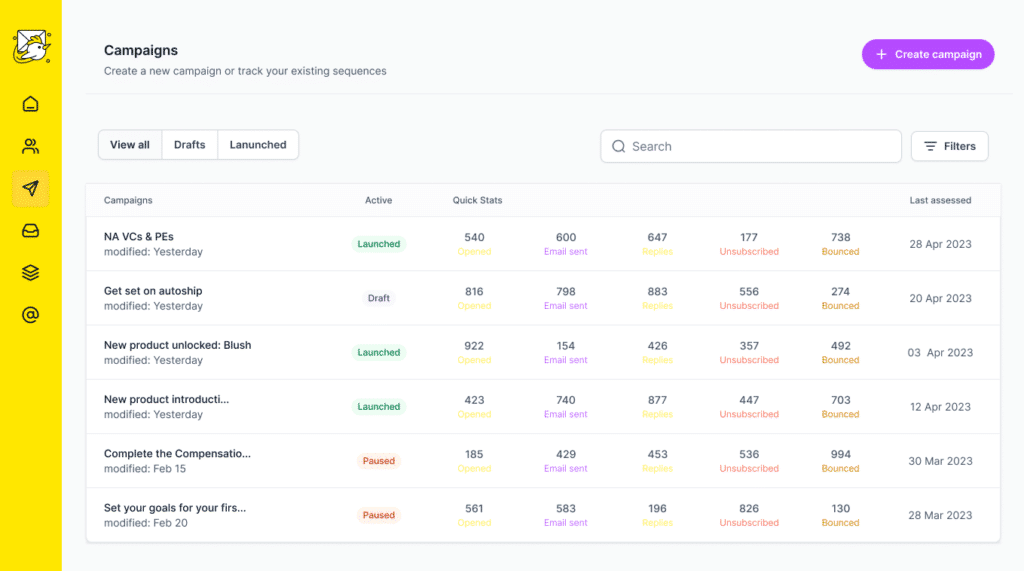 Organized workspaces for streamlined operations
With Cadence, you can create unlimited dedicated workspaces for each client, team, or project. This keeps your data isolated and organized, making managing your campaigns and tracking their performance easier.
Whether you're a small business or a large corporation handling multiple clients, Cadence's workspace feature will keep your operations smooth and efficient. Plus, it automatically reconnects any disconnected email accounts, ensuring uninterrupted communication and collaboration.
Comprehensive contact management
Cadence allows you to store unlimited contacts and track their engagement with your campaigns. This feature provides valuable insights into how your audience interacts with your emails, allowing you to refine your strategy and improve your results over time.
All-inclusive features for maximum impact
Every plan in Cadence comes packed with features designed to maximize your cold email campaigns. From email automation and unlimited auto-follow-ups to A/B testing and custom fields, Cadence has got you covered.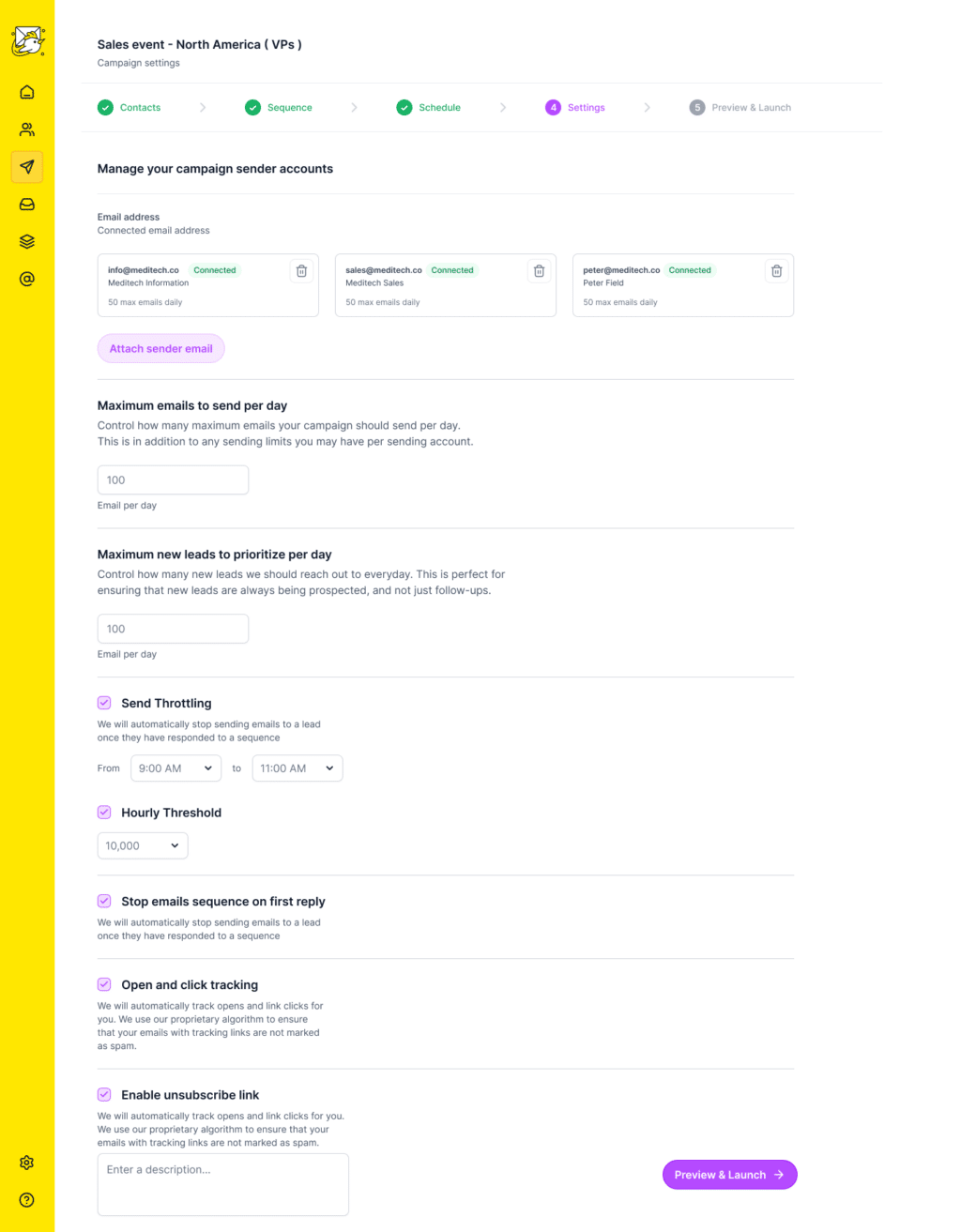 Cadence: Key Features at a Glance
Always included in all plans (yes, on the free plan too!)
Email automation
Unlimited auto-follow ups
Unlimited email inboxes
A/B testing
Inbox smart connect/disconnected alerts
Inbox rotation
Spintax
Email disconnect reminders
Email templates
Custom domains
Custom fields
Cadence Pricing
TL;DR–the only difference in pricing depends on emails sent (not team members, not workspaces, not features differentiation), so you actually pay for how many emails you send. Period.
Free Plan
All features included
Email up to 250 contacts monthly, and verify 10 emails monthly.
Basic Plan: $39/month
All features included.
Email up to 3,000 contacts monthly and verify 3,000 emails.
Standard Plan (Most Popular): $59/month
All features included.
Email up to 10,000 contacts monthly and verify 6,000 emails.
Plus Plan: $89/month
All features included.
Email up to 20,000 contacts monthly and validate 10,000 emails.
Email verification
Buy more verifications, starting from $15/1,000 credits.
Do you want to learn more about cold emailing best practices and KPIs? We've got you covered!
15 Cold Email Software Solutions Worth Exploring
There are so many tools out there that choosing only 15 cold email software solutions was difficult. However, after researching the options available in 2024, we have compiled a list of the best solutions worth exploring!
1. Saleshandy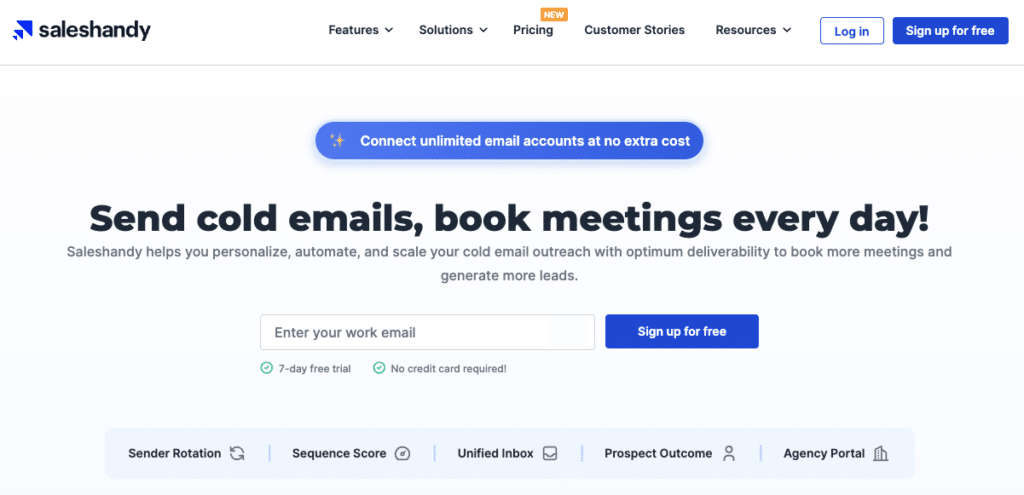 Saleshandy is a cold email outreach platform designed to help businesses generate more leads. It allows for the automation of cold outreach efforts with unlimited email accounts, high deliverability, and open rates. The platform is focused on sales development teams, providing tools for fast sales engagement.
Features
Email Deliverability: Ensures your emails reach the recipient's inbox, not their spam folder.
Email Open Tracking: Allows you to monitor when your emails are opened.
Email Scheduling: Lets you schedule emails for optimal engagement times.
Pricing
Free Trial: provides a 7-day free trial where users can test the tool's features.
Paid Plans: The cost per account/month ranges from $25 to $219 if paid yearly and $36 to $299 if paid monthly. Higher-tier plans include advanced features such as unlimited members and teams, email warm-up accounts, and third-party integrations.
Add-Ons: SalesHandy also offers an email verification credits add-on, which costs $60 for every 30,000 credits.
2. Hunter.io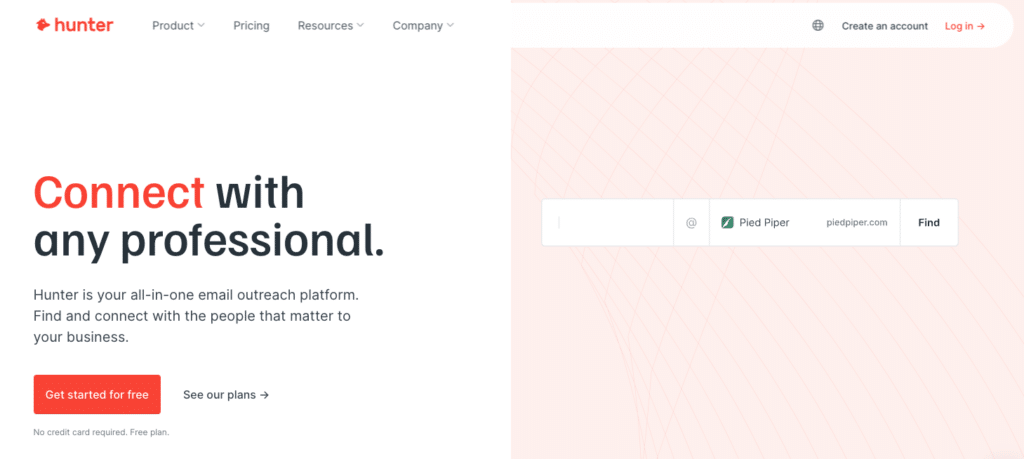 Hunter.io is a tool designed to help individuals and businesses find and verify professional email addresses. It allows users to connect with relevant professionals quickly and effortlessly. The platform offers a domain search, an email verifier, and an email finder, making it an effective solution for sales, recruiters, and marketers. It also has essential cold email software.
Features
Email Finder: provides quick and accurate email finding features.
Email Verification: ensures email validity and protects domain reputation and sender reputation.
Domain Search: optimizes outreach by finding all emails linked to a specific domain
Pricing
Free Plan: This plan includes 25 searches per month.
Starter Plan: At $49/month or $408/year, it includes 1,000 monthly searches.
Growth Plan: At $149/month or $828 per year, it offers 2,500 monthly searches and 5,000 monthly verifications.
Business Plan: At $499/month or $4,188/year, it offers 12,000 credits annually with additional features.
Enterprise Plan: Custom pricing.
3. Meet Alfred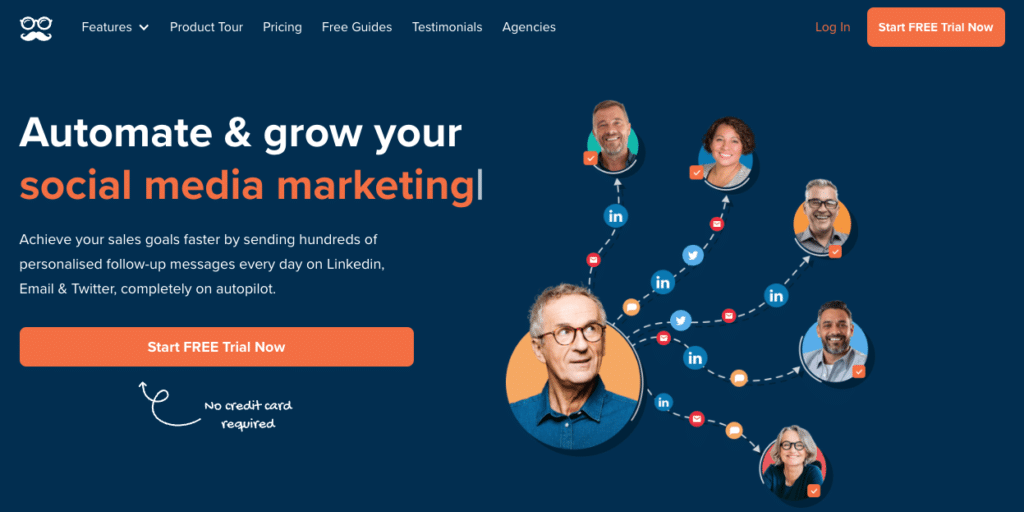 Meet Alfred is a comprehensive sales automation platform specializing in LinkedIn, Email, and Twitter automation. It empowers teams by automating their work, sending hundreds of personalized follow-up messages, and driving more meetings, sales, and profits. The software offers multi-channel campaign management, customized messaging, built-in LinkedIn search, and can manage integrations.
Features
LinkedIn Automation: Automates LinkedIn outreach with personalized cold email campaigns.
Email Campaigns: Allows scheduling of your cold email campaign for effective marketing.
CRM Integration: Offers seamless integration with popular CRM platforms.
Pricing
Free Trial available.
Solo Plan: At $59 per month, it includes all core features and 3 active campaigns.
Team Plan: At $89 per month, it includes all core features and unlimited active campaigns.
Agency Plan: At $345 per month, it provides all core features, a dedicated account manager, and white-label capabilities.
4. Lavender.io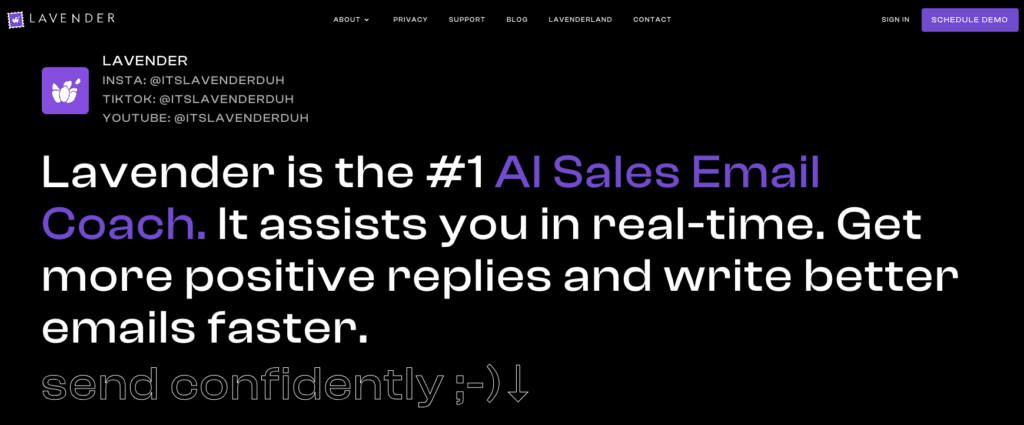 Lavender.io is an AI-powered sales email coach that assists users in writing better emails more quickly. It measures emails against best practices from over 100 million cold emails to provide valuable insights. As a browser extension, Lavender.io combines writing AI, social data, and productivity tools to help users get more positive replies in less time. The platform is widely used by sellers globally and is rated highly for its efficiency and effectiveness.
Features
Email Analysis: Get real-time AI analysis to improve your emails before you hit send.
Templates and Snippets: Save time with custom email templates and snippets.
Engagement Insights: Get insights on how recipients engage with your emails.
Pricing
Free Plan: This plan offers basic features like email analysis and limited weekly insights.
Starter plan: At $29 per month, it includes unlimited email analysis.
Individual Pro Plan: At $49 per month, it includes unlimited email analysis, CRM integrations, and priority support.
Team Plan: At $69 per month, it includes all Individual Pro features plus team analytics, training, and dedicated account management.
5. Respona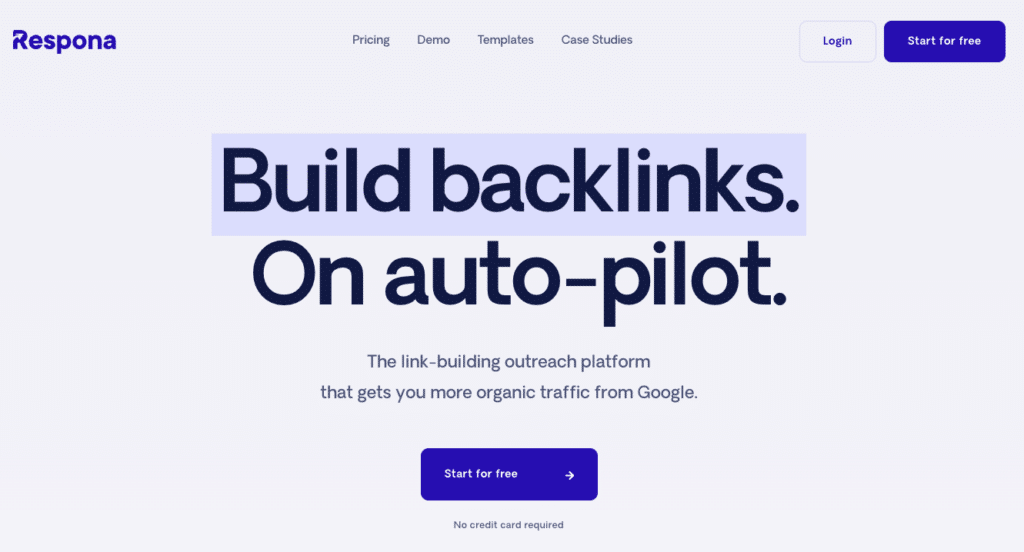 Respona is an all-in-one link-building, PR outreach, and cold email campaign software. It is designed specifically for B2B SaaS companies and agencies. The platform is aimed at helping businesses increase their organic traffic from Google by building relevant backlinks to their websites. Additionally, Respona allows brands to connect with relevant journalists and bloggers in just a few minutes.
Pros:
Contact Discovery: helps to find the right contacts for your outreach campaigns.
Content Research: provides a built-in search engine to find relevant articles, blog posts, and influencers.
Automated Outreach: automates the process of reaching out to potential contacts.
Pricing
14-day free trial available.
Starter Plan: At $197 per month, it includes 3 email accounts, 30k active contacts per month, full access to the platform, email finder and verifier, and more.
Pro Plan: At $397 per month, it includes all Starter features plus 50K active contacts per month.
Unlimited plan: Custom pricing including all Pro features, priority support, and 100K active contacts per month.
Enterprise Plan: Custom pricing for larger teams or businesses, including all Unlimited features plus custom volume of contacts, SSO, and dedicated success manager.
6. Mailshake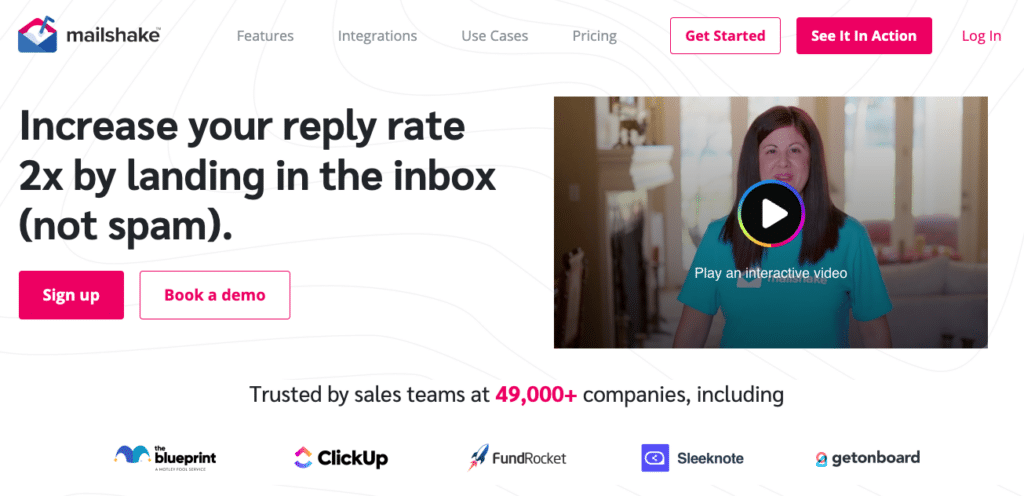 Mailshake is a cold emailing and automation software that is purpose-built for outreach deliverability. It enables users to send personalized cold emails at scale and set tasks to engage with prospects via phone and social channels. It's used by over 60,000 users globally to generate leads, build relationships, and promote their products.
Features
Email Outreach: simplifies the process of sending personalized cold emails.
Automated Follow-ups: enables you to automate follow-up emails and track responses.
Campaign Management: You can manage, track, and analyze your email campaigns in one place.
Pricing
Engagement: Email Outreach. At $59 per user/month, it includes basic features like email sends, campaign scheduling, and tracking. Sales Engagement. At $99 per user/month, it includes all Email Outreach features plus Salesforce integration, A/B testing, and more.
Data Finder: free trial available; pricing starts at $49/month with 1,000 credits per month.
7. Reply.io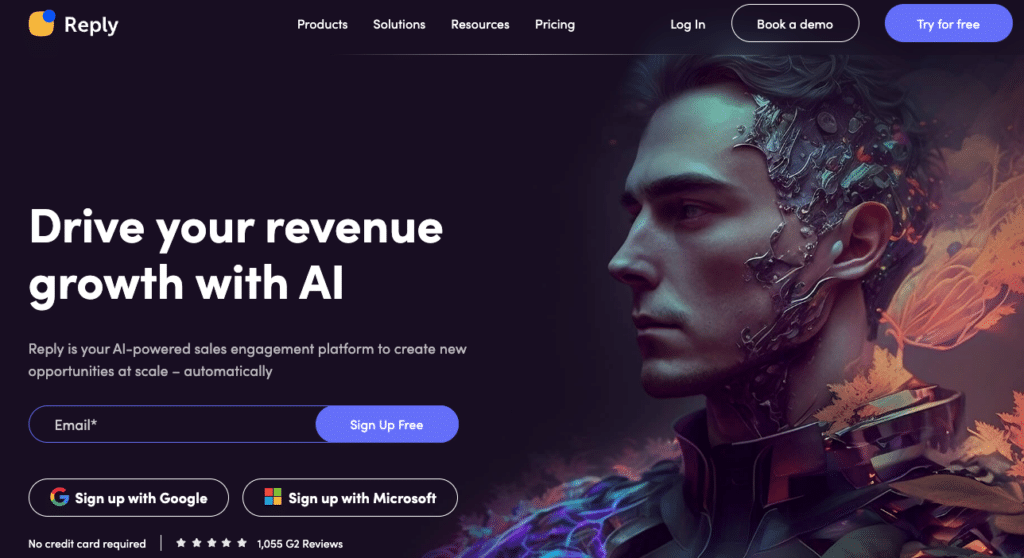 Reply.io is an AI-first sales engagement platform that assists SDR teams in finding new prospects, engaging them through multiple channels, and creating new opportunities. The software offers automation for lead generation and an AI sequence generator. It also provides users free B2B data and includes a free email finder and outreach tool.
Features
Automated Outreach: allows you to automate your cold email outreach campaigns.
Multichannel Sequences: supports email, voice, SMS, LinkedIn, and WhatsApp in sequences.
Analytics and Reports: provides detailed reports on campaign performance.
Pricing
Free Plan available.
Starter Plan: At $60 per user/month, it includes 1,000 data/credits, 1 mailbox, multichannel sequences, and more.
Professional Plan: At $90 per user/month, it includes all Individual features plus 2 mailboxes and warm-up.
Custom Plan: Custom pricing for larger teams or businesses, including all Professional features plus a dedicated account manager, priority support, and more.
Add-on: AI-powered personalization starting from $69/month.
8. Lemlist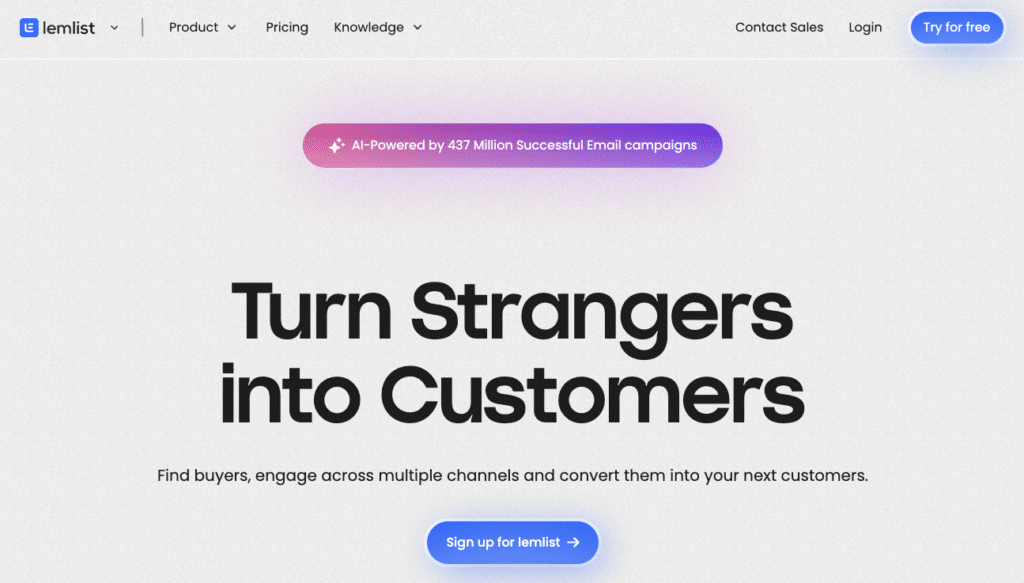 Lemlist is an AI-powered sales engagement platform trusted by over 37,000 users. It helps businesses streamline processes related to optimizing sales engagement, sending personalized emails, and starting conversations that get replies from prospects. The software enables users to create visually appealing and personalized emails, automate their campaigns, and improve engagement rates.
Features
Personalized Outreach: Lemlist facilitates the creation of visually appealing and personalized emails, enhancing the chances of engagement and conversion.
Sales Engagement Optimization: The platform aids businesses in optimizing their sales engagement, leading to more effective sales processes.
AI-Powered: The AI capabilities of Lemlist help users find, contact, and convert their ideal buyers across multiple channels.
Pricing
Free Trial: provides a 14-day free trial where users can test the tool's features.
Standard Plan: At $59/month, it offers an automated warm-up feature.
Pro Plan: At $99/month, it includes everything in the Standard plan, plus personalization, automated follow-ups, and email rotation.
Enterprise Plan: Custom pricing includes everything in the Pro plan, plus onboarding and success manager.
9. Instantly.ai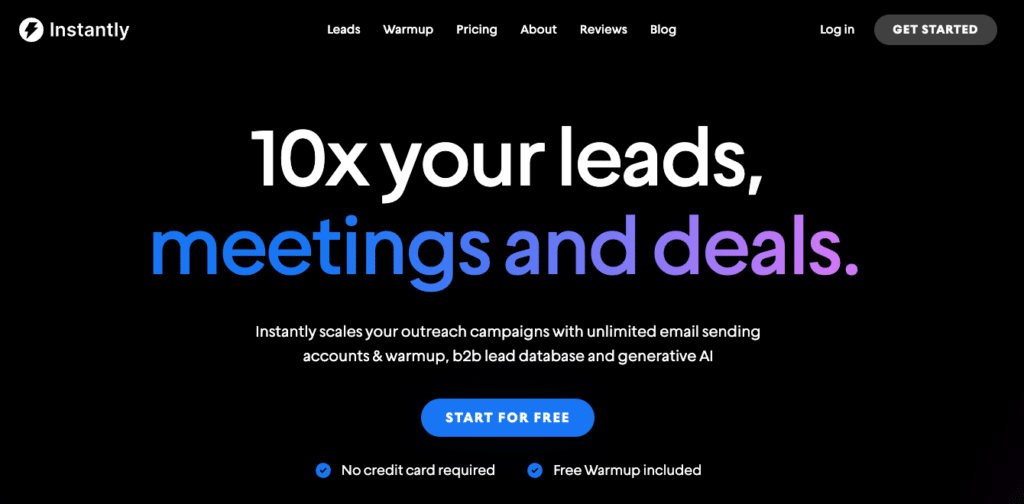 Instantly.ai is an AI-powered cold email campaign management platform designed to scale outreach campaigns. It offers unlimited email-sending accounts, automated account warmup, and smart sending to boost deliverability and response rates. The software also has the most accurate B2B database to help users reach their ideal prospects.
Features
Unlimited Email Sending Accounts: enables you to scale your outreach campaigns with unlimited email sending accounts.
AI-Powered Interest Tagging: uses AI optimizations for smarter targeting.
B2B Lead Database: provides a B2B lead database to help find your leads.
Pricing
Sending and warm-up: Starting at $37/month, it offers an automated warm-up feature.
Leads: Starting at $47/month/, you can use it to find your ideal prospects.
10. Snov.io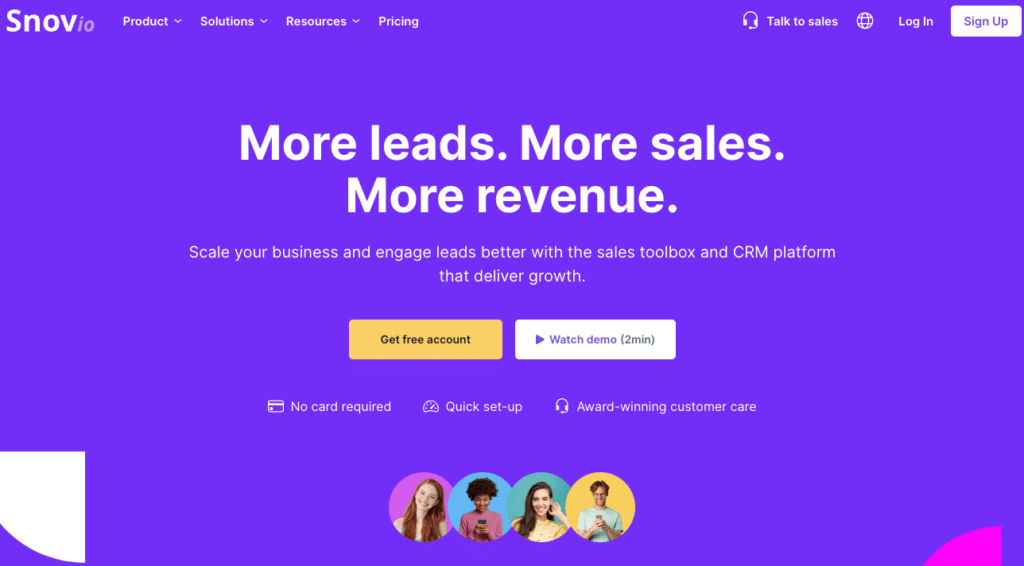 Snov.io is a comprehensive sales automation platform that combines lead generation, email verification, and email sending tools to streamline sales outreach. The platform offers a toolbox of everything you need to automate your email marketing and sales. It's also equipped with an Email Finder tool with an inbuilt email verifier and various free tools.
Features
Sales Automation & Acceleration: offers a complete platform for prospecting and cold outreach, accelerating sales.
Email Finder and Verifier: features an easy-to-use email finder with an inbuilt email verifier.
Lead Generation & CRM: automates the process of finding potential leads and serves as a CRM.
Pricing
Free plan available.
Starter Plan: At $39/month, it offers 1,000 credits and 5,000 email recipients.
Pro Plan: At $99/month, it provides 5,000 credits and 10,000 email recipients.
Managed Service Plan: Starting at $3,999/month, it delivers custom lead generation and outreach campaigns.
11. QuickMail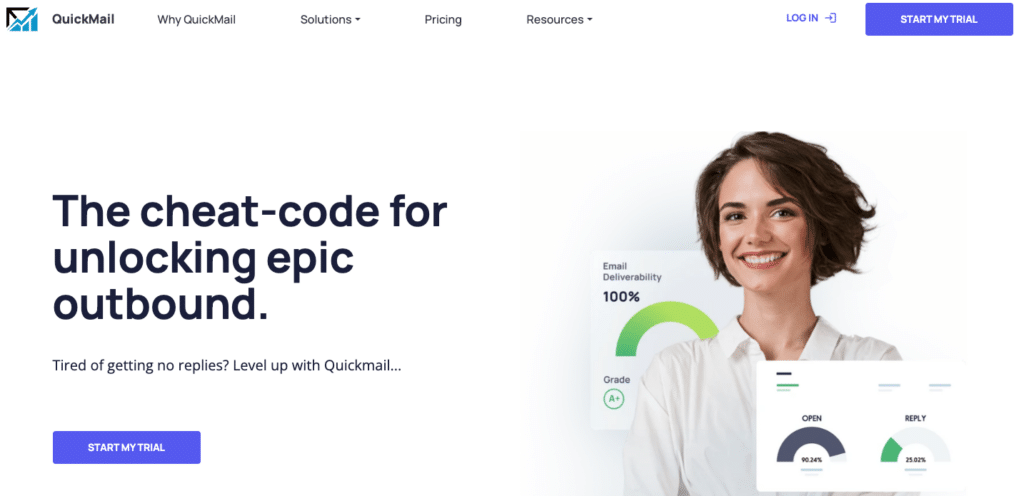 QuickMail is an automated email outreach software designed to streamline sales and marketing processes. It focuses on sending outbound cold emails that prospects are more likely to respond to. The platform offers customizable tracking, the capacity to set up variations and push changes made to email content, triggers, or email sequences used in campaigns, and tools for managing email marketing, social media, and web analytics.
Features
Cold Email Automation: QuickMail allows you to automate your cold email process for B2B outreach.
Email Tracking and Follow-ups: QuickMail provides detailed tracking and automated follow-ups.
Integrations: It integrates with various tools like Zapier, Google Sheets, etc., for seamless workflows.
Pricing
Free Trial: provides a 14-day free trial where users can test the tool's features.
Starter Plan: At $49 per month, it includes 200 prospects per day, unlimited inboxes, A/B testing, and Zapier integration.
Pro Plan: At $69 per month, it includes all Starter features plus API access, priority support, and team collaboration tools.
Agency Plan: Custom pricing.
12. Outreach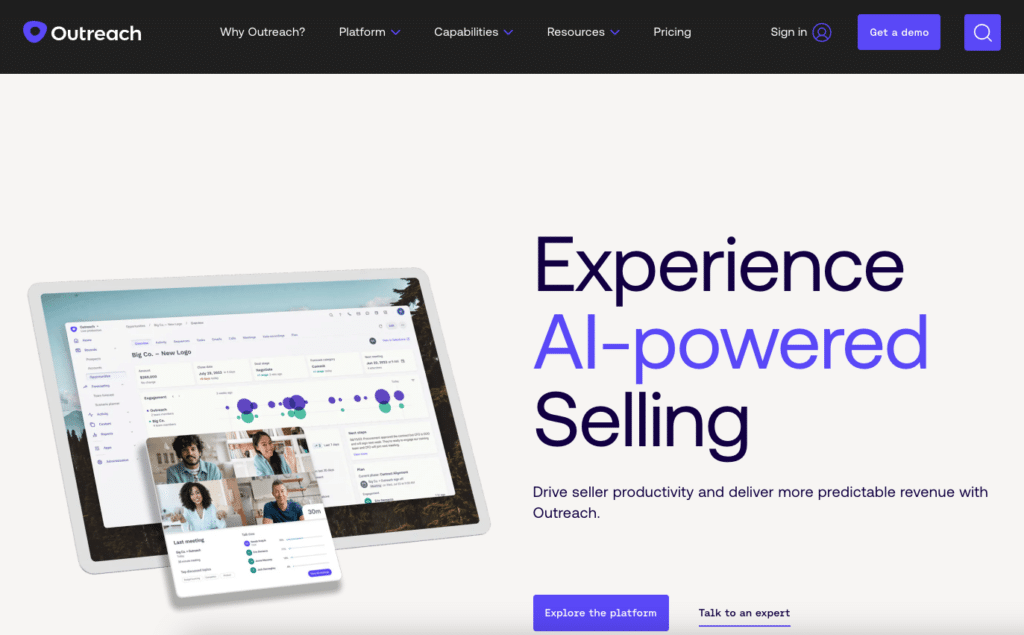 Outreach is a comprehensive sales execution platform that empowers the entire sales organization. It integrates sales engagement, conversation intelligence, and revenue intelligence into one platform. The tool offers integrated analytics, intelligent automation, seamless integration capabilities, and comprehensive sales execution strategies.
Features
Sales Engagement Platform: Outreach offers a comprehensive platform to manage and scale all customer interactions.
Advanced Analytics: It provides detailed analytics and insights to optimize your sales process.
Multi-Channel Capabilities: Outreach supports various communication channels, including email, voice, and social media.
Pricing
Outreach does not publicly disclose its pricing or features per tier on its website. They offer custom pricing based on the specific needs of businesses and individuals.
13. Apollo.io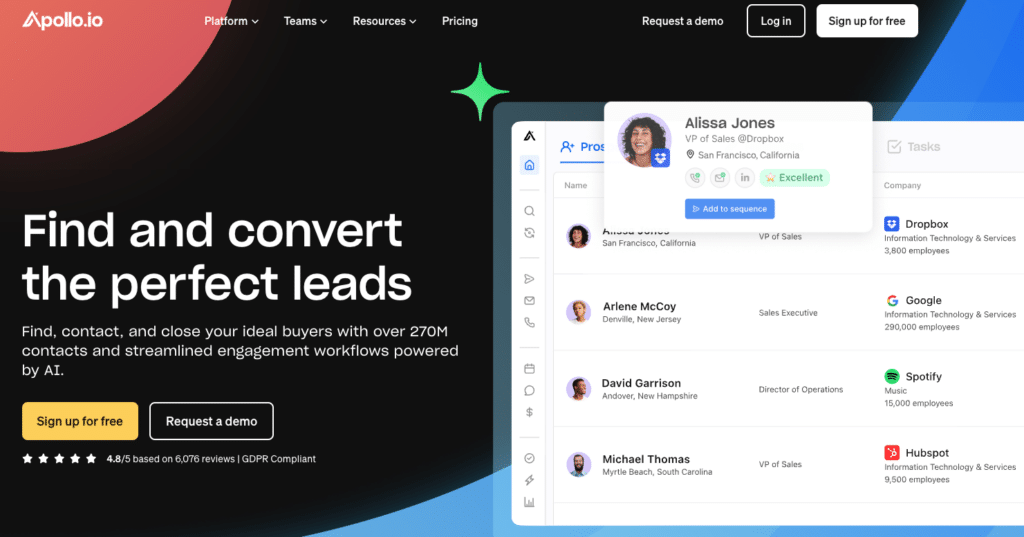 Apollo.io is an all-in-one sales intelligence platform that combines a buyer database of over 270 million contacts and powerful sales engagement and automation tools. Founded in 2015, the platform helps users prospect, engage, and drive more revenue. Apollo.io is trusted by over 500,000 companies and millions of users globally, from rapidly growing startups to established businesses.
Features
Sales Intelligence and Engagement: offers a comprehensive sales intelligence and engagement platform.
Buyer Database: It provides access to a vast buyer database of over 270 million contacts.
Email Tracking: Apollo enables users to track emails and connect with buyers.
Pricing
Free plan available: 1 user per month
Basic Plan: At $49 per month, it includes 2 sequences, 1 mailbox, 250 email sending per day, and Microsoft and Gmail support.
Professional Plan: At $79 per month, it includes 5 mailboxes, unlimited sequences and email sending per day, and all email providers support.
Organization Plan: At $119 per month, it includes 15 mailboxes, unlimited sequences and email sending per day, and all email providers support.
14. Klenty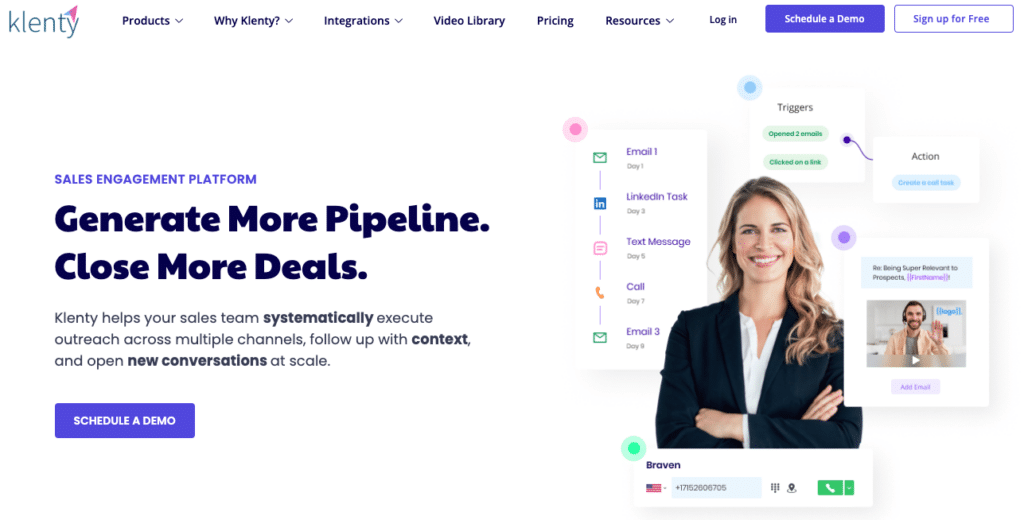 Klenty is a cold email software designed to help sales teams reach out to prospects by sending personalized emails and automated follow-ups at scale. The software allows businesses to automate processes related to email marketing, lead management, drip campaigns, and more. Klenty also has native integration with popular CRMs like Pipedrive, Salesforce, Zoho, Hubspot, that helps teams automate the entire sales process.
Features
Email Campaign Automation: Klenty is a tool that allows you to automate personalized emails and follow-ups at scale.
CRM Integration: It offers seamless integration with various CRM platforms for effective sales processes.
Detailed Tracking and Analytics: Klenty provides detailed tracking of email opens, clicks, and responses.
Pricing
Startup Plan: at $60 per quarter, it includes basic features like email campaigns, and follow-ups.
Growth Plan: at $85 per quarter, in addition to the Startup features, it includes advanced features like team collaboration and CRM integration.
Pro Plan: at $125 per quarter, it includes all Growth features with added benefits like priority support, custom onboarding, and sales coaching goals.
Enterprise Plan: custom pricing, it includes all Pro features plus IP-based login restrictions, quarterly CS review, and advanced deliverability insights.
15. Yesware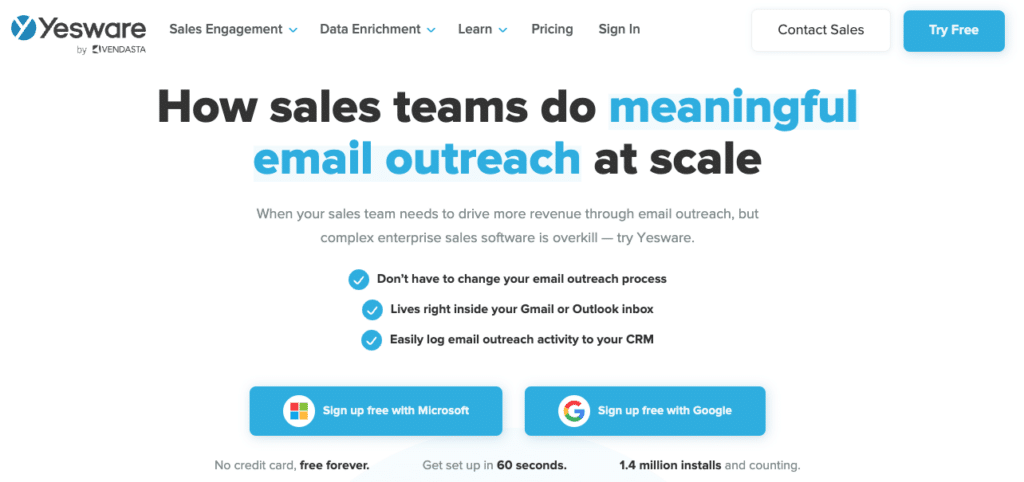 Yesware is a sales productivity platform that provides email tracking, customizable sales templates, CRM integration, and more to help sales teams manage their prospects and leads. It offers data-driven insights to help users improve their sales team' performance and close deals more efficiently. Yesware integrates with Gmail and Outlook, making it easier for teams to manage their sales communication from their preferred email client.
Features
Email Tracking: Yesware allows users to track email outreach activity.
Integration: integrates with Salesforce and LinkedIn (which means adding LinkedIn Sales Navigator to Gmail), and several other tools.
Sales Toolkit: Yesware provides an all-in-one toolkit for prospecting, scheduling meetings, and follow-ups.
Pricing
Free plan available.
Pro Plan: at $19 per user/month, it includes basic features like email tracking, presentation tracking, and personalized templates.
Premium Plan: at $45 per user/month, it adds features like CRM integration, click-to-call, and engagement reports.
Enterprise Plan: at $85 per user/month, it includes all Premium features plus the Salesforce inbox sidebar,
Custom Plan: custom pricing, everything in the Enterprise plan, plus security and legal review, Salesforce managed package reporting, and dedicated CSM.
[BONUS] How to write a cold email
Cold Emailing Best Practices
We all know that feeling–you've found a potential client and are ready to make contact. You want to send them an email that's professional, engaging, and, most importantly, effective. Cold emailing can be intimidating, much like stepping into a room full of strangers at a networking event. But, just like that networking event, the right approach and preparation can open up a world of opportunities.
Following Taylor, a fictional BDR, this section will provide some best practices for cold emailing. These practices can help you avoid common pitfalls and elevate your outreach strategy, turning those cold leads into warm conversations.
Verify your contacts
Verifying contacts is arguably as important as crafting the perfect subject line in cold email outreach. Imagine spending hours meticulously creating a persuasive email only to have it bounce back because the address was incorrect or no longer active.
To avoid such scenarios, it's essential to verify your contact list.
Taylor regularly sends cold emails to potential partners. Cadence's built-in email verifier ensures that every email address on their list is active and valid, saving both time and effort.
This simple yet critical step significantly increases their email deliverability rate and ensures their well-crafted messages reach their intended recipients.
Use multiple email accounts
Just as you wouldn't use a single basket to carry all your eggs during an Easter hunt, it's wise not to rely on a single email account when sending out cold emails.
Here's why: after verifying their email list, Taylor can send hundreds of cold emails monthly to potential clients, reducing the risk of their primary email account getting flagged for spam.
A/B test your emails
A/B testing can be your secret weapon in the quest for effective cold emailing. It's like choosing between two flavors at your local gelateria–you try a little of both and then go with the one you prefer.
Similarly, A/B testing allows you to test two different versions of your email to see which performs better.
Taylor uses this approach when reaching out to potential clients. They create two versions of an email, version A and version B. Version A might have a formal tone and a direct subject line, while version B adopts a more casual tone with a catchy, question-based subject line.
Taylor sends these versions to different segments of their contact list and then analyzes which gets a better response rate. Through this method, Taylor continually refines their outreach strategy based on real data, ensuring their emails are as effective as possible.
Create email sequences
Creating email sequences can be likened to setting up dominoes; you carefully line them up, and then, with a single push, they all tumble in a satisfying sequence.
Let's get back to Taylor. They don't just send one cold email and hope for the best. Instead, they create a sequence of emails, each building on the last, to engage their potential clients. Using a tool like Cadence, Taylor crafts a series of emails that are automatically sent out at strategically timed intervals.
The first email might introduce Taylor and their company's services, the next could share some testimonials, and a third might offer a free demo. This sequence keeps Taylor top-of-mind for the recipient and provides multiple opportunities to showcase their value proposition.
So, to enhance your email outreach, take a leaf from Taylor's book and start creating your email sequences.
Tips for Writing Cold Emails
Effective cold emailing is an art. It requires a blend of creativity, empathy, and strategic thinking. But once you've mastered it, it can open doors to countless opportunities. Let's explore some best practices that can help your cold emails hit the right notes.
Crafting a compelling subject line: Think of your subject line as the headline of a news article. It's the first thing people see, which can make or break their decision to open your email. Keep it intriguing, relevant, and concise to pique their interest.
Personalizing your message: Personalization goes beyond just using the recipient's name. Dive deeper. Reference their work, comment on shared interests, or mention mutual connections. This helps build rapport and shows that you've done your homework.
Keeping your email concise and clear: Time is precious. Respect your recipient's time by keeping your message clear, concise, and to the point. Use plain language and short sentences. Make sure your purpose is evident, and your request is clear.
Using Call-to-Action (CTA) effectively: A CTA is your cue for the recipient to take action. Whether you want them to check out your website, schedule a call, or reply to your email, be specific about what you want them to do next.
Following up without being pushy: Just because someone didn't reply doesn't mean they're not interested. They might have missed your email or forgotten to respond. A gentle follow-up can nudge them in the right direction. But remember, there's a fine line between being persistent and pushy. Respect it.
Cold email KPIs
Key Performance Indicators (KPIs) are critical metrics that help you assess the effectiveness of your cold email campaigns. Here are some of the most important KPIs:
| | |
| --- | --- |
| Open Rate | This is the percentage of recipients who open your email. It's a basic measure of how compelling your subject line is and whether your email reaches an engaged audience. |
| Click-Through Rate (CTR) | This measures the percentage of recipients who not only opened your email but also clicked on one or more links within it. A high CTR typically indicates that your email content is relevant and engaging. |
| Conversion Rate | The percentage of recipients who take the desired action after clicking on your link. This could mean filling out a form, purchasing, or any other action that aligns with your campaign goals |
| Bounce Rate | This metric shows the percentage of emails not successfully delivered to the recipient's inbox. A high bounce rate might indicate that many email addresses on your list are invalid. |
| Response Rate | This is the percentage of recipients who reply to your email. A higher response rate usually indicates that your email content sparks interest and engagement. |
| Unsubscribe Rate | This is the percentage of recipients who opt out of receiving future emails from you. If this number is high, it could indicate that your content isn't resonating or you're emailing too frequently. |
| Delivery Rate | This is the percentage of emails that actually land in your recipient's inbox, as opposed to their spam folder or not being delivered at all. A high delivery rate is crucial for the success of your email campaign. |
Conclusion
In this article, we've seen 16 cold email software solutions for different needs. Choosing the right cold email tool for your business is not just a convenience; it's a key determinant of your campaign's success.
Remember to follow best practices for cold emailing, such as personalizing your emails, maintaining a clean contact list, and tracking your results to refine your strategy continuously.
And when it comes to cold email software, our suggestion is to look for a tool that's designed to enhance deliverability, streamline operations, and doesn't break the bank.
So why wait? Give Cadence a try today and experience the difference a top-tier cold email software solution can make in your cold emailing endeavors.
FAQs
What is cold email software?
Cold email software is a tool that allows you to send unsolicited emails to potential clients or customers. These cold email outreach tools often provide features like automation, personalization, and analytics to help streamline the process and increase your chances of getting a response.
Is cold emailing illegal?
Cold emailing is not illegal, but it must comply with certain laws and regulations like the CAN-SPAM Act in the U.S., GDPR in Europe, and CASL in Canada. These laws generally require that you identify yourself accurately, provide a way for recipients to opt-out, and honor these opt-outs promptly.
Is cold email still effective?
Yes, cold email can still be effective when done correctly. It's important to personalize your emails, use compelling subject lines, and offer value to the recipient.
What is the best way to send cold emails?
The best way to send cold emails is by using reliable cold email software that allows for personalization, automation, and tracking. It's also crucial to craft compelling subject lines, keep your message concise, and follow up without being pushy.
What are cold outreach campaigns?
Cold outreach campaigns are strategies businesses use to reach potential customers or clients without any previous contact or relationship with the company. This is often done via email, social media, or even phone calls. The goal of a cold outreach campaign can vary–it could be to introduce a new product or service, generate sales, request a meeting, or establish a connection for future interactions.
It's called 'cold' outreach because you're contacting someone without prior interaction, unlike 'warm' outreach, where there's already some familiarity or relationship. While cold outreach can be challenging due to a lack of personal connection, it can also be effective.
This involves crafting personalized messages, providing value in your communication, and following up appropriately. It's also important to respect the recipient's response (or lack thereof) and comply with all relevant laws and regulations.
What is the best domain extension for cold email?
There isn't a definitive answer to this, as it can depend on various factors. However, a reputable domain extension such as .com, .net, or .org can help enhance your credibility.
Is email warm-up required for a cold emailing tool?
Email warm-up can help improve your email deliverability by gradually increasing your sending volume over time. This can help establish your reputation as a sender and reduce the chances of your emails being marked as spam.
Is Gmail or Microsoft better? What if I want to use another Email Service Provider (ESP)?
Both Gmail and Microsoft (Outlook) have pros and cons, and the choice between them often comes down to personal preference and specific needs. If you want to use another ESP, numerous options are available, such as Yahoo Mail, ProtonMail, Zoho Mail, and more. Choosing an ESP that meets your needs in terms of storage, security, usability, and other features is essential.
What is the difference between cold email software and email marketing software?
Cold email and email marketing software are tools used in digital communication strategies, but they serve different purposes and are used differently. The main difference lies in their purpose and the type of relationship with the recipient.
Cold email software is used for sales prospecting and outreach. It enables sending unsolicited emails to potential customers to start a conversation that may lead to a business relationship. Features may include personalization, automated follow-ups, and tracking of email interactions.
Cold email marketing software aligns with inbound marketing strategies. It sends emails to engage, nurture, and convert recipients into customers. These emails include newsletters, promotional offers, and product updates sent to individuals who have opted in to receive them. The software offers features like designing templates, segmenting contacts, and analyzing campaign performance.