Your Sales Stack is the marketing and sales technology that you have in your arsenal designed to help you attract new clients and sell more to existing ones.
And now, in 2022, we've got tools at our fingertips that would have been almost unfathomable at the beginning of the century. There are so many SaaS tools out there that can help you drive sales by offering features, including tracking customer data, setting up demos, offering custom discounts, and more.
With so many tools on the market, knowing which tech you need in your sales stack is more important than ever before. In this post, we're going to take a look at seven types of tools you need in your sales stack and share our go-to recommendations for each.
1. Customer Relationship Management Tool (CRM)
Your CRM will be everything, and many will either integrate with other tools on this list or actually come with some of the other tools attached.
A CRM will store all of your contacts (including leads and customers) and track and review their entire history. See users who have engaged with your site, opened emails, booked an appointment, or purchased recently. You can use all of this information to provide outstanding support and personalized sales recommendations.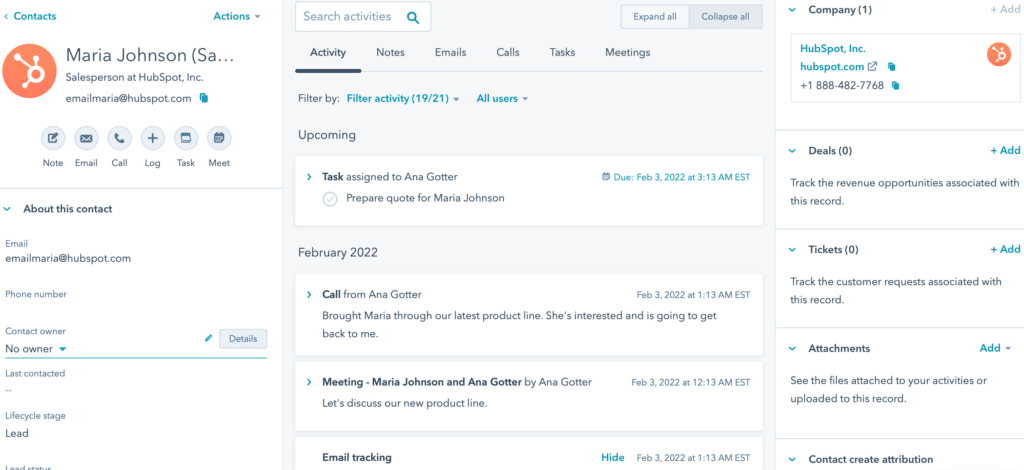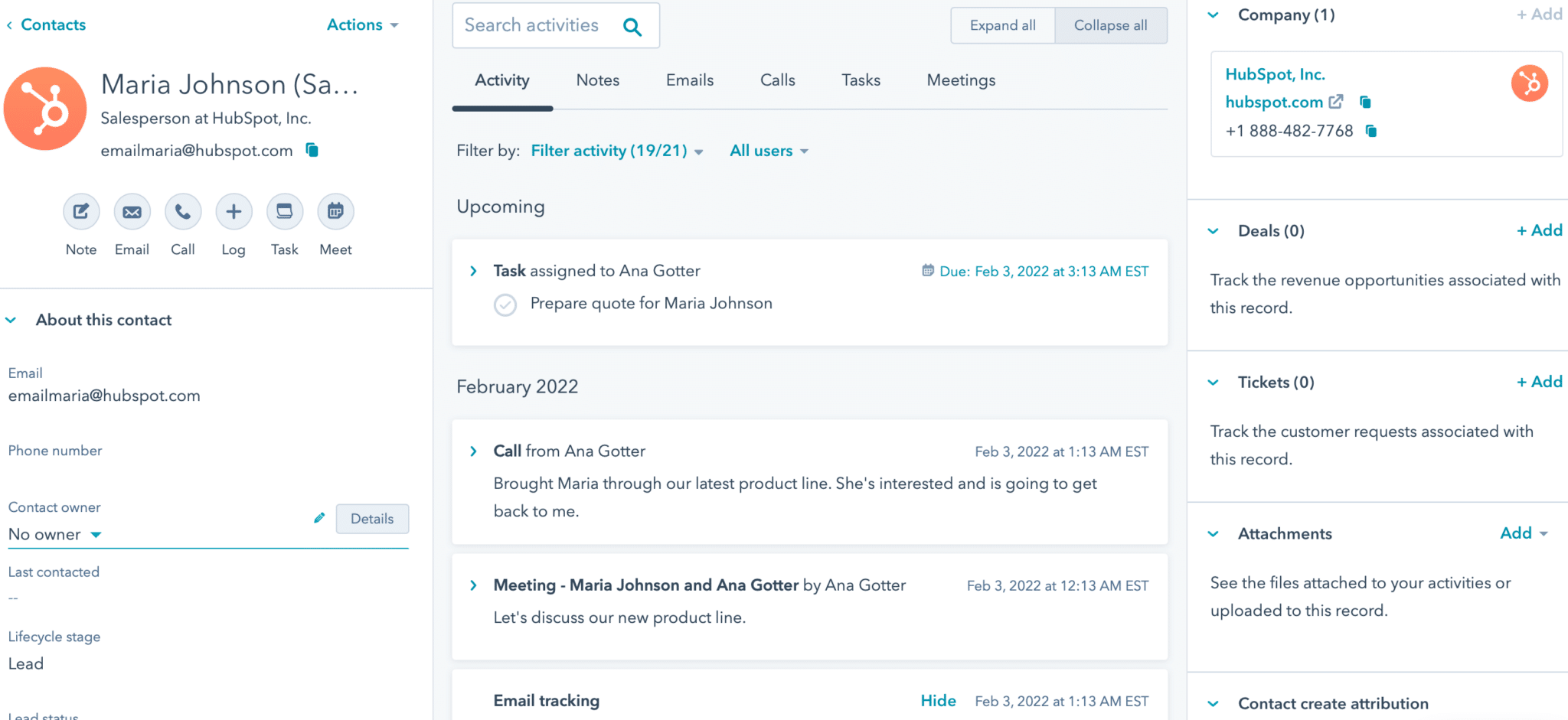 Tool Recommendation
There are plenty of great CRMs on the market, but my go-to choice is HubSpot. It's incredibly intuitive, it walks you through the setup process, and it scales up and down well. It has plenty of great features at every plan level, and a number of advanced features as you increase your plan cost.
SalesForce is also a great option (and it's our top sales-first software, which we'll discuss in the next section).
2. Sales-First Software & Analytics
In many cases, your CRM will overlap with sales-facilitating and analytics software, but because they can be separate we wanted to have them listed separately here, too.
Sales software and analytics will focus entirely on helping your brand to find opportunities to sell more. Features typically are going to include the following:
Conversation tracking with leads and customers to help you facilitate sales, including automated follow-ups
Native demo- or call-booking
Custom deal creation
Sales forecasting
Detailed analytics about sales
This is one of the most important sales categories out there, so it's important to choose a tool that works for your entire team.
Tool Recommendation
SalesForce is easily the top sales-focused tool on the market right now. They have more advanced and customizable features, which is why it's regarded as one of the top industry tools right now.
SalesForce can get pricey, so if you need a more budget-friendly tool, HubSpot is comparable here with their features (especially once you get into their paid plans).
3. Contact Scoring Tool
Contact scoring tools—also sometimes called "lead scoring tools"— serve a very distinct and more singular purpose compared to the two tools we've looked at so far for your sales stack.
These tools look at individual contacts and give them a score based on factors like their company demographics, onsite engagement, and other activity with your brand. These scores help your sales team identify high-value leads, but they can also help you determine upselling or cross-selling opportunities, too.
Tool Recommendation
It goes without saying that Breadcrumbs is our go-to choice here. We use a unique co-dynamic approach to contact scoring that no other tools can compare to, giving you both a fit score and an activity score for each contact.
Our system also has templates for different models, like upselling or cross-selling models, that are fully customizable so your sales team has all the actionable information they need. Learn more about how this works here.
4. Lead Generation & Prospecting Tools
Lead generation and prospecting tools are a category of tools that can help you find new prospects to reach out to and capture information about contacts that you've already identified.
The more leads you have, the better, and the more data you have about those leads, the better. These tools can give your sales team new opportunities for outreach, giving them the ability to get in touch instead of waiting for leads to come to them. The data they pull from these tools can also help them create custom sales pitch decks and deals to increase the chance of conversion, especially if they're opting for account-based marketing.
Tool Recommendation
There are a variety of tools that we'd recommend for this purpose, including the following:
You can also just use the standard LinkedIn platform for networking purposes. In many cases, using a combination of different tools may give you the best reach and the most thorough information.
5. Automation Tools
The sales world moves fast, and especially as your team grows, your sales team has so much on their plates at any given moment. As a result, they don't have to check in on ten different platforms every day or log in to see if there are new leads from Facebook.
Instead, your team needs to rely on fast, immediate, and automatic data syncing. This is where automation tools come into place.
There are plenty of integration-heavy automation tools that will help your sales team streamline their processes. All your social media messages could come through your CRM, for example, or when users open an email, you can craft a follow-up instantly.
Tool Recommendation
There are plenty of automation tools out there, and some CRM or sales-focused platforms come with automation features. That being said, my preferred tool is Zapier.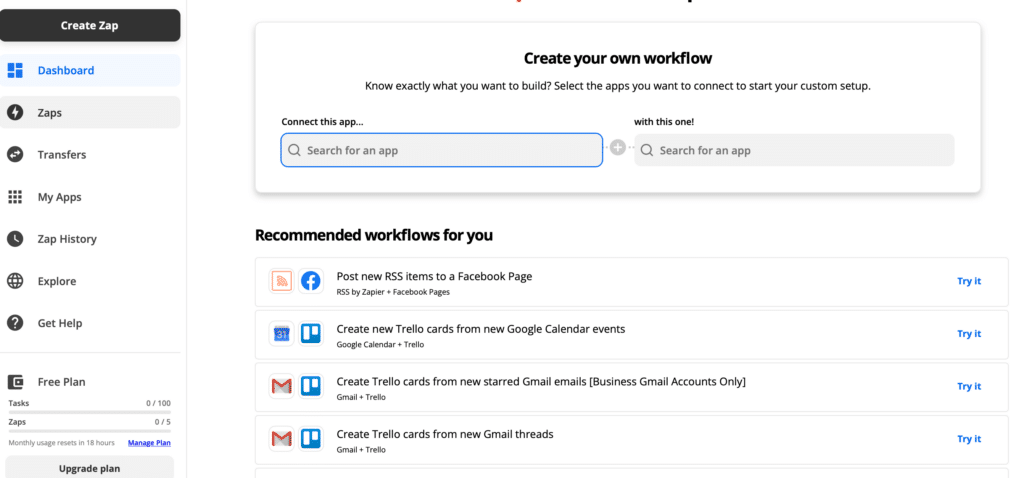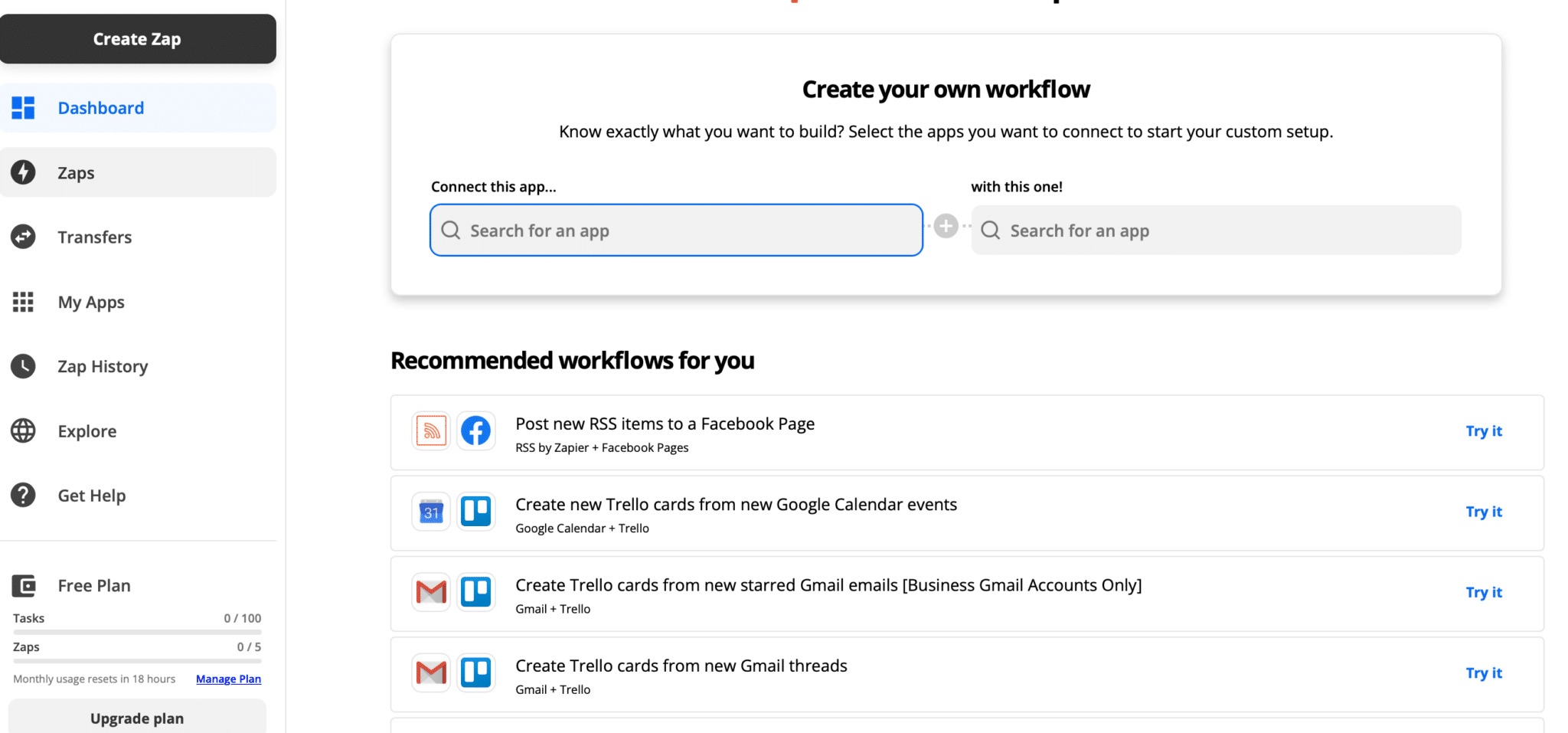 They have thousands of different integrations, it's easy to use, and you can create custom Zaps to create your own workflows.
6. Appointment Booking Software
Appointment-booking and demo-booking software should be a go-to for all brands, but it's often overlooked as a tool for your sales stack.
An appointment booking system can be integrated into your site for demo or sales call booking. You can also have individual calendars for each of your sales team members, which they can link to in their email signatures. This makes it easy for your team to manage their own calendars and for your customers to get in touch as needed.
Tool Recommendation
Calendly is one of the easiest scheduling tools on the market to use. They allow you to customize your schedule, blocking out times when you aren't available and setting time limits or meeting types to give you control over your schedule even while you automated it.
You'll get reminders about upcoming meetings, and the person you're meeting with will, too.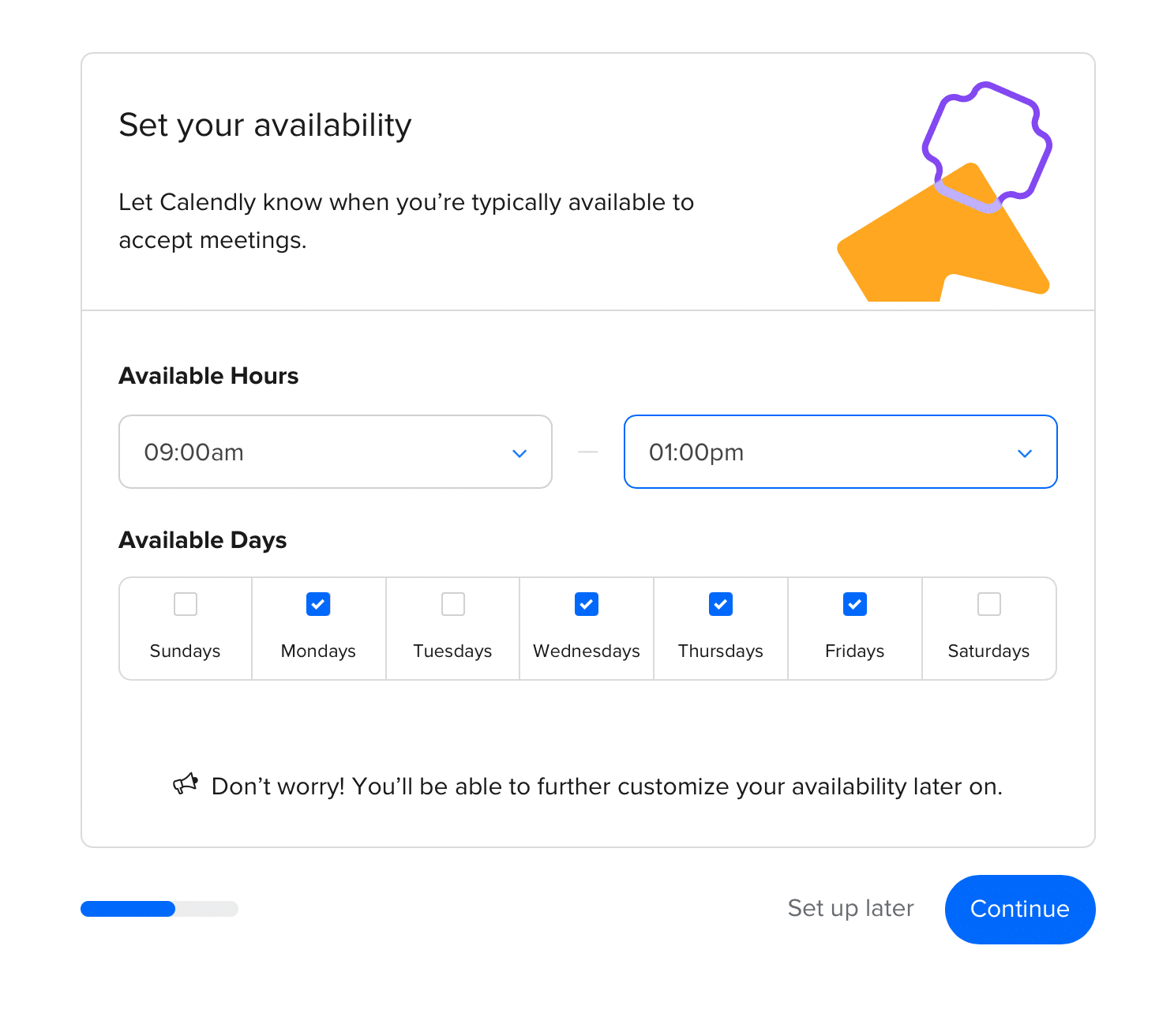 Calendly also integrates with other tools, so you don't have to just stick to a phone call; you can also set up Zoom calls, too. And best of all, paid plans start at just $8 per month, making this an easy add-on feature that won't break the bank for any budget.
7. Live Chat Tools
Last but not least, we strongly recommend that sales teams of all sizes implement live chat tools.
More and more customers are turning to live chat when they have a question or concern, so having live chat functions on your site will increase the likelihood that they'll get in touch and thus convert. It gives your customers one more way to get in touch and your sales team one more opportunity to close a deal.
Plenty of live chat tools will actually integrate your on-site live chat messages alongside your brand's social media private messages so that your team can respond all in one place.
Tool Recommendation
There are plenty of live chat tools out there, and the best ones really depend on your specific business.
Drift is a solid choice, no matter what your specific needs are. It's designed to help you create improved sales pipelines.
 It's easy to set up, customize, and integrate with third-party tools. It also comes with plenty of features like analytics, conversational AI tools for fast responses and navigation menus, and lead qualification. It's a great choice for a live chat tool that's both customer- and sales-friendly.
Sales Stack: Final Thoughts
As you're building a sales stack for your team, a good first step is to take a look at the tools that you're already using. This will (and absolutely should) shape what tools you're adding to the list.
If you already have some tools and are looking to build to your stack, you want to find additional tools that do the following:
Replace existing tools that you're unhappy with
Fill any gaps in the tools that you're already using and want to continue using
Integrate with existing tools that you want to continue using
If you're starting from scratch, make a list of the specific needs you have for the types of tools that you want to add. This will help you rule out which software is right for you and which isn't. And always remember to make a total budget for how much you can spend on sales stack tech and take that into consideration.
Most tools either offer free trials or free demos, so you can be confident that you're finding the tech that works best for your brand and your sales stack to get you a few steps closer to Revenue Acceleration.
Ready to add a contact and lead scoring tool to your sales stack? Book your free demo of Breadcrumbs here.