Product-Led Growth (PLG) is likely a term that you've heard a lot recently if you're in the B2B or SaaS world in any capacity.
You've probably already used a few PLG tools, potentially without even realizing it.
Slack is one. Dropbox is another. Both have risen to astronomical heights using a PLG model, and more and more SaaS tools are using this approach to grow their brands—and accelerate their revenue.
So what exactly is a PLG company, and why is this a growth model you should consider?
We're about to answer both of these questions, and share seven of the top PLG company examples that are knocking it out of the park right now.
What Are PLG Companies?
Product-led growth (PLG) companies are brands that leverage active usage of the product by end-users as a core acquisition strategy.
PLG SaaS tools, for example, will often have free "base" plans for extended use.
The idea is simple: You allow potential customers to "test" the tool for free, seeing that it's a great fit for their needs. As they use it for their business and integrate it with other tools, the value becomes clear and they're confident in your software. They convert from a free user to a paying client.
It's a little like the idea of content marketing. You offer concrete value for the user to benefit from before capturing value. And in this customer-led, hyper-competitive market, this is an iron-clad strategy for many brands.
Why SaaS Brands Should Use The PLG Company Growth Model
The PLG growth model has been a successful one for many companies, and there are a large number of well-known, established, and industry-dominating tools that utilize this model. (We're going to take a look at some of the most notable in a few minutes).
That being said, there are multiple reasons why you should consider opting for a PLG model, including the following:
a. You invest in a strong end-user experience.
This is a great go-to-market (GTM) strategy in addition to being a strong growth model. When you create a strong product designed to appeal to the end-user right from the beginning, with a major focus on continuous growth, that's a good place to start.
b. You let the product do the talking (and selling).
Every SaaS tool has pretty pictures online with big claims hinting at what their tool can do… but some are downright terrible to use.
Think "show, don't tell." It's a great storytelling technique and it works for sales, too.
I prefer HubSpot's interface over all of its competitors, for example, and I know that because I was able to use their free CRM plan for months before I decided to upgrade to use other advanced features. I became loyal to the tool, especially since I saw the quality and ease of use when it came to the interface.
c. It minimizes customer friction.
For some high-cost tools that have complex features, requiring customers to book demos is a great way to go. But for plenty of tools out there, that's the last thing you want because most competitors offer free trials.
With PLG, customers sign up for a free plan, learn the software, and can upgrade at any point without needing to rely on back and forth communication with a sales team.
Making it easy for potential customers to see and experience the tool firsthand moves them through the pipeline more efficiently and reduces friction in the buying process.
d. It's cost-efficient.
You don't spend quite as much time cold calling, cold emailing, and cold LinkedIn messaging when you've got a PLG model. You can reduce the overall size of your sales team, and they can nurture leads and convert them instead of focusing on bringing in cold users who may not be likely to convert anyway.
e. It gives you clear contact data that can be used to leverage sales.
Sales-led growth (SLG) can be difficult when it comes to collecting user data needed to help your sales team make smart calls.
That's not true with a PLG approach. This model gives you a ton of actionable data—which users are engaging regularly, hitting the capacity of their plan, or using (or viewing) select features?
Your sales team can set up sales, cross-selling, and upselling models in a contact scoring tool like Breadcrumbs. We'll help you create different predictive lead scoring models based on specific indicators (including fit and activity) that flag high-value users so your sales team can reach out with the right offer at the right time.
This is high-quality first-party data that is impossible to overstate the value of, especially when you know how to use it.
7 Examples of PLG Companies to Be Inspired By
Want to take a look at some successful PLG company examples that are making the most out of this growth strategy?
Let's discuss 7 PLG products that I've used personally and see what makes each excel in their niche.
#1 PLG Company Examples: Slack
Slack is, perhaps, one of the most famous PLG company examples out there today.
Almost all of my clients use Slack, and they're made up of businesses of all sizes all over the world.
In case you're somehow living under a digital rock and missed it, Slack is an instant chat communication tool. You can chat with groups of select team members (or just one-on-one), while sharing files, setting up video calls, and integrating with an abundance of other tools.
You can create a Slack channel for a business that's free for everyone to use forever.
The free version includes:
10k searchable messages (beyond 10k you can't scroll back)
10 apps and integrations
1-1 video calls
Two-factor authentication
I can, in other words, have a fully secure communication channel that's fully functional and even allows me to integrate with up to 10 different apps. There's no limit on how much I can use the tool, though it only stores 10k messages at a time.
That's some insanely solid use out of a free tool; it's not some basic free plan that just teases at what you can offer.
And it's effective. Even as a freelancer, I've upgraded to a paid version because I don't want to lose my chat message history. They've always got prompts reminding me when I was at the limit of my message history, or hints about new features I could get when upgrading.
We actually wrote about their upselling strategy here.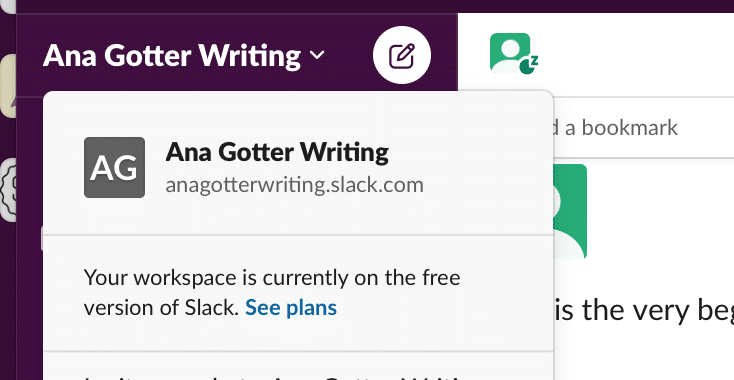 #2 PLG Company Examples: Mailchimp
Mailchimp is another tool that I've been using on my clients' behalf for ages… and many of them started with the free version of the tool when their businesses were new and growing.
It's an outstanding email marketing tool with great segmentation, marketing, automation, and testing features.
Their free plan is extensive. You get access to:
The Marketing CRM
Creative Assistant
Website Builder
A Mailchimp domain
Up to 2,000 contacts
10,000-month email limit, and a 2,000 daily email limit
For plenty of small businesses on a budget, this is more than enough. And as they grow, they become paying users, whether it's because they want more advanced features or they need higher contact or email limits (or both).
Again—this is a fully functional free tool that will reel users in, and by the time they'd need to go to a paid tool, they'll just upgrade with Mailchimp instead of finding another option.
#3 PLG Company Examples: HubSpot
I already mentioned it briefly before, but we've got to mention it again.
HubSpot is an extremely well-known tool in the CRM, sales, and marketing SaaS product space. It's got a variety of advanced sales-tracking features, and it's one of the only true PLG company examples that has free extended plans compared to just brief and highly-limited free trials.
When I signed up for my free CRM, I was sure there was going to be a catch or that I'd keep running into features that I needed but couldn't access. Neither happened.
They've got an exceptional onboarding system, a fully functional CRM, and plenty of other dead useful marketing features that I was shocked were available for free.
The free plan includes:
100 contacts
Contact management, including site activity tracking, company details, and deal tracking
Free marketing tools like landing pages, email marketing, and ad management
Sales tools like live chat, basic bots, and email scheduling
Service tools like ticketing, shared inbox, and bots
Operations tools like data syncing and default field mappings
The limits here are a little lower than some other options like Mailchimp, but the number of features you're gaining access to without ever entering your credit card is exceptional.
And honestly, once your data is all loaded into a CRM and you've built a workflow around a specific tool… you're never going to want to make your team shift. This is a brilliant play on HubSpot's part.
#4 PLG Company Examples: Snappa
Snappa is a drag-and-drop graphic design tool that I've used for over five years now to create basic graphics for my clients.
And yes, once again—I started out with the free plan, saw how easy and valuable it was, and upgraded to their pro plan.
Their free plan allows a single user to access over 6,000 design templates and their entire store of free-for-commercial use library of images (which is over 5M in number). It also includes three downloads per month.
Three is great to start, and that's enough to convince you that you love the tool and want to use it more. The paid plans both offered unlimited downloads, social media integrations, custom upload options, and the ability to remove image backgrounds.
I upgraded within a few short months and eventually upgraded to their Team plan so that I could add more users to my account and I could outsource design work.
#5 PLG Company Examples: Calendly
Calendly is appointment-booking software that allows you to streamline the process of setting up and scheduling video calls. It's a great tool and aided by a PLG growth model, the company has become one of the top names in its niche.
Their free plan is relatively simple.

You get one calendar connection per person, and only one "active event" type (think "demo appointments" or "client intake calls"—you get one but not both if you want to specify), integrations with core calendars, and unlimited one-on-one events and one-off meetings. So it's simple… but that's still something you can work with.

This particular free model is going to work best for small businesses that maybe have a single-person sales team, so it may count out some larger businesses to begin with, because of initial limitations.
But with that being said, it's a great option for users to test out the platform, or to get sucked in early for a free plan only to scale up when needed.
#6 PLG Company Examples: Asana
Next in our list of PLG company examples, Asana is a project management and project tracking tool, a lot like plenty of other options out there. It's also free to get started for small teams.
#7 PLG Company Examples: Dropbox
Dropbox is a great example of a SaaS tool that's using a PLG model not only for B2B customers but for B2C customers, too.
I can't tell you the number of times my friends have sent me a Dropbox link with a five-minute-long video of their kid's recital. And it's great—I get to watch the entire clip, which I couldn't do through text or email.
They have a free plan that almost everyone I knew in college used. It gives you up to 2GB of encrypted storage space that you can upload to from three devices.
By the time you've hit that 2GB limit, you know that:
It's easy to use
The security and encryption are solid 
You like the interface of the platform
There are plenty of Cloud-based storage programs out there, but many people I know in the small business world have upgraded to business plans. Our wedding videographer sent our vow exchange videos through Dropbox, and two photographers I've worked with have done the same.
Each one mentioned having used Dropbox as a personal user on the free account initially when I asked why they chose it.
PLG company Examples: Final Thoughts
These very popular and well-established PLG company examples make it easy to see why brands should consider using this highly effective growth model—especially if you're a SaaS product brand.
It's effective, it's cost-efficient, and it makes it easier for you to build lasting relationships with curious potential users in an insanely competitive market. Let the product speak for itself, and everything will fall into place.
You can leverage your Product-led growth strategy by using contact scoring to identify high-value selling opportunities based on user actions in-app. See how to use Breadcrumbs to sell more to your users—book your demo today!