Revenue operations, or RevOps for short, is an emerging business function that aims to align sales, marketing, and customer success teams to drive revenue growth.
It's a holistic approach that breaks down the silos between these departments and fosters collaboration and shared goals.
In this comprehensive guide, we'll unveil the ultimate RevOps roadmap, taking you through the step-by-step process of building a solid foundation for revenue operations success.
Let's dive in.
What is RevOps?
Revenue operations is a strategic approach that brings together various business functions to streamline and optimize the revenue generation process.
It recognizes that sales, marketing, and customer success are interconnected and that their collaboration is crucial for achieving sustainable revenue growth.
By breaking down ‌traditional departmental barriers and aligning processes, data, and technology, RevOps enables organizations to drive efficiency, improve customer experience, and increase revenue.
Ultimately, when a person lands on your website, the RevOps process begins. And every action your prospects take on your website is a signal.
As a result, you need a tool that can surface your prospects' buying intent and allow you to respond timely and effectively. That's where Breadcrumbs comes into play, an enterprise lead-scoring software to help you optimize your sales funnel for revenue growth.
But that's not all. With Copilot, you can create scoring models in seconds. By prioritizing your most promising leads and streamlining this process, you'll get the most out of your team and budget.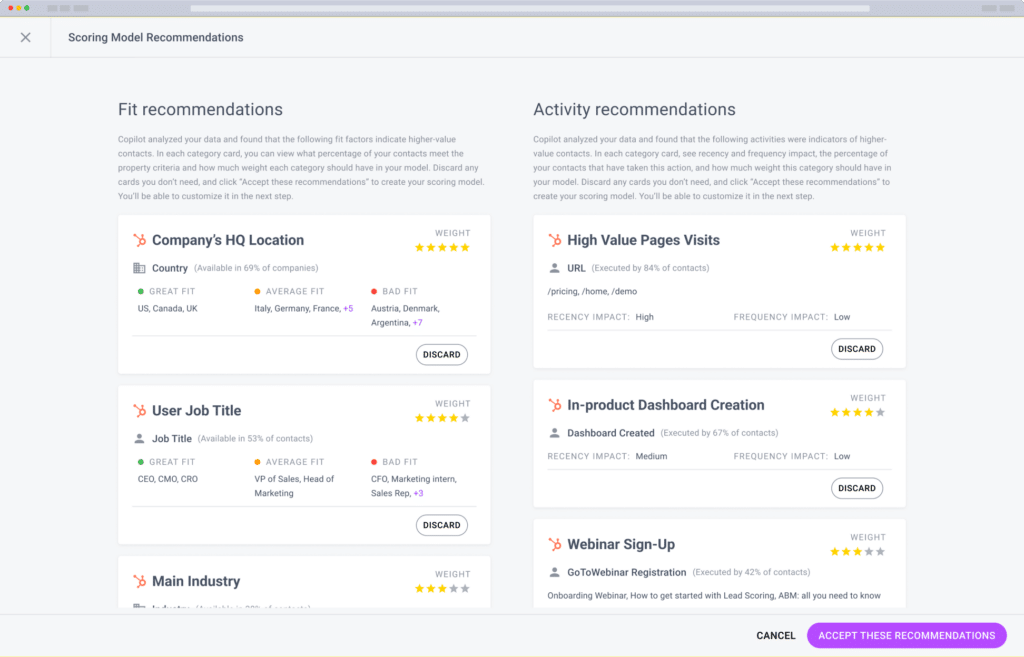 So, wave goodbye to those opportunities that usually slip through the cracks and hello to better revenue outcomes. Oh, and it's free, too.
Why Revenue Operations Are Crucial for Business Success
With low barriers to entry for online businesses, the competition is fierce. And organizations need to adapt and evolve to stay ahead.
Revenue operations play a critical role in this transformation by providing a unified view of the customer journey and enabling data-driven decision-making.
By aligning sales, marketing, and customer success, you can:
Improve lead generation and conversion rates
Enhance customer satisfaction
End sales inefficiencies
Take a company like SoFi as an illustrative example. Since 2012, they've positioned themselves in the financial world by helping young adults refinance student loans. In other words, they started offering a service that replaces an older student loan with a newer one (at a more favorable interest rate).
But here's where Revenue Operations (RevOps) became instrumental to SoFi's growth.
Think of the revenue lifecycle as a customer's journey from the first interaction to the final purchase. Here's what it looks like:
Product cataloging: sharing what products or services are available.
Configuration of products or services: sending quotes to customers.
The billing phase: the exchange of a product or service for cash. Commonly known as "quote-to-cash."
Traditionally, this cycle revolves around a specific channel or revenue model (read: student loan refinancing for SoFi). While this approach is reasonable when dealing with a limited array of offerings, as a business grows (and diversifies its offerings), this system becomes chaotic.
As SoFi started to dive into new revenue models such as banking, investing, and insurance, their revenue lifecycles branched out and formed disjointed silos across the organization. In other words, as offerings multiply, so does the fragmentation of revenue processes.
As outlined above, this disconnect in the quote-to-cash journey plants a seed of strain between the sales and finance teams operating on distinct, single-purpose systems. And when these systems don't communicate seamlessly, teams find themselves juggling data across platforms, leading to inefficiencies.
And one of the biggest downfalls to this setup is the partial access to customer data. Imagine a sales representative trying to upsell homeowners insurance to a client, unaware that the same client doesn't own a home.
What is the resolution to this complex web of challenges for SoFi? Unifying sales and finance around a centralized revenue process. This alignment pivoted them away from specific channels or products and instead gravitated toward the most important element: the customer.
Centralizing the revenue process around the customer opens the door for enhanced automation, transparency, and intelligent decision-making. And it's through this approach that SoFi could add numerous new revenue models without compromising the customer experience or their financial performance.
The result? In 2015, SoFi was the first US-based fintech company to secure a $1 billion funding round. Today, SoFi has over 6 million members and a market cap of $8.25 billion. So, if SoFi can use the power of RevOps to spearhead its growth, you can, too.
What Should RevOps Be Responsible for?
The primary responsibility of revenue operations is to drive revenue growth by aligning sales, providing marketing consulting, and customer success.
How? The key is developing and implementing strategies, processes, and technologies that enable seamless collaboration and efficient operations.
Since there are many moving parts, here are some of the key areas of responsibility for your revenue operations team:
1. Strategy and Planning
Your RevOps team should work closely with your executive team to develop a revenue growth strategy and set clear goals and objectives for the month, quarter, and year.
Some responsibilities involve:
Defining your value proposition
Identifying target customers
Understanding the market
2. Process Optimization
Think of your revenue operations as the engine of your company's high-speed train to success. It's not just about crossing tasks off your to-do list. It's about bringing together every aspect of your revenue generation process, from the spark of initial lead generation to the art of customer retention.
Your mission? Seek and destroy bottlenecks that are slowing you down, streamline workflows to achieve maximum efficiency, and automate those pesky repetitive tasks that keep you from focusing on the big picture.
Remember, every cog in your operation matters. So it's crucial that they're all working in perfect harmony.
3. Technology Enablement
Technology is a wonderful thing. It helps our teams work smarter, not harder. But of course, that's only if your tech stack supports sales, marketing, and customer success in perfect harmony.
This includes:
Your role? Dive in and evaluate the tech tools that could transform your operations. Find the ones that fit like puzzle pieces into your unique business model.
4. Data Management and Analytics
Guaranteeing the accuracy, completeness, and integrity of data across all revenue-related systems is critical to your business's success.
Your responsibility? Craft comprehensive data governance policies and establish stringent data quality controls. Go beyond the surface and leverage analytics to transform raw data into valuable, actionable insights.
Remember, informed decisions are successful decisions. Invest in managing and understanding your data to navigate your business toward sustained growth and success.
5. Performance Measurement
Revenue teams are responsible for defining and tracking key performance indicators (KPIs) to gauge the potency of your revenue generation initiatives.
Your crucial role? Pinpoint and track metrics like lead conversion rates, customer acquisition costs, and customer lifetime value. These aren't just numbers but tangible reflections of your strategic impact.
Continuous measurement drives improvement. Stay attuned to your KPIs—they are the beacons that shed light on the effectiveness of your revenue operations, guiding your business toward its revenue goals.
6. Collaborative Alignment
Think of RevOps as the glue that binds your sales teams, marketing teams, and customer success teams together to form a single source of truth.
This involves:
Establishing shared goals
Developing joint strategies
Facilitating communication
Knowledge sharing
How to Build Your RevOps Roadmap
Building a solid foundation for revenue operations success requires a well-defined roadmap that outlines all the necessary steps and milestones.
This RevOps roadmap provides a structured approach to implementing revenue operations and makes sure that your business has the proper revenue engine to succeed long term.
With that, let's explore the key steps for building your own RevOps roadmap in detail.
Step 1: Assess Your Current Revenue Operations
Before embarking on the journey of building a solid revenue operations foundation, it's important to assess your current state. Because if you don't know where you're starting, how can you measure improvements?
So, the first step is to conduct an audit that evaluates your existing processes, technologies, and data management practices.
This process will take you through an analysis of your sales, marketing, and customer success operations to identify gaps, inefficiencies, and areas for improvement.
Start by gathering data and insights from each department. Review key metrics, such as lead conversion rates, sales cycle length, and customer retention rates. Identify any bottlenecks or pain points in the revenue generation process.
This assessment will serve as a baseline for measuring progress and identifying areas that need the most attention from internal teams.
Step 2: Define Your Revenue Operations Goals and Objectives
Once you've assessed your current state, it's time to define your revenue operations goals and objectives.
These goals should align with your overall business strategy and reflect the desired outcomes of revenue operations.
Common goals include increasing revenue, improving customer satisfaction, reducing churn, and enhancing operational efficiency.
To define your goals, consider the following questions:
How will revenue operations contribute to achieving your business objectives?
What are your key challenges and pain points in revenue generation?
What are your revenue targets for the next quarter, year, or beyond?
What metrics will you use to measure success?
By clearly defining your revenue operations goals and objectives, you provide a roadmap for your team and ensure everyone is working towards a common purpose.
Step 3: Build a Cross-Functional Revenue Operations Team
Building a successful revenue operations function requires a cross-functional team that brings together expertise from sales, marketing, and customer success.
This team will be responsible for driving revenue growth, optimizing processes, and ensuring alignment between departments.
When building your revenue operations team, consider the following roles:
Revenue Operations Manager. This role oversees the entire revenue operations function and is responsible for strategy, planning, and execution.
Sales Operations Manager: This role focuses on optimizing sales processes, managing the CRM system, and providing sales enablement support.
Marketing Operations Manager. This role is responsible for managing marketing automation systems, analyzing campaign performance, and supporting lead generation efforts.
By assembling a cross-functional revenue operations team, you ensure that all aspects of revenue generation are considered and that the team has the necessary skills and expertise to drive success.
The result? Dedicated revenue leaders that take a streamlined approach to internal processes.
Step 4: Align Sales, Marketing, and Customer Success Teams
Effective alignment between sales, marketing, and customer success is a cornerstone of revenue operations.
Without this alignment, departments work in silos. These barriers lead to inefficiencies, missed opportunities, and poor customer experience.
So, to knock down these walls and focus on alignment, consider the following strategies:
Foster open communication and collaboration between departments. Encourage regular meetings, joint planning sessions, and cross-departmental projects.
Develop shared goals and metrics. Make sure that all departments are working towards the same revenue targets and that their performance is measured based on common metrics.
Implement a closed-loop feedback process. Establish a feedback loop that allows departments to share insights, learnings, and best practices. This will enable continuous improvement and optimization.
Share data and insights. Break down data silos and ensure that relevant information is shared across departments to unlock a holistic view of the customer journey for data-driven decision-making.
The alignment process might sound daunting. But through this process, you create a unified revenue generation engine that can drive growth and deliver exceptional customer experiences.
Your customers will thank you. And so will your bottom line.
Step 5: Implement the Proper Technology for Revenue Operations
Technology plays a vital role in any organization. Why? It provides the infrastructure and tools necessary to streamline processes, automate tasks, and gain insights from data.
But you can't have too many cooks in the kitchen—especially if they aren't compatible.
So, when implementing technology for revenue operations, you should keep the following in mind:
Evaluate your current technology stack. Identify any gaps or redundancies and assess whether your existing systems are aligned with your revenue operations goals.
Identify the key technology solutions required. This may include CRM systems, marketing automation platforms, analytics tools, and other relevant technologies.
Implement and integrate the chosen solutions. Choose quiet periods to roll out the new technology solutions. Double-check that they integrate well to allow a seamless data flow and process automation.
Provide training and support. Train your team on these new ‌technology solutions and provide ongoing support to address any issues or challenges.
Step 6: Establish Data-Driven Processes and Analytics
Data sits at the core of every revenue operations team. It provides insights into customer behavior, market trends, and the effectiveness of revenue generation efforts.
To establish data-driven processes and analytics, consider the following:
Develop data governance policies. Establish guidelines for data collection, storage, and usage to ensure accuracy, privacy, and compliance.
Implement data quality controls. Regularly monitor and cleanse your data to maintain its accuracy and integrity.
Leverage analytics tools. Use analytics tools to gain insights from your data and inform decision-making. This may include analyzing customer behavior, identifying trends, and measuring the effectiveness of marketing campaigns.
Develop reporting mechanisms. Establish regular reporting processes to track key metrics and communicate performance to stakeholders.
Data within your organization holds the secrets to your success. It's through the proper collection and analysis of this data that your teams can make informed decisions like identifying growth opportunities or better ways to fill your revenue pipeline.
Step 7: Double-Down on Continuous Improvement and Optimization
Constructing the bedrock of your successful revenue operations roadmap isn't a one-off event. It's a continued effort of tweaking a little here and there. That's where the determined thrive—those who infuse an ethos of fine-tuning into their business DNA.
Wondering where to start with your RevOps roadmap? Here are a few insightful nuggets to spark your efforts:
Regularly review and update your revenue operations strategy. Align your strategy with changing market conditions, customer needs, and business objectives.
Monitor key performance indicators (KPIs). Continuously track and analyze your KPIs to identify areas for improvement and optimization.
Seek feedback from stakeholders. Regularly engage with sales, marketing, and customer success teams to gather feedback, insights, and suggestions for improvement.
Foster a culture of innovation. Encourage experimentation, creative thinking, and a willingness to embrace new technologies and processes.
The drive to constantly improve your processes is the single best way to stay ahead of the competition, drive revenue growth, and deliver exceptional customer experiences.
Real-life RevOps use cases
To provide a real-world perspective, let's explore some simple use cases of successfully implemented revenue operations:
Asset-tracking in the e-commerce
One crucial aspect of building a solid foundation for revenue operations success, especially for e-commerce businesses, lies in effective asset tracking.
In the modern business landscape, where companies often manage numerous assets across different departments and locations, implementing robust asset-tracking systems is paramount.
Through advanced technologies such as barcode scanning, RFID tags, and cloud-based software, you can gain real-time visibility into their assets' location, condition, and usage.
This level of asset tracking enables streamlined inventory management, reduces the risk of loss or theft, and optimizes resource allocation.
With accurate and up-to-date asset data at your fingertips, revenue operations teams can make informed decisions, plan effectively, and ensure valuable resources are used to their fullest potential.
Whether it's tracking equipment, supplies, or even intellectual property, a comprehensive asset-tracking strategy is an integral part of a successful RevOps roadmap, empowering businesses to drive efficiency, cost savings, and overall revenue growth.
Staff scheduling procedures for SaaS companies
A revenue operations roadmap is essential for successful revenue growth. To build a solid foundation, you need to organize all the different departments of your business.
The world's leading Software as a Service (SaaS) companies lean on staff scheduling platforms to help automate employee resource calendars, increase employee accountability on daily operations, and keep staff connected.
Why? Having all employees working efficiently aids in streamlining operations and checks step number three off the RevOps roadmap checklist.
Marketing automation across industries
We all know that the goal for every business leader is revenue growth. And it's for this very reason that we've outlined these seven steps for building a solid revenue operations team.
The best part? This process works for every business—regardless of your niche. But if you're looking for additional tools to help you along the way, consider marketing automation software.
Marketing is one of the most important aspects of sharing the value your organization brings to the table and convincing potential customers to do business with your brand. So why not automate this process to make it more effective and efficient?
It's a no-brainer. When you automate your marketing operations, you'll increase sales, boost customer satisfaction, and put more money in your pocket at the end of the day. What's not to love?
Break down silos and increase revenue with a RevOps Roadmap
And there you have it. A full step-by-step guide on how to build a RevOps roadmap from the ground up.
Now, it's time to shift gears from learning to doing. A more efficient, streamlined, and profitable business future awaits you.
Remember, the road to success in revenue operations is a journey of continuous discovery, optimization, and enhancement. Every step you take, from adopting powerful technology to mastering your data, brings you closer to your goals.
So bookmark this guide, track your progress, fine-tune your strategies, and prepare to take your business to new heights.
Start your RevOps journey with Breadcrumbs, an enterprise lead-scoring software designed to help you optimize your sales funnel for revenue growth.
Let's chat about it or explore it on your own, it's free!