You know the long-term benefits of client onboarding—higher retention, deep customer relationships, and upselling opportunities.
The real question is, how do you execute a client onboarding system that aligns with your business?
This article unpacks client onboarding into a five-step checklist:
Create the appropriate onboarding content
Build a seamless sign-up form
Inform new users with a welcome email
Walk new users through your product
Support new customers now and forever
To make it interesting, we've added 8+ real-life examples from fellow SaaS companies.
Ready to get started?
Which client onboarding framework is right for you?
Client onboarding isn't a one-size-fits-all solution. Your audience, marketing strategy, and product play a role in your approach. And speaking of approach, do you need a low-touch strategy or a high-touch strategy?
Let's go over both of these client onboarding frameworks.
Low-touch onboarding uses passive methods to onboard clients (e.g., email sequences, chatbots, and FAQ pages).
Think of low-touch onboarding as a supporting actor in a movie—it plays an important role but isn't the star of the show.
Fionn Finegan from TutorCruncher agrees, "Impersonal methods of outreach (eg. webinars and automated drip-feeds) have not proved to be effective."
Fionn went for a high-touch strategy and connected each client with a customer success team member.
As you can see, high-touch onboarding caters to each buyer persona's personal needs. Think personal conversations, product walkthroughs (more on this later), and dynamic content.
So… which one is better? Low-touch or high-touch onboarding?
The answer depends on your SaaS model and customers. Is your product complex? What is your audience's preferred method of communication? Can you outsource client onboarding to someone on your team?
Keep these questions in mind as you go through the client onboarding checklist below.
5 things to check off your client onboarding checklist
1. Create the appropriate client onboarding content
When you think about onboarding content, your mind probably heads to:
How-to guides
Interactive videos
Surveys/questionnaires
Here's the problem: These onboarding materials are passive (AKA, low-touch). They don't encourage users to ask questions or engage with your company.
We're not telling you to ditch the blog posts but to add some high-touch material into the mix.
Let's go over some ideas.
1. Webinars
Clearscope educates customers with a monthly webinar.
In addition to Clearscope's products, customers get access to expert interviews and case studies.
Take this webinar idea and turn it into an exclusive newsletter, Ask me anything (AMA) videos, in-person events, etc.
2. Social media
Social media isn't just about sharing updates and "liking" posts—there's a strategy behind increased engagement.
"If you have a vast customer base," Padmaja Santhanam, Growth Manager at First Principles, explains, "it is a wise step to segment them and to create different profiles based on that customer segmentation."
Once you've segmented each channel, use direct messages and comments to answer any questions.
Remember, social media is fast, "Unattended comments or queries create a negative impact among the customers." Santhanam shares, "If you have multiple social profiles, using an SMM tool is a good idea, as these tools come with advanced features of social media management."
3. Beta testing
Clients aren't just paying for your product, but inside perks—promotions, exclusive content… even beta testing.
Matthieu De Tarlé from Pick Your Skills created a "Key users community," where customers who participate in their surveys are rewarded with beta testing.
"Make sure you retribute this community," Matthieu advises, "Retribution doesn't have to come in the financial form, it could be something like giving access to your roadmap for the upcoming quarter."
Pick Your Skills hosted a Betting Table Workshop and asked members to share which product features they would pay for.
With all of this inspiration, you might wonder what onboarding material is right for your audience.
You can use Breadcrumbs to understand how customers interact with your product/website, as well as past content. Then, use these insights to build onboarding material they prefer… easy peasy. 
2. Create a seamless sign-up process
We've all come across intrusive sign-up forms. You know, the ones that ask for your name, email, company, phone number, home address, your services… Are you starting to yawn, or is it just me?
Not only are long sign-up forms boring, but they're also plain unnecessary. Your customers think so too—as sign-up forms increase, conversions decrease.
Just like a landing page, sign-up forms do best with minimal distractions. Opt for a simple form instead.
Let's give a round of applause for Calendly's sign-up form—where all you need is an email address to sign up.
Here's what you can take away from Calendly's form:
Use three form fields or less
Use a simple UI design
Add one CTA button
Do you need to collect more information? Space it out throughout the client onboarding process. An email sequence is a great place to start.
And speaking of email…
3. Inform new users with a welcome email
Whether you're starting a new job, moving into a neighborhood, or visiting someone's home, you can always expect some sort of "Welcome!" gesture.
The same goes for SaaS.
Frase sends a welcome email to every new client. And remember those onboarding materials we asked you to create in step one?
This is where they come in handy. End your email with the appropriate onboarding materials.
And if your product is complex?
Go for a high-touch strategy and separate your onboarding email into a multiple-email sequence. Or, go a step further and send a video message.
Brian Casel, uses his product, ZipMessage, to send personalized videos to new clients, "It's great for letting them reply back and having an async conversation without my customers needing to download or install anything."
Use metrics like your email open rate, click-through rate, and conversation rate to determine if an automated email or high-touch approach is best for you.
4. Walk new users through your product
At this point, new clients have…
Signed up for your product
Read through your onboarding materials
The next logical step is to use your product.
While you can't physically show clients how to use your product, you can replicate the feeling with a product walkthrough.
A product walkthrough interactively guides clients through your product's functionality.
Just like your sign-up form and welcome email, product walkthroughs should cut through the fluff. Add too many steps, and your users might walk out the (virtual) exit door.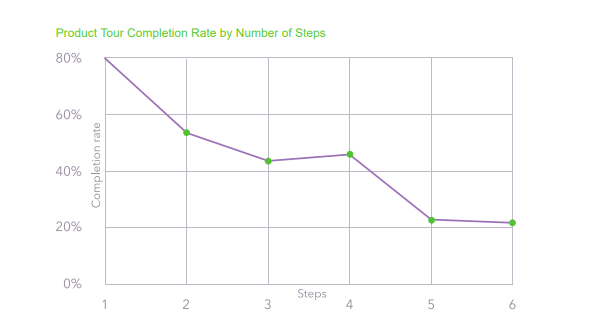 Of course, customer drop-off varies by the complexity of your product. You'll have to test out different UX designs and see which one fits best.
And if you're thinking, "My product doesn't fit the product walkthrough model, what do I do?" Then go for real-time customer support instead.
Stephen Jeske from MarketMuse "regularly hosts webinars for both prospects and existing customers."
On top of that, Stephen supports his audience with Zoom "office hours."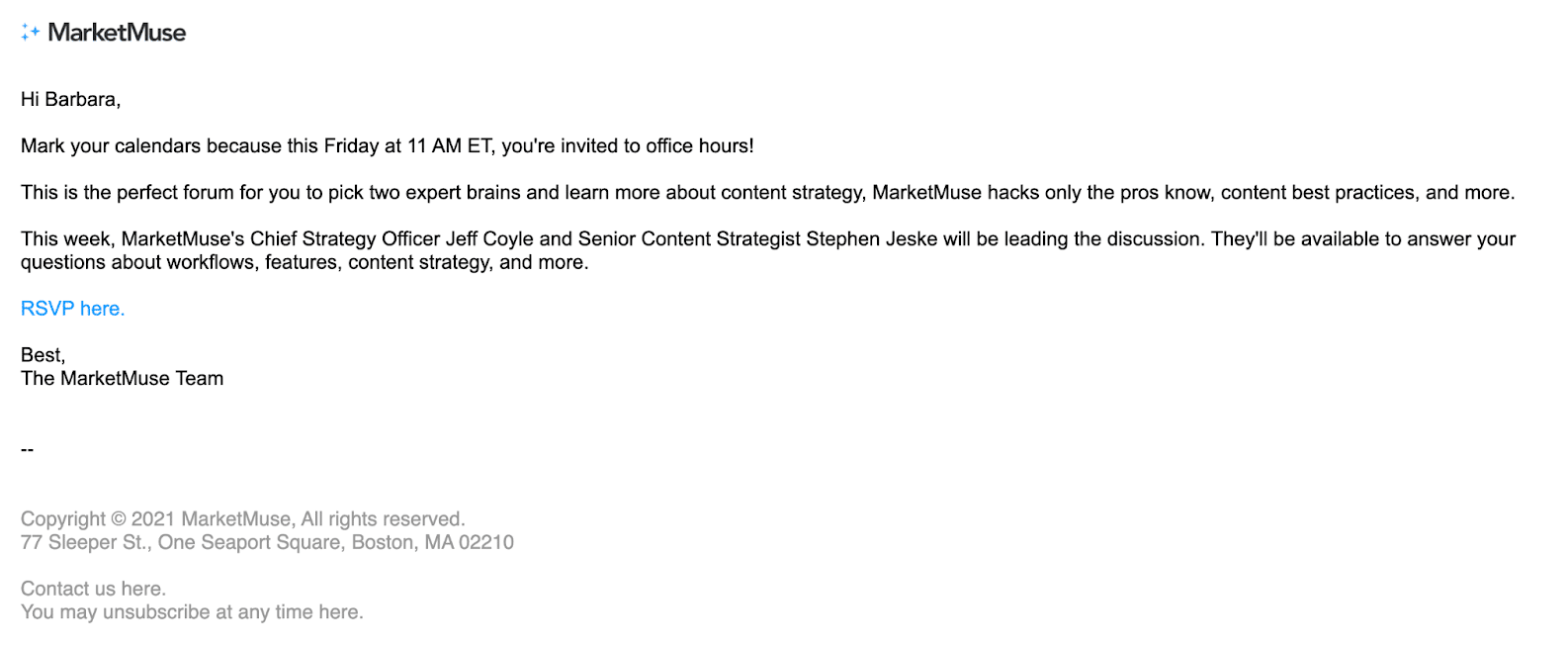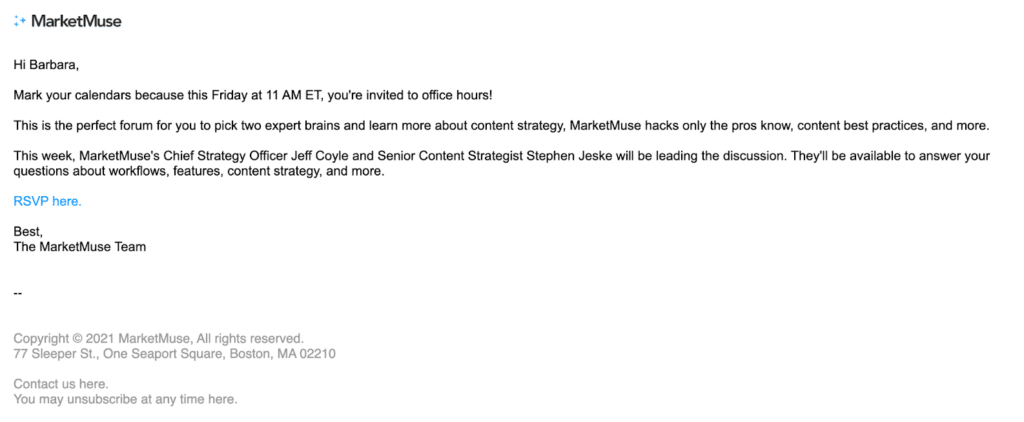 Need some more ideas? Give one of these walkthrough alternatives a go:
Live demo
Video tutorials
Customer chatbot
5. Support new customers now and forever
You've officially onboarded your clients…Hooray! You can pop the champagne now, right?
…Not exactly. Just because your clients understand your product doesn't mean they'll run out of questions, concerns, and feedback.
"The most important period in our customer lifecycle," Stephen Jeske revealed, "is the transition between onboarding and ongoing support."
Ongoing support accounts for strong customer retention, low churn rates, and an increase in revenue.
So what does this look like in action? Take a look at Affilimate's Facebook group.
Monica Lent, the co-founder of Affilimate, shares product updates and surveys with a Facebook group.
The ongoing communication Facebook groups cultivate strengthens client relationships and trust.
"The added benefit, " Monica shares, "is a form of social proof—people come into the community and see people they know (or admire) commenting and reacting to posts. It reassures them that they're in good company as a customer of our product."
We know communities aren't for everyone. If that's the case for you, try out one of these ongoing support strategies:
In-app notifications
Monthly webinars or virtual summits
Access to new features and product updates
A client-only newsletter
Your next steps: Measure your results
You've crossed off every step on the client onboarding checklist—but is it actually working? You won't know without measuring your results.
Here's where Breadcrumbs can help.
Using a custom predicting model, Breadcrumbs identifies when customers are likely to churn and why. Our contact scoring can also analyze your top clients and discover ways to target your ideal buyer.
On top of that, Breadcrumbs analyzes how clients use your product and pinpoint the right time to execute your upsell or cross-selling strategy—expanding your lifetime value and revenue, all in one. Want to see how BreadCrumbs works for your company? Try a free demo and see for yourself.