Not all leads are the same.
But how do you know which ones are more likely to convert? The answer lies in lead scoring. Assigning a "score" to leads based on how little or how much they interact with your brand (and the impact those actions have on their loyalty) reduces the amount of time you spend chasing flaky leads so you can focus on buy-ready prospects.
Here's the issue: Doing this manually is a huge task and a major time-suck, which is why it's helpful (read: lifesaver) to have a tool on hand to help.
In this post, we're going to lay out the pros and cons of lead scoring with two big-name tools: HubSpot vs. Salesforce. Perhaps you're on the fence or simply want to understand which one is the best fit for your business. Either way, this guide will help you make a decision.
HubSpot vs. Salesforce: What You Need From a Lead Scoring Tool
Lead scoring is such a crucial part of converting fresh prospects—but it can be a real drag if you're using the wrong tool. The tool you choose should act as a lead generation partner with as little manual labor involved as possible.
Here's what to look out for:
Customizable rankings: The best lead scoring tools let you choose the rankings and criteria based on your internal company goals.
Ability to select different scores: You should be able to choose what interactions and criteria demand higher scores—for example, you might set company size and turnover as your highest priorities.
Benchmark analytics: Use a tool that can analyze lead scores against benchmarks for detailed reporting purposes.
Advanced lead intelligence: The best tools go beyond lead scoring and have built-in advanced analytics, lead intelligence, and additional sales marketing solutions.
Quick imports and exports: Use a tool that effortlessly imports and exports large quantities of data.
Both HubSpot and Salesforce cover all these bases, which is why it can be so hard to choose between the two. Below, we dive into the functionalities and capabilities of each platform (and their potential downsides).
HubSpot Lead Scoring Functionalities
HubSpot is a powerful CRM platform that makes it easy for businesses to connect their marketing and sales departments. It's a no-brainer that it's added a wealth of lead scoring capabilities to its repertoire. Here's what it includes:
1. Automated Lead Qualification
HubSpot lead scoring can automatically score contacts across thousands of data points to prioritize who you should follow up with first.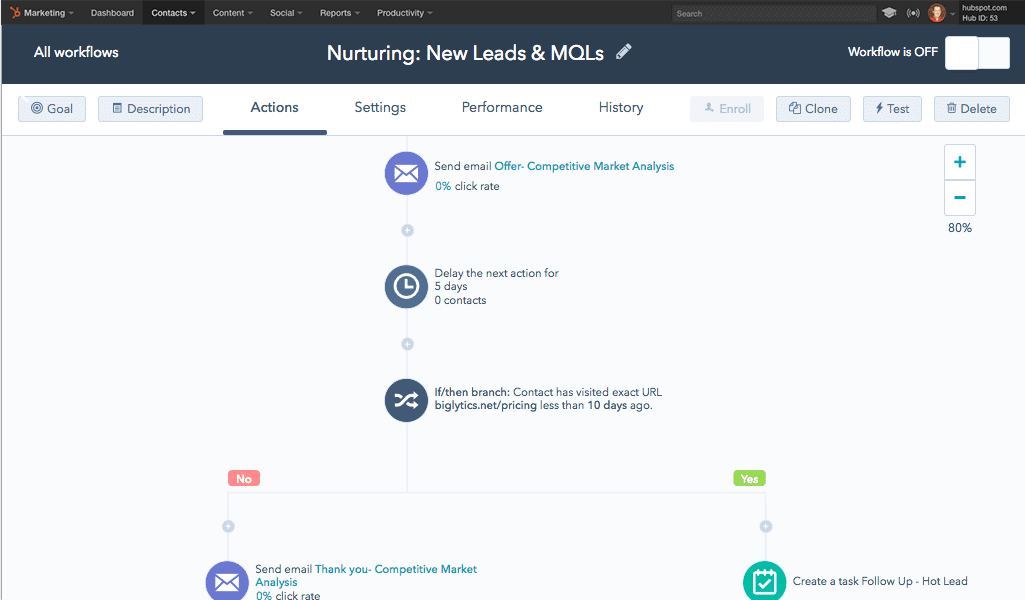 2. Customer Context
Collect every action, message, and interaction a customer has had with your brand in one central place—from the first page they viewed to the most recent deal closed.
3. Predictive Scoring
HubSpot lead scoring is powered by machine learning so it can quickly scout through thousands of data points and identify your best leads in seconds. It gets smarter over time to optimize your strategy.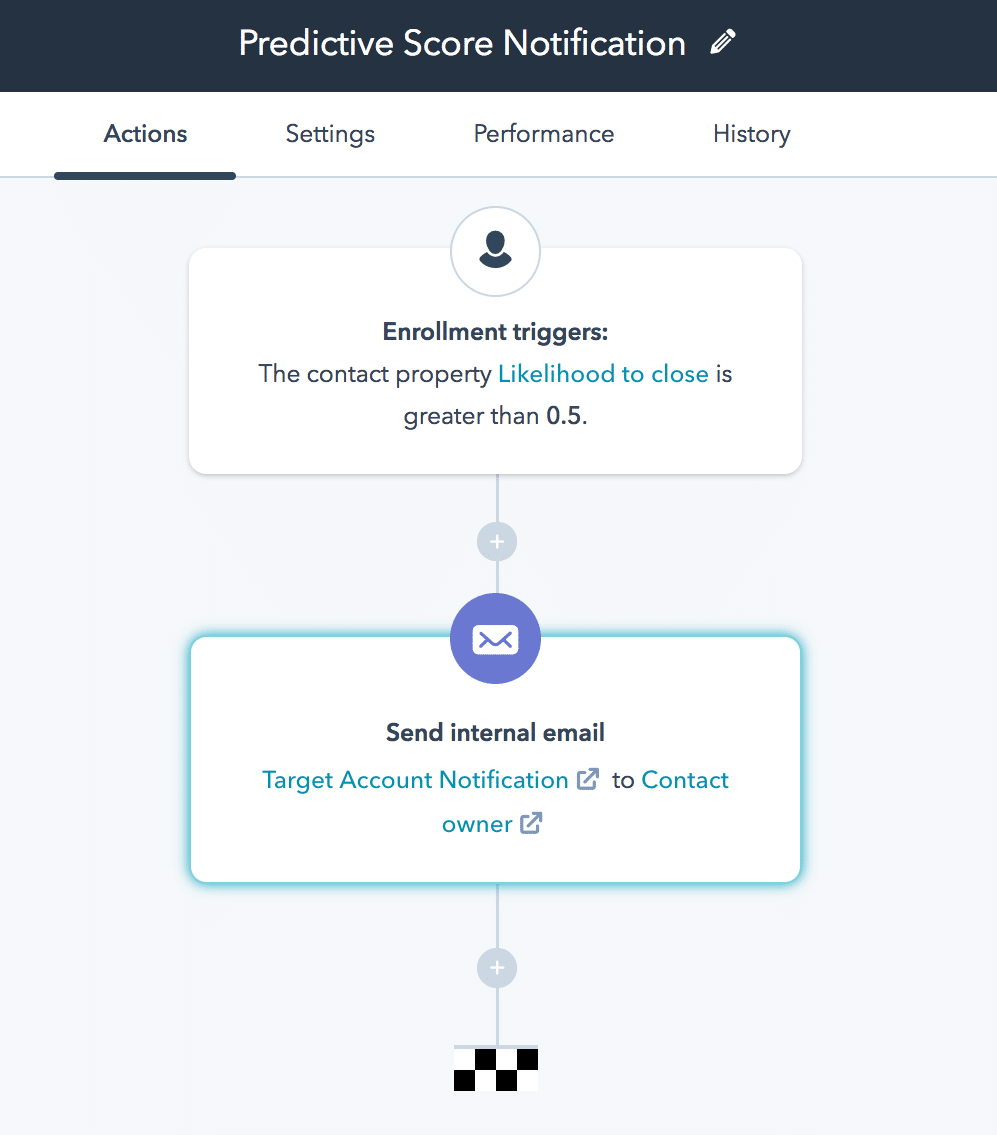 4. Customized Scoring
You can create your own criteria based on any available data in HubSpot (i.e., form submissions, page views, CTA clicks, or email interactions).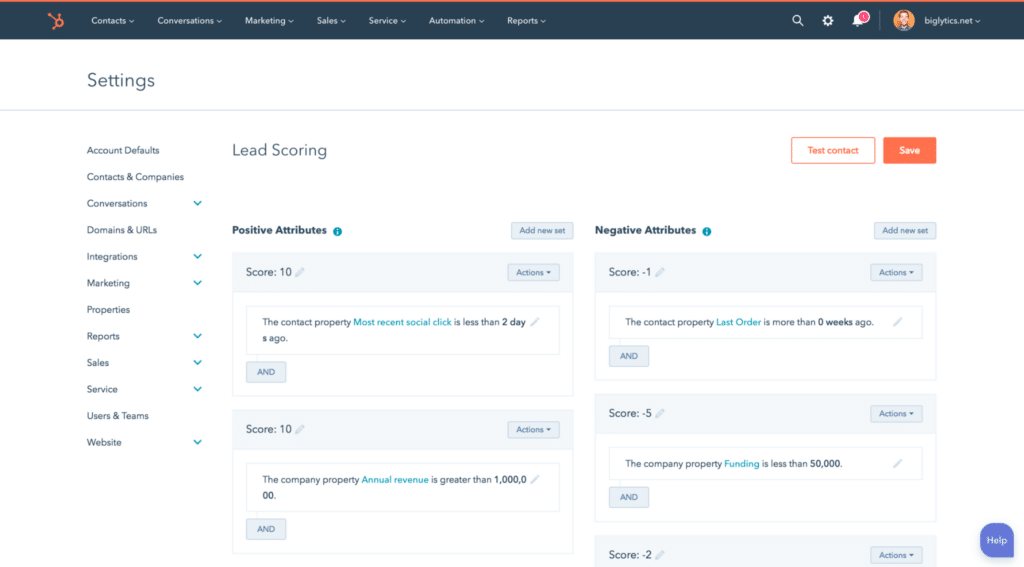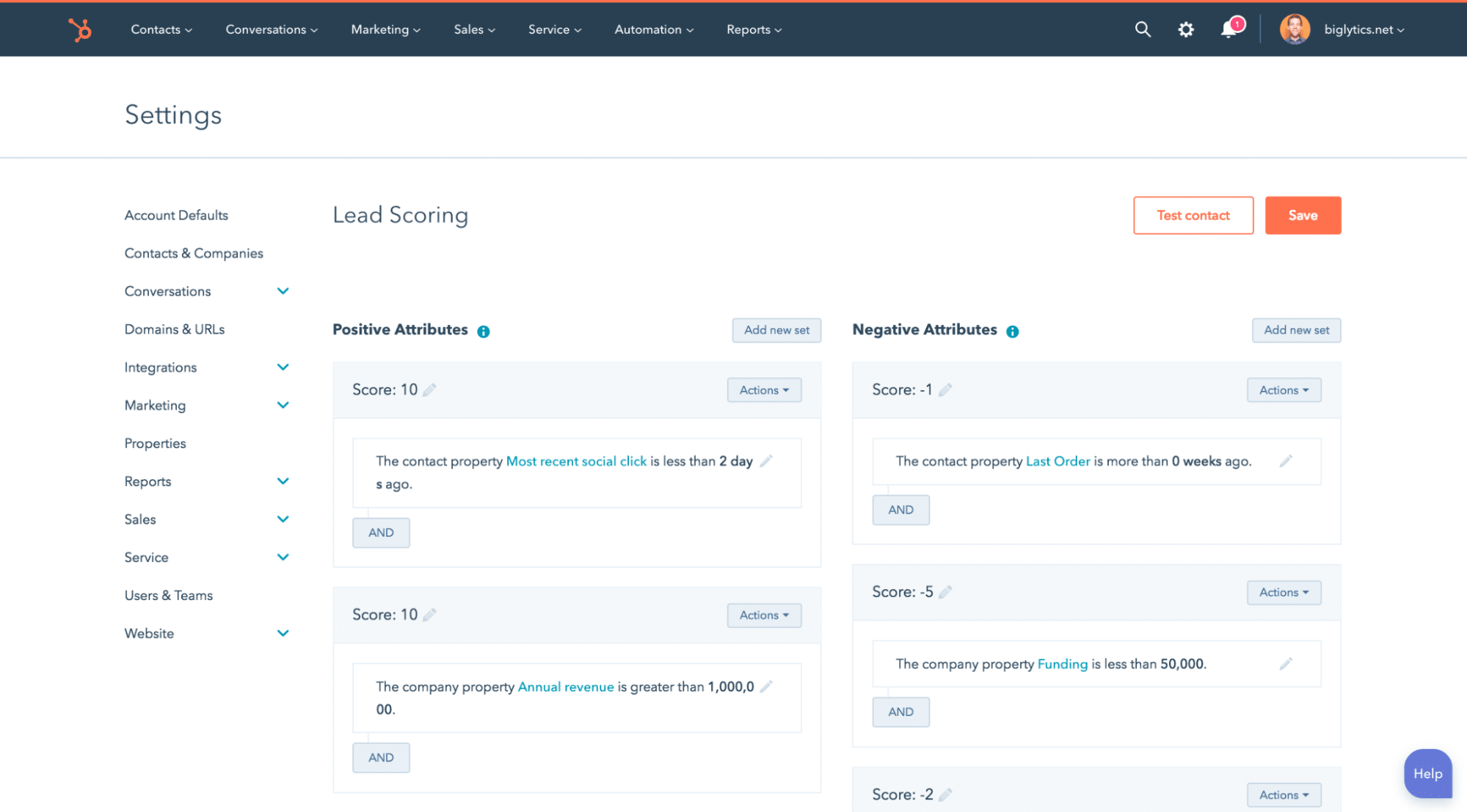 5. Powerful Segmentation
HubSpot uses lead scoring to segment your email lists and trigger rep notifications. This means you can reach out to leads while they're still hot and increase the chances of conversion.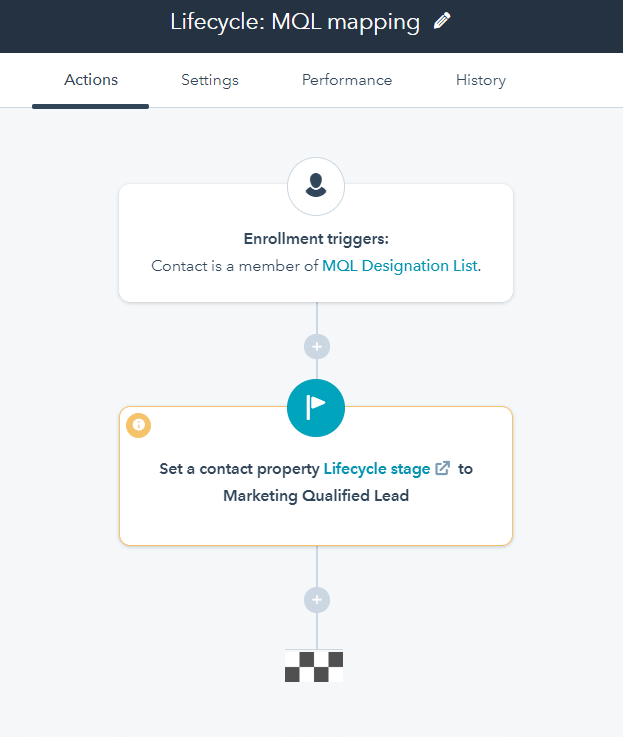 6. Adapt Web Content
This is a really cool feature of HubSpot. You can serve different web content to different leads depending on how qualified they are. For example, you can create two versions of a product page—one for cool leads and one for hot leads.
7. Multiple Score Sheets
You can create multiple score sheets to help you scale. This is particularly good for companies with more than one audience who want to expand into new product lines, regions, and audiences.
The Pros And Cons of Lead Scoring With HubSpot
HubSpot Lead Scoring Pros
Lead scoring functionality is straightforward and easy to set up
Easy to optimize "scorecards" based on the audience you're targeting
Collects data from the first page viewed to the most recent deal and everything in between
HubSpot has all the lead-scoring features you need to reach out to the right people at the right time. But, like with any tool, there are some friction points.
HubSpot Lead Scoring Cons
Custom reports are only available at the enterprise level
You can't compare different models at once without integrating a tool like Breadcrumbs
You can't collect data from sources that aren't integrated with HubSpot–you can only filter HubSpot scores and manual scores
The main downsides are the lack of custom reporting for smaller accounts and the inability to gather data from multiple external sources without integrating another tool (luckily, Breadcrumbs fills this gap, which we'll discuss later on).
Read:
Salesforce Lead Scoring Capabilities
Salesforce is one of the best-known CRM tools and offers a variety of features and applications to help businesses generate more sales, improve customer service, and automate their marketing efforts. It has an extensive range of lead-scoring features, including:
1. Customizable Criteria
You can use a variety of criteria or actions to calculate a lead's score based on your overall goals (i.e., the number of pages visited, searches performed on-site, or whether the prospect has downloaded anything from your site).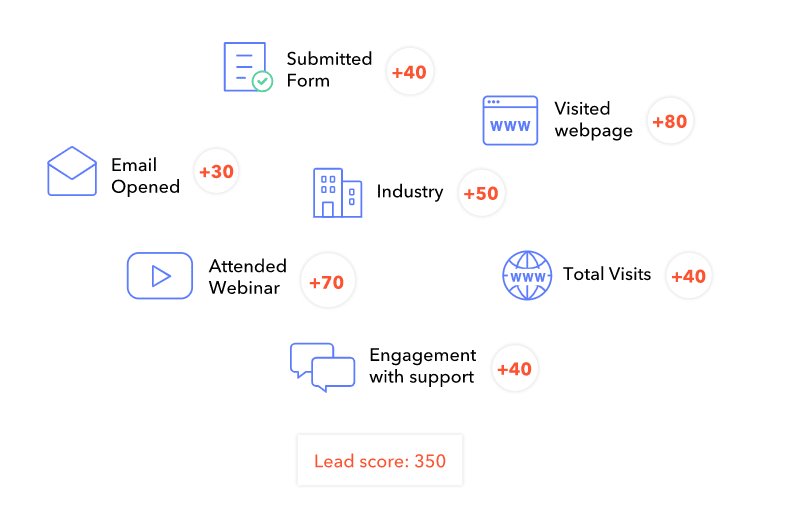 2. Lead Grading
Salesforce automatically evaluates inbound leads based on the criteria you've given it and applies a letter grade (A-F). This ensures the leads being passed from marketing to sales match your ICP.
3. Criteria Tracking
The tool keeps a close eye on the criteria and factors you've identified as important to give a final total to each lead.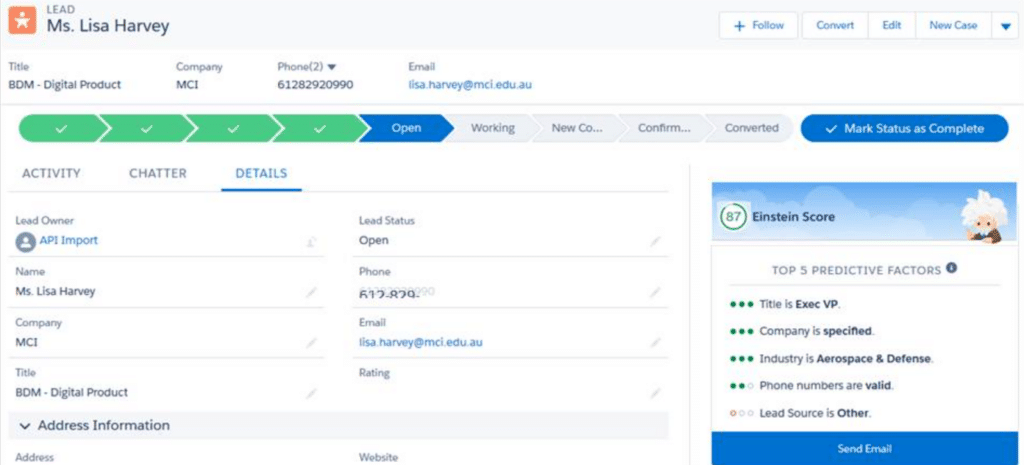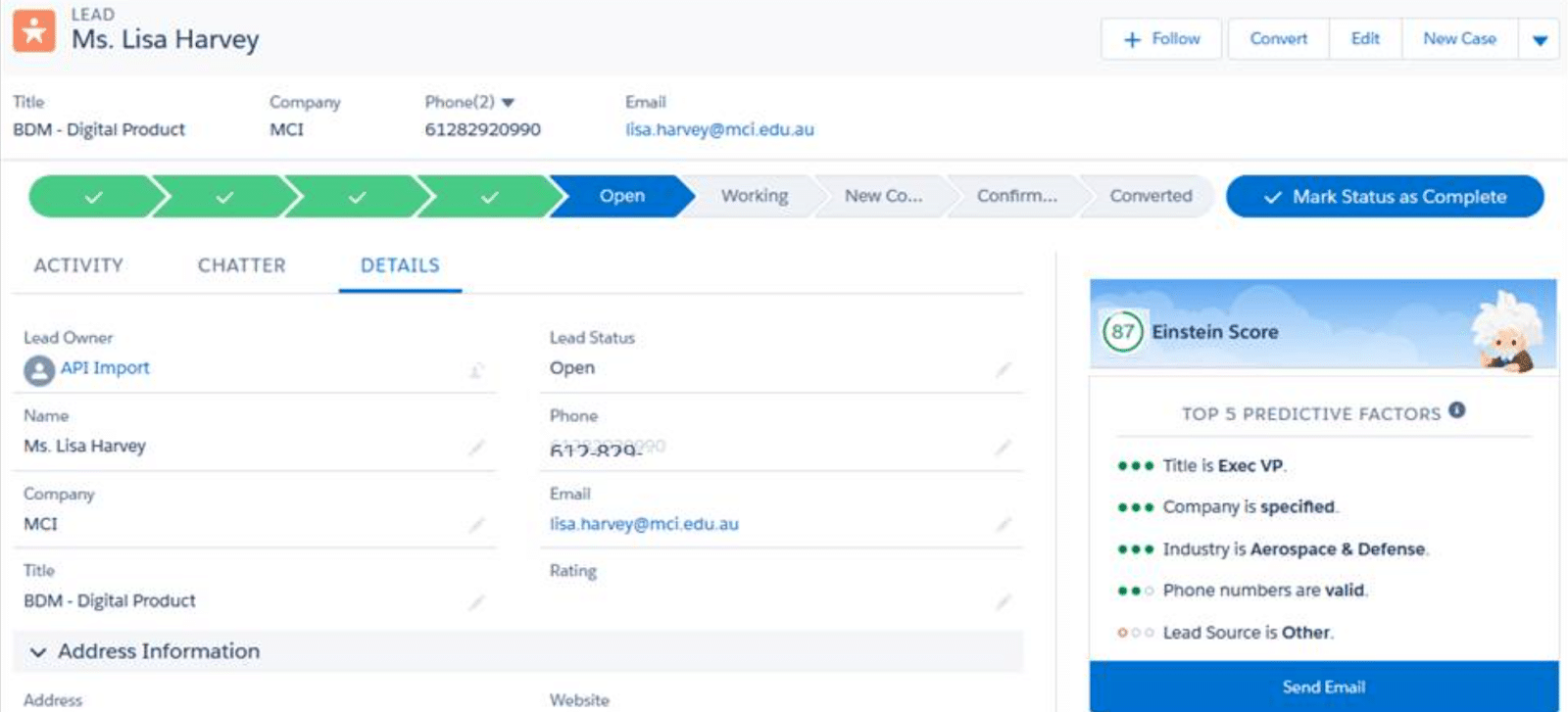 4. Sales Cloud Einstein
Perhaps the most innovative part of Salesforce lead scoring features is its AI-powered tool, Einstein. This can analyze lead conversion history to help you target the best leads moving forward.
The Pros And Cons of Lead Scoring With Salesforce
Salesforce Lead Scoring Pros
Boosts conversions and close rates by prioritizing the leads and opportunities most likely to convert
Sales Cloud Einstein helps discover pipeline trends and analyze sales cycles so you can optimize the process
Automates data capture so you don't have to do it manually/can maximize time spent selling
Salesforce's Sales Cloud Einstein is great for businesses that want to discover upcoming trends and forecast their lead-generation efforts. But, again, there are some things to look out for when using it as your lead scoring partner.
Salesforce Lead Scoring Pros
Only uses data that already lives within the platform (or that integrates with the platform)
Doesn't always capture all the data you need (like job title or industry), so your team has to manually input, which leaves room for human error
Limited analytics–Einstein helps you prioritize lead attributes, but that's about it
It can be difficult to customize because it relies on built-in formulas
Einstein's predictive scoring is only available to enterprise accounts
The biggest pitfalls of Salesforce as a lead scoring tool are its limited analytics and customization features. Plus, its biggest selling feature (Sales Cloud Einstein) is only available to top-tier accounts.
Read:
Breadcrumbs: The Secret Ingredient to Lead Scoring With HubSpot and Salesforce
There's a big risk in getting lead scoring wrong. You can end up targeting the wrong leads with the wrong information, which can create frustrating experiences and a lack of trust. But what can you do when even the best CRMs in the world don't have everything you need?
The answer: Integrate Breadcrumbs.
By connecting Breadcrumbs to either Salesforce or HubSpot (it integrates seamlessly with both tools), you can unlock a suite of features that will level up your lead-scoring game and bypass the limitations the tools have on their own.
Here's what it can do:
Build out custom reports: Breadcrumbs not only creates detailed custom reports (regardless of your subscription level in HubSpot or Salesforce), but it also allows you to compare different models in one glance.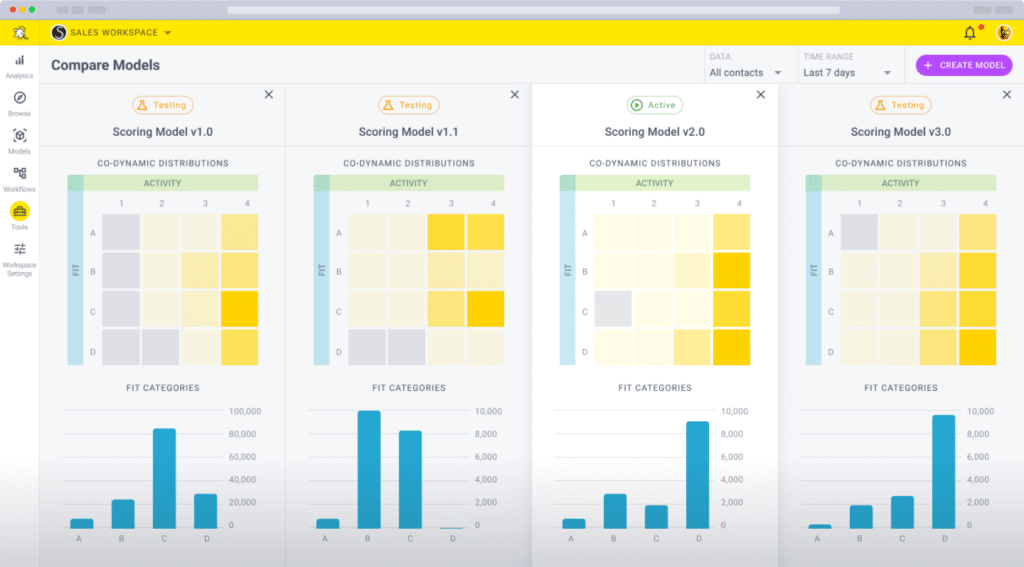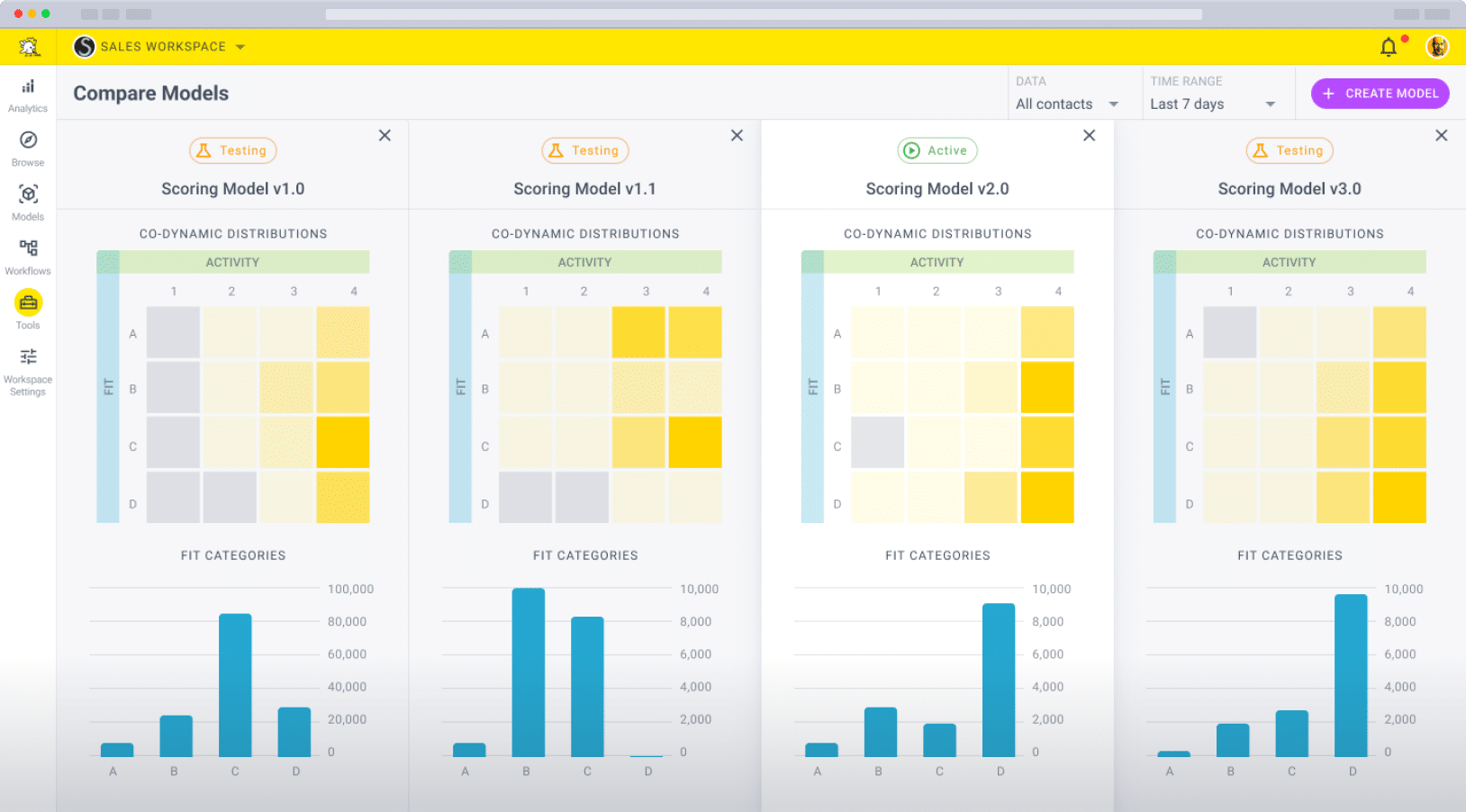 Score leads on frequency and recency: Both HubSpot and Salesforce only let you score leads using one of these criteria, but with Breadcrumbs, you can use both.
Track fit and activity scores: With the Breadcrumbs integration, you can track fit and activity scores separately as well as combine them to get a better understanding of leads—with just the tools alone, you can only track these two criteria together.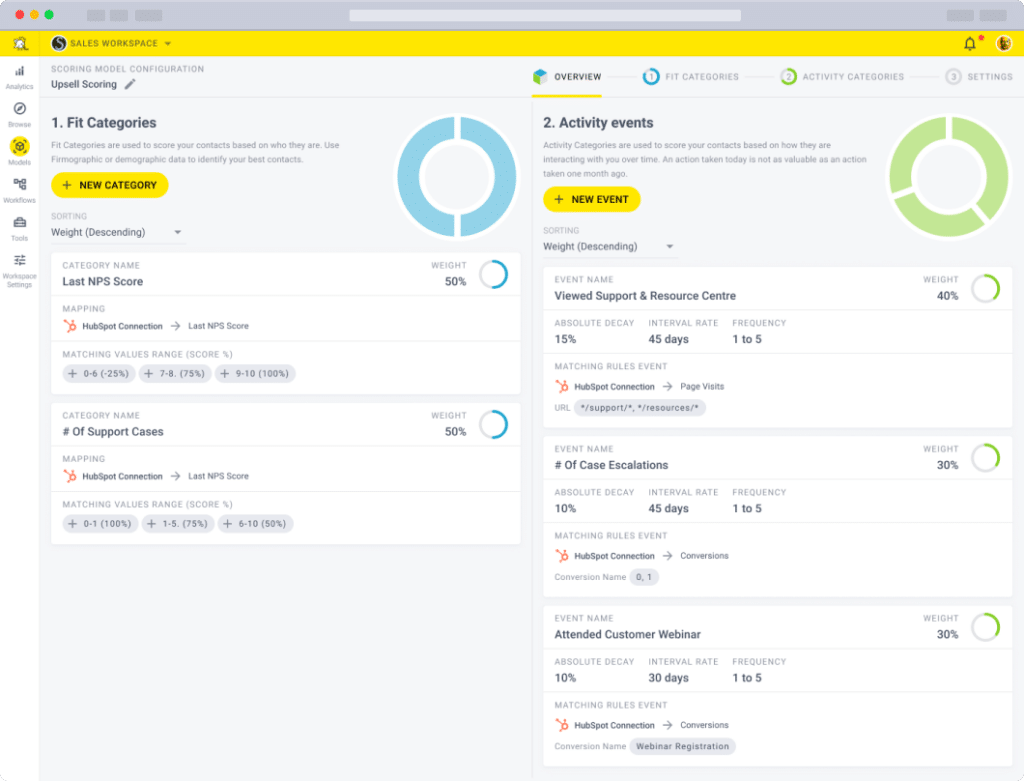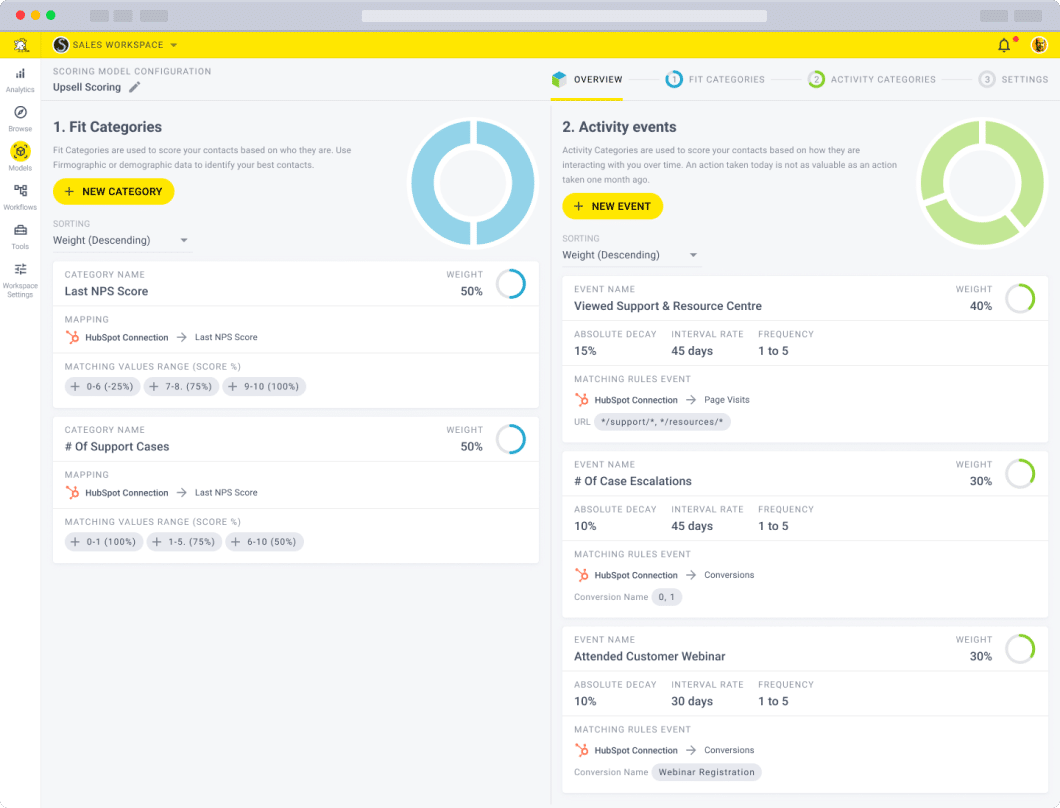 Create up to 16 scoring buckets: HubSpot and Salesforce have some great scoring criteria, but there's a limit to what they can track and measure. Breadcrumbs lets you view all leads across as many as 16 scoring buckets so you can get a detailed insight into your most promising leads.
Integrate all your data: HubSpot and Salesforce can only use data that are already stored in the platform. The Breadcrumbs integration pulls in all your data sources so you can accurately score leads based on their interactions with you across multiple channels.
Take lead scoring one step further: As well as providing accurate scores, Breadcrumbs can level up your lead-scoring game by identifying relevant upsells and cross-sells to your warmest leads. 
HubSpot vs. Salesforce: Which Lead Scoring Tool is Best For You?
HubSpot and Salesforce both have plenty of pros and cons. Both let you create your own scoring criteria and give you an overview of which leads are the most qualified. Salesforce lead scoring has the help of Sales Cloud Einstein to get analytics on industry trends and patterns, while HubSpot lead scoring has a ton of powerful optimization capabilities.
The downside of both is that you can only collect data that live natively in each platform (or via tools that integrate seamlessly with each platform), which means you might be missing out on important data.
No matter which tool you choose, you can integrate it with Breadcrumbs to power up your lead scoring. It can collect data from multiple sources, compare it across platforms, and take your lead-scoring activities one step further. Even better—you can start for free.