Mailchimp is one of the most useful email marketing tools available right now, with extensive testing, automation, and reporting features. Accessible to businesses of all sizes, they come with great features at affordable plans.
As specialists in nurturing relationships at every stage of the sales funnel, it's no surprise that some of Mailchimp's features go beyond email. A great example of this is their contact rating tool, and some of the available Mailchimp lead scoring integrations.
In this post, we're going to look at how you can use Mailchimp's lead scoring features, how to get the most out of the tool, and whether or not it's the best contact scoring tool for your business.
How Does Lead Scoring Work with Mailchimp?
Mailchimp doesn't have a true in-depth lead scoring tool the way some other platforms (including ActiveCampaign and HubSpot) do.
They'll automatically give all contacts a score between one and five. (Most lead scoring tools will give companies a score between one and one hundred.) All new contacts start with a 2-star rating.
As users engage more, their score will go up and down based on a 16-point scale "behind the scenes" system that's used to assess contact engagement. Click activity is measured against send frequency for your particular campaigns.
Here's the breakdown of their rating system:
One star: There has been negative engagement, including soft bounces in the past or has unsubscribed and resubscribed
Two stars: No engagement, and is most likely a new or previously-engaged-but-now-dormant contact
Three stars: Low engagement, clicking some links in the campaigns; they may be inconsistently engaged, or still relatively new
Four stars: Moderate engagement, often clicking on links in your campaigns
Five stars: High engagement, often clicking consistently
How Mailchimp's Lead Scoring is Different
Mailchimp's lead scoring tool is really more of a contact rating tool.
Most lead scoring tools will give users a score between 1-100.
And while email engagement is a factor that's taken into account with high-powered lead scoring tools, many, many other factors are, too. These factors include site and landing page activity, returned phone calls, whether or not customer service tickets have been logged, and the size, revenue, and industry of the company.
If you want to use more conventional lead scoring with Mailchimp, you need to rely on third-party integrations to do so, leveraging their data within the Mailchimp dashboard. This means finding another tool that works well for your brand (and we've got a recommendation for one we'll share shortly!).
How to Get the Most Out of Mailchimp Lead Scoring
You can use Mailchimp's Contact Rating feature as a segmentation option when you're creating emails, but there are so many things it doesn't tell you that other options may be a better way to go.
Someone who is a contact score of one means they may have unsubscribed and then resubscribed, for example. If this happened recently, it may mean that they dropped off as a customer due to any number of circumstances but are now interested again. (Maybe they chose another tool and are now considering yours again, for example).
Sending them fewer emails or treating them like a disengaged customer instead of a warm lead who just subscribed won't do you any favors. It could actually cause your team to fail to see a warm lead that is more invested this time around, potentially even resulting in a lost sale opportunity.
Their Contact Rating system alone just isn't quite dynamic enough to take complex nuances and different factors into account outside of on-platform email engagement.
Instead, your best bet is to use the digital activities capturing through email and landing page campaigns in Mailchimp to create segments that align with lead scores you may have calculated in other tools.
You can create segments of users who open emails regularly after just signing up as "hot" leads, for example, and create specific campaigns designed to nurture them. As new users meet this criteria, they're automatically added to the list and included in those campaigns; and as they fall off, they're moved to other lists.
Mailchimp allows you to create segments utilizing both activity and demographic data, so you can create lists of users who meet certain high-value qualities. This allows you to use additional targeted campaigns and tactics.
And again… you can always use third-party integration tools that actually give you more accurate and in-depth lead scoring tools that integrate with Mailchimp.
A Word of Caution About An Automation-Only Approach
One thing we do want to note: This system makes heavy use of automation based on just a few individual factors. It can help you get results and automate your campaigns (which can streamline things). While this can be valuable, for high-level SaaS and B2B brands, it may not be enough. It doesn't flag contacts for you based on an umber of different factors, and it doesn't give you anywhere near the kind of detailed information you need for something like account-based marketing. There are limits, and it's important to keep that in mind.
Why You Should Use Breadcrumbs for Lead Scoring Instead
Mailchimp doesn't have its own true lead scoring tool. If you want to leverage lead scoring within Mailchimp, you'll need to use third-party tools.
That's where Breadcrumbs comes in. We strongly recommend using a high-tech and advanced lead scoring tool to help your team identify sales opportunities at every point of the digital sales funnel. And while this does include identifying warm, hot, and potentially high-value (long-retaining / high spending) leads, it goes beyond that, too.
Our tool can help you assess customers who need to be reengaged, alongside those who have high potential for other sales opportunities like upselling and cross-selling.
Let's take a closer look at four more key advantages that Breadcrumbs can offer brands of all sizes (including Mailchimp users!).
Breadcrumbs Compiles Clean, Relevant Data From Your Favorite Sources
Breadcrumbs knows that your best customer data is likely going to be stored in the CRM or even email marketing platform of your choice, pulling data from site activity, email, phone calls, and your sale platform into one database.
We sync with multiple tools that fit this criteria (including Mailchimp!) to pull out that data and assess it within our system. This means we can use the data that you know is valuable, actionable, and up-to-date at a higher level.
We Give You a Dedicated Dashboard for Lead Scoring
Lead scoring isn't an afterthought with us; it's not a small add-on feature to a larger tool.
It's our entire jam. Our bread and butter. It's everything that we do.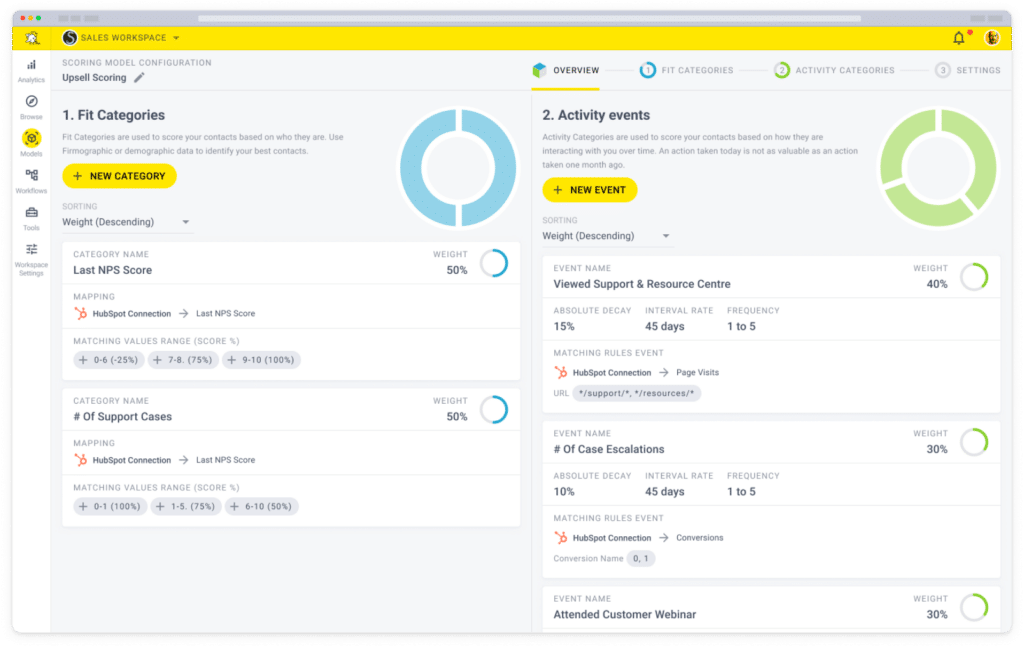 This means that you're not just getting a number based on a few simple metrics; you're getting a dynamic score that's relevant right now based on a client's demographics, activity, and both the frequency and recency of which they've taken certain actions.
And you can see everything impacting those scores within our analytics and our dedicated dashboard. You can use this to identify right-now sales opportunities for your team to act on immediately.
We Offer Fully Customizable Templates to Get You Started Fast
Every business is different. That means that no one, single lead scoring, upselling, or cross-selling model is going to work for every single business.
When you first create your account, we'll ask you a few questions about your business and your customers. Then, we'll give you a few tailored-to-you templates to get you started with contact scoring.
But here's the good news: You can customize these different model templates at any point in time. You're not bound to our models or "behind the scenes" metrics; you can customize what qualities or actions result in points being added or taken away at any point in time.
This means that as your business evolves, the templates can evolve with you, and that you have full control to help you find those sales opportunities.
See a Historical View Into Lead Trends
It's great to know what's happening right at this very moment, but that's really not all the information that brands need at the end of the day.
Lead trends shift over time, and getting a bird's-eye view of what those trends look like can help your business make smart decisions.
When it comes to Breadcrumbs, you get detailed historical data right out of the box. You don't need to worry about trying to download information to access it later, you'll be able to look back in-depth at historical trends so you can get a better understanding of what's changing for your business and why.
This can help you make essential pivots in your business, and may even indicated that your audience is evolving so you can adjust accordingly over time.
Final Thoughts
Mailchimp is an exceptional email marketing tool. There's absolutely no denying that. It's what I use for my own email marketing, and I highly recommend it to many of my small business clients.
They excel at email marketing, however—not lead scoring. And while their contact scoring feature can help flag high-engaging clients, it has limitations that can keep it from being truly effective, accurate, or reliable.
When the goal is revenue acceleration, you need effective, accurate, and reliable.
Breadcrumbs has the most high-powered, accurate, customizable, and detailed lead scoring tool on the market. We're confident that our customizable and dynamic contact scoring models can help your business identify sales opportunities at every stage of the digital sales funnel so you can act fast before they slip away.
Breadcrumbs can help you convert more users at every stage of the buying process. See how— book a demo here.