With 43% of B2B buyers preferring a rep-free experience, startups worldwide can no longer afford to ignore the product-led growth model.
But how can you transition to product-led sales when you're used to the traditional sales environment?
In today's guide, we attempt to answer this question.
Quick refresher

The product-led growth (PLG) strategy works on a "bottom-up" model. 

Instead of requiring prospects to fill a lengthy form to book a demo with a sales rep, the model focuses on a free trial or freemium plan to bring a product to market. 

The PLG model creates instant value for users. 

Case in point: Users who signed up for Lusha immediately receive five free bank credits and accurate prospect contact data in a click.

"Take out the manual sales process, buyer qualification, and make the product free to start using, and easy to adopt," Yoni Tserruya shares with Breadcrumbs on how companies can start transitioning to product-led sales. 

The co-founder and CEO of Lusha continues, "Make it such an integral part of your user's day-to-day business needs at an affordable price, and they'll grow with your product. Make it easy for existing users to invite new users and incentivize them." 
1. Identify the trigger event
According to Craig Elias, a "trigger event" is the exact moment when a prospect moves from being uninterested in your product to being in the market for a solution.
To identify this "trigger event," conduct research on your target customers.
By digging deep into your audience's buying behavior, you determine a myriad of insights like the triggers that (a) made them sign up for a free trial and (b) upgrade to a paid plan.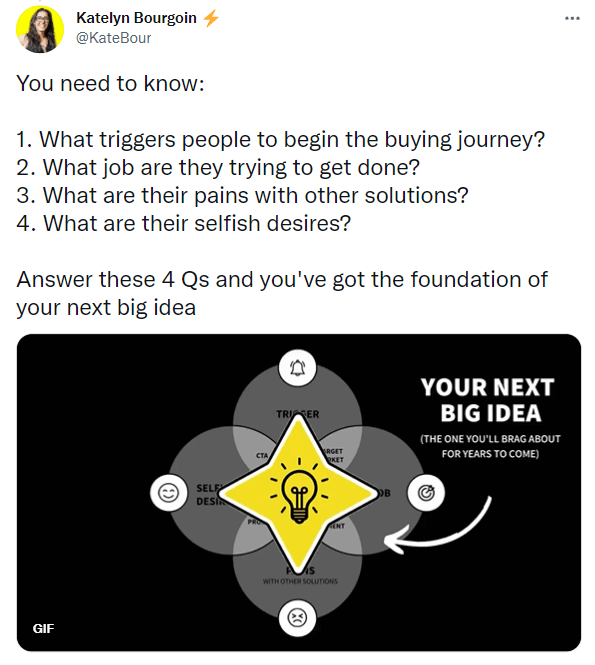 As Wes Bush writes in ProductLed, these insights from your research are the foundation. of. everything. You'll know what you need to write in your sales copy, what features to include (and exclude) in your product, what content to prioritize, etc.
For Messaged, customer research helped the team understand the sales tactics that suit them best.
"The research phase uncovered a variety of benefits for us, one of the main ones being that it is very cheap."

Dan Ni, CEO of Messaged
Dan Ni and his team wouldn't have discovered how much they could save and scale back if it weren't for customer research.
"It was surprising to find out that the product-led sales strategy gets you rapid feedback, especially on a minimum viable product," reveals the CEO of Messaged.
"And after finding out how this strategy has become so popular with Saas companies, we quickly discovered that it is one of the best ways to bring focus to your services because that is exactly what the transition does. All your resources are driven towards putting it in the limelight."
2. Define What Makes a Product-Qualified Lead
A product-qualified lead (PQL) is a lead who's experienced the core value of your product through a freemium or free trial.
A PQL sits between the marketing qualified lead (MQL) and sales qualified lead (SQL).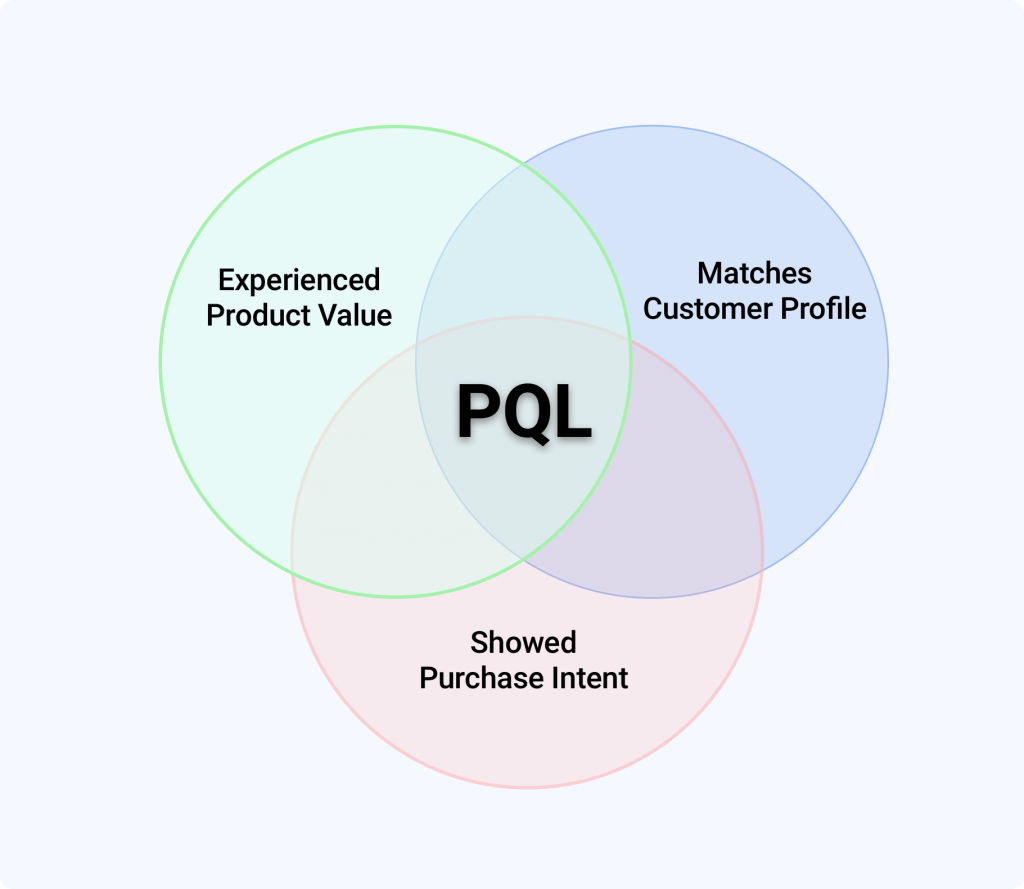 To identify and track these PQLs, define your value metrics (e.g., feature adoption rate, customer lifetime value [CLTV]). These metrics reflect your product's "aha" moment.
Quick example

Paperless, a contract management startup, defines its value metric as the number of documents completed. 

Its PQL is someone who has sent at least three documents in a month. 

Tip: These product analytics can be tracked in product engagement tools like Pendo.  
As you define your PQL metrics and criteria, refer to your ideal customer profiles (ICPs) or buyer personas for more context on the lead's background.
Better yet, use a lead scoring tool like Breadcrumbs to combine behavioral and demographic data. That way, you can quickly identify ready-to-buy PQLs.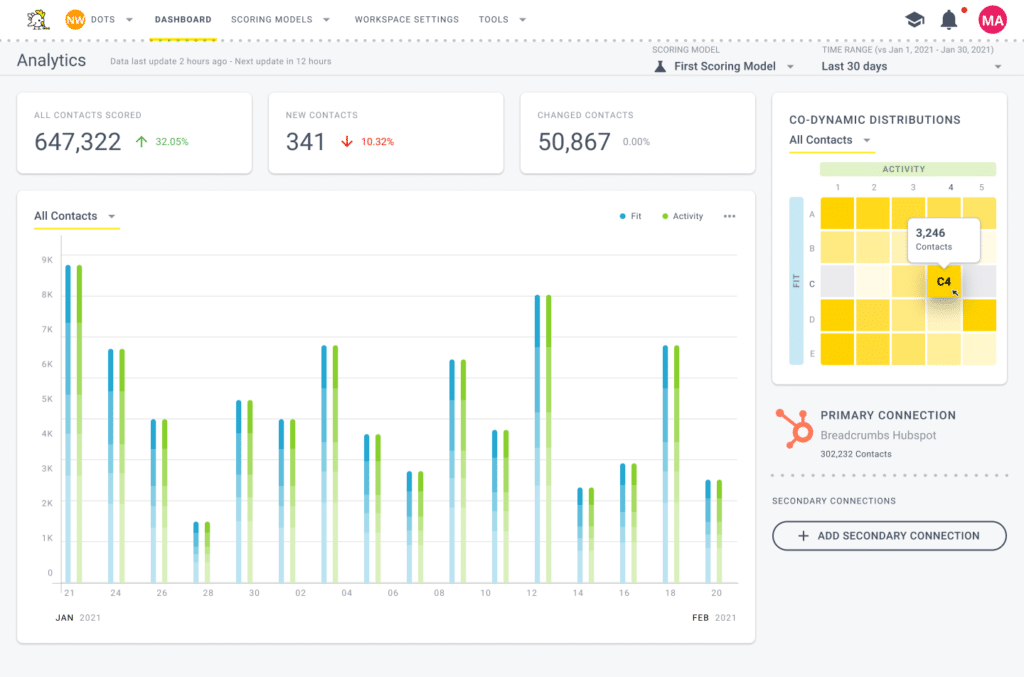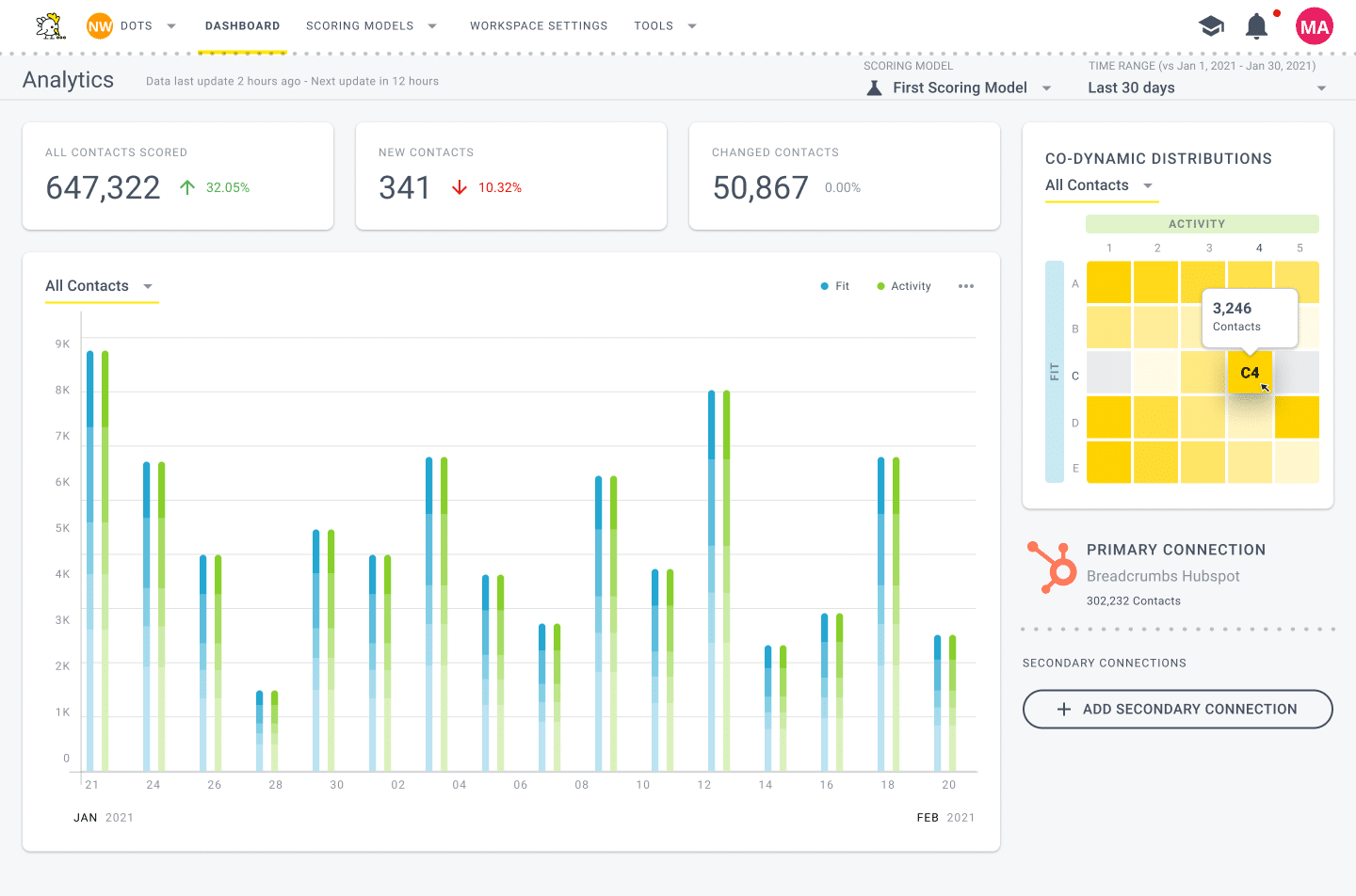 Messaged, the SaaS email marketing automation platform we introduced to you earlier, even filters its PQLs with these additional questions:
Does the lead have an actual use for the product? In some cases, leads who signed up for your product may realize it isn't for them in the long run.
Does the lead have the authority to make decisions? If you sell primarily to C-suite executives, a lead who works in a junior role might not be the right fit.
Is our product the best possible solution for the lead's needs? There's a danger of overpromising and underdelivering. Be honest if your product is unsuitable for the lead. And focus on leads who fit your best customers.
"These things along with other factors help us decide if a lead is product qualified," says Dan.
That said, your product-led sales strategy could still involve some form of manual sales outreach.
For example, if you have a lead actively using your product but for some reason isn't converting, reach out to them and see if there are any concerns or objections you can address.
Sharad Panwar, a growth marketer at Adaface, adds, "Similarly, if you have a lead who doesn't fit your ICP but is engaging a lot with your product, you don't need to prioritize them as much."
You could continue to nurture them through a targeted and personalized email sequence and consider if you want to broaden your ICP profiling criteria.
3. Get Everyone on the Same Page—Yes, Everyone
Product-led sales is a multi-team effort, so much so that 53% of organizations saw a significant improvement in performance after transitioning to cross-functional collaboration.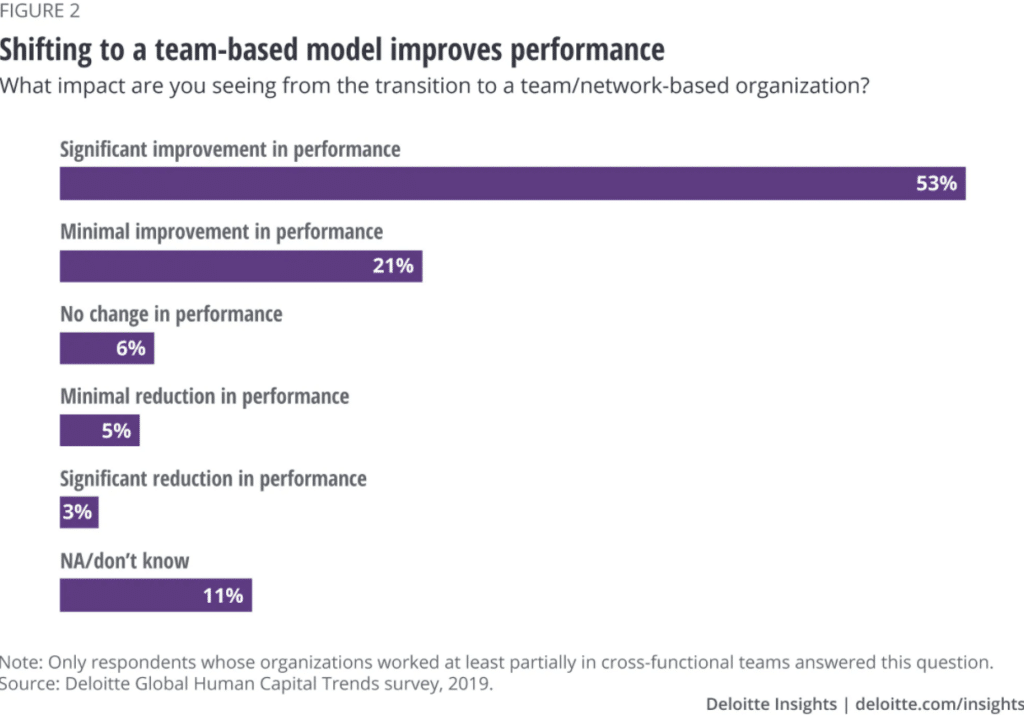 At Adaface, team members from design, tech, marketing, and sales work closely together in its product-led sales strategy.
Even though these different departments are working toward a common goal, they are responsible for their own set of metrics.
According to Wes Bush, founder, and CEO of ProductLed, here are the specific metrics you should focus on:
Marketing: Visitor to Sign up, Sign up to PQL
Sales: PQL to customer rate, Length of contract for each user, Average CLTV per account
Product: Sign up to PQL, PQL to Customer
Customer success: Sign up to PQL Rate, MRR Expansion Rate
Engineering: Sign up to PQL, PQL to Customer
Learn how to unite different departments and foster cross-functional collaboration in these two guides:
4. Focus on Product-Led Customer-Centricity
Great product-led growth strategies center around customers—teams would actively reach out to customers and improve based on their feedback.
Your product can only become a vehicle for acquisition and retention if you do this.
Like many PLG-led companies, Castos focuses on product-led customer-centricity.
The founder and CEO even hired a team of inbound coaches to guide his team in focusing on customer satisfaction, such as maintaining a human touch in an automated nurturing and onboarding process.
Craig Hewitt shares with Breadcrumbs:
"The coaches set up our customers on our free plan and helped them realize value from the outset. They also processed large volumes of customer feedback and passed them back to our product teams to refine our offerings."
One interesting feedback revolved around converting audio files into polished YouTube videos.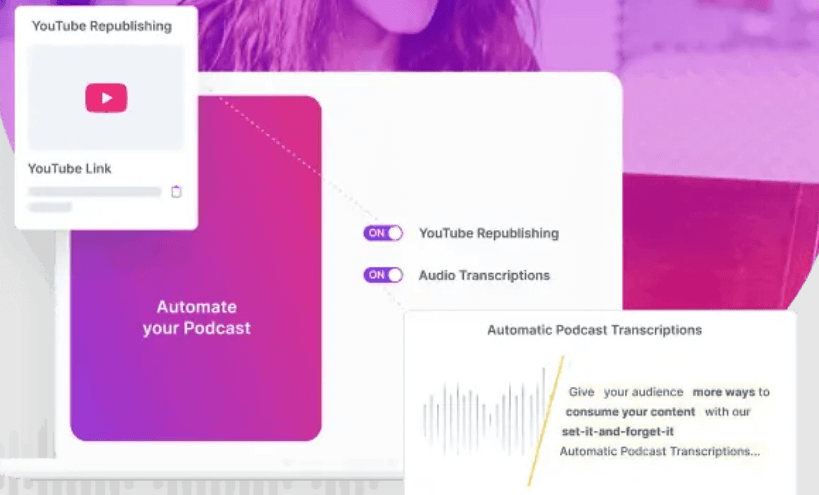 Craig and his team promptly developed a YouTube Republishing feature, which became one of the startup's most popular tools.
5. Build a Short and Sweet Product Tour
The biggest perk of implementing a product-driven sales strategy is that it's completely self-serve.
All buyers need to do is sign up for a free trial (or freemium), explore the product in an interactive tour, and click the upgrade button—all within a few clicks of the button and without any interaction with the sales team.
But often, it's not as straightforward as it looks.
When Chameleon analyzed 214 million product tour interactions, it discovered that the average completion rate was only 47%.
There are multiple reasons behind the low engagement, one being the number of steps involved.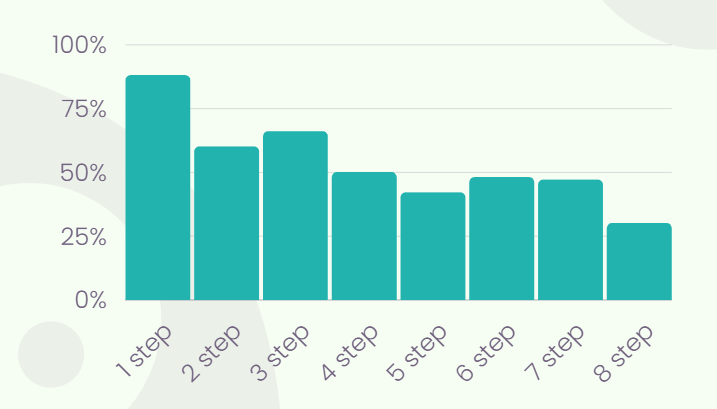 Unsurprisingly enough, the fewer steps, the higher the engagement. For instance, users are 38% more likely to complete a three-step tour than a six-step tour.
Here are three best practices when building an engaging product tour:
(i) Build multiple versions
An enterprise buyer vs. startup buyer will have different use cases for your product.
Segment your product tour based on the prospect's background or specific actions.
Use a product analytics tool like Reprise to display personalized content within the tour.
(ii) Encourage users to complete the tour using media
According to Chameleon, embedding media within a product tour can increase time spent by 9%.
Consider adding GIFs, images, or videos for detailed instructions and keep users longer.
Other excellent media include the progress bar and dismiss button.
(iii) Add a human touch
Sure, a product-led sales strategy is self-serve, but that doesn't mean you want to remove the human touch altogether, especially if you're building a community around your startup.
Knoetic, a startup that recently raised $18 million in its Series A funding, built a product-led onboarding and complemented it with white-glove onboarding.
The community team would onboard each customer manually and provide a personalized experience from day one.
Product-Led Sales, The Big Shift That Accelerates Revenue
The product-led sales strategy plays a vital role in revenue acceleration.
Here's what we've covered today:
Identify the "trigger events" that made users sign up for a free trial, upgrade to a paid plan, and more.
Define what makes a product qualified lead. Use Breadcrumbs to combine behavioral and demographic data and get all your data in one place. Book a demo with Breadcrumbs today to identify sales-ready PQLs and unlock hidden revenue opportunities.
Get everyone on the same page and set specific metrics for each department.
Focus on product-led customer-centricity and actively reach out to customers and improve based on their feedback. By doing this, your product becomes a vehicle for acquisition and retention.
Build a short and sweet product tour to keep users interested. Leverage media, segmentation, and personalized experiences to boost engagement.
Let us know how it turns out for you!