Get ready to embark on an exciting journey that uncovers the power of structured thinking and data-driven excellence in product development!
In this session with Anirudh Kuthiala, we'll use practical strategies to infuse principles into your product development and enhancement cycles and create a culture that connects each idea to a bigger, more epic picture.
[Transcript] Blueprints for Brilliance: Framework Your Way for Epic Product Success
Although transcriptions are generally very accurate, just a friendly reminder that they could sometimes be incomplete or contain errors due to unclear audio or transcription inaccuracies.
Gary Amaral
We are back, and we have another heavy hitter with a great topic. We have Aniruddh Kuthiyala, Director of Product Analytics at Groupon. Welcome, Anirudh; how are you?
Anirudh Kuthiala
I'm good, thanks for having me, Gary.
Gary Amaral
Awesome, thank you so much for being here. I'm super excited to hear about your talk, "Blueprints for Brilliance," what a great way to start! "Framework your way to epic product success." Did I get that right?
Anirudh Kuthiala
Yes.
Gary Amaral
Awesome, Anirudh. I think you probably have a ton of great content here, so I'm going to throw up your presentation, feel free to take it away, and I'll see you in a few for questions and answers.
Anirudh Kuthiala
Thanks. Well, hi, everyone. You may call me Ani. I am a director for product analytics with Groupon, and my topic is mainly focused on structured thinking and frameworks.
I'm passionate about this, and I've been trying to apply this back to every area of my life personal and professional, which is frameworking, structured thinking.
If we're doing or we're required to do something over and over again, if it's a cycle, I found it very effective that we create a framework, think it through, and then refine it with time, so that we don't start from scratch, especially our thinking every time that we go through that cycle. So, with that, I will kick this off.
Well, I'm a director for product analytics. My overall experience in analytics is close to 14 years. Out of everything that I've worked with, the primary domains and stakeholders that I've supported are product, business operations, customer experience, and a little bit of marketing.
I am with Groupon, and Groupon is a two-sided marketplace, so we have customers and merchants, and the platform brings them together for customers to discover amazing deals and for merchants to increase their value proposition.
Interesting fact, yeah, I'm very proud of this one, actually. I'm a certified beer pourer from Heineken. I was visiting Amsterdam, and I found out that you can get certified with an actual certificate, sign, and a picture, and I went for it.
What I didn't realize was that it's not a fun activity; they actually reject a lot of people. So, you've got to keep your glass at a 70-degree angle and pour it, get the right proportions, and then you get a certificate. So, proud to have accomplished this in my second attempt.
Now, let's jump right into the topic. Again, talking about frameworks, talking about structured thinking, but here's what led me to develop this framework and put it into practice in what we do.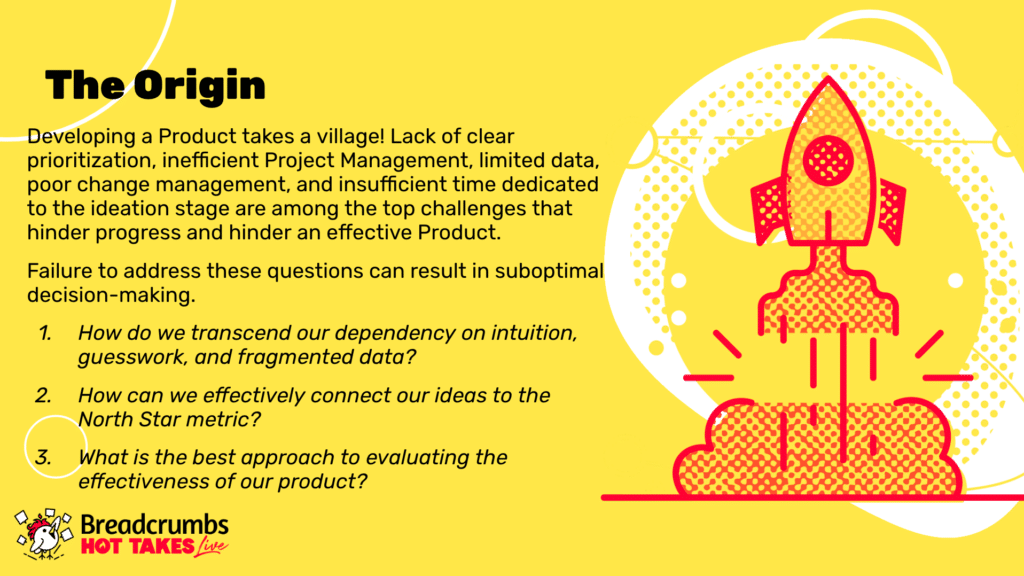 Now, I'm sure all of you have experienced this, but developing a product, irrespective of the industry, takes a village. There are so many teams involved. You've got not just product managers; you've got software engineering, you've got data engineering, you've got marketing, sales, your UX team, and analytics. Clearly, it takes a lot of people.
Lack of clear prioritization, ineffective project management, limited data or poor change management practices, or even insufficient time dedicated to ideation are the top challenges that kind of restrict the effectiveness of a product.
You might have a great idea, it might have a great potential, but if we don't follow a framework to kind of launch it and monitor its effectiveness and really proactively intervene to enhance, then in a bigger picture, it might not be effective, it would lose its effectiveness.
Now, here are the questions that I found myself asking from time to time. Do you find yourself asking these questions? Because if you're asking these questions at a later stage, which means you've already launched something and you're asking, that's an opportunity right there to improve clarity. And all these three questions should be established before development takes place.
Now, simple questions like, "How do I restrict my dependency on intuition, guesswork, and fragmented data?" And by that, I mean sometimes you would have gone through a cycle of thinking that this is a great idea, but you don't have any data. It's just a gut feeling; you don't have any data to prove it or even measure it or identify an opportunity.
If you have answers to these three questions, they form confidence, and confidence is super important because the last thing you want to worry about when you're developing or launching something is, "I wasn't sure."
Secondly, a very popular one, "How can I connect my idea to North Star?" Now, some companies have North Stars; some companies have OKRs. In the end, this is about the idea that you have; how does that connect to your business growth? Not every idea can connect directly, and in my opinion, shouldn't connect to the North Star directly because it becomes very difficult to attribute the benefit back to your idea. There should be a layer of success indicators, success KPIs, or Key Performance Indicators, as we call them.
"Well, I evaluate my team's input and not output." Right? Now, just like the teams I talked about earlier, what it takes to develop a product, everyone's success and growth in your organization depends on how effective their contribution is.
So, it's super important for all teams involved in building that project to know how the product is positioned in the bigger picture. We've gone through cycles where we developed something, it took three months, we did it, it's great, but everybody who's involved in building that, they just moved on to the next thing.
They lack transparency on what they're working on, especially the engineering teams. When they're working on it, how does that connect to the bigger picture? How did their work impact business growth?
On a personal level, it's super important for motivation as well because otherwise, it all becomes, "I'm working on a sprint, delivered, next." That cycle can be monotonous. But if I know what I'm working on and how that impacts business growth, that's right there. I know the value that I, as an individual, a team, as an individual, contribute towards. That's very important for employee experience in any organization as well. That's a side product.
Lastly, "What is the best approach to evaluating the effectiveness of the product?" This is not just about you launching something and you look at some KPIs. It's also opportunity sizes. It's also defining a success metric.
It's also defining a sanity matrix, from which you can rule out cannibalization. It's also looking at engagement metrics. Now, all of these are super crucial before the launch, not during, and definitely not after. This should happen before we launch. So, these are the questions that actually led me to develop an assessment framework.
Now, in short, what does that framework do? How do we solve that? To me, it's about simplifying decision-making for our teams. Integrating structured thinking in product development cycles. What does that mean? When we are developing something, just stop looking at the bigger picture; just break down your entire decision-making into steps.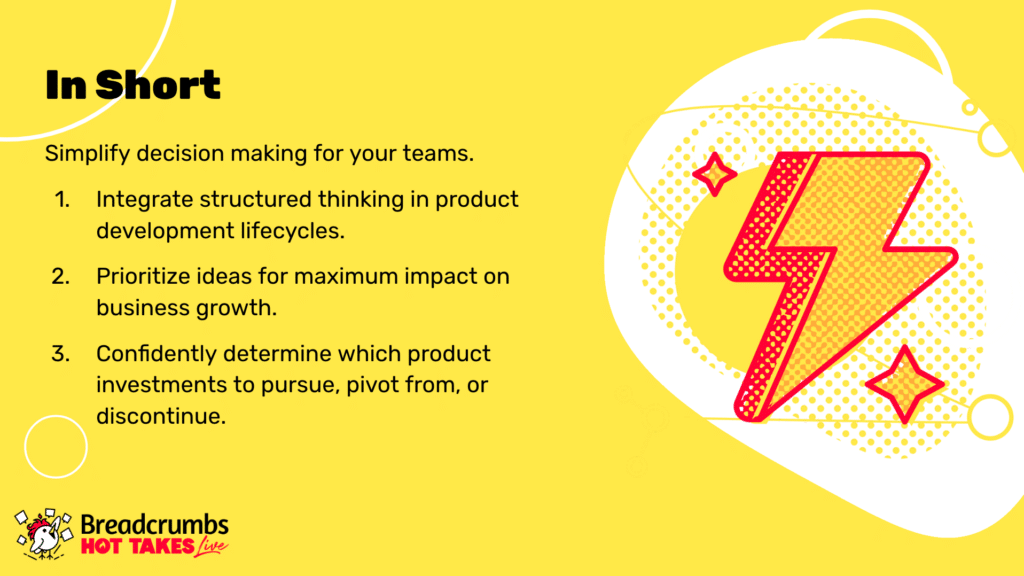 It's like a ladder. If you want to go from point A to B vertically and you have a ladder, yes, you're thinking about the end, but you take one step at a time. Now, when you take one step at a time, it forces you to critically think, at the same time, that's the side product; you look at each and every stage in detail, and that's the opportunity here.
Prioritize ideas for maximum impact. I'm sure we've gone through cycles where we have ten ideas, promising, but putting data next to it and having an idea of what it means for a bigger picture helps you prioritize.
Now, not saying all ten ideas can go together at the same time; everybody has limited resources. A prioritization decision is super crucial because you want to spend time and resources on something that has a higher impact.
So, something that can give one million dollars in three months versus twenty thousand dollars in three months, once you have these data points, that decision to take on what to do first is very simple because now you have a data point. And that's also a good example of data-driven decision-making.
Thirdly, after you launch, you should be able to confidently determine which investments to pursue, pivot from, or discontinue. Just like we look at stock investments, right? You look at your portfolio and see, okay, stock number one doing well, guess what? I'm going to invest more in it because it's giving me a good return. Stock number two, okay, it's fine, it's not as per my expectations, you know what?
I'm going to wait for it for another two or three weeks. Stock number three, okay, this is way worse; I am losing money every day; I'm gonna just pull the plug and remove my investment. That thinking you can apply to everything that you do as well because, in the end, data-driven decision-making should enable you to decide among these three options: what to pursue, pivot from, or discontinue.
Now, let's get to the framework.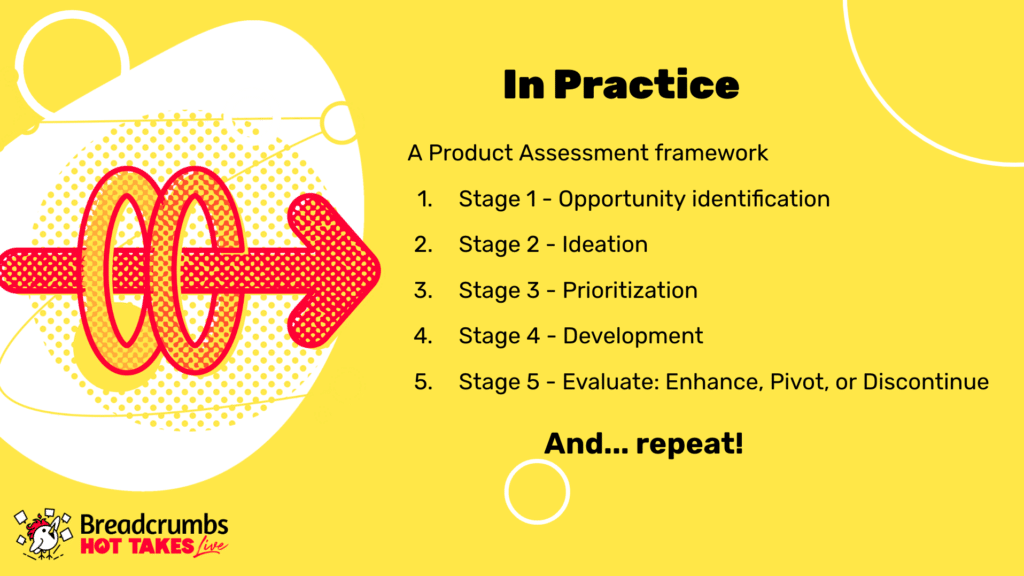 Product Assessment Stage One: This is basic; you identify your opportunity. This is where you start thinking of, here's something that I can go ahead and enhance. Remember, this is not a bug because if there's a bug, something that's supposed to happen, it's not happening; it should bypass that framework because you've got to fix it. But this is opportunity identification.
Stage Two is your ideation. This is where you go ahead and brainstorm ideas and involve people who are invested in making this successful, but simple questions like, what should be the opportunity size, what should be the success matrix, how we should evaluate the effectiveness of this, how much time do we think this will take, do we have the skills, talent, all the technology to develop this?
Based on that, you can put a prioritization framework. So on the Y-axis, I have business value; on the X-axis, if you put effort, t-shirt sizing by engineering, for example, or just normalize that rating from one to ten, on the lower left block, you have quick wins, go for it. On the top left block, you have nice to have; go for it. On the top right are your big bets, and on the bottom right are what I call ineffective investments; you want to proceed with caution. But again, this is a good example of data-driven decision-making. Before deploying, you have a good idea of what you are working towards.
Stage four–traditional development. Involve all the teams who are invested in making your success. And that's actually point 5, my bad. But evaluate, enhance, pivot, or discontinue, going back to the same example. Don't wait for six months or one year to see what's the effectiveness. Get your analytics teams involved and look at with the current trajectory; what are we looking at?
Because that gives you a good sense of whether it is going to land where you thought it would, how far off, or if it is beating your estimates. That gives you confidence to make decisions on do you want to enhance it, do you want to pivot, what you want to discontinue. And this is a cycle. This framework is a cycle. If you find a problem, go back to stage one and then work on enhancement.
With that, I will leave you guys with one of the favorite things that I like to say to my teams: making something complex is simple because we just keep adding stuff on top of another. But simplifying something complex is difficult. This is a one-time investment, but the return is 10x, both short-term and long-term. But I have come to an end, and I am happy to take any questions.
Gary Amaral
Hi, thank you so much for that. I really, really appreciate it. We are close to time, but one quick, practical question for you. I'm a big fan of frameworks and mental models; I use those in my day-to-day on the regular.
One of the challenges is getting groups of people aligned around a framework. Any thoughts on that? Any tips? How do you overcome challenges?
Anirudh Kuthiala
Sure, that's a good question. I would say the groups involved connect the impact of your product to an outcome. So, if I have different groups, in the end, it's about making them successful at their jobs. If you have data, say, "Hey, this has the potential to bring this much or improve this success KPI," because everybody is aligned on a bigger picture. In my experience, that makes it easier to get alignment.
It does not start with, "I have an idea, and we can do this." It should always end with, "This idea, why doing this has a potential to impact or change this much." That brings everybody looking at the outcome and the bigger picture, and that makes it easier because everybody can make that decision in that, "Is it a good one or not?" Again, prioritization may be yes or no, but at least it gets everybody together online.
Gary Amaral
Awesome, perfect. Ani, we're at time. I'm sure everybody listening knows how to find Groupon. If they don't, they've probably got bigger problems. But, if somebody wants to get in touch with you, Ani, what's the best way to do that?
Anirudh Kuthiala
I'm on LinkedIn. Just search me, Anirudh Kuthiala, and any follow-up questions; happy to take on there. Any use cases where you've tested it and it didn't work, or it worked, I'd love to hear those.
Gary, thanks for having me.
Gary Amaral
Oh, no, thank you. The pleasure is all ours. Really appreciate it. Hot thanks. Live is only a success because of speakers like you. So, thank you once again.