In this session with Irina Soriano, VP of Enablement at Seismic, you will learn about a brand-new approach highlighting how sales enablement can correlate with clear business outcomes that help you drive accountability for your GTM teams and gain executive buy-in.
[Transcript] Sales Enablement Impact By The Numbers
Joe Aicher
Our next speaker is Irina Soriano, VP of Enablement at Seismic.
Irina Soriano
Thanks for having me today. I will be talking to you about sales enablement by the numbers, and here's a short intro about me.
I work for Seismic and run their global enablement team. I'm also the author of Generation Brand. I'm a TEDx and a keynote speaker. If you're interested to find out more about me, you can visit my website, irinasoriano.com.
But let's hop right in. So I'm gonna talk to you about outcome-based enablement today. So I will share the strategy that helps us show the value of enablement and the ROI behind everything we do. We have a four-step strategy in place, and I will walk through each of these steps.
So the first step is for us to Plan, we then move into Enable, we then move into Engage, and ultimately we look at Improve, and that's all with the purpose of driving better outcomes and really playing the numbers game with enablement.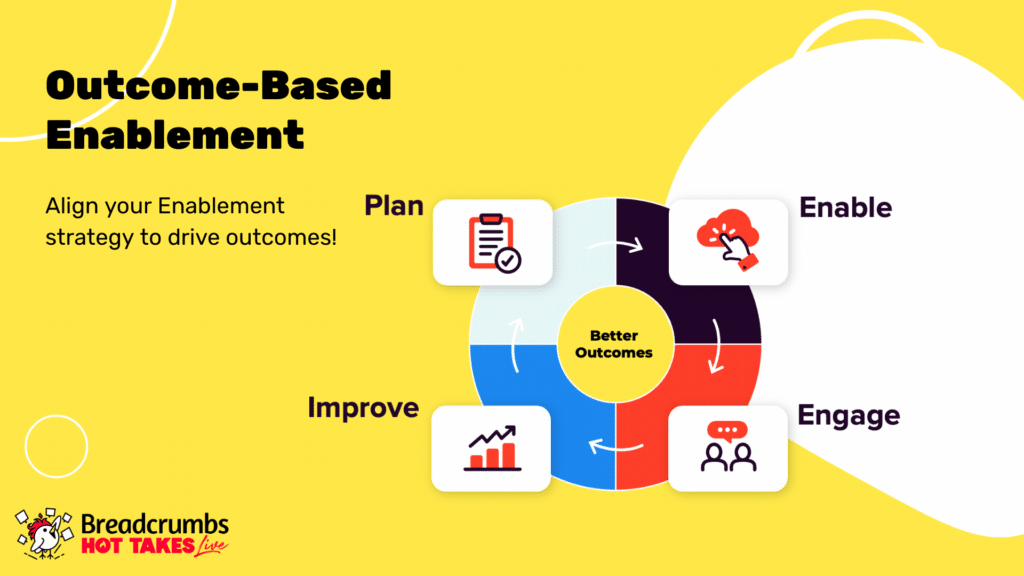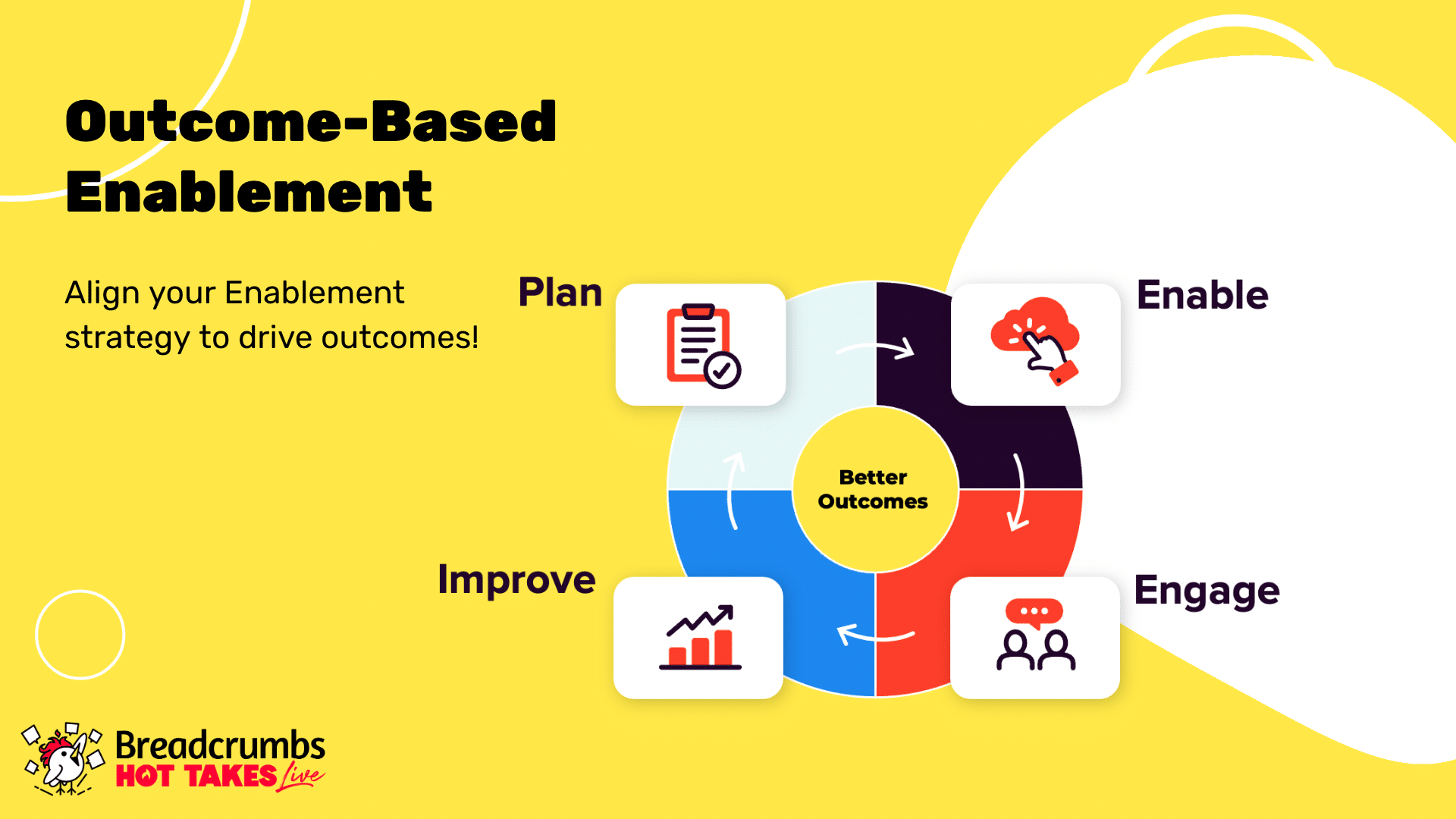 Now starting with Plan. That means we develop an enablement strategy that's aligned with desired business outcomes.
We look at company objectives and KPIs at the beginning of the year. We decide on one or two key enablement programs that we want to drive, and then we come up with very specific program-based business outcomes. I will dive into that a little bit more later.
We're then gonna get into Enable. That means we have to build the actual enablement package or the program, as I like to call it. That means design and delivery. So there are virtual and live enablement sessions, depending on what we are enabling. There's e-learning, and there's also content and assets.
Now, if we have a, what we call tier one initiative, meaning it has OKR (objective and key results) status, it has executive visibility. That means that we are doing all three, which is really good for us to look at how people are engaging with enablement, how behaviors are changing, and how we are tying this to very specific program-based business outcomes.
From here, we're then moving into Engage. That's where the rubber really hit the roads. I'm German; we say the meat and the potatoes.
So that's the link between the enablement engagement and the behaviors that we want to see changed. And also how it impacts the customer experience because, ultimately, that's what enablement is all about. We wanna enable our internal folks, the field, and the sellers to create outstanding customer experiences.
So the few things that we are after here is that our audience, in this case, the sellers or the field, demonstrate confident learning application so that we know they are delivering outstanding customer experiences.
They also need to have the ability to use externally facing content. That means a pitch deck, for example. This is not just about showing the content; they also have to tell the right story.
And then ultimately, we want to ensure that we can increase role proficiency and effectiveness. That's the whole purpose of why we're putting enablement out, and again, we wanna be able to measure it and link that back to enablement engagement overall.
So we can see that the folks that take enablement are actually changing behavior versus the people that don't take the enablement.
So how do we track that? I will give you an example here. So if you are in the enablement world, you might take a quick screenshot of it to use later.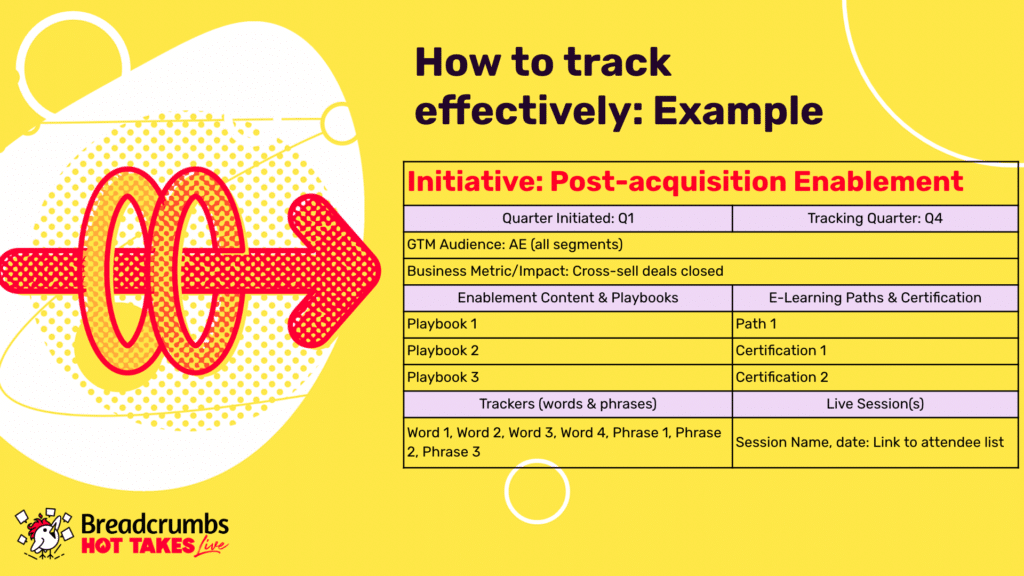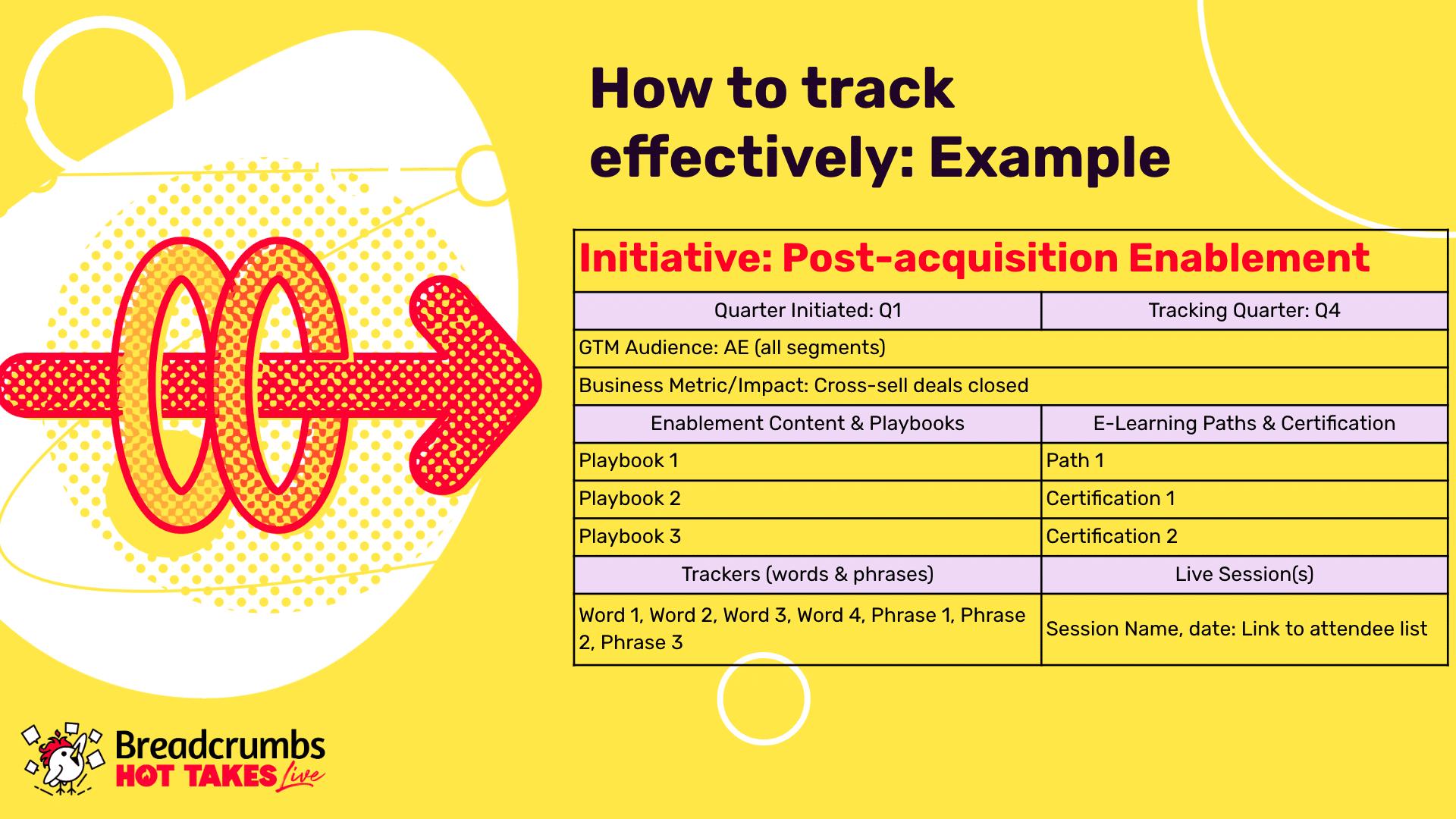 So how do you track effectively?
So I picked an example here. We went through the last acquisition about 18 months ago. So let's say this is the enablement program that we're driving, right? Post-acquisition, cross-enablement across the two companies.
So the first thing we do is say, okay, what quarter are we initiating the enablement?
In this example, let's say Q1. And then we're also saying, when are we ready to actually see the outputs on the outcomes, like the impact?
In this case, we said, okay, we wanna see cross-sell deals go up, right? We're moving from a single SKU to multi SKU. So we might start tracking in Q4, right? So we need six months in between to see this come to fruition.
Then we say, okay, what's the content in the playbook that we're putting out for this particular program? So we might have Playbook 1, 2, 3, and Asset 1, 2, 3. If you're using a content management system, that's where this wants to live so that you can track it accordingly.
Then we are also driving an e-learning component. There could be any pre/post-work certifications, right? So e-learning path or lessons. Let's say you have one path that holds several lessons. And then, you might have a couple of certifications as part of your program. So you wanna track those here.
And then, if you have access to call AI software or you are using tools, then you also wanna make sure you set up some trackers, right?
So there could be certain words or phrases you want to hear people use as they are also using some of the content you enable them on, right? So you track that here and then ultimately be able to pull engagement around those as well.
And then lastly, if you do any live sessions, they could be in-person or virtual.
You wanna track that here also and say, what's the session name, what's the date? If you work globally, as we do, whenever we run a session, there are usually three, four, or five of them, depending on which audience is. And then we have different time zones as well. You wanna have the attendee list here.
So if you just use good old Zoom, that's fine. Then you're going to go person attended or didn't attend.
If you have different tools you are using to especially do virtual enablement sessions, then you might be able to track engagement as well as people paying attention. How much are they speaking? Are they raising their hand, or are they looking at the screen? And all of these fun things. So you can go a little bit further here if you would like to.
Okay, and then we get to the last piece. This is Improve.
So we say, okay, now we collected all the data. We understand enablement engagement. We understand how behaviors have changed. We can tie these two together, person by person, or put the two groups next to each other, the ones that have high enablement engagement versus low enablement engagement.
Now we're coming back and say, okay, how can we use this to improve skills even more? Make our enablement programs better because sometimes there are things that we need to tweak, and then ultimately, we wanna see the connection and the impact on business outcomes. Because, ultimately, that's what it's all about.
If we don't impact outcomes, you won't need an enablement team.
So there's really where we work with the managers to coach them to help us reinforce whatever enablement program we're driving for the year, and then also help us drive accountability with the teams where there is low enablement engagement because that happens, as we all know.
We're also looking at identifying gaps to then improve our programs. So we have a, what we call field activation team that comes back with all the data to my enablement team and then says, "Hey guys, this is the stuff that you need to change or need to make better based on the analytics that we received, and also some of the qualitative feedback that we got."
And then, ultimately, we wanna measure the impact on business metrics. This is then something that we take back to our executives. So when I step in front of that team with my leadership team twice a year, we want to make sure we can show our worth, especially when we have to ask for more investment in our practice.
So I know everybody's always like, what are you tracking? So here are some examples.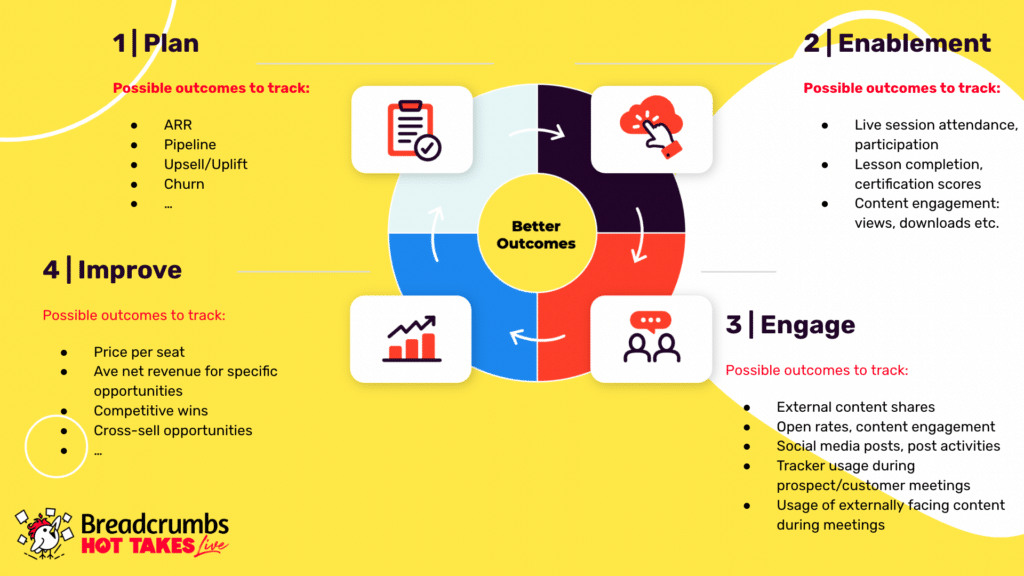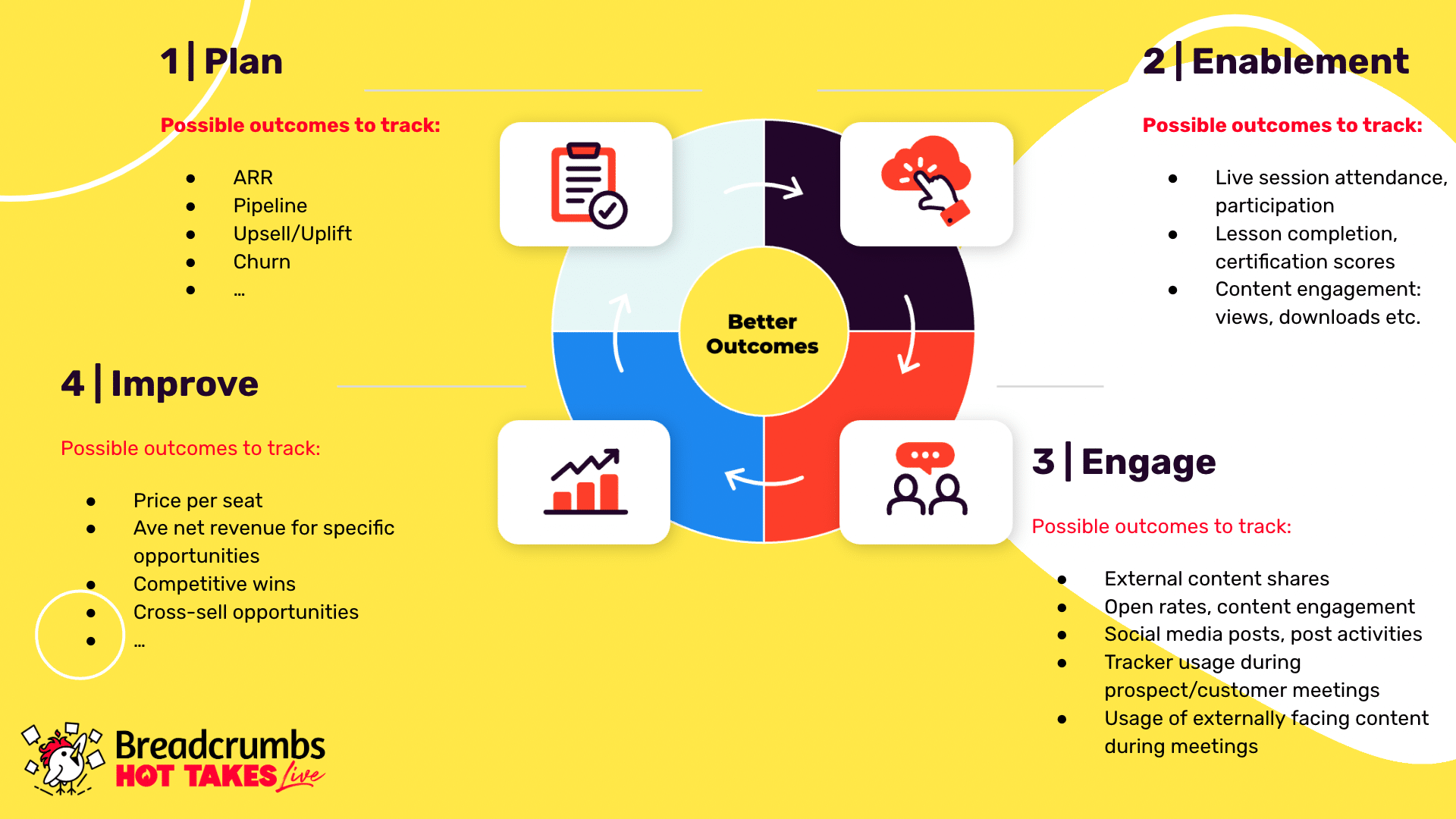 So in the planning, Those are some of the metrics we look at. That's usually what the company is looking at overall, like ARR, pipeline, upsell, uplift, churn, and obviously, the list goes on.
Those are not things we often feel can directly impact our program pipeline. Maybe the other ones you usually know, so we want to be super specific on the outcomes we're setting. But we wanna keep in mind those ones as we plan.
On the enablement size, we look at live sessions, attendance, participation, lesson completion certification scores, and also how they're engaging with our content. Obviously, we use technology to do that.
On the Engage front, we're looking at external content shares. Open rates are people engaging externally with the content, talking to buyers and customers, social media posts, and activities on those posts if you have software to do that. The tracker usage, like are they saying the things we enabled them on?
And then also, are they using the externally facing content? And then, on the improved side, those are the business metrics we specifically tie to our program.
For example, it could be something like price per seat if we do negotiation or average net retention or revenue for specific opportunities. So if we're rolling out a new field methodology, we have people bring in specific deals that we are looking at, competitive wins, and cross-sell opportunities, right? Especially post-acquisition, for example.
So these are some of the things that we're tracking. And the magic really happens here when you tie all of these pieces together.
So here's what I wanna leave you with. I know I went through a lot today. So please feel free to contact me on LinkedIn if you have further questions; I'll be very happy to answer them.
Smarter enablement, better outcomes. Our enablement has to be outcome focused. This is called an outcome-led enablement approach, and this is done for us to drive better outcomes overall.
Thank you very much; I think we might have a couple of questions here right now.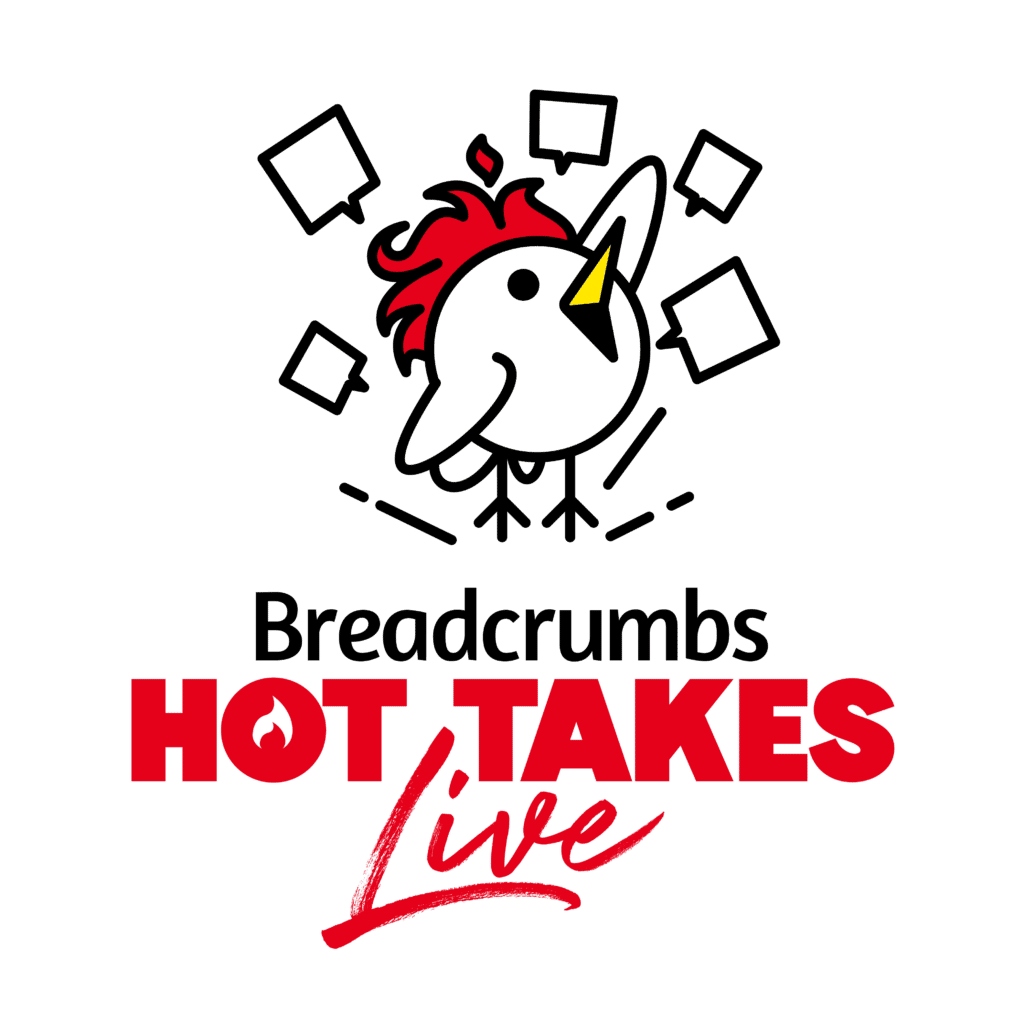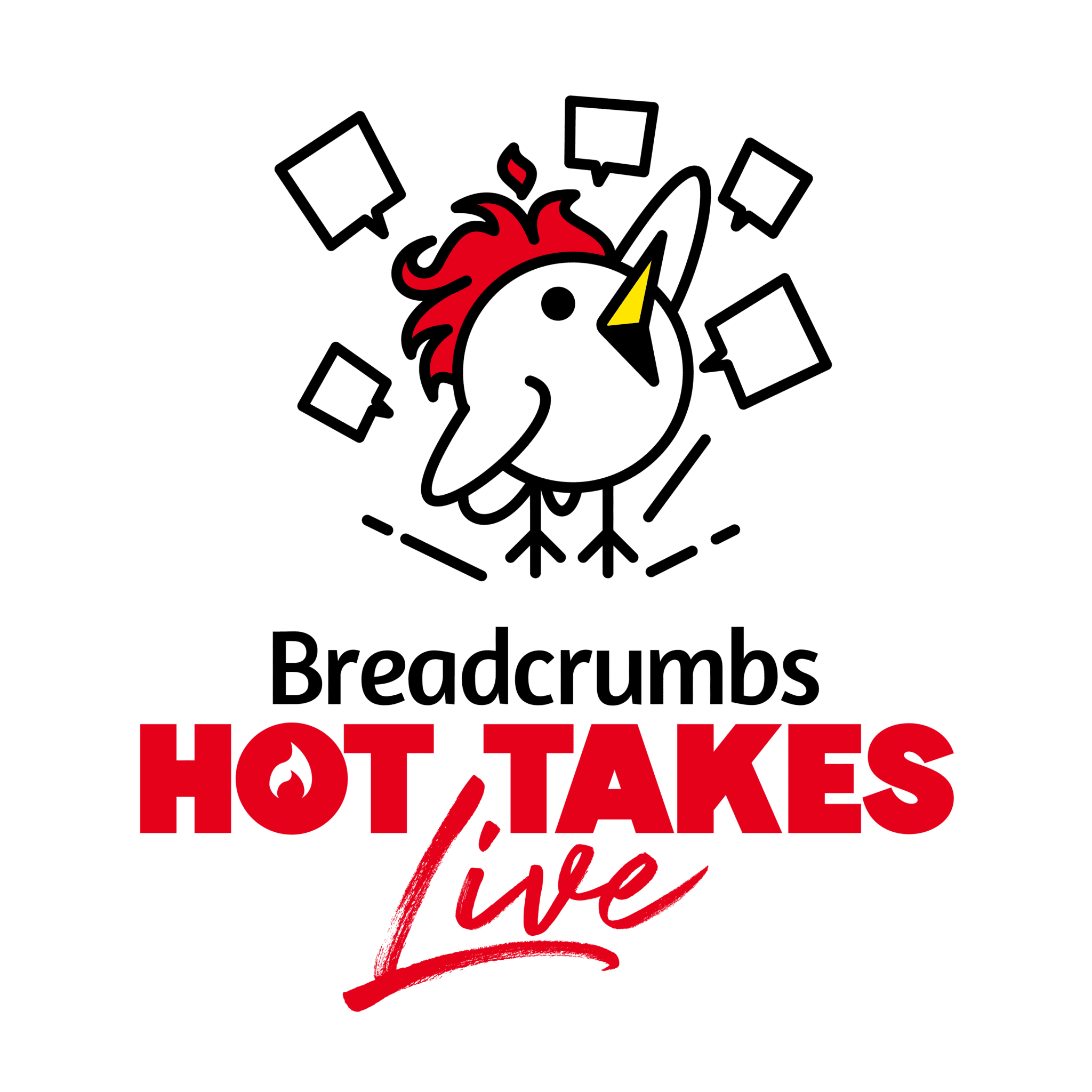 Hot Takes Live
Replays
Catch the replay of Hot Takes Live, where 30 of the top SaaS leaders across Marketing, Sales, and RevOps revealed some of their most unpopular opinions about their niche.
These leaders shared what lessons they learned and how they disrupted their industry by going against the grain (and achieved better results in the process).
Joe Aicher
Thank you so much, Irina. This is awesome. I do enablement for our own company at times, but you're in this position where obviously you get to dedicate these plans and programs to it.
So how many times have I gotten that request from sales like, "Oh my gosh, we just got off of a phone call, and I needed this case study, and we didn't have anything for him. Can you put something together really quick?" and then you do it. Then nobody knows how to use it, and then it just never gets used again.
The big takeaway I took away from this was you've got to have a plan and a program to make this a repeatable function for your teams. How have you seen that shift as your time moving through this business or through this industry that needs to become more regimented?
Irina Soriano
Yeah, so I would add to that, you need technology too.
So if I think about our enablement text stack that's like another team member, we couldn't operate without it. So whenever folks come to us and say, "Hey, I need XYZ, we need a piece of content," as you said, those are the ad hoc requests that come our way that occasionally we're serving. Still, sometimes we're turning around and not doing it if it's not feeding into the particular programs we're rolling out.
We're using intake requests for those, but the key is really for us to understand when we put assets and content out, when we put lessons out, and when we run live sessions: we have to track the data.
We need to have insights to see how is the enablement engagement and then, ultimately, whether it is impacting behavior and is it impacting outcomes because if it doesn't, you wasted your time; I hate to say it.
I've done it throughout my career. We're like, "Oh, we're putting this big thing up, and then we couldn't track it," and I'm like, that time it's worth nothing, it probably didn't change anybody's life, but it really comes down to putting your foot down at times but also being able to track what you're doing.
Joe Aicher
For sure, and you have a group that's working that's like trying to put this content out and make sure that you're actually driving change, revenue, all those types of things, so being able to track that is, of course, of utmost importance, because otherwise, you've got nothing to back up your own worth at that point.
Irina Soriano
How can you ask for headcount at the end of the year if you can show how you impacted business results?
Joe Aicher
For sure. Irina, thank you so much for this presentation. This was super insightful. We even had a couple of comments about people thanking us for the suggestions and all the different things that we can track I know this is something we'll take back to our teams.
If anybody has questions, I'm sure they can get in touch with you, find you on LinkedIn, and definitely go back and listen because there was a lot of content there and you can screenshot all those slides.
Thank you again, Irina, good luck out there; hopefully, we can talk soon.
Irina Soriano
Awesome, thanks to you all.