In many organizations, marketers have not adopted the language and mindset of CFOs. Aligning marketing with finance is often a missed opportunity to deliver more value and profits.
In this session, Katheline Jean-Pierre, Managing Director, Financial Services & Canada at LinkedIn, will explore how the relationship between value creation and the alignment of the CMO and CFO can be strengthened. Specifically, we will examine the fundamental principles, metrics, and workflows necessary for establishing a genuine partnership between these two critical roles. We will also discuss the critical mental models to help create a pathway and assess where your company is.
[Transcript] How to Speak the Language of the CFO for Max Growth with Katheline Jean-Pierre Coleman
Although transcriptions are generally very accurate, just a friendly reminder that they could sometimes be incomplete or contain errors due to unclear audio or transcription inaccuracies.
Joe Aicher
Excited to bring on our next guest. I'll bring on Kathleen. Kathleen, hi, welcome, and thanks for joining us.
Katheline Jean-Pierre Coleman
Thank you so much, Joe. I'm excited to be here.
Joe Aicher
Yeah, excited to have you go. So I'll bring up your deck here, and I'll jump off. Feel free to get started, and I'll join back up with you in about 10 minutes or so.
Katheline Jean-Pierre Coleman
Awesome. Hi everyone, my name is Kathleen Jean-Pierre. A little bit more about me: I'm a Senior Director at LinkedIn. Before that, I spent 10-plus years at Google, and prior to that, I was the CEO of a mobile gaming startup. I worked in consulting, worked in products. So, I wore multiple hats throughout my career. 
And one of the hats I'm most passionate about is really helping companies grow. So basically, I spent multiple years helping 500-plus companies get to a bigger level. And today I'm going to talk about evolving and growing from just marketing to money-making.
And to do that, I'm gonna talk a little bit about how marketers can speak the language of the CFO.
So first things first, I think it's important to look at what are the origins of the fact. Oftentimes we think that finance and marketing are like two solitudes.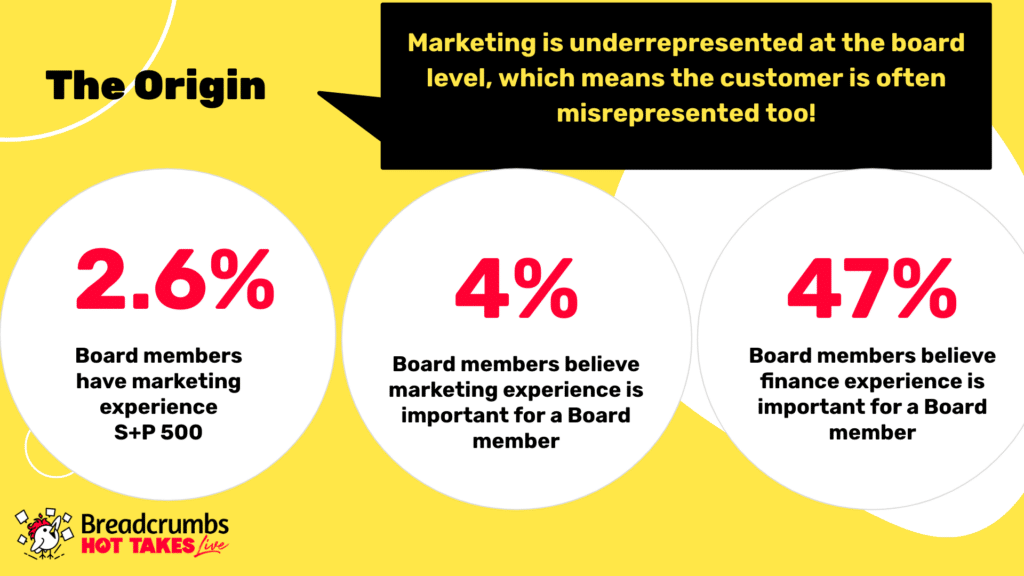 One of the things that we see is that it starts at the board. And when you look at all the different decision-makers, there is a perception at the board level that only 2.6% of board members have marketing experience when we look at the S+P 500.
So what it means for us is that we're already set up in a place as a marketer where we're deemed to be less important versus Finance. When you look at board members, board members say that 47% believe that finance experience is critical for the board. And that's something that's important to know as we go through the presentation.
So, what are the commonalities between finance and marketing? So I think it's important to look at the bigger picture.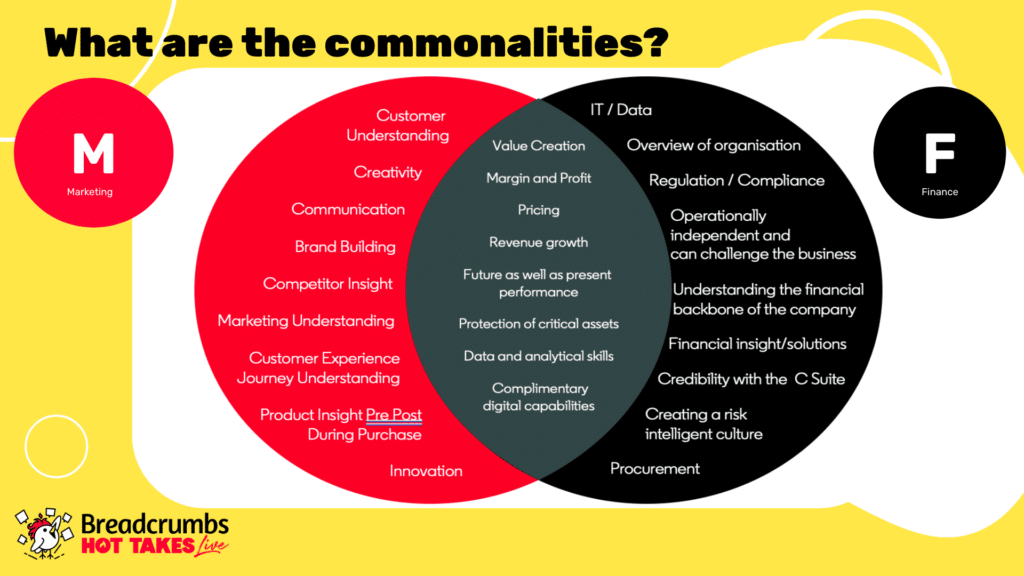 When we look at Finance, there are different activities that are critical, right? In terms of regulation, compliance, like overview, IT data, financial insight, solutions, and credibility with the C-suite. And that one is very important.
When we look at marketing, oftentimes marketers really, we own the understanding of the customer, right? The creativity, the communication, the brand building, etc.
So when these two worlds meet, it's around a language that I'm going to talk about that's critical to learn. And I'll share many resources after that. It's the language of value creation–the language of how marketing and finance can drive margin and profit and cash flow and revenue growth and pricing.
So I think for us marketers, it's important that we get a seat at the table and we focus on the steak and not the gravy. And we'll talk more about that.
So how do we bridge that gap and unlock more growth? 
I think in the end, we want, what do we want to do? We want to be successful; we want to be able to grow the company. We want to be able to get from different stages of growth and generate more profits or revenue, depending on what the goal is, right? Sometimes some people want to go IPO, so it all depends.
But how do we align and develop a productive relationship between marketing and finance such that we're looking in the right direction, that we're partnering to really unlock the growth?
I'm going to introduce one of my favorite marketing and research consultants, Fran Cassidy. She's coined the term the value framework. She studied with hundreds and hundreds of companies across the globe to understand how do marketing and finance align in most organizations. 
So what she did is she studied multiple brands, big and small, to understand who drives value, and what type of value is driven when we look at different financial metrics, right?
Understanding which part of the organization is driving the value, where are the disconnects, and what the framework can help us align as an organization.
So what I brought here is, and I'll share this material afterward, how companies affect growth and margin.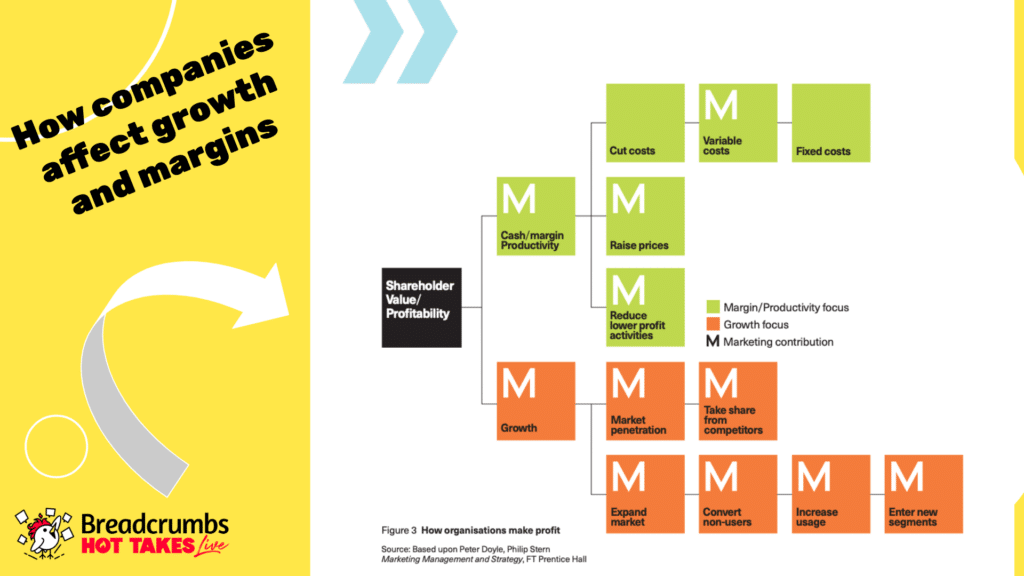 So when we look at this, everything in light green is all the margin and productivity focus. So we talk about cutting costs, we talk about raising prices or variable costs and whatnot, and fixed costs. Oftentimes, this is associated with Finance, but it also could be associated with marketing.
And everything you see in orange is the growth-focused portion of some of the activities that affect growth and margins. So we talk about the growth, which is often given to the Chief of Sales or the CMO, market penetration. In all, everything you see in the orange, all the metrics that oftentimes marketing is responsible for.
And I think what we need to know is that marketing's contribution can be across all of these, and marketing really drives shareholder value but also profitability, which is the name of the game.
So what is this value framework? So it's value in every single letter has its weight and it's important.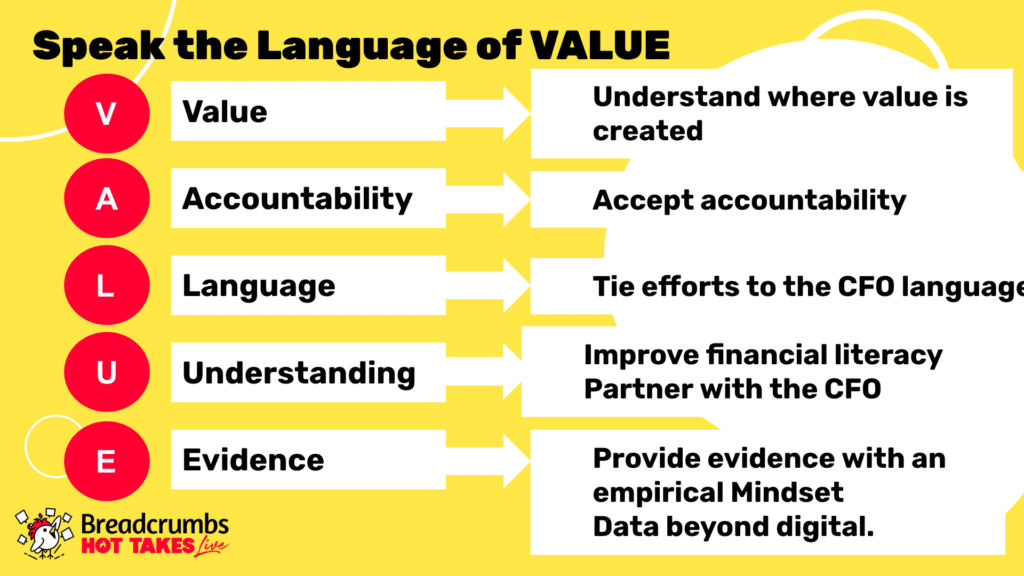 So V is really understanding where value is created. So what are the different activities that marketing is undertaking that's creating value? What type of value, right, is created? So when we talk about cash flow, what portion of your marketing program can help create and deliver predictable cash flow over time?
I think it's important to pinpoint that. And then what part of your program can also generate growth revenue cash flow, right, in a shorter period of time versus in a longer period of time?
Secondly, A is for accountability. So as marketers, it's important to accept accountability for driving those important financial metrics which you have to align with your CEO and your CFO.
So accepting the accountability and making sure the portion of your program or all of your program is really directed towards some of these metrics could be cash flow, could be profitability, could be revenue.
And then, thirdly, L is for language. So making sure that there is a common understanding under every single effort and how all of the efforts are tied back to the bigger purpose of the organization, right, which is driving value, driving revenue, and driving profits. 
And making sure that the efforts are also tied to the efforts of the CFO and then you're aligning your language together, right? So if your CFO understands what you're doing in their world, it's going to be more productive for you when you're having those conversations.
U is for understanding, and that's important because I've been working in marketing and product and then sales for 20-plus years. And oftentimes what I realized is that financial literacy is not present in marketing across different levels. Maybe the CMO has it, but maybe not the director, or maybe it's the team that doesn't have it.
So making sure that across the organization, you can train your team to understand, right from the person who manages campaigns to the person who's making the decisions, what are these different metrics and how do these ladder up to the bigger goals of revenue, profitability, cash flow.
And then once marketing is very comfortable and very literate in terms of the financial language, it's easier then to educate the CFO around, this is what we're doing, this is why we're doing it, and this is how it's contributing to the margin.
So then E is for evidence, and that's for me, E is my love language, right? It's really you have to make sure that you provide evidence with an empirical mindset.
So you want to be looking at data beyond digital because oftentimes as marketers we talk about, we talk our own language, right? And if you're a non-marketer and you go in the room, then you hear about, what are they talking about? CPA, CPL, CAC.
So we have to bring it later back to the customer business objectives which should be metrics that you could find in a quarterly earnings report.
Now, how do we determine the CMO and the CFO relationship? But really it's the marketing and finance relationship. And I use DTR because determining the relationship is the term when you're dating.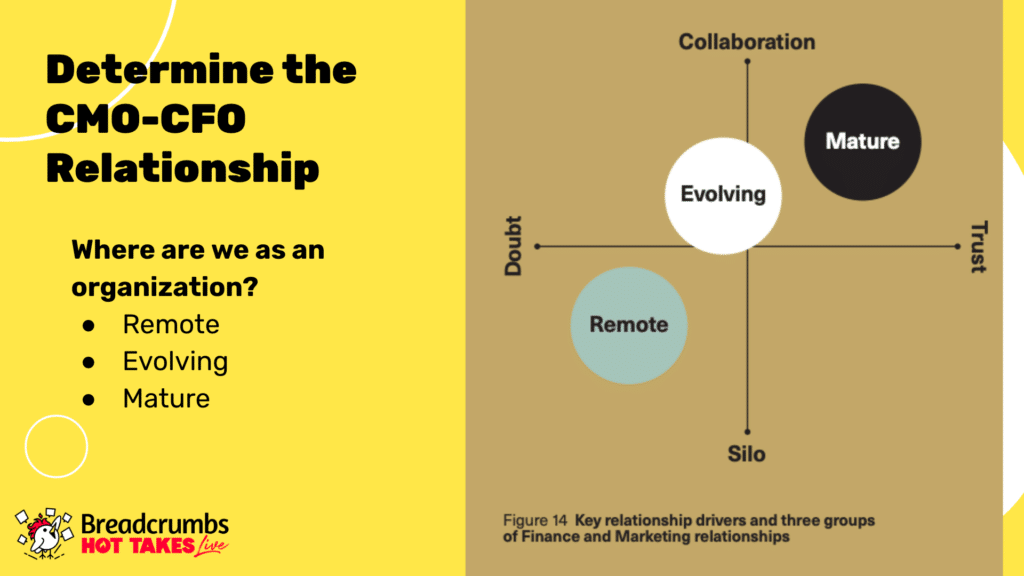 So it's good to really understand where you are as an organization, right? And this is a framework that can help you understand between finance and marketing where are you.
Are you siloed or are you collaborating? Is there doubt or is there trust? And here it's very important to think about how you're building a relationship in the long term which should be based on trust.
And you can see three bubbles, right? You have remote, evolving, and mature. And most of the time, most organizations could be in evolving. Sometimes, some organizations are mature. I've worked with startups that were really aligned because it was smaller and everybody was speaking the same language. And some organizations were remote; there were really two different solitudes, and it's not productive because it's hard for you to get more marketing budgets.
So when we look at the marketing and finance relationship, this is another continuation of what we looked before. We talked about determining the relationship, and I think it's important also to determine the steps needed, right, to get to a mature relationship.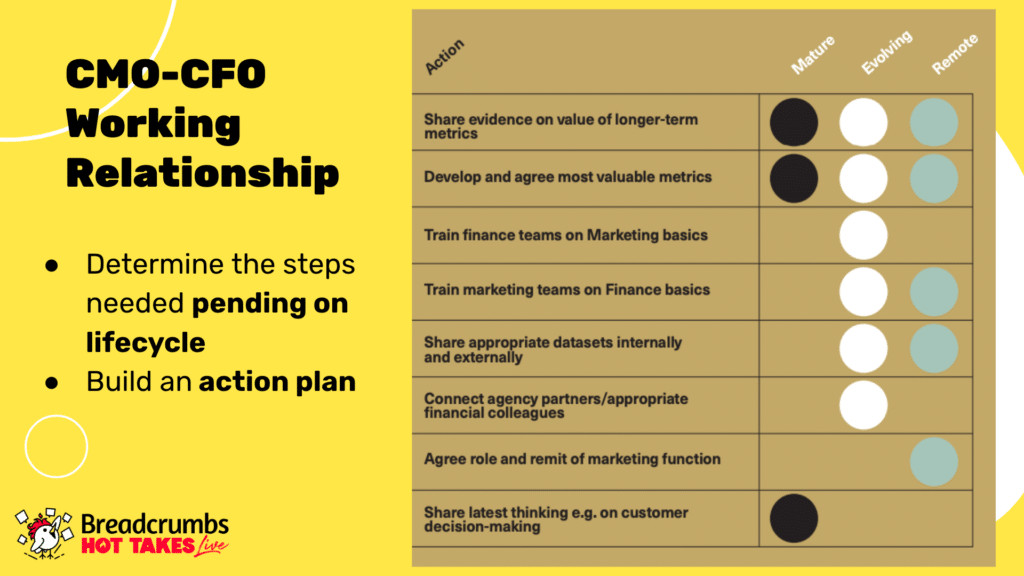 And those are the different actions depending on where you are in your lifecycle to understand how am I going to get to a mature state? If you're evolving or if you're really nascent, how are you going to get to evolving? And these are some of the activities we talked about: training marketing teams on finance basics and then talk about training finance teams on marketing basics and evolving the language such that both departments are 100% aligned.
And then lastly while I'm on time, the key takeaway–I think this is an example of a marketer, we talk about Anouschka Elliott, who's the global brand managing director at Royal Bank of Canada. And in the study that LinkedIn did with Fran Cassidy, she talked about the fact that how she evolved the organization to be aligned from marketing to finance.
And the quote is, "I have a weekly meeting with Finance. I want to really understand what our income drivers are. I need to understand the margins and which products we need to be focusing on forward."
So her language, how she evolved her own language, right, because it's a two-way street. She talks about risk; she talks about cash flow; she's not just talking about CAC and lifetime value.
So that's a beautiful evolution that we can all aspire to.
Lesson: Be the steak, not the gravy, what does it mean is that, in short, you want to win.
You want to be successful; you want your company to be successful; you want to be able to grow; you want to be able to generate revenue.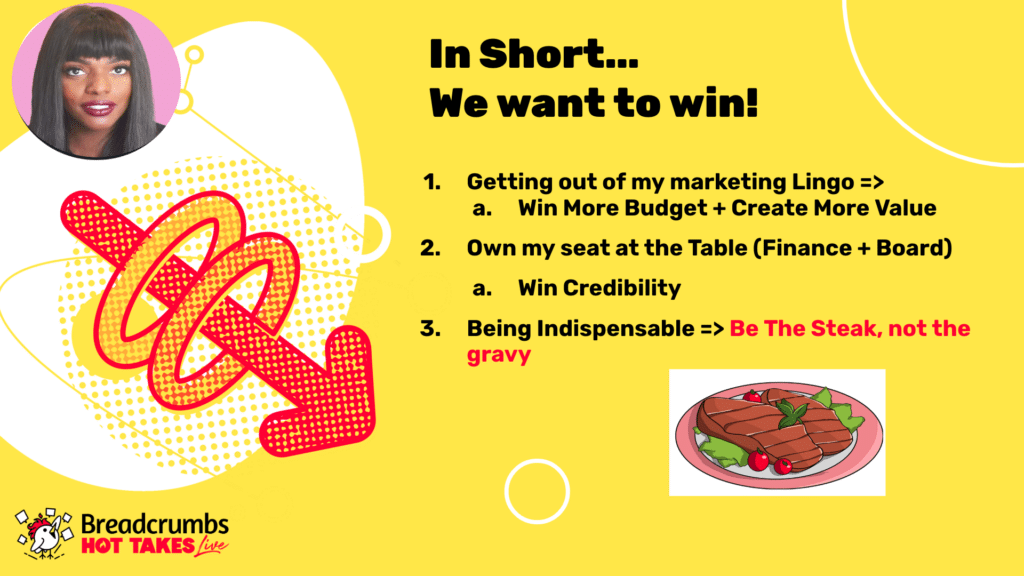 So my three tips for you is number one is really get out of the marketing lingo and go focus on, and that's going to help you win more budget and create more value. That's how I drove my career, and it helped me get more investment in my marketing efforts.
Secondly, you want to own your seat at the table, right? You want to be the steak; you don't want to be the gravy. So you want to be closer to the financial team, and you want to be closer to the board, and you want to win a lot of credibility and take all the credits for your efforts, which are critical.
And then lastly, is being indispensable. Again, you want to be the steak, not the gravy. So you want to be sitting where all the decisions are made and understand how you're a key driver of growth for your company.
So last slide, I know it was a lot in a very, very, very short time. Please follow me or add me on LinkedIn. I'm going to post about this talk, and I'll share some resources to help you get started if that's a topic of interest. Thank you.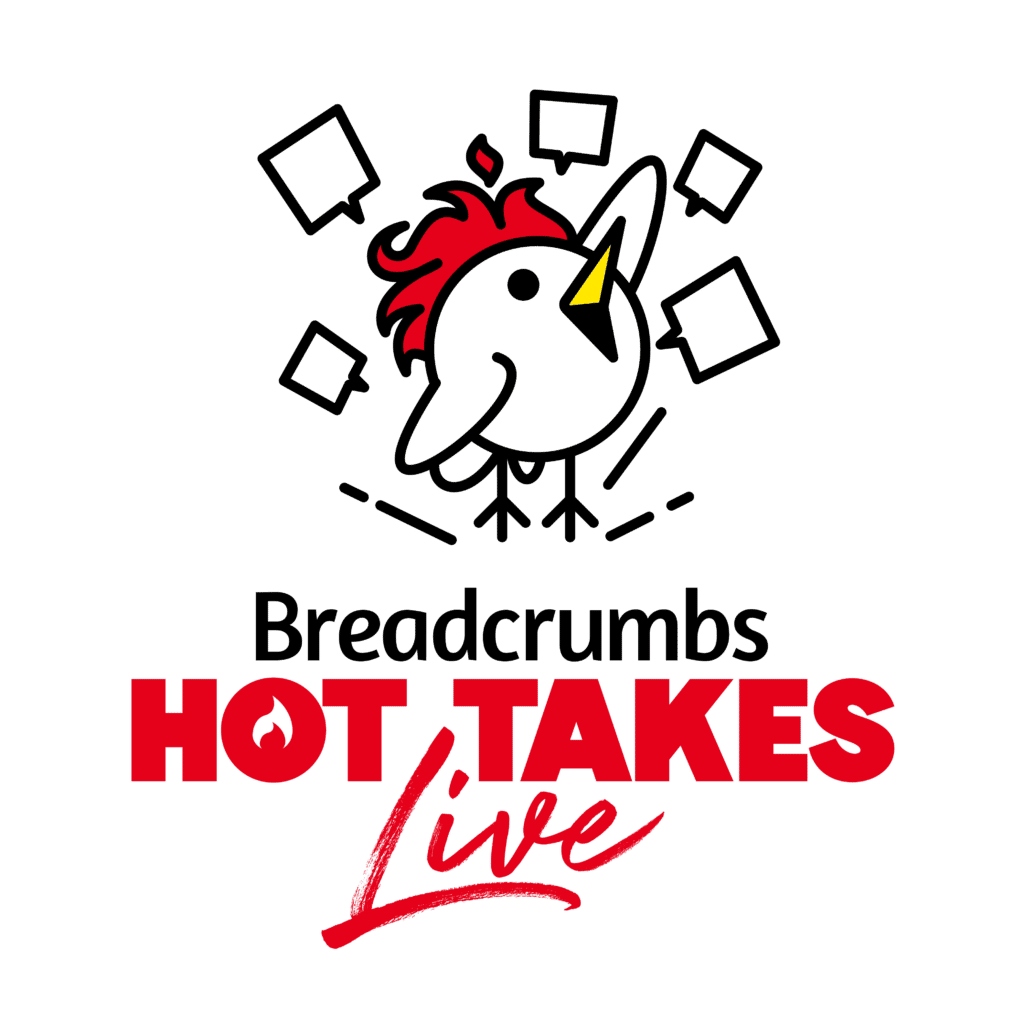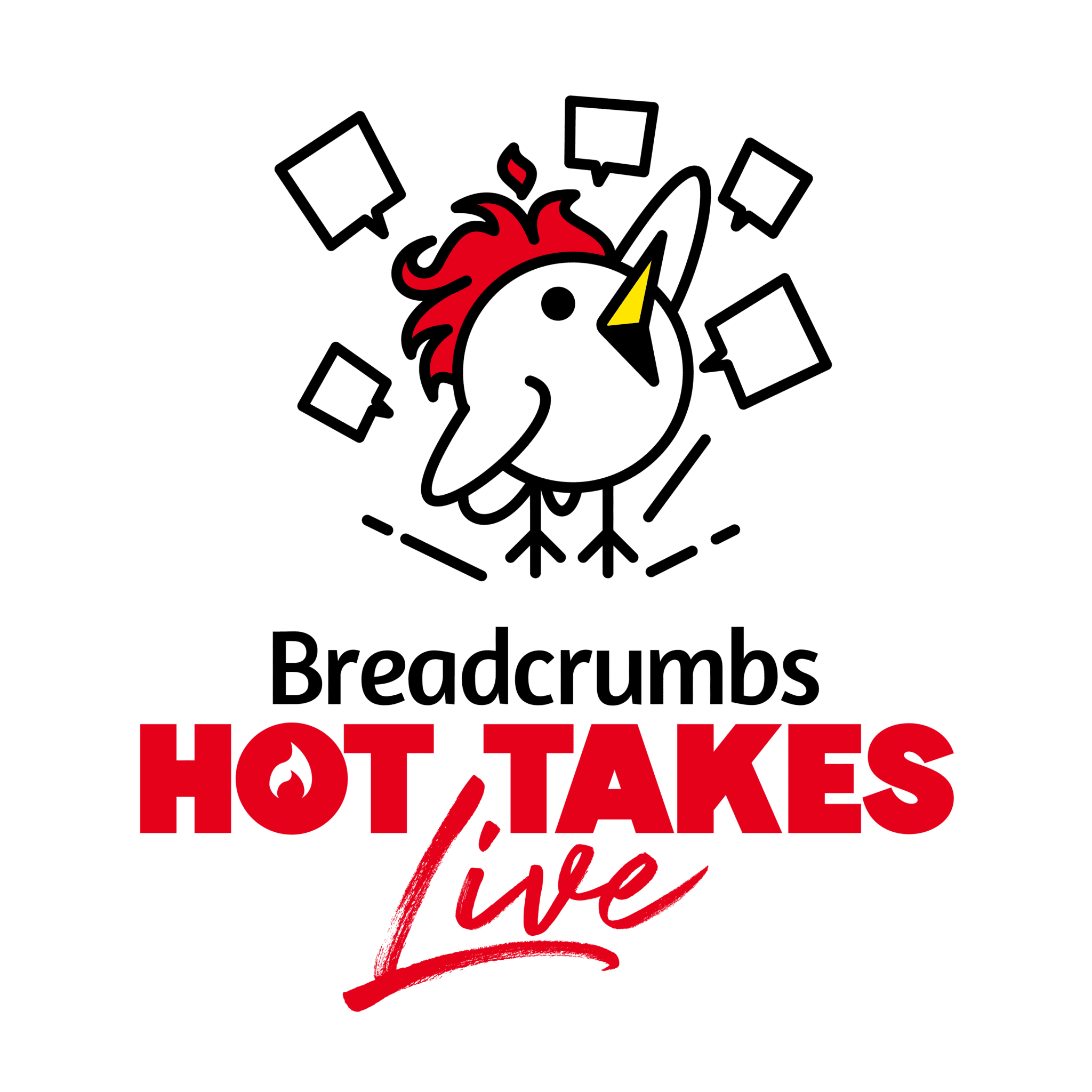 Hot Takes Live
Replays
Catch the replay of Hot Takes Live, where 30 of the top SaaS leaders across Marketing, Sales, and RevOps revealed some of their most unpopular opinions about their niche.
These leaders shared what lessons they learned and how they disrupted their industry by going against the grain (and achieved better results in the process).
Joe Aicher
Thanks, Kathleen, great presentation. Looks like I don't have any comments from the group, but I was just curious, you know, this whole discussion is super interesting around making sure everybody's on the same page, specifically with the CFO team, right?
But what are some of the things from your marketing perspective? What are some of the metrics that you're typically trying to drive that are important to the CFO that you know that you've, you know, early on some of the first things that you try to get on the same page with them? 
What are some of those metrics from the marketing side that you're trying to drive?
Katheline Jean-Pierre Coleman
Yeah, Joe, I think that's a good question. So for example, like when I work with retail customers, it's all about margins. So what we would do is we would create a model where we look at all the investments across all the platforms and then look at all the margins per product.
So the CFO loves the language of margin. It's like, "Oh yeah, margins," and they're very specific about every margin, every product SKU, everything. So what we do is that we would just create a model where we're able to generate how many, how much revenue we're going to generate in the longer term, and then how much profit we're going to be generating.
We make sure that we look at diminishing returns as well because I think diminishing returns–like if you go to a CFO and tell them, "Oh yeah, you can invest 1 million; you're going to make 27 million dollars," it's not always true because there's going to be diminishing returns.
So for me, a couple of metrics are important. I look at revenue, and then I apply the profit, the gross profit margin, and then the net profit margin.
If you're in retail, we look at cost of goods sold, right, which adds a level of complexity which also eats up your margin.
So I think if you're in an organization, depending on where you are, revenue oftentimes is critical. Sometimes it could be customer acquisition, and other times it could be profitability. If you're earlier stage, right, you have to prove oftentimes that you're able to generate predictable revenue, right? And sometimes it could be customer acquisition.
And I think you have to be clear on a couple of metrics–one, two, or three metrics that are critical for the CEO, for the CFO, such that you can optimize towards that.
Joe Aicher
Well, we're up against time. Kathleen, I want to thank you again for joining us for this great presentation. As you mentioned, go check out your LinkedIn, and we'll have postings as well of all the videos after we're done. Best of luck to you, and hope to talk to you soon.
Katheline Jean-Pierre Coleman
Thank you so much. Bye-bye.