Sales is driving revenue, and Product is driving value. It's important they come together and drive results.
In this session, we will explore why these two highly important functions in the product growth model need to spend more time with each other to be successful.
In this session with Vivek Bedi, CPO at Product Immersion, you will learn:
How to leverage product needs, features, roadmaps, and stories to help generate more revenue
How to leverage sales sentiment to build better products
How to partner with each other to do your own job better!
[Transcript] Why Sales and Product Need To Know Each Other's Job
Massimo Chieruzzi
I'm very happy to introduce Vivek Bedi, who is the Founder of Product Immersion. He is going to talk about another topic that I really care about, and that's "why sales and product need to know each other's job" and would have to collaborate more. 
So Vivek, thank you so much for joining us today. I'll show your slides. You are live; the audience is all yours.
Vivek Bedi
Great, thank you so much! Hey everybody, great to meet you. I know I only have 10 minutes, and I want to save some time for questions. Quickly, on my topic: Why Sales and Product Need to Know Each Other's Jobs. 
A little bit more about me, and then we can get into the topic. I have been in the product scene for almost 18+ years. I ran Product at big companies like Goldman Sachs for 13 years and Northwestern Mutual for four years, but I also was the CPO of a lot of hyper-growth companies. LearnVest, Sterling Check, etc. A lot of them led to an acquisition, and I also just recently exited my own startup focused on Women-in-Product in an incubator program.
So extensive product experience, and what I've learned is "Wow!" Product and Sales have an interesting relationship. They need to spend a lot more time with each other. Whether it's a big company or a hyper-growth company. Interesting and fun fact about me, I actually played soccer growing up. I tried to play soccer at University. I went to Rutgers. It lasted one week because I wasn't that good, I came to realize. But also that being a computer engineer and playing soccer were two full-time jobs, so I had to choose computers.
Okay, so let's get into the topic. Leading teams and challenges across big and small companies, I've learned a few things. The first thing I've learned is Sales is amazing. They are so good at telling the story and helping convince users of the need that they have, but a lot of times, the sales team doesn't know the product value. They are not product managers, to be fair. They might not know all the details and the value that the product can provide.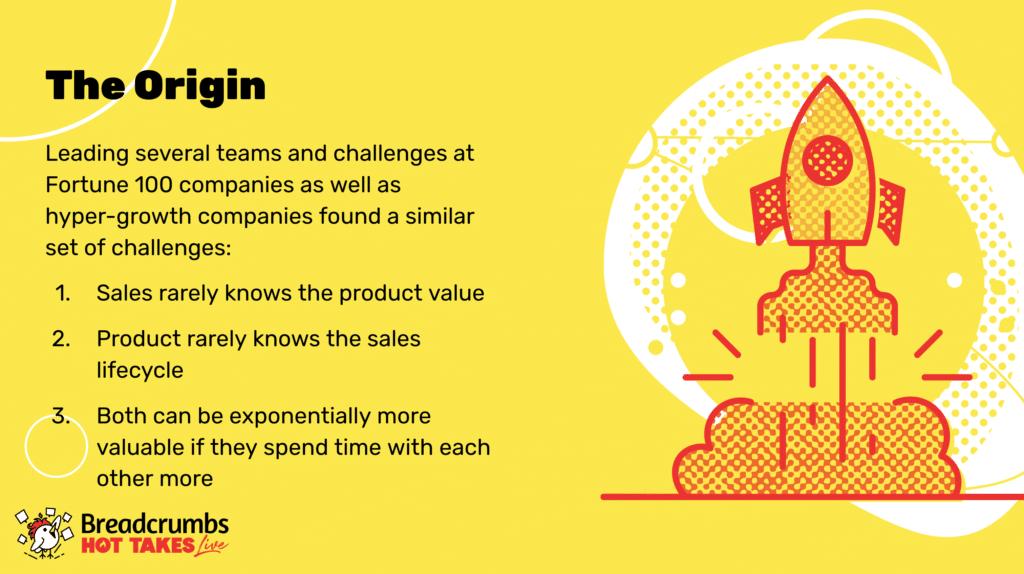 I just recently finished a project as the CPO of Product School. Product School is higher education for folks looking to get into Product. We had our product team, and we had our sales team. The sales team was amazing because they are selling the product to various companies, and they are selling the story, but they are actually selling it to product managers.
So, it was interesting because they came to us saying, "I know how to sell the product, but I actually don't know what the class is like, what the course is like, and what product value we're bringing." So it was interesting to see that disconnect. While both teams are going off and doing amazing stuff, sales, at times, might not know the dirty details and how to convert that into a story.
Vice versa, on the product side, we are very excited and very good at building products and building value. However, a lot of times, we aren't as close to the customer. Sure, we might be close to the customer to get feedback on our product, but we might not be close to the customer when asking questions like "How are you using it?" "How can we upsell it for you?" and "What's the sales strategy?"
So getting more involved in that sales lifecycle is really important from the product side as well. Both of these teams can exponentially be more valuable if they just spend more time with each other and understand each other's needs. That's really the point of what we're trying to get at here.
In short, sales folk spend time learning more about the features, values, and stories. What I learned is, if you're in sales, it's not that you have to know how to build products or understand the technology. You don't need to know the product in detail, but what you need is to understand the product features and the value that they provide.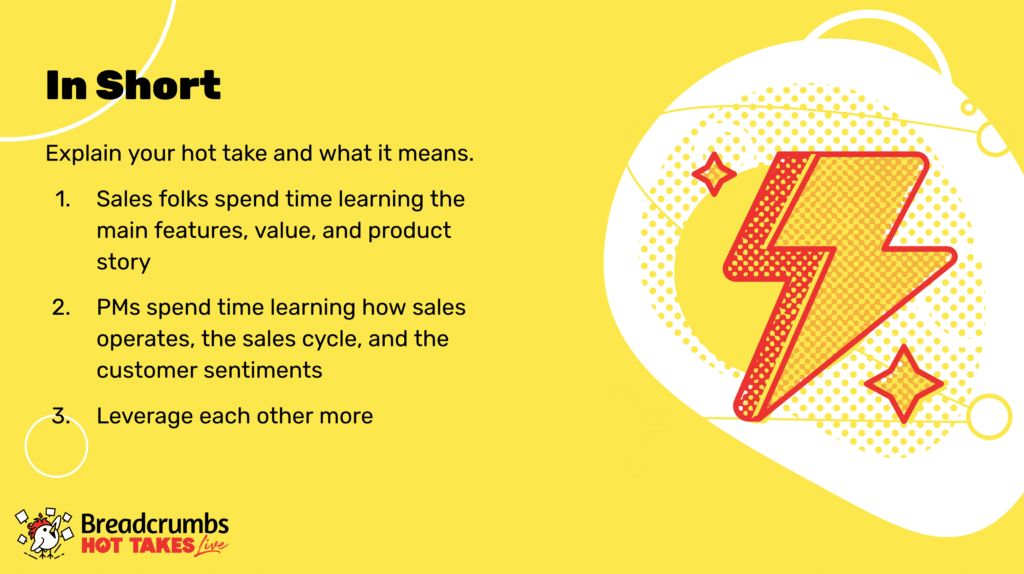 That will make the sales team even stronger. They can now pitch their product and the sales lifecycle by knowing a lot of the details of the product and its value by showing examples.
PMs can spend more time in the sales cycle. Spending more time on shadowing. Watching what customers liked about the product, what they did not like about the product, and why did they choose a competitor versus us. Understanding those dynamics and spending time with the sales team to understand what positioning works.
When I was at Northwestern Mutual, it was interesting because we had 8,000 financial advisors that were selling life insurance day in and day out. I was leading the product team, but this team was probably the best sales team I've ever met in my life. They were so good at their job. They knew the product. They were positioning it as a story, and we shadowed them for months. We watched how they did the amazing stuff that they did. What I learned from it is, wow, there's so much I didn't know about the product that I can build by learning that sales cycle. So leveraging each other and finding channels to do that is really important.
In practice, how do you actually do this? I'm working with a few clients right now, and one of the things that I've learned is that product teams and sales teams don't talk to each other that often.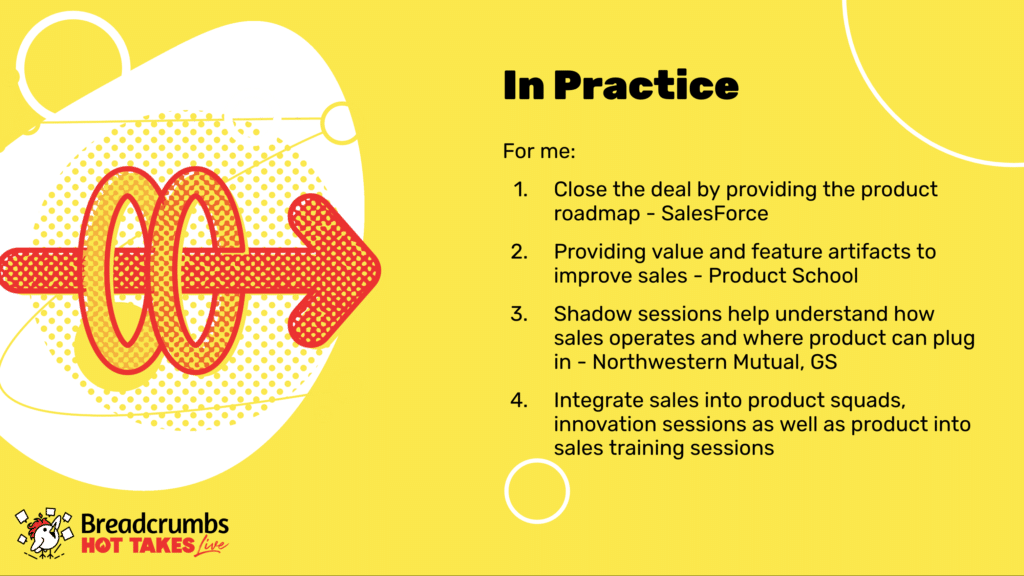 I think it's really important to find a channel to bring these teams together. I remember when I was leading Product at the background check company that I was at. One of our clients was Salesforce. While we were pitching to Salesforce, the sales team was talking to Salesforce; because it was a technical client, the product team was talking to Salesforce. They weren't talking to them together; we didn't know what each team was talking about, and hence became a mess.
So what we started thinking about is POD teams. Just like in Product, we have pod teams; why wouldn't we have sales representatives join our POD teams, especially, the top of the funnel teams?
So they don't need to be there every day to understand all the dirty details but at least understand the value of what's coming up and down the pipe. In that example, we had a mobile that we were going to launch. We were able to translate the story and value that was convertible on the sales side.
So really forcing those teams to find a channel where they can come together. POD teams were great. I jumped into the pit, as they call it, on the sales side, spending a lot of time with sales, understanding who are the top closers and who aren't, what are some of their challenges, and what is the script they use. Shadow sessions are really exciting and important. It's a great technique where you're watching other people.
In this case, a product manager watching a sales representative do the magic they do. How are they closing the deal? What words are they using? What examples are they using? Which parts of the product are they showing? Which competitors are they running into? So thinking through how you integrate squads and POD teams and have that different level of working.
The last thing I'll leave you with is artifacts. I found that it's very valuable for product managers to create stuff that they need to build technology. It's equally important to create those artifacts that say, "Here's the one-pager of what we're going to launch," and it's not about the dirty details.
Think about when you download a new version of the app on the App Store or your Google Play store. It will say the release notes at a high level. This is the value you're going to get after you download this new version. Those are the types of one-pagers and artifacts that I found really help enhance the relationship with the sales team, bring those teams together to rock, and do the stuff that we can do.
I'll open it up for Q&A because I know we're up on time. The last thing I'd say is, whether it's a big company, growth company, B2B, B2C, or B2B2C, it doesn't really matter. It feels like, historically, the sales, marketing, and the product team have been siloed a bit. Breaking down those silos is our job because, at the end of the day, it is one team, and we're selling and building amazing products for our end customers. 
So it's important that these two teams, as they engage with the end customers, also engage with each other. Furthermore, really finding the foundational layer and the right way of working in a culture that's going to enhance both of their jobs.
So, please spend time with your sales team if you haven't. Please spend time with your product team if you haven't. Really try to dissect what the value is and how you can use that and leverage it for your own roles.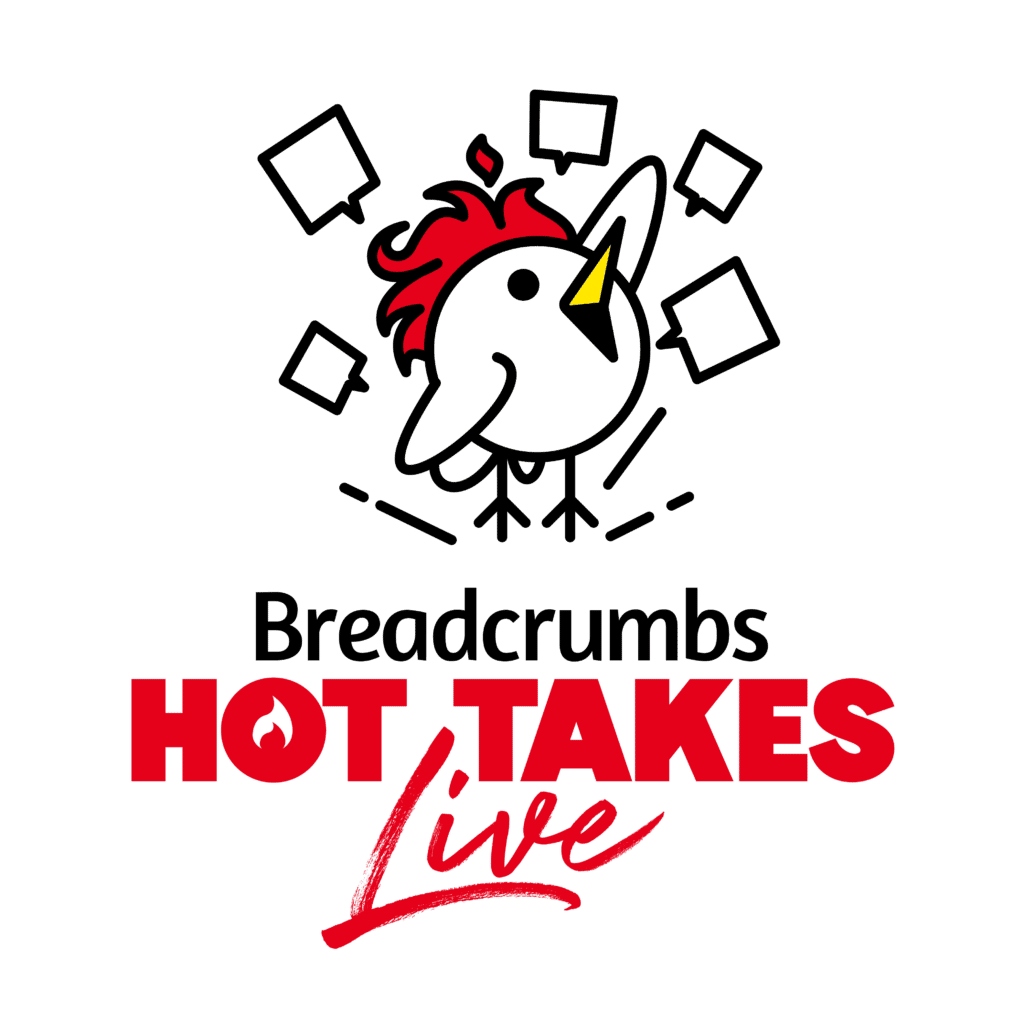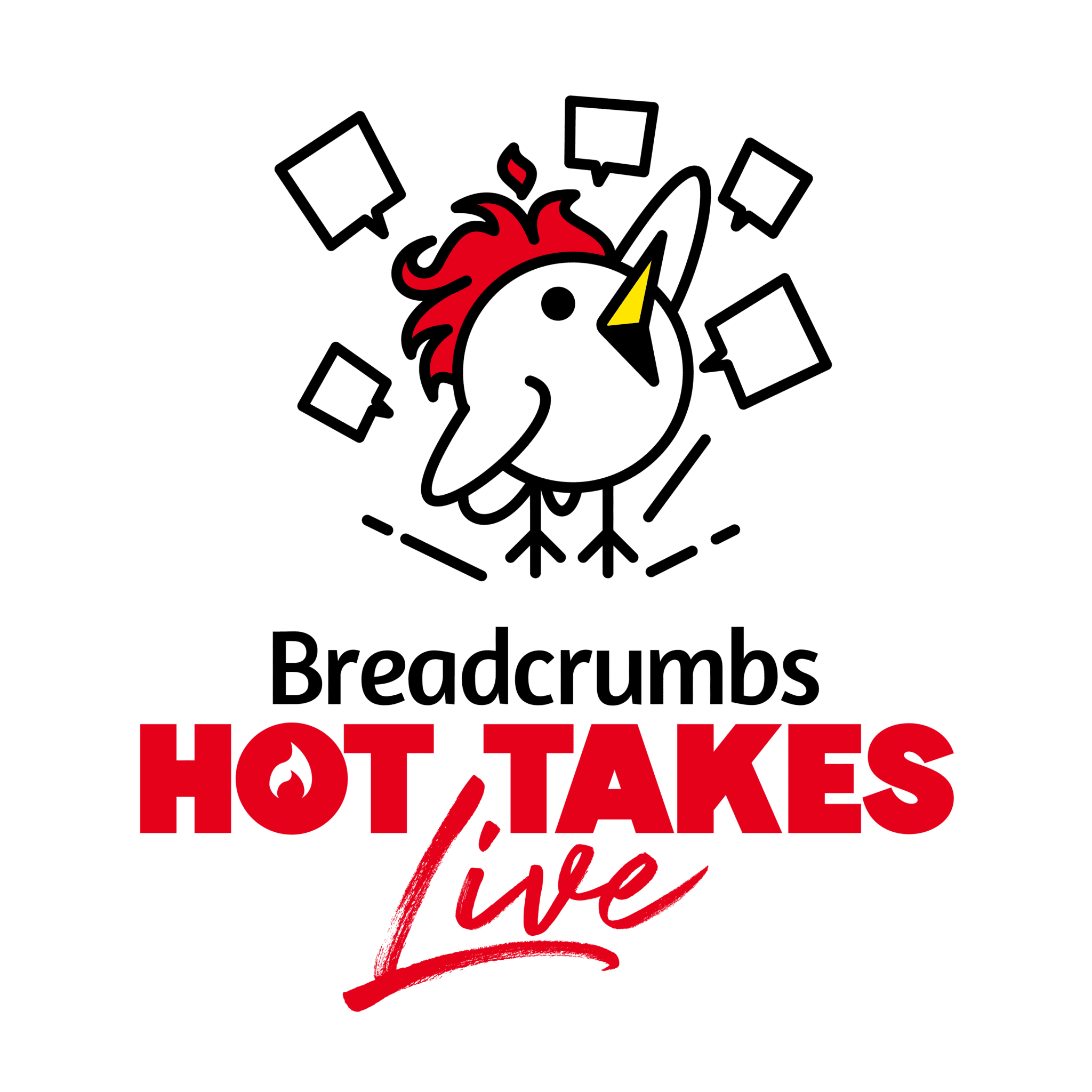 Hot Takes Live
Replays
Catch the replay of Hot Takes Live, where 30 of the top SaaS leaders across Marketing, Sales, and RevOps revealed some of their most unpopular opinions about their niche.
These leaders shared what lessons they learned and how they disrupted their industry by going against the grain (and achieved better results in the process).
Massimo Chieruzzi
Awesome, thank you so much. That was really insightful and a hot topic, but from different angles, we've touched multiple times today.
Seems like breaking down the silos between product, marketing, and sales is really the focus of most companies. It's a huge pain point! A few sessions ago, we were chatting with Alex Grant from Personio on the importance of product feedback that comes from sales because customer success and customer support usually have incremental feedback. They can help you make your product a bit better, but usually, the existing customer just complains or asks about the pain points that they have while using the product.
On the other hand, product feedback from sales is amazing because people have not seen the product. They have a blank sheet and will tell you what they would love your product to be.
Question: Have you ever tried aligning rewards and goals between product and sales as a way to speed up this?
Vivek Bedi
Yeah, and that's what I was alluding to. You bring up a good point. Product feedback that comes from the sales team or the sales channel is really interesting because there's no bias. They are right; you're not. It's not like you have used the product in a lot of these cases. It's usually new customers or upsell customers.
So it's interesting feedback, and you're right; as product managers, we need to spend time to get that feedback, and as sales representatives, we need to spend time to give that feedback. So a valid point there.
As far as integrating goals and rewards, yes! Sales are usually driven by numbers. Generating revenue, product rewards, and benefits are usually driven by features and enhancements. So I think bringing a world of those two together is difficult but really exciting. If we can crack that nut, it becomes really rewarding because then, at the end of the day, you're serving the customer and the company.
A lot of times, they actually have a conflict because Product might be trying to build value for the customer, but sales might be trying to win business for the company, and vice versa. So there could be a conflict there as well.
I have tried this, and it's important to think through that we are one team. When you ask a product manager to start thinking about revenue for the company, and you ask a sales agent to start thinking about value for the customer, the script balances a bit.
I think it's important to bring those two together, and it's hard, but how do you create a uniform set of goals and rewards where you can find that balance? Some of the things that have worked for me is if we sell more mobile, we will get this much more benefit for the employee base.
So trying to set revenue numbers, not just on the company level or the entire product level, but trying to set them on feature levels or groups of portfolios of features. That becomes interesting too.
The final thought I'd say is, looking at different types of clients. In the sales cycle, you might have B2B clients, enterprise clients, big and small, that plays an interesting role too. Depending on your client, there might be more involvement in your product.
I remember when I was at Goldman; As much as I loved the sales team, I always wanted to talk to the product manager at Cisco or Microsoft because I was a product manager. I wanted to see what is the future there. When I worked at Learnvest, I didn't care as much. So being in different environments actually influences about how your approach is, and we need to come up with a uniform way to do that.
Massimo Chieruzzi
I think getting a product manager in the sales conversation helps a lot, especially when sharing the roadmap. I feel like the potential customer tends not to trust product promises from six people, while if there is an actual PM explaining the roadmap and making a formal commitment, that's way more effective for closing deals.
Vivek Bedi
Oh yeah, absolutely! I would urge every sales team to spend more time learning their team's product roadmap but also bringing in the product team and providing them a place in the sales pitch and deck because both roles are equally important for the clients but for different reasons, as you pinpointed.
Massimo Chieruzzi
Awesome! Vivek, thank you so much for joining us; it was a really interesting session. 
Vivek Bedi 
Thank you, guys; bye! 
Massimo Chieruzzi
Have a great rest of the day!