Whether you are launching a new product, partnership, or campaign, you typically get one shot to launch it in the market. So you need to do it right, or it will fizzle out without business impact. Your launches will need careful planning and follow-through to stand out.
This talk with Janet Giesen, founder & principal at JetPath Consulting, gets to the heart of successful launch planning: from mapping your audiences to identifying business objectives to getting teams across product, sales, and marketing to launch together.
It will also cover balancing market share and mindshare objectives in your launch strategy and follow-up.
[Transcript] Your Launches Aren't Having the Impact They Should
Armando Biondi
Janet Giesen, very excited to have you.
Janet Giesen
Very excited to be here.
Armando Biondi
Your session is going to be about launches; your launches aren't having the impact they should; the stage is yours.
Janet Giesen
All right, great, so today I'm going to talk about why your launches are not having the impact they should in the market.
My name is Janet Giesen; as Armando said, I'm the founder and principal at JetPath Consulting, so what I do is I work with all different B2B SaaS companies on their go-to-market, and my whole career has been about launches. Launching new things, new businesses, new partnerships, new products, and new programs.
Most recently, I spearheaded the launch of metallic.io with an awesome team. This was one of the fastest-growing B2B SaaS platforms out there, with one million to 50 million in six quarters. It's a SaaS data backup platform. I've also launched new areas and partnerships with companies like Amex and Shutterstock, so bringing that experience here to talk about how you can have high-impact launches.
My interesting fact is that I auditioned for The Voice. I did not get on TV or anything, I didn't make it very far, but it was really fun. I got critiqued by a producer, which was cool, and it was a great experience in New York City, so that is my fun fact for you.
All right, so let's get started. Everyone wants their launch to be successful. We've all heard stories of ones that did not go well or seen products that needed to be deprecated after they were launched, so we all want to set our launches up for success. For that, you need product-market fit, you need an audience that wants to use your product or offering but you also need planning.
This session is really about the planning that goes into launches and how planning can drive your impact. As I've worked with all different SaaS companies, one thing we have to fight against is Agile meaning launching things all the time. It doesn't. It doesn't mean launching things all the time.
Just because you're on two-week sprints run on Agile, you don't have to launch something constantly. You can hold things back and group launches because your customers may not be able to keep up, and your sales teams may not be able to keep up if you launch too many things at once.
Something I've said for a long time is you have one shot to launch something and to launch it well, so give it time. Plan. This is true whether you're launching a product, a partnership, or a program.
So what do you need in order to plan?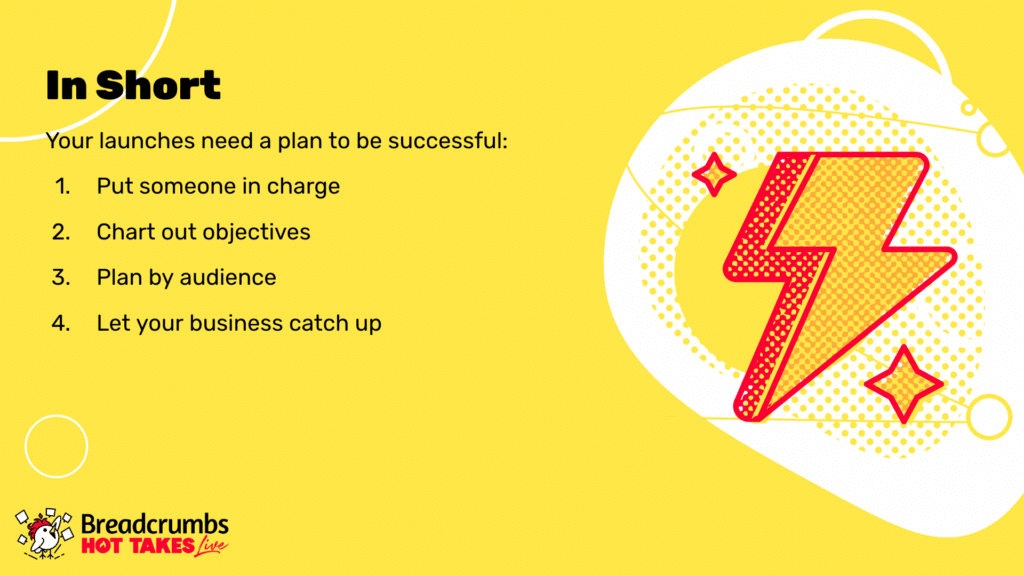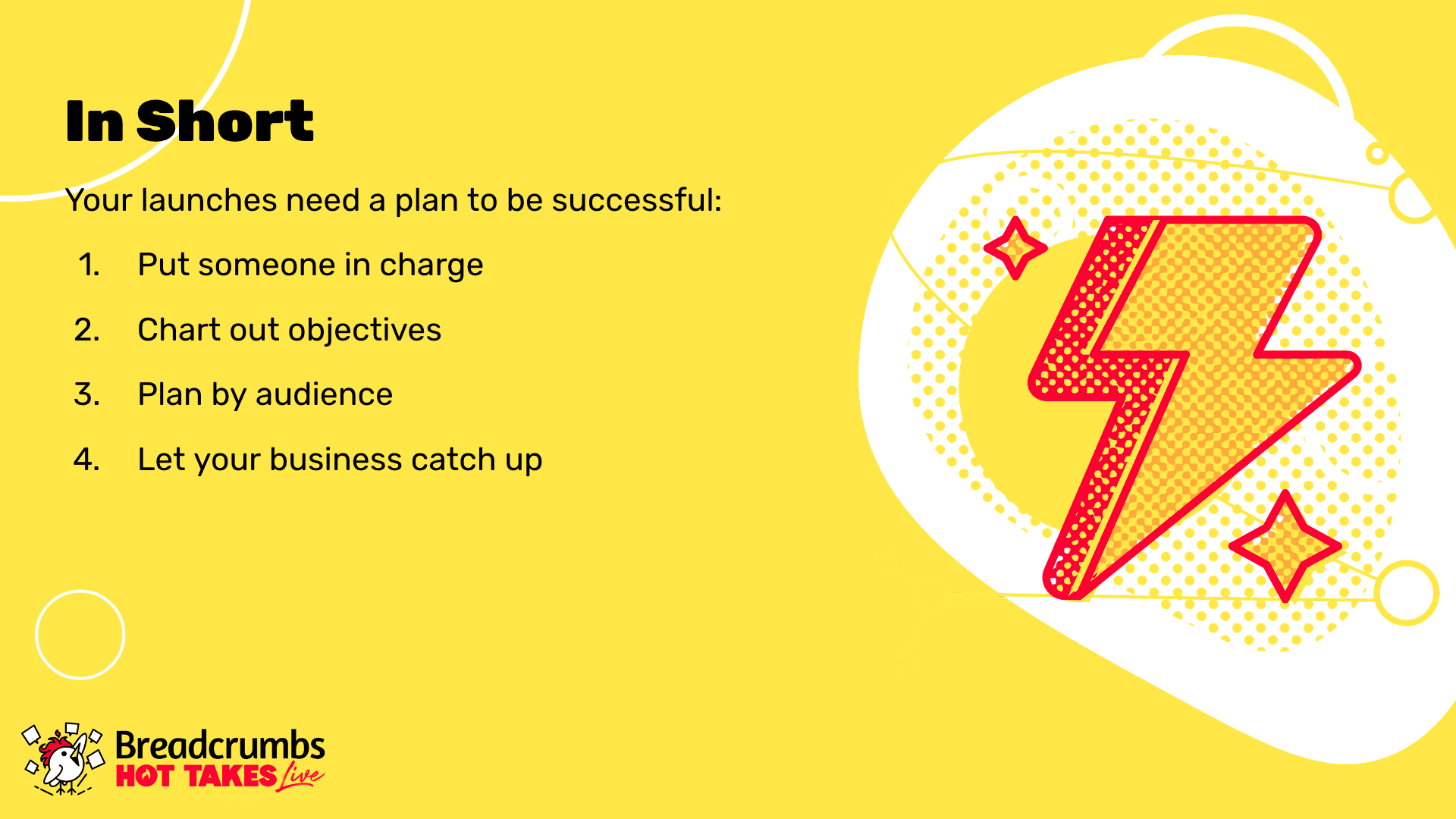 First, put someone in charge. A lot of people skip this step, but someone needs to be in charge. Chart out your launch objectives, plan by the audience, and let your business catch up. Those are the four steps I'm going to talk to you about here.
One really important note, you really want to try to get the three legs of the stool, product, sales, and marketing, on the same page for launch planning. Maybe not on the same page, but the same ballpark, and that can give you a 19% revenue boost.
That's what Sirius Decisions have found. When you're aligned and doing something in a unified way, you get that Revenue boost. Making sure you're launching together, that your go-to-market activities are rolling out together, and that everyone is ready at the same time.
Who's in charge? You need to figure out who is in charge of your product launch.
This can be any kind of launch. I have different ones here, but I'm using product kind of as a lead example. You need someone who can be your decision maker and your tiebreaker, so it needs to be someone who's a little cross-functional and who can handle situations where sales and marketing don't agree on how to approach a launch, or product and marketing don't agree.
Because someone needs to own the launch plan, this really helps it be successful if you have that person who's holding the baton and they're the one who's really leading that launch charge.
So who could lead in each of these types of launches? This is what I typically see, but again it can be different in your org, and Ops can typically step in in many of these situations.
For product launches, it can be product marketing or product Ops. For partnership launches, Biz Dev usually leads those rollouts. Sales Play launches, that's Sales Ops and RevOps. Campaign launches can be your integrated marketing team if you have kind of a program marketing or integrated marketing function.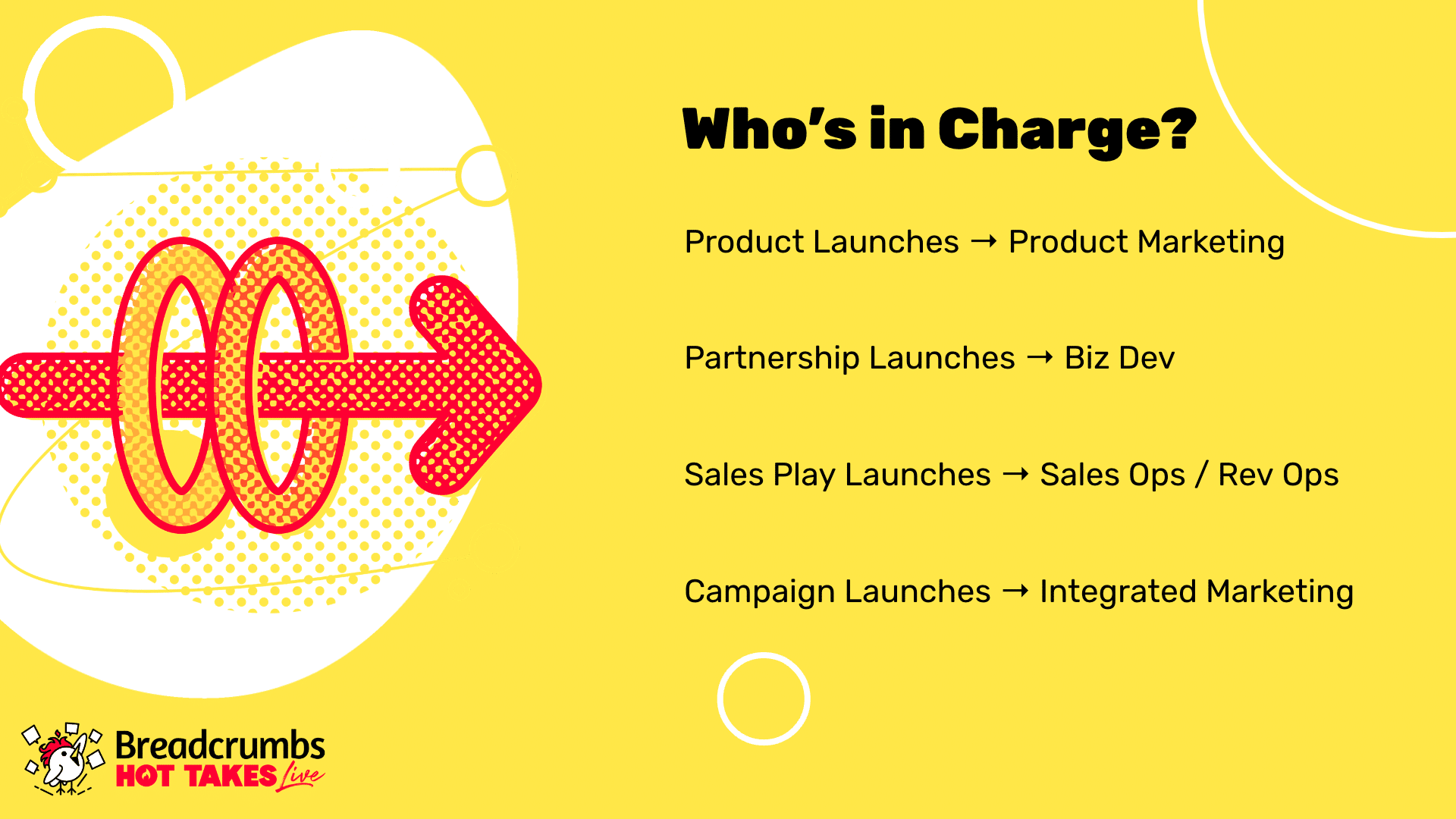 Your objectives: what kind of launch is it, what kind of launch are you driving? Is it a market share launch or a mind share launch? This is really important to think about even before you start.
Market share, for example. This is where you think this launch, whatever it is, will impact your financial results; mind share is more about share of voice and getting your name out there to impact your results over time later. It's a bit more upper funnel, and there are other kinds of launches as well, maturity and modernization, but these are kind of two to start with.
You should be setting your goals and thinking about what type of launch you're driving. For a market share launch, you might have a revenue target, a pipeline target, and an efficiency target, and for mind share, you might have a share of voice or press coverage target.
I remember I worked on a mind share launch where there was buzz in the market that a competitor was going to launch something on a specific day. So we planned a competing launch for that same day, an innovation launch, and our goal was to overtake them in terms of share of voice, and we did.
Still, it took a lot of planning and a lot of strategy in order to do this, and it was only because we found out through the market buzz that this launch was coming that we were able to do this. It wasn't going to drive immediate financial results, but it was something in order to gain that mind share and have an innovation story out there in the market.
Something to think about is, is a soft launch needed ahead of time? Meaning you preview it with a select group of customers before going more broadly.
This is something that can be really helpful if you need more of that customer feedback. Maybe your customer research was inconclusive or not thorough enough, or you didn't really have enough time so that soft launch can help you get some of that customer input and get those feedback loops; you can make changes before the broader launch.
The next thing you should do is map your audience. Think about who you're launching to and what each audience should do or take away. What should current customers do based on this launch, what should prospects do, and what should partners do? Are partners going to be happy about this launch, or is it something they're not going to be as thrilled about, so that has to be managed ahead of time?
Investors, press, industry, analysts, you need to do an analyst briefing, and, of course, internal employees. If you have a launch coming, internal folks need to know. You can decide how far in advance, but the goal is that when customers and prospects call about whatever it is, sales can speak to it, and internal employees know how to speak to it, so your external folks don't know more than your internal folks.
So once you've mapped your audiences, you can map it anywhere if you're using Google Docs or Notion or anywhere to map them out, then you can create a launch checklist.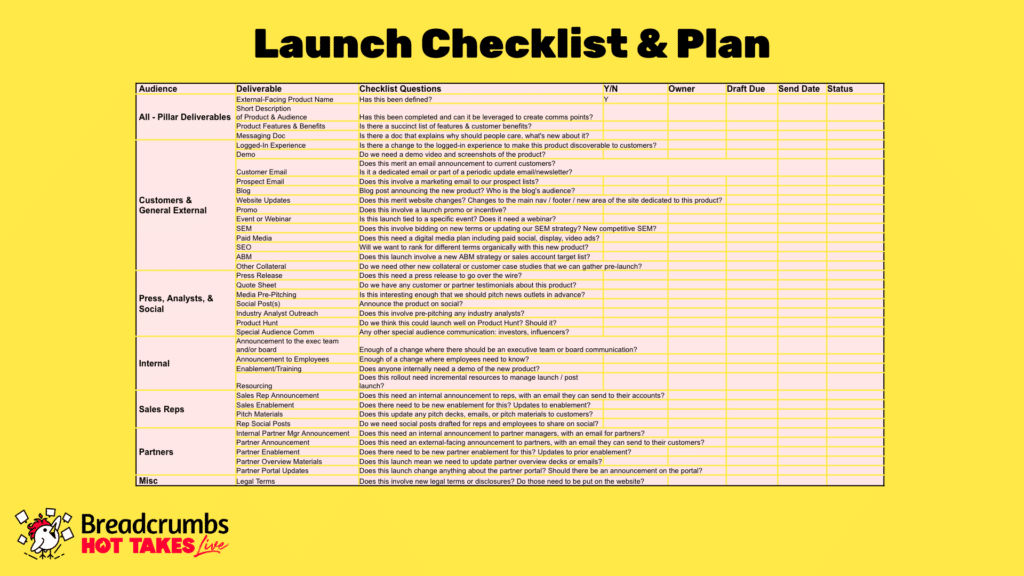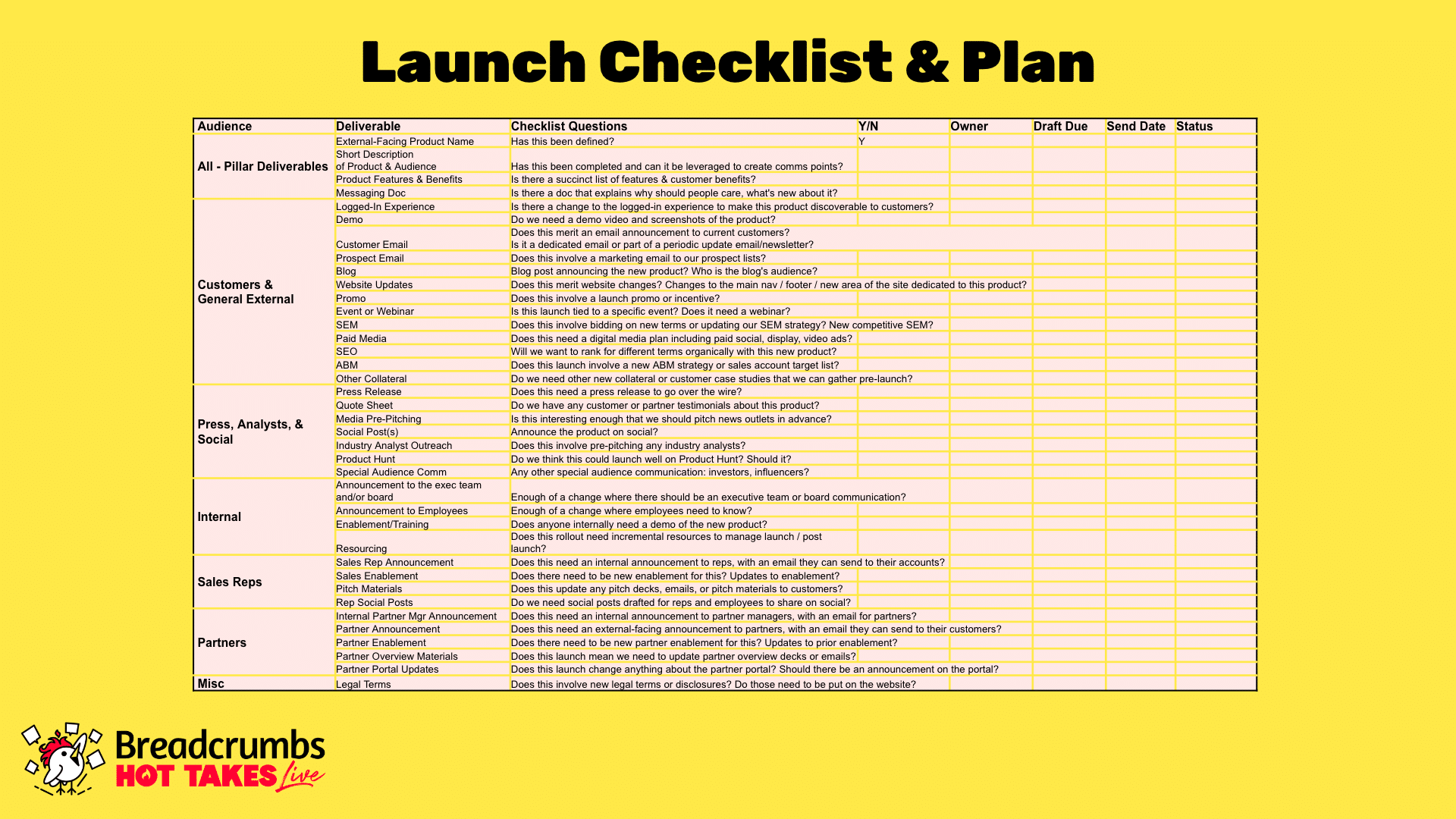 On this, the audiences that you want to reach are on the left, this is a product launch example, and then potential deliverables and this has all kinds of questions that you can ask yourself as you're planning the launch, building out a launch plan.
Do we want to announce this on social? Is this enough of a change where there needs to be board-level communication? Do we need a blog post? Do internal people need demos of this ahead of time? Do we need videos, screenshots, doing visuals to support this launch?
So it kind of goes through all the different areas. it goes through types of marketing initiatives, sales, product, etc.
Then once you've launched, say your launch plan goes super smoothly; what do you want to do after? Give it time, measure the results, and make sure it's doing what you wanted it to do and that it's matching your objectives.
If it's not, why? Drive that follow-up communication, include it in part of your nurtures, include it in part of different campaigns, make sure it's a steady drumbeat, and be repetitive and consistent in your communication about it.
And lastly, really important, give it enough time to impact the business. It's tough. I once worked with a company that launched things over and over and over, meaning just back to back to back to back to back, and it doesn't give employees enough time to recover.
If employees can't catch up to the next launch, how are sales going to, how are partners going to, and how are your customers and prospects going to?
Give these launches, especially very large ones, time to impact the business, and make sure you're not launching something else, especially something else unrelated to close on the heels of it. I know this is hard; this is the hardest part, being able to measure the results and give it time.
And that all goes to the key takeaway sometimes you need to go slow to go fast. A lot of you have probably heard this quote, but with launches, it's so true. Rather than throwing something out there into the market, give time to plan.
Maybe that's managing up or managing cross-functionally and saying, you know what, we need four more weeks to really plan this and do this really well or two months or whatever it is.
That can help people have really successful lunches and just do better in the long run. If you want that launch checklist that I had here, you can email hello at jetpathconsulting.com. I'll send it over to you; it's a good prompt to help you build out your launch plan, and that is it.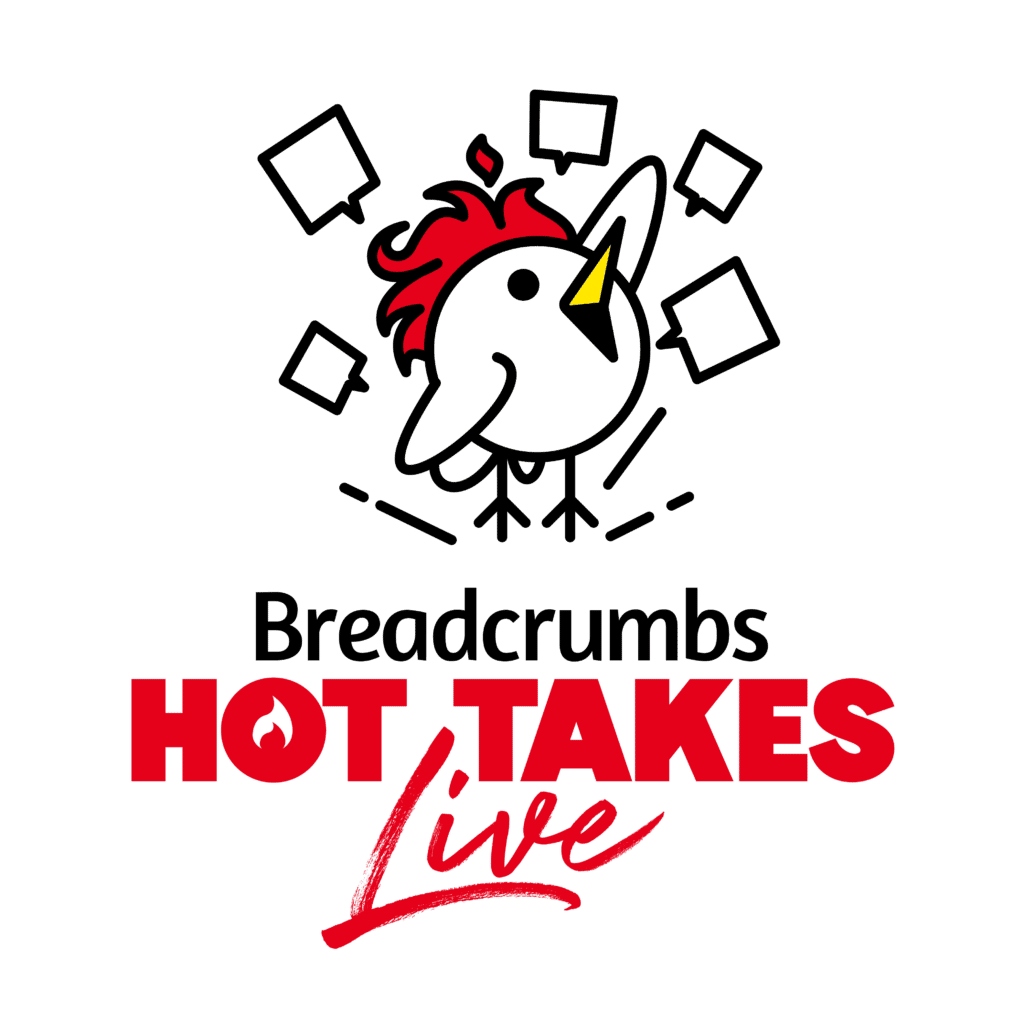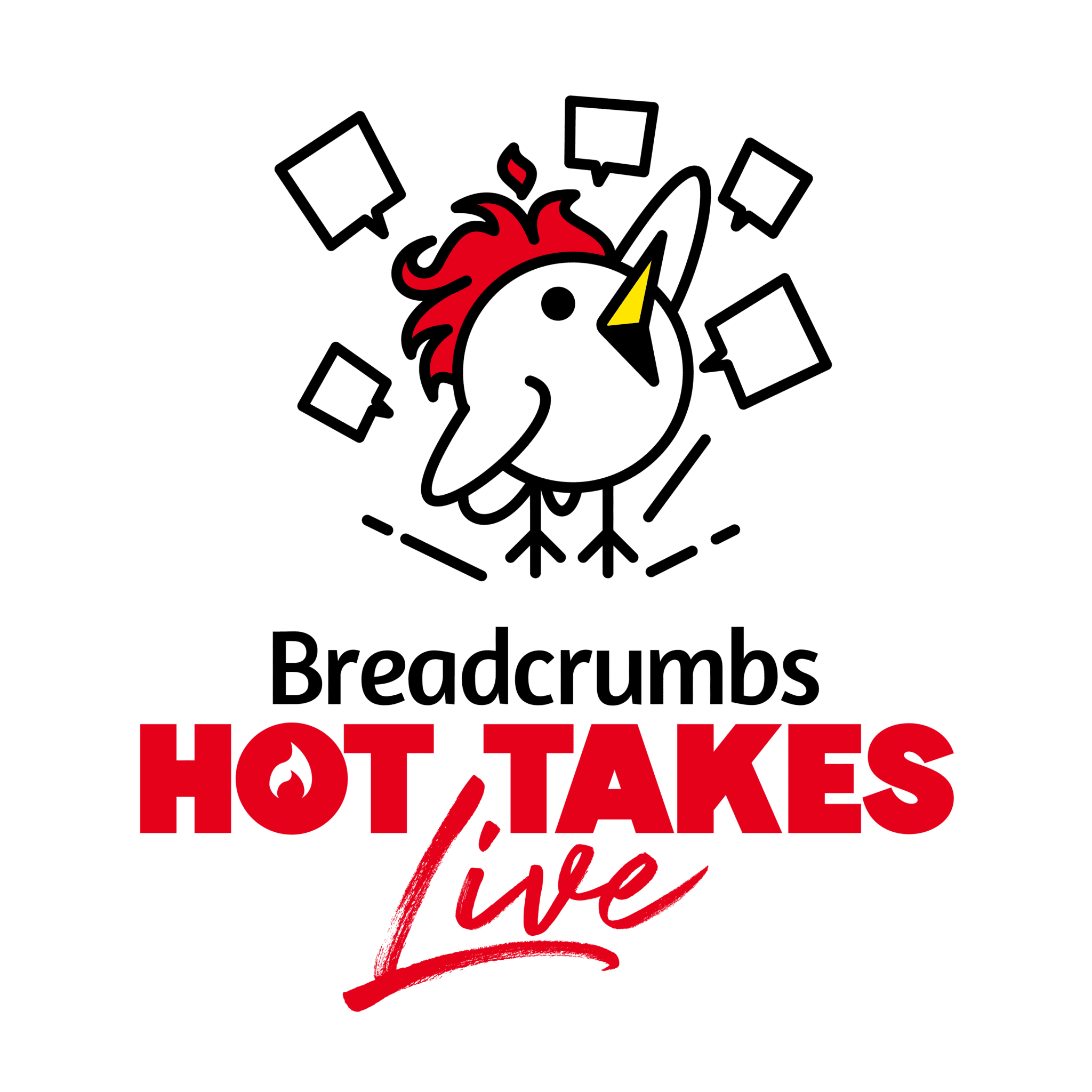 Hot Takes Live
Replays
Catch the replay of Hot Takes Live, where 30 of the top SaaS leaders across Marketing, Sales, and RevOps revealed some of their most unpopular opinions about their niche.
These leaders shared what lessons they learned and how they disrupted their industry by going against the grain (and achieved better results in the process).
Armando Biondi
Awesome! Thank you, this was great; I loved it. It's essentially a blueprint for a successful launch.
Janet Giesen
Absolutely. That's what I'm trying to do, cover those different steps to help people be more successful with their launches.
Armando Biondi
And I particularly appreciated/resonated very much with the idea of launching often or being Agile is not necessarily a good thing actually; probably it's hurting you more than not.
Janet Giesen
Yes, people feel a lot of pressure because of that accelerated road map launch every two weeks, and you see these sprint recaps or these launch recaps that sales can't keep up with, that people can't keep up.
I've seen some really good examples of companies like Workfront grouping their launches together, holding some back, and then having videos for customers showing what all the new launches are, what's new this month, what's new this quarter, bundling them together under a theme just to make it easier. It's change management because people can't absorb too much at one time.
Armando Biondi
Yeah, absolutely, and it's also having things kind of tie back/up to an overarching narrative which makes things easier from a cognitive load point of view.
Janet Giesen
Yes, absolutely. If people can really get the point of the launch, and understand the message, then they'll be able to carry it forward. And that's really true, too, if you have a partner-selling motion or partner-marketing motion because you want them to be able to carry your message forward in the market. Same if you're pitching to the press. So you've got to give folks enough time for the message to land.
Armando Biondi
So if there is one overarching message which I'm inferring from your session here is like preparation preparation preparation is everything, and also give it time to materialize the results that you are hoping to see because if you're looking for those results too early, maybe they're not going to have time to do that.
Janet Giesen
Exactly, exactly. I have seen folks quite often assume that results will happen very quickly. First, have a look at your sales cycle because if this is something new, that's either going to impact current sales underway or new sales. You got to really see how this impacts the whole cycle and what that impact is, and then just give it time because you don't want to distract from what you've just launched and what you're trying to make successful.
Armando Biondi
Yeah, if you have a two to three months sales cycle, and you're launching something new with the objective of revenue generation and growth, looking for results a month later is not going to work.
Janet Giesen
Yeah, exactly. You can see those benefits line signs, but if you really want to let it go through a full sales cycle, not that you can't launch other things in the interim, but don't try to overshadow too much to the same audience, especially if this is a pivotal launch for the company or brand.
Armando Biondi
Yeah, I'm curious. Would you have a recommendation with regards to lead time, with regards to preparing a highly effective launch in a good enough way?
Janet Giesen
Yeah, I think it depends on what you're launching, but I've seen a rule of thumb for kind of a new product or feature that is not completely brand new, like something that builds on existing or maybe a new campaign, I've seen a good rule of thumb before to six weeks minimum.
Make sure you have that time because there are things that have longer lead times, like pitching to the press, building out a digital campaign, maybe creative, maybe really high production video to support the launch. You want to make sure you give enough time for these things and also for the messaging to be created even before the assets.
Now if you're launching a new business line or a new partner program or something new that's major, I've seen more like six months because you want to make sure that everything is thoroughly tested, you have customer research ahead of time, that you have a lot more prep than a single campaign or single feature.
Armando Biondi
I'm looking at how much time did it take for us to organize this Hot Takes Live, and it was like easily three months.
Janet Giesen
Yes, absolutely, and that's a launch; you can fit a lot of these things into launch planning. Well, the launch doesn't have to be a product; it can be your sales plays, it can be your campaigns, it can be a new partnership that you're bringing to market together, it can be all kinds of things.
Armando Biondi
Wow, awesome. Thank you so very much, and thanks for watching everyone.
Janet Giesen
Thank you so much for including me. This was great.
Armando Biondi
This was awesome. Thank you so much.