If you operate in the B2B sector, there are really only two ways to do marketing:
Create content for the digital abyss and hope and pray for the best.
Be strategic with your content and marketing efforts.
And what better way to be strategic in your efforts than to use the mix of artificial intelligence (AI) and account-based marketing (ABM)?
After all, AI is stealing the limelight in the marketing world today, and ABM has been a successful tried-and-tested strategy.
However, a question does arise—what's the real benefit of infusing AI into ABM, and how can businesses integrate AI into their marketing material to provide more hyper-personalized messaging and engagement?
Well, that's exactly what we're discussing in this article!
AI and ABM: The Perfect Pair for Hyper-Personalized Marketing
When you're trying to reach high-value accounts in the B2B sector, you must streamline your sales process and understand the varying sales cycles of your target audience.
With the increased need for marketing and alignment with sales teams, having sales reps equipped with the right information becomes critical.
But first, how do we ensure that we're targeting the right accounts? That's where understanding the Ideal Customer Profile (ICP) and maintaining a refined target account list or list of target accounts comes in handy.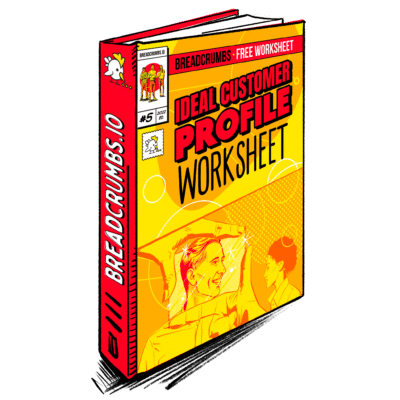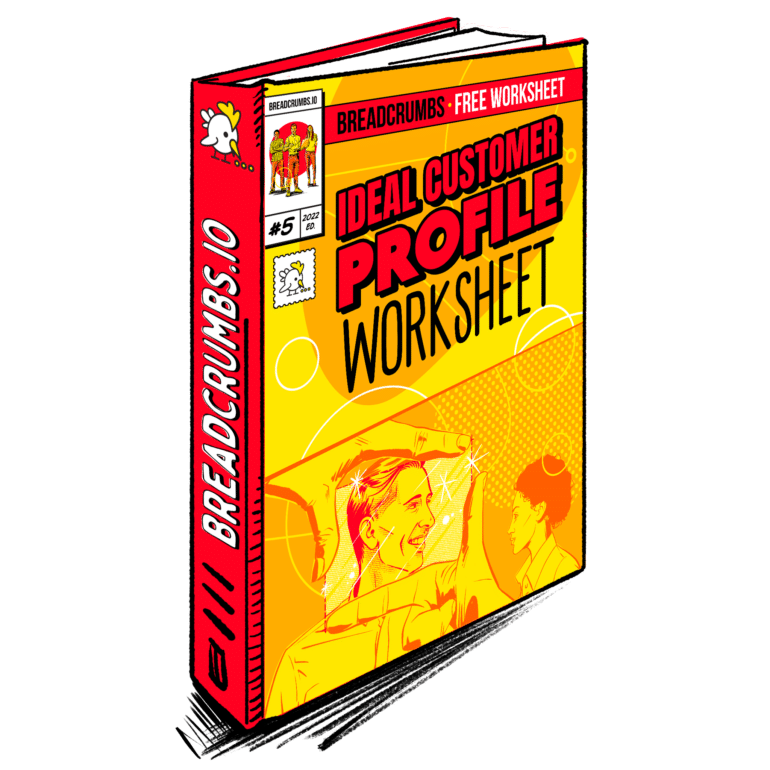 Ebook
Ideal Customer Profile (ICP) Worksheet
Learn how to create an Ideal Customer Profile and build a successful sales strategy with this Ideal Customer Profile (ICP) Worksheet.
Integrating Account-Based Marketing Strategy (ABM) with artificial intelligence (AI) is the latest step in the strategic approach to B2B marketing strategy. Let's break it down:
Account-based marketing (ABM) refers to engaging with selected client accounts to improve their experiences and increase their lifetime value. Here, the strategy is precision-based targeting instead of casting wider nets, and it's particularly helpful in providing personalized experiences by analyzing client goals and needs.
Artificial intelligence (AI), on the other hand, works like a Swiss army knife (that's to say, it's helpful in many contexts). Think of all the AI and AI-assisted technologies that help with tasks like marketing automation, content development, employee training, personalization, customer segmentation, analytics, A/B testing, etc.
These concepts are equally important in the B2B marketing landscape as they eventually help improve customer experiences and provide personalized interactions.
Role of ABM in B2B marketing
Account-based Marketing (ABM) isn't just about engaging with potential customers. It also identifies target companies based on specific criteria like company size and deal size.
This precision-based strategy goes hand-in-hand with inbound marketing and requires deep collaboration between marketing departments and customer success teams.
ABM can be particularly helpful for B2B companies because it can help cultivate stronger relationships and foster brand loyalty because each experience and interaction is developed with the key accounts in mind.
For example, imagine signing up for a newsletter as a salesperson and getting generic sales advice vs. relevant sales advice for your industry and job role. Makes a lot of difference, doesn't it?

Some of the biggest brands in the world (e.g., LinkedIn, HubSpot, DocuSign, etc.) have engaged in B2B account-based marketing.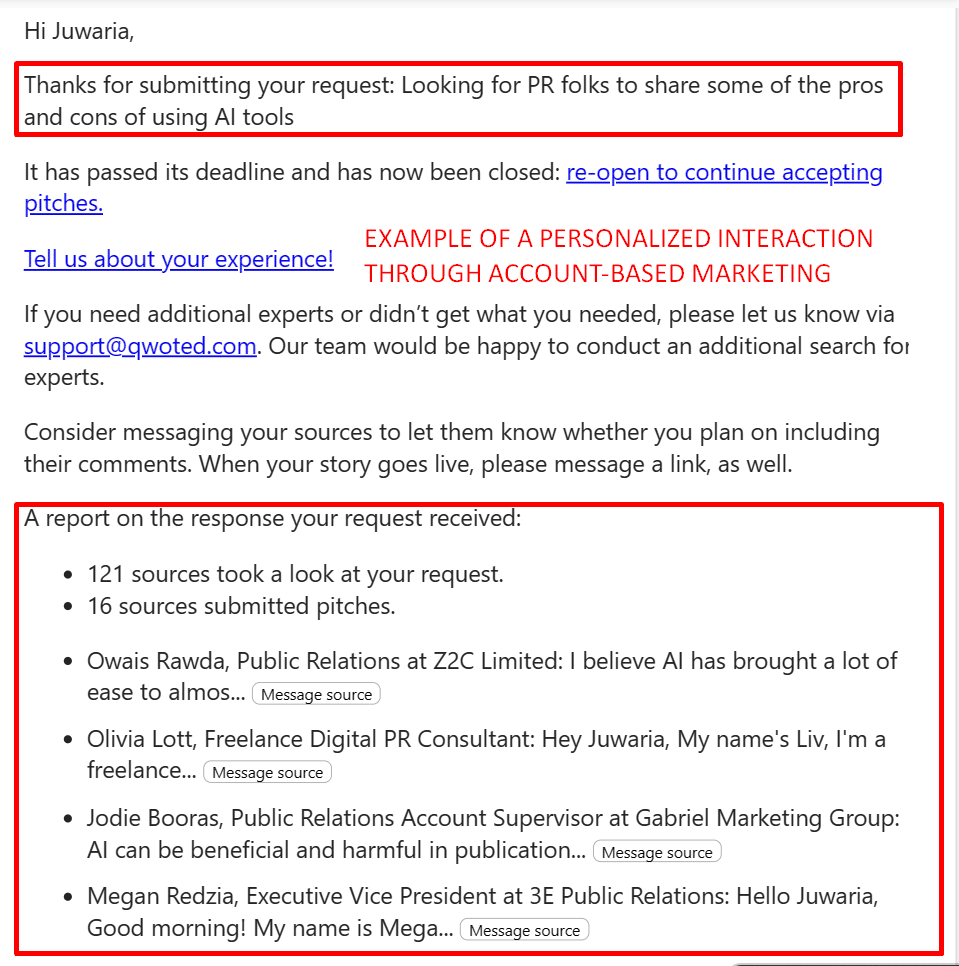 Power of hyper-personalization with ABM
In the B2B landscape, most marketing material looks, well….boring.
There's obviously a huge gap between the experiences customers want and what they get, and that's the sweet spot ABM touches because it believes in providing hyper-personalized experiences.
Due to the excessive amount of information overload, B2B customers now want to read information and engage with campaigns that are relevant to them, their pain points, their needs, and their industries, and by targeting individual accounts, that's something you can do with ABM.
In the long run, strategies like account-based marketing are vital in building trust with your audience, as they can eventually trust you to provide relevant and valid information.
Enhancing ABM with AI
Now that we've covered the theory on the relevance of ABM and AI in B2B marketing, let's now get to the practical stuff by understanding how to use AI for ABM efforts.
1. Predictive analytics and lead scoring
AI is an excellent tool for segmenting your existing accounts through lead scoring models and other strategies.
Lead scoring models help marketing teams understand which kind of leads have engaged most with your promotional materials and are quite likely to convert, thus allowing them to focus all their energy on such accounts/leads.
You can also leverage AI for your existing client accounts to show you predictive analytics based on how they interact. For example, with predictive analytics, you can identify which accounts are ready for upselling/cross-selling, how many sales you'll see in a month, understand customer churn, etc.
Quite Note: If your goal is lead scoring or account scoring, technologies like Breadcrumbs can reveal your convert-ready leads by analyzing data on your CRM systems, finding the ideal patterns for lead engagement, and matching the information with the ideal customer profiles (ICP) you feed it.
The best part of it all? You can start creating your model with our lead scoring tool, Copilot, for free.
2. Account research and understanding customer intents
You can also use AI for account research and better understand your customers' backgrounds, pain points, existing technology stack, challenges, etc. Alister Wood, the owner of VisitUs, enjoys using tools like Regie.AI for ‌audience research.
In his words, "Our Regie.AI browser extension gives us insights about segments that business has interests in and allows us to focus more on that business' needs."
Moreover, you can also employ social listening tools and sales engagement tools like SalesLoft to get a better understanding of customer intents.
For example, you can identify purchase intent (what types of products your customers are interested in), content intent (what type of content they'd like to read), location-based intent (which type of stores they prefer to go to), etc.
3. Dynamic ad targeting
Through AI, you can also create personalized experiences for your ABM accounts with the help of dynamic ad targeting. Consider hitting them with ads that show pain points, value propositions, and content relevant to them, including high-quality images showcasing your products.
Consider using LinkedIn by Cognism as an example. The company wanted to increase the engagement reach of its LinkedIn ads, and it switched from targeting customers based on their roles to targeting them based on their job functions, thus making their ad content highly relatable.
This strategy resulted in a 200% increase in engagement and a 120% increase in reach—aka, a massive win for Cognism.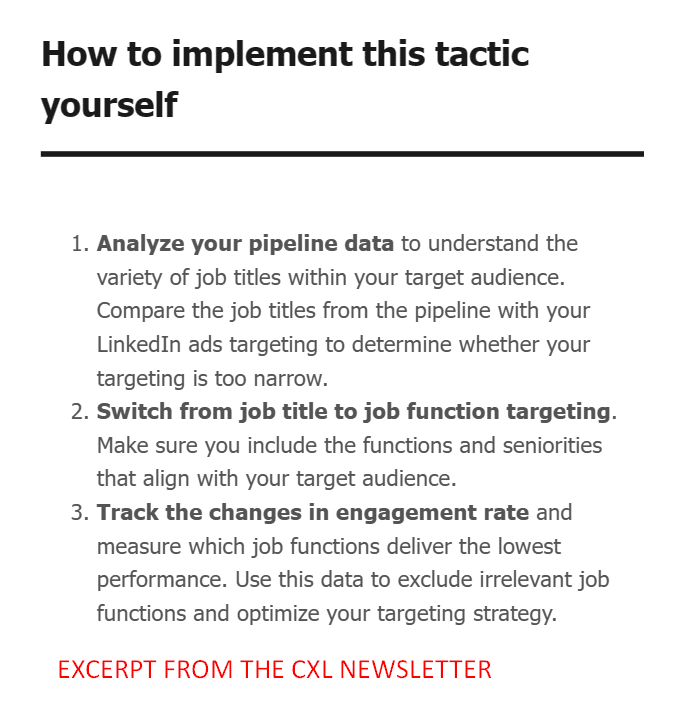 4. Improve experiences
Using AI in ABM is also helpful in improving customer experiences.
For example, to improve the experience of its ABM customers, Nicholas Sforza, the founder of Opvital, applied AI to analyze SEO and advertisement performance and make suggestions on copywriting for its clients.
Connor Gillivan, the founder of Trio SEO, says, "The future of AI in ABM and account-based experience (ABX) marketing is gleaming with promise.
With AI continuously developing, we're on the brink of even more fine-tuned personalization, shaping experiences that are meticulously tailored to the tiniest of customer preferences."
5. Internal training and development
AI can be particularly helpful for your internal training and development efforts, so your staff can deal with ABM accounts more strategically.
For example, if you use AI tools like chatbots or voice bots, you can use the data you get from there to understand the common questions customers ask, their causes of concern, and what they hope to see from the company.
You can also ask your customer support and sales teams for their input in this regard, as they have the most client-facing interactions and have heard the most common complaints directly from the customers' mouths.
Additionally, you can also use AI to identify loops in your processes. For example, to deliver better customer experiences, you might need to update your content (and the UI/UX you use for the content) across various social sites and websites.
AI can help you identify customer touch points and find ‌loopholes in your interactions and UI/UX. For example, customers might think you deliver a bad experience simply because your website loads slowly.
Moreover, with all this data on hand, you can again use AI to develop content materials for your staff to educate them on how to improve interactions to provide better client experiences for high-value accounts.
6. Better reporting
Finally, you can also use AI to understand the impact of your ABM efforts through customized reporting.
AI technologies are excellent at identifying purchase patterns, customer behavior, and changes in metrics and will be easily able to collate all that data and ship it to you in a nice report.
Based on that, you can then decide which areas need improvement and how to make changes in your ABM strategy.
Best practices for implementing ABM and AI in B2B marketing
To ensure the success of your account-based marketing strategy, integrate it with your broader B2B marketing strategy. There must be a close collaboration between the marketing department, sales reps, and customer success teams.
So, to implement ABM and AI in B2B marketing, you should first identify your goals with ABM and then curate a strategy that reflects the goal.
Try to align all your customer-facing teams, create personalized content and promotional materials relevant to your ideal customer profiles (ICPs), and get continuous feedback on your strategy.
More importantly, try to look at other brands in your niche/industry that have undertaken ABM efforts and identify the kind of B2B content marketing strategy they create and the tactics that have worked well for them.
For example, if you're in the design industry, look at Tailor Brands. It's used a mix of AI and ABM to do in-depth customer segmentation, content customization, targeted communication, A/B tests, and personalized offers and rewards.
What should you consider for the future?
As the landscape of B2B marketing strategy evolves, staying updated with the latest in AI and ABM will be crucial. AI will play a pivotal role in understanding the customer journey, ensuring that marketing alignment with sales strategies yields better results.
With this integration, your marketing activity will be more precise, ensuring that you're reaching out to the right high-value accounts with content that resonates with their specific needs and preferences.
As Connor said, the future of AI and ABM is gleaming with promise. In the near years, we'll see multiple B2B brands using AI for more accurate lead scoring, getting predictive insights, and incorporating real-time personalization.
However, you can stay two steps ahead of your competitors in the industry by using AI-powered lead-scoring models from today itself. Sign up for Breadcrumbs and start using Copilot today (at no cost) and get better insights into your customer data, which will allow you to improve and personalize client experiences!