A cold email is an unannounced digital handshake, and your opportunity to make a memorable first impression from a distance.
But before any content can persuade or inform, the gateway to your message—the subject line—must successfully navigate the treacherous waters of a recipient's crowded inbox.
This article serves as your compass, guiding you through the do's and don'ts of crafting a cold email subject line that not only resonates with your audience but also inspires the crucial click that leads to an open.
Armed with a blend of expert insights, illustrative examples, and industry-tested advice, you will emerge equipped to pen creative subject lines, that beckon with relevance and intrigue, paving the way for your message to be heard.
What is a cold email?
A cold email is an unsolicited e-mail that is sent to a receiver without prior contact or a request for information previously. It's akin to cold calling, but it's less intrusive and allows the recipient to respond at their convenience.
Unlike spam, cold emails are personalized and targeted to the recipient, often used to pitch a product, service, or idea. They are a fundamental component of outbound marketing strategies and play a significant role in lead generation, networking, and business growth.
In fact, 71% of buyers are open to receiving emails when looking for new solutions to drive better business results, and 43% of salespeople say that email is the most effective sales channel.
With these statistics, you can't ignore the fact that a comprehensive cold email strategy is key in 2024.
Why is the cold email subject line so important?
You might think that the contents of your email are the most important part of your strategy, to your credit, you have some fair arguments there.
But your cold email subject line is what's going to get your email opened in the first place.
And if it's lacking, even the most perfectly worded and captivating copy will just end up in the trash with all the rest.
If this doesn't shock you enough, know that a study by Finances Online suggests that 64% of recipients decide to open or delete emails based on subject lines.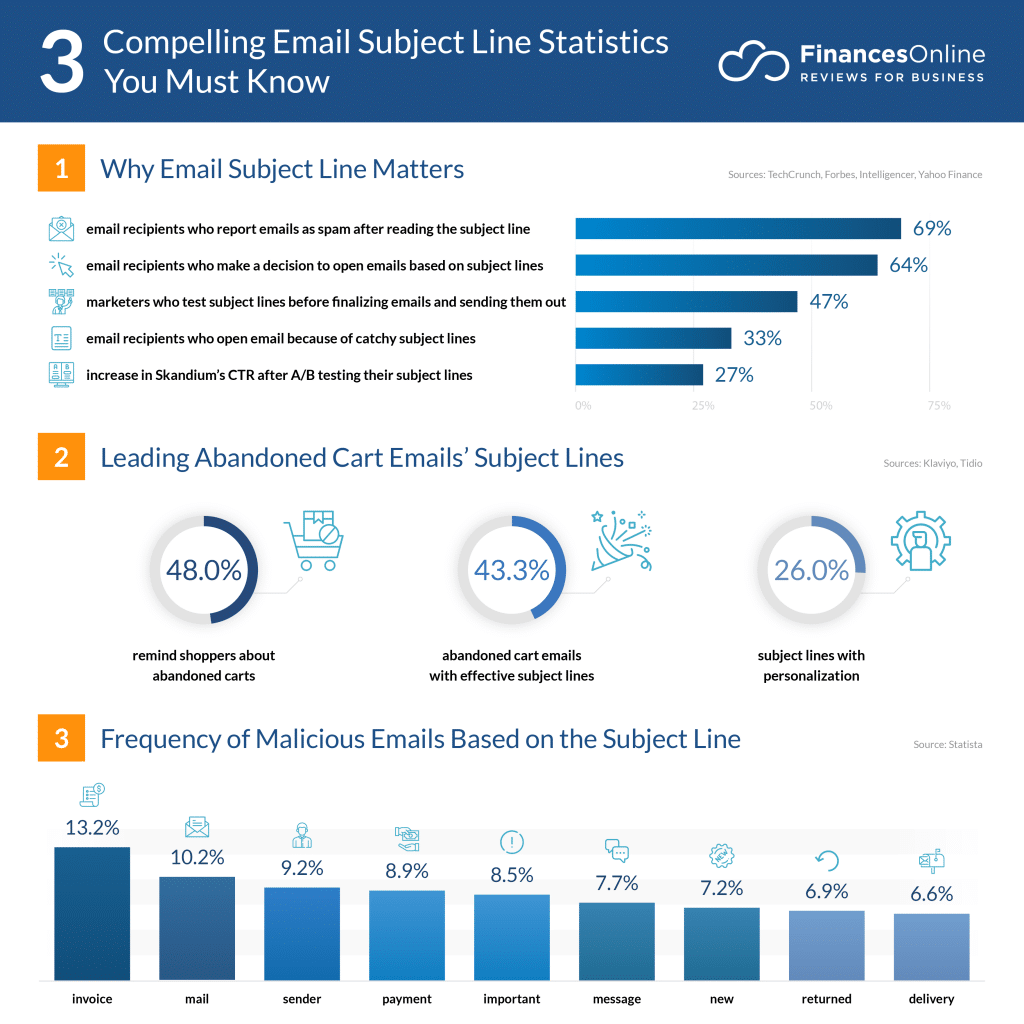 If you're not actively testing, tweaking, and analyzing the performance of your own sales email subject lines yourself, you're leaving money on the table.
The Do's of Cold Email Subject Lines
Since we're now armed with the knowledge of why a cold email subject line is so important, let's dive into the strategies behind creating one that truly inspires a click.
DO personalize for the recipient: Personalization signals to the recipient that the message was crafted with their interests in mind, which can significantly boost open rates.
Example: "John, quick question about [Company Name]'s marketing strategy."

DO be specific and offer value: Clearly articulating the benefit compels the recipient to open the email to learn more about the value proposition.
Example: "Exclusive SEO insights for [Recipient's Company Name]."

DO keep it short and sweet: With the majority of emails being opened on mobile devices, short subject lines prevent important information from being cut off, enhancing readability and impacting performance in open rates.
Example: "Meet your goals with just one tool."

DO use actionable language: Actionable subject lines can increase open rates by clearly indicating the steps the recipient can take. It also adds an element of excitement and immediacy.
Example: "Grab your seat: Exclusive webinar for [Industry] pros."

DO ask a question: Posing a question in the subject line naturally piques the recipient's curiosity and prompts them to seek the answer, potentially increasing open rates.
Example: "Is this the missing piece in your HR tech stack?"

DO leverage urgency and scarcity: Creating a sense of urgency or scarcity can compel recipients to act quickly for fear of missing out.
Example: "Final spot for our workshop–Is it yours, [Name]?"

DO highlight a pain point: Addressing a problem relevant to the recipient establishes immediate relevance and suggests you may have a solution.
Example: "Struggling with remote team productivity?"

DO be clear and direct: Transparency in the subject line sets the right expectation, which can build trust and improve open rates.
Example: "Save 20 hours every week with our productivity app."

DO use numbers and lists: Numbers attract attention because they promise a concise, easy-to-digest read and offer a clear benefit. In their Email Marketing Benchmarks report, Campaign Monitor noted that subject lines with numbers often outperform those without.
Example: "5 proven strategies to improve your sales process."

DO show you've done your research: Referencing recent events demonstrates that you are knowledgeable about the recipient's business, which can help build rapport.
Example: "Congrats on the funding round–let's boost your growth."
Each of these strategies leverages psychological triggers or best practices to enhance the effectiveness of cold email subject lines. Testing and optimizing these strategies is essential, as different audiences may respond to different triggers.
The Don'ts of Cold Email Subject Lines
While it's great to focus on the positives, we must look at the pitfalls and reasons why cold emails usually fail. To this end, let's cover some of the top don'ts of crafting a cold email subject line.
DON'T use overly generic phrases: Utilizing generic phrases can make your email appear impersonal and indistinguishable from spam, leading to lower open rates.
Example: "Update" or "Monthly Newsletter."

DON'T include spammy words: Using words typically associated with spam can trigger email filters and decrease the likelihood of your email being read. Review ActiveCampaign's list of 188 spam keywords to make sure your email is free of anything likely to put your email in no man's land.
Example: "Free money offer!"

DON'T use jargon or complex language: Emails with clear and understandable language tend to perform better. A study from HubSpot in 2022 showed that subject lines with simple language had a higher open rate than those with complex vocabulary or industry jargon.
Example: "Leverage synergistic benefits today!"

DON'T write misleading subject lines: Misleading subject lines can damage trust and lead to high unsubscribe rates. Given the virality of social media, this can also be a huge PR risk as well. For the good of your reputation (and humanity) make sure to keep it honest.
Example: "You've won a prize!" when the email is a standard promotion.

DON'T forget to A/B test: Failing to A/B test subject lines means missing out on data-driven insights that could improve open rates. According to Litmus, A/B testing can generate up to 37% higher ROI than traditional one-size-fits-all approaches.

DON'T use repeated punctuation or symbols: Excessive use of punctuation or symbols can appear unprofessional and may trigger spam filters. Unless your goal is to make your recipient worry about your mental health, this is another trigger to avoid at all costs.
Example: "Buy now!!!"

DON'T overpromise: Overpromising can lead to disappointment and damage future engagement.
Example: "The only resource you'll ever need!" which contains exactly 1 unhelpful article.

DON'T use a one-size-fits-all approach: Not segmenting your audience and personalizing your subject lines can lead to lower engagement rates.
Example: Pitching your latest snowshoe technology to an audience list of golfers.

DON'T forget the preview text: Ignoring the preview text can waste an opportunity to complement the subject line and increase open rates.
Example: Leaving the default "If you cannot view this email, click here" as the preview text.

DON'T use a no-reply sender address: Sending emails from a no-reply address can appear uninviting and discourage recipient engagement.
Example: "noreply@company.com."
Each of these "don'ts" points to a best practice in creating effective cold email subject lines and is supported by data-driven research from recent studies.
10 Examples of an Effective Cold Email Subject Line
Since we now understand what we should do (and not do), it's time to join them and create some subject lines. Here are 10 examples of a cold email subject line to add to your next campaign.
Quick question about [Company Name]'s [Topic] strategy"
"Unlocking [Industry] success – insights for [Company Name]"
"Last chance to secure your spot at our [Event]!"
"How satisfied are you with [Current Solution], [Name]?"
"5 trends [Company Name] can't ignore in [Year]"
"Is [Pain Point] a hurdle for [Company Name], [Name]?"
"Here's a quick approach to [Pain Point]"
What [Target Company's Competitor] knows about [Pain Point]
Intro via [Mutual Connection]
"See why [Competitor] loves our [Product/Service]
How to Craft Your Own Cold Email Subject Line
While we've given you a lot to think about in what to do or avoid, and even some examples of our own, but you'll likely need to put all of these tips together into a cold email subject line that's personalized for your business.
And if you're writing your first subject line, staring at that white Google doc can be daunting.
Instead, use the framework to help expedite the process and set yourself up for success:
Define your objectives: Before you write a word, you need to know what you want to achieve with your cold email campaign. Whether it's raising awareness, generating leads, or promoting a new product, your goal will shape your subject line strategy.
Research your audience: Gather data on your target audience. Understand their industry, role, challenges, and what they value. This information will help you personalize and tailor your subject lines effectively. We have a complete guide on how to build your Ideal Customer Profile here, and we recommend starting with this integral step before ever hitting that send button.
Brainstorm ideas: Based on your research, brainstorm a variety of subject lines. Think about different angles, such as personalization, urgency, benefits, and questions that could appeal to your audience.
Draft multiple variations: Write multiple subject lines for the same email. Aim for variety in length, tone, and approach. This will give you a broader range of options to test and see what resonates best with your audience. Note: This also means that the software you use to send emails should support A/B testing.
Utilize A/B testing: Set up an A/B test for your subject lines. This involves sending one variant to one subset of your audience and a second variant to another, keeping all other variables the same.
Measure performance: Determine key metrics to measure the success of your subject lines, such as open rates, click-through rates, and conversion rates. Use email marketing software that provides analytics to gather this data.
Gather insights: After your test campaign, analyze the data to see which subject line performed better. Look beyond just open rates; if a subject line has a high open rate but low conversion, it may not be effective in the long run.
Refine and repeat: Use the insights gained from your A/B test to refine your subject lines. The most successful line becomes the new control to beat in future tests. Regularly testing and updating your approach is vital as audiences and their preferences can change over time.
Of course, you'll need a tool that can help you accomplish all these tasks (and usually a few more) and luckily, we have a fantastic recommendation for you.
Enter in Cadence by Breadcrumbs, your next-gen tool for cold email deliverability.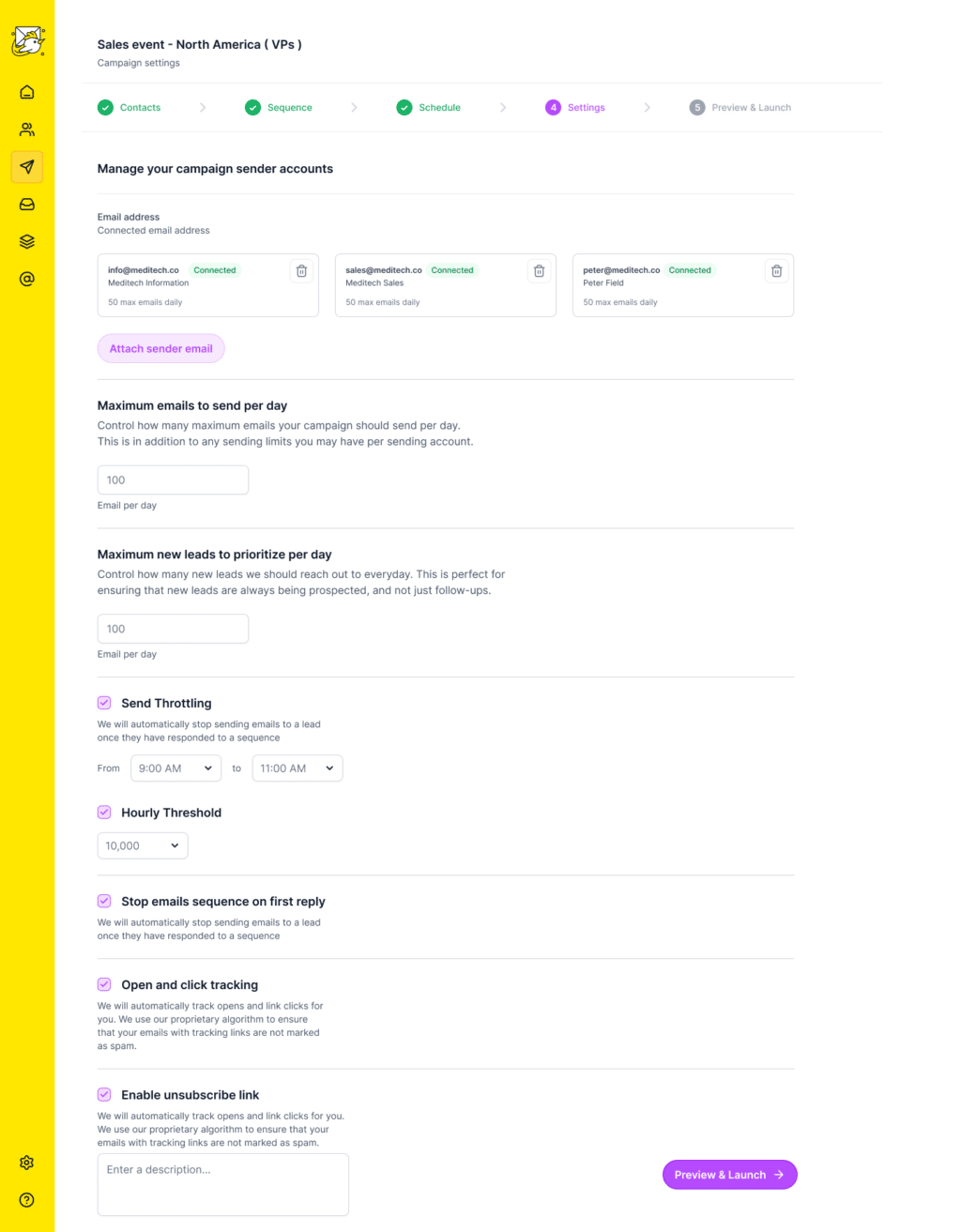 With Cadence, you can get access to a host of cold email tools custom-built for salespeople for $0, including:
Robust email delivery. Our powerful inbox rotation capability guarantees your emails land in the inbox of your recipients and are not stuck in the ether.
Built-in verification. Protect your sender score and reputation by removing invalid emails from your list before you hit send.
Unlimited A/B testing for every part of your campaigns. Trying to find the right combination to pique interest? You can use Cadence to test every part of your message, including subject lines, body, spintax add-ons, and even testing completely different email sequences.
AI-backed email writer. Even the greats struggle with writer's block—but with our AI-powered email creator, you'll be able to draft a compelling (and converting) cold email subject line in moments.
The best part? Cadence features a forever-free plan that allows you to send unlimited cold emails to 250 contacts per month, meaning you can test-drive all the features mentioned today (and more) at no cost.
And no, you won't find any sneaky credit card-gated signup forms that charge you later, either. 😉
Conclusion
As we've learned today, the power of a well-crafted cold email subject line cannot be overstated. It's the first handshake, the initial eye contact, and the opening line of what you hope will become a meaningful conversation.
The tips and strategies outlined in this article provide a roadmap to creating subject lines that can break the ice and warm up potential leads.
In the crowded space of a recipient's inbox, a good cold email subject line can be the difference between a new opportunity and a missed connection. So, invest the time and thought into crafting your cold email subject lines.
Test rigorously, adapt to feedback, and always strive for clarity and relevance. Your email metrics—and your sales figures—will thank you for it.