Sales acceleration is the name of the game here at Breadcrumbs. We've created our software specifically to help our customers better identify new revenue opportunities and optimize them accordingly, and we've even got a revenue acceleration manifesto to boot.
It's no surprise, therefore, that we've got a solid list of favorite sales acceleration software and tools that we've tested out and happily recommend for RevOps purposes.
Looking for new tools to add to your sales stack to help your sales team get more results faster? Let's take a look at the seven types of sales acceleration software (with specific tool recommendations!) you need in 2022.
What Is Sales Acceleration Software?
Sales acceleration is the process of implementing strategies, procedures, and tools in order to move users through the digital sales funnel more effectively so that you can drive more sales faster.
Sales acceleration software, therefore, are the tools designed to help you streamline the sales process so that you can make your sales team's job easier and the customer journey more compelling.
As you'll see, there are plenty of great tools that serve a variety of different purposes, so let's take a look at our tip sales acceleration tools so that you can see which can best benefit your business.
7 Types of Sales Acceleration Software You Need in 2022
There are plenty of different types of sales acceleration software that businesses can choose from. We're big fans of software that can help sales, marketing, and RevOps team members by streamlining their jobs and offering support in crucial areas so that team members can excel.
Let's take a look at the seven types of sales acceleration software we think every B2B brand needs in 2022 (and a few examples of each!).
1. Quality Lead Scoring Software
Lead scoring software will automate the lead scoring process for your business. Quality tools will take multiple streams of high-quality data (like that from your CRM, email marketing software, or other first-party data platforms) to analyze your leads and contacts and assess their fit for your business.
This makes it easier for your sales team to flag high-potential sales opportunities, whether that's with a new lead who may become a customer or existing contacts that you can cross-sell to, upsell to, or re-engage.
And when it comes to the best lead scoring tools on the market, we're biased, but we're just going to recommend one here: Breadcrumbs.io.
We've worked endlessly to create a robust, accurate, and adaptable lead scoring tool. We use a unique co-dynamic approach to lead scoring that assesses a contact's potential based on their fit (think demographic qualities) and activity levels. The score will always be accurate at the second you're viewing it, as we add both recency and frequency of interactions into the lead score.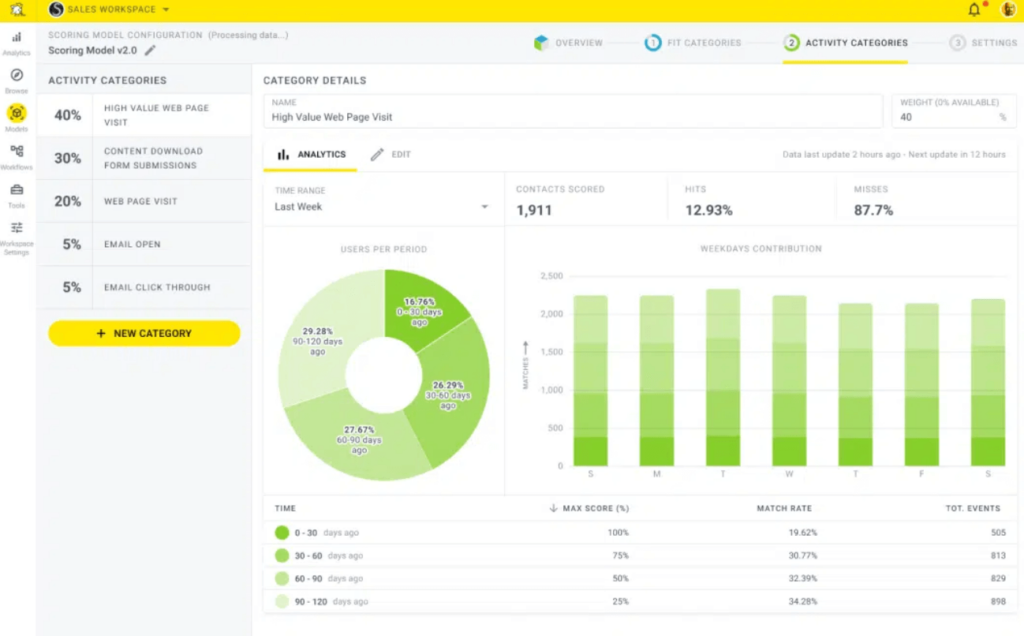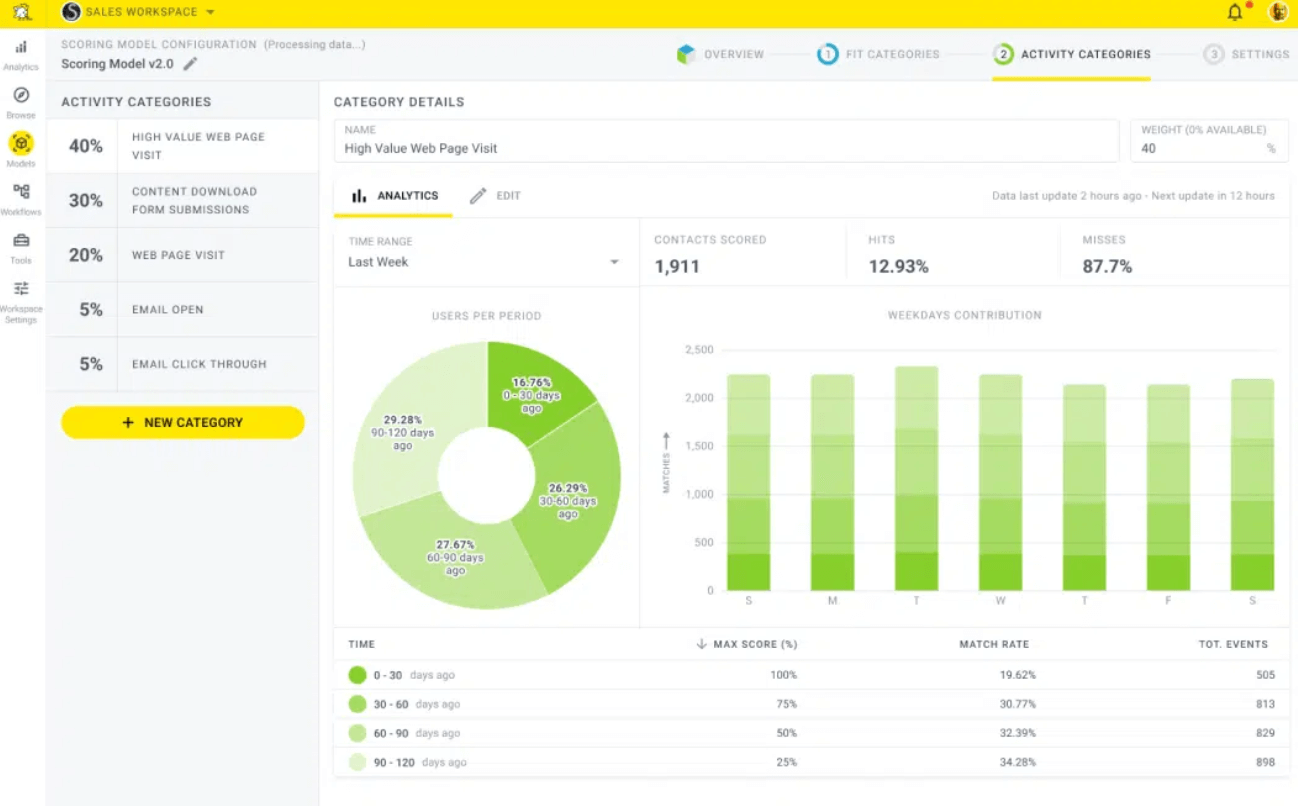 You can learn more about how our product works here.
2. Lead Databases
Want to truly accelerate sales quickly? Finding new ways to reach out to more leads quickly is an exceptionally effective way to do that.
And when it comes to finding high-quality leads quickly (especially if you want to go for an account-based marketing sales strategy), using lead databases can be a solid strategy.
Lead databases are going to contain valuable information about leads you have yet to connect with, including the name, company, company info, and contact info of the contact person you're most likely to need to get in touch with.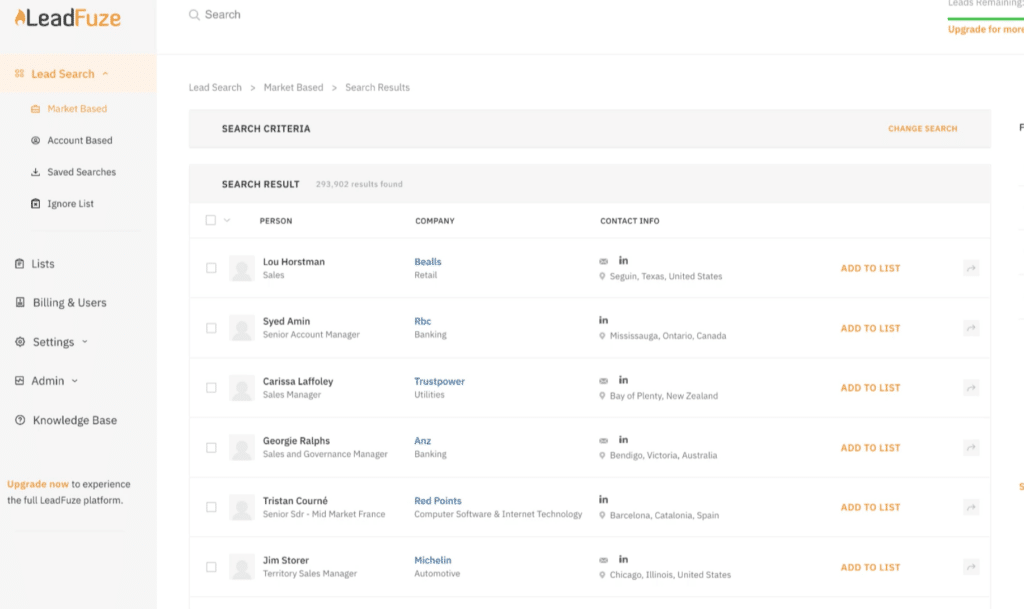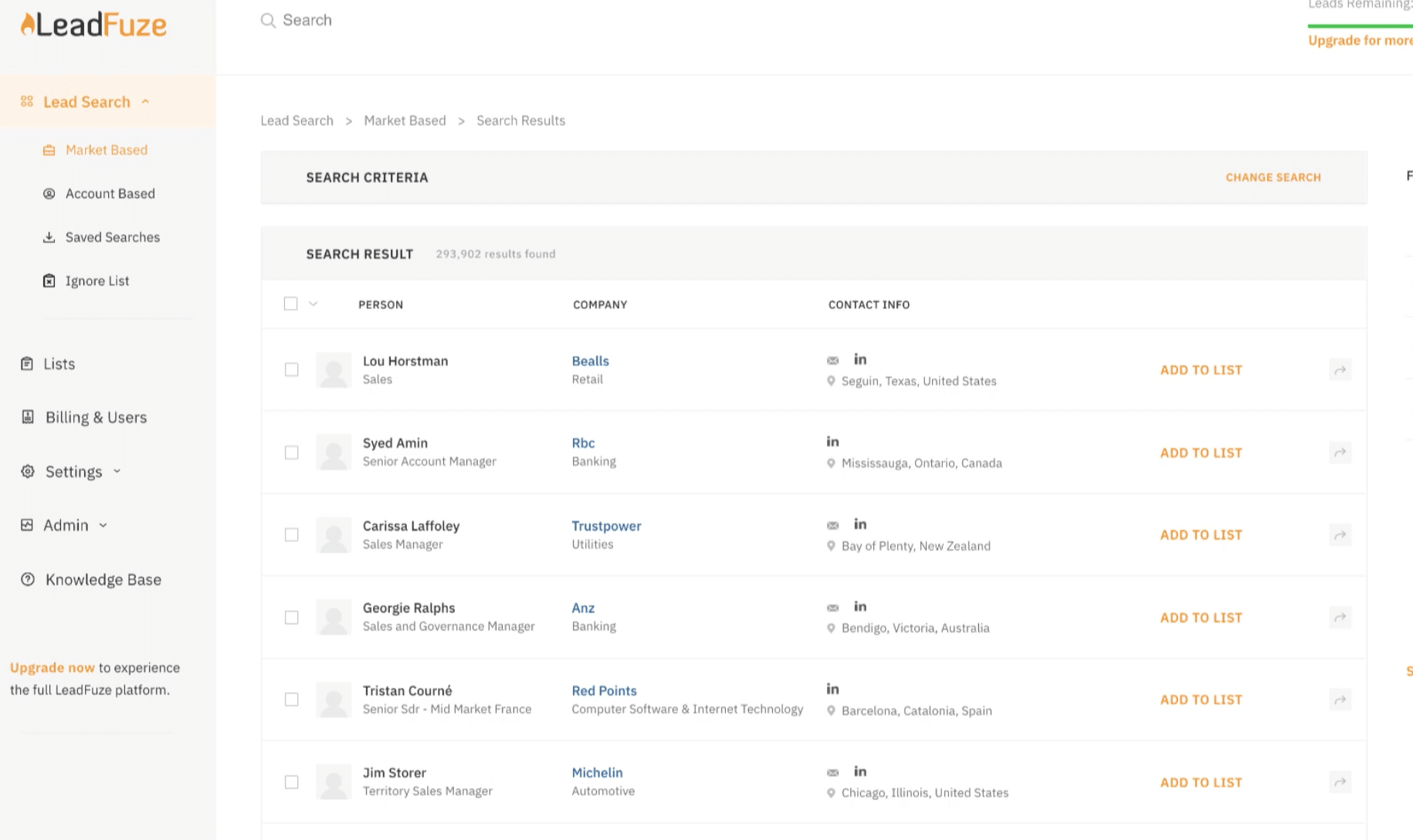 Some people use LinkedIn as a free lead database, but you can also use formal database-styled tools. Options include Groove, LeadFuze (pictured above), and Lead411. Each allows you to find new leads, sorted out by segment so that your team can create outreach campaigns quickly.
3. Sales-Focused CRMs
Every sales and RevOps team needs a strong CRM that has sales-focused and sales-driving features.
It's important to note that not every CRM out there fits that description. While most track past customer purchases and interactions, there are some that have a more significant focus on pushing users through the sales funnel with pipeline-tracking and deal-creating features.
Examples of different features might include:
Automated follow-ups or follow-up reminders for your sales team members
Collaborative deal-tracking or deal-creating abilities
Sales tracking or forecasting based on CRM data
Marketing attribution models that can help you better understand your sales pipeline and referral traffic channels


These are the CRMs we love that have sales-heavy features as a core part of the platforms (instead of as afterthought add-on features that don't really offer much value):
4. Email Tools With Intelligent Follow-up & Data
Every brand out there has an email marketing tool that they're already using… but does yours do the bare minimum, or does it make it easier for you to drive more sales based on the data that comes from user interactions?
There are some email tools that have exceptional intelligence reporting and analytics. Some also have automation-focused features that allow for smart follow-up or additional autoresponders designed to keep interested users engaged.
Basic tools like Mailchimp have some basic analytics that are useful. Still, advanced tools like Outreach and ActiveCampaign have some additional advanced features that are worth taking a close look at.
5. Meeting Booking Tools
This is something that we specifically want to mention for our SaaS brands: Free trials and demos are two of the most high-value qualifying things you can get users to sign up for. It gives them an in-depth look at how your product works and why they should use it.
You must make it exceptionally easy for users to book demos and appointments, and we've found that utilizing appointment booking software is one of the best ways to accelerate sales. Instead of having users filling out a contact form and then having back-and-forth communication between the user and the sales team trying to find a time, they can book an available appointment right on your web page.
We use this strategy on our own site to great success, as you can see here: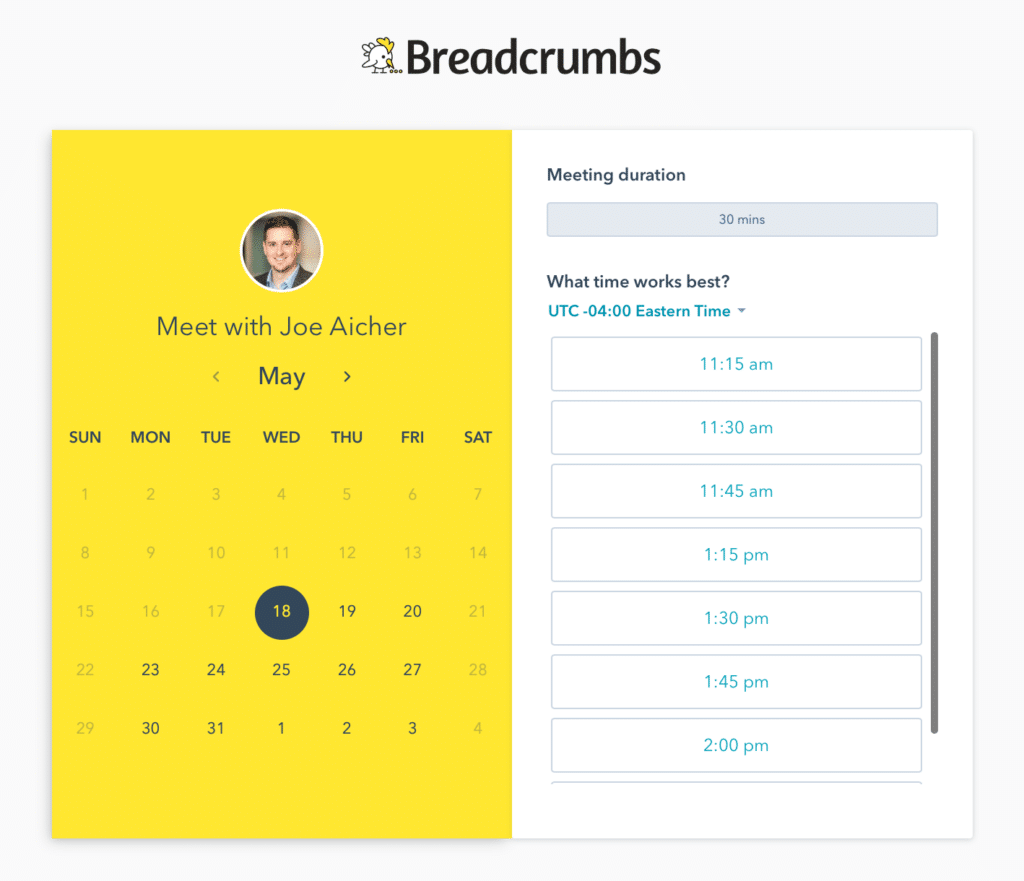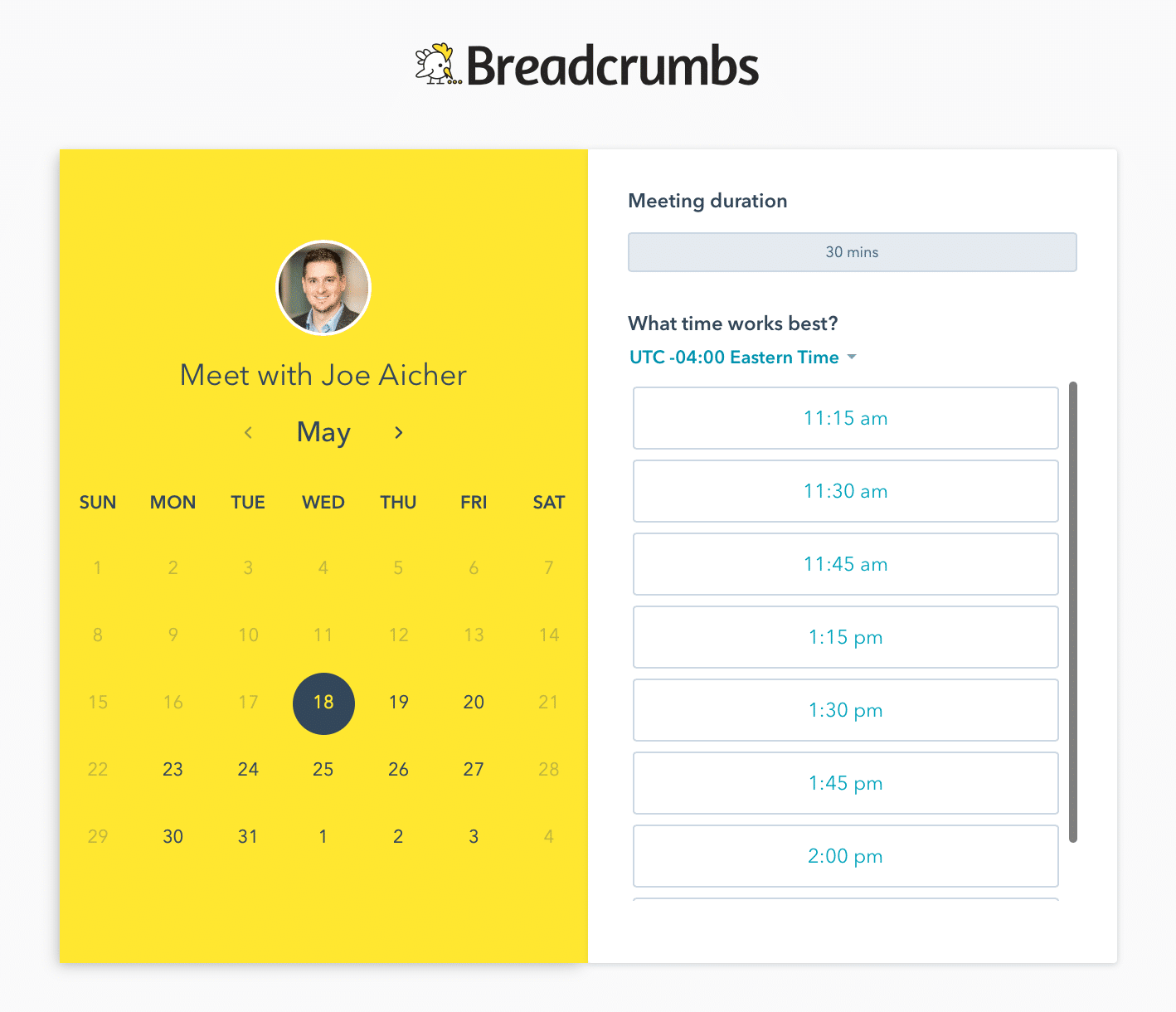 These tools can be embedded on your site, and can show a name and picture of one of the salespeople they'll be meeting with. You can block out times when you're not available, or allow users to request to make an appointment at another time if needed.
There are plenty of great tools, but Calendly, Appointy, SavvyCal, and Acuity Scheduling are all great tools. And if you need help creating a demo, Demostack is a tool that can help you create an online demo for your software.
6. Customer Data Platforms
Customer data platforms take data from multiple different touchpoints and platforms and combine it all into one single data stream for your sales team to utilize.
This can help with data hygiene, but it's really going to give you an exceptional amount of information about what actions your leads and users are taking throughout their buyer's journey. You can learn more about what they're doing… and how to best sell to them as a result.
Sometimes, these tools can help tell you which customers visited certain website pages or what emails individual leads opened. You can use these small indicators to create better remarketing campaigns or reach out with a more personalized approach.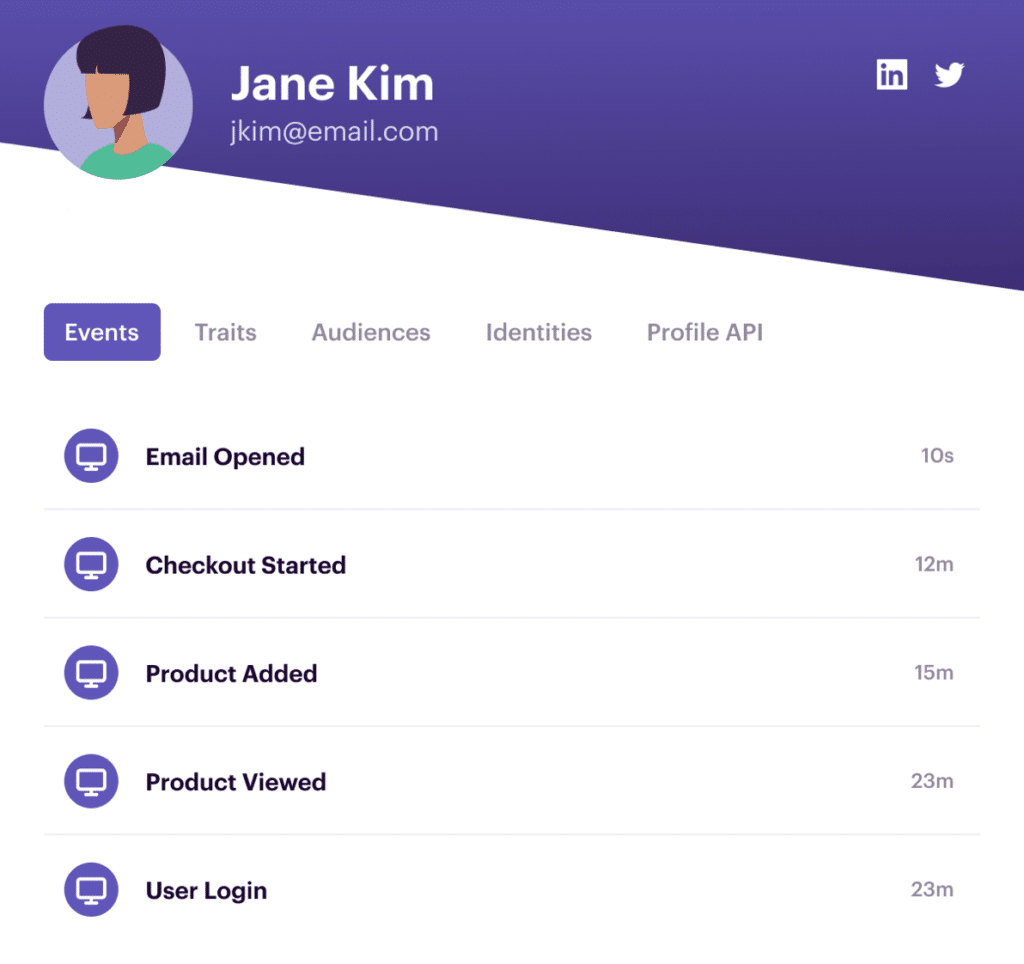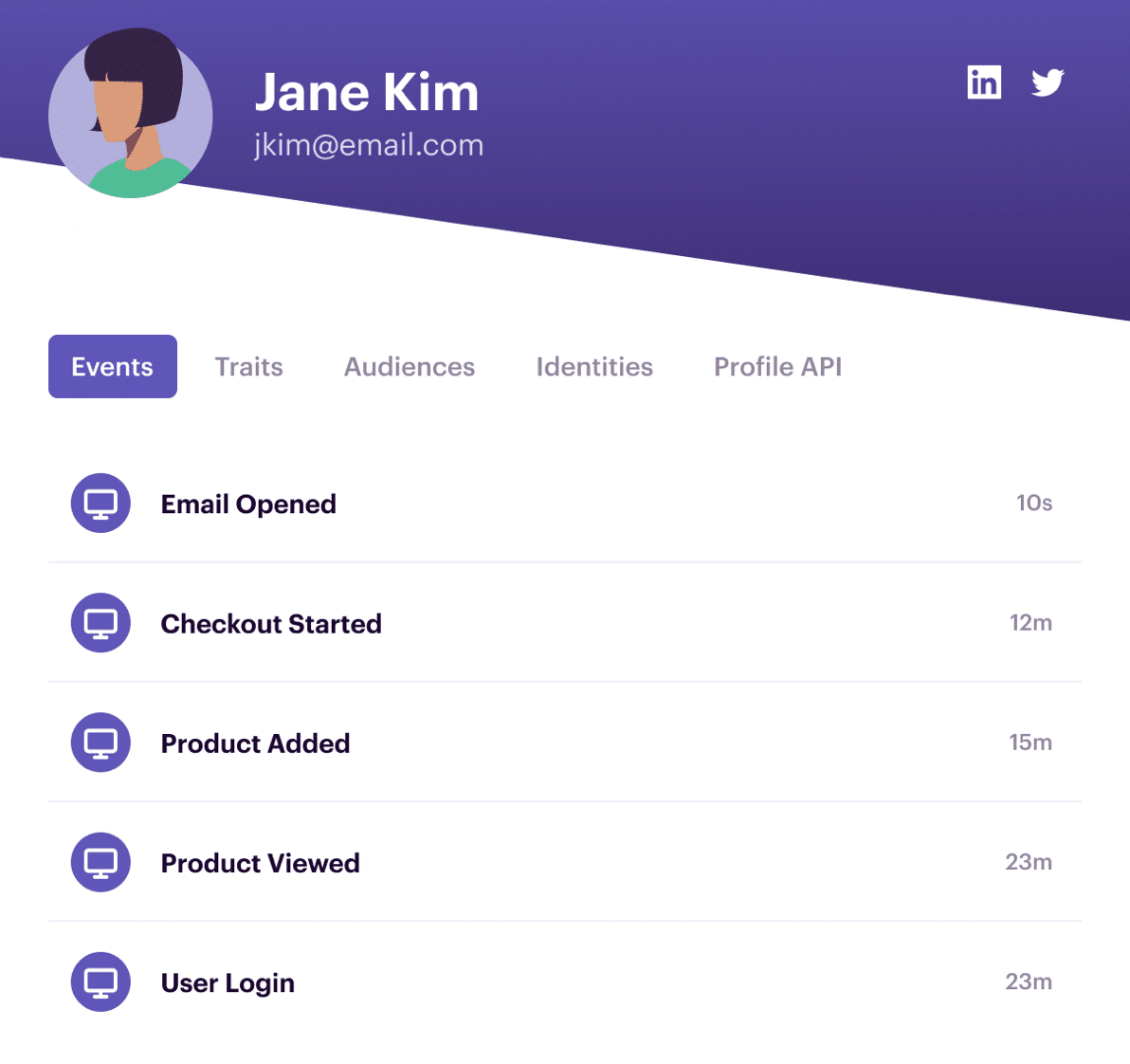 There are plenty of great tools on the market, but some of our favorites are Segment (pictured above), Bloomreach, and Insider.
7. Sales Proposal Management Software
Any experienced sales professional understands the importance of being able to act quickly to close a deal as soon as the customer is ready to make a purchase. You don't want to give them time to second-guess their decision or (even worse) end up finding a competitor.
So as soon as the client is ready to sign on the dotted line (literally or figuratively), you need to already have a contract in their inbox.
Sales proposal management software can help with that. There are exceptional tools out there that keep the entire proposal process streamlined and relatively automated, and completely digital.
Most of these sales acceleration software allows you to create templates that you can customize quickly for individual contracts with each client. Many also have tracking features; you can see who has received, opened, or signed different documents, and you may be able to have users flag issues in a contract or proposal that they may want to negotiate.
I use HelloSign for my freelance business, but PandaDoc is another great option that's designed to work at scale. For a larger business, I'd personally opt for PandaDoc, as they have more sales- and marketing-focused features that can help you track and enhance your customer experience as they move through the pipeline.
Sales Acceleration Software: Final Thoughts
Wondering how to choose the best sales acceleration software for your business?
The first thing that you should do is talk to your sales team and ask what their biggest challenges are. Where are they getting stumped? What information do they need, or what processes could be improved?
Suggest a few different types of software acceleration tools and see what they think would benefit them most. They'll know if slow proposals are a major pain point putting sales at risk, indicating you'd need a sales proposal management tool, or if they're struggling to get customers booked for demos.
Remember that most of the tools we've discussed either offer free trials, free demos, or a combination of the two. This will make it easier for you to determine not only what types of sales acceleration software are best for you, but which individual tools will help your team, too.
Ready to take sales acceleration to the next level with lead scoring? Book your demo with Breadcrumbs today.